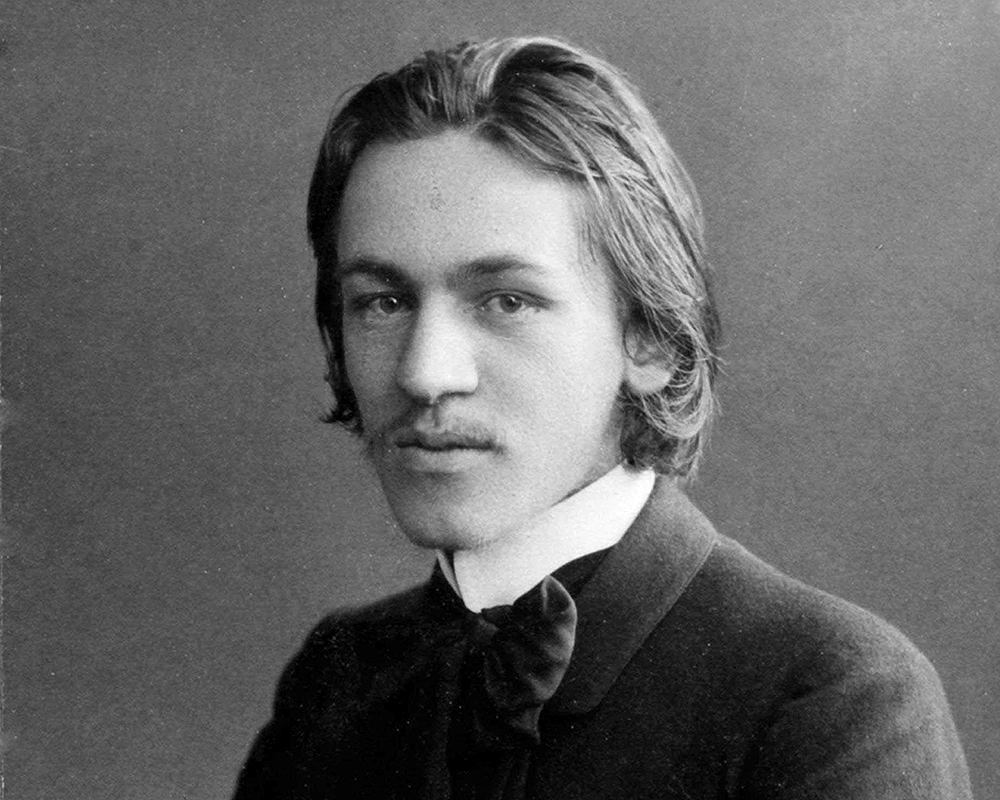 Blaise Cendrars, ca. 1907, photograph by August Monbaron.
Blaise Cendrars (real name Frédéric Sauser) was born in La Chaux-de-Fonds, Switzerland, in 1887. His father, an inventor-businessman, was Swiss, his mother Scottish. He spent his childhood in Alexandria, Naples, Brindisi, Neuchâtel, and numerous other places, while accompanying his father, who endlessly pursued business schemes, none successfully.
At the age of fifteen, Cendrars left home to travel in Russia, Persia, China—and everywhere in between—while in the employ of a jewel merchant; he wrote about this apprenticeship several years later in his long poem, Transiberien. He was in Paris before 1910, where he met Guillaume Apollinaire, leader of the tumultuous avant-garde world of arts and letters at that time. Cendrars then traveled to America, where he wrote his first long poem Pâques à New-York. The Transsibérien (full title: La Prose du Transsibérien et de la Petite Jehanne de France) was published the next year. Both these poems were of some moment in shaping the "modern spirit," then in process of catalysis, as was his third and last long poem, Le Panama ou Les Aventures de Mes Sept Oncles, (1918), published in America in 1931 in a translation by John Dos Passos.
Cendrars lost his right arm in the First World War, while serving as a corporal in the Foreign Legion. He refused an artificial arm and prided himself thereafter on one-handed skill at shooting, fast driving, typing, brawling. He worked in films after the war, as a writer and assistant director and later as a film maker on his own, sometimes a millionaire, more often broke.
During the 1920s he published two long novels, Moravagine (1926) and Les Confessions de Dan Yack (1929), and on into the 1930's published a number of "novelized" biographies or volumes of extravagant reporting, such as L'Or (1925), based on the life of John August Sutter (published in American in 1926 as Sutter's Gold), and Rhum (1930), "reportage romance" dealing with the life and trials of Jean Galmont, a misfired Cecil Rhodes of Guiana.
La Belle Epoque was the great age of discovery in arts and letters. Cendrars, very much of the epoch, was sketched by Caruso, painted by Léon Bakst, by Léger, by Modigliani, by Chagall; and in his turn helped discover Negro art, jazz, and the modern music of Les Six. He published in 1921, when director of the Editions de la Sirène, his Anthologie Nègre—the first volume of a projected three-volume series gleaned from his travels in Africa and South America; almost-completed manuscripts of volumes two and three were destroyed by the Germans during World War II. At La Sirene he also put out a new edition of Lautréamont, who had died in 1870 at the age of twenty-four, bringing him to the edge of surrealist deification. As an assistant to Abel Gance in the filming of La Roue (1921), he put together the montage of the running train, and suggested Arthur Hönegger as composer of background music. Hönegger's score for this passage became his famous Pacific 231.
In 1935 Cendrars discovered Henry Miller, with the first article on Miller's Tropic of Cancer (1934) to appear in France (in the review Orbes) and perhaps the first notice of importance anywhere: dated on New Year's Day, it opens with the liturgical formula for the Christmas Eve announcement that a Savior to us is born, but reads instead: "An American writer to us is born: Henry Miller, who has just written his first book in Paris. A royal book, atrocious book, exactly the sort of book I love best..." The author, he wrote, was a one-hundred per cent American and solid realist but " ... in discovering Paris, in breathing Paris, in devouring Paris, he swallows in gulps, furiously, and eats, vomits, and pisses forth the city, adores and curses it ..." Plenty of Cendrars' discoveries didn't take; for example Ferreira de Castro, Brazilian of Portuguese origin, whose masterwork Cendrars translated in 1938 under the title of Forêt Vierge; or for that matter a number of other literary and artistic discoveries brought from South America; or for that matter South American itself, which failed to impassion Paris. Cendrars went so constantly to South America from 1924 to 1936 (usually taking along his Alfa Romeo racing car, whose body had been designed by Georges Braque) that he pretended the Route Nationale No. 10 ran from his house in Tremblay-sur-Mauldre direct to Asunción, Paraguay.
His home base was always Paris, for several years in the Rue de Savoie, later, for many years, in the Avenue Montaigne, and in the country, his little house at Tremblay-sur Mauldre (Seine-et-Oise), though he continued to travel extensively. He worked for a short while in Hollywood in 1936, at the time of the filming of Sutter's Gold.
During the early months of World War II Cendrars was a war correspondent attached to the British armies, but with the fall of France in 1940 he retired to Aix-en-Provence (while his house at Tremblay was pillaged by the Germans). He stopped writing in 1944 when he began the series of reflective reminiscences, L'Homme Foudroyé (1945), La Main Coupée (1946), Bourlinguer (1948), Le Lotissement du Ciel (1949), that constitute his best and most important work. His last major work was published in 1957, entitled Trop, C'est Trop. He was disabled with illness soon afterward and died in January, 1961, in Paris.
The following interview combines Cendrars' reflections on his own work with reminiscences of the writers and artists whom he knew. It is selected from a series of radio interviews with Michel Manoll, broadcast from October to December 1950, and later published as Blaise Cendrars Vous Parle by Editions Denoël, to whom we are gratefuly for permission to reprint.
INTERVIEWER
All writers complain of the constraint under which they work and of the difficulty of writing.
BLAISE CENDRARS
To make themselves sound interesting, and they exaggerate. They should talk a little more about their privileges and how lucky they are to be able to earn some return from the practice of their art, a practice I personally detest, it's true, but which is all the same a noble privilege compared with the lot of most people, who live like parts of a machine, who live only to keep the gears of society pointlessly turning. I pity them with all my heart. Since my return to Paris I have been saddened as never before by the anonymous crowd I see from my windows engulfing itself in the métro or pouring out of the métro at fixed hours. Truly, that isn't a life. It isn't human. It must come to a stop. It's slavery … not only for the humble and poor, but the absurdity of life in general.
When a simple character like myself, who has faith in modern life, who admires all these pretty factories, all these ingenious machines, stops to think about where it's all leading, he can't help but condemn it because, really, it's not exactly encouraging.
INTERVIEWER
And your work habits? You've said somewhere that you get up at dawn and work for several hours.
CENDRARS
I never forget that work is a curse—which is why I've never made it a habit. Certainly, to be like everyone else, lately I've wanted to work regularly from a given hour to a given hour; I'm over fifty-five and I wanted to produce four books in a row. That finished, I had enough on my back. I have no method of work. I've tried one, it worked, but that's no reason to fix on it for the rest of my life. One has other things to do in life aside from writing books.
A writer should never install himself before a panorama, however grandiose it may be. Like Saint Jerome, a writer should work in his cell. Turn the back. Writing is a view of the spirit. "The world is my representation." Humanity lives in its fiction. This is why a conqueror always wants to transform the face of the world into his image. Today, I even veil the mirrors.
The workroom of Remy de Gourmont was on a court, 71, rue des Saints-Pères, in Paris. At 202 Boulevard Saint-Germain, Guillaume Apollinaire, who had a vast apartment with large rooms and with a belvedere and terrace on the roof, wrote by preference in his kitchen, at a little card table where he was very uncomfortable, having had to shrink this little table even smaller in order to succeed in sliding it under a bull's-eye window in the mansard, which was also on a court. Edouard Peisson, who has a nice little house in the hills near Aix-en-Provence, does not work in one of the front rooms where he could enjoy a beautiful view of the valley and the play of light in the distance, but has had a little library corner constructed in back, the window of which gives on an embankment bordered with lilacs. And myself, in the country, in my house at Tremblay-sur-Mauldre, I've never worked on the upper floor which looks out on the orchards but in the lower room which looks in one direction on an impasse behind a stable and in another on a wall which encloses my garden.
Among the very few writers I've had occasion to see much of, only one man of letters, celebrated for his frenetic cult of Napoleon, installed himself before a panorama to work—a historical one—the window of his study had a full view of the Arc de Triomphe. But this window was most often closed because the living spectacle of the glory of his great man, far from inspiring him, clipped his wings. He could be heard through the door coming and going in his study, beating his sides, roaring his phrases, trying out phrases and cadences, groaning, weeping, laboring himself sick like Flaubert in his "gueuloir." His wife then said to the servants, Pay no attention. It is Monsieur castigating his style.
INTERVIEWER
You have read much during your life?
CENDRARS
Read enormously. It's my passion. Everywhere, in all circumstances, and all sorts of books. Everything that falls under my hand I devour.
INTERVIEWER
Reading isn't for you, you've said, a means of traveling, in time or space, but a way of penetrating without great effort into the skin of a character.
CENDRARS
No, reading has been a drug for me—I drug myself on printer's ink!
INTERVIEWER
Will you cite some of the unusual reading you've done?
CENDRARS
Captain Lacroix is an old sailor and his books are a feast. I've never had the luck to meet him. I looked for him in Nantes, at Saint-Nazaire. I was told that he is in his eighties and that he doesn't want to give up. When he was no longer able to navigate, he became a marine insurer, and it appears that he doesn't hesitate to put on a deep-sea diving rig in order to see for himself the state of his hulls. At his age, admirable. I imagine that the winter nights seemed long to him by the fireplace, when the wind from the sea poured down on his village of the Loire-Inférieure and blew around in his chimney, and I suppose it was to kill time that this man, who has knocked about on all the seven seas and aboard all sorts of ships possible and imaginable, began to write books. These are thick books, strongly built, full of solid documentation, sometimes a little too heavy but nearly always fresh, thus never tedious, all the less so in that the old seaman even searches out reproductions of illustrated postcards and photos of joyous ports of call of his youth, and he recounts things as they happened: his experience and all that he has learned and all that he has seen from Cape Horn to the China Sea, from Tasmania to Ushant, speaking of everything, of lighthouses, currents, wind, reefs, tempests, crews, traffic, shipwrecks, fish and birds, celestial phenomena and maritime catastrophes, history, customs, nations, people of the sea, relating thousands of anecdotes intimate or dramatic, all his life of an honest seaman carried along by the very movement of the sea and dominated by his exclusive love of ships. Ah, it is certainly not the work of a littérateur. His pen is a marlinespike, and each page brings you something, and there are ten big volumes! It's as moving as it can be and as simple as good morning. In a word, miraculous. One touches the globe with a finger.
And there are the divinatory quatrains of Nostradamus, written in a magnificent language which is a joy to me, although they remain indecipherable. I have read them for forty years, I gargle with them, I regale myself with them, I enjoy them, but I don't understand them. I've never searched for the key, I've read nearly all the keys that have been published, they are meaningless and all false since every two or three years someone invents a new mechanism without being able to spring the lock. But, as a great French poet, Nostradamus is one of the greatest. Still another to stick in my "Anthologie de la poésie française" if I ever compile it. All his impromptu turns invented from a conventional language beat by far the looniness of dada, and the automatic writing of the surrealists, and the decalcomania of Apollinaire's Calligrammes.
INTERVIEWER
What have you discovered since? What do you read at present?
CENDRARS
The latest book I've discovered is the great dictionary of the Customs Administration that we owe to an edict of Vincent Auriol, then Minister of Finance. It is entitled Répertoire général du tarif and appeared in 1937. Two quarto volumes. Weight fifty kilos. I take them every place with me because I'm going to need them some day soon when I begin to write La Carissima, the mystical life of Mary Magdalene, the only woman who made Christ weep.
INTERVIEWER
You need the customs tariffs in order to write that book?
CENDRARS
My dear sir, it's a matter of language. For several years, each time that I prepare to write a book, I first arrange the vocabulary I am going to employ. Thus, for L'Homme foudroyé, I had a list of three thousand words arranged in advance, and I used all of them. That saved me a lot of time and gave a certain lightness to my work. It was the first time I used that system. I don't know how I happened onto it ... It's a question of language. Language is a thing that seduced me. Language is a thing that perverted me. Language is a thing that formed me. Language is a thing that deformed me. That's why I am a poet, probably because I am very sensitive to the language—correct or incorrect, I wink at that. I ignore and despise grammar, which is at the point of death, but I am a great reader of dictionaries and if my spelling is none too sure it's because I am too attentive to the pronunciation, this idiosyncrasy of the living language. In the beginning was not the word, but the phrase, a modulation. Listen to the songs of birds!
INTERVIEWER
Language, then, you would say, is not something dead, frozen, but something in motion, fugitive, attaching itself always to life and reality.
CENDRARS
That's why this great dictionary of the administration of the customs fascinates me. For example, take the word ribbon. I discover with amazement all the significations that the word ribbon can represent and above all in its ultramodern industrial usages; there are twenty-one pages!
INTERVIEWER
Where did your interest in folk literature begin?
CENDRARS
During all my life I have been profoundly influenced by the works of Gérard de Nerval. I owe to Gérard de Nerval my love of songs and of popular poetry, and in all the countries of the world I've made an effort to hear and note and read some of the music, poetry, literature of the people, notably in Russia, in China, in Brazil. Much Alexandre Dumas is read, cloak-and-sword novels, love stories for typists—to a considerable degree all the stenographers of the world have the same mind. But there are also in every country some sorts of works that are exclusively reserved to the popular interest, such as The Key of Dreams, The Language of the Flowers, and a thousand others. If this sort of peddler's literature is perhaps a little out of date in Paris, in a country such as Brazil (which is a new country, everything seems new to it), entire levels of the population, who have barely learned to read, are discovering these stories of sorcery, of werewolves, of the headless mule, of the White Lady, of phantoms, of black humor, of romance, fairy tales, novels of chivalry, nursery tales, and adventures of highwaymen, celebrated crimes of passion; a collection of marvels that is no more stale and trashy for that matter than are, in much more advanced countries, the detective novels of England, the gangster stories of the United States, the grand love films in all the cinemas of the earth, which themselves also constitute a part of the old foundations of folklore, of popular literature.
INTERVIEWER
But in Brazil, isn't this folklore entirely borrowed from the Negroes?
CENDRARS
Not at all. The literary folklore is of Portuguese origin. The peddler's literature was imported from Portugal; it is, by the way, much more at the base of the national Brazilian literature than are the works of the Brazilian academicians, who, for their part, were always more or less influenced, until most recent years, by academic French literature, as all the latest generation of young writers in Brazil is now influenced by the new North American novelists of between-the-wars, who were for the most part living in Paris and much in evidence here, at Saint-Germain-des-Prés and Montparnasse: Hemingway, John Dos Passos, Henry Miller.
INTERVIEWER
But the Negroes who had been transplanted, did they write?
CENDRARS
The transplanted Negroes—that is to say, the slaves—did not write. It was forbidden for them to write and it was altogether exceptional that certain ones were able to learn to read or write. More than this, it was forbidden to print books in Brazil, all came from Portugal. The first printing press was not installed at Rio de Janeiro until 1808, under the Empire. Thus, the Complete Poems of Gregório de Matos [1636?-1696] (who was called with good reason the François Villon of Brazil and whom his contemporaries named boca do inferno, so violent were his satires of colonial society), was not printed in Rio until 1882. Until that date they had been transmitted by oral tradition and manuscript copies, which circulated in a certain class of society: the bohemians of Bahia.
INTERVIEWER
He was a Negro?
CENDRARS
No, at most a very dark mixed-blood, a pardo, as they say there. His parents had a sugarcane plantation and owned a hundred and thirty black slaves. He had had the good fortune of being sent to study law at Coimbra, the famous university of Portugal. When he came back to Bahia, his doomed mouth and his infernal invectives earned him a session of exile in Angola, from where he returned, more enraged than ever, to settle at Pernambuco, under house arrest. Far from mending his ways, he led a life of drunkenness and debauchery with the Negro girls of the port. All his love songs, and there are some very beautiful ones, celebrate the black Venus. He died in poverty. Tradition has it that he was buried, like the poorest of the poor, with his guitar, his only property.
INTERVIEWER
When you ran away from home, at the age of fifteen, had you planned your escape? Did you have an objective, or a hope of return?
CENDRARS
Do I know? I went east because the first train through the station carried me east; if it had been a train going west I would have gotten to Lisbon and I would have done America instead of Asia.
INTERVIEWER
This was an extremely important date in your life because, after this time, your life has been divided into two paths: your adventures in the Orient and your adventures in the West. Since that time you've never had a roof.
CENDRARS
Those are the things one says when one wants to tell stories, to put a little order into one's existence. But my life has never been cut in two. That would be too convenient: anyone can cut his life in two, in four, in eight, in twelve, in sixteen.
INTERVIEWER
I want to ask you why you haven't continued the experiment which you began with Pâques à New-York, Transsibérien, and Panama. In these poems, particularly in Dix-neuf poèmes élastiques which innovated a new poetic technique, there's a movement of stanzas which you've since abandoned.
CENDRARS
In 1917 I had just written a poem that astounded me by its fullness, its modernity, by everything I'd put into it; it was so antipoetic! I was delighted. And at that moment I decided not to publish it, to let modern poetry get along without me, to see what would happen to it. I nailed this unpublished poem in a chest; I put the chest in an attic in the country, and I set myself a limit of ten years before I'd take it out to publish it. That's more than thirty years ago, and I believe the time has not yet come to publish it.
INTERVIEWER
This poem is "Au coeur du monde"?
CENDRARS
Yes, and although unpublished, it's famous. The other day an editor offered me a million francs [two thousand dollars] for it, but I didn't bite.
I told you the other day that I don't write any more poems. I make poems which I recite to myself, which I taste, which I play with. I feel no need to communicate them to anyone, even to people I like a lot. I don't write them down. It's so good to daydream, to stammer around something which remains a secret for oneself. It's a sin of gluttony.
To write ... it's an ungrateful profession; in all sincerity, one gets little satisfaction from it. It's quite exceptional to be able to say to oneself, That's not too bad, Blaise; it's even quite good. One gives oneself this satisfaction very, very, very rarely, because one thinks, above all, when one has published a book, about all that one has failed to do, all that one hasn't put in it, all that one wanted to put in, all that one would add to be complete, because it's so difficult to hem things in with writing and to say everything with words. When the book is finished, one remains fatally disappointed.
INTERVIEWER
Your own Pâques à New-York, the Transsibérien, Panama, the—
CENDRARS
Tell me, since when has anyone spoken of them?
INTERVIEWER
—the Dix-neuf poèmes élastiques. They are spoken of and cited precisely because these poems are at the base of modern poetry, are at the source of modern lyricism.
CENDRARS
No, no, not at all, I'm not at the base of anything at all. It is the modern world which is at the base, "enormous and delicate" like the Middle Ages. And the source, it's Villon. If the correspondence of Max Jacob were ever published, you would find sources and bases and points of departure and of arrival. There was one who understood how to shake the coconut tree and bring tumbling down pell-mell the false geniuses and the true ones, the pure and the impure! And he had as wicked a tongue as you'd want, and could stir up more trouble than the devil in holy water.
Poets don't seem to have fun anymore. What troubles me more than anything else these days is to see the seriousness with which they approach everything.
INTERVIEWER
Were you gay because your life was brighter in the good old days?
CENDRARS
My dear sir, in the belle époque writers were paid one sou a line in the papers and an Apollinaire had to wait months and years before he could sign his articles and count on steady employment with regular pay. That was why he published pornography: to earn his bread. You can't imagine how solidly closed all doors were to us. I have the impression that today you're much better received. I run into young writers everywhere, on the papers, the radio, in the picture studios. Before 1914 those who wanted a job stood in line at the door, or at an employment window that never opened. The others contented themselves with playing the buffoon, the wild bull, in the streets. To hell with a job and a decent living. We laughed. The Paris girls were pretty.
INTERVIEWER
This present generation hasn't been too bad at buffoonery.
CENDRARS
Everyone has a taste of it, it's the right of every young generation. Fortunately the wild bull still exists and hasn't been put in cans for exportation as corned beef. One counsel: when you see an open door, newspaper, radio studio, cinema, bank, anything—don't enter. By the time you're thirty you'll be nuts because you left your laugh at the door. That's my experience. Poetry is in the street. It goes arm in arm with laughter. They take each other along for a drink, at the source, in the neighborhood bistros, where the laugh of the people is so flavorsome and the language that flows from their lips so beautiful. "Il n'est bon bec que de Paris."
INTERVIEWER
In 1912, you were in New York.
CENDRARS
In 1912, at Easter, I was starving in New York, and had been for a number of months. From time to time I took a job, by force of necessity, but I didn't keep it a week and if I could manage to get my pay sooner than that I quit sooner, impatient to get on with my sessions of reading at the central public library. My poverty was extreme and every day I looked worse: unshaven, trousers in corkscrews, shoes worn out, hair long, coat stained and faded and without buttons, no hat or tie, having sold them one day for a penny in order to buy a plug of the world's worst chewing tobacco. Time passed. Came Easter. Easter Sunday the library was closed. In the evening I entered a Presbyterian church which was giving an oratorio, Haydn's Creation, so said a lighted sign hung to the spire. In the church there was a scattered audience and, on a stage, fashionable young girls who played ancient instruments and sang divinely well. But a wretched bishop interrupted the oratorio every five minutes to preach I-know-not-what pious sanctimony and make an appeal to the good hearts of the faithful and, when the oratorio continued, another croaker of a preacher as tiresome as the first entered the stall where I had taken a place, and tried to convert me by surreptitious exhortation, all the time thumping my money pocket in an effort to draw out a dollar or two for expenses, shaking his leather money plate under my nose. Poor me! I left before the end and walked home to West Sixty-seventh Street where I was living, absolutely disgusted and dead beat. It could have been two or three o'clock in the morning. I gnawed a hunk of dry bread and drank a big glass of water. I went to bed. I went immediately to sleep. I woke up with a start. I began to write, to write. I went back to sleep. I woke up the second time with a start. I wrote until dawn and I went back to bed and back to sleep for good. I woke up at five o'clock that evening. I reread the thing. I had written Les Pâques à New-York.
INTERVIEWER
The whole thing?
CENDRARS
As it was published. There were three erasures.
INTERVIEWER
This manuscript, where is it now?
CENDRARS
The original, I don't know, I had to sell it one rainy day. But the friend of poets, the publisher Pierre Seghers, who devoted a little volume in his series of Poètes d'aujourd'hui to me in 1948, spoke to me of a copy of the manuscript, a copy which belongs today to Paul Eluard, if I'm not mistaken. On landing in Paris, I remember having deposited this copy with Guillaume Apollinaire, who lived in Passy, rue Gros, across from the gasworks. Who sold it, or from whom could Paul Eluard have bought it, and when? I don't know, and I've never asked him, because I don't know Eluard. But Seghers, who had had this copy in his hands, asked me for precisions on the appearance of the manuscript and what I told him seemed to fit with what he had noticed, American paper, right-hand writing, et cetera.
INTERVIEWER
Your poem was published how many years after having been written?
CENDRARS
After writing it I had only one desire, to get out of New York, and I embarked within a week to return to Paris. I paid five dollars, some twenty-five francs. Imagine that at that time one could return from New York to Paris for twenty-five francs! It is true that it was a cattle boat. As soon as I arrived in Paris, I published my poem.
INTERVIEWER
Under what conditions? You had found a publisher?
CENDRARS
Not on your life! I found a printer, an anarchist who had a little clandestine press installed in a piano crate, at the Buttes-Chaumont, rue Botzaris, Villa des Boers. I worked with him to earn a little money against the cost of the edition. I profited from the occasion to undergo my apprenticeship in typography. I composed more than half of the text myself. The little book was published with an ugly picture of me. The thing cost me something like a hundred francs. There were one hundred twenty-five copies published. I offered them for sale at twenty sous. I never sold one.
INTERVIEWER
Not a single one?
CENDRARS
No.
INTERVIEWER
What became of all these copies?
CENDRARS
Where does old paper go? I don't have a copy of that edition myself.
INTERVIEWER
That made you known among the poets?
CENDRARS
I was already known enough among poets to have mocked them and to have disturbed their assemblies at the Closerie des Lilas, at the Café Fleurs, at the Procope; and so I didn't need to publish something in order to be known by the poets. But to have published Les Pâques à New-York, in October 1912, brought me the enmity of the bonzes and the pontiffs who, the following year, when I published La Prose du Transsibérien, "the first simultaneous book," in June 1913, called me an epigonus and accused me of plagiarism. It was not good to be a young authentic among all those old glories on the tail of symbolism, who all took themselves for sacred bards. Beards, yes, which I laughed in. At that time, Apollinaire was the only poet that I went to see. He was always kind to me and he got work for me so I could make a few sous. Don't listen to the evil gossips! They say today that he was influenced by me, and I say I couldn't care less. I sang of the Eiffel Tower. He sang of the Eiffel Tower. And plenty of others have sung of it since.
INTERVIEWER
All the same, it is an extremely mystifying thing, Apollinaire's change of poetic orientation after your meeting.
CENDRARS
It was Jules Romains who first remarked this change of front. Me, I pay no attention. It's not my affair. It's critics who say that. This is not my job. I'm not equipped for it. I wrote about the Eiffel Tower when I felt like it.
INTERVIEWER
This doesn't have to do with the Eiffel Tower. This has to do with—
CENDRARS
—with the influence I might have had on Guillaume Apollinaire. It was Robert Goffin who hung up this bell and there have been I don't know how many people come along to ring it, as if it's a crime to experience the influence of someone. I have, sometimes, the impression in regard to this alarm bell that I'm not dealing with critics, with students of poetry, with historians, but with amateur detectives who measure, mark, take fingerprints.
INTERVIEWER
Is there always this long delay—of ten years or so—between the lived adventure and the moment of writing it, as in Panama?
CENDRARS
A very long incubation. There's a whole unconscious labor of bringing to a point that must be carried out. Generally I start off with a title. I first find the title. I generally find pretty good titles—people envy me for them, and not only envy me but quite a few writers come to see me to ask for a title. When I have my title, I give myself to reflection. Things pile up. A crystallization both conscious and unconscious is produced around the title and I write nothing solid as long as I don't know everything about my characters, from the day of their birth to the day of their death, and can't make them evolve in all circumstances possible and imaginable according to their character and their situations fictional or real. This can last for years. I take notes. In this way I build up dossiers stuffed with notes and sketches. They are imaginary and not factual. Factual documentation bothers me.
INTERVIEWER
You've spoken to me of your next novel, a "real novel."
CENDRARS
Yes, a real novel or it won't appear.
INTERVIEWER
In any case, there'll be certain elements of your life in it?
CENDRARS
No, no, no, no, not at all, you won't find me in it, I shall write a novel-novel, and I won't appear in it, because they don't see but one character in all my books: Cendrars! L'Or is Cendrars; Moravagine is Cendrars; Dan Yack is Cendrars—I'm annoyed with this Cendrars! Anyway, one shouldn't believe that the novelist is incarnated in his characters—Flaubert isn't Madame Bovary. It didn't do him any good to get sick when he described the poisoning of Emma—he still wasn't Madame Bovary, even though he believed he was, and said, "Madame Bovary, c'est moi!" That solid Norman an old aunt??? The greatest danger for a writer is to fall victim to his own legend, to fall into his own trap.
INTERVIEWER
You've announced thirty-three forthcoming books. Why thirty-three?
CENDRARS
The list of thirty-three books that I've been announcing for forty years is not exclusive, restrictive, or prohibitive; the number thirty-three is the key figure of activity, of life. So this is not at all in ink. If might be an index, but it is not The Index. It doesn't include the titles of novels which I will never write—the other day I was surprised to discover that La Main coupée, which I published in 1946, had been on this list since 1919. I had completely forgotten that! On the list are books that I will take up again and that will appear in the future. Also listed are the ten volumes of Notre pain quotidien, which are written but that I left in various strongboxes in South American banks and which, God willing, will be found by chance some day—the papers aren't signed, and are left under a false name. I've also listed a group of poems that I value more than my eyes but that I haven't decided to publish—not by timidity or pride, but for love. And then, there are the books that were written, ready for publication, but which I burned to the great detriment of my publishers: for example, "La vie et la mort du soldat inconnu" (five volumes). Finally, there are the bastards, the larvae, and the abortions which I will probably never write.
INTERVIEWER
John Dos Passos devoted an essay to you in Orient Express, and he called you the Homer of the Transsibérien.
CENDRARS
When John was married, I was in the Périgord. I was in the process of hatching my book on Galmot. He came on his honeymoon directly from New York to Monpazier, of which Galmot was a native. Monpazier is a historic little city. It's a fortified village, built by the kings of England, that dates from 1284. It's very small, six hundred twenty-five inhabitants at most. It's laid out like an American city. There are two principal arteries and all the cross streets cross these two principal arteries at right angles. One could number them as in America, I think there are twenty-one. I was staying in the best hotel in the vicinity, the Hôtel de Londres, where one eats like a god. It's kept by Madame Cassagnol—her husband is a double for Charlie Chaplin. Madame Cassagnol wears a mustache and the pants of the household. When John Dos Passos told me he was coming, I said to Madame Cassagnol, I have some friends who are arriving directly from New York to stay here with you. Try to distinguish yourself. And I didn't give another thought to either the menu or the wine. For a week Madame Cassagnol fed us on that good Périgordine cuisine, setting up the menus herself, progressively, giving us a surprise each day: truffles, pot-au-feu with garlic to make you sop up your plate—with a little wine, country style; buisson d'écrevisses, champignons à la crème, boletus mushrooms à la bordelaise, fried fish, fish of the Dordogne and of the Garonne, brochettes of little birds, woodcock à l'armagnac, game feathered and furred, poachers' venison of which the main supplier was the curé of a neighboring village, roasts, terrine de foie gras, wild lettuce, peasant cheeses, figs in honey and crushed nuts, pruneaux d'Agen, crêpes flambées, as much strong red wine as you wanted, a bottle of Monbazillac for two, coffee, liqueurs, all for twelve francs fifty, plus fifty centimes extra for the surprise of the last day. The last day, the day of the departure of John and his wife, we ate a wild swan. I didn't even know there might still be wild swans in France, even in migration. What an astonishing country is the black Périgord!
I've seen John often, but always in Paris. It's curious, by the way, but never, never, never have I met one of my friends among American writers in the United States, as often as I've gone there. They are never home, as if by chance; and if I've insisted I've been told over the phone that the master for whom I was asking was on vacation, or on a tour, or in Europe. I've tried in vain to find one at his newspaper, his club, or at his publisher's. The response was the same everywhere: He isn't here! I used to hang up the phone with a bizarre feeling. I don't want to draw from it any conclusion disparaging to anyone, but I finished by admitting to myself that American writers are not free in their country and that those who come back from Europe don't have an easy conscience, reproaching themselves with little frolics painful to recall. They have a fear of public opinion and, contrary to the English, don't even have a bread-and-butter courtesy. It's a typically American complex.
INTERVIEWER
Among American writers, you know Henry Miller. Is he one of your great friends?
CENDRARS
Henry Miller, I've seen him in Paris and I've never seen him anywhere else but in Paris. He was a gay, joyous companion.
INTERVIEWER
You know still others?
CENDRARS
Yes, surely, crowds, crowds of poets, who have come, who have gone away; I've forgotten their names, so numerous were they in Paris on the eve of the last war.
INTERVIEWER
It is claimed that you have served them as a model and that you have strongly influenced certain American novelists.
CENDRARS
That's absolutely false. If I've been able to influence this one or that without my or his knowledge, I haven't served as a model. It's Victor Hugo, it's Maupassant who served as models for them when they came to establish themselves in Paris at the end of the other war. They came to France without an afterthought, be it as soldiers, ambulance drivers, diplomats; the war over, they sojourned for a time, short or long, in Paris, where certain ones stayed during the entire time between the two wars; they frequented Montparnasse, then Saint-Germain-des-Prés, and if they were influenced it was rather by the ambiance, the air of Paris and the way of living in France rather than by this or that French author. John Dos Passos declared to me one day: You have in France a literary genre that we don't know at all in the United States, the grand reportage à la Victor Hugo.
INTERVIEWER
That's an astonishing statement.
CENDRARS
I was surprised by it because, like you, I believed reportage to be a strictly American genre. Well, it appears not. From the point of view of reportage, then, we have terribly influenced young American novelists, who didn't yet write for the great magazines and had a tendency to fortify themselves in their ivory tower in order to dedicate themselves to letters, to belles lettres. Since then they've caught up with themselves; it's only necessary to read the latest war reporting or other reporting by a Seabrook, a Hemingway, a John Dos Passos himself, which bear our imprint and which are marvelous. They have renewed the genre. Asylum by Seabrook is a masterpiece of reportage, as Victor Hugo's La Mort de Balzac is another and the first model of the genre. Dos Passos was right.
INTERVIEWER
And Faulkner, you know him?
CENDRARS
No, I don't know Faulkner. I've never met him. Malraux asked me to do a preface for the translation of Light in August; I didn't want to do it, finding it too regional, too literary, and written as one doesn't write any more, too well.
INTERVIEWER
Was it in New York that you met Hemingway?
CENDRARS
No, at the Closerie des Lilas in Paris. I was drinking; he was drinking at a table next to mine. He was with an American sailor on leave. He was in uniform—probably that of a noncombatant ambulance aide, unless I'm mistaken. It was at the end of that other war, the "last of the last." We talked between tables; drunks like to talk. We talked. We drank. We drank again. I had an appointment in Montmartre, at the home of the widow of André Dupont, a poet killed at Verdun. I went there every Friday to eat bouillabaisse with Satie, Georges Auric, Paul Lombard, and sometimes Max Jacob. I brought my boozer American friends with me, I thought I'd give them something good de chez nous to eat. But the Americans aren't fond of good food; they have no good food at home, they don't know what it is. Hemingway and his sailor didn't care for my arguments—they preferred to drink until they weren't thirsty any more. So I planted them in a bar on the rue des Martyrs, and I ran to treat myself at my friend's widow's house.
INTERVIEWER
You knew Sinclair Lewis, too?
CENDRARS
Yes, that's another story ... It was in 1930, in Rome. He'd already been widely discussed in Italy, where he was trailing about with a squadron of jolly New York girls who were causing a scandal. One fine day he landed in Rome, where I was making a movie. He let me know that he urgently wanted to meet me. I asked him to come to the studio, but he answered that he had a cold, he didn't like movies, and anyway he didn't have the time because he was leaving the next morning for Stockholm to collect the Nobel Prize. I didn't have the time either, I was busy working, but there was a breakdown at the studio around ten o'clock so I went to his hotel, where I found half a dozen American girls completely drunk, making a gigantic cocktail in a soup tureen full of whipped cream, into which—while quarreling with each other about how much to put in—they were pouring two, three liters of vermouth. I didn't think I could join this scene of mad women right away—one of them held out some scissors to me and dared me to cut her hair—so I thought I'd take a little stroll. But I changed my mind and decided to search the apartment for the master of the séance, whom I hadn't seen yet. The door of the bathroom was half open, and boiling water was coming out. I went in. The bathtub was overflowing and the faucets were wide open. Two feet, dressed in polished dancing pumps, hung out of the tub, and at the bottom a man in a tuxedo was drowning. It was my Sinclair Lewis. I pulled him out of his unfortunate position, and that was how I saved his life so he could take the train the next morning for Stockholm and his prize.
The next day I put him on the train—he didn't even buy me a drink. It's true he had a hangover and probably didn't want to drink, or maybe he'd sworn never to drink again. But a drunk's oaths don't hold, you know.
INTERVIEWER
And where did you live in Paris when you came back from America in 1912?
CENDRARS
Avenue Montaigne. It's a wonderful quarter and I know it well. I've lived at numbers 12, 60, 51, 33, 5, and finally I went back to 12. I could write a book on this quarter, apparently so tranquil, comfortable even, and where plenty takes place, but plenty! I'd even found a title for the book: "Voyage autour de l'Alma." But I'll probably never write it, like so many other books I've daydreamed about during the years.
INTERVIEWER
What is your best memory of that neighborhood?
CENDRARS
I don't know, I have too many. It's there that the rat terriers are trained by my good friends the sewer workers of the City of Paris, in a subterranean "rat-o-drome." Also there was a street sweeper—Don Juan who bowled over all the housemaids along the avenue and used to lock himself up with them in the interior of a Morris column, where he had installed a red-velvet pouf. It was just in front of the Brazilian Embassy, where I would end the night drinking cafesinhos, smoking cigars, and talking away like a madman with dear old Souza Dantas, called the Bohemian Ambassador because he didn't have a bed—when he was sleepy, he turned up his collar, pulled a hat down on his head and stretched himself out on a Russian leather canapé, closed his eyes and slept like a baby, without caring whether you had left or not.
I even wrote a little book in 1913 on Russian music for the inauguration of the grand Théâtre des Champs-Élysées, and the evening of the premiere of Petrouchka, a woman covered with diamonds, driven mad by the music of Stravinsky, tore loose a brand new theater seat in order to break it over my head, which she did so well that I passed the rest of the night drinking champagne in Montmartre with Stravinsky, Diaghilev, and some of the dancers of the Ballet Russe, wearing this seat like a collar and my face streaked with blood and scratches. I've seen the quarter evolve, the grands couturiers—from Madeleine Vionnet to Boyd—come to establish themselves there ... taxis replace the fiacres ... Jouvet open the Comédie, Batbedat the Studio, Hébertot turn the Salle de Perret—which had been built to produce Parsifal when the Richard Wagner opera should enter the public domain and have it all over Bayreuth, with the aid of steam-making machinery installed under the stage at a cost of millions and which has never been used—into a music hall of grand luxe where all high-style Paris came running, to say nothing of the Swedish Ballets of Rolf de Maré who mounted my Negro ballet, La création du monde, with music by Darius Milhaud and decors by Fernand Léger, Les Mariés de la Tour Eiffel of Cocteau, Relâche by Erik Satie, for which I had written the argument for old Satie and Francis Picabia swiped the idea of it from me, the subject and the cinematic interlude of Entr'acte, thanks to which René Clair was able to make his debut as a director, Picabia having profited by the fact that I had gone to Brazil. You see, it was quite an epoch.
INTERVIEWER
Among the strange people you've liked, which ones have you found in Paris?
CENDRARS
The strangest being I came across on the Avenue Montaigne was the madwoman from whom Giraudoux drew his La Folle de chaillot. She wasn't the "brat with diamonds" in Montmartre as the newspapers of the period captioned a picture of her. Madame Leffray was an Englishwoman, the widow of a true Cockney coachman. She lived on the rue Lauriston. I often followed her: every day she came from Chaillot to the Avenue Montaigne, where she sat on a bench facing the Hôtel Plaza-Athénée. She stayed there in an ecstasy, just like the actress Moreno, but much thinner; decked out in velvet hat with dirty ostrich feathers, dirty trinkets, a long dress full of holes and lace, a filthy ermine scarf of which nothing was left but the little black tails, wild high-heeled shoes, gloves, grotesque jewels, a lorgnette, a handbag dragging on the ground. Everyone in the neighborhood knew her and made fun of her. She was really insane; she never spoke to anyone and never answered questions. She had her dignity, was haughty, self-sufficient. It was there, sitting on that bench which no longer exists, that Giraudoux could have seen her as often as I, because Jean came to the neighborhood practically every day.
INTERVIEWER
What do you do when you're traveling? Do you write in your cabin on board or do you wait until you've returned?
CENDRARS
I like long sea voyages, and the unique life at sea, too much to ever dream of working. It's the apotheosis of idleness; a triumph—to do nothing while the deck rocks, the boat moves, the engines knock, the ocean rolls, the wind blows, the earth revolves with the heavens and the stars, and the entire universe rushes to open for you to pass. I'm never in a hurry to arrive, and I've tried dozens of times to seduce the captain into taking his boat elsewhere than the designated port. There's no way, alas! an old Dutchman told me. For thirty years I've been making the trip between Rotterdam and Buenos Aires, as if I was the engineer of a train. Impossible to change anything, the route is set in advance, the timetable fixed, I must get there on such a day at such a time, it's outlined in advance by the company, who are masters after God. But the most annoying thing is that it's always the same people who get on, always the same heads I'm obliged to have at my table—the same chargés d'affaires, the same diplomats, the same nabobs, the same big bankers. After thirty years, I know them too well! If only I had the courage to follow your infernal ideas, swing the helm and point elsewhere, to the east or the west, no matter ... pass the Cape, dive into the southern seas.
All that to tell you that on board, I don't write.
INTERVIEWER
Haven't you said that you fortify yourself in love and solitude?
CENDRARS
In truth, artists live alongside, on the margin of life and of humanity; that's why they're very great or very small.
INTERVIEWER
On the margin of humanity? You don't then consider yourself as an artist?
CENDRARS
No. I've already had thirty-six professions, and I'm ready to start something entirely different tomorrow morning.
INTERVIEWER
You've never had trouble earning your living. During the occupation, you lived for the most part on the sale of herbs and plants which you grew in your garden at Aix-en-Provence.
CENDRARS
Some green plants, some medicinal plants.
INTERVIEWER
You're interested in bees?
CENDRARS
I'm interested in bees because they make me a lot of money, I wouldn't have Maeterlinck's interest—to study the habits of bees and draw absurd moral conclusions applicable to man. One meets thousands of similar people throughout the world, who study the lives of bees or ants passionately and then cite their social organization as an example, entirely wrongly I think, because insects have no ethics or sense of justice. I made honey because it was easy work, well paid. All you need are good customers.
INTERVIEWER
You've said that unlike many writers, you didn't go to war to write, that at that time you were a soldier, you had a gun.
CENDRARS
That's why I've never been one of those writer-soldiers. One is a fighter or one is a writer. When one writes, one isn't shooting, and when one's shooting one isn't writing; one writes afterward. One would have done better to write before and prevent all that.
INTERVIEWER
And what do you think of Jean-Paul Sartre?
CENDRARS
I have no opinion of him, Sartre doesn't send me his books. Existentialism? As for its philosophical doctrine, it was Schopenhauer who put us on guard against the professors of philosophy who, after completing the official course of studies, meditate, write, think, draw up manifestos—and Sartre is a professor. Philosophical plays are boring in the theater, and Sartre displays his theses on the stage. The novels of the school are well written or badly written, those of Sartre are neither one nor the other. The young writers today—I've seen a great deal of them since my return to Paris and I ask myself where and in what they are specifically existentialist? Is it because they disguise themselves each evening to go to Saint-Germain-des-Prés the way their fathers dressed up each evening to go out in society or to their club? It's a fashion which will pass, which has already passed. I don't get carried away by the noise of a parade. But the world gets bored with itself. The cinema, radio, television ... The truth is, few enough people know how to live and those who accept life as it is are still more rare.
INTERVIEWER
I don't know what can be said exactly of this invasion of literature by the professors, but one thing certain is that Jean-Paul Sartre's movement hasn't produced any poets. It's not made up of poets. No poet has come out of it.
CENDRARS
You're probably right. For the surrealists, I would make a single exception: Robert Desnos. Robert was a good guy and very sharp indeed. I've laughed much and drunk much with him in a bar where we used to meet and which I baptized "L'oeil de Paris" because it was in the rue de Rivoli, under the arcades, a couple of steps from the Concorde and where you could see all Paris pass by without moving from your table, and that Robert maliciously named "Chez Madame Zyeux" because of the ladies who came in to go down to the toilet and came back out, eyes strictly front, so as not to ruffle their dignity by admitting they had been to piss.
INTERVIEWER
You've said that you envy Mayakovski because of the illuminated signboard he had charge of over Red Square in Moscow.
CENDRARS
I don't know any other poet anywhere who had the luck and the opportunity to use an illuminated newspaper to publish—or rather, stick up—his poems in the street. It wasn't advertising or propaganda. Perhaps part of it, yes, simple propaganda of a party member, but Mayakovsky had too great a love of the people and of poetry. Think of the millions of illiterates there were in Russia. Nothing less than the genius of a Mayakovsky could stir such a crowd. And that's where I envy Mayakovsky—his poems weren't spoken, his poems weren't written, they were designed. Even illiterates can understand drawings. I can only compare him with Walt Disney, who is also a fine inventor, perhaps less pure, and the greatest poet in America, although commercialized. I'm sure that today Mayakovsky would shout his poems in Red Square over a loudspeaker, and that he'd improvise them every night on the radio in order that they might be heard in every corner of the world—more and more new poems, revolutionary in form and spirit.
INTERVIEWER
You say that there are other things in life to do besides writing books, but you are, all the same, an extraordinary worker.
CENDRARS
It's you others who are extraordinary! You all want us to write books without ever stopping. Where does that lead? Tell me ... go take a walk through the Bibliothèque Nationale and you will see where that leads, that route. A cemetery. A submerged continent. Millions of volumes delivered over to the worms. No one knows any longer whose they are. No one ever asks. Terra incognita. It's rather discouraging.
No, I'm not an extraordinary worker, I'm an extraordinary daydreamer. I exceed all my fantasies—even that of writing.
—Translated by William Brandon