Interviewed by Robert Phillips
Issue 68, Winter 1976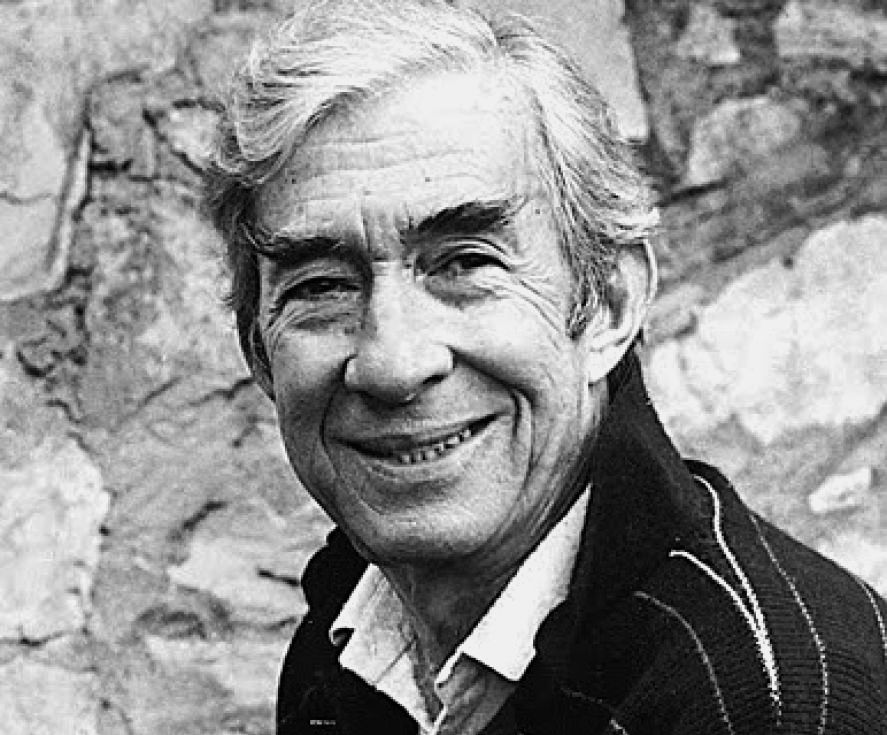 The interview with William Goyen took place on a sunny Saturday afternoon in June, 1975—the spring of Goyen's sixtieth birthday and also of the publication of the Twenty-fifth Anniversary Edition of his first novel, The House of Breath.
Taped over a three-hour period in the home of a friend in Katonah, New York, Mr. Goyen remained seated on a sofa throughout the interview, sipping a soft drink. He requested that baroque music be played over the stereo, "to break the silences." There were silences—long, considering pauses between thoughts.
William Goyen is slender and lanky, and a handsome figure at sixty. His aspect is intense and patrician, his manner gracious and courtly. Goyen's hair is silver; he speaks with a strong Southwestern accent.
INTERVIEWER
In the introduction to your Selected Writings, you stated that you began writing at the age of sixteen, at a time when you were also interested in composing and dancing and other art forms. Why writing as a career rather than one of the other arts?
WILLIAM GOYEN
My foremost ambition, as a very young person, was to be a composer, but my father was strongly opposed to my studying music—that was for girls. He was from a sawmill family who made a strict division between a male's work and a female's. (The result was quite a confusion of sex roles in later life: incapable men and oversexed women among his own brothers and sisters.) He was so violently against my studying music that he would not allow me even to play the piano in our house. Only my sister was allowed to put a finger to the keyboard . . . the piano had been bought for her. My sister quickly tired of her instrument, and when my father was away from the house, I merrily played away, improving upon my sister's études—which I had learned by ear—and indulging in grand Mozartean fantasies. In the novel The House of Breath, Boy Ganchion secretly plays a "cardboard piano," a paper keyboard pasted on a piece of cardboard in a hidden corner. I actually did this as a boy. My mother secretly cut it out of the local newspaper and sent off a coupon for beginners' music lessons. I straightaway devised Liszt-like concerti and romantic overtures. And so silent arts were mine: I began writing. No one could hear that, or know that I was doing it, even as with the cardboard piano.
INTERVIEWER
You weren't having to write under the sheets with a flashlight, were you?
GOYEN
You know, I was playing my music under the quilt at night, quite literally. I had a little record player and I played what music I could under the quilt and later wrote that way. So I did write under the sheets.
INTERVIEWER
What was your father's reaction to writing?
GOYEN
Something of the same. He discovered it some years later, when I was an undergraduate at Rice University in Houston. He found me writing plays, and to him the theater, like the piano, was an engine of corruption which bred effeminate men (God knows he was generally right, I came to see), sexual libertines (right again!), and a band of gypsies flaunting their shadowed eyes and tinseled tights at reality. When my first novel was published, my father's fears and accusations were justified—despite the success of the book—and he was outraged to the point of not speaking to me for nearly a year.
This could, of course, have been because the book was mostly about his own family—the sawmill family I spoke of earlier. My father, his brothers, his father, everybody else were lumber people, around mills . . . and forests. I went around the sawmills with him, you see, and saw all that. He loved trees so! My God, he would . . . he'd just touch trees . . . they were human beings. He would smell wood and trees. He just loved them. He knew wood. He was really meant for that.
Poor beloved man, though, he later came around to my side and became the scourge of local bookstores, making weekly rounds to check their stock of my book. He must have bought a hundred copies for his lumbermen friends. God knows what they thought of it. Before he died he had become my ardent admirer, and my Selected Writings is dedicated to him.
INTERVIEWER
Do you agree with the theory that an unhappy childhood is essential to the formation of exceptional gifts? Were you genuinely unhappy?
GOYEN
How could it have been any other way? My own nature was one that would have made it that way. It was a melancholy childhood. It was a childhood that was searching for—or that needed—every kind of compensation it could get. I think that's what makes an artist. So that I looked for compensation to fulfill what was not there.
INTERVIEWER
How have the physical conditions of your writing changed over the years? What is the relation between the creative act and privacy for you, today? In your Note on the Twenty-fifth Anniversary Edition of The House of Breath, you stated that part of the novel was written on an aircraft carrier in the Pacific.
GOYEN
Since my writing began in the air of secrecy, indeed, of alienation—as the work had to be done without anyone's knowing it—forever after my work has had about it the air of someone in solitude having done it, alienated from the press of society and the everyday movements of life.
On the ship, where I continued working, I found that there are many hidden places on an aircraft carrier where one can hide out and do secret work. And this was easily achieved. Also on the night watches and so forth, there was a lot of time. There is a great deal of free time aboard a ship in wartime, ironically. This kind of tradition in my work has been mine all my life, and I have generally lived in hidden places. In New Mexico it was at the beautiful foot of a mountain (the Sangre de Cristo in the primitive village of El Prado), and also in a mysterious mountain (Kiowa Mountain—the D. H. Lawrence Ranch called Kiowa Ranch, over San Cristobal, near Taos). And in Europe—Zurich, Rome—I worked in backstreet pensions.
Yet more and more, as I get more worldly and have the security of having survived, I feel that it is not necessary to be that far removed from the workings of daily life and the daily lives of people. Indeed, the older I get and the more I write, the more I feel it important to be a part of daily life . . . to know that it surrounds me as I work. I presently live in a large apartment on the West Side of New York City. One of those rooms is mine, and it's an absolute hideaway, yet all around me in the other rooms the life of a family goes on, and I like to know that. I also like to know that twelve flights down I can step onto the street in the midst of a lot of human beings and feel a part of those. Whereas, in the old days, in New Mexico, I was brought up—taught—by Frieda Lawrence to see that simple manual endeavor is part of art. I would work in gardens and dig water ditches and walk in mountains and along rivers when I was not writing, and I felt that it was absolutely essential to my work. That's changing for me now. I'm more city-prone. Maybe the world is changing, too. Maybe solitude is best had in the midst of multitudes.
It's amazing how quickly something gets written. Now, when it comes, it can be on a bus, or in a store. I've stopped in Macy's and written on a dry-goods counter and then suddenly had a whole piece of writing for myself that was accomplished, where earlier in my life I felt I had to spend a week in a house somewhere in the country in order to get that. Conditions change.
INTERVIEWER
Some say that poverty is ennobling to the soul. Is economic stability helpful to a writer? On the other hand, do you think wealth can be harmful?
GOYEN
It can be harmful. This depends on the stage in a writer's life, of course. As a young man, for me—I speak now not as a wealthy or an impoverished man, but as a man looking back when he was younger—it was imperative that I live very simply and economically. Living in Taos—where, who would have believed it then, fifteen or twenty years later a whole migration of young hippies would come to live and meditate in the desert just where I had lived—I was totally solitary. It was imperative for me and my work that I keep everything simple and have practically nothing at all. I lived in just a mud house with a dirt floor on land that Frieda Lawrence gave me out of friendship. I built it with a friend and a couple of Indians. Yet to live in absolute poverty all his life could harm a writer's work. The hardship and worry over money in writers as they get older is a social horror; grants given to writers should be sufficient, so that they are able to live with amplitude and, yes, some dignity.
INTERVIEWER
The genesis of it all goes back to that aircraft carrier, doesn't it?
GOYEN
I thought I was going to die in the war. I was on a terrible ship. It was the Casablanca, the first baby flattop. There were always holes in it, and people dying and it was just the worst place for me to be. I really was desperate. I just wanted to jump off. I thought I was going to die anyway, be killed, and I wanted to die because I couldn't endure what looked like an endless way of life with which I had nothing to do—the war, the ship, and the water . . . I have been terrified of water all my life. I would have fits when I got close to it.
Suddenly—it was out on a deck in the cold—I saw the breath that came from me. And I thought that the simplest thing that I know is what I belong to and where I came from and I just called out to my family as I stood there that night, and it just . . . I saw this breath come from me and I thought—in that breath, in that call, is their existence, is their reality . . . and I must shape that and I must write about them—The House of Breath.
I saw this whole thing. I saw what was going to be four-five years' work. Isn't that amazing? But I knew it was there. Many of my stories happen that way. It's dangerous to tell my students this because then these young people say, "Gee, all I've got to do, if I really want to write, is wait around for some ship in the cold night, and I'll blow out my breath, and I've got my thing."
INTERVIEWER
So this sustained you?
GOYEN
It brought my life back to me. I saw my relationships; it was extraordinary. Lost times come for us in our lives if we're not phony and if we just listen; it hurts, but it's also very joyous and beautiful . . . it's a redemption . . . it's all those things that we try to find and the world seems to be looking for . . . as a matter of fact, that's the hunger of the world. So there it was on the ship and it just came to me. I saw so much . . . that I wouldn't have to go home and they wouldn't have to suffocate me; they wouldn't kill me; I'd find other relationships.
INTERVIEWER
So after the war you didn't go home.
GOYEN
When the war was over, I just dipped into Texas and got my stuff and left and headed towards San Francisco. I had come to love San Francisco when it was the home port for my ship, the aircraft carrier, and I thought that it would be a good place to live. But I passed through Taos, New Mexico, in winter, in February, and I was enchanted. It really was like an Arthurian situation . . . I couldn't leave. It was beautiful and remote, like a Himalayan village, untouched, with this adobe color that was ruby-colored and yellow, all the magical colors of mud. It's not all one color. It's like Rome. Rome looks like that. And the sunlight and the snow . . . just about everyone on foot . . . a few cars . . . high, seventy-five hundred feet.
INTERVIEWER
Did the D. H. Lawrence commune in Taos have anything to do with your staying?
GOYEN
I didn't know anything about the Lawrence legend. Had I, I might not have stayed at all. But I did, and right away I thought that I'd better get a little more money for myself before I settled in to work. So I got a job as a waiter at a very fashionable inn called Sagebrush Inn. I worked as a waiter for a few months until I met Frieda, who came in one night and I waited on her. The whole Lawrence world came to dinner there: Dorothy Brett and Mabel Dodge, Spud Johnson, Tennessee Williams: he was living up at the ranch. They all came to my table. And then the owner of the inn had to come out and say, "This young man is just out of the war and he wants to be a writer." The worst thing I wanted said about me; it almost paralyzed me. Well, of course, Tennessee thought, Oh, God, who cares about another writer. But Frieda said, "You must come and have tea with me." She said it right away. I went and from that moment . . . we just hit it off. It was almost a love affair. It was the whole world.
So it wasn't Lawrence that brought me to her; circumstances brought me to Frieda and I found her a great pal and a luminous figure in my life on her own terms.
I would go to teas with her. She would have high teas. In Texas we had a Coke. But here it was the first time I met someone who baked bread, you know? She made a cake and brought it out . . . it was wonderful. She wore German clothes, like dirndls, and peasant outfits, and an apron. She was a kitchen frau. A few people came . . . Mabel Dodge had given her this great three-hundred-acre ranch in return for the manuscript of Sons and Lovers. That was the exchange. Except she never took Sons and Lovers away, so that the manuscript and many others, Women in Love, all holograph . . . were there in a little cupboard at the ranch. I could read them and look at them in amazement.
INTERVIEWER
What sort of things did you talk about?
GOYEN
We talked about the simplest things . . . well, really about love, about men and women and about sex, about physical living. Of course, I didn't know that I was hearing what Lawrence had heard. Because it was Frieda who gave Lawrence this whole thing and it overwhelmed me.
The various people would come up in the summer and spend time with us, all kinds of people. Just simple people; Indians . . . she was close to Indians. I got very close to three Indians who were really like my family and helped me build my house.
INTERVIEWER
And then people like Tennessee Williams came.
GOYEN
Yes, Tennessee stayed up there with his friend, Frank Merlo. Tennessee told us that he heard Lawrence's voice . . . he was a haunted, poor thing, but he did go a little too far. D. H. Lawrence was whispering things to him. Suddenly Tennessee had a terrible stomachache and it turned out that he had a very bad appendix and had to be brought down to Mabel Dodge. Mabel owned the only hospital; built it and owned it. It was like a European town and we were the only Americans, and I went to this hospital to witness Tennessee's dying . . . he was always dying, you know. He was dying in this Catholic hospital screaming four-letter words and all kinds of things with the nuns running around wearing the most enormous habits, most unsanitary for a hospital. Mabel was wringing her hands and saying "He's a genius, he's a genius." The doctor said, "I don't care; he's going to die, he's got gangrene. His appendix has burst. We have to operate at once." Tennessee said, "Not until I make my will." The doctor said, "How long will the will be?" "Well, everything's going to Frankie," so they sat down, with Frank going through an inventory of all Tennessee's possessions. "What about the house in Rome? You left that out." Tennessee was just writhing in pain. So they made a list of all the things. And then they wheeled him off and he indeed had this operation, which to everyone's surprise he managed to recover from. Eventually he got out of there . . .
INTERVIEWER
All this time you were working on The House of Breath. How did it get published?
GOYEN
It got published through Stephen Spender, indirectly. He came to that little village where I was living. I had sent a piece of it to Accent, a wonderful early magazine; it caused quite a kind of thing. I began to get letters. Random House wrote me a letter and said that they hoped this was "part of a book." (All editors do that, I later learned.) They'll say that even if it's just a "letter to the editor" they've seen. That's what editors have to do, God bless them, and I'm glad they do. About that time, Spender, a man I scarcely knew, whose poetry I scarcely knew, arrived in Taos on a reading tour. A wealthy lady named Helene Wurlitzer, of the family who made the organs, lived there and brought people into that strange territory to read, and give chamber concerts and so on. I never went to those things because . . . well, I didn't have any shoes; I really was living on mud floors in an adobe house that I had built, utterly primitive, which I loved. I was isolated and terrified with all those things going on in me . . . but I was writing that book. Well, Spender heard that I was there . . . he heard through Frieda, who went to the reading, and so then he asked me if he could come to see me; he treated me as though I were an important writer. He had just read that piece in Accent and he asked if there was more that he could read. I showed him some other pieces and he sent those around. They were published and then somebody at Random House sent me a contract right away of two hundred fifty dollars' advance for the book, and then promptly was fired. But Spender was very moved by the way I was living there; he wrote a well-known essay about the isolation of the American writer about my situation there. Nothing would do until Mr. Spender would have me come to London because he thought I was too isolated, too Texan, too hicky . . . He really took it upon himself to make that kind of decision for me. It was a wonderful thing that he did. The stipulation was that I would bring a girl who had come into my life with me (this blessed girl has passed on among the leaves of autumn), and she was very much a part of my life there in London, and together we were real vagabonds, embarrassing everybody—people like Stephen, and Cyril Connolly, and Elizabeth Bowen, Rose Macaulay, I mean, all of them . . .
INTERVIEWER
You stayed in Spender's house?
GOYEN
I had a room at the top and Dorothy had a room in the basement, with the stairs between us, creaking stairs. It was an elegant house, an eighteenth-century house in St. John's Wood. At four o'clock teatime in the winter it was dark, and they pulled Florentine brocaded curtains and turned on lights; it was a time of austerity still, but people came to tea. Veronica Wedgwood would arrive. Dorothy wouldn't come up from the basement. She really hated this kind of thing. She vanished. She just wouldn't participate. So I was really quite alone with this. I guess I must have kept her under wraps. I must have been very bad to her. I don't know. I have to think about that sometime. But here they would come: Natasha, Stephen's wife who was a gifted pianist and wanted to be a concert pianist, and so musicians came, and painters. Cyril Connolly was often there because he and Stephen were working together. Dame Edith Sitwell came. We went to her house and she read one night; she sat behind a screen because she wouldn't read facing anyone or a group . . . behind a marvelous Chinese screen and you would hear this voice coming through the screen . . . all those people . . . that was a world that Spender gave me and was a great influence in my life and on my work.
INTERVIEWER
What an extraordinary change.
GOYEN
I was thrown into this elegant surround which was precisely the opposite of what I had been doing. It was right for me because my character, Folner, yearned for elegance. Suddenly my country people were singing out their despair in those great elegant houses. I saw cathedrals for the first time . . . I'd not really seen cathedrals . . . I was able to get to Paris and all around there. All this went into The House of Breath. I saw the Sistine Chapel—well, that's the first page of The House of Breath, "on the dome of my skull, paradises and infernos and annunciations" and so forth. Europe just put it all right—everything that started in a little town in Texas, you see. It saved the book, I think. Because it made that cry, you know . . . it was an elegant cry . . . there's nothing better than an elegant cry of despair . . .
INTERVIEWER
Did people worry what this tremendous change in venue—from Taos to Europe—would do to The House of Breath?
GOYEN
Some people worried about it. James Laughlin of New Directions, when I had published a bit, wrote me, "You are ruining your work fast; the influences you are coming into are coming too soon, and you're allowing your personality to overwhelm your talent. Obviously people find your Texas personality . . ." (and he could be a snide guy too) ". . . charming and you might be of interest to them for a little while. But you are writing a very serious book and this will be permanently damaging to your work." He really wanted me to get out of there.
INTERVIEWER
Were there other Cassandras about The House of Breath?
GOYEN
Well, Auden had kind of looked down his nose at me. He said it's the kind of writing where the next page is more beautiful than the one just read. "One is just breathless for fear that you're not going to be able to do it," he said, "and that makes me too nervous. I prefer James."
Christopher Isherwood said, "You know, my dear boy, you'll never make it. That is what one feels when one reads you. You'll never survive with this kind of sensibility unless you change, get some armor on yourself." As a matter of fact, he wrote me and warned me again . . . he put it all down in a letter. And that did scare me. I was young and I was scared. But I knew that I had no choice. Then that feeling of doom really came on me . . . because I had no choice. I knew that I couldn't write any other way.
INTERVIEWER
When you began writing The House of Breath, did you expect it to be published? Were you writing for publication?
GOYEN
I was most surely not "writing for publication." But I don't think there is any piece of the novel except one that was not published in magazines before the book itself was published.
INTERVIEWER
You said earlier your father was upset by the book when it was published. Had you been concerned about the family and hometown reaction?
GOYEN
Concerned, yes. I fell out of favor with many people in the town, let's put it that way, and was just about disinherited by my own family. I had nasty letters, bad letters from home and heartbroken letters from my mother and my father. Generally the attitude was one of hurt and shock. It was not until fifteen years later that I was able to go back to the town! And even then rather snide remarks were made to me by the funeral director and by the head of the bank. We met on the street.
INTERVIEWER
So when you apply for a loan, you won't do it in that town?
GOYEN
No, and I won't die there, either.
INTERVIEWER
How long did you and the girl stay as Spender's guests in England?
GOYEN
I settled in for the whole year of 1949 . . . and I finished the book in that house at St. John's Wood, in Stephen's house. The girl was there until it got very bad; we had problems, and so she moved to Paris; that made me have to go to Paris to see her there and we had this kind of thing that was going on. When I came back, bringing my manuscript on the Queen Mary, she came with me to New York. But then we had one visit with Bob Linscott, my editor, who said to her, "My dear, do you like to eat? Do you like a roof over your head? You'll never have it; he's an artist. I feed him and Random House has kept him alive and probably will have to from now on. Don't marry him, don't even fall in love" . . . and he broke her heart. He really did. Poor Dorothy. He was right; I wasn't about to be saddled down. And so it broke away, and that's okay. Many years later I found a woman exactly like her. Her name was Doris, and so often I say to Doris, "Dorothy," and I'm in trouble.
INTERVIEWER
That was quite a step for an editor to take. What do you think their particular function should be?
GOYEN
Well, really caring for authors . . . not meddling with what they did but loving them so much and letting them know that he cares. Generally at that point, when you're starting, you feel that nobody does. Linscott looked after you and if you had no money, he gave you money. Once Truman Capote met me at the Oak Room of the Plaza. "I'm embarrassed to sit with you," he said when I sat down, "your suit is terrible." I hadn't really thought about what I was wearing. He said, "I'm not going to have you wear that suit anymore. But," he said, "I've ordered drinks for us and if you'll just wait, I'm going to call Bob and tell him that he must buy you a suit that costs at least two hundred and fifty dollars." And he did. Bob gave me money and he told me, "Well I guess he's right." He was lovable, Truman. He did sweet lovely things then.
INTERVIEWER
Carson McCullers was one of Linscott's authors, wasn't she?
GOYEN
I had first known her in this nest that Linscott had up there for these little birdlings of writers. Carson had great vitality and she was quite beautiful in that already decaying way. She was like a fairy. She had the most delicate kind of tinkling, dazzling little way about her . . . like a little star. Like a Christmas . . . she was like an ornament of a kind. She had no mind and she could make no philosophical statements about anything; she didn't need to. She said far-out, wonderfully mad things that were totally disarming, and for a while people would say, "I'll go wherever you go." She'd knock them straight out the window.
INTERVIEWER
What sort of people interested her?
GOYEN
She had a devastating crush on Elizabeth Bowen. She actually got to Bowen's Court: she shambled over there to England and spent a fortnight. I heard from Elizabeth that Carson appeared at dinner the first night in her shorts, tennis shorts; that poor body, you know, in tennis shorts and she came down the stairs; that was her debut. It didn't last long. But that was Carson.
INTERVIEWER
What was distinctive about her stories—as, say, compared to the other southern "magnolia" writers?
GOYEN
She would try to make her stories scary and the word "haunted" was used, of course, by the literary critics, "the haunted domain." I think that was the French title for Truman's first novel . . . Other Voices, Other Rooms. Les Domaines hantés. But Carson was . . . she was a really truly lost, haunted wonder-creature. It's hard to be that and grow old, because of course you either go mad out of what you see, or I guess you try to imitate that kind of purity. She was a bad imitator. So it was just a bore.
INTERVIEWER
She was not a person to have as an enemy.
GOYEN
She was . . . not tough but she had a nasty . . . well, she had a way of absolutely devastating you; the kind that hurt, that little kind of peeping "drop dead" sort of thing. She had an eye for human frailty and would go right to that; that's why people fled her. They thought, Who needs this? Why be around her?
Then, of course, she was terribly affected by not being able to write. It was a murderous thing, a deathblow, that block. She said she just didn't have anything to write. And really, it was as though she had never written. This happens to writers when there are dead spells. We die sometimes. And it's as though we're in a tomb; it's a death. That's what we all fear, and that's why so many of us become alcoholics or suicides or insane—or just no-good philanderers. It's amazing that we survive, though I think survival in some cases is kind of misgiven and it's a bore. It was written recently about Saul Bellow that one of the best things about him is that he survived, he didn't become an alcoholic, he didn't go mad and so forth. And that the true heroism of him lies simply in his endurance. That's the way we look at artists in America. People said to me when I was sixty, "My God, you're one of the ones, how are you. But you look wonderful. We didn't know where you were." They thought I was dead, or in an institution or something.
INTERVIEWER
Could her editor, Linscott, help McCullers at all?
GOYEN
Poor Linscott couldn't get any more out of her and then he died before he could help her. I doubt whether he could have; no one could have. She was hopeless. She was just kind of a little expendable thing, you know? She would stay with me days at a time. I put her to bed; she had a little nightgown. I was playing sort of dolly; I was playing house. I sat with her while her Ex-Lax worked. Two or three chocolate Ex-Laxes and three glasses of wine, and about three Seconal. And I would sit by her bed and see that it all worked, or at least it all got going in her. And then she was off to sleep.
She had some awful cancer of the nerve ends. This caused the strokes and she had a stroke finally on the other side until she was very badly paralyzed and then she had just a massive killing stroke. She was absolute skin and bones. They took her down there to Georgia, not far from where Flannery O'Connor lived, where they buried her.
INTERVIEWER
Could she have written an autobiography?
GOYEN
She did not have "a hold of herself," as a person would say, enough to look back and see herself in situations. She never could have written her autobiography; it would be impossible for her . . . she had disguised herself so much . . . And what a past, you know? Her mother . . . the mother of all these people . . . thank God mine seems to be quite okay—I'd be raving mad at this point. Carson's mother was an aggressive lady, all over the place, and she came here once and worked at Mademoiselle. She had a notorious time as a fiction editor there. She did the oddest things . . . rejecting stories in her own Georgian way, generally in terms of cooking. I think she wrote to a writer once, "The crust of this story holds its contents well . . ." (she was off on a pie) "but my dear, by the time we get to the custard, it runs." The pie image went on and on. "This pie won't do," she said, ". . . came out of the oven too soon." She was a self-educated lady from the South who very early on had read Katherine Mansfield, for instance, and had told Carson about Mansfield, which was the worst thing she could have done. Once I went with her to meet Carson's plane. When she saw her daughter step out of the plane, she turned to me and said, "I seen the little lamp." I thought, "That's some allusion I'm going to have to find out about." When Carson reached us, she said, "Carson, you know what I told Bill when you appeared?" (She was the kind of lady who would repeat a thing she'd said.) "I told him that I seen the little lamp." Carson burst into tears. I said, "Please tell me what this is that hurts you so." She said, "Well, it's that beautiful story called 'The Doll's House' by Katherine Mansfield. It's the last line of the story. A poor little girl peeks in a garden at a doll's house owned by a snobbish family, and she sees this glowing little lamp inside. Later when the little girl's sister asks why there is a curious glow in her eye, she says, 'I seen the little lamp.'"
INTERVIEWER
What about your own mother?
GOYEN
As a literary person I truly am the offspring of my mother and women like my mother. There's no woman like a Texas woman in her eighties. It's not southern. She wouldn't have a clue as to what a "southern lady" was. Hers was a singing way of expressing things, and this I heard so very early that it became my own speech; that's the way I write. I love spending money to talk to her on the phone in Texas an hour at a time because it's just as though the curtain that came down on an opera last night goes right up when I call her tonight. The aria goes right on; it's just wonderful.
INTERVIEWER
What do you talk about?
GOYEN
About how Houston has grown, and how she wants to go back to the little town she left fifty years ago. I write her expressions down; I have to do that to understand what they really mean; it's almost another language. But she keeps breeding it. I mean, she's writing all the time. I may not be writing, but she is. She's alive . . .
INTERVIEWER
Do you carry a notebook with you to put these things in? Or keep a diary?
GOYEN
Oh yes, I always carry paper with me . . . something to write on, always. And I keep not so much a formal diary any longer, but, well, it's a notebook, and in it I keep most things.
INTERVIEWER
What do you do with those ideas that strike you in the middle of Macy's, say, and you can't record them fully or easily? Are they often unrelated to what you currently are writing?
GOYEN
It's rarely unrelated. When one's really engaged deeply in a piece of work, truly writing it, it takes over almost everything else and you find you're thinking about it constantly and it's a part of everything that happens. Even the clerk in Macy's suddenly speaks out of the novel that you are writing, it seems, or is a character in it. All the people in the world are suddenly characters in the novel you are writing. Everything contributes. The created piece of work has suddenly replaced what is called real life . . . life as it really is, whatever that means . . . so that it's not surprising to have it come at one from all angles.
Therefore, I know that if I've been writing all morning and I've got to buy groceries at noon, I better take paper with me, because I'm going to keep writing as I go down the street; you can write on the sack that your groceries come in, and I have!
INTERVIEWER
What about the six years you were an editor at McGraw-Hill? Were you able to write, or did this interfere with your work?
GOYEN
The whole McGraw-Hill period is one that I want to write about. I have been writing about it in my Memoirs (my next book). The writer in the world of publishing, and particularly me in the world of publishing, who had been so disillusioned and embittered by publishers . . .
INTERVIEWER
You were disillusioned with your own publishers?
GOYEN
Not my own per se. Just publishing in general—the making of books and the life of the making of books. All these things seemed so dead-end to me, without meaning. In this great place, this huge publishing house, I was a special person, in that I was a special editor. I was brought there to concern myself with serious writers and with new writers and what would be called Good Books, "quality writing." I was so concerned with the writing of my own authors that I considered their books my own and I treated them as such. I entered into their creative process. Nevertheless, I was caught in the competitive crush and thrust of commercial publishing. There was no question of my own writing. I was relieved not to have to worry about my own writing. I scarcely grieved it, or mourned it. It had brought me so little—no more than itself.
I suddenly was not a man who I had known. I was on the phone . . . I hate phones, I really can't manage phones well. I won't answer it generally and if I do I can't talk very long; I just can't do it. But here I was having to live and negotiate on the phone. Editors live that way. With agents and all that. . . Here I was doing this for the first two or three years. I was drawing up contracts and I never knew what a contract was; I didn't know what they were about.
But I began to fail after the fourth year. I got very disturbed for all kinds of reasons . . . publishing, that's a corrupt thing sometimes. I had my way for a while, but then pretty soon night must fall and I was back with the old budgets and best-selling books and a lot of crap.
INTERVIEWER
I take it your interest in your own writing increased during those six years?
GOYEN
Yes, that was bound to happen. As years passed, I began to be hungry and I wasn't quite sure what that hunger was. Well, of course, it was that I was not writing, and the more I exhausted myself with other writers, the more hungry I became to do my own work. This is an exhausting thing, being an editor, and I had no time left for my own work, no matter how much I wanted it. The demands made on me were almost unbearable. And that was when I left McGraw-Hill—or was asked to do so by Albert Leventhal.
INTERVIEWER
That was in the sixties. In the fifties you were teaching at the New School. Did you find teaching just as demanding? Or was this a more satisfactory way to earn an income while doing your own writing?
GOYEN
Teaching writing is draining too, of course. Especially the way I do it. You see, I believe that everybody can write. And in believing and teaching this, what happens, of course, is enormous productivity on the part of many students. One's students produce so much that he is followed down the street by the mass of stuff he's encouraged! I mean, he's overtaken by it. And there's that much more work to do and more conferences to hold, and it's a depleting and exhausting thing. Just as exhausting as editing.
INTERVIEWER
Is there an ideal occupation for the writer, then? Other than teaching?
GOYEN
Probably teaching is ideal. Because there's a community of writers there, and because the writer is respected and understood as a writer in colleges now. He's brought there as a writer, so it's understood why he's behaving the way he does and what he's doing when he's not around; he's expected to write. It's well paid, now, too—universities are paying writers well. It's probably the best. It takes a lot of discipline for a writer to teach writing, though. But in the end, leading writing seminars and workshops is refreshing and exhilarating and creative and in touch with life. I consider teaching one of my callings.
INTERVIEWER
What do you think of your students?
GOYEN
The young people I've been involved with in my classes seem to have no sense of place. It bewildered me at first and then it caused me no little alarm. We've talked about it and what they tell me is often what I've presumed . . . that there isn't much of a place where they come from. I mean, every place looks like every other place. Even suburban places—around here or in Ohio or wherever—all look alike . . . a shopping center, a McDonald's, the bank with the frosted globes on the facade, you know, that's a given building. The repertory theaters all look alike. So that they really don't have a sense of place except through literature. But when they begin to write they can't write about Flaubert's place. So what they're writing about right now is the Princeton campus, and I've told them I don't want to hear about that. I ask them, But didn't you live somewhere before? Wasn't there a room somewhere, a house? A street? A tree? Can't you remember?
There was always a sense of belonging to a place in my childhood. The place. We called the house "the place." "Let's go back to the place," we'd say. I loved that. There was such a strong sense of family and generation and ancestors in it. It was like a monument . . . that's what my impression was and I wrote about it as that. It was a Parthenon to me . . . with that enduring monumentality to it. But these students . . . they've had terrible family problems—they are dissociated . . . they're so disoriented . . . divorce, my God, divorce is a way of life in these generations. I ask them, Don't you have a grandmother? Do you ever go to your grandmother's? Where does she live? Oh, they say, she lives with us; or she lives in an apartment; she lives in the condominium. These elegant old ladies, they don't live in places anymore, either.
INTERVIEWER
To get back to your own work, do you feel that music is reflected in your writings?
GOYEN
It's an absolute, basic part of my work, there's no question, and I think of my writing as music, often; and of my stories as little songs.
INTERVIEWER
"Little song," of course, is the literal meaning of the word "sonnet." The Albondocani Press has just published an edition of your early poems, poems written before your first novel. What made you abandon poetry for fiction? Faulkner said that all short-story writers are failed poets. Do you feel this is so?
GOYEN
I think an awful lot of them are. I'm not a failed poet, I'm just a poet who made another choice, at a certain point, very early. Actually, I'm so taken by the dramatic form I'm really a playwright manqué! I still consider myself, after having written and seen produced four plays in the professional theater, manqué in the theater. And yet I continue to love the form, and fear it more than love it.
INTERVIEWER
Do you think your playwriting has been beneficial to your fiction writing?
GOYEN
I think it has. I think it's made me care more about writing fiction, for one thing.
INTERVIEWER
Do you feel a compromise in the collaborations between director and producer and writer?
GOYEN
No, no, that's welcome to me, all that. I need all the help I can get! I never accept playwriting as a solitary thing. Once you do, you're ruined: because from the beginning it's a collaborative affair, and the sooner you can get it onto a stage, the better. The more you write at the table on a play, alone, the farther away you're going to get from the play. So far as the theater is concerned, it becomes a literary work the more you work on it. But writing for the theater has made me understand plot. It's helped me with plot in fiction writing.
INTERVIEWER
What European authors and what American authors have meant the most to you?
GOYEN
As for American authors, Hawthorne and Melville have meant a great deal. And Henry James. And two poets—Ezra Pound and T. S. Eliot—have influenced me.
INTERVIEWER
In what ways? They seem odd choices for a southwestern fiction writer . . .
GOYEN
I still read, I still study, the Cantos of Pound. I found Pound in Texas when I was eighteen or nineteen through a young friend named William Hart. Hart was one of those prodigies, enfants terribles, that materialize in small towns, young men bearing a sense of art and poetry and life as naturally as others bore the instinct to compete and to copulate. He had a great deal to do with my early enlightenment and spiritual salvation in a lower-middle-class environment in an isolated (then) Texas town, where a boy's father considered him a sissy if he played the piano, as I've said, and questioned the sexual orientation of any youth who read poetry.
William Hart was a true pioneer; he brought me Pound, Eliot, and Auden. He was self-taught, finding things for himself out of hunger. He had a high-school education, barely, but afterwards he came and sat in my classes at Rice and listened. He knew more than the professors did sometimes—he really did . . . about Elizabethan drama, and medieval romances. He knew these things. He was a delicate boy, obviously, but not effete. He was French Cajun, from a poor family, and he was on the streets, and could have been in trouble a lot. But he ended up in the library. They felt they had a revolutionary in there. In the Houston Public Library at nineteen he would get up and speak about literature, and Archibald MacLeish, of all people. And oh, how this man Hart spoke. The whole library would turn and listen. He became that kind of town creature, one of those who go down in cities, unheralded . . . they go down into beds of ashes. Well, he brought me Pound.
Pound's Cantos hold for me madness and beauty, darkness and mystery, pain, heartbreak, nostalgia. Some of the most beautiful and most haunting were written as a prisoner. He made, above all, songs, and he told his stories lyrically, as I have felt driven to tell mine. By ordinary speech, ordinary people. I mean that it seems to me that Pound sometimes speaks from a sort of subtone in his poems like a con man, a backstreet hustler, using pieces of several languages, bits of myth, literary quotations and mixed dialects and plain beguiling nonsense. There is a stream, flowing and broken, of voices in Pound, echoes, town speech, songs, that deeply brought to me my own predicament, in the home of my parents and in the town where I lived. He helped show me a way to sing about it—it was, as most influences have been for me, as much a tone, a sound, a quality, as anything else.
The same for T. S. Eliot. He seemed then so much more American than Pound—but then Pound has the Chinese calligraphy and the heavy Greek and Latin. Eliot's wan songs broken suddenly by a crude word or a street phrase directly influenced me as a way to tell The House of Breath; and doom cut through by caprice shocked me and helped me survive in my own place until I could escape; showed me a way of managing the powerful life that I felt tearing through me, and trying to kill me. I saw a way: "Cry what shall I cry?"—the dark biblical overtone of the great poem; "the voice of one calling Stetson!"* Oh, Eliot got hold of me at that early age and helped me speak for my own place.
The storytelling method of Eliot and Pound—darting, elliptical, circular, repetitive, lyric, self-revealing, simple speech within grand cadence and hyperbole, educated me and showed me a way to be taken out of my place, away from my obsessing relations: saved me from locality, from "regionalism." I knew then that it was "style" that would save me. I saw Pound as the most elegant of poets and the most elemental. Both. His madness partakes of both (elegance and elementalness) and is a quality of his poetry:
"Hast 'ou seen the rose in the steel dust
(or swansdown ever?)
so light is the urging, so ordered the dark petals of iron
we who have passed over Lethe."
That's Canto 74, from the Pisan Cantos.
INTERVIEWER
What of the Europeans?
GOYEN
Balzac above all, if just for the sheer fullness of story in him, for the life-giving detail in his novels. The daily stuff and the fact of his writing helped me struggle against a tendency toward the ornate and fantastical and abstract. Then come Flaubert, Proust. Of the English, Milton—a curious choice, right? The minor poems of Milton, but Paradise Lost above all. Milton's richness and grandness—his scope. I had an epic sense of my story, my material, and he helped me see it. Then Dante—the Inferno. Heine's poems—their sweet-sadness. The beautiful lyric poems of Goethe. Thomas Mann's stories, especially "Disorder and Early Sorrow," and Buddenbrooks. And some of the lyrical poems of Wordsworth. Poetry has been a strong influence on me, you see. I read it as often as fiction.
INTERVIEWER
You weren't influenced by Faulkner in any way?
GOYEN
No, not at all. His work is monumental, and extremely important to me, but not in any way an influence. It goes along beside me—Light in August, Absalom, Absalom!—but not through me. I can't say why, but I know that that's true. Maybe he's too southern. If that is a tradition . . . I'm not part of that. Thank God for my southwestern-ness . . . that Texan thing. My father, I'm afraid, is a southerner, a Mississippian, but my mother and her family for generations were native Texas people . . . so that was a strong influence. I knew a lot of my father's family; they're the people I've really written about in The House of Breath. But something kept me away from those sicknesses and terrors that come from that Deep South.
INTERVIEWER
The House of Breath came out at the same time as other celebrated works—Styron's, Capote's, Mailer's. Did you feel part of a writing generation?
GOYEN
I felt immensely apart. And most certainly did not belong to any "writing generation." I remember, indeed, saying, in an interview with Harvey Breit in 1950 in the New York Times, that I felt excited about joining the company of those writers, but that I had not before that time been aware of any of them! I stayed off to myself. I read nothing of "the literary world" when writing The House of Breath.
INTERVIEWER
Subsequently, did you ever do any reviews of your contemporaries?
GOYEN
I reviewed Breakfast at Tiffany's for the New York Times Book Review. Actually it was a fair review . . . but it was critical . . . I called Capote a valentine maker and said I thought he was the last of the valentine makers. Well, this just seemed to shake his life for the longest time.
INTERVIEWER
Do your contemporaries interest you now?
GOYEN
They really don't interest me very much. I still feel apart and, well, I am apart from my contemporaries. And they don't know what to do about me, or they ignore me. I am led to believe they ignore me.
INTERVIEWER
Hasn't that perhaps something to do with your books having been out of print for a decade or more, until recently?
GOYEN
No, I don't think so. How could it? My books have been in libraries, on reading lists in universities. Somebody was always writing a thesis or a paper on my work and writing to me for my help.
But: if I am so full of the books of all these people—Doris Lessing and John Updike and X and Y and Z—how will I have a clear head for anything of my own? I'm really not very interested in contemporary fiction, anyway. I consider my fiction absolutely separate and apart from and unrelated to "contemporary American fiction."
INTERVIEWER
You feel closer to the European literary tradition?
GOYEN
I do.
INTERVIEWER
Your books continued to remain in print in European editions long after they were unavailable here. Do you have any notion why that is?
GOYEN
No, unless it was because my books were translated by such eminent translators—Ernst Robert Curtius and Elisabeth Schnack in Switzerland and Germany, Maurice-Edgar Coindreau in France.
INTERVIEWER
All your novels have a rather unique form: they do not follow a linear line, for one thing. Did The House of Breath ever take form as a straightforward narrative and then later get broken down into monologues?
GOYEN
No, no, no. The form of that novel is the way it was written. It was slow, although it poured from me and a whole lot of it was simply given to me, absolutely put into my mouth. There were great stretches when nothing came. Then it poured out . . . in pieces, if that's possible. So I thought of it as fragments . . . that was what established its form. I once called it Cries Down a Well, and then I called it Six Elegies. Later it was Six American Portraits. So it came in pieces, but I knew that they were linked.
INTERVIEWER
What do you have against the linear novel?
GOYEN
I always intend to write a linear novel when I begin. It's my greatest ambition to write a straightforward novel, and I always feel that I am, you know. I get very close. I thought Come, the Restorer was very close to being a linear novel. Then people laughed at me when I finished and said that's not true at all.
INTERVIEWER
What people?
GOYEN
Friends or interviewers, I suppose. What I end up writing each time, you see, is a kind of opera. It's a series of arias and the form is musical, despite myself, and it is lyrical. The outcry is lyrical despite myself. These novels have come to me at their height, passages have come to me in exaltation. So that the gaps between have been my problem and the—I was going to say—quieter . . . spaces and moments . . . but I don't mean that, because there are many quiet spaces in these books. But the less intense spaces seem to be hard for me to manage, somehow. What seems meant for me to do is always to begin what's called the linear novel, and try and try and try . . .
INTERVIEWER
Going back to form: Do you think of the novel as a lot of short stories, or as one big story? Or does it depend upon the novel?
GOYEN
It might. But it seems to me that the unified novel, the organic entity that we call a novel, is a series of parts. How could it not be? I generally make the parts the way you make those individual medallions that go into quilts. All separate and as perfect as I can make them, but knowing that my quilt becomes a whole when I have finished the parts. It is the design that's the hardest. Sometimes it takes me a long time to see, or discover, what the parts are to form or make.
INTERVIEWER
Does the completion of one "medallion" lead to another?
GOYEN
No, the completion of one medallion does not usually lead to another. They seem to generate, or materialize, out of themselves and are self-sufficient, not coupled to, or, often, even related to, any other piece. That seems to be what my writing job is: to discover this relationship of parts. Madness, of course, comes from not being able to discover any connection, any relationship at all! And the most disastrous thing that can happen is to make up, to fake, connections. In a beautiful quilt it looks like the medallions really grow out of one another, organic, the way petals and leaves grow. The problem, then, is to graft the living pieces to one another so that they finally become a living whole. That is the way I've had to work, whatever it means.
INTERVIEWER
Have you made medallions that did not fit into the final quilt?
GOYEN
There's rarely been anything left over, that is, medallions that didn't fit into the final quilt. If the pieces didn't all come together, the whole failed. It's really as though all the pieces were around, hidden, waiting to be discovered, and there were just enough for the design on hand. If, in rare cases, something was left over, one tried to use it as some sort of preamble or "postlude"—that sort of fussy thing. It never worked, even when one felt it was such "fine" writing that it should be kept in. It's this kind of exhibitionism of bad taste that's harmed some good work by good writers.
INTERVIEWER
So you started writing under a quilt and you came out producing quilts.
GOYEN
Producing them is right.
INTERVIEWER
How else would you describe your own writing, or your style?
GOYEN
As a kind of singing. I don't say this because others have said it. But we've spoken of my work as song, earlier, the musicality of my writing and its form. It's impossible for me not to write that way. I write in cadence—that could be very bad. Just as in the theater, when an actor in rehearsal discovers that lines in a speech rhyme, he or the director is horrified. Someone in the back of the theater will scream out, "Couplet! Couplet!," meaning, "It rhymes! It rhymes!"
Now, when I speak of writing in cadence, I obviously don't mean "Couplet! Couplet!" Nor am I concerned with alliteration or any kind of fancy language. But I am concerned with the flow of language (the influence of Proust). I think of my writing as having to do with singing people: people singing of their lives, generally, arias. The song is the human experience that attracts me and moves me to write.
INTERVIEWER
Are you concentrating now on short stories or novels?
GOYEN
I have less an urge to write the short story, and more of a concern with writing The Book. It has nothing to do with anything but my own lack of a need for the very short form and a deep love for the book itself, for a longer piece of writing.
INTERVIEWER
Some may say you achieved both in Ghost and Flesh—a book of short stories which, on rereading, seems a total book rather than a collection of pieces. Was it conceived as a book, or was it a true gathering?
GOYEN
No, it was conceived as a book, it truly was. A sort of song cycle, really, that made up a single, unified work, a thematic unity like Schubert's Die Winterreise (which influenced The House of Breath—an early Marian Anderson recording. Frieda Lawrence first made it known to me, that is, the poem on which the songs were based).
Ghost and Flesh . . . you can see in those stories . . . wow . . . quite surreal and I loved those, and when that was finished and published, I kind of went off the beam. I think the book made me quite mad; writing it, the obsession of that book; but, on the other hand, The House of Breath did not. And that's an obsessed book, you see. It's hard to say these things but something always pulled me through. Of course my critics might say, He should have gone mad.
INTERVIEWER
What sort of madness was it?
GOYEN
While I wasn't that sane, I knew that madness—that's the word I use but I don't know if it's quite right—that dangerous thing . . . that terror, and I knew that. I guess I knew when to let it alone.
It comes in a loss of reality. If we say madness that sounds funny. But let's say an other-worldness. It has to do with identity. I go through phases of not knowing my own history. It's amnesiac, almost. I've known this all my life; as a child I've known that. The loss of the sense of the world around me, of the reality. It means that I just have to isolate myself and then I'm okay.
Also, I found a very strong wife. So my choices must have been blessed. God knows, when I brought her home to Texas, people gathered to meet her and congratulate us and one woman came over to me who had known me all my life and said, "My God, I can't tell you how relieved we all are. We thought you were going to bring home some poetess!"
INTERVIEWER
Is writing a work of nonfiction markedly different for you from writing fiction? Did you derive equal satisfaction from reconstructing the life of Jesus (in A Book of Jesus) as you do composing a novel?
GOYEN
Oh, yes. The excitement was tremendous in writing that book. There was no difference in feeling between that and what I felt when I had written fiction. It was as though I were creating a character in this man. A marvelous experience. Astonishing. A very real man began to live with me, of flesh and blood. He did the same work on me that He did on the people of the New Testament that He walked among: He won me over, enchanted and captured me, finally possessed me. I went rather crazy with the love from Him that I felt. I carried a little New Testament around with me in my pocket and would flip it open and read what He said, at cocktail parties or at dinner tables. A surprising reaction from my listeners generally followed: they were struck by the simplicity, wit, and beauty of what the man said to others, particularly to the wonderful woman at the well.
INTERVIEWER
How do you react to the charges of being a regional writer?
GOYEN
For me, environment is all. Place—as I was saying about my students—is absolutely essential. I know the vogue for the non-place, the placeless place, à la Beckett, is very much an influence on writing these days. It has been said that places don't exist anymore. That everything looks alike. There is the same Howard Johnson on your turnpike in Kansas as there is in Miami and in the state of Washington. And the same kind of architecture dominates the new office buildings and the skyscraper. What is a writer to do? Free the "reality" of his environment? To lament loss of place, to search for it in memory? Because within place is culture, style. We speak of a lost way of life. In many of my books and stories, I've felt the need to re-create, to restore lost ways, lost places, lost styles of living.
INTERVIEWER
Isn't this what Marietta did in In a Farther Country? And what was expected of Mr. de Persia, in Come, the Restorer?
GOYEN
Exactly. So to this extent, then, I am a regional writer. In that my writing begins by being of a region, of a real place. It begins with real people talking like people from that place, and looking like them. Very often regional reality ends there and these people become other people, and this place becomes another place. The tiny town of Charity, in The House of Breath, is really Trinity, Texas, truly, accurately described. Once described, however, it ceases to be Charity or Trinity and becomes . . . well, London or Rome. The pasture in front of the house in Charity where a cow named Roma grazed becomes the Elysian Fields, and Orpheus and Eurydice flee across it. The house itself becomes a kind of Parthenon, with friezes of ancient kin.
I think there are moments when I exceed myself as a human being, and become Ulysses, perhaps, or Zeus. It is the point of time at which the human exceeds himself, is transformed beyond himself, that I most care about writing about. This is the lyrical, the apocalyptic, the visionary, the fantastic, the symbolic, the metaphorical, the transfiguratory, transfigurational—all those terms which have been applied to my work.
Now, by "exceeding myself as a human being" I mean in life—epiphany moments in life—not in writing. I mean those moments when human beings experience an epiphany, a transfiguration (that's the word) are the moments that most excite me. I've seen it in supreme artists who sang or danced or acted, in people who've told me they loved me, in those whose souls have suddenly been reborn before my eyes. These are moments and people I most care about writing about, no matter how small the moment, how humble the person. "I seen the little lamp," the transfigured child said at the end of the Katherine Mansfield story.
INTERVIEWER
Are your closest friends writers? Is talking to other writers helpful or harmful to your work?
GOYEN
My closest friends are theater people. Painters were once closest to me. For some years I lived among painters. But that changed. Now it's either performers or directors. I love theater people, they give me a great deal. I don't particularly like writers, and I am not prone to talk about writing. Since they're solitary workers, writers tend to act out in public, I believe. They seem to carry more hostility maybe because they are responsible to more people (their characters), to a whole world—like God—than painters or actors. Maybe it's because writers are caught in the English language, which sometimes seems like a sticky web you can't pull your antennae out of, like insects I've watched in webs, and are, in public and when they're with other people, still thrashing about in an invisible web. It is enraging to work in words, sometimes; no wonder writers are often nervous and crazy: paint seems to be a more benevolent, a more soothing and serene-making medium.
Musicians always want to play for you, which is wonderful and wordless; painters seem to want to talk only about sex or point out to you the hidden genital configurations in their canvas! Since the writer is truly a seminal person (he spits out his own web, as Yeats said, and then, as I just said, gets caught in it), the truly creative writer, I mean, he's full of the fear and the pride that a maker of new things feels. So it's seemed to me.
INTERVIEWER
After one of your books is done, do you divorce yourself from the characters, or do you seem somehow to maintain a contact with them?
GOYEN
Oh, the characters in my first novel haunt me to this day! Actually haunt me. And characters like Oil King (from Come, the Restorer), who's been in my life a long, long time. I've lived with him and loved him and written about him for many, many years. They stay with me, yes indeed they do. They stay. They not only enter my life, but I begin to see them in life, here, there. I see Marietta McGee quite frequently, in several cities. I had not dreamt she was down in Ensenada, Mexico, until recently when I was there. They seem absolutely to exist in life, when I've seen some of them transferred to the stage: like Oil King in The Diamond Rattler—it's as though they read for the part and got it—read for their own role. And Swimma Starnes crops up a lot.
INTERVIEWER
How much of a plan do you have before you begin a novel or a play?
GOYEN
I plan quite a bit. But I'm not too aware of it. That is, I've not got it all down, but I've got a good deal of it thought through or felt through, before I begin writing. So that the whole world of it is very much alive and urgent for me. I'm surrounded by it—almost like a saturating scent. I feel it like a heat. The world that I'm going to write has already been created, somehow, in physical sensation before I go about writing it, shaping it, organizing it. My writing begins physically, in flesh ways. The writing process, for me, is the business of taking it from the flesh state into the spiritual, the letter, the Word.
INTERVIEWER
Do you see, from The House of Breath to your latest novel, a progression? Do you see any new directions forthcoming?
GOYEN
There is a progression. I'm much freer. And I see a liberation of certain obsessive concerns in my work, a liberation towards joy! I feel that I'm much freer to talk about certain aspects of human relationships than I once was . . . What was the other question?
INTERVIEWER
Do you see any new directions in your subjects or forms?
GOYEN
That's very hard to say. I'd find that only as I write on. I do want very much to write a heavily plotted novel, a melodramatic novel.
INTERVIEWER
Finally, a last question: Why do you write?
GOYEN
And the easiest to answer! I can't imagine not writing. Writing simply is a way of life for me. The older I get, the more a way of life it is. At the beginning, it was totally a way of life excluding everything else. Now it's gathered to it marriage and children and other responsibilities. But still, it is simply a way of life before all other ways, a way to observe the world and to move through life, among human beings, and to record it all above all and to shape it, to give it sense, and to express something of myself in it. Writing is something I cannot imagine living without, nor scarcely would want to. Not to live daily as a writing person is inconceivable to me.
* Actual line (from "The Waste Land") reads: "There I saw one I knew, and stopped him, crying: 'Stetson! . . . '"