Interviewed by John Jeremiah Sullivan
Issue 163, Fall 2002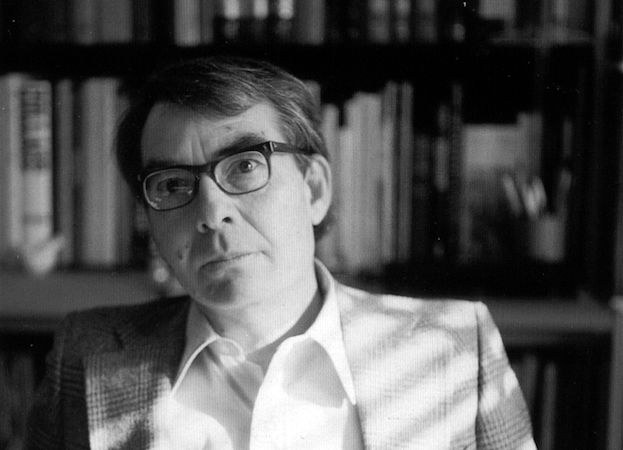 Guy Davenport, ca. 2002. Photograph by Jonathan Williams
On first picking up a copy of Guy Davenport's Tatlin! (1970), his first of eight volumes of stories and the book that initiated the major (and ongoing) phase of his career, you find on the cover a lovely, rather conventional telescopic photograph of the moon, three-quarters full, its craters and mares starkly discernible. Yet when you flip the book over, before so much as cracking the spine, you read—beneath a photograph of the author seated at a Greek ruin, his face, like that of the moon, partly obscured by shadow—this note: "front jacket: The Face of the Moon, 'painted from nature' by John Russell, c. 1795. Birmingham, The City Museum and Art Gallery."
You will have stumbled, unwittingly though not by accident, onto the author's method, for this is a writer who, in the classic modernist style, is incessantly sending us back, reminding us that what seems newest is old, if not beyond time, and that what appears, or is, most radical in art and culture often has for its source "the archaic," as Davenport has said in a previous interview, "the dawn of things, before betrayals and downstream mud."
Davenport has published forty-six books of fiction, essays, and poetry, not counting the many to which he has contributed chapters and introductions, and for fifty years he has supplied magazines and newspapers with articles and reviews. He has translated Archilochos, Sappho, Alkman, Herakleitos, Diogenes, Anakreon, Poliziano's Stanze, the Mimes of Herondas, and in his fiction one can find translations of Rilke, Cocteau, and others. He is also an accomplished visual artist. Six years ago Erik Anderson-Reece's A Balance of Quinces, a study of Davenport's graphics and paintings (and one of the most useful and perceptive introductions to his writing), was published by New Directions.
Despite threats of giving up writing after his receipt of the MacArthur "Genius" Fellowship in 1992, Davenport has continued during the past decade to generate, if less prolifically, short stories and essays. His books have never been widely read, by popular standards, but they tend to be deeply read by those lucky enough to find them; he is perhaps as close to being a cult writer as one can come while having been singled out for praise by George Steiner in The New Yorker, yet his work has none of the thinness of the cult writer. For all its strangeness, it seems destined to endure.
Born in South Carolina in 1927 and having lived the past thirty-nine years in Lexington, Kentucky, Davenport has spent most of his life in the American South, but it would be hard to imagine a writer for whom the regional tag embraced by, or forced upon, so many of his contemporaries is less appropriate. His milieu has always been the world, his period the span of time between the Aurignacian, when the first daubs of pigment were applied at Lascaux, and this morning; his characters come from wherever people have fought to assert feeling and intelligence against tyranny and "illiteracy," a word that Davenport repeatedly uses in the somewhat specialized sense of cultural oblivion. These characters, with few exceptions, are artists and philosophers, but Davenport's heroes are most often the crushed, the silenced, the annihilated, those whose triumph consists solely in the survival of some fragment of their ideas or of their example.
A painterly perception is one of the constants in his writing. It is Davenport who notices that if you set any of James Joyce's books on its spine and let gravity open it to the center, you will find a verbal allusion to "The House that Jack Built" and thereby (as Davenport shows) to the Labyrinth. It's he who writes, in A Balthus Notebook (a short volume singled out by the painter himself as "an exception among the texts about him" for its sharp, non-moralistic eye), that "in all of Balthus I find no clocks." He is a master of the idiomatic sentence that seems commonsensical until it is read with the concentration that went into shaping it, at which point it reveals its depths, as when he writes, in the postscript to his Twelve Stories, "Making things is so human that psychology and philosophy have gotten nowhere in trying to account for it." Another recurrent Davenport theme: that what is most essential to humanity lies at the point furthest from conventional scrutiny, where it remains inaccessible to minds bent on categorizing and, in the end, controlling it—safe, and sacred, in its unknowability.
This interview took place over the telephone and during three evenings in front of the fireplace at Davenport's house in Lexington, throughout which he drank black coffee and smoked Marlboro Reds, "not inhaling." His tomcat, Ejnar (the name reflecting Davenport's confessed "Danophilia, or -mania," a regular feature of his work) spent the hours in Davenport's lap or weaving through his legs. The living room is well described by Erik Anderson-Reece as "a monument to high modernism." Books and paintings go from floor to ceiling, and several times during our conversations Davenport suddenly popped up from his chair, pulling down a book from one of the shelves in order to illustrate a point. Off to the right, as one enters the door, is an open study containing a table built according to a Rietveld design, on which sits an electric typewriter. Also in the study is the color copier used by Davenport in making his illustrated letters, a custom he borrowed from his old correspondent, James Laughlin. (The first page of a letter from Davenport will typically have, in the place of letterhead, a photograph or drawing—either one of his own or an image from somewhere that has interested him—followed by a short caption expanding on or explaining it.)
A politely but stubbornly private man, Davenport's reluctance to express himself publicly other than in his work could account for the relatively few published interviews with him. Frequently, when some question strayed too close to what he deemed personal, he would interrupt by saying, matter-of-factly, "I thought we were talking about my work," a boundary that was respected throughout. "Live unknown" (Epicurus) is one of his mottoes. Suffice it to say that he is not married but has been sharing his life for the past thirty years with Bonnie Jean Cox, whose name pops up occasionally in the books. He maintains a vigorous and far-flung correspondence. Davenport's tone in conversation tends to be not pedantic but didactic, as befits a man who made his living lecturing to undergraduates. In spite of that, he does suffer fools, as demonstrated by his graciousness and cooperation during the months it took to complete this interview.
INTERVIEWER
Let's begin with a homely question: How do you spend your days?
GUY DAVENPORT
Downstairs, writing and drawing; upstairs, painting, or reading Rex Stout, P.G. Wodehouse, and Georges Simenon. Talking with visitors and friends. In the backyard there's a studio, designed and built by Keith Plymale for an architecture seminar. Cement floor, tin roof, nine windows, one at floor level for observing "sunlight on a wall" (a phrase from Tatlin! that Keith wanted to build into the structure), a small square window at the back, with a painted-wood still life in it (jug and apple), and a slender window in front, with a shelf outside, for cats to sit on (though no cat has). The neighbors call it my playhouse.
INTERVIEWER
What habits do you have as a writer? Do you keep to a schedule?
DAVENPORT
I like to believe that I don't think of myself as a writer. I am an amateur. Back when I was teaching I wrote when I could. Weekends were good typewriter time. Now, it's whenever I feel there's something to be put on paper. I don't care what time it is, though I always write in the notebooks at night.
INTERVIEWER
Are the notebooks central to your method?
DAVENPORT
Yes, there is a kind of gestation period, which I suppose is common to all writers. The thing is to get a . . . well, I was about to say "plot," but a lot of my stories use the old Joycean epiphany.
INTERVIEWER
What's the typical progress of an idea, then, from being something you've jotted down in the notebook to finding a place in one of your stories or essays?
DAVENPORT
Well, who knows? I suppose you wait until it's irresistible, then start working on it one way or another. When that time comes, I move from longhand to the typewriter.
INTERVIEWER
Do you enjoy writing? Is it pleasurable?
DAVENPORT
Sometimes. What do you mean by "enjoy"?
INTERVIEWER
Well, does it come easily, or . . .
DAVENPORT
There are stories that just go down on the paper, which I'm not valuing very much, because I know where they're going. "The Richard Nixon Freischütz Rag," for instance, I simply made up in an afternoon. And it turned out to be the most reprinted of my texts.
INTERVIEWER
But you tend to value it less?
DAVENPORT
Oh, if other people think something of it, I can think something of it. I don't think there's any magic in spending weeks and weeks and weeks on something. That usually makes it worse.
INTERVIEWER
You sound so pragmatic about it all. Writers are supposed to talk about the act as if it were a sacred duty, undertaken with dread.
DAVENPORT
That's because they've run out of ideas. As long as you have ideas you can keep going. That's why writing fiction is so much fun, because you're moving people about, and making settings for them to move in, so there's always something there to keep working on.
INTERVIEWER
Do you flip through the notebooks to get sparks?
DAVENPORT
Certainly. They're my workbooks. I mine them.
INTERVIEWER
So, they aren't diaries at all.
DAVENPORT
No. I keep what I call a logbook, and it's very useful. I log in mail, and this has saved my life many times. I would say I correspond with between a hundred and two hundred people, and I learn an immense amount from letters. So, I note incoming mail, incoming books, outgoing, and very little else. You could not write my biography from it.
INTERVIEWER
Have any of your stories come out of something you read in a letter?
DAVENPORT
There are examples of this happening. "The Lark" is a friend's experience of sexual awakening, recounted in old age in a letter.
INTERVIEWER
Is anyone writing your biography?
DAVENPORT
I have no life.
INTERVIEWER
This from no doubt the only man on earth to have known Ezra Pound, Thomas Merton, and Cormac McCarthy personally!
DAVENPORT
Well, I have no comment about that.
INTERVIEWER
What about your career—how did you decide on the academy?
DAVENPORT
I became an English prof by a series of inadvertencies. I'd majored in English and classics at Duke. When I was finishing up my Rhodes Scholarship at Oxford (writing the first thesis ever done there on Joyce), a professor named Ashbel Brice wrote to say he'd landed me a job at Washington University in St. Louis. They did things that way back then. No application, no interview. This was in 1950. In the autumn, when I was to take up my duties at Washington U., I was instead in the 756th Field Artillery (that's eight-inch howitzers, tank-mounted). My second year in the army was at Headquarters, XVIII Airborne Corps. Again, no application, no interview. Corps HQ needed people who could write TWXs (teletype wire exchanges). I became a whiz at putting succinct information into abbreviated jargon, moving troops to Korea and advisory groups all over the world.
INTERVIEWER
Has your time in the military been important to you? So many writers of your generation talk about that experience as having been pivotal.
DAVENPORT
I think it changed who I was. There's nothing like being a soldier for confidence or learning your limits or enduring utter humiliation. I had never lived with, as it were, ordinary people under those conditions. I'm sorry I had to give two years of my life to do this. But I think I was a much better teacher for it. There is such a thing as—what?—being a presence and being in control, and the army improves that immensely, or it kills you in the process.
INTERVIEWER
And how did you wind up in Kentucky?
DAVENPORT
First I did make it to Washington University, in 1952, and taught there for a couple of years. From there I went to Harvard, where I got a doctorate. I then taught at Haverford from 1961 to 1963. Eventually, I started looking around for a more permanent job. This was in the glorious sixties—the students were reading Mao's little red book, and so on. I put out feelers. The offer from Kentucky somehow sounded sane and normal. I came down here and liked the look of the place. I've been here for almost forty years.
INTERVIEWER
Were there any professors, during your student years, who particularly influenced you?
DAVENPORT
Harry Levin, at Harvard, taught me a lot, especially about iconography, how to read images in a text—that literature is as pictorial as painting or sculpture. He saw that what we needed alongside of the old-fashioned stylistic and ideological criticism was a criticism of content. In his seminar on Melville, he paid great attention to the Pequod, for instance. He never once mentioned Calvinism or any of these other things that critics rave on about. But the space of the ship, its sociology, he could get into that.
His course was an exception. I learned early on that what I wanted to know wasn't what I was being taught.
INTERVIEWER
Do you have an opinion on the place of the writer within the academy? What effect did all those hours spent looking at writing in a disciplined, critical way have on your own efforts?
DAVENPORT
I suppose there was, as they say, cross-fertilization, but I don't even like to think about any such thing. Writing, like painting, was my escape from the academy.
It is an interesting question to think about historically, because it's such a recent phenomenon. When does the writer become a part of the university? Neither Shakespeare nor Ben Jonson could have taught at Oxford or Cambridge. If you had gone to what Harold Bloom calls a "strong poet," a real, undeniable poet like Thomas Hardy, and said, "Mr. Hardy, will you give lectures?" he'd probably have said, "Are you mad?" His mind absolutely could not have got around it. Except for the dons at Oxford and Cambridge, who since the seventeenth century have always taught the young and written books—the tradition that C.S. Lewis and Tolkien fit into, and which includes Walter Pater, Ruskin—it's unthinkable. You could slay a Dane with laughter by suggesting that Kierkegaard might have held a chair in theology.
But in our day you have Nabokov and Auden, both splendid teachers. And the idea of a university where you could not "study literature" is now the unthinkable thing.
My view, as one who taught it, is that the whole purpose of a literary education should be to tell people that these things exist. I don't think any teacher should try to "teach an author" but rather simply describe what the author has written. And this is what I tried to do.
INTERVIEWER
Would you say that you enjoyed teaching?
DAVENPORT
Yes and no. I enjoy being retired. I had taught, I think, as long as anyone should. The high schools are evidently teaching nothing. I was getting students who had read nothing, knew nothing, and thought the university existed for the sake of the Kentucky Wildcats. It's shortsighted of Disney not to have built an amusement park: College World, with fraternities, sororities, sports, endless partying, but no classes or library or labs. It would not be appreciably different.
There were some good students, and wonderful moments. I think of a class I taught in Philadelphia one evening, at a reformatory. The students were problem children, some criminal, some radically disoriented. On a large block of newsprint I showed them how Chinese characters work, and how a poem written in pictographs is different from a poem written in an alphabet. I moved on to haiku (news to them). At the end of the hour a uniformed guard said my time was up. The whole class, one by one, hugged and kissed me. On the other hand, at Yale, after a lecture, a student stood up and said my every word was wrongheaded and behind the times.
INTERVIEWER
Did you get any of that at Kentucky?
DAVENPORT
I think I retired just in time, because the whole English department was filling up with deconstructionist crap. There really is no teaching of English literature anywhere.
INTERVIEWER
That surprises me, because on some level you are a deconstructionist. That is, in the sense that Borges was one—a writer who enacts aspects of the theory, as opposed to one who elaborates it. What you've done with interwoven texts, quotation—text as character, one could almost say—is revolutionary. And I've heard you speak about Foucault with ...
DAVENPORT
Oh, I am a great admirer of Foucault. I found him very exciting when I first started reading him twenty years ago. Of course, I was also reading lots of other people. Anything you read is warehoused somewhere in your mind, and it's useful.
INTERVIEWER
Is it the application of the theory that you take issue with?
DAVENPORT
No, I think what upsets me is that I know good and well that these academics are sheep following the sheep in front of them, and I doubt if the people who throw around the names Bakhtin and Foucault have really read more than four or five pages of either or understand what's going on. The French adore ideas. They've been playing with them since Thomas Aquinas. They sit in their cafés, and the more outrageous, the more clever you can be (like Derrida or whoever else at the moment), the more you are loved. But they don't really take these things seriously. The young French student at the Sorbonne, excited by Lacan and Bakhtin and whatnot, his whole idea is to outdo these people, you know, in two or three years to publish his own book, explaining that everything we think is rightside up is actually upside down. Americans don't possess this sense of play.
INTERVIEWER
How do you fit in as an American writer? So few of your stories are set here. Is your preference for European or ancient classical backgrounds an implicit critique of the United States?
DAVENPORT
Europeans have faces; Americans wear masks ... But then I don't know either Europe or the United States very well.
INTERVIEWER
Early in your career you made a conscious decision to write in an idiomatic English. One can see what this means in the context of the essays, which avoid jargon and have a distinctive voice one doesn't necessarily expect to find in literary criticism. But how are we to interpret this decision in light of the stories, which, as mentioned, are rarely set in the United States, and often don't contain any native English speakers.
DAVENPORT
There has been a kind of liberation there. I don't have to imitate anybody's dialect. When my Danes speak, they speak pretty much a neutral English, and I like being in that box, as it were. They can't ever use a phrase I grew up with, so it forces me out of certain habits. It's supposed to be subliminal translation: something that no one ever said, because the person saying it doesn't exist, being translated for the reality of fiction.
INTERVIEWER
Do you think you'd be a different writer if you'd chosen to live in a culture center somewhere, in New York or Paris or Cambridge?
DAVENPORT
Probably not. I don't know. I don't think that I would have had the leisure, or perhaps the freedom. Living in Kentucky makes every other place delightful. It's sheer joy to write about Basho in his Japan or Mandelshtam in his Russia or Dutch teenagers.
The answer is also: distance. As a minor, experimental writer, I need the strangeness of the foreign. Pound's World War I book was Cathay, his Chinese translations, about soldiers on frontier outposts and their wives waiting at home. "Apples and Pears" is set in Amsterdam, where I've never set foot, and an island in the North Sea that I borrowed from Algernon Blackwood. Defoe and Jules Verne come to mind. I did go to Bordeaux for "On Some Lines of Vergil." And to Copenhagen for "Gunnar and Nikolai."
INTERVIEWER
What about writers living elsewhere, whom you knew or corresponded with. Were there any with whom you felt you had an affinity—as artists, I mean, rather than as friends?
DAVENPORT
No. That's the easiest way to answer that question.
INTERVIEWER
Would you agree, then, with the French critic Bernard Hoepffner, who says that your work is a kind of "writing of which there exists no other example"?
DAVENPORT
That can be said of any writer, can't it? Hoepffner likes what he calls my rereading of history. It's true that if I were the kind of person who has posters around the wall, I would certainly have Pound's "Make it New" (which of course is Confucius and Thoreau, also) and W.C.W.'s "Invent, invent, invent."
INTERVIEWER
Who are the living writers whose work you pay attention to?
DAVENPORT
There's Michel Tournier, whose books I read in French because I don't trust the translators, having found some ridiculous bowdlerizations (Tournier is very forthright about the sexual act). I admire every sentence Cynthia Ozick has ever written and look forward to the next one she writes. Then there are the recently dead: W.G. Sebald, Donald Barthelme, who I think was a true inventor. I mean, he invented an entire tone—and that is really unusual—as well as a lot of other things. This is not a real list, of course. I was of the opinion, while they were alive, that the greatest living writers in English were Samuel Beckett and Eudora Welty.
INTERVIEWER
Is it safe to say that you're rating Welty more highly than most critics would?
DAVENPORT
I hope so. She is the only writer we have who writes like Joyce.
INTERVIEWER
Why, in your view, has she been neglected?
DAVENPORT
One can't claim that she is a forgotten or neglected writer at all. But I don't think anyone has read her work correctly yet. I took a stab at it in The Geography of the Imagination, an essay called "That Faire Field of Enna." What people don't see is that the very words are doing things other than what the surface of the story is doing.
INTERVIEWER
In "That Faire Field of Enna" you look at her use of myth.
DAVENPORT
"They are grand old stories, aren't they," as she once said to me.
INTERVIEWER
A confession that you were onto something?
DAVENPORT
I don't think she meant it for a confession. You see, Eudora lived all her life in Jackson, Mississippi. And I think she developed a wonderful mode, or philosophy—that she had books to write, which would be published, and which would be read in Copenhagen and Berlin and Florence and Chicago. And there was simply no way of living with the fact that she was the writer of these books. So, you grow your geraniums, you play bridge, and talk like everybody else.
INTERVIEWER
Let's move on to your own books. You have experimented quite a bit with formal design—the stanzaic paragraph, for instance. I think for one of your books you actually inked in rows of identical black rectangles on sheets of paper and wrote only what would fit inside them. Can you talk about what draws you to these arbitrary constraints?
DAVENPORT
Not unless I talk for the rest of the day. About abstraction as scaffolding in any work of art, about the Dogon concept of toy (the ideal shape of a house, or village, of which the actual house, or village, is an approximation). The Shaker "love to lay a good foundation in the line of outward things." When Albert Barnes was showing his collection of paintings to Horace Pippin, Pippin said, "That Matisse, he put the red in the wrong place." At a showing of Clouzot's film about Picasso at the Brattle Theater in Cambridge, a child's voice could be heard in the audience: "Mama! He's ruining it!" Such sound criticism is hard to come by, and has absolute authority. So there are all sorts of comments about works of art. Maurice Leenhardt said that the intelligible is first of all beautiful. I would say interesting or attractive. I doubt that there are more than two people who can read the first page of Ulysses; that is, give an account as to what's going on, who's doing what, yet it's a beautiful, magical page with as much on it as Rimbaud could pack into a poem. No illustrator could paint it, nor a film depict it. It is a new way of writing, approached afterwards only by Eudora Welty. For all Pound's saying that Joyce's technique was une affaire de cuisine, it's ultimately the technique that's making it all beautiful. Getting the red in the right place.
INTERVIEWER
Do your techniques tend to come before your subjects?
DAVENPORT
It's great if they arrive together. I've had to rewrite some stories completely: "John Charles Tapner." The source is in Victor Hugo's Choses vues, and I first wrote the story from his point of view. I then realized that I could have more elbow room if the events were narrated by an outsider, the bailiff. My notebooks have subjects and information for which I've not yet found a workable technique. Hugh Miller geologizing in the Hebrides, the dialogue of Lucian between a rooster and a miser, a still life by Julio Larraz, The Netherworld Express, in which bananas, eggplants, and an orange are so placed in a long wicker basket (Charon's boat, and the handle is the mast) that they can be read as passengers crossing the Styx. I've drafted dialogue and invented names (Madame Aubergine, Señor Naranja, and so on). Keeping the still life and its punning image together is a technical problem I haven't yet solved, and probably won't.
INTERVIEWER
What moves you to want to narrate the content of a still life?
DAVENPORT
At any given time the arts are aligned in different ways. Music is sometimes dominant; architecture, painting, poetry, prose narrative. This may be illusion, of course, or blindness on our part. In our time film is way out ahead of prose narrative. It's a veritable mine for the writer. I took my method of collage from Stan Brakhage and Gregory Markopoulos. I lifted my Jules Verne steam balloon from Bergman's Magic Flute. I've borrowed from Jacques Tati, Bill Forsyth, and Mike Leigh. It was Leigh who showed me a new way to end a story: you simply walk away from it after having changed the subject. At the end of Nuts in May, an incomparable satire, the camera finds a pig eating from its trough while the credits run. So I end "The Lavender Fields of Apta Julia" by abandoning the story for botanical information about lavender. Actually, this is a device used brilliantly by George Borrow, whose books simply stop. I like this sense of "okay, that's it" that eloquently supersedes the expectation of surprise and closure. It's a new kind of surprise. Little Niels Bohr is said to have shown his father a homework assignment to look over. The homework was about the periodic table, and Father noted that Niels had left out hydrogen. This was easily fixed: "In conclusion, I would like to mention hydrogen." This is worthy of Calvin, but suggests with uncorrupted honesty that grand finales are a suspect posture.
INTERVIEWER
Writers who paint or draw are always asked how the one art informs the other, and there never seems to be an answer, but in your case the question is unavoidable, because you've actually brought these different arts together in your fictions, weaving together your drawings and prose ...
DAVENPORT
To no purpose. I mean no one has ever understood the correlation.
INTERVIEWER
But it's undoubtedly there.
DAVENPORT
You may think so, but I'm certain that people reading the story do not look at the pictures, and people looking at the pictures do not read the story. No, that is a great flop. A bomb that never detonated.
INTERVIEWER
Do you find this discouraging, the idea of people not "getting it"?
DAVENPORT
Of course.
INTERVIEWER
How did you first happen onto the idea of using visual elements in your stories?
DAVENPORT
My God, the illustrated text goes back forever. The Victorians wouldn't buy a book if it didn't have woodcuts in it. And the same for the Middle Ages, I think—the more pictures the better.
INTERVIEWER
I suppose your innovation was to expand the idea of what could work as an illustration in a work of fiction—one didn't, in other words, have to illustrate the action.
DAVENPORT
Yes, well, with "Tatlin!" I had to reconstruct, from fuzzy old Benday-dot photographs, actual works of art that had been destroyed. There were no sources for Vladimir Tatlin's paintings or his constructs at the time, and I like the idea of working with something that almost isn't there. I mean, I don't know anything about Russia, except Dostoyevsky, Tolstoy, Mandelshtam, and so on. "Tatlin!", the story not the book, took the longest to write of any of my things. I played with it for years until I made what I made of it. But that was a case of feeding from all directions. I had to know the history of Russian Konstruktivist art, and there was a lot of reading there, and research. I remember one book I had to get from the engineering library, so that I could construct a lecture by Tatlin on Tsiolkovski, who the Russians say is the true inventor of the space rocket (we have Goddard to counteract that).
INTERVIEWER
Tatlin's life was even more obscure then than it is now. What led you to him?
DAVENPORT
I think I first saw Tatlin's name in a poem by Jonathan Williams, and the poem is called "But Will It Fly?" And what he had done was make a flying shape, a kind of kite or glider, out of the letters t-a-t-l-i-n, on the typewriter (one of Tatlin's projects was the invention of an "air bicycle," a flying machine that worked on human power alone, though he never got to test it). This was in the heyday of concrete poetry, back in the fifties and sixties.
INTERVIEWER
That poem played, I guess, on this strange fact, which we learn in your story, that letatlin, incorporating Tatlin's name, is a Russian word for flight.
DAVENPORT
So I'm told. It's hard to believe. But then we have the World Bank, or whatever it's called, where one of the directors is David Dollar.
INTERVIEWER
Once you'd come across the poem and begun to find out about Tatlin's career, what captured you?
DAVENPORT
There ought to be a phrase "fall into interest in" to parallel "fall in love with." Once I've found something interesting, I look around for more about it. Tatlin was a tantalizing figure about whom very little was known. I ended up imagining more than I had hard facts for.
INTERVIEWER
There are a lot flying machines in your work: gliders, balloons, early aeroplanes, Leonardo's sketches, and of course Tatlin's air bicycle. What is the interest there?
DAVENPORT
In Tatlin! I suppose they are a symbol of the freedom of the artist, as well as the strategy of the artist in escaping tyranny. Daedalus made the wings for Icarus to get out of the maze, the Labyrinth in Crete. And I thought it would be obvious up front that if Tatlin had built the air bicycle, the first thing he would have done is flown across the border and gotten out of Stalin's Russia.
INTERVIEWER
How does your interest in flying technology fit into your view of technology in general, which is fairly suspicious? You've written several times, and eloquently, about cars, for instance, about how they've changed our views of space, of the city, of our own bodies.
DAVENPORT
The point of view I take is the point of view of Diogenes, which is that when a man owns a lion, a lion owns a man. The thing about technology is that it owns us. I know several desperately poor people, practically beggars, who own cars. On the other hand, you have people who drive their cars to work, to make a living, or to have a delightful excursion in it with the wife and children. But the point is that all progress asks that we pay a kind of ransom or blackmail in order to have it. The telephone is God's gift to the bore. And we know what the aeroplane is capable of doing, after September 11, never mind all the crashes. The airplane comes into that category of: If something goes wrong, you have a total catastrophe. It was not always thus. I grew up with my father having a friend who was an amateur pilot and had an old biplane. And it was quite common for the phone to ring on a Sunday, and it would be our friend Frank saying that he had crashed over on the other side of Abbeville and would we please come get him. I don't think he ever hurt himself. The plane would be there nosed into somebody's cornfield. I loved that plane. It was a real sexy snubnose biplane. I never flew in it, though. My mother wouldn't have allowed it. She'd seen the damn thing come down too many times.
INTERVIEWER
So the "aeroplane," as opposed to the airliner, serves also as a symbol of a beautiful idea that has been corrupted, of humanity having gotten ahead of itself.
DAVENPORT
I don't know. Look, it's foolish to look at anybody and say, "Why do you have these ideas?" Next you'll be asking me, "What's the meaning of life in your opinion?" I know plenty of respectable people who have worse ideas than I do about technology.
INTERVIEWER
Fair enough. Does your writing expound a political philosophy?
DAVENPORT
No.
INTERVIEWER
But it has a political, or certainly a sociological, bias?
DAVENPORT
Yes, but we don't read imaginative writing for its ideological content. All my stories are from a character's point of view. I've carved the puppet, and I manipulate the strings, but while it's on stage, the show belongs to the puppet. Empathy (knowing how another person feels) is explicit in a work of art; sympathy is private, unknowable, and best left implicit.
INTERVIEWER
That's an evasive answer, isn't it?
DAVENPORT
A deplorably misleading and uncomfortable answer.
INTERVIEWER
In an interview that you gave thirty years ago, in Vort, you made the remark that the twentieth century ended in 1915. I wonder if this means that in some way your work—as a whole, the essays and the stories and the poetry—can be read as an elegy for a twentieth century that might have been, but never was.
DAVENPORT
You can say that, yes. It's very possible. The First World War killed off and stopped in its tracks one of the most incredible literary generations that the world has ever seen, one that had a real head start, way back with the Pre-Raphaelites. And all these architects on the Continent: Dutch, German, Scandinavian, Italian. The Italians lost an awful lot of people, including Antonio Sant'Elia, the wonderful architect who made the drawings that now look like Flash Gordon. Art Nouveau, Art Moderne, and so on: the people who carried these innovations in their heads were simply slaughtered. You have absolutely brilliant people like T.E. Hulme, who died in the trenches. Apollinaire was slain. And I assume Apollinaire would have gone on to be a poet of such dimensions it's almost unimaginable. The great French poet. But he was taken out of business at almost as early an age as Rimbaud, who took himself out. So what we had left is sort of the remnants of a great renaissance. Gaudier, slain.
INTERVIEWER
Perhaps this is the place to ask you about Ezra Pound, since what you're saying recalls his, "There died a myriad, / And of the best, among them ..." Can you talk about how and when you came to know him?
DAVENPORT
I asked to meet Pound in 1952. He agreed to a visit. So I went to St. Elizabeths in Washington. I visited him there every summer until his release. Then I visited him in Rapallo in 1963.
INTERVIEWER
In preparing to interview you, I read for the first time your essay "Pound and Frobenius," from 1954, one of the first serious things you published. Reading it, I was struck with the idea that this—your interest in Pound and also your way of reading the Cantos, their "tenseness of structure" and the method there of uncovering buried histories, neglected geniuses who might have set the culture on a better course— was a sort of flashpoint from which your body of work radiates outward. Can you talk about the importance of Pound to your development as an artist?
DAVENPORT
I think the best critical take on all my writing is one that Marjorie Perloff came up with in one of her books: that I am trying to do in prose what Pound did in poetry, that is, making ideographs. The thing about an ideograph is that it means what it looks like. That is, it's the sum of its components.
I take it also to mean collage in some sense, like a Joseph Cornell box or a Merzbild of Kurt Schwitters. Charles Ives's music is collage, using old hymn tunes and other people's motifs.
INTERVIEWER
And what about this kind of collage was appropriate to you, or useful to you?
DAVENPORT
It's at once an acknowledgement of deep tradition and an invention of something new. This is why iconology is the true study of the world, the true way to criticize anything. Art comes out of art. You cannot have Brahms without Beethoven. You cannot have Beethoven without Bach. You cannot have Picasso without the whole history of art.
INTERVIEWER
One thing that you conspicuously did not take from Pound was the reaching toward an epic scale, a form that would be all-encompassing. Why, given how much formal experimentation you've tried, do you stick so exclusively to the short forms, to the story and the essay? No novels, no autobiography (except a few short pieces that include passages of memoir), no book-length treatments.
DAVENPORT
I think all of my short-story volumes are books, rather than merely collections. Certainly I try to fit them together carefully. My eighteen readers eventually learn that I do everything twice, in different ways. My study of Kafka's "The Hunter Gracchus," for example, contains the same material I used for a story called "The Messengers." An essay on Wallace Stevens's "The Blue Guitar" is a cousin to "Dinner at the Bank of England." I like to do stories in pairs: "The Trees at Lystra" and "The Death of Picasso" are a doubling. My essay "The Hunter Gracchus" started out as a story, and "The Aeroplanes at Brescia" started out as an essay. It's all one big happy family. This kinship extends to whole books. All the stories in the last book, The Cardiff Team, are about belonging to a society, a team, a family—Lucién Lévy-Bruhl's theory that identity is one's sense of the tribe. And Lévy-Bruhl himself (cruel to have two anthropologists, one Lévi-Strauss, the other Lévy-Bruhl) is in the story "Boys Smell Like Oranges."
INTERVIEWER
What's the meaning of the title there?
DAVENPORT
It's a phrase from Henry de Montherlant's Les Olympiques. Soccer players munch sections of oranges. They also smell like wet sheep and old socks. Montherlant is a writer I find enormously interesting: an aristocrat, stoic, voluptuary, master of a Latinate French, soldier, sportsman, suicide. During the Occupation he was placed in charge of orphans and displaced children whose dignity he respected and whose language he could speak, being himself, psychologically, about fourteen.
INTERVIEWER
I interrupted you. We were talking about belonging, about how the stories in The Cardiff Team fit together.
DAVENPORT
Right. This idea of belonging comes partly out of Maurice Leenhardt, who is walking side by side with Lévy-Bruhl in the story we've just mentioned. Both of these men studied people, looking at how they fitted together and their sense of belonging. The first thing you discover about a primitive people is the clan system and the totem system. A man will say, "That's a lovely girl over there. I could never marry her, because she belongs to the antelope clan, and I'm the elephant clan." Of course, this explains everything about human beings: we do belong, or we passionately want to belong, to churches, political parties, clubs, families, teams. It's wonderfully crucial, I think. And—this is one of the themes I've worked with in all my writing—the people we are actually kin to count as nothing. Late in childhood, I think, we begin to discover the people we are really kin to (they may be our family, though not necessarily), and this leads to falling in love and being kin to a wife, or identifying with—what?—the cubist school of painting, or whatever you happen to be. It hurts to be excluded. Ask any black child at an all-white school, or any shy person the kids won't play with on the playground. This is living death. And I write happy stories about people who like each other in all sorts of ways. The writer Wendy Walker, who hasn't known my work long, wrote me about a year ago, and she said, "I like your stories, because they are about plausibly happy people." I don't know quite what she meant.
INTERVIEWER
Maybe that they've made their philosophical peace with a world we recognize, an imperfect one. I'm thinking of Marc Bordeaux in "The Cardiff Team" (the story), when he says, "There are forty-two wars raging right now. ... We are here in this meadow." Their triumphs are interior.
DAVENPORT
Well, that could be. She may have just been surprised to find happy people at all. I think it's taboo to write about any kind of happiness. I mean, Joyce Carol Oates would burn her typewriter if she accidentally wrote about some happy people. When I reviewed her first book in The Hudson Review, my critique was, This is an unrelieved novel of desperate misery. And I said, This seems to me to be unrealistic, despite its intense realism; surely these people enjoyed an ice-cold Coke once in a while? But in fairness you could say the same thing about Zola. I mean, his coal miners must have had a bath sometime, or gone to a play or seen a puppet show.
INTERVIEWER
You've endured harsh reviews yourself. As a rule, do you pay attention to reviews of your own books?
DAVENPORT
I did for a while, and I now forbid all publishers ever to send me a review.
INTERVIEWER
Was it holding up your work, or making it difficult for you to get on with new pieces?
DAVENPORT
When Tatlin! was accepted for publication, I remember being anxious and frightened, truly frightened, that reviewers would say, "This is pretentious." What they said is, "This is obscene." I've gotten over that. I did feel ashamed that people would write some of the reviews I'd seen. I was explaining this to Laughlin once in a letter and he replied with an absolutely lovely sentence. The sentence is: "Never, read reviews." I think the comma may have been a mistake. Laughlin never mastered the typewriter at all. But somehow it's the most eloquent comma I have ever run across. Anyway, most reviews are useless.
INTERVIEWER
What about your own opinion of your work? In your comments at the end of Twelve Stories you say that the dozen stories collected there are all you're salvaging from Tatlin!, Apples and Pears, and The Drummer of the Eleventh North Devonshire Fusiliers. That is, you're throwing out the three novella-length stories: "The Dawn in Erewhon," "Apples and Pears," and "Wo Es War, Soll Ich Werden"—that's 434 pages. Isn't this self-censorship?
DAVENPORT
It is. It is also a critical decision. The books are available, in tall stacks in remainder houses. I can always change my mind; better still, I can rewrite. Hugh Kenner says somewhere that writers can't tell their good work from their bad. When James Laughlin asked to be my publisher, I sent him A Table of Green Fields. We wrote back and forth about it; obviously he was reading it, or reading around in it. What I didn't know is that he sent a copy of the manuscript to the printer as soon as he got it, with instructions that it was to be printed just so. I finally got up the temerity to ask if New Directions was accepting the book about the time that proofs arrived. No contract had been signed. The contract came after publication. We enacted the same comedy with The Cardiff Team. I finally "worked it out" (as Henry James would have said), how it was with Laughlin. He was a gentleman who amused himself by publishing books, and I was a gentleman who amused myself by writing fiction. Gentlemen do not mention money; they do not edit texts. Laughlin called editing "touching up." The New York office had instructions that I was not to be touched up. If I'd had an agent, or more rigorous editing, the three shapeless novellas that I've chosen not to keep in print might have been tightened, pruned, and made intelligible.
INTERVIEWER
Which of your stories do you consider the best?
DAVENPORT
That would be "The Antiquities of Elis." It's a kind of translation of Pausanias, with local color and landscape added. I was trying for the feel of it all, the Stimmung, the tone. The sites Pausanias was writing about were already old, some in ruins, some long gone. But Greece was still Greece, as it is even now. Wyndham Lewis talked about a writer's drawing, by which he meant the style in which a writer sees, and makes us see. Visual information is also emotional. When we read we are imaginatively in another place.
INTERVIEWER
Let's jump back for a moment to this idea of your story collections holding together, working as books, because it seems that the stories about "plausibly happy people" make up only half of your oeuvre, and that there is a darker half ...
DAVENPORT
My difficult people.
INTERVIEWER
"Difficult." Yes, I think so. And most of them are writers.
DAVENPORT
By difficult I seem to mean people who had heroically difficult lives, either as their own worst enemies or as people whose genius certified their exclusion. Randolph Bourne and Kierkegaard would be good examples.
INTERVIEWER
And Tatlin is the archetype, I suppose.
DAVENPORT
The best example.
INTERVIEWER
Which brings me to my question: What's holding a book like Tatlin! together? Apart from the title story, it has for characters Kafka, Poe, a French dog named Robot, and an imaginary contemporary Dutch philosopher, Adriaan van Hovendaal (among others).
DAVENPORT
Well, I tried to signal my idea of how the book should be read on the cover. The original dust wrapper depicts the world's first painting of the moon seen telescopically. The moon is dead; the earth is alive. Apparently all the sun's planets are hideous deserts, whereas we're green and wet. I mean, the whole book makes a big collage, ending with Neil Armstrong stepping onto the moon. All the stories consider life and lifelessness, that you can be either alive or dead, and of course I'm thinking of liveliness in terms of creativity of all sorts, whether making babies or building impossible flying machines. (A Danish reader said, "My God! Do you mean I'm reading sermons?") At the center of the book is Jules Laforgue's Flora, Fauna, and Climate of the Moon, which is inserted as a collaged piece in "The Dawn of Erewhon." That title, by the way, is taken from a painting by Wyndham Lewis, and echoes Doughty's Dawn in Britain—two more difficult souls.
INTERVIEWER
So there's a coherent symbolism in the book.
DAVENPORT
I'm afraid so. Isn't all art symbolic? Art itself is symbol. A symbol is simply a drenched identity, a thing more than equal to itself. Take an archaic Greek kouros. You can imagine an Egyptian staring at one: it's not a god, or a government official, or anybody particular; it's just an athlete. "Those crazy Greeks," says the Egyptian. "They think taking off all your clothes and throwing a stone dish as far as you can is something to do. So they make statues of dish-throwers!" A Dane from the bogs would take the kouros to be maybe a human sacrifice. "Would that be Adam?" an early Christian might ask. Each misinterpretation has its own truth.
INTERVIEWER
How do the stories in Da Vinci's Bicycle fit together?
DAVENPORT
If there's a unifying principle, it's my discovering for myself that dialogue is not responses but soliloquies. We talk at each other, not to.
INTERVIEWER
How did you make use of that discovery? I guess there's the comic way Nixon and Mao speak past each other in "The Richard Nixon Freischütz Rag."
DAVENPORT
It's everywhere. The Dogon, of "Au Tombeau de Charles Fourier," assign a voice to everything, animate and inanimate. The vegetable vendor speaks for his produce. "I am okra picked this morning, four centimes a kilo."
INTERVIEWER
When did you discover Fourier?
DAVENPORT
I probably first saw his name when I was, say, a freshman in college, most likely in To the Finland Station. But as Plato says, unless you have "recognition," you don't really see something. It's the second time around that it sticks.
INTERVIEWER
And when was that?
DAVENPORT
I have no sense of time. It must have been thirty years ago. Bonnie Jean and I were driving up to Bloomington, where I gave a lecture, and I took along for reading the Vintage anthology of Fourier. On the way back to Lexington, we broke up the trip, stopped for the night at a hotel, made a little vacation of it. We were in a very nice cabin with a back terrace overlooking a river, halfway between here and Bloomington. And I remember feeling wonderfully euphoric. We had just had a good supper at the hotel restaurant, and we sat down to read. At one point I looked up from the book and said, "Bonnie, what in the name of God is a quagga?" Neither of us knew. And not until we got home and to a dictionary did we find out.
INTERVIEWER
What in the name of God is a quagga?
DAVENPORT
It's a subspecies of Equus, a kind of zebra whose stripes stop halfway down the back. It's been extinct now for more than a century. It was to have been our mount, had Fourier succeeded in founding his utopia.
INTERVIEWER
What about this interest in utopias, which is everywhere in your work?
DAVENPORT
I don't think it's there, in the abstract. My interest is in Fourier, who I think was one of the great analytical sociologists of all time. Practically everything Freud got hold of Fourier had already divined, and drawn different conclusions. So I became fascinated, and this percolated and percolated. Every once in a while, of an evening, I will take down one of the volumes and read around in it. You always find delightful things, such as parades of four-year-olds riding on German shepherds.
Fourier's great word was harmonie, and his perception was that we have made a mess of what we had absolutely no need to make a mess of, that we can live far more successfully in human relations. First of all we must decide on a unit in which to live. He said the family is a suffocating, murderous unit; a biological unit, he called it, for begetting and feeding children, which could be done much better by a "phalanx." He approved of all the vices. Greed, for instance, could be a marvelous thing. He saw that religion was a childish myth. Yet the Harmony had a church in it, for those people who wanted a church. The church was facing a theater. He felt that somehow the church and the theater were answering the same need. The thing that made him so interesting to nineteenth-century Americans was work. Work should be play; work should be the supreme joy.
He's a very complex person, and of course he is not coherent. There is really no scholar who has sat down and tried to figure it all out. Tony Vidler, a professor at Cooper Union, came to visit once; we had a lovely time talking about Fourier's architecture, which Vidler says is the most revolutionary ever known. Vidler had been to the Bibliothèque nationale, and they'd shown him a room of cardboard boxes. In the boxes were manuscripts of Fourier's, unpublished, unread. They showed him a page that laid out which houseplants you were to put in your windows in the Harmony, 365 days a year. For each day he'd prescribed the appropriate plant.
The whole world, he said, is a correspondence. And everything comes in a chord. The chord contains eight items. The center of the chord is the pivot. At one end of the chord is the avant-garde, and at the other end is the arrière-garde. In a fruit chord, let's say, you have at one end the ripest golden pear, and at the other end is the quince, which never ripens. It remains as hard as a rock. And all of these corresponded with personalities (I've know plenty of quinces). Fourier felt that monogamy is simply one mode in the sexuality chord; I don't think it's even in the middle. At one end is what he calls the butterfly, the man who has to have a different woman every hour. And at the other end is chastity, which he correctly saw as not a denial of sexuality but another of its modes. For Fourier there were people who could live a life perfectly satisfied with a best friend, with whom they'd play checkers, and there was a place for this as there was for prostitution, which he considered a noble trade.
Fourier was constantly saying, "I do not want to change human nature," while saying under his breath, "because it's impossible." He simply wanted to accommodate it. Everybody has different desires. And in the Harmony, you have a society that is either tolerant or wise enough to allow for that. One of the really satisfying dimensions is his belief that all children are geniuses, and that in the world we live in we systematically stifle the little Beethovens and Einsteins. But in the Harmony their talents would be spotted, and the little Beethoven would be given a violin. Every Harmony is run by a twelve-year-old boy and a twelve-year-old girl, and they have to retire at thirteen. I think he was right that at twelve the mind is as bright and intelligent as it will ever be.
He was very, very lonely. There are people who say he had no sex life at all apart from masturbation. He lived with his plants and his cats, and was desperately poor. He worked as a clerk, like Bartleby, in Lyon. He died in Paris, where he had begun to collect disciples, including lots of young socialists. Both Marx and Lenin read Fourier.
INTERVIEWER
Fourier seems to be for you what you said, fifty years ago, that Frobenius was for Pound, a thinker in whom he saw "a kinship of method which [Pound] had developed independently." In "Au Tombeau" you place him among those who "searched out the harmonies, the affinities, the kinship of the orders of nature." This is as close to a description of your own aesthetic as I've seen.
DAVENPORT
More accurate, I think, to say that Fourier was to me what Vico was to Joyce. An invidious, self-aggrandizing comparison. But you can't understand Finnegans Wake without understanding Giambattista Vico. Someone pried into this once, and Joyce replied, "I use him for all he's worth" (which can be interpreted however you want).
In a confused time like ours, people do reach out, and if they find a sustaining structure ... well, for me, for years, and I suppose still, it was Spengler. Spengler, Fourier, Herakleitos, Bernardus Silvestris. At my funeral I'm going to sit up in my coffin and say, "I'm sorry I didn't have the guts to translate Bernardus Silvestris!" There are prose translations. I set out once to do it in verse and I think got through one page.
Tom Merton was at my house one day, disguised as a tobacco farmer. I was sitting at my desk translating. He found Silvestris on the shelf and did a dance, and we spent the rest of the afternoon talking about him. Silvestris wrote De mundi universitate, in classical Latin, in the twelfth century, apparently in Chartres. He was a monk. We don't know a great deal more about him, but his is one of those great systematic descriptions of the world, starting with the moon and sun and stars and so on, and ending with genitalia.
INTERVIEWER
Could a reader, looking for such a system, find one in your work?
DAVENPORT
Not in such totality, of course. But Fourier had a wonderful sense that the world was designed by some great poet, that it was full of rhymes, or affinities, to use the word you just quoted back to me. And I've always liked that.
INTERVIEWER
A philosophical question: Does one create these rhymes, these affinities, or uncover them?
DAVENPORT
I probably make them up. I think ultimately, as Joyce felt, that we know nothing, and that what we call culture is a wonderful fiction, and that we live inside this fiction, and as long as it's articulate we're successful. And we add to it, or subtract from it, but we really don't know anything else. And I think a hard scientist, the people who are working on consciousness now, would have to admit the same thing. We don't know what consciousness is, we don't know why we're here. There are days when I agree with Henry Mencken, who said, "The only thing we know is It is Now, and We Are Here, Everything else is folderol." Joyce of course was most fascinated by the fact of religious mythology, the whole concept of God, which he felt was simply a dread of the weather. (Well, Zeus is the thunder hurler.)
INTERVIEWER
But certain of your essays imply almost a religious stance on just this subject, the rhymes, or the harmonies. I'm thinking in particular of "The Hunter Gracchus," about Kafka's story of that title, in which you take the notion of Kafka's having intuited the barbarity of the twentieth century—"All of Kafka is about history that had not yet happened," as you put it in the essay—and you lift this idea to an altogether different, literal level, by putting before us all these details that Kafka, in a way, "got right."
DAVENPORT
Well, the evidence is certainly there. But I think all artists are visionaries. I'm with Shelley: "The unacknowledged legislators of the race." I think the day will come when Joyce will be canonized as a saint in the Catholic Church.
What got my "Gracchus" going was the fifty children in the Sicilian meadow, with candles (I came across this in the Jerusalem Post), helping a planeload of children fleeing the Holocaust to land, and perfectly paralleling the fifty children in Kafka's "Gracchus" (he took them from Wilkie Collins). This is not scholarship. It is, however, reading.
INTERVIEWER
Is that your discovery, about Kafka having used Armadale as a template for "The Hunter Gracchus"?
DAVENPORT
Yes, and I will never ever be given credit for it.
INTERVIEWER
Do you have an ideal reader?
DAVENPORT
There's a scholar in Montreal, Andrea Furlani (though he had to change Andrea to André for this side of the Atlantic). He's writing a book about the erotic, the pastoral, and the sociological in my stuff. I've seen only parts of it. He's Italian, his wife was German; he teaches in French, and their five-year-old speaks a mixture of all these, with English thrown in. I think he may be on the right path.
INTERVIEWER
Does it mean anything that your ideal reader would be a professor?
DAVENPORT
Well, ideal means non-existent. I have no notion of whom I'm writing for.
INTERVIEWER
The reason I ask is that it's hard to talk about your work without eventually coming to the question of difficulty. Some of your stories are ...
DAVENPORT
"In the stratosphere," as one critic said.
INTERVIEWER
Well, pretty far up there. You do ask a lot of the reader, in places.
DAVENPORT
I don't think I've ever consciously befuddled, or made a puzzle of anything. I might be a better writer if I didn't tuck in things for the reader to find out. There are places where if you want to know what this character or that character is saying, you have to get out a Dutch dictionary, but it's not really necessary. That is, the stories can still be read; the idea is that a deeper reading will continually be rewarded—this is the standard by which obscurity can be judged.
INTERVIEWER
In the chapter of Furlani's that I've seen, he calls you a "meta-modernist," meaning "a departure as well as a perpetuation" of modernism. Does the term make sense to you?
DAVENPORT
If postmodernism means, Let's break everything off and start over in a new direction, then I am a "meta-modernist." But can't I be just a plain modernist? I mean, aren't I old enough?
INTERVIEWER
It depends. Where do you place the end of modernism?
DAVENPORT
At whatever moment artists began to play the game of "guess what I'm thinking." That moment would be long after Duchamp's urinal with the title Fountain (where what he was thinking was just wittily perverse: fountains go the other way), which gets included in the genesis of postmodernism, along with Pound's "Papyrus," which is what it was, a scrap of papyrus with some words by Sappho on it.
INTERVIEWER
You mentioned Furlani's interest in the erotic aspect of your work, which is prevalent. It brings to mind the child you spoke of earlier, at the showing of the film about Picasso: "Mama! He's ruining it!"
DAVENPORT
Oh, the child is absolutely right.
INTERVIEWER
Such a perceptive child, coming to one of your books for the first time, might say, "Mama, there are so many boys in their underwear!"
DAVENPORT
Yes.
INTERVIEWER
What is it about these young bodies that interests you?
DAVENPORT
I really don't know. Self-indulgence, I suppose.
More to the point, though, I think the awakening of sexuality is coterminous with the awakening of all sensibility. Joyce certainly makes the one depend on the other. The moment when Stephen Dedalus becomes an artist, he's looking at what most excites a Victorian, namely a woman's legs all the way up to the thigh. She's lifted her skirts, dabbling in the ocean.
What distresses me is the tendency of some readers, and reviewers, to get hung up on my descriptions of the body, and to see nothing else. But liberals, who copy their morals from proscriptive psychology and are spooked by any sexuality that isn't Ken and Barbie in the back seat of a car, are undeterred by truth and verbal skill.
INTERVIEWER
People who know your work are often surprised to learn that you wrote for National Review. Did you identify with the politics of the magazine?
DAVENPORT
No. But I don't know what I would call myself. I've always voted democratically. When National Review was founded, Bill Buckley wanted to have a "superior book section" at the back. And Frank Meyer was the editor of the back of the book. And he'd enlisted Hugh Kenner, and Hugh suggested that I try my hand and be a kind of colleague of his. And that's what happened. I mainly reviewed fiction. And Frank Meyer was one of the most sophisticated human beings on the face of the earth; he couldn't care less whether I was a raving communist or left-wing radical. Frank, who's now dead, would confide in me sometimes that Bill Buckley was drifting to the left and was going to end up in the Comintern. That's pretty high-class paranoia.
INTERVIEWER
Did you ever flirt with Marxism? It seems that a writer with your long interest in socialist utopias would have felt the temptation.
DAVENPORT
Nobody ever told me! It simply wasn't in the air. There were one or two people at Duke who were very keen on social justice, and I suppose they were Marxists to some degree, but to me they were just humane people. I never read Partisan Review.
INTERVIEWER
I would have thought that at Oxford it would still have been, to use your phrase, "in the air."
DAVENPORT
Yes, there were a lot of truly red Marxists at Oxford, but the old dragon was already dying. This was 1948-1950. And in England, immediately after the war, no one was talking politics. Politics had been blowing up in our faces for five years, and no one wanted to hear about it. In fact, there was very little talk about the war. London was still in ruins, and still in the austerity. You couldn't buy a piece of candy anywhere. In a way it was fun, because the austerity was calibrated to the needs of the people. You could get a loaf of bread for a farthing. I still think about those farthing loaves.
But I could never be a Marxist, largely because so many good writers come from the mercantile, well-behaved Middle Class.
INTERVIEWER
A final question: Why have you given so few interviews over the years? This being done, you're averaging one per decade.
DAVENPORT
Never, give interviews.

Author photograph by Jonathan Williams.