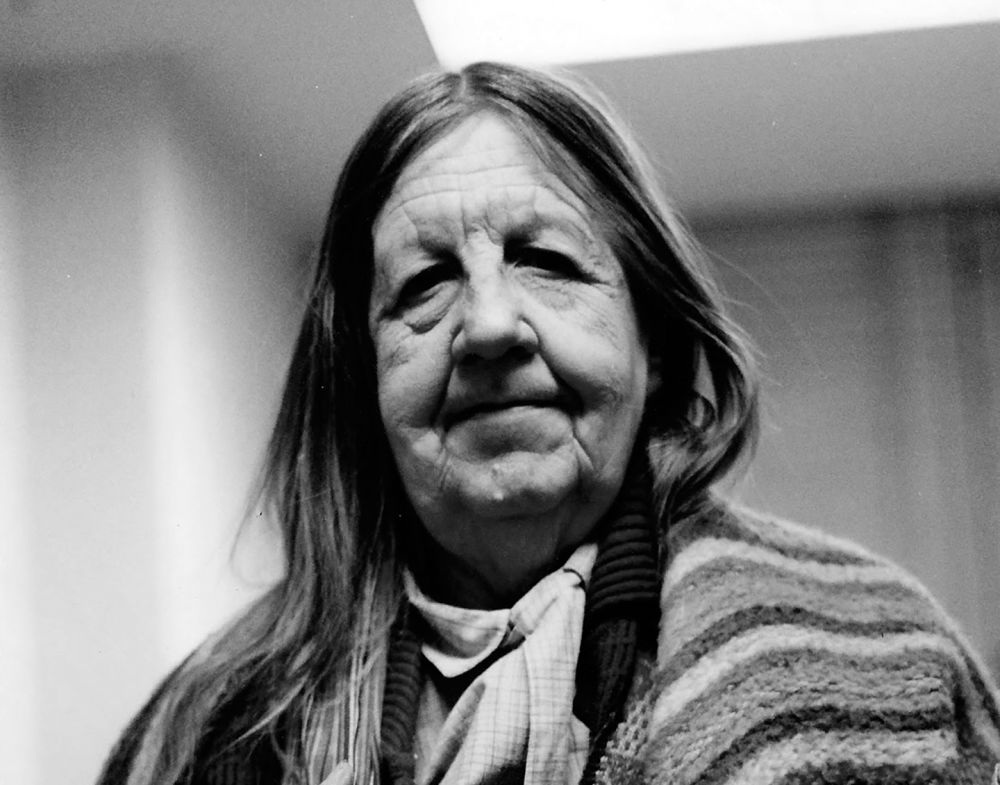 Marguerite Young published her first collection of verse, Prismatic Ground, in 1939. In 1945 came the double appearance of Moderate Fable, her last volume of verse, and Angel in the Forest, a history of two Utopian communities in New Harmony, Indiana, in the nineteenth century. Subsequently, portions of the novel to which she was to devote eighteen years, Miss MacIntosh, My Darling, began to appear in excerpt. The novel appeared in its entirety in 1965. In the late sixties she abandoned a near-completed life of James Whitcomb Riley to write a brief biography of her friend Eugene Debs, the first socialist candidate for the presidency, which resulted in a large-scale study of Utopian and anti-Utopian trends.
She lives on a quiet tree-lined street in Greenwich Village. The walls of her apartment are painted red and lined with book cases. On one shelf, the room is replicated in miniature sofas and miniature chairs set on easy rugs and lit by tiny lamps and chandeliers. The room in which we sat was dominated by a merry-go-round horse with ribbons streaming free from the pole that reached the ceiling. A life-sized antique doll was seated in a Victorian chair, exquisitely dressed in lace. Miss Young placed an ashtray within easy reach. She smoked continuously. Her voice has a Midwestern flavor, sometimes drawling, sometimes rapid.
MARGUERITE YOUNG
I was born in Indianapolis, Indiana, "the Athens of the West," as it had been called in an earlier day. That was when Booth Tarkington, Meredith Nicholson, James Whitcomb Riley, various writers of the old Hoosier group lived there. We were brought up to believe that to be born in Indiana was to be born a poet—a myth which I can't accept now, but I did then. I remember telling my grandmother, when I was about seven years old, that I intended to be a poet.
INTERVIEWER
She had a literary sensibility, didn't she?
YOUNG
She was a very beautiful, gifted, artistic personality. She painted, she wrote poems. She would never think of publishing. I don't think that she even thought of herself as frustrated. She was a woman who could have been a surgeon, a poet, anything. She was a genius personality.
INTERVIEWER
I know when you were an adolescent your grandmother became ill and that was when you yourself had to assume responsibility.
YOUNG
She had a series of strokes the last year or two of her life. She would speak in a semi-hallucinated way to me and my little sister. We were left to hear these wild hallucinatory statements, and yet maintain a sense of equilibrium, with no one's help. As I remember her now, there were many beautiful speeches; it was like Lear on the heath. She was not mad; she was just in a state between dream and reality, knowing that she was going to die, and speaking and dancing at the edge of her grave.
INTERVIEWER
You mentioned Lear—was it rage?
YOUNG
No! Never! It was always poetic and cosmic. It had a great deal to do with angels and unearthly creatures: I know there were angels in the house. Of course, I had always been taught there were angels, and if you did anything wrong, you were to say, "Get thee behind me Satan" . . . and I was always whirling around to try to catch Satan as he was getting behind me. When she died, I imagined she would call on Anatole France in Heaven. She had introduced me to him along with Dickens, Eliot, Adam Bede, and Victor Hugo, but it was Anatole France I truly loved, I read all of him, his work in French, and when my grandmother died my first thought was, oh well, now she can tell Anatole France that she has a little granddaughter on Earth who adores him. I really believed that she would tell him this. I missed her so much. It was the first death I ever knew. If I had been sure I could find her and Anatole France, I would have joined them.
INTERVIEWER
Anaïs Nin tells the story of your attempting to commit suicide.
YOUNG
Which time? I never really attempted to commit suicide. I used to think about committing suicide when I was about eighteen. I had it worked out that I would do it in multiple ways, all at once. It would take place in a treehouse overlooking the river: I would put a rope around my neck, take poison, shoot myself, and fall into the river all at once. I think I worked this out because of Dorothy Parker's poem: "ropes give . . ."—all these reasons suicide was so difficult. Also I had heard about Cowper's various attempts to commit suicide and how he was frustrated in every one. So I figured out a way to do it. It was not surprising. At the age of eighteen all young poets are sure they will be dead at 21—of old age.
INTERVIEWER
Did your grandmother make you write as a game, or an exercise? Did she direct you?
YOUNG
She praised my writing, and knew from when I began to pick up a pencil that I would be a writer. She said I would be either a writer, or the first woman president of the United States, or that I would become a lawyer who would work to restore the lost family fortune. There were so many lost family fortunes that my little sister and I used to be afraid of kidnappers who would kidnap us for our golden crowns—although, of course, we were not rich, but we didn't know that.
INTERVIEWER
If your grandmother was the great personal influence, the geographical impact was Indiana, wasn't it? Indiana is the center of all your subsequent writing. But you are more interested in the psychology of character than you are in landscape, aren't you? You do not have that love of the prairie grasses and the low horizon line of Willa Cather, for example?
YOUNG
No. It was my fate to be born in Indiana. I probably would have chosen Edinburgh if you had asked me, or perhaps Rome. But I believe we start with what we are, as writers, and Indiana is a land rich in legend. I tried to transmute this legend into a universal and cosmic statement of some kind, and not be strictly a regionalist. If you are asking me if I love nature, I could not really say that I do. I love the sea and the sand, but I am not a person who just loves nature. Yet, I write about it continually because I am interested in the birds and the beasts for their symbolic value—their value as icons, as ways of saying things about people. As a poet, I have been an expert in that realm, studying birds and beasts from Heroclitus onward, and I love the old bestiaries. I wrote my master's thesis at the University of Chicago on the birds and beasts of Eupheus—his England—and for that, I had to study the history of every bird and beast there ever was.
INTERVIEWER
Do you like the work of Cather and the regionalist writers?
YOUNG
No, not particularly. I like Willa Cather; I don't love her. I love Mark Twain because he had this cosmic, dark, brooding pessimism. I love Theodore Dreiser.
INTERVIEWER
For what reasons? Their portrayal of characters? Their study of psychology?
YOUNG
Mainly because they were great thinkers, great dreamers, who happened to come from the Middle West.
INTERVIEWER
So, you make a distinction between regionalist writers and those who adopted an international style?
YOUNG
I have always said that Southern writers seem to be born to sing. They live in small towns where they hear the most beautiful balladry every day from their own people and from the black people. I have lived in Southern towns in the very heart of Kentucky and Tennessee. I have always envied Southern writers because experience is so accessible to them. But the Middle West is more prosperous and more middle class. If you are going to be a writer from the Midwest, you have to become highly sophisticated, highly educated, in order to interpret that land. You cannot be just a natural-born singer—I could not imagine anything less possible. I think the Middle West begets bizarre, beautiful writers who have been dipped and dyed in education.
INTERVIEWER
Did you feel the urge to go abroad to develop your talent, like other writers of your generation, such as Henry Miller, Anaïs Nin, Malcolm Lowry, Gertrude Stein, Fitzgerald, Hemingway? They went to Paris, to Mexico, even to Hollywood.
YOUNG
No. I felt the urge to go by mule's back to the mountains of Tennessee, collecting ballads, old Scottish ballads. I was very much an admirer of Stiff Thompson, the great ballad authority who was a professor at Indiana University. Those people you mention were so far away. I never thought of them. They were like people of another planet. I was never a person who ever, then or now, watched what other writers do. During the depressed thirties, I was at the University of Chicago studying the Elizabethans and the Jacobeans, and then I became inolved with Angel in the Forest. I had lived in and out of many Kentucky and Tennessee towns and had become very much fascinated by the individual history of each, such as Horse Cave, Kentucky, and the graveyards in those towns. So, you might say that I was a graveyard poetess at that time.
INTERVIEWER
Did you go to New Harmony specifically to research the town for Angel in the Forest?
YOUNG
I never did any research whatever on New Harmony. My mother and stepfather moved there and they called me. They said, "You'll love this new town. It is the scene of two lost Utopias and it has in it the footprints of the Angel Gabriel. It has cruciform shapes on the doors and a maze."
So I went there, and lived there for seven years, and gradually I began to write about it. But there was no artificial research, except for the experience of living there, and talking to the old-timers in that town. Some were in the party of Father Rapp, who was the founder of the first Utopia. They loved him because he left visible evidence of his place, the cruciform, the maze; the sundial was the way people told time: There were no watches in evidence until the railroad came to the land.
INTERVIEWER
You were going to write a series of poems?
YOUNG
I started with a series of sixty ballads, in a Robert Browning manner, since I was a poet and interested in balladry. I was unique in my interest. I hardly ever saw another writer. In Indiana, you are one thousand miles away from the next writer. I still do not watch what other writers do. Knowing the most recent vogue in literature is not the source of my creative strength. In fact, if I knew there was a vogue, I would avoid it.
INTERVIEWER
But isn't it tempting to follow the fashion of the day, to become involved in the literary movements?
YOUNG
In the Middle West we didn't know flocks of writers. Each writer was isolated, and thus he developed an inner vision. One read on a vast scale. It was not as if we were sitting around in cafes talking about literary movements. That would have been beyond imagination.
INTERVIEWER
How much influence, or instruction, can one expect from one's peers?
YOUNG
I once visited Thornton Wilder's writing class at the University of Chicago. He had a habit of smoking in class which one was not supposed to do, and when somebody approached he would put his cigarettes in the desk drawer . . . and I remember one time the desk catching fire. I recall only one thing he said in that class . . . to remember above all things "the patient loves his malady."
I remembered that when I began Miss MacIntosh . . . I fully thought it would take two years. If I had known it would take eighteen years I would have dropped in holy horror. Who could conceive spending eighteen years obsessed by one book and working from nine to five? I was pleased that when the book came out, a reviewer said, "When Miss Young finished her Miss MacIntosh, My Darling, she must have been as happy as when Sir Philip Sidney took the manuscript of 'Arcadia' and threw it at his sister's feet and said, 'There it is, it's finished.'"
INTERVIEWER
You are interested in psychology, but you are not interested in personality. You have often said that.
YOUNG
Peculiarly enough, as a person, I am not interested much in individuals, even my closest friends. They could have deep secrets, and I would never ask them to tell me. As a writer, I would never spend pages analyzing the love life of a character. I have a muralist imagination. I like to see the epic swing of the thing, the many as opposed to the one. I am a pluralist in that sense.
INTERVIEWER
That is very much William James's concept of the imagination.
YOUNG
Yes, and it is also my temperament. It was true of Angel in the Forest when I was writing of the Utopian society, true of Miss MacIntosh when I had surrounded her with every kind of individual pathology of which I had ever heard or known, and true in my present biographies, where the central figures are surrounded by vast numbers of characters. Through them, you see the neurosis unfolding, everything unfolding, in relation to society as a whole. I could not, like Gide, sit and think about the troubles of one person—it would bore me to death. It would bore me to death in real life too.
INTERVIEWER
Do you have a concept of how to portray character?
YOUNG
Yes. According to the logic of a pathology working itself out in strange, unusual, and ultimate ways, which are recognizable, true to life, and which are always based on people whom either I have known, or more likely have read about in the daily newspapers.
INTERVIEWER
You get your concepts from newspapers?
YOUNG
I get my characters from the newspapers, and from biographies and medical histories, and a thousand sources. I believe, like Browning, that the poet is a reporter. I can understand his writing, for instance, that beautiful long poem "The Ring and the Book," which was based on a real murder in Rome. I do not believe in inventing characters.
INTERVIEWER
Is the opium lady a real person?
YOUNG
I knew an opium lady while I was a student at the University of Chicago, and with whom I spent much time, reading aloud the works of Shakespeare. That is how I worked my way through school.
INTERVIEWER
Who was she?
YOUNG
She had been under opium for about fifteen or twenty years and had not walked for at least ten years. She was one of the original patronesses of Poetry: A Magazine of Verse, and of Jane Addams's Hull-House. She was also a friend of Thornton Wilder, Harriet Monroe, and many of the other intellectuals of that day. I was with her during her opium dreams. I was with her when the golden bird, who was the spirit of Heroclitus, perched upon the bedpost. I was literally with her when she had a long conversation with the head of John the Baptist.
INTERVIEWER
After decapitation?
YOUNG
After decapitation. I was also there when she spoke with a little rabbit. I was with her when she entertained an imaginary elephant, and when blue fish would be floating over her bed. I began to write my novel quite unexpectedly. I had planned to write a biography of Toulouse L'Ouverture, the Haitian rebel, but my publisher wanted me to write a novel . . . she was the most fabulous, single person I had ever known. I was interested in her for her dreams and her beautiful personality and surroundings.
INTERVIEWER
And the problems of opium addiction?
YOUNG
No. The doctors in her household were always rushing about with Elizabeth Barrett Browning letters to try to explain this beautiful opium lady who was their patient. She was like an Elizabeth Barrett Browning, whom, of course, I had read, along with DeQuincey's Confessions of An English Opium Eater. I had read Coleridge, too.
INTERVIEWER
So that you would understand her?
YOUNG
No. All this was in my background before I ever arrived. Her house was just right for a young poet. There couldn't have been a better place. I was offered opium every evening. But I always said, "No, thanks," and for that reason, she used to call me the "prosaic sprite," because I didn't need drugs to dream. I stayed with her most of the time. I was offered the bed in which Edna St. Vincent Millay had slept, when she was a visitor in Chicago, and the idea of sleeping in Millay's bed—it would mean nothing to me now, but at that age . . . it seemed to be the most marvelous thing that could ever happen to any young person. On the opium lady's bedside was a silver drinking cup which had belonged to John Keats, a little mosaic Persian letter set, and a beautiful bird with a sea shell. I have these things at my bedside now. Her daughter gave them to me when she died.
INTERVIEWER
You did not enter the opium lady's dreams?
YOUNG
I do not think she dreamed about people. She dreamed about mandarins and human-sized blackbirds standing in the hallways, or invisible elephants. Adlai Stevenson—he may have known her, by the way—talked about the invisible elephant when he was running for office. I don't know if he ever got a letter I wrote him, telling him about the invisible elephant in the opium lady's dreams. He had the same idea: that the thing you think is not there may be there.
INTERVIEWER
But now you are talking about an individual, and yet you say you are not interested in individuals.
YOUNG
I met Thornton Wilder several years later at a Gotham Book Mart party, and he asked me what I had been doing. I said that I was writing a novel in which the opium lady was one of the leading characters. He said, "Oh! As a way of revealing the unconscious." He knew exactly what the theme would be. It was the unconscious that interested me. I say that I am not interested in people, but I am interested in the bizarre and in people at an edge. I am interested in extreme statements about people because that is where drama is most apparent. Being a Scot and economical about my working so hard, I begin with what I know is easy—with something strange and beautiful which then starts to activate itself. When you start with the normal or the neutral or the average, it becomes difficult. I imagine it does, anyway—I have never tried it and I never will.
INTERVIEWER
Did you have to do research for such characters as the nursemaid?
YOUNG
No. Not for Miss MacIntosh, because I knew all these things, or had observed them.
INTERVIEWER
What about the love story with the deaf man?
YOUNG
Well, I knew this stone-deaf man in Greenwich Village who was, in fact, a close friend of mine. He was most interesting because of his brilliant mind and missing sense. He was a painter. I put him in my novel because he was a sensual contrast to some of the other characters. He was a perfect lover for Vera Cartwheel in the end because I figured she could not marry a man who was absolutely normal—she would be bored to death after what she had been through. So, she ends up by marrying a man whose hearing was missing. So often I get stimulating ideas for my characters from what is actually happening in the world. I always read the newspapers. Sometimes events happen after I write about them. You'll remember that I had Miss MacIntosh walk into the sea, stark naked except for a pair of black gloves (which she had carefully darned the night before), as if she were going to her wedding, all of her clothes left along the beach, including her red wig on the back of a horseshoe crab, and her Admiral Dewey corset, and her sea boots, and her plaid mackintosh . . . walking into the sea at dawn, when both sun and moon were in the sky, carrying her black umbrella, until her bald head reached sea level. Later I read about a boy in northern Long Island, who was stark naked except for a pair of black gloves, and who walked into the black sea. The fact that such a bizarre thing happened after I wrote about it made me feel that I was psychologically correct in the kind of death I had imagined for Miss MacIntosh. Of course, that death was originally based, in part, upon the death of Virginia Woolf who had walked into the river Ouse in England.
INTERVIEWER
What is the psychological significance of that "gloved" death?
YOUNG
Well, I wondered about that myself. I used to distrust my imagination for fear that I was simply fantasizing. But I thought I knew what I meant, and when I consulted with my friend Dr. Hammerschlag, the psychiatrist, he explained the entire case—the meanings of the word black, and the gloves, in relation to psychology and guilt and why it was the correct image. Similarly, when I had the detective in the novel who would not handle a case in which anything black appears—a black rooster or the ace of spades—I thought, well, I must have gone mad to imagine such a character. I asked Dr. Hammerschlag again and he said, "Well, that is a classic case of schizophrenia," and he gave me a long series of similar case histories.
INTERVIEWER
Scribner's commissioned Miss MacIntosh but it took you eighteen years to finish it. Did you get sidetracked in the writing of the book?
YOUNG
No. They commissioned me in 1944 to write it. I submitted about fifteen pages of it, that is all. Mainly, they gave me the contract on the basis of Angel in the Forest and my poetry book, Moderate Fables. I did not know when I began it that it would be such a long novel. I had all the major characters in my head the first day, and I knew the theme of the book would be an inquest into the illusions individuals suffer from. I had already written a book about the illusions society suffers from in Utopian states, and I wanted to shift from the society to the individual. I thought it would take two years and perhaps the book would be about two hundred pages long. But the book started expanding because my characters became increasingly lively, and more interesting to me on so many levels. I had chosen very rich characters to begin with, who were capable of development, and I had the patience to allow them to develop. I was enchanted by the whole project. I hear music when I am writing, and I worked from nine to five, for what was to be eighteen years of breathless writing. I never stopped. I was never bored. If I was bored, I would have stopped. I realized somewhere along the line, early, that it would take a long time. I wanted it to be a book of books, a song of songs. I knew for sure that nothing else in life was going to interfere: I would not easily marry, I would not easily travel. I wanted to write this book—and I don't regret it.
INTERVIEWER
How do you get started in the morning?
YOUNG
I always leave off the day before, as Thomas Mann advised, "When the going is good . . . ," when you know exactly where you are, and you are in a moment of exuberance; you stop. When I hook on the next morning, if the going was good, I just go. I feel it emotionally, almost in the blood, the pulse, the excitement. I always hear inner music when I write; I hear strange music. I have all my life, which is very odd, because I am not at all musical.
INTERVIEWER
Dreams are also a strong influence, aren't they?
YOUNG
Once I dreamed that I was in Iowa City at a party in my house. Henry James was there and he was sitting in a corner, pouring whiskey into his high silk hat. Two weeks later, I came to New York, and on Seventh Avenue I found a book, Memories, by a Publisher's Wife, in which I read, "Henry James was here the other evening, and was so drunk that he sat in a corner, pouring whiskey into his high silk hat." It was a very obscure little memoir, and I had never read it, or heard of it, or even dreamed that Henry James would take a drink. But I do believe that there are visitations in dreams. He would come to me in my dreams, night after night, during the writing of Miss MacIntosh, and read what I had done. Sometimes I was typing, and sometimes writing in longhand, beautiful pages (which of course faded from my mind), and he used to say, "That's beautiful . . . go right ahead . . .go right ahead . . . you're the late twentieth century development of what I was doing," and things like that. Which I don't think I am, of course, but in my dreams I thought so.
INTERVIEWER
You've often said that you feel the presence of other writers.
YOUNG
When I'm teaching, I often say, "Come in, Mr. James. . . . " My students love this. I will stop . . . "Oh, how do you do Henry James, won't you be seated." Oh, they all look, they think he's really there. Boswell will come; Cervantes, I spend a great deal of time with him. I entertain: I see Emily Dickinson, quite often, Virginia Woolf, and Dickens. Poe, oh . . . all the time. I see him on misty nights on Sheridan Square, when the rain's falling; he's going into that little cigar store to get a cigar. I am on very close terms with Poe. Now rationally I don't believe all of this, but in an irrational way, I live it all, so what can we say?
INTERVIEWER
I know you have this theory that individuals speak through many voices. Do you see most people as possible writers?
YOUNG
No. Most people are not, though I think talent is fairly common. I see innumerable talents in my teaching of fiction-writing at Fordham University and the New School of Social Research and Seton Hall. I see much talent. But so many of them will be lawyers, or bridge builders. Many of them will think they are going to write, but will be turned aside by fate.
INTERVIEWER
One must have incredible desire in addition to the talent.
YOUNG
I met Norman Mailer at a cocktail party after Miss MacIntosh was published. I had never seen him before. He came up to me and said, "Were there any fighters in your family?" I answered, "Why yes. My half-brother was a champion in the ring." "I knew it," he said, "I knew you had a fighter in the family." "Well, what made you think that?" I asked. He said, "Because it took a lot of strength hanging out in the sawdust ring like that, punching away for eighteen years the way you did." Then he wrote to my publisher to say I was a "gentle Hercules in highheels." My publisher's publicity department gave that letter to a cartoonist at the Herald Tribune who did it up and showed it to me—a cartoon of me punching it out with Mailer with that caption, "a gentle Hercules in highheels." So Mailer was congratulating me for the stamina of spending so many years on a novel. I suppose it took stamina in a way, but it takes stamina to write anything for eighteen minutes.