Interviewed by Carolyn Doty
Issue 71, Fall 1977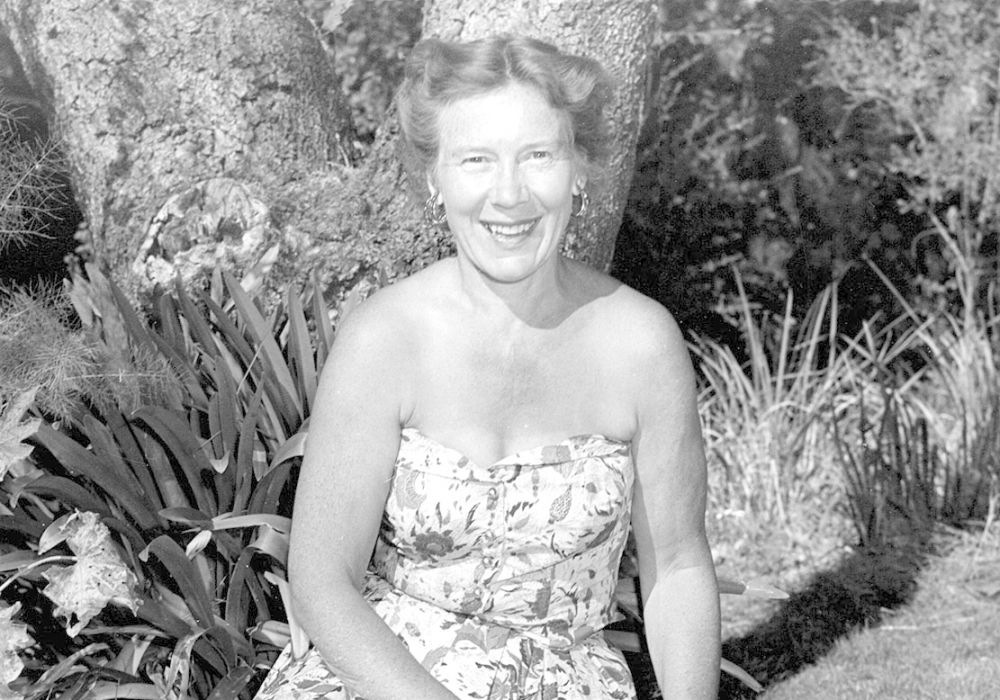 Mary Jessamyn West was born July 18, 1902, near North Vernon, Indiana, to Eldo Roy and Grace Anna Milhous West. When she was six years old, her family moved to Los Angeles County, settled for a time on an orange ranch. Two years later they moved to nearby Yorba Linda. After her graduation from Union High School, she graduated with a Bachelor of Arts from Whittier College. In 1923, she married Harry Maxwell McPherson, and moved with him to Hemet, California, where she worked for one year as a school secretary. "The principal was glad, after that one year, to give me a job as a teacher," she says. For the next four years she taught in a one-room school.
In 1929, after West had resigned her teaching position, she studied at Oxford University during the summer session, visited Paris, and then returned to her studies at the University of California at Berkeley. She was in the midst of preparing to take her orals for her doctorate degree when she had the tuberculosis hemorrhage that was the beginning of years in bed. In August, 1932, she entered La Vina Sanatorium. At one point, the doctors said she wouldn't recover, that she should be taken home to die. West has written of this time in the first section of The Woman Said Yes. She did recover, though it was not until 1934 that she was able to join her husband in Mt. Shasta, where he was principal of the high school. In 1940, the McPhersons moved to Napa, where her husband became the superintendent of schools.
West began her writing career by publishing in small literary magazines, a practice she notes "spared her some disappointment." Her stories have since been widely published in more popular magazines, and included in many of the Best Short Story collections. Her first collection was published in 1945: The Friendly Persuasion. West's published novels include: The Witch Diggers (1951), Cress Delahanty (1953), Little Men (1954), South of Angels (1960), A Matter of Time (1966), Leafy Rivers (1967), Except For Me and Thee (1969), and The Massacre at Fall Creek (1975). Volumes of short stories include: Love, Death and the Ladies Drill Team (1955), Crimson Ramblers of the World, Farewell (1970), and The Woman Said Yes (1976). Nonfiction works include: The Reading Public (1952), and Love Is Not What You Think (1959). She was written a book of poetry, The Secret Look (1974), and an opera libretto based on the life of Audubon, A Mirror for the Sky (1948).
West met me at the gate of the Napa Valley house where she lives with her husband, Harry McPherson. She took me to the small room where she writes. It contains a wooden desk, a chaise lounge where she sat while we talked, a chair, and at one end, a bed built into a windowed alcove that looks out into the front yard. She writes sitting up in this bed, a habit carried over from the years she spent recovering from tuberculosis.
During the course of the interview, McCall's telephoned to ask her to do an article on Ruth Stapleton, President Jimmy Carter's faith-healing sister. She was invited to sit on a panel with Alex Haley. Interruptions continued. She herself would stop to point out a hummingbird by the front window, the quail in the driveway, or the white rooster. A gray cat with crossed eyes lives in a cupboard in the house, two Pekinese wander about, and Speck, the hunting dog, watches from the outside.
"On February ninth, I am going back to Indiana to receive the Indiana Nobel Prize." She laughed. "They're very smart about whom they give it to . . . Kurt Vonnegut got it two years ago." She seemed pleased and amused. But at the first question, West pounded her knee in what seemed complete disgust.
INTERVIEWER
When did you first feel you were a writer?
WEST
I'm not pounding my knee because of that question. I am pounding my knee because of the discrepancy between the desire when I was very young and of which I have proof, and that I was so late in getting at it. I have just come upon a large scrapbook given to me by my father and mother when I was fourteen years old. I think they expected me to paste pictures in it, or keep programs. I have it here. In it, you can see, I have written thirty plots. Across about half of them, I have written, "NUTS." That is actually very compassionate editing. Here is plot nine . . . labeled "decent."
A hobo walking along a road in Autumn. The air is crisp. Hobos don't usually look happy. This one does. He is walking alone dreaming. He is going back to his only daughter. He has been away for a long time. He wonders if she is grown up now. It is almost evening when he reaches the town. A town of little homes. Their lights come on. He goes to the city directory and he casually asks about a girl named, blank, blank, blank. (I hadn't thought of a name yet.) He asks if they will tell him where she can be found. The hobo is in a hurry to find her now. It is now beginning to get even a little chill. The lights of the girl's house are all lit up. The hobo decides he had better look in the window. He does. He sees people and he realizes that his daughter is about to be married. This is a home of wealthy people. Then he looks at himself. He realizes that he is ill-kempt, dirty, ill to look upon. The hobo stays to see his daughter come down the stairs. He thinks she would be ashamed to have a hobo enter and claim to be her father. So for her own good, before someone might recognize him (he has anticipated seeing her for years), with a muttered prayer for her he stumbles out into the gathering mist.
It sounds a little like Enoch Arden. He was a man who came back. But there I was at fourteen doing that. Wanting to write. But I never told a soul. I wasn't the kind of child who spent time telling stories. As an adult, I tell anecdotes, but I am wholly a writer with a pen in my hand. And I am even a reader with a pen in my hand. I almost feel as if I am not complete as a human being unless I have that pen in my hand. I really don't feel happy reading unless I have the pen so that I can write out great hunks of quotations from books I like. I cannot resist doing it. It is as if the writing comes down and what I read flows back up the veins and becomes part of me. Lots of people don't like it, but I even like the feel of writing. I like marking the signs that stand for words on a page. I like the look of it. I'm not a person who wants to crochet or peel a carrot. There's other work I do, but I prefer it to be big muscle work. I want to sweep and scrub. But writing . . . just the muscular physical activity of writing, I love.
And how did it begin? First, I was mad about reading. Sometimes I think a writer should make up his mind whether he's going to be a writer or a reader. There isn't time for both. I've never quite made up my mind. Gertrude Schweitzer, a very good writer, made the statement that she only permitted herself to read thirty minutes a day. But as for me, I go to sleep reading and I wake up reading. Somehow I have the feeling that in some book is the great treasure I've been looking for all my life.
INTERVIEWER
Did you tell anyone you wanted to be a writer?
WEST
For me the beginning of wanting to write was never telling anyone, never taking any writing classes. I'd never seen a living writer. I'd never met anyone who had seen a living writer. I thought that it was so God-given, so enormously strange and peculiar a thing that was visited upon a writer, that I surely couldn't be one of those persons. I didn't know that a writer was just a human being who writes. Cellini said that in foggy weather he could see a halo around his head. I had the idea that the writer must be given some sign by which he would know that he was a writer.
But I did begin with the plot book. Real plots for short stories. Ways to avoid saying, "He said, she said." "He stammered, he enumerated." All that now has gone out of style since Hemingway. I also kept historical tidbits that I thought I could somehow insert into a story. "Bola Pasha" (whoever he was) "before he was to be executed got himself a new pair of white gloves to wear for the execution." I thought I would surely be able to use that.
INTERVIEWER
Did your family know about your plot book at the time you were working on it?
WEST
I don't know. My mother did know some things I wrote. I know because I hurt her feelings terribly. Hurt my father's feelings too. In a notebook somewhere I wrote, "My mother is a slattern."
INTERVIEWER
Oh dear.
WEST
Well, she was. I have exactly the same tendency. When she went out, she was snappy. Too snappy. Split skirts with taffeta pleated in the split, that kind of thing. I wanted her to look more like a grandmother. Gray hair, big fat bosom.
So she read someplace, "My mother is a slattern."
My father sat me down and cried. He said, here I was, the eldest daughter and I was supposed to be a stay and a comfort to my mother and why did I write things like that?
Well, I went into the bathroom. While I was there, I thought up something to say to him that was just about as bad. It was stupid of me. I came out and said, "Papa, I would like you to know that whereas in the past I've been a very rough, uncouth kind of an animal, a dog, I'm now going to be a sweet, gentle, domesticated dog," and on and on. I was a would-be writer working on something. I don't know what my father thought.
INTERVIEWER
Didn't your father write some poetry?
WEST
Not poetry. Rhymes. He would send them back East from California when we moved there. Things like, "Oh, you poor benighted Hoosiers." Some were published in the newspaper. He had not at all the gusto my mother had.
INTERVIEWER
Did your parents ever encourage you to write?
WEST
No. It isn't the same as the young person who wants to play the piano, dance, or who is an obvious mimic. That child is seen to have particular talent, and he is encouraged, given lessons. But the poor kid who likes to read and write needs a vein of iron in him to keep at it. My parents were not aware; they took my doing well in school for granted. They did not come to my college graduation. They had planned a trip to the desert or someplace. Maybe this is kind of Quakery. They looked on my education as just a formality. They knew I'd finish the four years. It didn't bother me in the least.
INTERVIEWER
In The Woman Said Yes, you recount a conversation with your mother shortly before she died.
WEST
Yes. My mother had had a series of strokes so she sometimes was completely with us and sometimes not. Once she said to me, "I am so happy to see you, Mama." I said, "Hey, you got it all mixed up. You're the mama and I'm the daughter." She said, "Well, just so one of us is . . . it doesn't matter, does it really, which is which?" And I said, "No, it doesn't." She lived in a hell that I have not penetrated. I didn't go into it in The Woman Said Yes, because I thought there was enough hell in the book. But not to know who you are or who the people about you are . . .
She had always loved the idea of my writing the Quaker stories because they were about her people. She had described the landscape for me, and the nature of the people, while I was recovering from tuberculosis. So she said to me, "Did I get all of those stories written?" I said, "Yes, Mama, you did. You got every one of them written and published."
INTERVIEWER
In Hide and Seek, a conversation takes place between you and a man called "Son." He says to you, "You're a writer. Writers have the idea that they're the only ones whose words they need to pay heed to. Let anyone else start a story and their minds wander." Are writers like that?
WEST
Well, I don't think their minds wander any more than anyone else's. "Son" was assuming that the writer, if he heard something, would begin shaping it and forming it for his own story. But it is very unusual to hear anything of enough interest that you want to embroider it, to shape it into a piece of fiction. You remind me of something Graham Greene said in his autobiography. He was talking about overhearing in a hospital a ten-year-old boy who was not expected to live: Graham Greene listened to him with a kind of interest that afterwards he thought of as being almost nasty. But he said, "A writer has to have a splinter of ice in his heart . . ." Something that keeps him on the outside, makes him objective. There wasn't a thing he could do about the boy so he listened and learned. He was operating as a writer, not as a fellow human. I think I would be a better writer if I had more of an icicle.
INTERVIEWER
Do you think there was any advantage in starting to write as late as you did?
WEST
No. The thing for a writer to do is to start writing as soon as he can. There are things you can only say when you are young, though you may regret them when you're older. The young heart can expose the young heart as an older person cannot. Byron said when he went back and read what he had written years before, "God, what a genius I had then."
INTERVIEWER
How do you think being a Quaker affected your writing?
WEST
I think I was affected by the Quaker attitude, don't stick your neck out, don't take a chance. My grandfather, I can remember, thought ill of people who boasted about what they were going to do. A man said, "When my apple crop comes in, I will have money, and I'm going to Philadelphia." Then something came up, and the apples didn't mature. My grandfather said, "Don't go around boasting about what you are going to do. If you get to Philadelphia, people will know." Furthermore, a Quaker principle was that if you did have any aptitude for words, then your writing should be something that preaches a lesson. Stories should have a moral. The plots I wrote when I was fourteen had pretty good morals. In a story about a girl who disobeyed her mother, the mother said, "Don't go to a dance . . . don't wear a low-necked dress." The girl did. She went to the dance . . . she wore a low-necked dress. She caught a cold, the cold went to pneumonia, and she died. I have had people feel that it was frivolous to write any other kind of stories.
INTERVIEWER
How have your Quaker relatives responded to your published works?
WEST
A cousin of mine wrote to my professor of English at Whittier College and to my poor mother (who had been so proud that her daughter had a book published) to say, first of all, no Milhous had ever said "ain't." Second, it was degrading to the Quaker faith to have Jess pray louder than was necessary. Actually, he was not really shouting to God, you know, he was trying to make himself heard above the organ. Third, I often used dirty words. I said that a duck (and it was a Quaker duck too) deposited duck dung on the steps, and that Jess didn't like ducks for that reason. My cousin felt I could have found some other way to say it, in spite of the alliteration. She was not, however, typical. But, certainly I came out of that culture, or nonculture, whatever you want to call it.
INTERVIEWER
Did you expect to make money writing?
WEST
No, I got married young. We were poor. I got a job as the society editor of the Yorba Linda Star. Then I was a school secretary for a year. The superintendent was very happy to give me a job as a teacher. I wasn't unhappy. I've got too much teaching blood in me. I enjoyed teaching. It was a one-room school and I got to pitch for both sides. But I never thought of making money from writing. It never occurred to me. I didn't have to think about it the way a man does because I had a husband. So when I did begin to write, I sent my stories to little literary magazines: New Mexico Quarterly, Prairie Schooner, and a lot that have disappeared. I thought I couldn't write the kind of stories that were in the Saturday Evening Post. So by sending stories to the literary magazines, I saved myself from getting an enormous number of refusals. The professors who edited the literary magazines wrote me letters. I never saved a letter from a boyfriend under my pillow, but the first letter from an editor I kept there so I could wake up in the night to read it over again.
INTERVIEWER
Did you write at all while you were in the sanatorium with tuberculosis?
WEST
No. I was sick, too sick to even read. I was sent home from the sanatorium to die. They told my mother, "She's going to die, and we need the beds. Take her home, and let her die amongst her loved ones."
INTERVIEWER
Did you think you were going to die?
WEST
At first, I thought I was going to get well right away. I'd never been sick before. But it got worse and worse, so there seemed no point in living that kind of life. With TB you aren't supposed to laugh too much. You're supposed to be just as half-dead as you can. Your lungs have lesions and the breathing breaks those lesions open. If I could have thought of any decent way to kill myself, I would have. I would have been glad not to wake up.
INTERVIEWER
Because of the number of writers who were at one time consumptive, many people assume that during the time of the illness, they had plenty of time to think and imagine stories to write.
WEST
I didn't do any imagining of stories. You have raging fever, pleurisy, night sweats, like someone with a strong attack of flu. You're just miserable. You reach the point where you can't stand up. It was only when I began to be well that I began to write.
INTERVIEWER
When did you first sell a story?
WEST
I cannot remember. The first time I got any money was from a little literary magazine called Foothills which took a couple of stories of mine and though they didn't pay anything at the time, at the end of the year they gave me $5.00 for a story they thought was the best they had published that year. With the money, I went out and bought a book right here on this shelf—a collection of Tudor poetry by John Verdan, who was a professor at the University when I was studying there.
INTERVIEWER
Would a writer's life be easier being married to another writer?
WEST
I don't know that those marriages work out well . . . whether it's two literary people or two movie actors, maybe even two school superintendents. My husband, Max, is not a literary person. If he were a terribly literary person who wanted to look at everything I wrote, I might not be able to stomach it. I cannot stomach it even when my editor shows tendencies in that direction. There are examples. Virginia Woolf had a literary husband and they worked together in the Hogarth Press. But then you have someone like Scott Fitzgerald and Zelda where there was such competition. So it's worked out for me. Max reads an occasional novel, but mostly ones that I say, "Hey, you're going to miss something if you don't read this." He reads books about schoolwork, about farming, investments. I think maybe if he had a different wife, he might never have bought anything but a practical book.
INTERVIEWER
Can he give you technical help?
WEST
He helped with Massacre at Fall Creek. There I was dealing with geography that wasn't very straight in my mind, and with the law, which he knew more about than I did.
INTERVIEWER
Has he ever criticized your writing?
WEST
Yes, some of the stories in The Friendly Persuasion. He didn't want me to send them out. He thought they were too trivial.
INTERVIEWER
Did that bother you?
WEST
No. He's not the greatest reader and judge of that sort of thing. His failure to respond doesn't mean that there won't be some people who will. He was excited about Massacre at Fall Creek, but it didn't have many more readers than The Friendly Persuasion.
INTERVIEWER
Have you written about characters you could not sympathize with?
WEST
In a story called "Public Address System" there was a man I could not feel for. I started out hating him and I ended up feeling sorry for him. He was pitiful. He was deranged, actually, and of course, I don't know how you can hate deranged people.
INTERVIEWER
When you begin novels or short stories, what do you start with?
WEST
I think of a character in a situation. The character must be involved. I mean, he can't just stand there. . . So, the two, character and situation, go together. I sometimes think that I would have written plays . . . if I had been a person who had gone to any plays. It is that part of writing—conversation—that is easiest and most exhilarating for me.
INTERVIEWER
What do you like the least?
WEST
The scenery. The horses driving up to the door. That sort of thing. But when the characters start talking, then I feel perfectly at ease with them.
INTERVIEWER
What form do you like the best? Novels, short stories?
WEST
At first, I thought I couldn't write anything but short stories. The idea of writing a novel was utterly unnerving . . . I mean, to have to go on and on forever. When I began to write a novel, I intended to write it like a series of short stories. I had the feeling that each chapter could be resolved in the way a short story is. Then I saw that I was wrong. At first, I didn't think I could write the novel. But now, I have reached the point where I would rather. It's an easier form, because the short story requires a far tighter construction. With the novel you simply live with the people for a considerable length of time and you write as things happen, whereas the short story, like the poem, must be convoluted for a purpose . . . a shaft of light into that particular happening.
INTERVIEWER
What advantages are there (or handicaps) in being a woman writer?
WEST
There are enormous handicaps for either the man or woman who chooses writing. The woman has the handicap of not living a life as expansive as a man's. He has experienced more. Not better. She has not seen war; she cannot write about it to the same degree. She hasn't been able to go into a bar and just talk, not sex talk, not trying to pick up a man, but just talk of what's going on that day. Politics, the this and the that. She has a more restricted life. As for the man . . . alas the poor man! How could I have written if I had been a man? I would have had to try to work. I would have had to find some work that I could do that would not wreck my lungs. So, the woman's experience is limited but on the other hand . . . often a woman has a meal ticket so that she has an opportunity to devote herself to the writing and not worry about the money. If I had to write as most men have to write, in order to earn a living . . . I don't know . . . maybe I'd have been a better writer.
INTERVIEWER
Do you think you always had the basic faith that you would be a successful writer?
WEST
The only way to protect yourself from bruises is to be pretty convinced that what you are writing is a dud, and then have a happy surprise. I know a man who has sent his novel to my agent convinced he had written a masterpiece. My agent is going to have to tell him that it is absolutely unpublishable. My way of going at it is easier on the writer . . . finish it, not really think it's very great . . . and then have the great surprise. That's the way I operate.
INTERVIEWER
What about geographical location? Can that benefit a writer? You were in Paris in the twenties.
WEST
I was there! I was in Paris the summer of my twenty-sixth year. I had gone to Oxford to study. I met a young woman who told me I would get educated a lot faster if I went to Paris. The summer at Oxford was rather dull. So I did go to Paris. The first thing I wanted to find was a bookstore. But the lady I boarded with (she was an Oxford graduate and had been decorated during the war . . . Joyce's daughter had stayed with her, I remember) was an avid botanist and I went with her by train out of Paris and walked for miles while she gathered botanical samples. She kept warning me not to drink the water. She wanted me to drink wine, but since I didn't like the taste, all summer I drank something terrible manufactured by the British called lemon squash. Finally she told me about Shakespeare and Company and it was at that bookstore I bought a first edition of Ulysses . . . which I still have. It was against the law to bring it into the United States so I hid it in my trunk. It happened that I was enormously taken with marmalade in stone jars, so in the top layer of my trunk were stone jars of marmalade, and in the bottom was Joyce's Ulysses. When the customs examined my stuff, they took one look at a tourist stupid enough to come home loaded with marmalade, and they didn't go any lower than that.
INTERVIEWER
Talking about geographical locations, is it more difficult to be a writer living on the West Coast as opposed to a seaboard dominated by an Eastern establishment?
WEST
Well, I don't know. I would have gone through exactly the same things as far as getting published. I know that Wallace Stegner feels that West Coast writers are put down, and that we are not thought of, or credited with as much as should be due. Perhaps he has more basis for this feeling than I have. Did I tell you the story about the man interviewing me on the radio in New York? He said, "I have been trying to figure out what your accent is." I asked, "Well, what's your decision? He said, "Rural." I didn't know what to make of that. His sounded Brooklyn to me. Does my accent sound "rural" to you?
INTERVIEWER
Not to my rural ear.
WEST
I hate to hear myself. I never listen to an interview. I don't sound like the person I think I am.
INTERVIEWER
What do you consider your greatest gift as a writer?
WEST
I'll tell you what I think my greatest weakness is. I don't think I'm a very good plotter: I mean, of the mechanics of the story. I was in Hollywood for nine months during the making of The Friendly Persuasion. I remember Mr. William Wyler, who directed it, saying to me, "Jessamyn (actually, I think he said 'Miss West'), we've got to get one more 'will he? won't he?' into this." I tend not to do enough of that and I think this is what a reader wants.
INTERVIEWER
We keep hearing that fiction is in a great deal of difficulty.
WEST
It is. So many novelists no longer seem to care what happens to other human beings. Many contemporary fiction writers are in somewhat the same position as the metaphysical poets were. The novel has become a sort of metaphysical composition. After the Elizabethan lyrics came the metaphysical poets. Perhaps life itself doesn't run a sharp fictional line.
INTERVIEWER
Is what you've just suggested implied in what you are working on now?
WEST
I hope not. True, I am in the midst of another novel. The title is The Life I Really Lived, and then it has to say beneath it, "A Novel." I will read to you two things which have to do with its background—first of all, Jorge Luis Borges, the South American writer: "A man sets himself the task of portraying the world. Through the years, he peoples the space with images of provinces, kingdoms, mountains, buoys, ships, islands, fishes, rooms, instruments, stars, horses, peoples. Shortly before his death, he discovers that the patient labyrinth of life traces the image of his face." And from Oscar Wilde: "One's real life is so often the life that one does not lead." So, that is The Life I Really Lived, A Novel, by Jessamyn West. It begins in Indiana, ends in California, and, though it is not my real life, it is my real life in Wilde's sense. And, of course, feeling as I do . . . it may never be published.
INTERVIEWER
But you always are published, aren't you. You're a public figure. You're on talk shows . . .
WEST
Once I was on the "Today" show with Barbara Walters. She said, "You know who you remind me of?" I, of course, said, "No," because I didn't. She said, "You remind me of Julie Nixon." Of course, Julie Nixon's about fifty years younger than I am. Apparently, at that time, a good deal was being made of the fact that Barbara Walters knew the Nixons . . . and indeed she was grasping at every chance. It's odd what happens when you wander afield. Did I tell you about my session at Berkeley on the creative personality?
INTERVIEWER
What did they tell you?
WEST
Well, they didn't. I finally never knew whether I had any creative personality. Truman Capote was there, and, among other things, we were to see if we could be hypnotized. I don't know if that meant we were creative or uncreative. We were put up in a hotel, fed, and tested. We had all we wanted to drink. Just before our group they'd had a clutch of scientists, but they didn't give the scientists anything to drink because it was thought they might give away valuable information. On hand was a man who was to hypnotize us. He did not look as if he could hypnotize anyone. I did not want to add to his list of failures, so I thought: "I will be hypnotized if it kills me." But I could not be. He would say, "Try to lift your arm now. You can't." I was determined. Tears rolled down my cheeks. I don't cry easily: I was trying to have a dead arm, but it just didn't work. Truman had been in the session before me. When I came out in a dilapidated state, I told him about my grim determination to get hypnotized. He laughed and laughed. He said, "That wasn't necessary. I didn't want to hurt him either. So everything he told me to do, I did. I shammed. It was no strain on me." So, ever since then, when I think of Truman Capote, I admire his prowess. He's a very smart fellow. It was so simple: it wasn't necessary for me to have gone through that awful struggle.
INTERVIEWER
I wonder if we could end by asking: What defines genius for you, in the writer?
WEST
Well, I'm afraid it is some gift, talent, or ability that cannot be accounted for in a technical way. I wish I could say something about writing which is clear-cut and might reveal the connection between writing and life. I know that if I had to make the choice between not writing again or not reading again, I would choose to keep writing. Much as I can be moved by what I read, it is not the experience of having people about whom I put words on paper actually live and breathe. Perhaps that's part of the mystery and magic of writing . . . that you can't encompass it in any kind of definition or aphorism . . . or do anything but shake your head and strike your breast. It's beyond me, but thank God, I'm mixed up with it.