Interviewed by Jannika Hurwitt
Issue 76, Fall 1979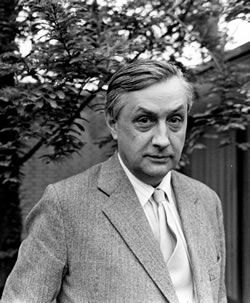 Besides having a wide reputation in England as a poet, scholar, and Oxford don, Peter Levi is also a translator of Russian and Greek writing. He has traveled extensively through Greece and Afghanistan. His travels through Greece, which began in 1963, led to an extended companionship with such writers as George Pavlopoulos, Katsimbalis, and George Seferis; with Seferis he was politically involved in Athens during the "reign of the Colonels" in the late 1960s. The trek through Afghanistan resulted in one of Mr. Levi's few works of prose, The Light Garden of the Angel King, published in 1973. His most recent publication is a thriller, The Head in the Soup, about Greece under the Colonels.
This interview took place during one afternoon in the spring of 1976, just after Mr. Levi had left the Jesuit Order to get married. We were in his rooms at Pembroke College, where he tutored during the interim between religious and secular teaching positions at Oxford. Though it was a sunny day in spring, the chill of the English damp was everywhere, and no place more than the stone colleges of Oxford. We sat in overstuffed armchairs in front of a gas fire, cheered on by an occasional glass of scotch, which the host was kind enough to provide.
Levi is a tall, lumbering, handsome man, with a sometimes intimidating manner. But his eyes betray him—they are full of kindness, much given to laughter; they suggest a genuine love of life and the subject matter that it has been his life to pursue—the classics, literature in general, and most especially the reading and writing of poetry. His poetry reflects his classical background; it has a restrained, almost a distilled quality and is conscious of the whole range of classical as well as modern structures of rhythm and meter. Among his works are The Gravel Ponds, Ruined Abbeys, Pancakes for the Queen of Babylon, and Death Is a Pulpit.
INTERVIEWER
Having recently left the priesthood, perhaps you'd care to talk about how religion and being a priest have affected your writing?
PETER LEVI
Well, I suppose that anything that affects one as a human being affects one's writing. I do believe in Christianity.
INTERVIEWER
When did you become a clergyman?
LEVI
When I was seventeen. I was in religious training most of my life. I did a lot of things when I was a clergyman which most people don't have the opportunity to do. For instance, to start with, I'm half-Jewish and also I'm a Roman Catholic. Therefore I'm very much on the edge of ordinary English society, of any kind and of any level of that society. But clergymen can move between classes and be accepted, always with a difference, by whatever class they are talking to. So I've had access to more parts of English society than most people do. Had I left the school I was at, and done the job I would have done, I suppose I should have been stuck in some kind of class model or other. I would have dressed in a certain way, spoken in a certain way, ate and drunk and had holidays and married in a certain way and had children of a certain kind. And that's quite different from the life I have led. Then again in the Roman Catholic Church clergymen are bachelors—this may make them hellishly idle—and it does mean they spend an awful lot of time in pursuits which married people on the whole don't have time for. Then again people in endless, almost perpetual training to become priests are encouraged to take seriously all weighty matters. They were so perhaps more in my day than they are now. But that's because the training in my day was more meaningless, and more endless, than it is now. Now it's all purposive. Frightful nonsense. In my day it was rather purposeless and went on and on and on. One had a lovely time.
INTERVIEWER
Wasn't the Jesuit training rather rigorous—hair shirts and spiked bracelets?
LEVI
I haven't ever worn a hair shirt, but I wouldn't think it a particularly rigorous thing to have to do, would you? I've been far more uncomfortable, I think, than a hair shirt could make one. If anyone feels that their life is so easy that they need to go and inflict themselves with gratuitous fantasies, well . . .
INTERVIEWER
How do you feel about the sermon as a creative medium?
LEVI
Oh I think it's very interesting. Donne's sermons are wonderful. An opportunity not open to most human beings of having a captive audience. I think it is much unexploited and I think it has thrilling potentialities, but of course only if you happen to believe what you're saying. And it so happens that I did. I mildly regret not being able to preach any more sermons.
INTERVIEWER
You're a classics scholar. Has your poetry been influenced by your knowledge of Greek and Latin?
LEVI
Well, I suppose it must have been because I read a lot of Greek and Latin. I suppose one must be influenced by any profound admiration. My admiration of Homer is immense and yet, I can't imagine that I've been influenced by him very much. Then I admire Aeschylus, I admire Aristophanes—but everyone does, I think. I don't think there's anything so odd about being a classical scholar. It's just that most people aren't classical scholars because they don't know Greek and Latin, poor things. And if they did, they would just think like I do about it. Horace is, I suppose, of all writers, my most constant admiration. I admired Horace enormously when I was a schoolboy. I still do, and there's been no intervening year in which I haven't admired and read Horace.
INTERVIEWER
What is it specifically about Horace that you admire?
LEVI
Well, he's autobiographic, in a very restrained way. His rhythmic mastery is almost unparalleled even in Latin—that dense and apparently casual language. There's an awful lot of reality in his poems. More, as it were, of the grit and gravel of reality to the square foot than there is in most writers. I wish I could be like him. I even like his meters. I like him in quite simple ways. I like the noise he makes.
INTERVIEWER
Do you feel that the knowledge of languages is important to a writer?
LEVI
I think it was Belloc who said that there are only two ways of becoming happy. Either you stay in the same place, or you go right around the world and come back to the same place in old age. Well, I think it's like that with languages for writers. A man might be perfectly suited by knowing nothing but English—really knowing English. I don't know what really knowing English is like. Who knows English? The person who knows the most words, the person who can do the Times crossword puzzle? No. You end up having to use words like "genuine" and "authentic." No use, are they? On the other hand, if you're not going to stick to one language, if you're going to know a little bit about other cultures, it might be better to be John Clare or to live on a mountain or never to move out of one village. If you can't do that, then knowledge may not be better than innocence of knowledge, but it's certainly better than false opinion. So then, I think people ought to learn languages. As to how many, I should have thought that depended on leisure, talent, individuality . . .
INTERVIEWER
When did you begin learning languages?
LEVI
Oh I don't know—whenever one does begin learning them in English public schools. Whether we started with French of Latin I can't remember. But it was a perfectly ordinary English prep school system.
INTERVIEWER
Could you say something about what that consists of?
LEVI
You had classes and you got beaten if you hadn't done the right work. And they had charts on the wall which said LA VACHE, LE FERMIER, LA BICYCLETTE, L'AVION, and that sort of thing. It was great fun really. I don't think you began to read real French books until you were about twelve or thirteen. Latin books . . . there was a terrible writer named Eutropius, who I never encountered since. I had to read him in school.
But the point about our schools was that you were left in a library a lot. And there was a big library and you could read what you liked. I even learned Greek. I changed schools because they didn't teach Greek very well, and I got annoyed. I wanted to learn Greek because at that time, I was about fourteen, and I'd conceived a great enthusiasm for a work by Oscar Wilde called De Profundis. I thought, as generations of English schoolboys thought and I daresay still do, that Oscar Wilde was very sophisticated. Not an opinion I hold now but I did then. In the course of De Profundis, Wilde says that the most beautiful and greatest work of art is the gospel in Greek. I decided that this must be true, because I liked the gospel even in English, and even in the foul version which we had to read, and I wanted to learn Greek.
INTERVIEWER
Would you say that what you have just described is a conventional background for coming to Oxford?
LEVI
Yes. Used to be. Probably still is. The problem about Oxford is the problem of the whole country. It is a class problem. At one time it seemed that there were too few grammar school boys here. In my day it was a case of the public school boys going out of their way to be nice to the rather few grammar school boys; now nobody needs to be kind to them. But it is very difficult to try to keep up an academic standard which is very high and, I suppose, to some extent based on the notion of a leisured class, while at the same time trying to break down the class barrier in this country, which everyone wants to do.
INTERVIEWER
How would you say teaching affects the life of a writer?
LEVI
Well it might earn him a living, that's one thing it might do. And if teaching isn't creative, then what is? Plainly any job which gives you enough leisure to do what you want to do is all for the good. I don't think it's a particularly bad thing for a writer to study literature, though he ought also to do other things. It depends what time of life you're at. You could say at least this: that every writer, except some very eccentric ones, ought to pass through a stage sometime in his life of serious study of literature. The point of teaching is the opportunity to think new things, find out new things, to have a library. Obviously every way of life has advantages and disadvantages for a writer, and they will alter at different times of his life. But the particular advantages of working within a university are that you have enough books, that you have some leisure, and that you continually find new things, either by teaching or by your ordinary research. What works to the disadvantage of the dons here at Oxford is overwork and not enough money.
INTERVIEWER
I understand that you were an undergraduate when Maurice Bowra was teaching here. Before we move off Oxford, do you care to talk about any influence that Bowra might have had on you?
LEVI
Maurice didn't have an enormous influence on me but he had an enlivening influence on everyone he knew. He was an enlivening, generous, and, as they say, life-enhancing person. He was brisk, he would stand no nonsense. He was extremely funny, and he would give you a lot of champagne. All good characteristics. Also he was a scholar and a gentleman, old-fashioned words which one can't use of everybody. It's good that somebody is that. But you see, in the days of my youth, the last products of a much older society, perhaps I mean really a late Victorian society, were still teaching at Oxford. Even if they themselves had been at school in the 1900s or perhaps even in the 1910s. If I think of Roger Mynors, John Beazley, and Maurice Bowra, all three somehow strayed out of a background which I imagine to be solid, in a way that no one's background is solid anymore, that I know. All Maurice's ancestors were magistrates in China, I think. Roger Mynors was a sort of average Etonian. You could find out what he was like as a little boy by reading Cyril Connolly's Enemies of Promise. John Beazley, I think, was not an aristocrat, but he was certainly a gentleman. They were all persons of much more generous temperament, more willing to unbutton, more amusing, sharper, in some ways more assured in their prejudices, their world view, than most dons are nowadays. And since their departure from the university (though Roger Mynors is fortunately still alive and, we hope, still writing about Virgil), the university's become a duller place. That's expected, isn't it? One would expect that to happen. Whether the undergraduates have become duller quicker than the dons, whether the dullness of the undergraduates has made the dons duller, or vice versa, would be a pretty point to decide.
INTERVIEWER
Did you have any particular dealings with Bowra?
LEVI
No, I don't think so. We had a lot of interests in common, but I hardly knew him as an undergraduate. I met him once—he gave a party for Robert Frost. One of my own contemporaries, Julian Mitchell, a rather unacknowledged good writer, was an undergraduate at Wadham—which is Maurice's college. And Maurice said to him, "Dear boy, you must get me the poets, I want five or six of them, undergraduate poets, to meet Frost. I'm giving a party." Well, this was a very grand invitation for an undergraduate. I think it's probably true to say that it was the only time I ever crossed the threshhold of a head of house when I was an undergraduate. Maurice objected to my being asked and he said to Julian, "I won't have a Jesuit in my house. Who is he?" And Julian said, "Well you've got to have him because he's written these poems in my magazine which are quite good." I'd published about four poems in a magazine called Gemini that Julian was co-editor of. Of course I didn't know about this conversation until much later. When I arrived, the door opened, and there suddenly was Maurice Bowra. Intimidating figure. And he said, "Ah Father Levi, Father Levi, I've read your works, I've read your works." He said only about two other things to me in the course of that whole evening, but I was transfixed by him and became an admirer for life—because he was so funny and formidable. Little tubby formidable man he was. I made friends with him much later. I went to see him when I was going to come back to teach here, and asked him what I should do, or who I should be, or . . . and he said, well, what was I interested in? And I, trying to be concise, said, "Oh, I think literature rather than history, Greek rather than Latin, poetry rather than prose, but I have got a passion for Greek vase painting." And he patted his tummy and said, "Pots and poetry, pots and poetry, like me, no way to pay and promotion." And he was right. He wasn't a particular influence on me but was on the whole university. He changed the tone of a generation.
INTERVIEWER
Could you say something about what has had an important influence on you as a writer?
LEVI
I don't know why people become writers but I can tell you how I became a writer. When I was about nine or ten at boarding school I was imprisoned in a room called the "Round Room," shaped rather like the top of an old-fashioned key. There one had to do one's homework for what seemed an interminable period—actually it was about an hour and a half. You weren't allowed to read novels or comics during this period, you could only read school books. But I discovered that if you'd done your exercise quickly you couldn't be prevented from reading poetry, because poetry was thought to be work. Therefore if you were reading poetry they couldn't reprimand you. So I then found poems of Sir Walter Scott. I suppose I read the whole of his poetry in those hours. They seemed to me jolly jingles, and easy to imitate. No doubt I underestimate it, I haven't reread it. And then one day it was raining and there was nothing else to do and so I wrote a poem in what, at that age, I conceived to be the style of Walter Scott. Since then I have never stopped writing. It's a natural activity, you see, writing. More people do it than will admit to it, and the difference between people who regard themselves as professional writers and other writers is much more shady than we suppose.
INTERVIEWER
Are there any other influences on your writing that you would care to mention?
LEVI
Yes. One of the things was that I was ill at the age of sixteen with infantile paralysis. This gave me great leisure at an important time for me. Then also the enforced boredom of boarding school played its role. Then I joined the Jesuits and I did a course of studies which was really an enforced idleness of many years. I could do absolutely what I wanted providing I didn't make a nuisance of myself. That was very important. I find that I know trees, how they behave, how they look, how they smell, what it's like to look after trees seriously. Very few people who are going to be what in England are called literary intellectuals ever have these opportunities. At the time it was like being confined, but in fact it was a great opportunity. There was nothing to look at but the weather and the trees, squirrels, and the orchids, flowers . . . and that's what I did. Then, when I was at Oxford, I got run over by a motor car. That meant that I had about two years off work. That was very important because very few people who come to Oxford have much leisure, because they all have to work so hard. But I didn't because I had these headaches from being hit on the head by this motor car. At that time I moved from doing Greats (Classics) to doing Byzantine and Modern Greek. But because I had headaches the whole time, I could only manage a little work, and only did what I liked. So I spent the whole lovely time reading the things which interest me most—seventeenth century Romance epics, and George Seferis, and a lot of medieval things that I like. Therefore I've had more leisure, by freak chances, than most people have. And I ought perhaps to say also that when I was an undergraduate it didn't occur to me that I could possibly become a poet, in the sense of publishing a book. And indeed I thought of confining myself to writing in Latin verse, because even though no one would read it I thought no one would read it if I wrote English anyway. Writing Latin was both fun, and I thought would make one a better Latin scholar. And then somebody said, "Oh no, you musn't do that, you've got to write in English. We've all got to talk about reality and that." So, all right, I said. I thought that when I came back to Oxford to be a don I might dry up. But I didn't particularly dry up. Real life didn't stop. Another disease saved me there. I have chronic catarrh and I can't stand the English winter. That's why I went to Greece so often; when I would get ill I'd go down there. And because I was there, real life took over. But having all these illnesses was absolutely vital.
INTERVIEWER
You referred before to writing as a "natural activity." What do you mean?
LEVI
Oh, I quote John Berger in a novel called A Painter of Our Time. "Singing is simply a natural sign of human habitation, like smoke." I think poetry is like that. Indeed I could make a case that all art is like that, and people would not know that something was art if they hadn't been told so. When the earliest of homines sapientes made their laurel leaf-shaped flint blades, nobody told them that it was or wasn't a work of art. So now we don't know whether to call it a work of art or an artifact, whatever that means. The fact is no one had told them. I think the same thing applies to poetry. Nobody told Homer that poetry was art. Perhaps they had, perhaps he had learnt it. Indeed I think there's evidence in Homer that he had learned it.
INTERVIEWER
Do you think this "art consciousness" causes a dilemma for artists of our time?
LEVI
Oh lord, yes. I think it's fearful nonsense.
INTERVIEWER
How do you think this has affected contemporary writing?
LEVI
Well, most people are writing for a diminishing audience, aren't they? And because they know that most of what they think of as their natural audience are actually watching the television or reading the newspaper, when they should be reading works of these great men, they get dogged about it. And they write deliberately and, I think, rather aggressively, very obscure and clever works which can only be read and understood by persons exactly like themselves, of whom there are, possibly fortunately, fewer and fewer. It's a social thing, it's part of the development of our society. When you have somebody who becomes a popular success as a writer, other writers will immediately go for his throat. They're very envious of one another. And they're envious of anybody who's an artist and not a writer. They'll never admit that anything more modern than what they happen to be doing is an art at all, unless they're sensible. There used to be a time when they didn't like jazz, and now, they just like the cinema, I think. Most poets of my age, or even ten years above, understand and like the cinema. Rather few understand that television is an art form. They're terrified by the whole notion of television. Therefore they won't accept that it can be an art form. And yet if what they want is this great audience, why don't they go and get it? There it is, waiting for them. They could, I mean, be doing something useful that people actually want them to do. I don't think that any writer could call himself serious if he's never considered working in films and television.
INTERVIEWER
How do you feel about the writing of free verse?
LEVI
Free verse is all right, but you'd better know what you're doing before you indulge. I dare say that there are a lot of writers who don't. I say, "I dare say," because I don't actually know that there are a lot of writers who don't, but sometimes one sees poems that one doesn't like, and one thinks that the chap is simply incoherent, he doesn't know his own silly business. But one may be wrong, one may have got it wrong oneself, may not have been sensitive enough to a particular noise. Sometimes it's the third time that you see a poem when you suddenly say, "Oh, that's what he's doing. How interesting." And if you can remember where his other poems are, then you can go back to them. I think that with something like a collection of poems you can always tell, but not on one poem.
INTERVIEWER
But as far as whether a writer decides to write in free or formal verse . . . ?
LEVI
Everyone must find their own way, take their own road, and see to the end of that road before they abandon it. Everyone must inevitably start from where they happen to be. Wherever they were brought up, whoever their parents were, whatever language they talk with, whatever accent . . . they must start from there. And we know from countless examples, from what we later call literature, that anyone can be a great writer. All I say is that you have to see what you're doing, sooner or later. You have to understand the consequences of your choices, and the fact that they are choices—the fact that they are choices being a fact which is gratuitous.
INTERVIEWER
What about the way in which you chose to write "Pancakes for the Queen of Babylon?" William Cookson said of it that it was written in a very surrealist style.
LEVI
Oh yes, people are always saying that. Maybe it is. I do think, about surrealism, that the English never went through it. And that, in some way, it was a lack. That it was something that one has to cough up and get it over with or sweat out—a kind of infection. Somehow any person that didn't have the infection, didn't cough it up, remains lacking in some way. I think that that accounts for some of the apparent dullness of a great deal of modern English poetry. Because, let's face it, a lot of it is very dull, isn't it? I know that a lot of Americans get infuriated with it. I see why, though I don't think they're right. I think it has got other values that are worth noticing. The resonance, the plain decent ordinariness, and in the end the nobility of temperament of Larkin's poetry, seems to me to be a profound contribution to our language. But we are speaking of . . . what were we speaking of?
INTERVIEWER
Surrealism and "Pancakes."
LEVI
Oh, "Pancakes." Surrealism. Well, I don't think there are many good Surrealist poets. The only English supposed surrealist is David Gascoyne. I'm not a surrealist, never have been. But perhaps now I may tell you something which will answer your first question about how being involved with the clergy has affected my writing. When I was studying, first becoming a clergyman, my ordination got put off for general bad and riotous behavior, for a year. That must have been in 1963. In that year they let me go for a holiday in Greece, a great concession at that time. I'd always wanted to go. And so I went for the first time. I was mad on meeting the local poets. And I didn't realize what a great man I was to encounter, and what a strength and power of poetry. One of the writers I wanted to meet was somebody called Nikos Gatsos, of whom I had by heart one line, which translated would be:
A little grain for the festival, a little wine for memory,
a little water for the dust.
I thought that a very good line, and the notion of this line had been playing in my head. I met him when I went there. I also met George Seferis, who is one of the two great poets I have met in my life. The two greatest human beings and the two greatest poets I have ever met are George Seferis and David Jones. Both dead now. I wish that I could claim that either of them had been an influence on me, but I don't think they have. Men moving in their lives, wonderful and free in their performance in poetry, strong, rooted like trees. But I'm straying from this blasted book of mine which you have asked me about.
I was living in the country, in North Oxfordshire at a Jesuit training center, very near where I've finally settled now. I found that all my poems had a certain sameness. I connected this with the fact that they were mostly written at about five in the evening—after cutting brambles in the woods or something for most of the afternoon—when I was quite tired, when it seemed always to be sunset and I'd had a hellish day usually, hellish morning anyway of mad lectures on nonsubjects. And so these poems were rather sad, nostalgic, gloomy sort of poems. And I felt that what I was expressing was merely that it was five o'clock in the afternoon. The subject matter had simply evaporated. Having decided this I thought well I'll write just one more of those poems, and it will be the poem of that kind to end all poems of that kind. And I did. I wrote that poem and I thought well I'm not going to write anything for three months; I made a deliberate design not to write anything. I wanted to break the rut that I'd got in, and have a long re-think. Which somehow I connected with going to see Gatsos, whom I admired so much. This line is so unlike anything that I could ever write, about a bit of grain for the festival—such a good line and something I could never begin to write like. Well, I did meet him, and on the last night that I was in Athens, on the way home, he and I and an American friend, a novelist named Charles Haldeman, had dinner together. I remember that it was windy, a wind called the maltempi was blowing, and we dined out of doors, rather high up, on a flight of steps, in the Plaka. Plaka then wasn't as it is now, it was quieter, nicer. Somewhere you could actually go to. Toward the end of the evening, Nikos suddenly said, "You know, I remember when we were young, and Surrealism was all the rage, Elytis and I, (Elytis is another Greek poet), there was a game we used to play. Shall we play it?" The game was a version of the ordinary old-fashioned English party game called Consequences. You write something on a piece of paper and turn it down and pass it on and the next person writes something, turns it down and passes it on, and so on. For this game, it's question, answer, and comment. If the three who are playing this game are closely in harmony, or working well together, or their subconsciousnesses are aligned, or—don't know what it is—you get the most extraordinary questions and answers and comments. I can remember much later playing it with somebody and getting out of it; "What is Mr. Heath doing now" (it was the time of a general election), "She is confined to a tapestry monastery," "The goldfish are very pink in the pools." You see what I mean? By studying that game I had what I thought was a breakthrough about the way in which context works in poetry. As with a painter, if he puts a color on canvas it changes colors on the other side of the canvas, so for a writer, if one sets out a context, a word can have a most important resonance and appear powerful, even great poetry, which in another context would have been ordinary. Shakespeare does it a lot, for example. After a long description of a storm with heavens swallowing the sea, the sea surging upon heaven, ships sinking, all hell broken loose, he suddenly says, "Does the wet ship boy sleep in such a time?" And that ship boy is very, very wet. It's all context—poetry is the control of context. Well, I thought that the way in which these questions, answers, and comments in this game worked together by context was a sort of insight into the way in which poetry really works. So I thought that I would write a poem in which I left out everything but the way in which poetry actually works. By power of context, by the associative power of context. Other things are built into it. In the course of the first part of "Pancakes" I've actually quoted several pieces from the game as we played it. The second part ends with something which John Holloway once said to me about the decadence of the means of modern poets, and how our whole effort ought to be to say something perfectly simple, like, "A white ship riding on black water," and make it seem the most wonderful thing one had ever heard said. Set up a context in which that worked. And I think that the end of the second part of that poem actually is that phrase. But in fact I asked John Holloway about it again later, and I think it comes from Tolstoy, from one of his letters.
INTERVIEWER
That's one of the lines of the poem which really sticks in one's memory.
LEVI
Well, I hope it wouldn't if I hadn't put a whole poem around it—at least, that was the point. It's repeated and reversed I think. Yes. It goes:
We woke to find
A white boat rocking on black water
a black wind rocking on white water
a white boat rocking on black water
Yes. Half remembered from Chaucer:
Out of these black waves for to sail, Oh wind, Oh wind,  
the weather ginneth clear.
INTERVIEWER
What made you choose the title "Pancakes for the Queen of Babylon?"
LEVI
Oh, that's a joke. Partly because Nikos liked the title. And it was dedicated to him. It's a tribute to a poem called "Amorgos," Nikos's one long poem. This poem is simply a tribute and a grovel in front of "Amorgos," which I think is a very, very great poem. He's a great and beautiful poet. Won't write very much. Writes popular songs mostly. They're very good. It means that the Greeks have got better popular songs than anybody else. But about the title. It's a quotation from the Reverend Ian Paisley, making a speech about Roman Catholics in the Oxford Union, at the time when I was writing the poem. In the course of which he said: "The Roman Catholic Church is still the scarlet woman offering up pancakes to the Queen of Babylon." And in fact I've found that in the authorized version it's close to being a scriptural quotation. I didn't know, and nobody knew this, I just thought it frightfully funny. He's very rude. As I wanted to have some secret tinge of the sacred about this poem, which is a religious poem, I thought I'd put that in. I wanted to call it "Illuminations," but that didn't seem to work, or "Epiphanies." I have an affection for that particular poem, although it's so difficult. I think it's not ever going to be a popular poem, to put it mildly.
INTERVIEWER
Do you feel that George Seferis's poetry loses much in translation?
LEVI
Almost inevitably. Yes. More than most poets do.
INTERVIEWER
What was he like?
LEVI
Great and godlike. Gleeful in his humor, immensely courteous, profoundly subtle, typical Asia Minor Greek. I have a sympathy with them because my grandparents came from Istanbul. I find there are characteristics, expecting certain kinds of behavior, behaving in certain ways, mutations of ordinary behavior, mutations of a sense of honour, of generosity, of suspicion—mutations of everything, I've recognized among Asia Minor Greeks, but not elsewhere.
INTERVIEWER
You see Seferis as mutated?
LEVI
Yes, he was. But one of the most important things about him, as somebody, I think it was Auden, said, was that the worst disaster that he suffered was the fall of Smyrna, its destruction by the Turks, in his childhood. It's like having lived through the Trojan war. You're not the same after that. English poets, on the whole, have suffered no public calamity. There's been no public calamity in this country for an awful long time. But there were other things which affected Seferis. The two things which he was most interested in, in public life, were the 1939 War, about which his feelings were passionate, and Cyprus. And in both, he was active and with a headlong commitment, that's quite certain. The last thing was the Colonels. And during most of the years when I knew him, the Colonels had Greece. I came to respect him as I never expect to respect any other human being for his behavior at that time. We became very close friends because of the pressure of that time. We saw entirely eye to eye about it. He was infinitely important in his own country then, because he was already a Nobel Prize poet and had a personal authority which is quite outside ordinary experience. He was as formidable as Maurice Bowra, and more profound. And was the only Greek who'd got the Nobel Prize for poetry, and virtually invented modern Greek Literature. He was immensely grand. On the other hand, I being younger, having less to lose, was in a small way active in a way that he couldn't be. But I would never do anything without asking his advice about it. And so we became very close friends.
INTERVIEWER
Is this political activity you're referring to?
LEVI
I don't much want to talk about it. George was marvelous, like a rock, as when he made his great statement against the Colonels. It was one of the most moving things I've ever heard in my life. What else about George do you want to know? About his poetry? Well, it's very good, it's not like anyone else's, it's more political than anyone has said, but it's largely about love, and loneliness. It's what you might call free verse, but if you think that's free . . . it's not free in any loose sense.
INTERVIEWER
Why haven't you translated him yourself?
LEVI
I've lectured on him, that's enough. There are people whose job it is to translate Modern Greek poetry and I see no reason to offer an alternative to that. It's been done. In fact I think that it fails, because I don't think he can be translated into modern English. I don't know why he can't, but I have a notion. There are plenty of writers who can't be translated into a given language at a given time. Try putting Catullus or Ovid into modern English. You can't do it. George, I think, probably translated better into French, but then my ear for French might not be good enough to tell.
INTERVIEWER
You say that he invented modern Greek poetry. Was there an active group or movement of writers in Greece that he was involved with? Such as the writers mentioned in Henry Miller's Colossus of Maroussi.
LEVI
Oh no, that's rather romanticized I think. Henry Miller is a marvelous, intuitive, warm, sympathetic man. He's a sort of genius without talent. He's got talent as well, so that can't be right . . . there's something missing.
INTERVIEWER
Craft?
LEVI
No, he's a damn good craftsman. His uncontrol is very deliberate. I'm not going to be the man to knock Henry Miller, whom I admire greatly. But there is something lacking. Not as bad as what was lacking in Aldous Huxley. But if somehow you could mate Aldous Huxley with Henry Miller, you might have a marvelous writer. People have the limitations of their virtues.
INTERVIEWER
Then you didn't experience this world of going around to cafés and telling stories . . .
LEVI
No, it wasn't in my day. Remember that George had to work for his living. He got into the diplomatic service by passing examinations which took him some trouble to pass. Ever afterwards he would remember the French word for things like a back scratcher and a soup ladle. I don't know whether the Greek foreign office uses a lot of back scratchers and soup ladles, but if they needed to he could have remembered the words for them. In fact, he was a linguistic genius. One of very few people of whom I would say that, whom I've ever met. He could correct the French of a Frenchman, and he would do it. He would say, "You don't really mean it like that, you mean this." And he would correct my English, which isn't bad, damn it. When I was writing something he would say, "No, but surely what you mean to express is so and so," and he'd be right. There was nobody in Greece who knew Greek as well as he did, except, he thought, possibly Gatsos.
INTERVIEWER
Did you know Katsimbalis?
LEVI
Yes. Sweet, warm, very entertaining man. What he's done for Greek literature has been very important. His edition, of an earlier poet you won't know, Palamas, is the model literary edition in the whole Greek language, a model for any language, it's so good. It's about twenty-five volumes. His annual bibliography of Greek writers, and studies of Greek writers, is standard and must have been a hellish labor. At the same time, he managed to be the most entertaining companion one could possibly have.
INTERVIEWER
If I may return to your own writing, perhaps you could say something about the way you approach your work. Do you have any sort of writing routine?
LEVI
I write when I have the leisure to. Up until last Christmas it's been when I didn't have a lot of unanswered letters. Do you remember Lowell speaks somewhere about a "malignant surf of unanswered letters?" I know what he means. Or after doing some job, when I felt I really deserved a few days to myself. And frequently I write poetry when I think, Now I have leisure; now I have peace; now I can do some scholarly thing. I sit down at my desk and it isn't a scholarly thing at all; I write poetry for a few days. But I seldom write more than a poem a fortnight. Sometimes, three in three days. Very occasionally two in a day. A poem can take two or three days to finish, usually two at the most because I can't stand the strain, can't hold it together. Though sometimes I go back to an old poem and finish it, when I thought I was going to leave it unfinished forever. Suddenly one feels relaxed and gleeful, and does anything.
INTERVIEWER
Could you say something about the way a poem begins for you?
LEVI
Which poem?
INTERVIEWER
Any poem.
LEVI
Well, let me see, give me the book. [It was his Collected Poems] Poem 130. That was a rhythm mostly. I had in mind a lot of mere images, which are no use at all in themselves. Anyone can have an image. You do find in the Times Literary Supplement, and places like that, poems simply consisting of an image. And one image, fixed well, can be a poem. But I think I've never carried that off. Do you remember Lawrence Durrell on roses? "This is not the rose of Nostradamus" . . . you just end up by thinking of this rose. I'd been living in Dorset, I'd seen all the things in that poem, 130, I'd had a couple of lines running in my head, as any poet usually would have a couple of lines on the boil. If they get really good, you write them down, or you get so excited you write a poem. The last part of the poem has the rather elusive line, "I will be the mad Hermit of these woods." There was a wood at home called Mad Bess Woods. And there was an old lady who we used to call Mad Bess. Couldn't have been the original Mad Bess of Mad Bess Woods; she must just have been a mad village woman. Anyway I imagined these people as living like hermits and being very strange people. That's where that comes from. 147, "Ballad," is an experiment in a particular kind of rhythm, owing I suppose something to Auden but I think not much. "Notebook Homage to Brancusi," number 150, was written because some charming man, whose name I've forgotten, wrote me a sweet letter, saying "Would you supply a poem for me, for a book of homage to Brancusi. It is very important for us in Romania. And I will translate it into Romanian and we will print it." It seemed to me to be so funny and odd and nice that I thought I would. But I couldn't see what to write or how to write it. So I wrote it first in terms of a postcard that was lying on my desk. Sooner or later everything on my desk creeps into my poems. And I wrote it rather by a similar technique to "Pancakes." There's a couple of proverbs in there which I got from rifling through a book of proverbs. When at a loss, I think the thing to do is to look at some poem which is completely unlike the thing that you are now doing, or a prose writer, or a book of proverbs. It isn't that you use what you find. It's that it sets you off in some new direction. For this poem the proverbs are: "It takes an acre to keep a peewit," and "Fog in March" comes also from somewhere. But most of it is about some old postcards I had in front of me.
INTERVIEWER
It's really a very varied experience, then, the way in which the writing of your poems occurs.
LEVI
Yes. I write from notebooks. I'm never without them. See, I can lose things in there, and know it doesn't matter, because sooner or later you're going to need something. Now you're in the rich hour where you've got something useless, but you feel you could use, so you write it down. For one long poem I can exhaust three years of notebooks. Go through every minable inch in them; find everything in them I can possibly use. Because whatever is in a notebook has somehow been thought about, seemed to-be important at the time. Would you like to hear some?
INTERVIEWER
Of course.
LEVI
[Reading from his notebook.] "From the whole Agamemnon (Aeschylus's, I would have meant), which I have read over in enormous detail with William, from the point of view of poetry, two phrases stuck in my head: The blood dew and the corn's birth pangs, the saffron yellow drops, and the wine of bitter grapes. Paris graffito: "Les oreilles ont des murs." Ears have walls. The saintly faces and the unpretentious expressions of photographers, circa 1900. One could have invented Muybridge from seeing old photographs, even down to the lemons. I open the door and flies swarm in, I close the door and it's too warm again. Life gets kinda aimless, don't it? Two things I might not have known if I hadn't been told: one, that I have a soul; two, that if I were a slave I would lack dignity. Aren't they both in a way formulations of the consciousness of nineteenth century society? Heavy tree sprawled like a dog in its own shade." There's a little unprinted epigram here. It's called "October Revolution."
Oh spring is a battalion tricked out in green
But summer's dark artillery thunders unseen
Autumn is a regiment uniformed and fine
But winter is a dead brigade, standing in line.
Then there's quite a funny note about American millionaires, who are proposed benefactors of Campion Hall. [Campion Hall is a college within Oxford University, where Mr. Levi formerly taught Classics and related subjects.] "The annual day of the millionaires at Campion Hall. Old, pale, leather faced. I like the oldest and toughest better than the younger kinder ones. They're splendid old buzzards, slow and polite, lacking only Groucho Marx. They are the ghosts, infinitely removed, of cowboy heroes, Texas Rangers. And their correctness and generosity are the ghosts of that amazing epiphany in England; the Americans of the 1940s. They are agreeing to be tricked. They won't really be convinced, and they'll fight back in detail. But they want to believe, and to be generous. Their eyes are intensely sad. What we have in common is that in the last analysis, we despise money. That we should respect their possession of it, and they our need of it, is a courteously played-out game. But they have been betrayed a lot of times, and for them, every such game is end game. They can't any longer find anyone they believe in who believes in them." Footnote: "In fact in the end they won." We didn't get any money. They were marvelous. I really liked them. You know what I mean about the Americans of the 1940s—it was the War.
INTERVIEWER
Why did you like them?
LEVI
They were all so generous and they were going to die. For us. It's one hell of a long way from Minnesota to here. They were much more different from each other than Americans one meets nowadays. I can remember an American private soldier coming up to me on a train and explaining to me about the yellow peril and how it was all in the Bible.
INTERVIEWER
The yellow peril?
LEVI
Yes. How the Bible had explained how the Japanese and the Chinese were going to overwhelm the world. You know it's not usual, there really aren't any Americans like that anymore. I've never met any, not even in America. There are, still, in England, if you really poke about, but very few.
INTERVIEWER
Do you see general differences between American and English poetry?
LEVI
Yes, of course. It's to do with rhythm, isn't it? The rhythms of American speech are different from English, or may I say insular, because the word "English" is ambiguous; we all speak English. The rhythms are quite different and produce a different set of things. After all Shakespeare didn't know he was a Beat poet until it was pointed out by Anselm Hollo. I think that's who pointed it out. It's true that there is a perfectly good Beat line in a Shakespeare sonnet. Can you guess it?
Let me not to the marriage of true minds!
 admit impediments.
INTERVIEWER
That's a Beat line?
LEVI
Oh, perfect. Upward beat, not pentameter . . . perfect. You have to try to pronounce it with an American accent. [Repeats it, then:]
I have seen the best brains of my generation starving
hysterical naked
It's the same, isn't it? (And then quotes a line from Lowell's "Quaker Graveyard")
A brackish reach of shoal off Madaket
It's different, isn't it? I don't think an English poet would have written that. There are marvelous rhythms in insular English but they're not the same as that. It's a very good provincial variety of our language. A language of which all varieties are now provincial. There is no metropolis of the language. Or if there is it's bloody not London. Nor is it New York. Nor is it some English department at a college. There's only provinical English. There is a sort of Queen's English, as it's spoken here, but that's neither here nor there.
INTERVIEWER
Auden was concerned that the quality of the English language be preserved, and he hoped to help to do that with his writing.
LEVI
I think it's nonsense. Do you think that Ausonius should have written in Burgundian?
INTERVIEWER
What?
LEVI
Ausonius is an excellent Latin poet, who was surrounded by what he regarded as barbarous Burgundians who put butter in their hair, a characteristic that he thought foul. What he chose to do was write lovely pale imitations of Virgil. Highly successful. In a kind of Latin that almost nobody was speaking then. Few people could have appreciated how good he was. Should he have learned a Germanic language, or Burgundian? Perhaps. I'm just trying to say that whoever you are, you've got to start from where you are. If you're a sailor, and only know sailor's language, well, write in it, for God's sake.
INTERVIEWER
You don't see anything in the idea that the language is being let go?
LEVI
Well, I don't think it was Auden that said that, I think it was Eliot. If Auden said that he was trying to do it then he was just trying to put on Eliot's top hat, which was too big for him as it was for the Bradford millionaire. And as it was for Eliot too. You can't protect the language. You can drive out bad writing by good writing only because the public reads your works and not the other works. Therefore it's the readers who do it, not the writer. Language lives in the mouth.
INTERVIEWER
Some people think that Auden is overrated. Do you?
LEVI
There's bound to be a reaction against him, but it's a bit of a bore, when you get to be my age, living through all that. I've already lived through being told that Yeats is not good, and then being told that oh now we're allowed to like him again, being told that Eliot is overrated, and being told now that he is the greatest of great poets, the same with Pound and now the same with Auden. Why can't people make up their bloody minds? I haven't thought through exactly what I think about Auden. It seems to me indelicate to do it. I like him, he was my friend. He was decent to me when I was much younger than him. He can't perish as a poet. He's got to be admitted, to be remembered. You can't just ignore him. As to who he's better or worse than, I can't say.
INTERVIEWER
What about Yeats? In Travels to Afghanistan you say in a note: "If Yeats were more interested in the real nature of everything I would find him a more necessary poet."
LEVI
I think that's true, yes. We're speaking of dolphins, aren't we. He doesn't really care what dolphins are really like, does he? Platonic allegory—it's not my scene. Yeats is a great poet. He almost is necessary but not quite. My distinction of poems is not between great and minor, which has somehow been taken over by the academics, and has become silly, trifling. The distinction I would make would be between, first, poets and not-poets. To be not a poet is not to be able to write a coherent poem, or not to write any poems, or to write a lot of nonpoems. And there are quite famous people who would fall in this category. Really, it's just a kind of craft criticism. I don't see what they're up to. Then there's poets and good poets. A good poet is someone who's written, not a couple of good lines, but something that really makes you sit up and pay serious attention, take your hat off to the man. Allen Ginsburg is a good poet. But then I think there's necessary and unnecessary poets. This is absolutely vital. How you judge them is, assuming that you have a wide selection on your shelf, who you take with you on a journey and who you can do without. Great poets I don't know about. Yeats I read about twice a year. Necessary poets are those without whom the language would lack some mutation, some important thing. This would include Henry Vaughan, John Clare, Christopher Smart, Walter Raleigh . . . do you see what I mean? You can't deny that they're good poets, but no one person would be likely to maintain that they were all great poets. But I can do without Browning, except for a few poems.
INTERVIEWER
Do you count Yeats as necessary?
LEVI
Almost.
We dreamed that a great painter had been born
To cold Clare rock and Galway rock and thorn
Oh, that's a good line.
To that stern color, and that delicate line
Which are our secret discipline
Wherein the gazing heart doubles its might
It's terribly good. But surely, in the last line, "might," "wherein," "gazing"—it's a bit inflated isn't it? If you want to take Yeats down a peg or two, try saying it in a terrific Southern Irish brogue. (He does). He makes his poems out of nothing. Richard Selig first said that to me. He said the trouble with Yeats is that his poems are air and water, nothing in it. There isn't anything there, dammit, when you look at it. I see what Selig means.
INTERVIEWER
Yeats's strength is mostly aural.
LEVI
He makes a kind of compelling noise, doesn't he? He's the ancient mariner all right. Yeats worked from notes too. One of the most impressive things that I know about him comes from his notebooks. He writes out in prose several times, beginnings for a poem. He starts out by saying: "I have often taken off my clothes, both fast and slowly, for this or that woman." He goes on in that boring, silly old man's way. Very embarrassing. And then, do you know what the first lines of that poem are?
That is no country for old men. The young
In one another's arms, birds in the trees
It makes me cry it's so beautiful. If you're a poet, when you start to write, then you are serious. Or you'd better be. None of us can be serious all the time. To be serious in that sense requires a lot of things, such as being relaxed beforehand, things like love and generosity, and discipline, and a sufficient degree of venom. Self-hatred, love of others, hatred of others . . . all these things you need . . . whatever is the right mixture for you.
INTERVIEWER
It's been said of your poetry that frequently it is of a private nature. Do you feel that it is?
LEVI
I rather think that that has to do with my having been a clergyman. People suppose that I had reserved thoughts, that I couldn't possibly believe all those things I was supposed to be believing, or behaving in all those ways I was supposed to be behaving, and there must be some kind of secret message to be read in the poems, something breaking out. Well, I think everything was stated perfectly plainly. I said exactly what I thought and felt. Now maybe what I thought and felt was so obscure and peculiar, my own life has been so odd, that it is of no interest to the rest of the world, that's perfectly possible. I applaud the world if it thinks that.
INTERVIEWER
You don't think, then, that you're a private poet.
LEVI
Oh I may be. I rather like the notion—I think it's Italian—of hermetic poetry. Since I heard of it it's always seemed to me to be what I was trying to do. To distill experience in such a way in language that people who read what you've written can sense and understand the experience that lies behind the words. They know what you're talking about, but they don't necessarily, or shouldn't, need to know your whole autobiography as it might appear in a police court or before the throne of God. Most of the time when I'm being elusive in poems, it's a private joke for me, or for one other person to whom it's dedicated. It's not ever been necessary to the understanding of the poem.
INTERVIEWER
Are there any poets with whom you work closely?
LEVI
Well, there are those to whom I show things and whose opinions I value. Absolutely anyone who happens to be available at the time, for whom I have respect. In Oxford, now; John Wain, Sally Purcell, Andrew Harvey. Other friends who are not poets. The critic I most value is my wife.
INTERVIEWER
Could you say something about why you write poetry?
LEVI
George Seferis in a diary speaks of life, without writing poems, as a disorder. I remember thinking when I read that first, it's the opposite. Poems are a disorder. However necessary and desirable, however protecting the survival of the brute life of childhood, a disorder. But now after a long time of not writing poems, I see he's right. Without writing one just piles up like heaps of leaves. One doesn't know what is happening or who one is. And soon one will not dare ask, perhaps, any honest question. Or worse, one may stumble unguarded on some honest answer. Because there is no way of knowing the implications of feeling, except of precise feeling, of something quite exact, as happens in a poem. It is as if poetry were a continual whale spouting or breathing. And yet this is not why one writes poetry. One writes it because of the things themselves, and the words themselves, and the people themselves.
INTERVIEWER
Would you like to give any advice to young writers?
LEVI
Yes. Steer clear of the writing departments of universities. Steer clear of English. Learn foreign, preferably dead languages, but learn them properly. Do not be a wastrel, don't just hang about the world. Poetry is about life. The quality of your poetry will be the quality of your life. And you can't regulate that by a knob. Read. Get or get near a very good library. Take more notice of Randall Jarrell than you do of any academic critic. Don't spend time attacking other writers. Dig to the bottom of your mind, and don't give two damns about publications.
Writing is like breathing or it ought to be. One's got to write poems. Like one has to go to church. Not out of social duty, or because there's any pressure on one to do so. Not even out of reaction to people who say one shouldn't do so. But just because of some decent, natural good behavior. One might as well go on with it.