Interviewed by Peter H. Stone
Issue 82, Winter 1981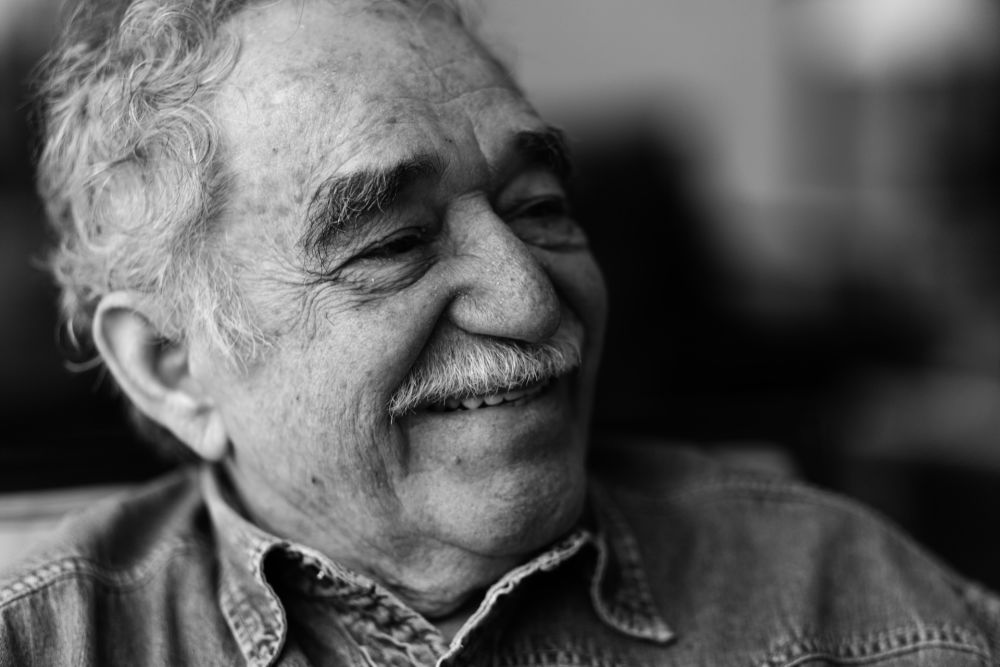 Gabriel García Márquez was interviewed in his studio/office located just behind his house in San Angel Inn, an old and lovely section, full of the spectacularly colorful flowers of Mexico City. The studio is a short walk from the main house. A low elongated building, it appears to have been originally designed as a guest house. Within, at one end, are a couch, two easy chairs, and a makeshift bar—a small white refrigerator with a supply of acqua minerale on top.
The most striking feature of the room is a large blown-up photograph above the sofa of García Márquez alone, wearing a stylish cape and standing on some windswept vista looking somewhat like Anthony Quinn.
García Márquez was sitting at his desk at the far end of the studio. He came to greet me, walking briskly with a light step. He is a solidly built man, only about five feet eight or nine in height, who looks like a good middleweight fighter—broad-chested, but perhaps a bit thin in the legs. He was dressed casually in corduroy slacks with a light turtleneck sweater and black leather boots. His hair is dark and curly brown and he wears a full mustache.
The interview took place over the course of three late-afternoon meetings of roughly two hours each. Although his English is quite good, García Márquez spoke mostly in Spanish and his two sons shared the translating. When García Márquez speaks, his body often rocks back and forth. His hands too are often in motion making small but decisive gestures to emphasize a point, or to indicate a shift of direction in his thinking. He alternates between leaning forward towards his listener, and sitting far back with his legs crossed when speaking reflectively.
INTERVIEWER
How do you feel about using the tape recorder?
GABRIEL GARCÍA MÁRQUEZ
The problem is that the moment you know the interview is being taped, your attitude changes. In my case I immediately take a defensive attitude. As a journalist, I feel that we still haven't learned how to use a tape recorder to do an interview. The best way, I feel, is to have a long conversation without the journalist taking any notes. Then afterward he should reminisce about the conversation and write it down as an impression of what he felt, not necessarily using the exact words expressed. Another useful method is to take notes and then interpret them with a certain loyalty to the person interviewed. What ticks you off about the tape recording everything is that it is not loyal to the person who is being interviewed, because it even records and remembers when you make an ass of yourself. That's why when there is a tape recorder, I am conscious that I'm being interviewed; when there isn't a tape recorder, I talk in an unconscious and completely natural way.
INTERVIEWER
Well, you make me feel a little guilty using it, but I think for this kind of an interview we probably need it.
GARCÍA MÁRQUEZ
Anyway, the whole purpose of what I just said was to put you on the defensive.
INTERVIEWER
So you have never used a tape recorder yourself for an interview?
GARCÍA MÁRQUEZ
As a journalist, I never use it. I have a very good tape recorder, but I just use it to listen to music. But then as a journalist I've never done an interview. I've done reports, but never an interview with questions and answers.
INTERVIEWER
I heard about one famous interview with a sailor who had been shipwrecked.
GARCÍA MÁRQUEZ
It wasn't questions and answers. The sailor would just tell me his adventures and I would rewrite them trying to use his own words and in the first person, as if he were the one who was writing. When the work was published as a serial in a newspaper, one part each day for two weeks, it was signed by the sailor, not by me. It wasn't until twenty years later that it was re-published and people found out I had written it. No editor realized that it was good until after I had written One Hundred Years of Solitude.
INTERVIEWER
Since we've started talking about journalism, how does it feel being a journalist again, after having written novels for so long? Do you do it with a different feel or a different eye?
GARCÍA MÁRQUEZ
I've always been convinced that my true profession is that of a journalist. What I didn't like about journalism before were the working conditions. Besides, I had to condition my thoughts and ideas to the interests of the newspaper. Now, after having worked as a novelist, and having achieved financial independence as a novelist, I can really choose the themes that interest me and correspond to my ideas. In any case, I always very much enjoy the chance of doing a great piece of journalism.
INTERVIEWER
What is a great piece of journalism for you?
GARCÍA MÁRQUEZ
Hiroshima by John Hersey was an exceptional piece.
INTERVIEWER
Is there a story today that you would especially like to do?
GARCÍA MÁRQUEZ
There are many, and several I have in fact written. I have written about Portugal, Cuba, Angola, and Vietnam. I would very much like to write on Poland. I think if I could describe exactly what is now going on, it would be a very important story. But it's too cold now in Poland; I'm a journalist who likes his comforts.
INTERVIEWER
Do you think the novel can do certain things that journalism can't?
GARCÍA MÁRQUEZ
Nothing. I don't think there is any difference. The sources are the same, the material is the same, the resources and the language are the same. The Journal of the Plague Year by Daniel Defoe is a great novel and Hiroshima is a great work of journalism.
INTERVIEWER
Do the journalist and the novelist have different responsibilities in balancing truth versus the imagination?
GARCÍA MÁRQUEZ
In journalism just one fact that is false prejudices the entire work. In contrast, in fiction one single fact that is true gives legitimacy to the entire work. That's the only difference, and it lies in the commitment of the writer. A novelist can do anything he wants so long as he makes people believe in it.
Want to keep reading?
Subscribe and save nearly 40%.
Subscribe Now
Already a subscriber? Sign in below.