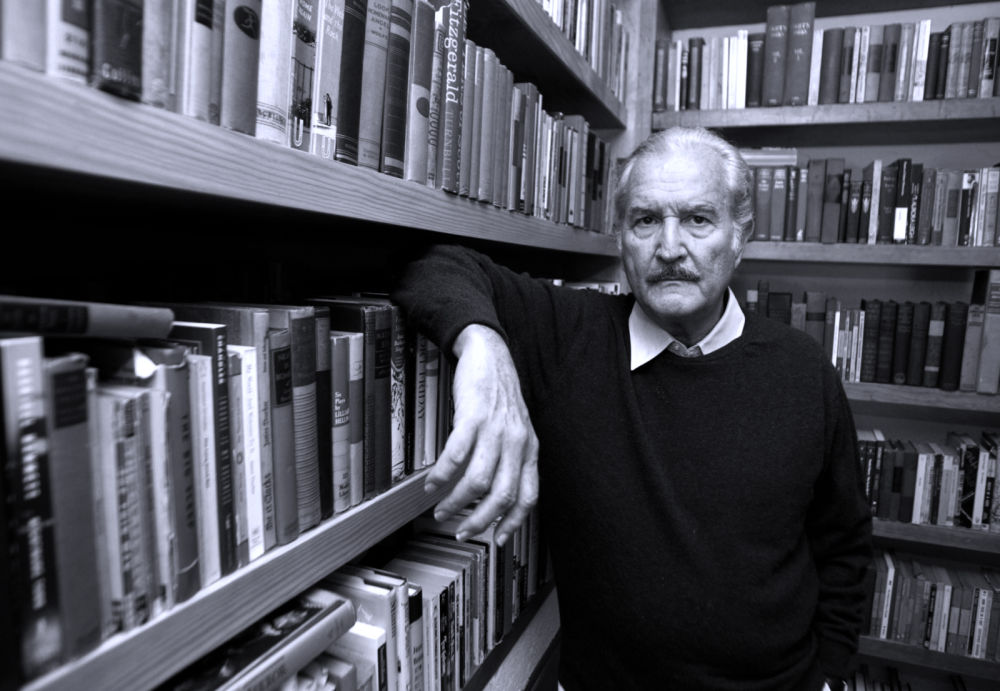 Carlos Fuentes was interviewed on a snowy December day at his home in Princeton, New Jersey—a large Victorian house in the old residential section. He is a tall, heavyset man, dressed on that winter's day in a turtleneck sweater and jacket. The Fuenteses' house was lightly heated in the European manner, and felt chilly. A Christmas tree stood in the drawing room. His two young children were out ice skating with Mrs. Fuentes. A considerable art collection was on display in the room—Oriental bronzes, pre-Columbian ceramics, and Spanish colonial Santos —reflecting Fuentes's cultural background and his various diplomatic assignments. On the walls were paintings and prints by Picabia, Miró, Matta, Vasarely, among others—most of them gifts given him by artist friends.
The interview was conducted in the library in front of a blazing fire with a hot pot of coffee available. The walls were lined with books. It is at a simple desk in this room that Carlos Fuentes does his work—in front of a window that on this December day looked out on ice-laden shrubbery and trees barely visible in the snow flurries.
In 1958, he startled Mexico with Where the Air Is Clear, a caustic analysis of Mexico after the 1910-20 revolution; The Good Conscience (1959), a bildungsroman that describes the education of Jaime Ceballos and his ultimate absorption into the Mexican establishment; The Death of Artemio Cruz (1962), inspired in part by Orson Welles's Citizen Kane; Holy Place (1967) and A Change of Skin (1968), both of which deal with Mexico, albeit from totally different perspectives: Holy Place traces the Oedipal meanderings of a young man infatuated with his mother; A Change of Skin studies Mexico in relation to the "outside world" of the sixties by examining the relationships between foreigners and Mexicans.
Terra Nostra (1978) strikes out in a different direction. There Fuentes investigates the Mediterranean roots of Hispanic culture in order to discover where that culture "went wrong." He finds its fatal sin in Philip II's maniacal search for purity and orthodoxy, his ruthless extirpation of the heterodox (Jewish and Arabian) elements in Spanish culture. Terra Nostra, along with Fuentes's recent essays on Cervantes, marks a new epoch in pan-Hispanic studies, a new way to find unity in the fragmented Hispanic world.
The Hydra Head (1978) returns to contemporary Mexico so that Fuentes can study the nature of power, symbolized by Mexico's oil deposits. In 1980, Fuentes published (in Spanish) Distant Relations, an examination of the writer's need to know all and tell all, and (in English) Burnt Water, a collection of short stories from various periods in the author's career.
During the years he spent as Mexican ambassador to France, Fuentes found it impossible to write, and the interview began with his description of his return to writing after he had left his government post.
FUENTES
I left my post as ambassador to France on the first of April, 1977, and immediately rented a house on the outskirts of Paris, where I could begin to write again. I had not written a word for two years, being a conscientious diplomat. The house I rented, as it turned out, had belonged to Gustave Doré and it brought back all my yearnings for form and terror. Doré's illustrations for "Little Red Riding Hood," for example: they're so incredibly erotic! The little girl in bed with the wolf! Those were the signs under which my latest novel, Distant Relations, was born.
INTERVIEWER
Why did you find it impossible to write while you were ambassador?
FUENTES
Diplomacy in a sense is the opposite of writing. You have to disperse yourself so much: the lady who comes in crying because she's had a fight with the secretary; exports and imports; students in trouble; thumbtacks for the embassy. Writing requires the concentration of the writer, demands that nothing else be done except that. So I have all this pent-up energy which is flowing out right now. I'm writing a great deal these days. Besides, I have learned how to write. I didn't know how to write before, and I guess I learned by being a bureaucrat. You have so much mental time on your hands when you are a bureaucrat: you have time to think and to learn how to write in your head. When I was a young man I suffered a great deal because I faced the challenge of Mallarmé's blank page every day without knowing exactly what I was going to say. I fought the page, and paid for it with ulcers. I made up for it with sheer vigor, because you have vigor when you are writing in your twenties and thirties. Then later on you have to use your energy wisely. When I look back on it, I think perhaps it was the fact that I was behind an official desk for two years that left my mind free to write within itself, to prepare what I was going to write once I left that post. So now I can write before I sit down to write, I can use the blank page in a way I couldn't before.
INTERVIEWER
Tell us how the process of writing takes place within you.
FUENTES
I am a morning writer; I am writing at eight-thirty in longhand and I keep at it until twelve-thirty, when I go for a swim. Then I come back, have lunch, and read in the afternoon until I take my walk for the next day's writing. I must write the book out in my head now, before I sit down. I always follow a triangular pattern on my walks here in Princeton: I go to Einstein's house on Mercer Street, then down to Thomas Mann's house on Stockton Street, then over to Herman Broch's house on Evelyn Place. After visiting those three places, I return home, and by that time I have mentally written tomorrow's six or seven pages.
INTERVIEWER
You write in longhand?
FUENTES
First I write it out in longhand, and then when I feel I "have" it, I let it rest. Then I correct the manuscript and type it out myself, correcting it until the last moment.
INTERVIEWER
Is the rewriting extensive or is most of the rewriting taken into account during the mental writing?
FUENTES
By the time I get it on paper, it is practically finished: there are no missed sections or scenes. I know basically how things are going and I have it more or less fixed, but at the same time I am sacrificing the element of surprise in myself. Everyone who writes a novel knows he is involved in the Proustian problem of in some way knowing what he is going to write and at the same time being amazed at what is actually coming out. Proust only wrote when he had lived what he was going to write, and yet he had to write as though he knew nothing about it—which is extraordinary. In a way we are all involved in the same adventure: to know what you are going to say, to have control over your material, and at the same time to have that margin of freedom which is discovery, amazement, and a precondition of the freedom of the reader.
INTERVIEWER
It's possible in England and the United States to write a history of editors and their influence on literature. Would such a history be possible in the Hispanic world?
FUENTES
Impossible, because the dignity of Spanish hidalgos would never allow a menial laborer to come and tell us what to do with our own work. It comes from the fact that we are caught in a terrible kind of schizophrenia made up of extreme pride, and extreme individualism which we inherited from Spain. The hidalgo expects everyone else to respect him, just as he kowtows to superior power. If you were to try to edit anyone's text in Latin America, even a hack, he would resign immediately, accusing you of censoring or insulting him.
INTERVIEWER
You would say then that your relationship to your society is rather different from that of an American writer? That, for example, the hidalgo image suggests the greater dignity of writing in your culture?
FUENTES
My situation as a Mexican writer is like that of writers from Eastern Europe. We have the privilege of speech in societies where it is rare to have that privilege. We speak for others, which is very important in Latin America, as it is in Central Europe. Of course you have to pay for that power: either you serve the community or you fall flat on your face.
INTERVIEWER
Does that mean that you see yourself as the official representative of your culture?
FUENTES
No, I hope not. Because I always remember that remark by the French Surrealist Jacques Vaché, "Nothing kills a man as much as having to represent his country." So I hope it isn't true.
INTERVIEWER
Do you see a difference between the social roles of American and Latin American writers?
FUENTES
We have to do more things in our culture than American writers do in theirs. They can have more time for themselves and for their writing, whereas we have social demands. Pablo Neruda used to say that every Latin American writer goes around dragging a heavy body, the body of his people, of his past, of his national history. We have to assimilate the enormous weight of our past so we will not forget what gives us life. If you forget your past, you die. You fulfill certain functions for the collectivity because they are obligations you have as a citizen, not as a writer. Despite that, you reserve your esthetic freedom and your esthetic privileges. This creates a tension, but I think it is better to have the tension than to have no tension at all, as sometimes happens in the United States.
Want to keep reading?
Subscribe and save 33%.
Subscribe Now
Already a subscriber? Sign in below.