Interviewed by John Seabrook
Issue 85, Fall 1982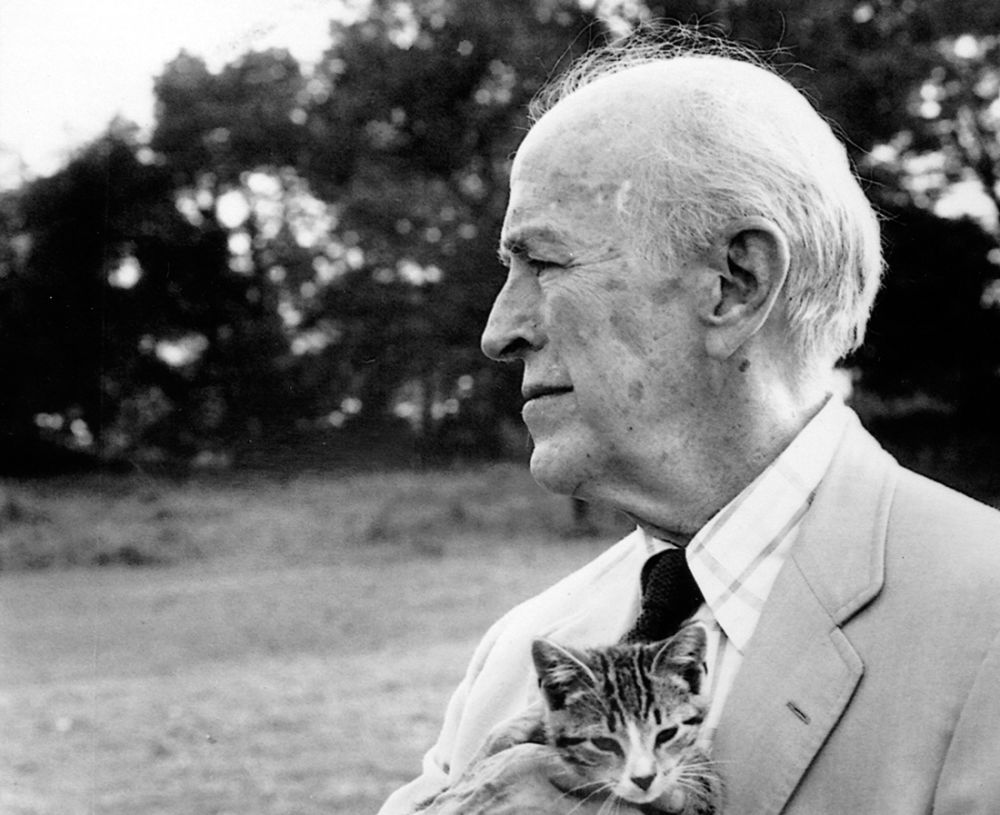 Photograph Brookie Maxwell
William Maxwell was interviewed in his East Side New York apartment. He wore a tie and blazer for the occasion. A tall, spare man, he sat on the edge of a low sofa, his knees nearly touching his chin. Twice he rose and went to the walnut bookcase, once for Virginia Woolf's Between the Acts, and then for Eliot's Four Quartets, which he studied patiently for the lines he needed. At the end of the living room, two large windows looked out on the street, eight floors below, where one could see the morning traffic, but not hear it. The spacious room was furnished austerely—two vases of flowers stood on the mantel, a piano occupied one corner. The decor did not suggest Maxwell's profession. The rapture with which he recited Eliot did.
One of his colleagues at The New Yorker, Brendan Gill, has supplied the following report on his friend:
"In this interview William Maxwell at one juncture urges that the subject under discussion veer away from The New Yorker, on the grounds that the magazine has been almost done to death, in one book or another. No doubt a book that I once wrote is one of the death-dealing volumes that Maxwell has in mind, but no matter—let me offer a brief quotation from my Here at The New Yorker (a title suggested, by the way, by the editor of the magazine, William Shawn; I would never have dared to propose it on my own):
"One day in my office I was showing Maxwell a Roman coin that I had purchased at Gimbels. With thousands of similar coins, it had been buried in the sands of Egypt by Ptolemy's army paymaster, in order to keep it from falling into the hands of the rapidly approaching Caesar. Maxwell jiggled the coin in his palm. "The odds," he said, "are on objects."
"True enough, but since Maxwell made the remark well over thirty years ago and since he and I are both in rude health and are evidently convinced that we have outwitted the need ever to die, we may be said to be doing not so badly, either as objects or subjects. And though Maxwell will enter history as a distinguished American author of the middle years of the twentieth century, he will also enter it in the reminiscences of many of his fellow authors as an exceptionally sympathetic and adroit editor. When I first met him, forty-five years ago, he was serving as Katharine White's assistant, but he looked so young and so readily abashable that I mistook him for an office boy. I was right about his being young; I was wrong about his being abashable. He has a gentle voice to match his seemingly gentle heart, and yet I was to discover that on some level of his being he is as tough as nails. Maxwell said once of Shawn that he combines the best features of Napoleon and Saint Francis of Assisi; it is often the case when one makes such a comment about an associate that it will prove, at bottom, autobiographical. Unlike Shawn, Maxwell has been a joiner of organizations and has been happy in the acceptance of honors from the hands of his peers; at the same time, he is a loner. If he is a clubman, he is a clubman who eats and drinks by himself. Dr. Johnson would have stared askance at him, not in the least to Maxwell's dismay.
"Over the years, how much Maxwell taught me about the art that I was trying to master and that was forever turning out to be more difficult than I had expected! How reluctant he was to reject a piece until every means of salvaging it had been explored! For a long time, Maxwell and I occupied adjoining offices in the squalid rabbit warren of The New Yorker; now and again in those days I would hear the faint, mouse-in-the-wainscot rustle of a note being slipped under my door. Opening the note, I would encounter five or six hastily typed words from Maxwell, in praise of something I had written. Snobbish as it is sure to sound, at The New Yorker we write not so much for readers out in the world as for one another, and it has always been for Shawn and Maxwell and Mitchell and Hamburger and the rest of my colleagues that I have written; on the occasions when a note from Maxwell appeared under my door, I felt ten feet tall and befuddled with joy."
INTERVIEWER
So Long, See You Tomorrow comes nineteen years after your previous novel. Why this gap?
WILLIAM MAXWELL
Nothing but being an editor probably, and working on other people's work. Which interested me very much. I had marvelous writers to work with. Quite a lot of me was satisfied just to be working with what they wrote. Besides, I write terribly slowly. The story "Over by the River" was started when the children were small and my older daughter was twenty when I finished it—it took over ten years. Undoubtedly if I knew exactly what I was doing, things would go faster, but if I saw the whole unwritten novel stretching out before me, chapter by chapter, like a landscape, I know I would put it aside in favor of something more uncertain—material that had a natural form that it was up to me to discover. So I never work from an outline. In 1948 we came home from France and I walked into the house, sat down at the typewriter with my hat still on my head, and wrote a page, a sort of rough statement of the book I meant to write, which I then thumbtacked to a shelf and didn't look at again until it was finished. To my surprise everything I had managed to do in the novel was on that page. But in general the thing creeps along slowly, like a mole in the dark.
With So Long, See You Tomorrow I felt that in this century the first-person narrator has to be a character and not just a narrative device. So I used myself as the "I" and the result was two stories, my own and Cletus Smith's, and I knew they had to be structurally combined, but how? One day I was in our house in Westchester County, and I was sitting on the side of the bed putting my shoes on, half stupefied after a nap and thinking, If I sit on the edge of the bed I will ruin the mattress, when my attention was caught by a book. I opened it and read part of a long letter from Giacometti to Matisse describing how he came to do a certain piece of sculpture—Palace at 4 a.m.—it's in the Museum of Modern Art—and I said, "There's my novel!" It was as simple as that. But I didn't know until that moment whether the book would work out or not.
INTERVIEWER
Much of your work seems to some extent autobiographical. Is autobiography just the raw material for fiction, or does it have a place in a novel or a story as a finished product?
MAXWELL
True autobiography is very different from anything I've ever written. Edmund Gosse's Father and Son has a candor that comes from the intention of the writer to hand over his life. If the writer is really candid then it's good autobiography, and if he's not, then it's nothing at all. I don't feel that my stories, though they may appear to be autobiographical, represent an intention to hand over the whole of my life. They are fragments in which I am a character along with all the others. They're written from a considerable distance. I never feel exposed by them in any way.
As I get older I put more trust in what happened, which has a profound meaning if you can get at it. But what you invent is important too. Flaubert said that whatever you invent is true, even though you may not understand what the truth of it is.
When I reread The Folded Leaf, the parts I invented seem so real to me that I have quite a lot of trouble convincing myself they never actually happened.
INTERVIEWER
How do you apply that to character? What is the process involved in making a real person into a fictional one?
MAXWELL
In The Folded Leaf, the man who owned the antique shop bore a considerable resemblance to John Mosher, who was the movie critic at The New Yorker. He was a terribly amusing man whom I was very fond of. Nothing that John ever said is in that book, but I felt a certain security at the beginning in the identification. Then I forgot about Mosher entirely, because the person in the book sprang to life. I knew what he would do in a given situation, and what he would say . . . that sudden confidence that makes the characters suddenly belong to you, and not just be borrowed from real life. Then you reach a further point where the character doesn't belong to you any longer, because he's taken off; there's nothing you can do but put down what he does and says. That's the best of all.
INTERVIEWER
Virginia Woolf was an influence in your early work, wasn't she?
MAXWELL
Oh, yes. She's there. Everybody's there. My first novel, Bright Center of Heaven, is a compendium of all the writers I loved and admired. In a symposium at Smith College, Saul Bellow said something that describes it to perfection. He said, "A writer is a reader who is moved to emulation." What I wrote when I was very young had some of the characteristic qualities of every writer I had any feeling for. It takes a while before that admiration sinks back and becomes unconscious. The writers stay with you for the rest of your life. But at least they don't intrude and become visible to the reader.
INTERVIEWER
Well, all young writers have to come to terms with their literary fathers and mothers.
MAXWELL
And think what To the Lighthouse meant to me, how close Mrs. Ramsay is to my own idea of my mother . . . both of them gone, both leaving the family unable to navigate very well. It couldn't have failed to have a profound effect on me.
INTERVIEWER
What exactly is the force that makes you a writer?
MAXWELL
Your question reminds me of something. I was having lunch with Pete Lemay, who was the publicity director at Knopf and is now a playwright, and he said that he had known Willa Cather when he was a young man. I asked what she was like and he told me at some length. It wasn't what I had assumed and because I was surprised I said, "Whatever made her a writer, do you suppose?" and he said, "Why, what makes anyone a writer—deprivation, of course." And then he begged my pardon. But I do think it's deprivation that makes people writers, if they have it in them to be a writer. With Ancestors I thought I was writing an account of my Campbellite forebears and the deprivation didn't even show up in the first draft, but the high point of the book emotionally turned out to be the two chapters dealing with our family life before and after my mother's death in the Spanish flu epidemic of 1918. I had written about this before, in They Came Like Swallows and again in The Folded Leaf, where it is fictionalized out of recognition; but there was always something untold, something I remembered from that time. I meant So Long, See You Tomorrow to be the story of somebody else's tragedy but the narrative weight is evenly distributed between the rifle shot on the first page and my mother's absence. Now I have nothing more to say about the death of my mother, I think, forever. But it was a motivating force in four books. If my mother turns up again I will be astonished. I may even tell her to go away. But I do not think it will be necessary.
INTERVIEWER
But to what extent can writing recover what you lose in life?
MAXWELL
If you get it all down there's a serenity that is marvelous. I don't mean just getting the facts down, but the degree of imagination you bring to it. Autobiography is simply the facts, but imagination is the landscape in which the facts take place, and the way that everything moves. When I went to France the first time I promptly fell in love with it. I was forty years old. My wife had been there as a child, and we were always looking for two things she remembered but didn't know where they were: a church at the end of a streetcar line and a château with a green lawn in front of it. We came home after four months because our money ran out. I couldn't bear not to be there, and so I began to write a novel about it. And for ten years I lived perfectly happily in France, remembering every town we passed through, every street we were ever on, everything that ever happened, including the weather. Of course, I was faced with the extremely difficult problem of how all this self-indulgence could be made into a novel.
INTERVIEWER
Do you have an ideal reader in mind when you write? I've heard it said that a writer writes for himself and strangers.
MAXWELL
I think I write for myself, and I'm astonished that strangers are moved by it. I know that nobody else's praise or approval is enough for me to say, "All right, I don't have to worry about it any more" . . . I have to be satisfied myself that there is nothing more I can do to make it better.
INTERVIEWER
But you must imagine readers.
MAXWELL
Oh yes, of course. While I'm writing I think I would like so-and-so to read this; but so-and-so changes from time to time, according to what I'm writing.
INTERVIEWER
Will you talk about something while you're working on it?
MAXWELL
Oh no, that would be a serious mistake.
INTERVIEWER
Why?
MAXWELL
Because more often than not the writer who talks about something he's working on talks it right out of existence.
INTERVIEWER
Let's go back to what you were saying about re-creating experiences in your fiction. What about the writing that comes entirely from the imagination?
MAXWELL
I would love to be able to do that: just open the door and invite everybody in.
INTERVIEWER
Have you ever tried?
MAXWELL
I've tried in shorter things, in those tales that are neither fables nor fairy tales. I just hang over the typewriter waiting to see what is going to happen. It begins with the very first sentence. I don't will the sentence to come; I wait, as actively passive as I can possibly be. For some reason the phrase "Once upon a time" seems to be essential. Then, if I am sufficiently trusting, the rest of the story follows, and the last sentence is straight from the first. I also did it, to a considerable extent, in Time Will Darken It.
INTERVIEWER
But would you suggest that would-be writers wait for something to drop into their heads? Isn't this a refutation of the theory that writing is ninety percent perspiration and ten percent inspiration?
MAXWELL
If they just sat and waited, maybe nothing would happen. Maybe they'd fall asleep. I think they should read to learn how it is done—writing, I mean—and in the hope that what they read will in some way make their own experience available to them.
INTERVIEWER
Do your best sentences come from on high, or are they the product of much working and reworking?
MAXWELL
There's something in the Four Quartets about language that doesn't disintegrate. That's what I try to do—write sentences that won't be like sand castles. I've gotten to the point where I seem to recognize a good sentence when I've written it on the typewriter. Often it's surrounded by junk. So I'm extremely careful. If a good sentence occurs in an otherwise boring paragraph, I cut it out, rubber-cement it to a sheet of typewriter paper, and put it in a folder. It's just like catching a fish in a creek. I pull out a sentence and slip a line through the gills and put it on a chain and am very careful not to mislay it. Sometimes I try that sentence in ten different places until finally it finds the place where it will stay—where the surrounding sentences attach themselves to it and it becomes part of them. In the end what I write is almost entirely made up of those sentences, which is why what I write now is so short. They come one by one, and sometimes in dubious company. Those sentences that are really valuable are mysterious—perhaps they come from another place, the way lyric poetry comes from another place. They come from some kind of unconscious foreknowledge of what you are going to do. Because when you find the place where a sentence finally belongs it is utterly final in a way you had no way of knowing: it depends on a thing you hadn't written. When I wrote those fables and sat with my head over the typewriter waiting patiently, empty as a bucket that somebody's turned upside down, I was waiting for a story to come from what you could call my unconscious. Or it could be from the general unconscious. Often before poets write a poem they begin to hear the cadences of it, and then they begin to hear humming in their ears, and there are other strange manifestations, and then finally words. The last is the words.
INTERVIEWER
Are story writing and novel writing two vastly different enterprises?
MAXWELL
When I'm writing a novel, there's a sense that I have something more important by the tail; the reason for writing the novel is often that I don't know exactly what I do have. Sometimes I'm sustained by a metaphor or an image. In The Folded Leaf, I knew that the suicide attempt was the climactic part of the novel but I didn't know how I was going to get there. The image that sustained me throughout the whole of the writing was that of walking across a very flat landscape toward the mountains; when I got to the mountains the necessary scenes would occur. In They Came Like Swallows, I felt the book had to be like a stone cast into a pond. And a second stone, and a third—with the ripples moving outward from inside the first ones but never overtaking them.
INTERVIEWER
How do you know when it's time to write another novel? Is it some sort of instinctual act, like the impulse that impels birds to migrate?
MAXWELL
I expect to live forever, and therefore I never get worried about what I ought to be writing, or about anything undone. In the case of So Long, See You Tomorrow, I was sitting at my desk, and something made me think of that boy I had failed to speak to, and thinking of him I winced. I saw myself wincing and I thought, "That's very odd indeed that after all these years you should have a response so acute; maybe that's worth investigating." And so that's what I set out to do.
INTERVIEWER
You wrote somewhere that So Long, See You Tomorrow was a futile way of making amends. Was it really futile? Can't fiction make amends for real life?
MAXWELL
Forgiveness is in the hands of the injured, not the injurer. I don't know. Would you forgive me?
INTERVIEWER
I would, sure.
MAXWELL
Well, that's comforting.
INTERVIEWER
You said that your mother's death made you a novelist. When did you first start writing?
MAXWELL
I sometimes think that children, without knowing it, are projected into the unlived lives of their parents. My mother's sister told me that when my mother was twelve years old she used to go up into the attic and "write on her novel." So perhaps I am a projection of my mother's unlived literary life. When I first began to write I was a freshman in a small-town high school. I wrote a story about an aristocrat during the French Revolution who hid in a clock. If there were any French aristocrats in central Illinois in my boyhood I didn't know them. But at least we had a grandfather clock in the front hall. Then we moved to Chicago and I wrote a little for the high-school magazine. In college I began to write poetry. I'm not a poet, though. I've never written anything that comes from the place poetry comes from.
INTERVIEWER
Is it a different place?
MAXWELL
When I was at Harvard I got to know Robert Fitzgerald, and I used to show my poems to him. In spite of the fact that I was older than he was—I was a graduate student and he was a sophomore—I had enormous respect for him. He was better educated than I was, and intransigent, and he despised anything that wasn't first-rate. One day he looked at my poem and then he looked at me, rather in the way you look at children who present a problem, and he said, "Why don't you write prose?" I was so happy that he thought I could write anything that I just turned to and wrote prose—as if he'd given me permission to try. The prose took the form of fiction because I do like stories and don't have a very firm grasp on ideas.
INTERVIEWER
How long was it after you began to write prose that you became sure you would be a writer?
MAXWELL
Oh, it began in pure pleasure. I left Harvard and went back to Urbana, and was rooming in the house of a woman who was teaching at the University of Illinois. A professor at Yale, a friend of hers, was doing a series of biographical essays; he sent her a two-volume life of Thomas Coke of Holkham—Coke introduced in Parliament the bill to recognize the American colonies, and was also an important agriculturist—and asked her to do a forty-page condensation that he could work from, and she split the job with me. She wanted to save me from becoming an English professor. I was then twenty-three. She let me have all the big scenes and she concentrated on the agriculture, which she said interested her—it did not interest me. The book was full of interesting people—for example, Lady Mary Coke, who was Coke of Holkham's aunt. She dressed her footmen in pea green and silver livery and suffered from the delusion that the Empress Maria Teresa was trying to take her servants away from her. When she was depressed she would fish for goldfish in the ornamental pond in front of her house. And in her old age she slept in a dresser drawer. Anyway, I had so much pleasure in working with this material that I began to write my first novel, Bright Center of Heaven, because I didn't want the pleasure to end. Writing fiction was, and still is, pure pleasure. Oh, I ran out of steam from time to time. After I got to The New Yorker, particularly when I was working five days a week and seeing both artists and writers, I wrote less and less and almost stopped writing altogether. But then I quit The New Yorker in order to write. It was a genuine parting; I left fully intending never to return. But something always brought me back. I never came back five days a week, though. If I hadn't worked at The New Yorker there might have been more books, but I'm not sure if they would have been as good. Writing part-time forced me to write slowly, and I think I was more careful. I write much more slowly now than I used to.
INTERVIEWER
Why? What does age do to a writer?
MAXWELL
I think it makes you more serious. It makes you more aware of other people's lives. You see more from the inside: the troubles, the sorrow, and the unfairness. And then when you accept the idea that life is good, no matter how unlucky you are, you get a firmer insight into it.
INTERVIEWER
What about your schedule? When do you work?
MAXWELL
Well, I don't want to be uncooperative, but are you sure you want to ask that?
INTERVIEWER
It is sort of a boring question.
MAXWELL
If you have any reason in the world for wanting to know, I'll tell you . . . I like to work in my bathrobe and pajamas, after breakfast, until I suddenly perceive, from what's on the page in the typewriter, that I've lost my judgment. And then I stop. It's usually about twelve thirty. But I hate getting dressed. The cleaning woman (who may not approve of it, though she's never said), my family, the elevator men, the delivery boy from Gristedes—all of them are used to seeing me in this unkempt condition. What it means to me is probably symbolic—you can have me after I've got my trousers on, but not before. When I retired from The New Yorker they offered me an office, which was very generous of them because they're shy on space, but I thought, "What would I do with an office at The New Yorker? I would have to put my trousers on and ride the subway downtown to my typewriter. No good."
INTERVIEWER
Maybe once you got there you could strip down.
MAXWELL
I don't think it would work. It isn't the same as going straight from the breakfast table.
INTERVIEWER
Do you find certain environments more conducive to good work than others?
MAXWELL
I'm just as able to work on Cape Cod as here in New York or in Westchester. I prefer small messy rooms that don't look out on anything interesting. I wrote the last two sections of They Came Like Swallows beside a window looking out on a tin roof. It was perfect. The roof was so boring it instantly drove me back to my typewriter.
INTERVIEWER
Do you isolate yourself totally when you're working?
MAXWELL
I don't mind interruptions, unless there are terribly many of them. When the children were small, they came and sat on my lap and punched the keys as I did, but they soon lost interest. My younger daughter told me recently that when she was a child she thought the typewriter was a toy that I went into my room and closed the door and played with. Once when I was typing with great concentration she touched one of the releases, and the carriage shot out from under me. I roared at her, and she went and knelt like an Arab under the dining-room table, with her face against the floor, and would not accept the apology that I, also kneeling like an Arab, with my face next to hers, sincerely offered. In general I don't mind domestic sounds. I find them reassuring.
INTERVIEWER
Do you keep a notebook?
MAXWELL
No, I never have. I like the insecurity and the danger of not keeping a notebook. I've tried writing notes down on file cards, but I find I never look at them again.
INTERVIEWER
Do you think there's such a thing as writer's block?
MAXWELL
There's such a thing as loss of confidence.
INTERVIEWER
Have you ever experienced it?
MAXWELL
I've come close. There was a period after I left The New Yorker for the first time, when I thought I knew enough about writing stories to be able to make a living by it, but it turned out that every idea I had for a story was in some way too close to home. The stories I did write weren't bought. I began to feel that my hands were tied. I guess, though, I have always believed that if the material interested me enough to want to write about it, then it was all right; it wouldn't go away and so I should just keep working on it. Updike said once, riding in a taxi—he was talking about the reviewers, who had been scolding him for not writing what they thought he ought to be writing—"All I have to go on," he said, "is something I caught a glimpse of out of the corner of my eye." That seemed a very nice way of describing the way material comes to you. That glimpse, it's all you have. I don't think a writer's block is anything more than a loss of confidence. It certainly isn't a loss of talent.
INTERVIEWER
Do you find it gets easier or harder to write as you get older?
MAXWELL
I think it's easier when you are young. My first novel was written on a farm in Wisconsin. Very Chekhovian, that farm was. I wrote in a room that had been converted from a water tank next to the windmill. Some of the characters were derived from people living on the farm at the time, so it was a handy place to be. I would come for lunch and they would make remarks I had put in their mouths that morning. Which wasn't really mysterious, because if you are conscious of character—in the other sense of the word—you can't help being struck by how consistent people are in everything they do and say. I finished the book in four months, with the help of Virginia Woolf, W. B. Yeats, Elinor Wylie, and a girl on the farm who was also writing a novel. When somebody said something good we would look at each other and one of us would say, "I spit on that," meaning, "keep your hands off of it."
The farm was ten miles out of Portage, where Zona Gale* lived. Nobody reads her now or knows who she was, even, but they did then. I had known her since I was sixteen years old. She was a kind of fairy godmother to me. I took my manuscript to her. I wanted to know if I had written a novel or not. When she gave it back to me she said that she had been unable to sleep and had read until four in the morning, and then gone downstairs to her study looking for the last chapter. I was too thickheaded to understand what she was trying to tell me, and said, "No, that's all there is." Twenty years after it was published I reread the book and saw the chapter she went downstairs looking for. The next novel was more difficult, and the novel after that was even more painful. By pain I don't mean the agony of writing, I mean the uncertainty of not knowing what you're going to do or how you're going to do it. It was awfully slow. One book took ten years, one four, and my last, though not very long, took two years.
INTERVIEWER
When you write a novel, do you try to stick to the chronological narrative as you're writing, or do you jump around?
MAXWELL
I don't really depart from the "and then . . . and then" of the storyteller, but if I am lucky I know what the last sentence is going to be. And sometimes I realize that a rounded-out scene early in the novel has shut the door too soon on something. So I take part of that scene away, and use it later on in the book. It is the death of a novel to write chapters that are really short stories.
INTERVIEWER
Do you have a favorite novel?
MAXWELL
I think The Folded Leaf. It may be for personal reasons—the whole of my youth is in it. Also, when I was working on it, in my mind's eye I kept seeing the manuscript burning in the fireplace; I was so sure nobody would be interested in it.
INTERVIEWER
You taught for two years. Did you care much for that?
MAXWELL
I liked it. I taught freshman composition. It was lovely when you found students who responded to things you were enthusiastic about. Teaching them to punctuate properly and to analyze the periodic sentences in Matthew Arnold's "Gregarious and Slavish Instincts in Animals" was something else again. But that wasn't what drove me away from teaching. What drove me away was a silly novel by Robert Nathan called One More Spring, about some people who went to live in a toolshed in Central Park. The gist of the book was that life is to be lived, and, well, it is, of course. Anyway, that book made me restless with my prospects. I saw myself being promoted from assistant to associate to full professor, and then to professor emeritus, and finally being carried out in a wooden box. This was 1933, and only an idiot would have thrown up a job at that point. But I did anyway. And I floundered for several years.
INTERVIEWER
Do you think the writing of fiction can be taught?
MAXWELL
I expect you can be taught to write a clean, decent sentence.
INTERVIEWER
After teaching you started editing. How did you first come to work at The New Yorker?
MAXWELL
Do we have to go into The New Yorker? There have been all those books. The subject has been done to death, almost.
INTERVIEWER
Maybe we could talk about it just a little.
MAXWELL
I needed a job in order to stay in New York. Eugene Saxton at Harper's wrote to Katharine White about me, and she astonished him by replying that there were not many openings at The New Yorker at that time, but that she would talk to me. This was 1936—the Depression—and nobody had heard of an opening anywhere in years. In the course of my interview with Mrs. White she asked me what salary I would require. Some knowledgeable acquaintance had told me I must ask for thirty-five dollars a week or I wouldn't be respected; so I swallowed hard and said, "Thirty-five dollars." Mrs. White smiled and said, "I expect you could live on less." I could have lived nicely on fifteen. A few days later I got a telegram from her asking me to report for work on the following Monday at the salary agreed upon—thirty-five dollars a week.
In those days—it is no longer true—fiction, humor, and art were handled by the same editors. The artists brought their work in on Tuesday and it was looked at by the art meeting, on Wednesday afternoon. At the art meeting were Harold Ross, Mrs. White, Rea Irvin, Wolcott Gibbs (until he gave up his place), Mrs. White's secretary, who took notes of the proceedings, and an office boy named Wilbur, whose mind was on basketball. The editors sat on one side of a big table, with knitting needles. The covers and drawings were placed on a stand by Wilbur; Ross would lean forward and touch the parts of the drawing that were unsatisfactory with the end of his needle. I too had a knitting needle, which I did not use for quite some time. Occasionally Mrs. White would say that the picture might be saved if it had a better caption, and it would be returned to the artist or sent to E. B. White, who was a whiz at this. Ross would lean forward and peer at a drawing with his lower lip sticking out and say, "You can't tell who's talking." Or he would say, "Bird Rock"—a remark that mystified me until I learned that many years before this The New Yorker had published a drawing of a seagull standing on a rock and a man saying to another man, "They call it 'Bird Rock.'" It had become a generic term for an undesirable form of humor. A great deal of what was put before the art meeting was extremely unfunny. Gibbs was repelled by the whole idea of grown men using their minds in this way and seldom said anything. Rea Irvin smoked a cigar and was interested only when a drawing by Gluyas Williams appeared on the stand.
On Thursday the artists returned to find out what had happened at the Art Meeting. Someone had to convey this information to them. Gibbs felt he had been doing it long enough, and so I was taken on. It was called "seeing artists." The first time they paraded in one after another I was struck by the fact that they all looked like the people in their drawings. George Price looked like the man who floated up near the ceiling of that disreputable apartment week after week; Otto Soglow looked like his little king. Cotton was kind and fatherly. Alajalov wore yellow kid gloves. Some artists were too important to be entrusted to me. Peter Arno and Helen Hokinson were seen by Mrs. White. I noticed that they didn't look like the characters they drew.
INTERVIEWER
Then from the art meeting you graduated on to the editorial board?
MAXWELL
Yes. Only it wasn't called that. I sat in a big room where the secretaries were; there wasn't even an office for me. But it was a wonderful place to be, because I was right beside the door of Katharine White's office. She moved with majestic deliberation, and between the time she got up from her desk and the time she put her foot on the catch that released her door so that it would swing shut I learned a lot about the workings of the magazine. I remember when Gibbs's parody profile of Henry Luce was going to the printer. Time-Life was in an uproar about it; there was a continuous procession of people in and out of Mrs. White's office. I sat taking in snatches of the excitement.
When the door was closed I sat and worried about how long it would take them to decide it was not worthwhile to go on paying me thirty-five dollars a week. On Mondays and Fridays I had nothing whatever to do but stare at a Thurber drawing above my desk—until Mrs. White suggested that I get the scrapbooks from the office library and read them. She also gave me a pile of rejected manuscripts and asked me to write letters to go with those that showed any promise. After she had gone over my letters she called me into her office and said, "Mr. Maxwell, have you ever taught school?" It was a fact that I had kept from her in our interview: instinct told me that it was not something you were supposed to have done. Anyway, from her I learned that it is not the work of an editor to teach writers how to write.
One day Wolcott Gibbs asked me if I'd like to try some editing. He handed me a manuscript and walked away, without explaining what he meant by editing. I didn't think much of the story, so I cut and changed things around and made it the way I thought it ought to be. To my surprise Gibbs sent it to the printer that way. And I thought, "So that's editing." The next time he gave me a piece to edit I fell on my face. I straightened out something that was mildly funny only if it wasn't too clear what was going on. Gibbs was kind, and said that my editing revealed that there wasn't very much there, but I got the point. In time I came to feel that real editing means changing as little as possible. Various editors and proofreaders would put their oar in, and sometimes I had to change hats and protect the writer from his own agreeableness, or fear, or whatever it was that made him say yes when he ought to have said no. What you hope is that if the writer reads the story ten years after it is published he will not be aware that anybody has ever touched it. But it takes many years of experience—and love—to be able to do that.
INTERVIEWER
Why was this drawing by Thurber in front of you?
MAXWELL
It was drawn right on the wall. A self-portrait. His drawings were everywhere, all over the office. There was one drawing on the nineteenth floor by the watercooler of a man walking along happy as anything and around the corner a woman is waiting for him with a baseball bat, ready to swing. One night some fool painter came in and painted over every last one of them. It was a tragedy. Brendan Gill talks about how difficult Thurber was. On the other hand, there's that story of the maid at the Hotel Algonquin who was straightening up his room and found, written in shaving soap on the bathroom mirror, the words "Thurber is a bastard." For that you can forgive quite a lot. Of course, what it comes down to in the end is that an artist is loved for his work, not his sweet disposition.
INTERVIEWER
What was the chemistry of working with Harold Ross? Why was it so exciting?
MAXWELL
It had to do with his personality. And being taken into his confidence. People don't often strike me as being larger than life-size, but he did. He was not the unintelligent oaf he has sometimes been portrayed as being. He was clearly in command of the magazine. And he saw things through a prism of humor. I remember his telling me with amusement that his mother used to touch her hair here and there with her hand before she answered the telephone. Also, he was so decent. And, up to a point, much too trusting. It was like having a terribly funny father. He had a personal relationship with everybody in the office, including Wilbur, the office boy. Once, during a period when I had left the magazine to write a novel, I met him on Forty-third Street at about one o'clock, and he said, "Maxwell, what are you doing in town?" and I said, "I came in to go to the theater." It didn't occur to me to explain that my ticket was for the evening performance. He went on to the office and told somebody, "I met Maxwell on his way to a matinee. I don't understand it. I thought only women went to matinees." He was genuinely disturbed, and didn't know whether he was under a misapprehension about matinees or about me. What he cared most about, I think, was writers—about bringing them along. So long as they didn't try to proselytize in The New Yorker, it didn't matter to him what their political opinions were; it was their talent that interested him. I also think he thought that people with talent didn't in general know enough to come in out of the rain, and he was trying to hold an umbrella over them.
INTERVIEWER
It must have bothered him terribly when those feuds began—as with O'Hara, for instance.
MAXWELL
Before the feud with O'Hara, Ross worried that O'Hara would manage to get some sexual innuendo into the magazine that the editors had failed to recognize. As he once or twice did. O'Hara as a person amused Ross. Perhaps because they were all young together. O'Hara thought up the idea (based on need) that if he turned in a story and it wasn't accepted he should be paid five hundred dollars anyway. The trouble was, O'Hara could write a story a day without half trying. So instead of the five hundred, Ross went out and bought a large, inexpensive watch and had it engraved, "To John O'Hara from The New Yorker." I don't know how the joke went over.
INTERVIEWER
There's a story in Brendan Gill's book about your going out to O'Hara's house to read three manuscripts he had, and your getting terribly nervous when you disliked the first two. You liked the last. Which was the one you liked?
MAXWELL
"Imagine Kissing Pete." I think it is one of the best things he ever wrote. The falling-out with The New Yorker was over the way two of O'Hara's early novels had been reviewed in the magazine. Fadiman's review of—Butterfield 8, I think it was—appeared under the heading "Disappointment in O'Hara," and the pun rankled. O'Hara was not of a forgiving disposition, and the feud lasted for years. I had no part in it whatever. It all went on over my head. Finally O'Hara sent word through St. Clair McKelway that he had finished three novelettes that The New Yorker could see if they would send an editor out to his house in Quogue to read them. I went. I must have been out of my mind. I mean, what if none of them had been right for the magazine? Fortunately, one was. At one point I had three wonderful writers all named John: John O'Hara, John Cheever, and John Updike.
INTERVIEWER
Could you talk a little about editing those three? How does somebody deal with a writer as distinguished? O'Hara, to start with. He was so touchy, wasn't he?
MAXWELL
Not about editing. During the first period that I edited his work I barely knew him. I inherited him from Gibbs, who had given up editing entirely to take over the theater page from Robert Benchley. I was young and inexperienced as an editor, but fortunately O'Hara had a great respect for New Yorker editing. When his stories were collected in a book, he always followed the edited version. What I worked on was mostly the Pal Joey series. I knew nothing whatever about Broadway argot, and sometimes now in the middle of the night I groan, thinking about what I may have done to them, especially in the way of cutting. In later years O'Hara would occasionally say no to a suggested change. In one story the words "George Carlin said" turned up every time George Carlin opened his mouth. I suggested in the margin of the galleys that it had somewhat the appearance of a mannerism, and would he consider using "he said" here and there in the story. He wrote me a long, rather preachy letter on style. His style.
Updike is an extreme perfectionist. His manuscripts are always cleanly written, and he usually makes a great many interesting changes on the galleys. When the page proofs were ready I would mail him a set and we would talk sometimes for an hour or two on the phone . . . mostly about whether this or that new change—his change, not mine—was for the better, or might possibly do some damage to the surrounding sentences. It was an education in how to refine language to the point where it almost becomes something else. The pure practiced effectiveness and verve of an Olympic athlete is what it often reminded me of.
INTERVIEWER
And Cheever?
MAXWELL
I don't know what service I provided for Cheever except to be delighted with his work. He brought me "The Country Husband" when I was sick in bed with bronchitis. I remember the rapture of reading it.
INTERVIEWER
Did you show your own manuscripts to any of these three?
MAXWELL
No, but I did to other New Yorker writers. Frank O'Connor came out to our house in the country for the day, with his wife and baby, and in the course of the conversation he extracted from me the information that I had been working for eight years on a novel I was in despair over. "Let me see it," he said, and I was appalled. I was not in the habit of mixing my two lives. At that time the manuscript of what turned out to be The Château filled a good-sized grocery carton. I hadn't been able to make up my mind whether it should have an omniscient author or a first-person narrator, whether it should be told from the point of view of the French or the Americans traveling in France. I was afraid it wasn't a novel at all but a travel diary. I told O'Connor that the manuscript was in such a shape that it was unreadable, but he assured me that he could read anything. He had been sufficiently trusting to let me see the rough draft of section after section of An Only Child, and I didn't feel like saying that it was one thing for me to see his unfinished work and another for him to see mine. He went off with the grocery carton in the backseat of the car, and read through the whole mess. Then he wrote me a wonderful letter in which he said he didn't understand what I was up to. There seemed to be two novels—which he then proceeded to discuss, in detail, as separate works. My relief was immense, because it is a lot easier to make two novels into one than it is to make one out of nothing whatever. So I went ahead and finished the book.
I showed the next-to-final draft of The Château to Francis Steegmuller, who straightened out my wobbly French in places where corrections were called for.
Before that, at a time when I had almost stopped writing entirely, I showed what I thought was a short story to Louise Bogan, and she said it was a novel, so I kept on writing about those two characters. I sent her what I wrote, chapter by chapter, through four versions, and she never said enough is enough. From time to time I got a penny postcard from her with "v. good" or something like that on it. Once she objected to a physical description, on the ground that the writing wasn't very fresh, so I sweated over it. And another time, when I was stuck, I had a postcard from her saying, "Get that boy up off the bed on the sleeping porch." When I finished the novel she found me a title for it, from Tennyson's "The Lotos-Eaters": "Lo! in the middle of the wood, / The folded leaf is wooed from out the bud / With winds upon the branch . . ."
I also, at times, showed my work to Harold Brodkey. I knew his first wife when she was a little girl, and shortly after they were married she brought him to our house and we became friends. During part of the time I was writing The Folded Leaf I was in analysis with Theodor Reik, who thought the book ought to have a positive ending. And Edward Aswell at Harper's thought the story would be strengthened if I combined some of the minor characters. I was so tired and so unconfident about the book that I took their word for it. Later I was sorry. And when it came out ten years later in the Vintage Press I put it back pretty much the way it was in the first place. While I was making the corrections Harold brought me a marked copy of the book. Mostly the things he objected to were ideas I had absorbed from Reik rather than arrived at from my own experience, and I either cut or rewrote those sentences. When I was working on Ancestors he got so interested in the structure that I showed the manuscript to him chapter by chapter, as I had with Louise Bogan. We had a running argument: What I cared about in fiction was emotion, and though he was not indifferent to emotion he thought—I hope I am quoting him correctly—that ideas mattered as much or more. They aren't, of course, mutually exclusive. But as a result of our argufying I became aware of the extra dimension that abstract thinking brings to fiction.
Now that I think of it I have always shown whatever I was working on to somebody—most often my wife, whose opinions tend to be detached and trustworthy. When I was writing Time Will Darken It I found that the book was proceeding by set conversations, rather like a play. A had a conversation in the backseat of the carriage with B, and as a result B had it out with C, and when C met D on the stairs she said—you get the idea. When I started a new chapter I asked myself who hadn't talked to whom lately. It's not a bad method. Anyway, when I finished a chapter I would read it to my wife, sitting outside on the grass in the sunshine, and it was like sharing news from home.
INTERVIEWER
So you think writers are apt to be good judges of other writers' work?
MAXWELL
Well, Updike certainly seems to be a good judge. O'Hara was very good in his letters.
INTERVIEWER
No professional jealousies? O'Hara, who was so competitive about his writing: if he thought for a minute you were on his level . . .
MAXWELL
I don't think he thought for a minute that I was on his level, so that was no problem. No, I don't think writers are necessarily competitive. There was a period when I thought they weren't at all. Lately they have seemed more so. In any case, I felt it was important, as an editor, to play down as much as possible the fact that I also wrote. I wanted the writers I worked with to feel that nothing was more important to me than their work. And for the three days a week that I was at my desk at The New Yorker, nothing was.
INTERVIEWER
Ever since the days of O'Hara, something has endured—a New Yorker story. Do you agree? Is there such a thing?
MAXWELL
The usual answer from the magazine is no; they point out the range and variety of the fiction writers who have been published in The New Yorker. From Nancy Hale to Vladimir Nabokov is a very wide sweep. Irwin Shaw when he was a young man said once that in the typical New Yorker story everything occurs at one place in one time, and all the dialogue is beside the point. It was not, at the time, a wholly inaccurate description. That is to say, there were lots of stories like that. Something that is characteristic of the writers who appear in The New Yorker is that the sentence is the unit by which the story advances, not the paragraph, and the individual sentence therefore carries a great deal of weight and tends to be carefully constructed, with no loose ends. And style becomes very important. Gibbs said in a memo he wrote on the theory and practice of New Yorker editing—"If a writer has style, leave it."
INTERVIEWER
That memo would be an extremely interesting document to have.
MAXWELL
Gibbs was a wonderfully fast and expert editor. In those days New Yorker stories were short—twelve pages was a very long story. And he edited by cutting entire paragraphs. In some mysterious way they were not missed afterward. I never learned how to do this: instead I operated on the principle of never taking out anything I liked. After Gibbs left, the fiction began to get long, perhaps because he was not there to cut it. Or maybe it was just that the subjects that could be dealt with in twelve pages had been exhausted and writers were forced to take in more territory.
INTERVIEWER
How did editing the work of others affect your own work?
MAXWELL
I expect it affected the quality of it, made it better. It could hardly hurt anybody to have to pay close attention, word by word, and sentence by sentence, to the work of writers such as those I mostly dealt with.
INTERVIEWER
There was no chance of losing your own voice amidst theirs?
MAXWELL
Well, you could just as easily find your voice amidst theirs. The essays of E. B. White are a great help if you are trying to use the pronoun "I" in a way that is natural and unselfconscious.
INTERVIEWER
Could you take time off to write your novels?
MAXWELL
No, not as a rule. Mostly I went on working at the office two or three days a week. It took much longer to write a novel that way, but it did allow me to pick up where I had left off with a fresh view of things. Ross heard that I had been working on a novel for four years and came into my office to talk to me about it. He knew that what I was working on—it was The Folded Leaf—was of no conceivable use to The New Yorker, but he didn't like the idea of a writer having to spend such a long time over something. The upshot of the conversation was that he sent me home for six months on full pay so I could finish my novel. When it was published and got good reviews, he was pleased. He felt he had a stake in the enterprise.
INTERVIEWER
What a lovely story.
MAXWELL
Well, he was a lovely man, and it doesn't come out in the books at all. I really loved him. And two more different people than Ross and me you could hardly conceive of. There was a story, perhaps legendary, that Mrs. White so enraged him by something she said that he picked up a telephone and threw it at her. But he never even raised his voice at me.
INTERVIEWER
Did things change when William Shawn took over as editor in chief?
MAXWELL
How could they not change? Gently and slowly changes have occurred. If nothing changed then the whole thing would come to an Egyptian end. Do you like Egyptian sculpture?
INTERVIEWER
Yes. Cats.
MAXWELL
My wife loves it dearly. But when we went down the Nile I was troubled by the fact that the motifs were unchanging for two thousand years—the king of Egypt holding his enemies by the hair, in temple after temple. That's what would happen if The New Yorker never changed—that dead quality would creep in.
INTERVIEWER
Do you have any advice for writers trying to get published in The New Yorker?
MAXWELL
I don't think anybody can write decent fiction and at the same time try to match the requirements of a magazine—maybe, but I don't think so. You do what your heart cries out to do. In my own case, I'm often in doubt about something I've written—and I think, well, if I like it, perhaps someone else will like it too. That's the final criterion—whether or not the writer likes what he has written.
INTERVIEWER
As an editor, in deciding whether or not to read a story, how much weight do you place on the first sentence?
MAXWELL
A great deal. And if there is nothing promising by the end of the first page there isn't likely to be in what follows. I love first sentences, anyway. When you get to the last sentence of a novel you often find that it was implicit in the first sentence, only you didn't know what it was.
INTERVIEWER
What are some of your favorite first lines? Do you collect them?
MAXWELL
No, but offhand I think of "None of them knew the color of the sky," which is "The Open Boat" and "All the sisters lay dreaming of horses,"* which is National Velvet. And the wonderful first line of Pride and Prejudice: "It is a truth universally acknowledged, that a single man in possession of a good fortune must be in want of a wife."
INTERVIEWER
Do you spend a lot of time on your own first sentences? So Long, See You Tomorrow begins, "The gravel pit was about a mile east of town, and the size of a small lake, and so deep that boys of under sixteen were forbidden by their parents to swim there."
MAXWELL
Originally the first sentence was, "Very few families escape disasters of one kind or another." When The New Yorker bought it, the editors were troubled by the fact that for the first twenty pages it read like reminiscence. A good many readers don't enjoy that sort of thing, and over the years The New Yorker had been blamed for publishing too much of it. Actually, if writers don't put down what they remember, all sorts of beautiful and moving experiences simply go down the drain forever. In any case, The New Yorker was afraid that readers, seeing also that it was very long, would stop reading before they discovered that it was really about a murder. So I moved things around a bit at the beginning.
INTERVIEWER
That didn't bother you, to start at a different place?
MAXWELL
I could see that they had a point. Of course there was a certain amount of straining at the seams—any writer would feel it—but I got past that. The effect on me was as if I were shaving and some hand came and took the razor from me and did this part of my face.
INTERVIEWER
It's nice to be shaved sometimes.
MAXWELL
And it's nice to have someone genuinely care about your work, to the point that they can do for you what you have failed to see needed doing. In my experience at The New Yorker, the best writers were very good-tempered about suggested changes. I can only remember one instance when the editing process broke down and the writer took back his story. Between the time that we had accepted it and the time we prepared the galleys, another story came in and was rejected, and I suspect that his anger over the galleys was really anger about the rejection. That was the only time. It's almost axiomatic—the more talented the writer, the easier he is to work with, if the editor is both sensitive and sensible.
INTERVIEWER
Are you in the habit of writing every day?
MAXWELL
Yes. Seven days a week. An insane life, but what happiness! It's really self-indulgence. I resent any social invitation that keeps me up after ten-thirty, so that I'm not bright as a dollar the next morning.
INTERVIEWER
What if you hadn't been a writer at all?
MAXWELL
I can't imagine, I really can't imagine. I would have been so deprived of everything I love if I hadn't been a writer. It would have been awful, awful.
* She was a Wisconsin novelist and playwright—her Miss Lulu Bett won the Pulitzer Prize in 1921.
* This is not the first sentence of National Velvet.

Author photograph by Nancy Crampton.