Interviewed by John McCall
Issue 85, Fall 1982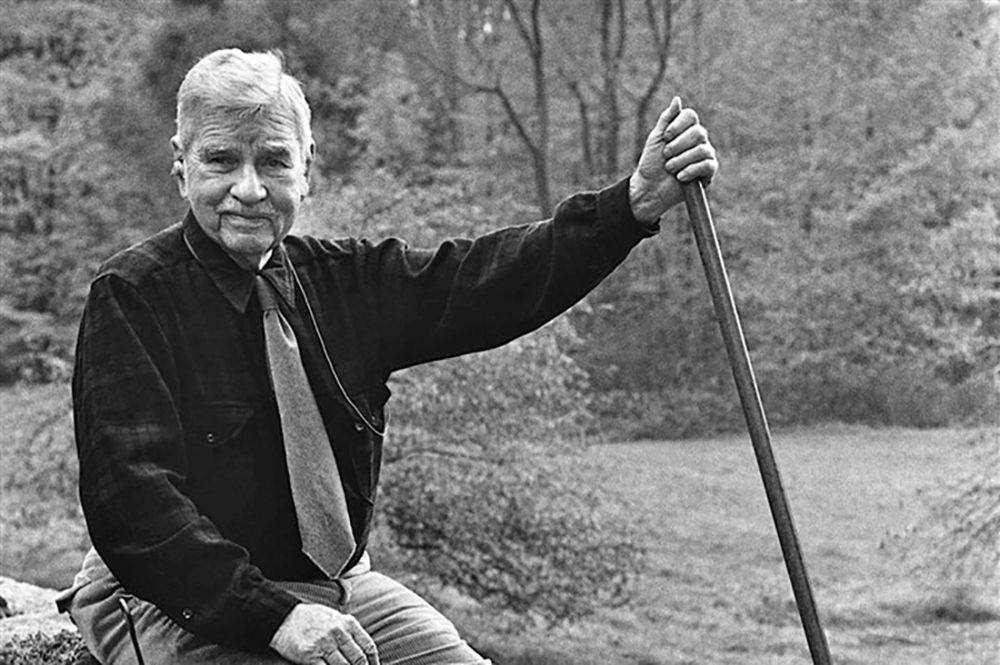 This interview was conducted in two places dear to Malcolm Cowley, and which suggest the two main areas of his literary life. One conversation took place in the Harvard Club's Card Room, a cubbyhole in the New York club's upstairs warrens. Cowley often lunches at the club on the days when he comes into New York from his Connecticut home to perform his editing duties at Viking Press. A second talk held at Cowley's Connecticut home, where he is freer to do his own writing. Cowley's manner is brisk, his voice hearty. He wears a hearing aid, but that is his only visible concession to his years.
Thomas H. Guinzburg, who was Cowley's former publisher and employer at the Viking Press, wrote the following upon reading this interview: " . . . fellow readers will gain the strong impression Cowley is determined to resist the constant invasions of his time. Do not believe him. Malcolm has always given ample time to any of us who were perceptive enough to seek it, frequently delaying his own more valuable projects in the process. Cowley missed the golden payday when editors suddenly became stars and found themselves negotiating their names onto book jackets and title pages. Nor did he ever adopt the 'New York' scene. He and his wife, Muriel, continue to live and work in Sherman, Connecticut, and from his one-man assembly line there continues to pour out our most accurate impressions of the life and times of American twentieth-century writing and publishing."
INTERVIEWERS
How would you compare the lot of writers today with when you started?
COWLEY
In many ways things are easier now for writers. Sixty years ago there were no such things as writing fellowships; there were no Guggenheims . . . very few prizes. There were almost no teaching posts for writers. So the would-be writers came to New York and tried to get a job on a newspaper. Usually they ended up in an advertising agency, or they starved in the Village. Free-lance work was paid for at the rate of about a penny a word for reviews. The New Republic and The Dial paid two cents; that was high, and besides, you were always glad to be printed in those magazines.
The only chance for higher pay was with fiction, in the glossies. These had enormous circulations for that time, and they were paying good rates for fiction. The Saturday Evening Post went up to $4,000 per story with F. Scott Fitzgerald, and I don't think that was absolutely their top rate. A couple of other writers earned up to $50,000 every year writing short stories. Fiction was the field and remained so until the disappearance of the family magazine in the thirties and forties, one after the other going, until now it is the devil's own job to get fiction published, even for people who are very good at it. But still, by and large, the writer has an easier time of it than a few decades ago.
INTERVIEWERS
What about the poets?
COWLEY
There's been an enormous change. As late as 1930 there were only a few men and women who supported themselves as poets. One was Robert Frost and another was Oscar Hammerstein II. We had great respect for e.e. cummings because he lived as a poet, but even he got a little money from his mother. T. S. Eliot was a bank clerk, and then worked with Faber & Faber, the publishers. Robert Frost managed to support himself after North of Boston by readings, and by lecturing at universities. He rather blazed a trail in that respect. Now, a lot of poets are poets primarily. Many of them may teach or read their poetry to keep up, but probably two or three hundred people in the United States if asked their trade would say "poet."
INTERVIEWERS
Do you regret not having concentrated more fully on your poetry?
COWLEY
Yes, I have regretted it very much. The shift, for me, was the essential middle-class feeling that I had to support myself.
INTERVIEWERS
What were you paid for Blue Juniata?
COWLEY
I got an advance of $125 and no further payments.
INTERVIEWERS
That was why you didn't go on?
COWLEY
I wanted to go on writing poetry, but I always had the feeling that I couldn't write any poem that didn't come to me. I didn't say to myself, "Go spend two hours and write a poem." Perhaps I should have. Of course, if I'd had a few more dollars I would have written more poetry. Book reviewing didn't help. Odd: being an editor didn't interfere with my writing; it was being an editor and a book reviewer. You find that you put everything you've got into anything you write. There may not be so much left over.
INTERVIEWERS
There are many excuses for not writing.
COWLEY
Pipes are one of the best. I can use one even to keep from talking. And there's always a letter to be written. One of the great penalties of having been around for a long time is that there is hardly a genuine letter in the mail I receive. It's rare that one of my letters isn't a request for information about somebody on whom the requester is doing a dissertation. Jesus! Well, at least I don't have Edmund Wilson's great arrogance of sending back a printed card saying that he won't do it. I do reply. I generally refer them to other sources.
INTERVIEWERS
You're probably considered a soft touch.
COWLEY
I keep hoping I'll be compensated in some way. Once I wrote a piece that tried to sum up the joys and vexations of being eighty, but I left out one of the worst vexations— which is to become a national scholarly resource. I never expected to become a national scholarly resource—but you can't escape the destiny of your dotage. Simply by having outlived your great contemporaries, you find that you have a field all to yourself; or if you don't have a field, at least you have a stable in one corner of the field. Hundreds of scholars then come into the field who are writing dissertations, monographs, biographies—all sorts of things—and for each one they want to have a little reinforcement, a little supplement; they want to have a word straight from the horse's mouth. So they come to me and say, "Well, you are the horse—won't you please share your memories? Won't you please answer this little questionnaire of five single-spaced typed pages?" or, "Won't you let us put your memories on tape?" There is no enrichment from this sort of thing. Not one of them thinks of filling the horse's feed-box with oats or of putting a little hay in the manger. They assume, I guess, that a horse can just forage for himself—if he has time; certainly nobody gives him an offer to earn an easy living by putting himself out to stud.
INTERVIEWERS
You're making us feel guilty. Do you mind if we ask you about Gertrude Stein's remark, "You are all a lost generation"?
COWLEY
Oh, it's simple as all get-out. Gertrude Stein was having her Model-T Ford repaired at a garage in the south of France. The mechanics weren't very good; they weren't on the job—in fact, I think they were on strike. The proprietor said to Miss Stein, "These young men are no good—they are all a lost generation"—une génération perdue. So an unknown French garageman should get credit for that remark. Of course, Miss Stein deserves credit for picking up on the phrase.
INTERVIEWERS
Is it possible the garageman was referring to "a lost generator"?
COWLEY
Her French was better than that.
INTERVIEWERS
Was there a special sense, a feeling, about being an artist, or writer, at that time?
COWLEY
The writers had an odd advantage in being born around 1900. The century had turned, so as they grew older they began to feel that it was their century—new, unprecedented. This doesn't mean that they all thought they were wonderful people, but they did think that their lives represented the fate of the new world, no less. That feeling is very strong in Scott Fitzgerald, for example, and in other writers, too; there's something of it in Dos Passos and cummings.
INTERVIEWERS
What were some of the English-language magazines in Europe when you arrived?
COWLEY
The first one that I ran into in Paris was Gargoyle, edited by two characters from Greenwich Village, Arthur Moss and Florence Gilliam. Then, in 1921, Gorham B. Munson and Matthew Josephson arrived, and they got out Secession. Matty became a friend of the French Dadaists; he was wonderful at making acquaintances. Next he got a job on Broom, which Harold Loeb had started and published in Rome; then, with Matty as managing editor, the magazine moved to Berlin, where everything was fabulously cheap. Matty had a salary of one hundred dollars per month, for which he had a triplex apartment and riding lessons for his wife.
After that came the other magazines. The great Paris magazine was Eugene Jolas's Transition. There was an extremely vivid sense that a new type of writing was coming along. Something had to change after the war that had shaken civilization; here were all these people who regarded the older magazines as stuffy, commercial, not giving a voice to younger people. So the magazines were started partly with the idea that a new generation was coming onto the scene, and that they should have periodicals that spoke for them and introduced new talents. Ernest Walsh did that in This Quarter. Ford Madox Ford started The Transatlantic Review and was very much interested in the younger Americans.
INTERVIEWERS
Did you ever see Pound in Paris?
COWLEY
I went to see him a couple of times, but I was a little uneasy with him. Pound always had some new discovery or enthusiasm; he was always finding the lowdown on something. On one of my visits to his little apartment, he announced loudly, "I've got the lowdown on the Elizabethan drama! It was all cribbed from these books," and he carried out two huge volumes of the Venetian State Papers. Well, it was a real discovery: the plots of several Elizabethan plays did come out of the Venetian State Papers.
INTERVIEWERS
Why did Hemingway have such an apparent dislike for Ford Madox Ford?
COWLEY
Hemingway had the bad habit of never forgiving anyone for giving him a hand up. That may have been the problem between them. Ford was a character; he was a liar, not for his own profit, but just because he had a very faint hold on actuality. He told beautiful stories of English literary life, in which he knew everybody, had a hand in everything, and his hand grew larger as he told the story. He had a roving eye for younger women, whom he especially liked to fascinate. He came to this country after the breakup of his relationship with Stella Bowen. I can remember on one occasion he came up to Robber Rocks—a place back in the woods near the New York-Connecticut line which was the country headquarters for Allen Tate, Hart Crane, and others—where a lot of young wives were around at the party. They would be fondled by Ford, and then escape him up the stairs. Ford, heavy and wheezing by that time, would follow them to the head of the narrow stairs, and the door would close in his face. He would wheeze back down, and a while later he'd follow another young woman until she took refuge behind a locked door.
INTERVIEWERS
Do you think collecting in such colonies is of value to a writer? It doesn't seem to be done as much these days.
COWLEY
Perhaps that is true. But I think young writers always collect, and that is a good thing, because the persons they learn from, their real professors, are other writers of the same age. That particular neighborhood, near Robber Rocks, was cheap. The Rocks was owned by Slater Brown, but others rented rooms from a woman called Aunt Addie Turner, who lived in a great barn of a house that had once been a boys' school. She rented out parts of it for eight dollars a month. A few miles over the Connecticut line was another group—Josephine Herbst, John Hermann, Nathan Asch, and a couple of others.
INTERVIEWERS
What sort of boarder was Hart Crane?
COWLEY
He was rather difficult. You forgave Hart a great deal because he was so kind and helpful. But then he'd get drunk and start throwing furniture out of the window. Or he'd stagger around the house with a lighted kerosene lamp.
INTERVIEWERS
I take it that for him alcohol acted as a stimulus to the creative process?
COWLEY
One of the reasons why Hart, and many writers, turn into alcoholics is that early in their lives they find that getting drunk is part of the creative process, that it opens up visions. It's a terrible sort of creative device, because three out of four who involve themselves in it become alcoholics. But it does open up doors in the beginning. Hart Crane would even make a first draft when he was drunk; he'd come out and read it, and say, "Isn't this the greatest poem ever written?" It wasn't. But then he would work over it patiently, dead sober, for several weeks, and it would amount to something. Not the greatest poem ever written, but still extraordinary.
INTERVIEWERS
Did Crane get any help from his family?
COWLEY
Hart's father had been quite wealthy until 1929. He invented the Lifesaver candy with a hole in it. "Crane's Chocolates" used to advertise in The Saturday Evening Post. But Hart was estranged from his father after his parents were divorced. The father remarried after the Crash and started a quite fashionable country restaurant named Canary Cottage in Chagrin Falls, outside of Cleveland. Still, he couldn't have helped Hart much.
INTERVIEWERS
Did Faulkner write under the influence of alcohol?
COWLEY
I rather think he did in his early years. He always hesitated to admit it, but I'm sure that a good many of his things were written when he'd been drinking. It didn't break him. And he did an extraordinary amount of revision, but he would try to preserve the integrity of that original vision, so that his rewriting was not so much line for line as it was shifting episodes and characters.
INTERVIEWERS
What did his manuscript pages look like? Did he make many corrections on the galleys?
COWLEY
He made them in the case of one book, Sanctuary. Otherwise his corrections were usually made in typescripts.
INTERVIEWERS
Writers so often complain about the horrors of writing.
COWLEY
Almost all of them are certainly procrastinators, but a few people really like to write. Kay Boyle used to say that she loved the smell of paper. Anthony Trollope trained himself to turn out forty-nine pages of manuscript a week, seven pages a day, and he was so rigorous about keeping to that exact number of pages that if he finished a novel halfway through the last day, he'd write the title of a new book and "Chapter One" on the next page and go right on until he'd done his proper quota of seven pages.
INTERVIEWERS
Do you think American writers are more prone to procrastinate than British writers?
COWLEY
American authors are more self-conscious than the British . . . a little more preoccupied with what the critics will say. The writer's problem is largely one of self-esteem. He thinks, "Is what I am writing worthy of the picture I have formed of my talent?" A lot of writers have only one book in them. Margaret Mitchell wrote Gone With the Wind—then she never even tried to write another book. A lot of writers keep publishing what is essentially the same book with different titles.
INTERVIEWERS
Can success be harmful?
COWLEY
They tell me that success is a terrible test of people. Thank God I've never had to undergo it. But nationwide success with money pouring in will kill lots of writers. Ross Lockridge, who wrote Raintree County, and Thomas Heggen, the author of that novel about a ship, Mister Roberts, both committed suicide. It was always said that Gilbert Seldes's review of The Great Gatsby, which was ecstatic, probably damaged Scott Fitzgerald. The trouble is that after something like that, every work has to count . . . every word has to live up to this marvelous praise. The poor author gets stage fright.
INTERVIEWERS
Are the creative impulses involved in writing poetry and essays vastly different?
COWLEY
There is a different process involved: the poem has to start with an emotion. After that, you call on the same parts of your mind during the creative process, but the beginning is quite different. With the essay you start out with a given or chosen subject. The poem comes to you.
INTERVIEWERS
Are there mnemonic devices to get you going on a day's work?
COWLEY
A lot of people use walking. I wonder if the decline of walking will lead to a decline of the creative process.
INTERVIEWERS
Do you see a relationship between unhappiness and poetic creativity?
COWLEY
To the extent that poems may be born from a straining of one's senses and imagination to a degree to which they couldn't be strained in ordinary life. I was reading F. Scott Fitzgerald's correspondence the other day. Scott and Zelda's difficulties were ones that I never had to face; I never had to drive myself to drink in order to get my imagination working. Actually, I found my imagination worked best on fatigue. That's another form of intoxication . . . to set yourself writing, and keep on writing until after two or three hours the subconscious takes over. It's certainly safer than alcohol. The trouble with alcohol is that you can't keep it up.
I went to visit the Fitzgeralds when they were living outside of Baltimore—a place called "La Paix." Scott said to me, "I'm on the wagon, but I got you a pint of whiskey from my bootlegger; I'm on water." So we talked, or mostly he talked, and every once in a while he'd go out to the kitchen to get another glass of water. His talk became more belligerent, sometimes incoherent, until finally he said, "You know, that water I've been drinking all evening—it's half grain alcohol." I said to myself, "Oh . . . surprise!"
INTERVIEWERS
So alcohol is of no use?
COWLEY
Sometimes Edmund Wilson said a glass of whiskey would get him started on a piece—would help with the start and perhaps the finish. But usually the writer is sober when he writes. He had better be. John Cheever used to say he could tell from a writer's work if he'd had a drink.
INTERVIEWERS
It's been reported that you discovered John Cheever.
COWLEY
Nobody ever discovered John Cheever; he discovered himself. But what you ask about was as close to discovery as an editor can hope for. I was the junior editor on The New Republic in 1930. A manuscript came in marked for my attention; it was a story on yellow copy paper called "Expelled from Prep School." I read it with great interest and carried it to Bruce Bliven, the managing editor. Bruce said, "Well, it's a little long. Cut it down by half and we'll take it." We did take it. A couple of months after that, John Cheever himself appeared. He was eighteen. His brother had given him an allowance of ten dollars a week to try to be a writer in New York. That memoir was the first I read of John's. He began writing stories—published in small magazines that didn't pay . . . always stories about seven thousand words in length, very fresh and good, too, but with no hope of their being published by magazines that paid money.
One Friday night when John was at our house for dinner, I told him, "Tomorrow, write a story of one thousand words. Sunday, write another, and Monday write another, three and a half pages, and do the same thing on Tuesday." Wednesday was my day at The New Republic for seeing contributors, so I said, "Bring them all in on Wednesday and I'll see if I can't get you some money."
Well, this sounds like wise old Nestor telling a young author what to do. But I knew John; nobody else could have invented four stories in four days. But on Wednesday he brought in four thousand-word stories. The New Republic didn't print fiction, but I thought one of them could be considered local color. So I got that one accepted, and I sent the other three stories to Katharine White at The New Yorker. She took two of them, and John was launched on his career as a professional writer.
INTERVIEWERS
Who worked with William Faulkner at Random House?
COWLEY
A succession of people, but they didn't really work with him at first. I don't think they always read proofs of his novels, at least in the late 1930s, because some of them are marred by errors in grammar that Faulkner would have been glad to have pointed out to him, and would have fixed up. But he absolutely could not have stomached receiving a critique on the whole concept of a book—the sort of thing that Maxwell Perkins at Scribners might have put together—and he certainly would not have written a book to order.
INTERVIEWERS
And yet he spent those years in Hollywood.
COWLEY
Cynically. He didn't think he was actually any good in Hollywood. He was able to work consistently with only one director, and that was Howard Hawks. One thing that has never been published about Faulkner is that he thought his best movie was The Southerner, the Jean Renoir film, for which he did not get movie credit. He was under contract to Warner Brothers and could not let it be known that he had worked for another studio.
INTERVIEWERS
What about your own remarkable identification with Faulkner's work?
COWLEY
I shouldn't be given all the credit for rescuing Faulkner from neglect. There were always men of letters in this country—Conrad Aiken, Robert Penn Warren, and a couple of others, Caroline Gordon, especially—who were enthusiastic about Faulkner's writing. But it is true that public estimation of his books sank so low that by the middle of the war, only one book, Sanctuary, was not out of print; his publishers had donated the plates of his other novels to the war effort to be melted down and to make copper jacketings for bullets. The publishers were very patriotic. So at that time I had the strong feeling that Faulkner had to be brought back. I had done a Hemingway Portable for the Viking Press, a book that came early in their series of Portables. I had suggested, "Why not a Faulkner Portable?" Viking replied, "We don't think Faulkner has sufficient public to justify a Portable." That wasn't enough for me. Fortunately, through Matty Josephson I had been offered a contract to write a history of American literature. I always hated big undertakings—the sort of thing he suggested—so I thought I'd break it down and do one author at a time. Since I'd been reading Faulkner and believed that among the writers of his generation his public reputation was the one most out of line with his extraordinary talent, the choice was compulsive. I took about ninety single-spaced pages of notes. Then I began writing an essay which got to be too long for any magazine to print as a whole. So I "beefed" it— I got that phrase from George Milburn, a writer and a good one, too, who came from the back country in Oklahoma. He told me that he had beefed a novel by cutting it into steaks and selling them to The New Yorker. I beefed the essay on Faulkner and sold chunks of it to three magazines.
At the time I was helped financially by an extraordinary piece of good luck. It was during the war. The phone rang, and the voice at the other end said, "This is Stanley Young. How would you like to be supported for five years?" I wrote him, "Well, I'd like that fine, but I'm getting along all right. Why don't you make that offer to Kenneth Burke?"—who was my oldest friend. Stanley said, "Oh, no. We'll think about Kenneth later. In the meantime, we'd like you to figure out how much it would take you to live for five years." He went on to explain. "This is an idea of Mary Mellon's, of the Pittsburgh Mellons. You come in and have lunch with Mary and if you pass muster this idea of hers will go through."
So I had lunch with Mary Mellon. I think I drank too many martinis. I talked very much and excitedly. So it went through. For five years I received, under contract with Mary Mellon, fifty-five hundred dollars per year, which seemed a great deal of money to me.
Four other people got this arrangement. Then it was decided the plan wasn't working. When Mary Mellon died, Paul Mellon closed out all the contracts, which he was quite right to do. As a matter of fact, I was the only one of the five authors who carried through on the aim of the plan. It enabled me to do a great deal of work on authors, including Faulkner, while at the same time being rather standoffish about publication.
Of course, it could have been an opportunity to write poetry, but I kept remembering that the arrangement was only for five years. At the end of that time I would still have to live mostly by writing for magazines. So I "beefed"—cut steaks and roasts from—the long Faulkner essay and published them.
One day Marshall Best of the Viking Press called and said, "It seems to us that Faulkner's work is attracting a good deal of attention in magazines. We're thinking of going ahead with the Faulkner Portable." I said, modestly, "Yes. It is attracting a good deal of attention." I had this idea of putting together an outline of the Yoknapatawpha County saga in the Portable. I also had an idea that Faulkner might help me on this with advice. It turned out he was most eager to do so.
So we worked through this, discussing by letter what should go in and what should stay out—a correspondence published in a book called The Faulkner—Cowley File. At the end of it Faulkner wrote and added a biographical dictionary of the Compson family. When the Portable came out, Faulkner inscribed a copy to me, writing, "Damn you, you've done what was supposed to be the occupation of my declining years." Apparently, that's what he had wanted one day to do himself.
INTERVIEWERS
Was the Faulkner Portable an immediate success?
COWLEY
The Portable couldn't have started a renewed interest in Faulkner's work if it hadn't been for Caroline Gordon, who did a front-page review for The New York Times, and Robert Penn Warren, who reviewed it for The New Republic in an article so long that it had to be published in two issues. From that time on, Faulkner, who had been completely beneath the dignity of English departments to talk about, began to be studied by graduate students.
INTERVIEWERS
What was your personal relationship with Faulkner?
COWLEY
Beginning in 1944 we had quite a correspondence. I wrote him a letter saying I wanted to do a piece about his work. I hoped to meet him. After four or five months he answered from Hollywood. He explained that when he got letters from strangers, first he opened them to see if there was return postage. If there was, he used the stamps. As for the letters, he'd drop them in a drawer and then, he said, every six months or so he'd open the drawer and begin to read the letters. Mine had been luckier; it had only waited in the drawer three or four months. He wrote me that the idea of finishing his career without having attracted any more attention than he had done so far was painful and, yes, he would be grateful to have a long essay written about him, but he didn't want any personal details included. He wanted to live anonymously. He wrote me in one of his letters that he wanted his tombstone inscribed, "He wrote the books and he died."
INTERVIEWERS
Did you know that there is an odd typographical error on his tombstone in Oxford, Mississippi? It reads, "Belove'd Go to God." It was probably supposed to say "Belovèd Go to God," but the carver misread the accent mark for an apostrophe.
COWLEY
I think he would have smiled at that.
INTERVIEWERS
Was he a good storyteller in person?
COWLEY
He would tell a story very much as stories were told on the "gallery," as they call it, of a little one-room store in Mississippi—men squatting on their heels in overalls and chewing tobacco. He didn't chew tobacco, but he told stories the way backwoods storytellers told them, which was very entertaining. He wasn't one of them, but he fit in. In Oxford they called him "Count No 'Count."
INTERVIEWERS
Did Faulkner know Hemingway?
COWLEY
Hemingway and Faulkner never met, but they read each other and profited by the reading, Faulkner especially. It's largely a question of emulation that causes writers to appear as if in groups. Even if they never meet, they read each other.
INTERVIEWERS
Hemingway's life has always been closely linked to his work. Now that his private letters have been published, what effect do you think they'll have on his reputation?
COWLEY
His reputation as a man will go down because there's a great deal of malice, rivalry, and plain falsehood in his letters. All his weaknesses of character come out, and in the published letters they're not balanced or driven from your mind by his tremendous personality. He had a gift for charming people by giving them his undivided attention. As he said, so few people know how to listen. That's one way he charmed people, by listening. At the same time he was always suggesting expeditions and adventures, so that in personal relations he had an enormous charm that doesn't come through in the letters.
INTERVIEWERS
It's difficult to reconcile this charm with the impression one gets from the letters.
COWLEY
Well, he wrote those letters very often late at night when he couldn't sleep. Frequently he wouldn't mail the letters because they told too much. But I think if you sit back from that collection of printed letters and consider what he's saying, you can begin to get a picture of his charm, because for each of the persons he was writing to he had adopted a different story. He was projecting himself into their different personalities.
INTERVIEWERS
I recall Selden Rodman's comparing Hemingway to Byron and saying that Hemingway's genius was essentially comic.
COWLEY
Comic isn't the word. He was never a comic writer. He was often a satirist, and a cruel one.
INTERVIEWERS
What would you say was the essence of his genius?
COWLEY
A sort of restoration to literature of various primal qualities. There's almost the quality of a medieval lyric in much of Hemingway's writing. It's fresh. If you read Le Morte d'Arthur, the chapter that begins with the month of May at King Arthur's court, there's a freshness in it that one finds again in Hemingway.
I think he is a lyric writer, more or less. He always had trouble with plots because he wasn't so much filling out a plot as he was making a journey or progression, day by day. Later he would try to fit that into a plot. If it came out well, it came out very well indeed. At other times he stumbled off the path, as in two or three of his unpublished manuscripts.
INTERVIEWERS
Despite these difficulties with plot, he was a very good storyteller?
COWLEY
As a storyteller in company he was amazing. He was even more amazing in the matter of simple vitality. When he came into a room, he filled it, as people say.
INTERVIEWERS
Were his ethics as great as his vitality?
COWLEY
As a writer his ethics were very strong . . . that is, his ethics governing the relationship between his "me" and the product of "me"; it would be hard to find any higher. But as a man in relation to other writers—Dos Passos, for instance— his ethics were lower than a snake's belly.
INTERVIEWERS
This question of ethics in relation to fiction seems to be a current critical concern. What is your opinion of John Gardner's contention, in On Moral Fiction, that fiction must point out a moral, or that the worth of fiction can be assessed in terms of the ethic it espouses?
COWLEY
He's got hold of a half-truth. Any fiction should be a story. In any story there are three elements: persons, a situation, and the fact that in the end something has changed. If nothing has changed, it isn't a story. Almost every story, therefore, becomes a fable, because the change is usually for better or worse. And if the reader extends the applicability of this change from a particular set of events to another, then he's drawn out of the story a fable with a moral. And, of course, every work of fiction involves moral judgments concerning the characters . . . judgments that the author reveals by his style or his choice of details, if in no other fashion.
There is another sense as well in which not only fiction, but all kinds of writing, are moral. Almost every work set on paper involves a choice. The writing of one page might involve hundreds of moral decisions. "Shall I use this word, which easily comes to hand, or shall I stop and search my mind for a slightly better word?" Those are aesthetic decisions which almost always have a moral element. Choosing the hard over the easy is already a moral choice.
INTERVIEWERS
Faced with moral considerations, can you as a critic render a positive judgment of a book's aesthetics while at the same time disliking its meaning?
COWLEY
I can do that, yes. I might wish that the author had a different set of morals. And I can also make my judgment by not reading the book—a very easy way to get around it.
INTERVIEWERS
What do you find yourself reading nowadays?
COWLEY
I too often pick up magazines. I read The Nation, The New Republic, The New York Review, and sometimes The New Yorker, against which my complaint is that the articles are too long. If I get hooked on one, the evening is shot.
INTERVIEWERS
Has there been a change in the character of the publishing houses?
COWLEY
It's always been a strange profession; publishers and editors seem to change jobs more than men in other professions. They go from house to house like baseball players . . . except they're not sold, or traded. Those who really change places are the publicity directors . . . musical chairs!
INTERVIEWERS
What about the relationship between the editor and the author?
COWLEY
These days there's a good deal more directed writing in which bright young publishers or editors dream up an idea for a book and then think of somebody to write it. Part of the creative process, at least in nonfiction, has moved over from the writer to the editor.
INTERVIEWERS
What would someone like Maxwell Perkins have made of this trend?
COWLEY
Perkins wasn't much interested in nonfiction. But with fiction, he took a tremendous hand . . . concerned with motivation, the handling of scenes, and the overall picture of a book . . . so much so that he was capable of writing ninety pages of directions and suggestions. He did this for Marcia Davenport's The Valley of Decision. She put Max's directions to the left of her typewriter and her original manuscript on the right; she looked at Max's directions, then at the manuscript, and she retyped the book. It subsequently became very successful.
INTERVIEWERS
What are the distinguishing attributes of a good publishing house editor?
COWLEY
The first ingredient would be a nose for good writers. And then loyalty to the writer once he found him. The most loyal editor in the whole game was Pat Covici at the Viking Press, who was loyal to his authors in a way that made the authors completely loyal to him. He did this with his interest, his confidence, his offer of whatever help they needed. Steinbeck wrote a whole volume of letters to Pat when he was working on East of Eden.
INTERVIEWERS
What about an editor's attitude towards public taste?
COWLEY
If an editor begins to let the concept of catering to the public weigh on him he becomes, to me, a bad editor. An editor should have an idea of what meets his own taste; that should provide the criterion. The whole notion of divining the public taste has been one of the deadliest ideas of publishing. When True Confessions was at the height of its success, a new fiction editor was picked every month. She would be one of the typists in the office, preferably the youngest, because it was felt that if she followed her own honest feeling about what was good, that was what the public wanted. After a month or so, she would become too sophisticated and then they would fire her as the fiction editor and take on another typist. That was cynicism carried to the extreme, but it may well have produced better results than an editor guessing at what the public might like.
INTERVIEWERS
What has been the most rewarding aspect of your long career in literature?
COWLEY
Writing becomes its own reward. What do you need from others—except a little money—if you have satisfied the stern critic in yourself? For me the most rewarding moments have been those when I knew that a book was finished at last and ready to be printed. I remember one such moment; it was when I finished the revised edition of Exile's Return, in 1951. I had worked on the revision happily, being a revisionist by instinct, and most of the manuscript had gone to the printer. But there was a necessary appendix still to come, and it had to reach the Viking Press by a certain date or else the book would be postponed to another season. I have the story in an old notebook. (There is a long pause while Cowley finds and pages through the notebook.)
The date for Viking was March 30, 1951. I finished and sealed and addressed the appendix at half-past eight in the evening of March 29. In those fortunate days there was a mail car on the train that left Pawling at 9:05, and letters given to the clerk were delivered in New York the following morning. Pawling was a dozen miles from our house, over back roads. I drove there with Muriel and our son Rob and missed the train by three minutes. Then I raced it fifteen miles south to Brewster, at the risk of wiping out the family. This time the train was pulling out of the station just as we pulled in. I raced it again to Croton Falls, where Rob ran hard and gave my big envelope to the mail clerk just as the wheels of the engine started to turn. At last the book was out of my hands, finished to my satisfaction, and I was exultant. We drove home slowly while I sang old songs in a cracked voice.

Author photograph by Nancy Crampton.