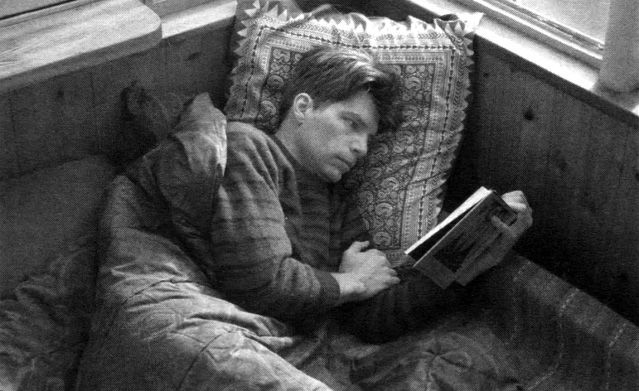 Until Richard Powers traveled to bookstores across the United States in 1998 to promote his sixth novel, Gain, he was as mysterious, having always spurned interviews, as he was revered. His cult of readers consumed, analyzed, and puzzled over his stereoscopic novels—steeped in art, genetics, medicine, artificial intelligence—but the curious who turned out to see the private author in bookstores were greeted not by a grave intellectual hooded with worry, but a tall, boyish man, as gentle and ingratiating as an old friend.
Powers was born on June 18, 1957 in Evanston, Illinois, the fourth of five children. His father was a junior-high-school principal, his mother a homemaker. He was raised on the north side of Chicago until he was eleven, when his family moved to Bangkok, where his father ran an international school for five years.
At the University of Illinois at Urbana-Champaign, Powers studied physics, rhetoric, and literature as an undergraduate, and earned a master's degree in English in 1979. Having consumed the great modernists—Joyce, Mann, Kafka, and Musil—he decided, in his spare time, to teach himself computer programming.
Powers moved to Boston to work as a programmer, but soon quit to write his first novel. A venturesome reflection on photography, memory, and war, Three Farmers on Their Way to a Dance was published in 1985 and nominated for a National Book Critics Circle Award. With a garland of glowing reviews for his debut, Powers returned to Urbana, where he began his second novel, Prisoner's Dilemma (1988), "my memorial to a sick father." The book alternates between a bittersweet depiction of a Midwestern family coming apart at the seams and a funny, poignant portrayal of America during World War II, including a fantasy sequence of Walt Disney making a propaganda movie in a Japanese-American internment camp.
While writing Prisoner's Dilemma, Powers moved to southern Holland. There, he wrote The Gold Bug Variations, supported by a MacArthur "genius" grant. Inspired by Edgar Allen Poe's short story, "The Gold Bug," and Bach's Goldberg Variations, the novel braids the lives of a research librarian (based in part on Powers's sister), a wayward painter, and a maverick geneticist into a six-hundred-and-forty-page meditation on the infinite mutation of genes, music, and love. It too was a finalist for a National Book Critics Circle Award.
Powers moved back to Urbana in 1992 and finished his dire novel about history's lost children, Operation Wandering Soul, published the following year and nominated for a National Book Award. Set in a pediatric ward in "Angel City," Powers modeled the perpetually exhausted protagonist, Dr. Kraft, on his older brother, who was a surgeon at Martin Luther King Hospital in the Watts district of Los Angeles in the eighties.
In 1995, Powers experienced nearly unanimous critical acclaim with Galatea 2.2, another National Book Critics Circle nominee. He pushed the boundaries of metafiction by calling his main character "Richard Powers," a reclusive novelist who holes up in the Center for the Study of Advanced Sciences in a midwestern university called "U.," where he falls under the cynical tutelage of a neuroscientist who insists he can teach a supercomputer to pass the master's oral exam in literature. The zeitgeistian look at artificial intelligence, fused with the author's very real vulnerability and pain over a broken love affair, earned him his widest readership to date.
As a writer-in-residence at the University of Illinois at Urbana-Champaign, Powers taught creative-writing classes and wrote Gain. The novel movingly details a midwestern single mother dying of ovarian cancer as it chronicles the one-hundred-and-seventy-year history of the fictitious Clare and Chemical Company. Based in part on his own experiences in cancer wards caring for terminally ill friends, Powers's portrayal of his protagonist's chemotherapy treatments rings as true as his insights: "We must be mad; that's the only possible explanation. Thinking we could housebreak life, beat the kinks out of it, teach it to behave. Complete, collective, species-wide insanity."
A year later, Powers released Plowing the Dark, another dual narrative. The first follows a one-time latest-rage New York painter, recruited by a Seattle computer company to create a virtual-reality installation. The other story takes place in a prison cell in Beirut, where an English teacher is imprisoned by a radical Muslim sect for an offhand joke about spying made to his class. "The first rule of any classroom," he reminds himself the first day in prison. "Never resort to irony." The narrative threads weave into a single portrait when the painter learns that the computer code with which she has created her virtual-reality installation is the same language guiding the smart bombs in the Gulf War. Praising the novel, the critic John Leonard wrote, "Everybody else just talks about alienation, estrangement, and the unbearable lightness of being." Powers "actually does something about them."
What Powers does in The Time of Our Singing, published in January 2003, is to delve into nothing less than America's dark history of racism. He explores it through the twentieth-century experiences of the Strom family. Born of a father who is a white Jewish physicist and a mother who is a black singer, the three Strom children—Jonah, Joey, and Ruth—chase dreams of transcendence through classical music and radical politics until their paths cross in the novel's extraordinary denouement. The novel once again demonstrates Power's incredible range as a writer, of which he himself is rightly proud. "One of my pleasures as an artist is to reinvent myself with each new book," he says. "If you're going to immerse yourself in a project for three years, why not stake out a chunk of the world that is completely alien to you and go traveling?"
The following interview is the product of several meetings and conversations. The first came in the spring of 1998, when he was working on Plowing the Dark and living in a garage apartment near Stony Brook, Long Island. The conversation took place in a café; Powers arrived on a mountain bike with a quaint metal basket; at the time, he had never owned a car. The next interview unfolded during the following summer and stretched over two days at Powers's small house in Urbana, surrounded by flowers, located on a leafy, tree-lined lane. Then, in December 2002, Powers talked on the phone from Urbana about The Time of Our Singing. While writing it, he said, something "so unexpectedly lucky happened at such a relatively late period in life" that he was able to tap a "new sense of stamina and sufficiency, of patience and confidence" to finish the book: he got married for the first time.
For all of his high-octane intellect, Powers remains charming and gracious in conversation, seriously and precisely elucidating his fiction with levity and laughter.
INTERVIEWER
When did you begin your writing career?
RICHARD POWERS
In the early eighties, I was living in the Fens in Boston right behind the Museum of Fine Arts. If you got there before noon on Saturdays, you could get into the museum for nothing. One weekend, they were having this exhibition of a German photographer I'd never heard of, who was August Sander. It was the first American retrospective of his work. I have a visceral memory of coming in the doorway, banking to the left, turning up, and seeing the first picture there. It was called Young Westerwald Farmers on Their Way to a Dance, 1914. I had this palpable sense of recognition, this feeling that I was walking into their gaze, and they'd been waiting seventy years for someone to return the gaze. I went up to the photograph and read the caption and had this instant realization that not only were they not on the way to the dance, but that somehow I had been reading about this moment for the last year and a half. Everything I read seemed to converge onto this act of looking, this birth of the twentieth century—the age of total war, the age of the apotheosis of the machine, the age of mechanical reproduction. That was a Saturday. On Monday I went in to my job and gave two weeks notice and started working on Three Farmers.
INTERVIEWER
What did you do for money?
POWERS
I had been working doing computer operations for a credit union. It was a terrific time to be a programmer because there was so much demand that you could make a living as a freelancer. You could pick up a six-week job, build a war chest, go write, and after a few months come crawling back out and look for another short-term job. Once I worked for an exiled Spanish prince. He was the grandson of the old king before Spain's civil war, which I guess made him a cousin to Juan Carlos. He had been in line to head the restoration, and when it went against him he ended up in the United States as a trader. Here was this socialist royal trying to find out ways of building options spreads. So I wrote one of the very first real-time options-hedge trading programs.
INTERVIEWER
You should have stayed with it. You might have been a billionaire by now.
POWERS
I had a book to write.
INTERVIEWER
Where do your stories start?
POWERS
A stray account about the gold rush to crack the genetic code or meeting David Rumelhart, the father of neural networks, at a conference in Chicago and having him describe these bizarre machines to me years before the public ever heard about them. Plowing the Dark started when I heard a lecture by Terry Waite, who told about his five-year captivity in Beirut. After the lecture, he took questions from the audience and someone bluntly asked, What was the main thing you learned in being locked up for five years? In the moment after my stomach lurched at the question, I ran through all the possible answers: love life while you can; never take people for granted again. But his answer was shocking. He said, Contemporary humanity has lost the ability to engage in productive solitude.
INTERVIEWER
What do you think he meant by productive?
POWERS
He wasn't using the term in the way late-capitalistic market society would mean productive. He wasn't talking about General Motors's definition of productivity. The currency he was speaking of is very much the care and tending of individual salvation.
To me, his comment legitimized the process of reading and writing. The thing that makes reading and writing suspect in the eyes of the market economy is that it's not corrupted. It's a threat to the GNP, to the gene engineer. It's an invisible, sedate, almost inert process. Reading is the last act of secular prayer. Even if you're reading in an airport, you're making a womb unto yourself—you're blocking the end results of information and communication long enough to be in a kind of stationary, meditative aspect. A book is a done deal and nothing you do is going to alter the content, and that's antithetical to the idea that drives our society right now, which is about changing the future, being an agent, getting and taking charge of your destiny and altering it. The destiny of a written narrative is outside the realm of the time. For so long as you are reading, you are also outside the realm of the time. What Waite said seemed like a justification for this unjustifiable process that I've given my life to.
INTERVIEWER
There's a great line in Galatea 2.2: "The loneliness of writing is that you baffle your friends and change the lives of strangers."
POWERS
I think that quote sums up nicely the sort of paradoxical relationship that the fiction writer takes toward the world. You remove yourself from the world in order to have control over the ways of depicting it. And the crisis of representation is exactly that. Are you killing the thing by freezing it in the representation? I'm reminded of a line in Proust: "The hermit is the person to whom the judgment of a society matters the most." And therefore he removes himself from the domain of the social in order to protect himself from that judgment.
What strikes me when you talk to writers about the writing process is the incredibly anxious and ongoing battle between the inside and the outside—the struggle to solve being in the world sufficiently to feel what's really going on, and being out of the world sufficiently to be able to protect yourself from what's going on. Then to be able to assemble it in a removed and protected and safe environment. You constantly hear these stories about people like Turgenev sitting by a window, which had to be closed, with his feet in hot water. It's a very elaborate balancing act to find a necessary womb that isn't so far removed from the world of stimuli that it gets choked off at the root, and yet isn't in the maelstrom. You want to see and feel the maelstrom but not be buffeted by it.
INTERVIEWER
You wrote Plowing the Dark while living in a tiny apartment above a garage in Setauket, Long Island, near a tidal inlet surrounded by woods. Why did you write it there?
POWERS
I guess it's the Stanislavski method of writing. Isolation became its own form of research. I wanted to see what the world looked like when I was thrown back entirely upon my imagination, cut off from all material sources. If I could have done it by dictating in a sensory-deprivation tank, I would have.
INTERVIEWER
Why was being isolated so important?
POWERS
It mirrors the central experiences of the novel's two main characters—imprisonment in a Beirut prison; and the isolation produced by technology, the isolation of people immersed in virtual reality. These two kinds of removal from society required me to have a firsthand visceral solitude. And knowing that I was going to write about such excruciating solitude gave me an excuse for creating my own immobile condition—although at times I think that's just an excuse, because I really do believe that most writers start out learning how to cope with isolation and then end up desiring it.
INTERVIEWER
Describe the apartment in Long Island.
POWERS
It was a fantastic kind of monk's cell. It had an extremely low ceiling that I couldn't stand upright in. I'm six-foot-four, so standing up in any kind of low-ceiling room becomes a real ordeal. I wrote on a bed with a notebook computer resting on my chest. I would get up at the crack of dawn and have an unbroken day. I was averaging maybe thirteen hundred words a day. Which is double what I usually do.
INTERVIEWER
Did you go a little stir-crazy?
POWERS
I felt I was working on the Ted Kaczynski thing. You forget how to have a conversation, what other people are like. After a week of working, I would literally be impaired. My vocal cords would be impaired. When I tried to talk to the cashier at the supermarket, I had the distinct sensation she was ready to call the security guard. It does produce a kind of Rimbaudian derangement of the senses to remove yourself that completely from human conversation.
I had an insight at the beginning of the book into how completely stripped of reflective capability modern life can be. And it was great to realize how strong my memory could get when I deprived myself of firsthand research information. This book was really written in the absence of reference materials.
INTERVIEWER
Where do you write now?
POWERS
In the cocoon of my bed. My dream has always been to suspend myself in space when I write, and lying horizontal in bed is the closest to doing that. You're at the still point of the turning world. The only thing that I am touching is a cordless, one-pound keyboard. The sense of umbilical connection to the world is minimal. I'm free to make myself a recipient of all this remembered agitation—to "recollect in tranquility," to use Wordsworth's phrase. Since the computer is on the other side of the other side of the room, I don't feel as if I'm tethered to it; the machine is a distant, nonintrusive recipient of the words that I'm thinking across the room. Later I go and collect them and note where they've stuck.
INTERVIEWER
When do you write?
POWERS
Pretty much from sunup to sundown. The day will start with a period of last-day revision at the sentence level, which for me functions simply to bring me from zero to sixty-five and back into the full register of the piece, where I was when I left off the night before. That may be forty-five minutes to an hour. At which point I hit my cruising speed, and I can do that for a long period of time without many breaks. I bring squirreled-away food to the bed and pretty much work through whatever period of sustenance I give myself. I'll continue to do that till late afternoon. The period from seven in the morning till five in the evening will be intermixed with reading when the occasion calls for it. But as the day goes on, that ratio between stopping to read for research and resuming writing will shift in favor of reading. I'll read from five or six till ten or eleven at night. And that's a nice way to prime the pump for the next day.
INTERVIEWER
Your imprisoned character in Plowing the Dark finds solace in imagining scenes from Great Expectations. Is that your desert-island novel?
POWERS
I don't have a ready answer. I proposed the challenge and haven't prepared myself for it. But it would probably be Moby-Dick for its combination of characterization, astonishing prose, deep and often overlooked humor, bizarre thematic complexity, really rich and palpable evocation of dramatic scenes and setting. For sheer rereadability it's tough to improve upon.
INTERVIEWER
Was Plowing the Dark a reaction to the heavily researched Gain?
POWERS
Each of my books is a reaction against the previous one. What's solved in the exercise of one kind of imagination creates a whole host of unsolvables that require a complementary approach to flesh them out. Gain, which was my most heavily researched book, created its own kind of crisis in the relationship between historical fact and individual reality. It was a book in which individual reality is warped by the scale of historical phenomenon. John Updike criticized the book, rightly or wrongly, in The New Yorker by saying that every time the individual asserts itself, the scope of collective industry dwarfs it and reduces the individual to insignificance. My response is: That's not a bug, that's a feature. That's not a failing of the narrative, that's what the narrative is about. However, it did create a need for me to write a book from the very opposite end of that spectrum, to say, What would the world look like in the absence of historical data? What would the world look like where there was nothing but the omnipresent din of the personality, of the private self?
INTERVIEWER
Are both characters in Plowing the Dark trapped in that din?
POWERS
In different ways. The reason why the public is seduced by virtual reality, why it has embraced this fantasy of the disembodied self, is the desire for the ahistorical, the disembodied will. There is something in us that loves the idea of placing ourselves into immortal space, where our wishes can be met without the drag and impediment of stuff.
But that's not exclusively a dream of technology. It's also the dream of the arts. It's Rousseau's dream; the woman on the divan in the middle of this jungle is a virtual reality. Van Gogh's bedroom at Arles represents this moment of tranquility. Think of the year he painted that painting, think of the turbulence of the world that lies on the outside of that frame. One of the motifs that I use in the book is Yeats's "Sailing to Byzantium." The last project that the heroine in Seattle takes on is the construction of the Hagia Sophia, which is the crowning achievement of Byzantium. Yeats's Byzantium is this magic place where the inimical war between spirit and body is finally resolved. And it's resolved in this atemporal standing: "Once out of nature I shall never take / My bodily form from any natural thing." It's exactly that. The idea that the soul doesn't want to be fastened to a dying animal. That's what drives the desire for art, the desire for a materially transcendent technology.
INTERVIEWER
And yet art inevitably clashes with political reality.
POWERS
Right. The relationship between the artistic imagination and the real world of physical and material responsibility has always been of interest to me. In the cauldron of unresolved and unresolvable disputes between people, what recourse does the individual have? How best to survive this? Does art do anything? One of my epigraphs is the famous line from Auden's "In Memory of William Butler Yeats": "For poetry makes nothing happen."
INTERVIEWER
How is The Time of Our Singing a response to Plowing the Dark?
POWERS
Plowing the Dark was an acute examination of separateness and isolation, the ways in which we can become trapped in our own representations. The Time of Our Singing is about connection. The central protagonists are deeply connected as a family, and profoundly connected historically to these complicated, separate ties and alienating processes networking in America.
But, again, it's also a meditation on the relationship between art and contemporary politics. Is it art's function to create a moratorium, a warm, womblike separation from the calamity of day-to-day politics and the contest of ownership? Or does art doom itself with too much separation? Does it become antiseptic? Does it become airless? How far is far enough? How far is too far? Clearly, you can't make great art in the center of the intersection that's under fire, you need to be withdrawn from the maelstrom in order to represent the maelstrom. But that attempt to withdraw completely from the condition of earthly politics is a Faustian one. It will doom itself. It will create the seeds of its own impotence and irrelevance.
INTERVIEWER
When Jonah gets swept up in the Rodney King riots, he's wearing a T-shirt that says fear no art. What message is he sending?
POWERS
In some ways, art is the most terrifying of human inventions. It preserves the right to undermine all the categories. The history of art is the history of iconoclasm, the history of some new voice saying that everything you know is wrong. I see Jonah's persistence in the world of classical music, and his desire to redeem the urge toward beauty and apotheosis that underwrites that music, as both laudable and tragic. In his persistence, he turns classical music into something other than it was. His knowledge that there are people in the audience asking, What is this mixed-race man doing on this classical-music stage? becomes a source of strength for him. He is saying, I will remain a fearful art until you hear yourself asking that question. You will have to fear this art. In that sense, the white person who's asking, What's he doing up on that stage, singing Winterreise? is being troubled into a fuller awareness of what's in that music. The black person in the audience who's asking, What is that person up on stage singing Winterreise? is asking a very different question. And yet Jonah consistently persists in saying, I reserve the American right to define myself.
INTERVIEWER
Why is his desire for transcendence tragic?
POWERS
Because what he's really doing is saying, I was happy once—at eight years old, singing unaccompanied vocal music in a small group, my family, before I got kicked out of Eden. And now I'm trying to go back there. And of course there's tremendous anxiety, hope, and fear in that—a hope that art can somehow satisfy the nonbelonging of the condition of material existence. But there's also the fear that it might. That push-pull is at the heart of everything he chooses to do.
INTERVIEWER
What motivated you to tackle race this time?
POWERS
I see the motivation as continuous with the other books. My project has always been to try to say where history has dropped us down, and you can't say where history has dropped America down without confronting race. That's the core of who we are.
I don't see today as ahistorical. I don't buy the postmodern break. I believe that we came here along a certain identifiable path. I believe that identifying that path is possible and necessary. I always feel as if I've lucked into the right theme when I can't turn around without seeing something I've just got to put in the book I'm working on. Whenever I'm in the middle of a project, I feel as if it's everywhere. I can't get away from it. That's my external accountability.
INTERVIEWER
How did it feel to write in the voice of a mixed-race person?
POWERS
Because I've set this family situation up so that these three children are raised ostensibly colorblind, which is to say in the white cultural milieu, my attempt at interrogating my own sense of self and making this leap of projective identification very much paralleled the one that the children themselves have to make. What would it feel like for the country to see me as something other than I am? To me, that's the task in front of every American. How fixed is my sense of self? How different is it from what the world sees in me?
INTERVIEWER
Did writing the book make you feel closer to how blacks experience America now?
POWERS
The key insight in all my research was that everything in America, all events, all people, all situations, will be viewed differently, depending on your racial identification. That blacks and whites simply do not share the baseline common assumptions about things. But little by little, it started to feel incredibly liberating and salubrious to think that we didn't all have to be in the same place, and that this "two takes on everything" can provide an incredibly rich possibility for depth perception. It moved me out of my baseline cultural assumptions, far enough so that I could see those assumptions. Further, the train of thought that multiplicity might somehow be as enabling as it was threatening moved me to contemplate the nature of racism itself.
INTERVIEWER
What did you conclude?
POWERS
We often think that racism is driven by a hatred of difference, a fear of difference, and a desire to annihilate difference and create a kind of sameness. Surely those things are inherent in racism. But just as important is an understanding of the degree to which racism is driven by a fear of similarities. We love and hate and we embrace and we mistreat and we exclude, not as a function of how little the other category overlaps with us, but as a function of how close the boundary is. If what looks so different from me is not that different, what happens to my sense of uniqueness?
INTERVIEWER
Which leads to violence.
POWERS
I think it's a strong contributor. Destroy that thing that would destroy our own uniqueness. Once you formulate it that way, and you take a look at this sense of how deeply motivated we are to preserve some illusory uniqueness that was never there, suddenly there's this great sense of lightness to the realization that losing yourself might not be all that bad of a thing. It is one of the glories of this country to realize that no matter how badly we've bungled this issue for four hundred years, the present is permeated by this possibility of losing yourself in something that isn't you, of culture becoming mongrel in all the best and richest possible ways.
INTERVIEWER
You were writing about the divisions of race and culture during a time when the world experienced those divisions more brutally than ever. What stage were you at with the book on September 11?
POWERS
The first draft was finished and it was very long—three hundred and fifty thousand words. I was already in the process of reducing the book to manageable proportions. I ended up cutting out one hundred and twenty thousand words. But the events of September 11 didn't go into the artistic process as much as they encouraged me to put an edge on the book's cultural conflicts, make them as brutal as possible. One thing that moved me is that three months later The New Yorker ran its "New Yorkistan" cover. That really hit me and helped me consolidate one of the themes of the book. My reading of that cover was: you can't bomb us because we are already you. The sense that racism was an attack on itself was very palpable. It was a recognition that what we do to others, we do in confusion and out of failure to recognize or be at peace with our own multiplicities.
INTERVIEWER
Did you ever have doubts that you could do justice to expressing how a black person really feels?
POWERS
A writer has doubts about any act of projection that takes him or her out of the known. I had enormous doubts about whether I would be able to represent a molecular geneticist and the culture of science with any degree of plausibility to those who were inside it. But this was even harder than that. This is more culturally charged and more likely to raise the question of authority and cultural ownership. Again, my solution was to try to build that into the story. So the question of what right does Powers have to speak through the mouth of a mixed-race person is in a sense a direct reflection of the question that Joey and Jonah face in the book. What right do people not from that culture have to appropriate and own Western concert music? There's a double act of ventriloquism going on.
INTERVIEWER
"The use of music is to remind us how short a time we have a body." What do you mean by that?
POWERS
You start the song, it has a pulse, three-quarter time, one hundred and twenty beats per minute, and you know, even as you round the corner of the first verse, that it's only going to last for four and a half minutes. All you can do is keep moving to it. When the beat stops, you are aware of having had that beat moving through you, and moving you, and you are aware of the ephemerality of your own existence, the fragility of your own body, the fact that your body is already becoming something else.
INTERVIEWER
Did you study music formally?
POWERS
I never took course work in it. I've made a study of it, like everything else, autodidactically. I did study cello formally. I started when I was about nine. That was the most formal relationship I've had with the vocabulary of music.
INTERVIEWER
What's the difference between playing the cello and writing?
POWERS
Playing the cello is attempting to bring back to life something that has a preexistence. Writing is attempting to find a life that does not yet exist. When you play a musical instrument, so much of the time spent playing is just woodshedding. It's hitting that four-octave C-major scale again and again. It's keeping at the first two measures of the second Brahms sonata until it feels secure enough under the fingers to be recognizable. When you compose prose, there's the same kind of obsessive repetitive quality, but in this case the content itself is changing. And I'm a completely compulsive sentence-level rewriter.
A lot of people who have written about me have written about the architecture and the large-scale design of my work, which is important to me. But it's really the individual sentence that I work at again and again until it becomes the thing it's trying to describe. To me, that sense of complete commensurability between form and content at the level of the individual sentence is really what writing is all about. I love to see how much load a sentence can bear. I don't want it to be a performance. I don't want it to call attention to itself as a virtuosic set piece. But I do want somehow to do this double-voicing where a sentence can reflect the virtuosity of the human mind. Reflect the multiplicity and richness of a sensibility as it tries to synthesize all these inimical things in the experiential world. What I really like to learn how to do is to build sentences that are equal to mental states.
INTERVIEWER
The main criticism of your work is that the characters aren't palpable.
POWERS
I think it's probably the result of my wanting to create a kind of book that is both realistic and metafictional. And for some people, any lifting of the curtain, any deployment of artifice, is disruptive of what John Gardner called the "fictional dream." Most people are enamored of the fictional experience that keeps them wholly immersed. The introduction inside of a mimetic work of any metafictional component immediately does create a nervousness. My point is that nervousness is not a bad thing.
The funny thing is that they would never launch that criticism about believability of character against a novel that is clearly written on the terms of noncharacter-driven, nonevent-driven, postmodern metafiction. No one would think to criticize avant-garde fiction for not having fully dimensional characters. I think I've been criticized because I've wanted to have it both ways. And it's very possible they may be right. In some fundamental way, I may not be able to have it both ways. I may not be able to create the kind of parallax that I'm most interested in creating. However, my sense is that our apprehension of the world always carries forward in an uneasy hybrid of heart and head. No one is ever devoid of one or the other. So I don't see why we can't use that uneasiness to create hybrid fiction, to emulate that kind of complexity and multivalence inside the fictional world.
INTERVIEWER
Does anyone else in your family write?
POWERS
No, I'm the bad seed. I suppose every family has to have one. All I can say is that writing felt like a happier synthesis of different abilities than anything else I could think of doing. I hated the act of choosing fields as I was growing up, of specializing. I guess the appeal of writing was that I never had to make a decision.
INTERVIEWER
Did you write as a kid?
POWERS
I wrote some poetry. But it was the thing I did least well. Part of the appeal of writing is the obstacle theory. I didn't want to acknowledge there was something I couldn't do well. The desire for the holdout, the desire for the recalcitrant skill, was very much a part of what got me interested in writing. It's the idea of striving to be that thing which you are not yet. I was much more naturally inclined toward mathematics. I always felt I would be a scientist.
INTERVIEWER
Didn't your father want you to be a physicist?
POWERS
I think that he, as so many people of his age, really believed in the melioristic abilities of science and technology. He would have been an engineer himself had he been able to deal with the math. He was probably very disappointed when I changed from science to literature.
INTERVIEWER
What caused you to leave physics?
POWERS
The further into physics I went, the more I felt I was in danger of becoming the quintessential hedgehog, learning more and more about less and less until I would know everything about nothing. I could see down the path and see what a life in science would be like. Then I took this freshman honors' seminar survey of English lit with Robert Schneider. I thought, here is a guy with a multivalent look at literature, who has a kind of synthetic vision of lots of different ages, lots of different perspectives. I felt literature was the place for the grand synthetic aerial view I was in danger of losing if I stayed with physics. But after I got my graduate degree in literature, I started to feel the same thing—that the path to success in that discipline also involved a great deal of specialization. And that's when I left school.
INTERVIEWER
You often step out from behind the curtain of composition. Why do you feel compelled to say to the reader, This book is being written by me, the author?
POWERS
Because I believe that the function of literature is to preside over its own graduation. What's at stake is this almost untenable conversation between inimicals, between the interior landscape, the self-telling story, and this irrefutable outside world. If literature is presiding over this extremely volatile dilemma—our desire to be outside of material and temporal constraint, and our inability to live anywhere except inside the curse of matter—then it can provide both a complete withdrawal from the world and an imaginative return to it. Literature at its best can recast the terms of power in that conversation.
I've always believed a book functions best when it leaves a person more capable of living in the world. As readers, we experience a palpable, realistic verisimilitude. In the act of identifying with characters, we suspend belief in the material world and adopt the world of the narration. By calling attention to that artifice, and allowing the reader simultaneously to feel that world as a believable, palpable world, and also as a made thing, the book becomes more powerful.
INTERVIEWER
So you create a structure to transcend it?
POWERS
What happens is a staged sequence. I first want to create a palpable world that will be taken at some level of the imagination for a real thing. I then want to remind the reader, after that act of identification, that this too is a representation. And if you can hold those two somehow concurrently in mind—the belief in the representation as the thing it represents, and also awareness of the representation as mere representation—then you get closer to the fundamental paradox of consciousness. This is what we do every moment of our waking lives as we move about the physical world.
INTERVIEWER
How did this work in the case of Galatea?
POWERS
I was three hundred pages into Galatea in the third person with an invented narrator, an invented protagonist, before I realized there was only one way to do this. When I got to that point of realization that an artificial intelligence would have to hear somebody's story firsthand, I realized I was going to have to tell my own story. I chucked that version and started again.
INTERVIEWER
Who was the central character in Galatea when you first began it?
POWERS
It was told in third person from the standpoint of the connectionist, the neural network expert, Lentz. It's interesting: changing Lentz from the centrally focalized protagonist to a peripheral figure allowed him to become a more sympathetic character, even though he's primarily unattractive and unsympathetic. The reader can see him as human.
INTERVIEWER
You mean because readers see him through the eyes of the first-person narrator, Richard Powers?
POWERS
And you see the ways in which their stories depend on each other. Of course, in that story, the basic idea was an exploration of this extremely unstable and violent marriage between the soul and its body. It comes to the conclusion that if a machine without a body is to become intelligent, it would have to know so much about the physical world that that knowledge could somehow substitute for bumping into the physical world. The training of that machine requires Richard to tell it stories in such depth that the stories can substitute for physical experience, and the only story that Richard knows in depth is his own story. The moment of truth, the moment when Helen really becomes alive, is the moment when she asks to hear the love letters between Richard and C. The moment when Richard says, "I'll tell you the story that makes me human."
INTERVIEWER
So for you to make your book human, you had to put yourself in it.
POWERS
Right. In order to be accountable to the discovery of that narrative, I had to reveal the only narrative I knew in sufficient detail to stand in.
INTERVIEWER
You couldn't have imagined a new one?
POWERS
And in fact I did. Galatea is not autobiography. It's every bit as much a fiction as it is an autobiography. It's the discovery of that weird confluence between autobiography and fable that made that book come alive. But the act of fictionalizing the narrator, Richard Powers, was a delicate one. To find what you need to make the novel work, when you've ostensibly created this autobiographical texture, is a much more delicate balancing act than when the texture of the novel grows out of a wholly invented individual story.
INTERVIEWER
Turning life into art, in other words?
POWERS
Yes. But the point of the book is that's how we live. What I do in that book is what the reader does when he's inventing his life and telling his life to other people.
INTERVIEWER
Like Proust, you were investigating the nature of memory. But you were doing so in the age of neurology and computers.
POWERS
And that's what's interesting. Now we have an empirical basis for introspection. And to learn, as Richard does, that the primary visual cortex, which is the first neural receptor field for direct visual perception, is also active when we visualize a memory in our brain, is stunning: the circuitry we use to see with is the same circuitry that we use to imagine visual memory.
Once you read the neurological research, you know these guys are bursting with excitement about the implications of their work. But they can't get into all the implications because the implications don't come out of well-formed questions and they're not all answerable by reductive, empirical programs. Somebody has to come along and spin a story around it so we can take it up into our lives—so that we can figure out what it means in the grossest possible sense. There are places that empiricism simply can't get to.
This is where literature becomes a kind of knowledge that is not only unique but is valuable. It's a way in which literature can go beyond science. It's a tremendous moment to be alive when it comes to new myths, new stories, new configurations for understanding who we are.
INTERVIEWER
You must get drowned at times in your research. Would you describe that moment of clarity—that breakthrough—when you find your own voice?
POWERS
I have at least one of those moments every time out, where the process of writing toward something allows me to figure out what it is I'm writing. I began Gold Bug right after finishing Three Farmers. I was really driven by a rash of stories in the eighties about laboratory fraud, and I wanted to write a novel in which someone did something unethical in the lab, falsifying data in the interest of truth. But as I began to work on the book, I increasingly felt that real laboratory research was more interesting than fraud, that it contained more paradoxes and ambiguity. I wrote a three-hundred-and-fifty-page manuscript set in the late 1950s about a molecular geneticist who was somewhat aloof and cynical, but who was deeply interested in cracking the genetic code. I got to the end of that story and I thought it was interesting and good and had some nice moments to it. But there was something lacking in it, and I had no idea what that was. So I set it aside and I began to write Prisoner's Dilemma. Then I began a fourth novel that was very character driven. It was basically about a man and a woman who meet over her job in a reference library, in which the man poses to the woman this problem of identifying this older man he works with, whom he is sure has done some important work in the past. And I got two hundred and fifty pages into this story before I realized that that old guy in this fourth novel was the guy in the second novel, who was now sitting in the bottom of my closet. So I did this paper shuffle and through the geometry of intersections saw the trajectory that the rest of the book had to take.
INTERVIEWER
How do you feel about transforming people you have known into characters in your books?
POWERS
I don't think art excuses all exploitation. I do believe human decency ought to take priority over what we would label artistic advantage. But you don't know what constitutes a legitimate use of shared experience. There is no algorithm for determining when the use of shared experience is legitimate or not.
But I'm not a writer who draws heavily upon friends and family very often. So I'm not in a position to offend or to upset very often. I'm not Eugene O'Neill.
INTERVIEWER
Well, you drew on your family for Prisoner's Dilemma.
POWERS
But I also took great pains within the frame of the novel to establish a distance between the characters that were represented in the book and their sources. It was about taking existing material and placing it in the service of a larger design. I suppose my desire to give character a larger design may be a source of criticism. Is design inimical to character revelation? It may well be at some level. But I don't know what people mean, finally, when they say "believable characters." And there have been so many contradictions about my own characters, whether or not they are believable, whether or not they are robust, whether or not they exist simply in the service of ideas, or whether the ideas grow out of some psychological understanding. I think that when somebody says a character is believable or not, it's more about them than the character. It's more about their capacity for belief. Or their ability to be a coconspirator in the creation of this life.
INTERVIEWER
Still, don't you think the believability of a character depends on the quality of the writing?
POWERS
Ultimately, it does. But I don't think that the mere awareness that a book has an intellectual design is necessarily inimical to feeling the characters as real people. It's funny: I've had people claim to be the source of characters in my books that were complete surprises. I had a friend who claimed he was the source for Lentz in Galatea. In fact, there was a review of Galatea in a journal of cognitive science, and the writer, who was involved in the field, made some claim that this is a thinly disguised roman à clef of the Beckman Institute in Urbana, and the characters will be instantly recognizable to anyone who works in the field.
INTERVIEWER
And you invented them all?
POWERS
Totally.
INTERVIEWER
Why did you tackle business in Gain?
POWERS
It came about through a kind of a career reflection. Galatea seemed the consummation for me of certain themes I've been dealing with since Three Farmers. Looking back at the variety of topics that has interested me in those books—photography, music, molecular genetics, artificial intelligence, medical science—I realized there was a huge presence lurking in the wings that I've never addressed. There was a rhinoceros at the table that I wasn't talking about. There was something that underwrote technology, medicine, and the arts, something that made our ability to reflect on these issues and the connections possible. And that's business. Yet I had never treated it. I hadn't treated it because I think, like everybody else who likes the intellectual life and who likes the artistic life, business seems banal. We want to sweep it under the rug. Pretend that it's just numbers. And when I got to that point I realized business is probably the salient theme of who we are and where we are. And literature really hasn't done justice to it.
INTERVIEWER
What about America's turn-of-the-century realists?
POWERS
I certainly went back and read Dreiser and Upton Sinclair and Frank Norris. But I think all these books that grew out of rapid industrialization and the transformation of American society during the Gilded Age are not so much about business. The Octopus and The Jungle externalize the process and make it seem as if that there's this company out there and there are these poor workers whose lives are completely alienated from that process of American business. But I wanted to tell a story in which the company was us—both in its making and its propagating and in its perpetuation through consumers. We are all the machine. We are all the Octopus.
INTERVIEWER
Why did you choose soap as the product of your fictional company Clare?
POWERS
Soap is the quintessential magic commercial transformation. First it sells a product, and then it sells an ethos. At first it's just hacking off blocks of this grease and selling it by the pound. Little by little, Clare starts to realize their product is not soap, it's cleanliness. And then the product is security. And then the product is self-image. Soap works in so many ways in that sense. Ultimately, Gain is about the transformation of the American continent from a raw ideal. Soap stands for the transformation of our animal existence, our frontier existence, into an angelic, civilized existence. Cleanliness is next to godliness. The domestication of the world finds its useful symbol in this little bar of innocuous, transformed animal fat.
INTERVIEWER
The corporate history of Clare is presented almost like a bildungsroman in itself. Was that your intention?
POWERS
Yes. To historicize the business process is to realize the degree to which these things are phantasmal projections of our inner hopes and fears. We want to live life on our terms, but every attempt to live life on our terms raises the bar, extends our psychological needs to change the terms of existence. What finally do we need? What finally are we doing here? In a sense, the book about business becomes a book about human desire, about teleology. What kind of world are we making and when will it be enough? My answer is so long as the world that we're creating is about satisfying appetites, it will never be enough. Because the physiology of appetite is not an absolute function, it's a relative function. What we want is what we can't have.
INTERVIEWER
Do you think you write because you've never found the book that quite matches what you feel and think about the world?
POWERS
Yes, and I think that's probably widespread. You go into that bookstore hungering for a world and a coloration and a register in sounds and senses, and you run your finger along the shelf and wonder, Is this it? Is this it? And you find something that's close, or something that surprises you in its divergence from what you needed. But finally you can't find the book that you want to read, and that's when you start writing. There's a scene in Plowing where one of the people in Seattle goes into an enormous used bookstore, looking for a book that had moved him as a child and that he had been looking for since the age of nine. It's a story about a boy whose drawings somehow come alive, and he's never been able to find this book again. What the writer knows is that the profession that he's entered into, and the life that he's taken on, is exactly the desire to recreate this story that he's never been able to find again.
INTERVIEWER
Would you say that writing is a surrogate for what we need but can't seem to find in real life?
POWERS
The appeal of writing is the illusion that you can somehow bring about the completion and perfection of those things that will always elude you in real time. I suppose if we could find the life that we needed, and if it were intrinsically gratifying, that the need to narrate something outside of real-time interaction with people would really diminish. In a sense, the people we create in a book come from the people we know, but the conversations that we have with them in the book are the ones that we could never have with them in real life.
And yet the act of writing the life that we aren't able to lead can complement the act of leading a life that we wouldn't have been able to lead had we not the restorative power of writing and reading. This takes us back to this question of why reading and writing need to be defended. In reading and writing, in this locating the life that we have not yet been able to lead, we can make ourselves more capable of acting under fire. That's the life of symbols. That's what we are.
INTERVIEWER
Do you know the Walker Percy quote: "There is a great deal of difference between an alienated commuter riding a train and this same commuter reading a book about an alienated commuter riding a train"?
POWERS
No. But I love the distinction. And I agree with it completely. We're back to the crisis of representation. What happens in a book is that a clever stylization, a simplification, touches off in the recipient reader a whole life. It's the complexity of the reader's lived experience that turns this cartoon into a living, breathing, three-dimensional panorama. The map is not the place. And yet we can use the map to navigate the place. And the map becomes in some ways more intense, denser, more recognizable than the place. But I do think the purpose of fiction is to reanimate our lives, reenchant our selves, and turn us back into the irreducible complexity of the smallest, simplest day.