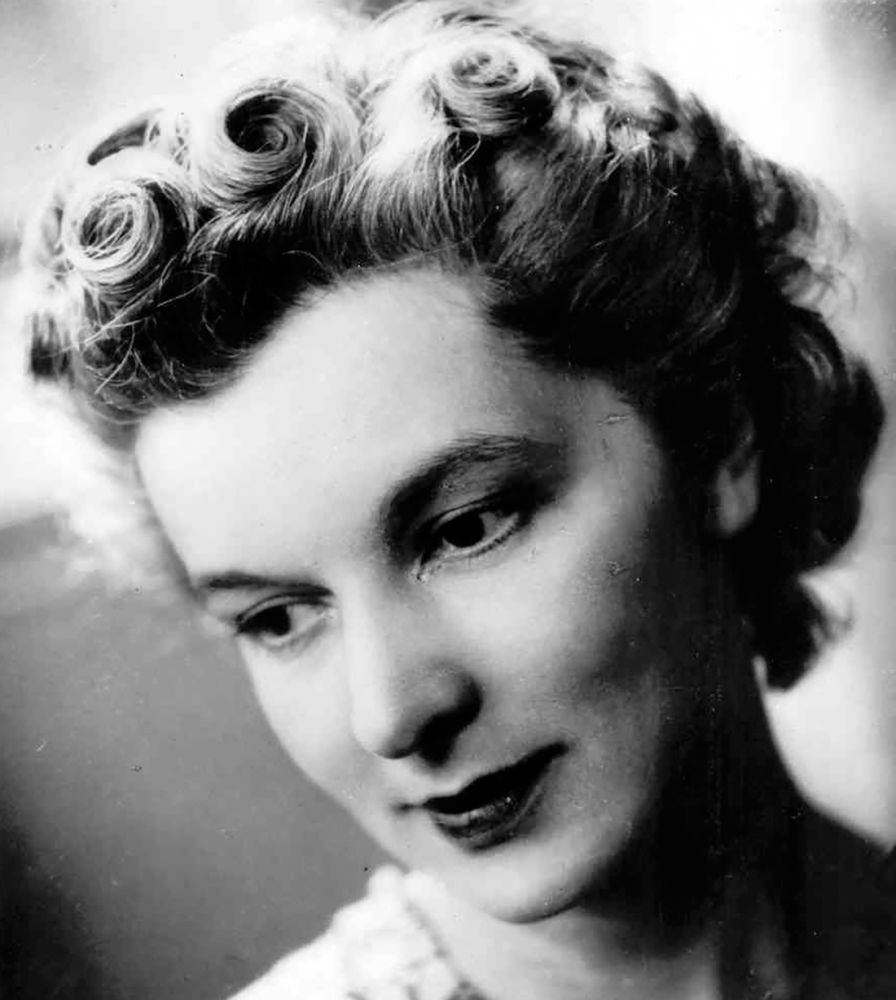 Rosamond Lehmann was born in 1901, in Bourne End, Buckinghamshire. Her father, Rudolph Lehmann, was the editor of Punch, as well as a well-known oarsman and fencer. He became a Liberal M.P. in 1906. Her mother, Alice Davis, was from Boston, Massachusetts. Rosamond was the second of their four children. One of her sisters, the late Beatrix Lehmann, became an actress. Her brother, John Lehmann, is a writer, editor, and publisher. The Lehmann family lived in grand Edwardian style in a large house on the river Thames, and the children were brought up by a staff of nannies, governesses, and tutors, only "coming down after tea" to see their parents.
In 1919, Lehmann went as a scholar to Girton College, Cambridge, and obtained an honors degree in English. In 1924, she met and married Leslie Runciman, now Lord Runciman. The marriage was not a success, and they parted three years later. Meanwhile, Lehmann had written her first novel, Dusty Answer, an account of a young girl's first encounter with love. After an initial mixed reception, the novel became a bestseller.
In 1928, Lehmann married Wogan Philipps, now Lord Milford, a Communist peer, and had a son and a daughter. Her second novel, A Note in Music, about two women locked in hopeless marriages in a northern town, was less warmly received. Undaunted, Lehmann went on to write Invitation to the Waltz, published in 1932, and The Weather in the Streets in 1936, both of which were instant bestsellers. In 1940, her private life was again shattered by the breakup of her second marriage.
During World War II, Lehmann lived in the country with her two children and started a long and happy relationship with the poet Cecil Day Lewis. During this time, she contributed a series of highly popular short stories to her brother's magazine, New Writing. The stories were collected in The Gypsy's Baby in 1946. Her next novel was The Ballad and the Source in 1945, which was also successful. Her relationship with Day Lewis ended in 1949, and in 1953 she wrote what is perhaps her most successful novel, The Echoing Grove. In 1958, tragedy struck, with the death of her young daughter Sally, who had married the poet J. P. Cavanagh. Shattered by grief, Lehmann thought she could never write again. She became interested in spiritualism, and in 1967 wrote The Swan in the Evening, fragments of autobiography in which she describes her psychic experiences following the death of her daughter. In 1977, she wrote A Sea-Grape Tree, in which she introduces some of her new insights into psychic phenomena.
For years, Lehmann's novels were out of print, but now that both Penguin and Virago have republished them, she has found a large and appreciative new readership. Several of the novels have become bestsellers again, and The Weather in the Streets recently was made into a film. Every day, she receives letters from women who tell her, "You have written my story."
Lehmann lives alone in a small house in Kensington. Her great beauty—famous in youth and middle age—seems undiminished by age. Her ivory skin, silver-blond hair, and tall handsome figure still exude dignified glamor. Now in her eighties, Lehmann is hardly idle. Her diary is full with lunch and dinner dates, and a young BBC producer is currently at work on a documentary of her life and work. Lehmann is also vice-president of the College of Psychic Studies in London and edits their magazine, Light; in addition, she is active in PEN International. Lehmann wears pastel-colored clothes enlivened by touches of colored accessories. She speaks in a soft, firm voice and often uses terms of endearment. The following interview took place in her small sitting room, in front of a log fire and a tray of tea.
INTERVIEWER
When did you become aware of your vocation as a writer? Indeed, was it a vocation?
ROSAMOND LEHMANN
It was what you might call a vocation, insofar as I can't remember when I didn't have the sense that I was destined to write. The first time I actually wrote something was at the age of five or six. I was sitting in a walnut tree, eating toffee, and there was a scribbling block on my knees. Suddenly, I started to write a poem. It had three or four stanzas.
INTERVIEWER
Do you remember any of it?
LEHMANN
Yes I do:
Out in the shady woodland glade, Where the wind blows soft and sweet, Where the leaves tell stories of sun and shade, And the acorn drops at your feet,
I sigh as I wander amid the trees And my sigh comes back on the wings of the breeze
. . . and so on. Well, I couldn't write it all down, so I rushed to my father and said, "Daddy, what is this?" He looked at it and said, "It is a poem. Where did you get it from?" I said, "I made it up. Is it a poem?" and he said, "Yes, well done!" Suddenly I had a sense of identity. As you see, it was a sort of doggerel, but from that moment on I never stopped writing.
INTERVIEWER
Did you write only poems?
LEHMANN
Poetry and so-called poetry. Oh, it was so easy then! Everything flowed. I wrote all about fairies, and moonbeams, and nature, and it all poured out in rhymes. I destroyed most of the poems when I was fourteen, because I was ashamed of them, but I have kept a few. I think they might amuse my grandchildren.
INTERVIEWER
Did your parents encourage you?
LEHMANN
My mother was from New England. She was very puritanical and upright, and she didn't want us to be conceited. I remember —oh so vividly!—her saying to a guest, "Rosie writes doggerel," which pierced me to the heart. But my father was very encouraging, as he was a writer himself and came from a highly literary and artistic family.
INTERVIEWER
What was your father's family like?
LEHMANN
The Lehmanns must have been Jewish in origin. My grandfather, Frederick Lehmann, came from Hamburg and married Nina Chambers, daughter of Robert Chambers, founder of Chambers' Journal and Chambers' Encyclopaedia. Robert was a famous literary figure in his day. One of his many works was a heretical book on evolution—before Darwin's—called Vestiges of Creation. It caused a great stir in orthodox Christian circles and he published it anonymously. Later, when he was asked why, he answered, "I have eleven good reasons." He had eleven children, you see, and he feared their chances in society would have been grievously affected. My grandparents, Frederick and Nina, had a literary and musical salon in mid-Victorian times. Nina was a brilliant pianist and had played with Clara Schumann and Joachim. Writers such as Robert Browning, Charles Dickens, and Wilkie Collins were their close friends. My great-uncle was the painter Henri Lehmann, who did that famous portrait of Liszt. His brother Rudolf painted most of the Victorian celebrities of the day. The two brothers' portraits hung in my father's library. I used to sit there and think of them as my ancestors; I feared I could never be worthy of my heritage. My father was a fine classical scholar as well as an athlete— an oarsman and a fencer. He was very beautiful and all my life I was in love with him. As a result, I have always been fatally attracted to good-looking men who resemble him. I know nothing of his love life, except that he remained a bachelor until he was over forty. Then, on a trip to America to coach the Harvard crew, he met my mother, a twenty-four-year-old New England girl, a graduate of Radcliffe, and they fell in love. A year later he married her and they came to live in England.
INTERVIEWER
In Invitation To The Waltz you describe a wealthy Edwardian household. Was it based on your own home?
LEHMANN
I suppose it was. My father was very well off, but he lost half his capital by entrusting it to a friend who speculated with it on the stock market. The poor man shot himself; we became much less rich. We didn't have to leave our home, but it meant the departure of our hated Belgian governess, the loss of our horses and stables, and a much smaller staff. Then came the First World War, and my father began to develop Parkinson's disease. My mother, who was a kind of Henry James heroine—in that she had a formidable sense of duty—took it upon herself to nurse him. Gradually he became a hopeless invalid and eventually died in 1929.
INTERVIEWER
What kind of schooling did you have in those early years before the First World War?
LEHMANN
My parents didn't approve of girls' schools, and we were educated at home. My enterprising mother had a pavilion built at the end of the garden to house a kind of kindergarten for us and several little neighbors. Later we learned excellent French from our governess, music from a lady in the village, and a charming young woman came from London once a week to teach us drawing. I had the run of my father's library. I was allowed to read anything, and did. I suppose such an education would be considered hopelessly inadequate today, but the thought of being sent away to boarding school was a nightmare to me.
Want to keep reading?
Subscribe and save 33%.
Subscribe Now
Already a subscriber? Sign in below.