Interviewed by William C. Woods
Issue 98, Winter 1985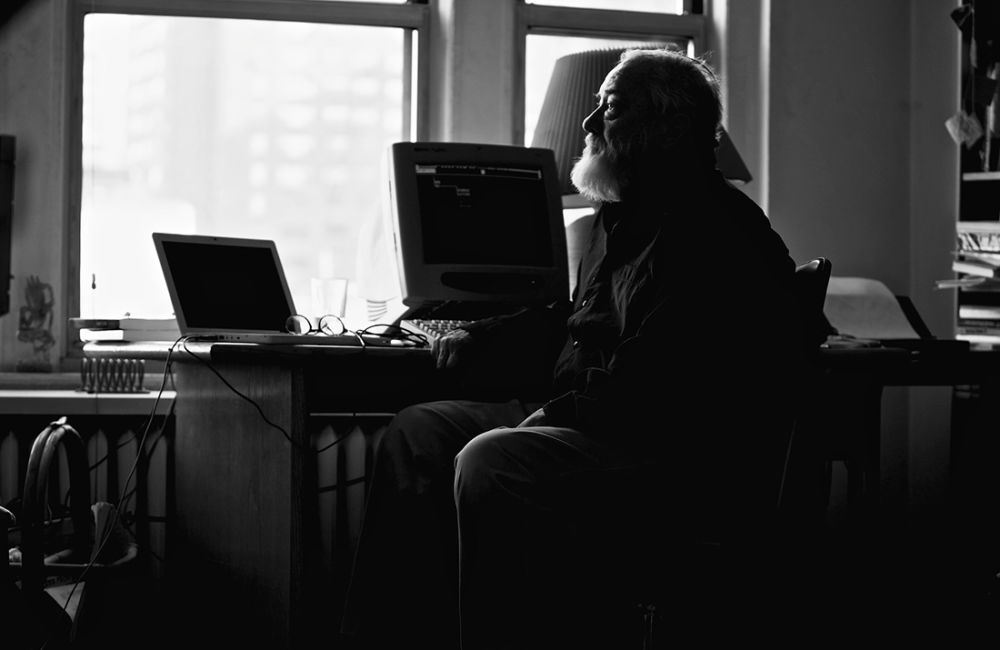 Robert Stone lives in a small frame house on the Connecticut coast. Inside, a long white living room with curving walls suggests Oriental calm, and a pocket kitchen like a ship's galley offers the comic sight of tame ducks feeding on the water just below. The hesitant phrases of the Modern Jazz Quartet chime from a battered stereo flanked by bookshelves filled with fiction, philosophy, and church history. Over a built-in sofa hangs an unframed poster for Who'll Stop The Rain?, the film Stone coauthored from his second novel, Dog Soldiers. Stone and his wife Janice moved into this house in the fall of 1981; they have a son and daughter, grown and gone.
The novelist works in an attic room crowded with cardboard boxes and manuscripts and decorated with several brightly colored samples of Spanish religious art. At one end of the long room, a wide window affords a view of a gray October sea; another looks down on the gravel parking lot of a clam bar. Stone writes at a table only a little larger than the word processor it supports. When his office phone rings, it may be an editor on the line begging him to cover a story, a director seeking to interest him in a new part (in the summer of 1982, Stone played Kent in a professional production of King Lear in California), or an interviewer plaguing him with yet another question that he will answer with care and unfailing courtesy.
Although the Stones have lived in many parts of the country, and for four years in London, changes of locale have rarely altered the writer's routine: "I get up very early, drink a pot of tea, and go for as long as I can." Stone says he stops only when he has left himself a clear starting point for the following day. For weeks on end he will take few days off if his work is going well. "My imagination will still be functioning," he says with a laugh, "twelve hours after my brain is dead."
He lives more quietly now than in his years in the California counterculture as one of Ken Kesey's "Merry Pranksters"; his free time is given over to milder pleasures, such as the exploration by canoe of the salt lagoon behind his house. But even this quiet coast has its threat: The past summer, Stone told me, a large shark was spotted in the lagoon, just off the docks, importing a frisson of fear into the neighborhood.
Stone is in his late forties, a trim man whose thinning hair and well-barbered beard frame a ruddy, pensive face yet to be done justice by his book jacket photos. His voice, branded by years of Scotch and smoke, was deep and serene as we began our two days of talk.
INTERVIEWER
Was there one book that started you writing?
ROBERT STONE
It was a rereading of The Great Gatsby that made me think about writing a novel. I was living on St. Mark's Place in New York; it was a different world in those days. I was in my twenties. I decided I knew a few meanings; I understood patterns in life. I figured, I can't sell this understanding, or smoke it, so I will write a novel. I then started to write A Hall of Mirrors. It must have taken me six years, a dreadful amount of time. I really began work on the novel during my Stegner Fellowship at Stanford, which brought me out to California just about the time that everything was going slightly crazy. So I spent a lot of my time, when I should have been writing, experiencing death and transfiguration and rebirth on LSD in Palo Alto. It wasn't an atmosphere that was conducive to getting a whole lot of work done.
INTERVIEWER
You once described writing your first novel as a process that paralleled your life.
STONE
A Hall of Mirrors was something I shattered my youth against. All my youth went into it. I put everything I knew into that book. It was written through years of dramatic change, not only for me, but for the country. It covers the sixties from the Kennedy assassination through the civil rights movement to the beginning of acid, the hippies, the war . . .
INTERVIEWER
Does that mean you changed your conception of the book as you were writing it, that you tried to respond to those changes?
STONE
Yes. And to things that were happening with me. One way or another, it all went into the book. And of course it all went very slowly because once my Stegner Fellowship was over, my wife, Janice, and I had to take turns working. I'd work for twenty weeks and then be on unemployment for twenty weeks and so on. So it took me a long, long time to finish it.
INTERVIEWER
You mention responding to national as well as personal change. Do you consciously try to write about America?
STONE
Yes, I do. That is my subject. America and Americans.
INTERVIEWER
You have been cited as a writer who addresses larger social issues. Do you start with those in mind, or do you simply start out with the characters and because you have political concerns these issues naturally come out?
STONE
It is very natural. You construct characters and set them going in their own interior landscape, and what they find to talk about and what confronts them are, of course, things that concern you most.
INTERVIEWER
Is writing easy for you? Does it flow smoothly?
STONE
It's goddamn hard. Nobody really cares whether you do it or not. You have to make yourself do it. I'm very lazy and I suffer as a result. Of course, when it's going well there's nothing in the world like it. But it's also very lonely. If you do something you're really pleased with, you're in the crazy position of being exhilarated all by yourself. I remember finishing one section of Dog Soldiers—the end of Hicks's walk—in the basement of a college library, working at night, while the rest of the place was closed down, and I staggered out in tears, talking to myself, and ran into a security guard. It's hard to come down from a high in your work—it's one of the reasons writers drink. The exhilaration of your work turns into the daily depression of the aftermath. But if you heal that with a lot of Scotch you're not fit for duty the next day. When I was younger I was able to use hangovers, but now I have to go to bed early.
INTERVIEWER
You really think of yourself as lazy?
STONE
Well, my books aren't lazy books, but I have a lazy way of working. I do a very rough first draft and then a second and sometimes I have to do a third because I didn't take the trouble to really organize the first. And I take breaks between drafts. And I do altogether too much traveling.
INTERVIEWER
You have gone for relatively long periods of time between books. Seven years between A Hall of Mirrors and Dog Soldiers, and then another seven before A Flag For Sunrise. Are you writing all that time?
STONE
It seems to me that I am. I was working all those years on A Flag For Sunrise. I could probably have gotten six books out of my three if I'd wanted to do smaller themes. Twice as many books and they would have been half as good. Six so-so books. I don't need that. I like big novels; I really admire the grand slam.
INTERVIEWER
Do you have any special requirements, conditions necessary for your working environment?
STONE
Well, of course, I find ways to delay the day as much as possible, but there are no particular rituals connected with that for me, like having a special coffee cup or sharpening six pencils. I do need physical order, because I'm addressing the insubstantiality of structures—that's where the blank page starts. No top, no bottom, no sides. I find it hard to sit still. I pace a lot. I've got to have a pen in my hand when I'm not actually typing.
INTERVIEWER
You mostly type?
STONE
Yes, until something becomes elusive. Then I write in longhand in order to be precise. On a typewriter or word processor you can rush something that shouldn't be rushed—you can lose nuance, richness, lucidity. The pen compels lucidity.
INTERVIEWER
Do you read work aloud to yourself?
STONE
No. My inner ear is very accurate. I know what the writing sounds like.
INTERVIEWER
Your prose is very rich in sensual detail—imagery intensified by the cadence of the sentence.
STONE
I use the white space. I'm interested in precise meaning and in reverberation, in associative levels. What you're trying to do when you write is to crowd the reader out of his own space and occupy it with yours, in a good cause. You're trying to take over his sensibility and deliver an experience that moves from mere information.
INTERVIEWER
I see that. But one of the things I respond to most in your writing is the tremendous particularity, your way of relating language to reality. It seems to me that there's a danger, if language takes the reader too far into cosmic preoccupations, of losing that immediacy.
STONE
The object is to make a connection between your characters and the contour of things as they are. The danger is of becoming pretentious. And yet it's necessary that a given dramatized scene have a richness of reference. Take a basic philosophical question: why is there something rather than nothing? Two people in love, two people in a battle to the death, refer to that question. To say so directly is preposterous; you have to get there along the path of your art. How do you relate events to that basic question? You choose words that open up deeper and deeper levels of existence by sustaining a sound that perfectly serves the narrative and that at the same time relates through a series of associations to the larger questions.
INTERVIEWER
That would account for the shifting levels of your rhetoric, which plays the colloquial against high ornamentation. The effect is a constant tone of irony.
STONE
Irony is my friend and brother. "To know true things by what their mockeries be." There's only one subject for fiction or poetry or even a joke: how it is. In all the arts, the payoff is always the same: recognition. If it works, you say that's real, that's truth, that's life, that's the way things are. "There it is."
INTERVIEWER
The classic aphorism of the Vietnam war.
STONE
Exactly.
INTERVIEWER
I understand one article you filed from Vietnam was about a Saigon rock festival. That certainly puts two worlds of the time together.
STONE
That was a funny scene. Stoned rear-echelon GIs and a Vietnamese band that was a phonocopy of The Grateful Dead. Meanwhile, a light plane kept circling overhead streaming a Christian banner attacking rock as the devil's music. There was an oncoming monsoon and the banner kept threatening to foul the guy's propeller. Finally he fell out of sight and everybody waited for the crash, which didn't come. I remember one very stoned GI saying to another, "There it is."
INTERVIEWER
You were a correspondent in Vietnam in 1971 . . .
STONE
Well, I was there less than two months, but every day was different. It was the kind of place where anything could have happened. There's nothing that couldn't have happened there. If you encountered choirs of seraphim up the river or if somebody said he'd just seen a vision of St. George on Hill 51, you'd just say, "There it is . . ." I was in Saigon a lot of the time. I did get deeper into I Corps, and I was in Cam Rahn Bay. But in Saigon I picked up with a guy who was involved in the dope trade there and in a very short time I had found out more than I really wanted to know. It was very frightening. I should also say that this period—1971—was a time when, in the line, there was not a lot of combat involving American troops. There was rocketing up around Phu Bai, there were some bombs going off in Saigon, but nobody was quite sure who was responsible for them. American troops were not heavily engaged. It was the time of Vietnamization. The talks were going on in Paris, and American troops were being kept out of the line to keep the casualty rates down.
INTERVIEWER
Was Vietnam your first experience of war?
STONE
No, I first saw war when I was in the Navy, in the Mediterranean, in 1956. I saw the French air attack on Port Said—jets from the carrier Lafayette coming in right on top of our radar mast and shelling. Those multicolored tracers in the night that I saw again in Vietnam I saw with something like nostalgia. But it was quite horrible. You could look through the glasses and see donkeys and people flying through the air, chewed up by 7.62s and rockets. It was a slaughter of civilians. But it always is.
INTERVIEWER
Are you interested in observing future wars, or have you had enough?
STONE
I don't know. There was a wonderful expression soldiers had in the American Civil War that captures the strangeness of combat, the charm—they called it "going to see the elephant." There are times when I feel that once you've seen war, you want to see it again.
INTERVIEWER
It seems to me that your work is in the tradition of twentieth-century fiction that takes war as its principal metaphor for our lives. Would you say that war is the most complete description of our situation?
STONE
It's literally true that the world is seen by the superpowers as a grid of specific targets. We're all on military maps. There happens to be no action in those zones at present, but they're there. And then there are the wars we fight with ourselves in our own cities. It is the simple truth that, wherever you are, there is an armed enemy present, not far away.
INTERVIEWER
I'd like to ask a little about your evolution as a writer.
STONE
My early life was very strange. I was a solitary; radio fashioned my imagination. Radio narrative always has to embody a full account of both action and scene. I began to do that myself. When I was seven or eight, I'd walk through Central Park like Sam Spade, describing aloud what I was doing, becoming both the actor and the writer setting him into the scene. That was where I developed an inner ear.
INTERVIEWER
So you grew up in New York?
STONE
For the most part we were in New York, my mother and I. It was just the two of us. My mother was, I now realize, schizophrenic, and sometimes she was better than at other times. She lost a job as a schoolteacher in New York for medical reasons; she had a very small pension, and when she was very ill, there was really no place for me to go. Except this place that was, well, it functioned partly as a day school. My mother was in and out of hospitals. I was in an orphanage run by the Marist brothers from the age of six until just before I was ten.
INTERVIEWER
I wonder how her schizophrenia influenced your imagination.
STONE
I wonder that too. I am not really sure. One thing I know is that I usually can recognize schizophrenics when I see them. There is a certain way of speaking. I am talking about functioning schizophrenics, professional people; there are a lot of them around. It is very hard to talk about it in the abstract. In California, years ago, I had a doctor who would tell me these rather askew anecdotes that didn't seem to have any point. What it reminded me of was my mother's disconnection. Their associative patterns seemed to be similar. I finally realized what his problem was. He was about halfway into another kind of reality, but at the same time he was a doctor, functioning as a GP.
INTERVIEWER
Lu Anne, the heroine of Children of Light, is schizophrenic.
STONE
Lu Anne's condition is based on what I have experienced with people. There are people who have delusional systems they are really quite aware of and treat as nemeses. That is Lu Anne's condition; she has a lot of insight into her own delusional systems. Actually, many people have that, and I have been waiting a long time to write about it. It seems to be part of how I see things. I think that is partly because of my mother, whom I liked very much, but who was very difficult for me to understand. When she was my contact person for reality, for information about the world, I got some confusing signals.
INTERVIEWER
Have you ever written about your childhood?
STONE
I don't write about my childhood or New York; I have hardly any references to it at all. In a way, that's because I always used my imagination as a kind of alternative life when I wanted to be in another place than the one I was in. I just didn't want to write about that stuff. I wanted to enjoy myself. I wasn't ready to write about it; perhaps I'm not ready to write about it yet.
INTERVIEWER
Did you read in the Navy?
STONE
Yes. Everybody on a ship reads, whether it's comic books, or Westerns, or the Bible, or whatever. They always read a lot. I was reading Moby Dick, which sounds terribly precious, but I thought if you can't read Moby Dick in the roaring forties, you'll never read Moby Dick. So I brought it along. I also read Ulysses on the same trip. I seem to have imprinted the ocean in a very strong way because I end up with all these marine images that just seem so readily at hand for me.
INTERVIEWER
Many people think of you as having a considerable grasp on the major shift in American culture from the Beats in the fifties to the sixties' counterculture.
STONE
I was in the right place at the right time to see that. It started out with Jack Kerouac's On the Road while I was still in the Navy. My mother recommended the book to me. I am probably the only person who had On the Road recommended to him by his mother. It is very hard to go back and think about what On the Road was saying to me. I pick it up now and all I can see is Neal Cassady. I got to know him. It was a wonderful rendering of him, but I don't see much else in it. Now it just reminds me of somebody writing on speed. That may be uncharitable, but frankly I find it very sentimental. As I say, I am not sure what it was that moved me. I suppose there was that tradition of the American road. I can almost remember what that was like. Thinking about the great continent out there and the city intersections, that myth of the roadside traveler. It reminded me of how every once in a while my mother and I would take off on some migration to where things were going to be better, like Chicago or wherever. We went all the way to New Mexico. I can't remember what we were in quest of. We were in quest of something though. We usually ended up on welfare, then trying to get out of wherever we were. One time we went to Chicago and ended up in a Salvation Army shelter on the North Side because we ran out of money. We stayed for as long as the Salvation Army would keep us, and then somehow my mother scraped together money to get back to New York. When we got back, we spent two nights sleeping on a roof. It was wild, you know. It was useful. On the one hand, it gave me a fear of chaos, and on the other hand, it was a romance with the world and bus stations and things like that.
INTERVIEWER
You didn't finish college, did you?
STONE
No, I started at New York University and hung on for about a year, but I couldn't stay with it. I was working at the Daily News at night and trying to go to classes in the daytime and I just couldn't do it, so I dropped out. In Greenwich Village, a lot of stuff was happening then. Janice worked in the Figaro and she also worked at the Seven Arts on Forty-third and Ninth Avenue. The Seven Arts, of course, was where Kerouac and Allen Ginsberg and Ray Bremser and all those other guys with droopy expressions were regulars. I kind of hung out smoking lots of cigarettes, looking very cool, listening to Coltrane. Janice and I were both at NYU until I quit. She had another job as a guidette in the RCA Building. We both got out about one o'clock—I from the Daily News. She took off her guidette uniform and put on her black stockings and was a waitress in the Seven Arts where I'd go to hang out.
INTERVIEWER
Were you writing poetry at that time?
STONE
Yes, I was writing it, and reading, and hanging out, though I didn't have too much time to hang out. I had to assume a languid posture in a hurry because I had to be up early in the morning. I really felt that hanging out was the price I had to pay, whether I wrote anything or not; these were the people who were more like me or what I wanted to be. One had the sense in those days that it was a relatively small thing, not mass bohemia like you had in the sixties. There was a lot of marijuana and you could really go to jail for years; we all thought it was very decadent and terrific of us. There was an espresso place on Sixth Street between First and Second Avenues run by a guy named Baron, who was a follower of Ayn Rand—he had a dollar sign outside his café. Baron sold peyote buttons. It was very hard to eat peyote; you had to put it into a Waring blender and do all sorts of things to get enough down. I remember being on peyote and seeing a wrestling match for the Daily News in Madison Square Garden; seeing this on peyote may have changed my life. Once I got my Stegner and got out to California, I happened to collide with Ken Kesey; he lived just a couple of streets away. That whole scene was just ready to take off. And I thought I knew all about peyote and drugs and such. It didn't bother me to experiment. Kesey had a job as an orderly in the Veteran's Hospital and he was involved in the first experiments that were being conducted in psychedelic drugs. He was a volunteer and so was his friend Vic Lovell, who is a psychologist now. They were doing all these crazy drugs on an experimental basis. Some of them worked, some of them did not. I can remember really off-the-wall things called IT-290s; they didn't even have names they were so arcane. Whatever IT-290 was, I remember walking through the woods and suddenly encountering this huge locomotive, a green locomotive with gold trim, a very detailed hallucination which I remember particularly well. I still have a lot of friends out there, people who I went through that stuff with.
INTERVIEWER
Were your friends important to your work at that point?
STONE
The whole scene probably set me back a year or two, but my friends were certainly important in my life. California in the early sixties was really quite wonderful. It seemed so civilized and so easygoing; really it was fun when the strangest thing around was us, and we were pretty harmless.
INTERVIEWER
A Hall of Mirrors is a cohesive book, considering the conditions under which it was written and the long span of time . . .
STONE
It was necessary that it be cohesive. I was looking for a vision of America, for a statement about the American condition. I was after a book that would be as ambitious as possible. I wanted to be an American Gogol if I could, I wanted to write Dead Souls. All of the characters represent ideas about America, about an America in a period of extraordinary, vivid transition.
INTERVIEWER
In a way, it seems to me that the novel is a kind of counterpart to On the Road.
STONE
On the Road twenty years after. In a way. Yes.
INTERVIEWER
Certainly Ray Hicks in Dog Soldiers has some biographical touches drawn from the same Neal Cassady who appeared as Dean Moriarty in On the Road. Did you know Kerouac when you were hanging out with Kesey—"on the bus"?
STONE
I didn't know him well. And I didn't travel on the bus. I saw the bus off and greeted the bus when it arrived on Riverside Drive. We went to a party where Kerouac and Ginsberg and Orlovsky and those guys were, and Kerouac was at his drunken worst. He was also very jealous of Neal, who had shifted his allegiance to Kesey. But Neal was pretty exhausted, too. I saw some films taken on the bus—Neal looked like he was tired from trying to keep up with the limitless energy of all those kids. Anyway . . . Kerouac at that party was drunk and pissed off, a situation I understand very well. The first thing I ever said to him was, "Hey, Jack, have you got a cigarette?" And he said, "I ain't gonna give you no fucking cigarette, man, there's a drugstore on the corner, you can go down there and buy a fucking pack of cigarettes, don't ask me for cigarettes." That's my Kerouac story.
INTERVIEWER
That's a sad story. The passing of the torch. Is Tom Wolfe's book on Kesey, The Electric Kool-Aid Acid Test, a pretty good picture of that whole scene?
STONE
It's amazingly good. It also forces a coherence on that scene that it didn't necessarily have. I mean that stuff was all so ephemeral, there was no philosophical core to it, particularly; it was all just goofiness.
INTERVIEWER
Well, the Wolfe book on Kesey does convey—or impose—the notion of religious quest.
STONE
It's hard to stay away from religion when you mess with acid.
INTERVIEWER
Neal Cassady as a figure on that scene does more than form a historical link between the Beat Generation and the counterculture. He also carries on the image of the affectless sociopath as a major American cultural type, a figure of particular interest to you in your fiction.
STONE
Well, Cassady was a benign version of that figure. Gary Gilmore may be closer to what I mean, a vicious drifter of the kind America seems to produce in greater quantity than does any other country, probably because there is no moral center to our middle class. This society is so fractured. It never really had that period of high bourgeois cultural development that most European countries had. The American underclass has never had the tradition and stability of a European peasantry so it could never develop feudal loyalties. Instead we get these institutionalized personalities whose arrested emotions oblige them to mimic mood, feeling, love. This is the origin of their violence.
INTERVIEWER
Such people will always constitute the night side of a counterculture. Charles Manson. Gilmore. Figures like Kesey and Kerouac draw forth its princes and saints.
STONE
I think cultural undergrounds develop in the void left by the abdication of the official culture. During the sixties, so many august institutions seemed to have no self-confidence. The universities, corporations, the very fabric of the state. Everything you pushed just seemed to fall over. Everything was up for grabs. For me, the counterculture was like a party that spilled out into the world until one had the odd feeling in society that one was walking around looking at the results of a party that had ended a few years before—a big experiment. But there was no program, everybody wanted different things. I think Kesey wanted a cultural revolution, the nature of which was uncertain; he was just making it up as he went along. Other people were into political reform. Others thought the drugs would fix it all. Peace and love and dope.
INTERVIEWER
There's a lot of dope, and an epic amount of drinking in your books—
STONE
I can't stop them from doing it. I just can't. It's getting ridiculous. I get laughed at for the volume of chemicals that gets consumed, the amount of dope and booze. And now this guy's doing it again in my new book.
INTERVIEWER
Whom do you consider your literary forebears?
STONE
My "forebears" are unsurprising. The great masters, the late Victorians; more Hemingway and Fitzgerald than Faulkner. I like Céline and Nathanael West and Dos Passos. I can't really begin to characterize my own style beyond saying that it closely reflects my thinking, my world view. But in my first novel, I felt pretty free—I was all over the lot. And I did try as forcefully as I could to invent a voice. It's filled with influences and echoes, but it's mine, as nearly as I can make it so. I began A Hall of Mirrors as a realistic novel, but my life changed and the world changed and when I thought about it I realized that "realism" was a fallacy. It's simply not tenable. You have to write a poem about what you're describing. You can't render, can't dissect. Zola was deluded.
INTERVIEWER
Those remarks suggest an affinity with writers like John Barth and William Gass and Donald Barthelme. But I don't really see you in that camp.
STONE
My difference with those writers is that they take realism too seriously and so have to react against it. I don't feel the necessity of reacting against it. I don't believe in it to start with. Realism as a theory of literature is meaningless. I can start with it as a mode precisely because I don't believe in it. I know it's all a world of words—what else could it be? I had the curious luck to be raised by a schizophrenic, which gives one a tremendous advantage in understanding the relationship of language to reality. I had to develop a model of reality in the face of being conditioned to a schizophrenic world. I had to sort out causality for myself. My mother's world was pure magic. And because I had no father I eventually went into a sort of orphanage when my mother could no longer cope. So at the age of six I went into an institution, which taught me to be a listener. I had to deal with all the ways people were coming on to me, had to listen to all their trips and sort them out. Realism wasn't an issue because there wasn't any. I always had a vaguely dreamlike sense of things. There was no strong distinction for me between objective and imaginative worlds.
INTERVIEWER
Life was failing to provide you with coherent narrative.
STONE
That's right. Life wasn't providing narrative so I had to. I had very little personal mythology of my own.
INTERVIEWER
All this suggests some intricate connections among living and writing and acting. Many of your characters seem preoccupied with the shifting roles in their lives: Who am I here?
STONE
Yes. And my becoming a writer was my answer to that question. It was an absolute necessity. I had to create somebody significant or I would have been swept away. I've been known to say, not altogether facetiously, that life is a means of extracting fiction. If I start out with the claim that I tell stories to serve life, it's easy enough to reverse the terms.
INTERVIEWER
The characters in your books are often writers, but of forms other than fiction. Can you speak a bit about your own work in other forms?
STONE
I intend to write a play. I'd direct a film if the chance came my way. But with those forms too many other people get their hands on your work. The joy of fiction is its autonomy. You take the risks, you take the rap.
INTERVIEWER
Has your work as a screenwriter taught you anything about writing novels?
STONE
No. My screenplays have had no influence on my fiction. But many writers of my generation, which was spared television in its youth, grew up with their sense of narrative influenced by the structure of film. And you can go back much earlier to see that. Joyce, for example. Interestingly, Dickens seems to have anticipated the shape of the movies—look at the first few pages of Great Expectations.
INTERVIEWER
When you think of the writers of your generation, do you find a special constellation of contemporaries where you locate yourself?
STONE
Not really. I think more of generations of readers—for me, people who had some intense experience of the sixties. That's a generation I address. I share their concerns, their history. I get a certain amount of mail that reflects that. But there are no writers I'm aware of who are doing the same sort of thing I'm doing because I take seriously questions that the culture has largely obviated. In a sense, I'm a theologian. And so far as I know I'm the only one.
INTERVIEWER
Does this connect in a way to what you've called the fractured state of American letters?
STONE
You have famous writers, but there's no center. There are the best-seller writers, who are anonymous, almost industrial figures. You have writers who write primarily for other writers. And you have writers with their separate and different constituencies. But American fiction is not in a state of high health. This has something to do with the economic exigencies of publishing, of course. There's a lot of pressure on the noncommercial novel, on what publishers call marginal fiction. Fewer first novels are published, fewer books of any real quality that don't seem immediately bankable. This has to show itself in a kind of reduced, duller national literature, at least for the near future.
INTERVIEWER
As far as best-selling fiction is concerned—
STONE
The best-seller list has always for the most part been the work of hacks, but in the past there seems to have been more space for serious writers. The pressure that's squeezing them out is dangerous and worrying. At the same time there are all these academic writing programs turning out the new second lieutenants of literature, and some of them somehow do manage to get published.
INTERVIEWER
All of your books offer the same general structure: multiple characters, introduced at disparate points woven slowly together until the principals collide. How is that done in the writing? Is one figure followed nearly to the end, or is each scene treated in what will be its final sequence?
STONE
The latter. To run all those lines out one at a time would quickly turn stale. You have to be able to surprise yourself. In Dog Soldiers, for example, I didn't know Hicks was going to shoot Dieter until the day I wrote it. I just began writing their dialogue until it became inevitable. I was always attracted to the idea of bringing different elements together. One of my favorite radio programs was Tell Me A Story, in which people were presented with three things to weave into one.
INTERVIEWER
As material emerges, do you control it with an outline? Charts, notebooks, things like that?
STONE
The only thing I do is make a short list that indicates sequence, very loosely. And then I sometimes jumble the stuff once I've got it written.
INTERVIEWER
You juxtapose sequences in ways you hadn't planned on?
STONE
Yes. Literally juggle them. But I don't use charts or notes.
INTERVIEWER
You don't plot through to a conclusion?
STONE
I know the beginning and usually the end. My problem is the middle—the second act, so to speak.
INTERVIEWER
At what point in the process of a book is your consciousness of technique strongest, as opposed to times when the sheer energy of invention carries you along?
STONE
There are always certain metaphorical events that have to carry special weight. My stress on technique will be strongest when I encounter them. But there's no point at which the pleasure of invention justifies you in self-indulgence. You can never give yourself a break, you always have to make the hardest decisions. That means, for example, writing a brilliant passage and then throwing it away if there's no use for it in terms of the total design. It means scorning to find a clever way around problems that must be grappled with. There are times you have to take the chance that you may derail the structure of your book.
INTERVIEWER
Can you give an example?
STONE
Well, the meeting of the revolutionaries in A Flag For Sunrise broke some rules of structure. They invaded the order of the book—for good reason—and then were never seen again. That scene was tough, I had to rewrite it a lot. The scene of Naftali's suicide—I must have rewritten that eight times. And cut it to the bone. In the book, it's only a fourth as long as it was in earlier drafts. All kinds of great lines—they had to go. It took forever. I couldn't get it right for the longest time. And when I reread it in the finished book, I thought it was awful. I was desolate. But Janice persuaded me that the scene was good. I always feel desolate when I finish a book. I thought that A Flag For Sunrise had some good scenes, but it troubled me overall. I fell into a great depression.
INTERVIEWER
Has there ever been a negative criticism of your work that you found useful?
STONE
Well, I've seen negative positions I could respect. But I don't know that I learned anything from them. Negative criticism of my work tends to be very vitriolic.
INTERVIEWER
The religious element in your work often asserts itself in classic existential form—for example, Hicks's ideal of ideas embodied in action, or Holliwell's remark in A Flag For Sunrise, "There's always a place for God—there's some question as to whether he's in it." This seems a near reflection of Heidegger's assertion that he is neither theistic nor atheistic but adrift in a world from which God is absent.
STONE
I feel a very deep connection to the existentialist tradition of God as an absence—not a meaningless void, but a negative presence we live in terms of. I do have the sense of a transcendent plane from which I'm barred and I want to play off of it. If it's there, I'll get one sound. If it's not, I'll get a different sound.
INTERVIEWER
Was the Catholic orphanage the start of your religious opinions?
STONE
Yes. I felt very rebellious. Every once in a while I would get very angry at the whole structure, although I guess I believed it. I was in that very difficult position you get in when you really believe in God, and at the same time you are very angry: God is this huge creature who we must know, love, and serve, though actually you feel like you want to kick the son of a bitch. The effect on me was I felt I was just doing things wrong.
INTERVIEWER
Do you have a fully articulated theory of fiction? In the sense, say, that Conrad framed his in the preface to The Nigger of the Narcissus?
STONE
"Fiction must justify itself in every line." Yes. I'm beginning to frame one—and along rather Conradian lines. Prose fiction must first of all perform the traditional functions of storytelling. We need stories. We can't identify ourselves without them. We're always telling ourselves stories about who we are: that's what history is, what the idea of a nation or an individual is. The purpose of fiction is to help us answer the question we must constantly be asking ourselves: Who do we think we are and what do we think we're doing?
INTERVIEWER
This quest can, on the part of some of your characters, particularly the more blighted or thwarted, take very brutal forms. Think of Rheinhardt, in A Hall of Mirrors, who can't seem to make America deliver on the American dream.
STONE
What I'm always trying to do is define that process in American life that puts people in a state of anomie, of frustration. The national promise is so great that a tremendous bitterness is evoked by its elusiveness. That was Fitzgerald's subject, and it's mine. So many people go bonkers in this country—I mean, they're doing all the right things and they're still not getting off.
INTERVIEWER
Do you think those expectations will be changed by the economic fact that most Americans will probably live in somewhat more straitened circumstances for some years to come?
STONE
I'm not sure. I think even the poorest people, partly for purely commercial reasons, are still encouraged to think of themselves as candidates for participation in the big American payoff. And of course the nature of the payoff has changed—no more white picket fences. The mass media has taught everybody the glamour of crime. When you're a crook, you're on the side of the chaos; how can you lose? If you're the guy that walks home from the felt factory after twenty years on the job and gets blown away by a freak on angel dust for the pay in your pockets, you're a chump.
INTERVIEWER
This touches on a condition central to your work—what you've called everybody's "diminishing margin of protection." Thus in Dog Soldiers you replay Vietnam in Southern California. And in the other books people are always falling prey to some form of planned or random violence—
STONE
We live in a time of ongoing war and the threat of violence is very close to all of us. It's not an exotic thing. You have to be pretty lucky to get through a year without witnessing it.
INTERVIEWER
If a writer explores violence at length in his work, is there a sense in which he inevitably celebrates it?
STONE
I would call it a coming to terms. There is a catharsis. For me, it's a way of dealing with the violence in myself. I think it can do that for the reader as well. Violence is a preoccupation of mine. It occurs in my books perhaps disproportionately. But it's been my fortune to see rather a lot of it and to have to think about it. I try to curb my fears in what I write. There's a sense in which I use my characters as scapegoats to pay my dues for me, to ward with their flesh danger away from mine. You know, when some drama intrudes on your life your first impulse is to recount it—to turn disaster into anecdote or art. I deal with much that's negative and gruesome, but I don't write to dispirit people. I write to give them courage, to make them confront things as they are in a more courageous way.
INTERVIEWER
Let me return to Conrad, with whom you've claimed some affinity. I've seen it suggested that Freud and Conrad provide polar notions of reality and thus suggest a continuum along which we may locate ourselves. In Freud there's the faith that psychic reality is knowable once we strip away the skins of neurotic fiction that conceal it. In Conrad, we find reality numinous, and indeed composed of all our fictions about it.
STONE
Well, Freud created a mythology out of a nineteenth-century scientific optimism; he said that the glow in the haunted house was just phosphorescence from the swamp—a comforting high bourgeois myth. Conrad was a man of the world and a skeptic who worked not on the basis of ideology but of common sense. He saw things as they are without wanting to reduce them to theory. In that respect he's closer to the temper of our own time and certainly closer to my own ideas about reality and about how to explore it in fiction.
INTERVIEWER
Conrad provided you with a powerful epigraph for Dog Soldiers. And Robert Lowell one for A Hall of Mirrors. There's no epigraph for A Flag For Sunrise.
STONE
It's in the book. The Emily Dickinson poem Justin quotes. "A wife—at daybreak—shall I be—"
INTERVIEWER
Of course. "Sunrise, hast thou a flag for me?" That throws a lot of the weight of the book on Sister Justin.
STONE
It gives many of her scenes the quality of metaphorical event I mentioned. It links religious themes with erotic encounter. But it also summarizes a larger idea, the question of what awaits us all on the morning after the battle, so to speak. What will be there to claim our allegiance—the red banner of revolution, or some emblem we can't recognize but that we've somehow created? And of course I intend an ironic reference to the American flag.
INTERVIEWER
Do you have your own ways, like Hicks, of "endeavoring to lead a spiritual life"? I mean, distinct from your work.
STONE
I attempt to. I'm always looking for a spiritual discipline I can live with. When I stopped being religious, being a Catholic, it was—as I did not realize at the time, but have come to since—devastating to me. It was a spiritual and moral devastation—shattering. And yet there was no trauma at the time; it seemed painless, it felt like ordinary maturation. But it left a great hunger.
INTERVIEWER
Is Catholicism still important to you?
STONE
Somebody has said that it's almost as hard to stop being a Catholic as it is to stop being a black. But I greatly admire the Protestant spirit, the Protestant heroes—Luther, Kierkegaard. And I admire the great skeptics—Erasmus and Montaigne, that cast of mind. It's very valuable. And, ironically, it's built into the kind of rigorous training in language and logic that I received.
INTERVIEWER
Catholic reason enabled you to cast off Catholic faith?
STONE
Well, it surely wasn't intended to. But I did learn the lucid analysis of rhetorical argument and thus became more immune to propaganda. And yet the skepticism that led me out of religious belief also leads me out of secular complacency.
INTERVIEWER
Aside from that childhood training in rhetoric, did you learn anything about writing in other academic programs? Anything useful or valuable about creative writing?
STONE
Not really. But a creative writing class can at least be good for morale. When I teach writing, I do things like take classes to bars and race tracks to listen to dialogue. But that kind of thing has limited usefulness. There's no body of technology to impart. But that doesn't mean classes can't help. The idea that young writers ought to be out slinging hash or covering the fights or whatever is bullshit. There's a point where a class can do a lot of good. You know, you throw the rock and you get the splash.
INTERVIEWER
Your own experience in a way represents a synthesis of available models for American novelists: some academic background and connection, and an active life in a varied world.
STONE
I think writers at present can pass fairly easily between these worlds. I have no academic credentials aside from my work, but I've been able to teach and I sometimes enjoy it.
INTERVIEWER
Do you have any interest in writers' conferences and colonies, that kind of thing?
STONE
I've been several times to a wonderful conference in Alaska that's filled with trappers and fishermen and people who spend a lot of time alone. Every year, on the winter solstice, they get together to talk books and writing and party.
INTERVIEWER
You've been accorded from the beginning a handsome ration of prizes, awards, literary recognition of that kind. Has that had an effect on your work—given you an image you had to live in terms of?
STONE
I've kept my edge, stayed hungry, I think. I never sold so many copies that I got overfed. It's less things like prizes than the simple fact of your first publication that changes everything forever. The minute you appear in print you lose some freedom and innocence and accept a degree of responsibility.
INTERVIEWER
Are there things you'd like to attempt in fiction that you haven't done yet?
STONE
I'd like to write more comic stuff. I mean, there's always some humor in all the awfulness I write about, but sometimes I think of writing—well, I don't know that I could write a purely humorous book that wouldn't have some sort of ghastliness in it. It would have to be a weird kind of humor.
INTERVIEWER
Are there areas of weakness in your work so far that you can identify, things that dissatisfy you?
STONE
Ken Kesey once told me I use too many commas.
INTERVIEWER
Do you ever have writer's block?
STONE
I have a lot of depressed periods during which I'm incapable of working. But I'm not blocked by material or anything when I'm actually writing. I turn up more stuff I want to do than I have room or time to do it in.
INTERVIEWER
That must be in part because you don't stay in your study numbed by an inward gaze, but return repeatedly to the world of experience—to Central America, for example. It's that fact that gives your work its political dimension and lets your readers encounter realized characters in a recognizable world. Incidentally, I'm interested in a remark of yours I encountered somewhere to the effect that Central America is a "due bill coming up for payment."
STONE
No mystery there. That's been a sphere of influence we've exploited economically and dominated politically and militarily very much the way the French, with a bit more success, continue to dominate their former colonies in Africa. We've run that part of the world without a lot of respect for the people who live down there; we've looked down on them as racial inferiors. I have a copy of the Navy Times from around 1913 that carries an ad for Shinola shoe polish that says, "Whether you're going on the beach for a party or storming ashore to teach the greasers a lesson, you want to look sharp!" We saw these places as banana republics peopled by gooks who somehow were not quite real people. Nobody thought it compromised American virtue to kick their ass if they got out of line. It was, you know, the white man's burden. And we have to remember that when Kipling passed that duty on to the United States there was no cynicism or irony intended. I don't believe this country has simply been some horror story of racism and murder. But we have incurred a blood debt and it is coming up for payment. The end of empire comes for everybody and it's coming for us. So now we're faced with this area close to our southern sea frontier where people have it in for us and are only too eager to collaborate with our enemies. I mean, if there was an invasion of the United States and whoever it was wanted to have a Central American legion, they'd get plenty of volunteers.
INTERVIEWER
You've remarked in your own voice, as has Holliwell in A Flag For Sunrise, that we've exported what's worst in our culture, while what's best doesn't export. What is best? What have we got at home that keeps us going?
STONE
Idealism. A tradition of rectitude that genuinely does exist in American society and that sometimes has been translated into government. Enlightenment ideas written into the Constitution. Emerson and Thoreau. The whole tradition so wonderfully mythologized in John Ford's Westerns—the Boston schoolmarm seeking service on the frontier. We've tried to export that in the form of, say, missions to China, but it hasn't really worked because we were more a commercial than a military or cultural empire, so it was our appetites that we exported, along with the relevant parts of our popular culture. The French at least attempted to include their artistic traditions in their mission civiliatrice; they and the British, to a lesser extent, did have something to offer their colonials. All we wanted was to do business. The point is that so much that is best in America is a state of mind that you can't export.
INTERVIEWER
But, as you say, we do export shoddy aspects of our culture along with our commerce. Holliwell argues this in his speech in Compostella.
STONE
Low-level pop culture, yes. Because America has managed to create a working class with the leisure and money to command the resources of the society but without the taste to enhance those resources. From that derived the pop culture we've exported. Now that isn't evil but it is a form of pollution. It's why you get Central American Indians with transistor radios glued to their skulls. I don't mean to make a reactionary argument about the purity of the noble savage. But there is such a thing as authenticity. You'll recall that Holliwell's speech attacks American culture but also America's enemies. He sees, as I see, contradictions that simply have to be faced and that possibly cannot be solved. There's a shared Marxist and American attitude that where there's a problem there must be a solution. What about the problem that doesn't have a solution?
INTERVIEWER
There it is.
STONE
There it is. That aphorism may not be the least significant link between Central America and Vietnam.
INTERVIEWER
You've raised the specter that haunts all of your work—as an aspect of American culture that fuels Rheinhardt's spite in A Hall of Mirrors, as the heart of the darkness of Dog Soldiers, and as a dreadful nostalgia in A Flag For Sunrise. Do you think the war will persist as a background for your work for some time?
STONE
I'm constantly drawn back to it. I had to keep myself from doing that in my new book, Children of Light, which is about the personal lives of some fucked-up people, unhappy writers and actors in the movie business. But even here I try to refer those lives to the American condition, my usual subject. And the war, as you say, continues to haunt us.

Author photograph by Nancy Crampton.