Interviewed by Lloyd Richards
Issue 111, Summer 1989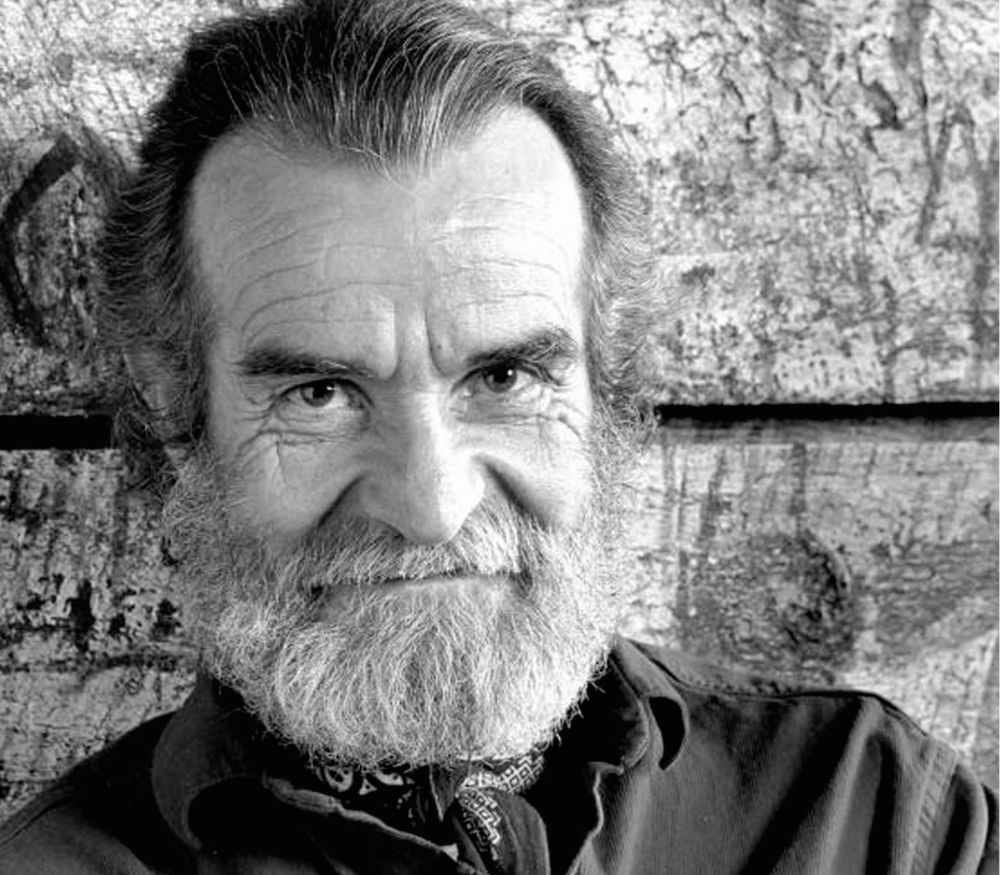 Athol Fugard was born in the small village of Middleburg in South Africa's semi-desert region of Karroo in 1932. His mother was an Afrikaner and his father an English-speaking South African. When Fugard was three years old the family moved to Port Elizabeth, the setting of most of his plays and his primary home ever since.
Fugard spent three years studying philosophy and social anthropology at the University of Cape Town. He dropped out before getting his degree, hitchhiked through Africa for six months and spent two years as a seaman in the Far East. Although he says he always knew he would be a writer, it was not until his return from the Far East, when he met the actress Sheila Meiring, that he became involved in the theater.
The two were married in 1956, and together they started an experimental theater group for which they wrote most of the material. In 1958 they moved to Johannesburg, where Fugard took a job as a clerk in a Native Commissioner's Court—the court that adjudicates violations of the passbook endorsements that determine where South Africans, both black and white, may live, work and travel. "During my six months in that courtroom," Fugard wrote, "I saw more suffering than I could cope with. I began to understand how my country functions."
Several years later, Fugard wrote The Bloodknot, his first major play, which opened at the Rehearsal Room in Johannesburg on October 23, 1961. Its characters, Morris and Zachariah, are "colored" brothers born of mixed-race parents. Morris, who was played by Fugard, is light-skinned; Zach, played by Zakes Mokae, is dark-skinned. At the time of the opening, and for the duration of the play's six-month South African tour in 1962, it was permissible under South African law to produce a play with a racially integrated cast before non-segregated audiences. Shortly after the show closed, legislation was passed into law to prohibit this.
Fugard's work has never been censored in South Africa, despite his volatile treatment of apartheid. His passport was, however, taken away for several years, from June 1967 until 1971, when the government returned it on a restricted basis, enabling him to direct a production of Boesman and Lena in London. Since then he has acted and directed widely on Broadway, at the Yale Repertory Theatre in New Haven, and in London as well as in Europe. A Lesson from Aloes won the New York Drama Critics' Circle Award for Best Play in 1981; "Master Harold" . . . and the boys won the Drama Desk Award in 1982 and the Standard Award for Best Play in 1983. Most recently, The Road to Mecca won the New York Drama Critics' Circle Award in 1988. His other plays include Hello and Goodbye (1965) and Sizwe Bansi is Dead (1972), the latter written in collaboration with John Kani and Winston Ntshona. He has published one novel, Tsotsi (1980), and his Notebooks 1960–1977 was published in 1983. Fugard has been awarded honorary degrees from many universities, including Yale and the University of Cape Town.
This interview was conducted in front of an audience, under the auspices of The Poetry Center of the 92nd Street YMHA on October 13, 1985. At the time, the twenty-five-year anniversary revival of Fugard's play The Bloodknot was playing on Broadway. The interviewer was Fugard's longtime friend and collaborator Lloyd Richards, Artistic Director of the Yale Repertory Theatre. Richards described their working relationship: "Athol will call me and say, 'Let's have a cup of coffee.' We usually pick the cheapest restaurant we can find, one that still has paper napkins. We get together and order a cup of coffee. 'Okay, what is it?' I ask him. Athol tells me the title of the play, and the story of the play, and I know that there is not a word on paper yet. Then I say, 'Let's do it in such-and-such a month. Is that okay?' 'Fine,' he says, and we write the title and the date of the play on a napkin and that is our contract."
INTERVIEWER
When did you realize that you wanted to become a writer? Was there some precipitating event, or did it grow naturally out of a commitment to literature?
ATHOL FUGARD
There was no one moment, but you could see it growing. You can see it in "Master Harold" . . . and the boys—that gauche young schoolboy playing around with words. Young Hallie talking about what would be a good title for a novel, thinking about writing a short story. From early on there were two things that filled my life—music and storytelling, both of them provoked by my father. He was a jazz pianist and also a very good storyteller, an avid reader. He passed both those interests on to me. Thoughts about being a concert pianist or a composer started to fall away from about the age of fifteen. By eighteen, by the time I went to university, I knew that somehow my life was going to be about putting words on paper. Originally I thought I was going to write the great South African novel, then poetry, and only when I was twenty-four or five did the thought of theater come into my head. That obviously relates to my meeting my wife Sheila, who, when I met her, was an out-of-work actress.
INTERVIEWER
What is your reason for writing?
FUGARD
Well, it's a convergence of two things. I can't think of a single one of my plays that does not represent a coincidence between an external and an internal event. Something outside of me, outside even my own life, something I read in a newspaper or witness on the street, something I see or hear, fascinates me. I see it for its dramatic potential. That external event affords me the opportunity to deal with what has been building up inside me. For example, the writing of The Bloodknot. I remember the genesis of that, even though it happened twenty-five years ago. I am singularly prone to that most human of all diseases—guilt. I've had my fair measure of it. But the image that generated The Bloodknot had absolutely nothing to do with the racial situation in South Africa. The seminal moment was my returning home late one night and going into the room where my brother was sleeping. My brother is a white man like myself. I looked down at him, and saw in that sleeping body and face, all his pain. Life had been very hard on him, and it was just written on his flesh. It was a scalding moment for me. I was absolutely overcome by my sense of what time had done to what I remembered as a proud and powerful body. I saw the pain: that is the seminal image in The Bloodknot.
INTERVIEWER
And that translated into the injection of race and whiteness?
FUGARD
I was trying to examine a guilt more profound than racial guilt—the existential guilt that I feel when another person suffers, is victimized, and I can do nothing about it. South Africa afforded me the most perfect device for examining this guilt without going into the area of the absurd as Ionesco did by giving a man a rhinoceros's horn.
INTERVIEWER
Can you describe the conjunction of external and internal events in A Lesson from Aloes?
FUGARD
The external provocation is very simple: I got to know an Afrikaner in Port Elizabeth who had been committed to the struggle for decency and dignity and human rights, but who was suddenly suspected of being a police informer. His name was Piet. Piet's story gave me a chance to deal with the fact that you cannot simply dispose of the Afrikaner as the villain in the South African situation. If that's the only sense you have of the Afrikaner in South Africa at this moment, your thinking is too naive, and you are never really going to understand what is happening in that country. You'll never understand how we landed in the present situation or what's going to come out of it. The terrible and challenging thing about the Afrikaner is his complexity: he is not just bad; there's good as well. The case of Piet Bezuidenhout occurred at a time when I was ready to put an Afrikaner—not a hero, but a survivor—up on the stage. That was my internal provocation.
INTERVIEWER
Why do you use the symbol of aloes? I have an image of the aloe as tangled in the roots of South Africa. It can either be strangled, or survive to produce a flower . . .
FUGARD
Yes, I think the aloe is one of South Africa's most powerful, beautiful and celebratory symbols. It survives out there in the wild when everything else is dried. At the end of one of our terrible recurrent droughts, the aloe is still there.
INTERVIEWER
You once told a story about being in England for a while and saying you had to go back to South Africa because you could not look at the people on the street and identify where they had come from . . .
FUGARD
That is true. That one little corner of South Africa, Port Elizabeth and its immediate surroundings, is a region that I know like the back of the hand that holds my pen as I write about it. I can stand on a street corner in Port Elizabeth, look at anybody and put together some sort of biography. I know where they come from, where they're going. I have a feel of the textures of their life. If I stand on a street corner in New Haven, which is a place I've gotten to know as well as any place outside of South Africa, I am still at a total loss to identify the people passing me on that street.
INTERVIEWER
Do you identify with Piet's inability to leave South Africa?
FUGARD
I don't think I could. Of course I'm saying this on American soil. I'm facing a few more months of work in this city, but at the end of it, I will be returning to South Africa. I would like to believe that if for some reason the situation deteriorated to the point where I was told, "If you leave South Africa, you can never come back," I'd stay there. There were periods in my life when I could have been seduced away. I am incredibly fortunate that the government took away my passport at the point when I was most open to seduction. With my passport gone, I could have left on a one-way ticket. But the issue was so starkly highlighted that I had no problem in saying, "No."
INTERVIEWER
Why was your passport taken away?
FUGARD
I don't know. I think they identified me as a liberal. And in the late sixties a liberal was a dangerous animal. Liberals aren't dangerous animals anymore, so they don't hassle me too much. I know they open my mail, I know my telephone is tapped—but I have a passport, a perfectly normal passport. The likes of myself aren't seen as a threat to the establishment anymore. Now they have to deal with men and women who make bombs and set them off. Of course this could change— the government doesn't seem to pursue any sort of consistent policy. Their attitude toward me depends on how they feel when they wake up in the morning. Nadine Gordimer, J. M. Coetzee, Andre Brink are as baffled by how and why the government does things as I am. There just doesn't seem to be any logic to it.
INTERVIEWER
What about the government and censorship?
FUGARD
I have never had trouble publishing my work in South Africa. Although there've been a couple of occasions when school authorities threw my books out of their libraries.
INTERVIEWER
That seems pretty serious to me. Don't you have any reservations about going back to a country where that sort of thing goes on?
FUGARD
No. Nobody can take what I love away from me. I would like to believe that love is the only energy I've ever used as a writer. I've never written out of anger, although anger has informed love. When I return, that love will still be there, even if the South Africa I go back to in five months' time is radically different from the one I left. I would like to believe that my absence from South Africa won't affect my relationship to that country, which has been the source of my inspiration, the soul of my writing.
INTERVIEWER
Is pain a part of that?
FUGARD
Yes. One wishes that pain weren't the potent alchemical element that it is.
INTERVIEWER
You tend, in your plays, to take a few crucial people, put them into a space and let them thrash out their lives. Is that a part of your own way of functioning?
FUGARD
Yes. How one human being deals with another remains the most critical fact in history. You can kill a man, or you can bless him. We all know about our potential to kill; we have dangerously lost sight of the fact that each of us can also bless.
INTERVIEWER
At the end of the last performance of The Bloodknot at the Yale Repertory Theatre, you and Zakes Mokae stood at the front of the stage, with the audience standing and applauding. You held hands and raised them. There was something about the event that was more than just the applause of an audience for a performance.
FUGARD
In my country there's an Athol Fugard trying to kill a Zakes Mokae at this very moment, and there's a Zakes Mokae who wants to kill an Athol Fugard. But Zakes and I were together on that stage.
INTERVIEWER
Does hope still exist today? Where does it reside?
FUGARD
My faith in human nature, in the capacity to change, grows with every year. My faith in the essential goodness of life increases. Yet my faith in politics has withered.
INTERVIEWER
If you ever lost that sense of hope, would that be the moment at which writing became impossible? Could you write out of despair?
FUGARD
That would be a moment at which a lot of things would become impossible. I don't know what I would do with my life if I lost faith in human nature.
INTERVIEWER
What was the conjunction between the external event and the internal impetus with "Master Harold" . . . and the boys?
FUGARD
For fifteen years I kept thinking to myself, when am I going to get around to writing about those two extraordinary men, Sam and Willie, who were literally my closest, and virtually my only, friends for a period of my childhood. Suddenly one day I put a white boy, Hallie, in with them. There it was. I had it. I was locked in to the tensions, the polarity, the dynamic. I had the chance and the courage to deal with something that I had never dealt with in my life. The particular moment was the spitting event—Hallie spits in the black man's face. Before that I was convinced I'd created the necessary dynamic simply by putting Hallie in there with Sam and Willie, and that I could write the play without resorting to anything like the vulgarity of spitting on stage. I thought I could deal with all my problems, my guilts, and wash my dirty linen in a place of public entertainment without having to resort to that. But I just couldn't avoid it. The moment came: I wrote, "Hallie spits in Willie's face."
INTERVIEWER
How did you feel after that?
FUGARD
Well, there's a vulgar aspect to the craft. Even when you're dealing with the most private, intensely personal moment of pain, if you do it well enough, if you handle it correctly, you immediately pat yourself on the back . . . I might as well be honest about it.
INTERVIEWER
Did the writing of the play absolve any feeling of guilt?
FUGARD
No, but it was necessary for me to deal with it, I've realized your life can be stained so deeply that you can never get rid of it. It's soaked into the fabric.
INTERVIEWER
What was the background of The Road to Mecca? Was it guilt?
FUGARD
No, quite different. An extraordinary sculptress, Helen Martins, lived in the little village in the Karroo where my house is. For twenty-two years of her life, starting at the age of fifty, she handed herself over to an incredible creative energy. She sculpted away, single-mindedly, with a total obsession. Then, mysteriously, her creativity dried up and she committed suicide. From time to time I'd say to myself, Come on, deal with it. You're a writer; this is extraordinary. But I kept pushing her aside. Then her story became such an urgent reality inside me, I needed to examine it. The Road to Mecca focuses on the possibility that creative energy can exhaust itself, probably the most frightening reality an artist can face. Every artist lives in total fear of that—I know I do. I kept wondering whether, with an act of terrible prescience, in describing the end of Helen Martins's creative energy, I was in fact writing my own epitaph.
INTERVIEWER
Is The Road to Mecca your favorite play?
FUGARD
I think every writer has a special relationship with his most recent work. In my case that would be The Road to Mecca. Firstly, the process of writing it, creating it, the traumas or difficulties that you live through in order to get it written—those are close to you still. Also the most recent play says something about where you are in your life. It still needs a certain protection; it is very young. Its life has just been started, and you feel very paternal about it. The Bloodknot is also a very recent experience in my life, but I see it primarily as the work that launched my career in theater, the work in which I found my own voice for the first time. A Lesson from Aloes has a very special meaning for me because it was the first play I wrote after two or three agonizing years of writer's block, when I just couldn't get anything down on paper.
INTERVIEWER
How does a play come from you as a craftsman? How do you write?
FUGARD
I write by dealing with what I lovingly describe as the inquisition of blank paper—lovingly despite the terror that it's had for me in the past, and no doubt will continue to have in the future. My most important tool is my notebook. I've been a bit careless these past two or three weeks, but even while producing The Bloodknot at Yale, I spent a few minutes with it every day. I jot down random images, thoughts, ideas, speculations, and a little bit of personal misery. It's a five-finger exercise. Every one of my plays started off a long time before the actual writing took place as an image in those notebooks. There comes a point when one of these images from the past, such as Sam or Piet or Helen Martins, presents itself again. If it is the right moment, and if, as I tried to describe earlier, there is a coincidence between the external and the internal, the things start happening. First I just free associate. It's almost as if the seminal image has a certain magnetic power of its own that helps me focus on the things of daily living that relate to it. This is the first step. It usually results in an accumulation of ideas, scraps of dialogue, rough structures for scenes and a mass of paper. I can lift up that paper and feel its weight metaphorically and think, Yeah, there's enough here now. Next it's got to be ordered and organized. I never actually start to write a play—by that I mean put "1" up at the top of a blank sheet of paper and open a bracket for my first stage direction—until I have completely structured the play. I have never started to write a play without knowing with total certainty what my final image is. Other writers work differently, I know. They say, Oh, the material did this to me, I got surprised, it sent me off in a different direction. That has never happened to me. While it may be a flaw, I am absolutely brutal about my disciplining of the material before I write the words page one and get to work.
INTERVIEWER
When you begin to write, does the dialogue flow in your head as you write it down?
FUGARD
It's a very slow and painful process. I'm very conscious of how faltering the first few steps are, how much stalling and drowning in the blankness of paper there is. Nothing flows in my head. There have been occasions when I've found my head working away quite energetically with my hand a foot behind, watching in amazement. But there have never been sustained outpourings. If I've got three full pages done, longhand, that's a good day. That's a damn good day in fact. Sometimes there is nothing, or what I have written goes into the wastepaper basket. I tear up and throw away furiously when I write. I don't accumulate a lot of paper. For something to stay on paper longer than two days it has to pass some very critical tests. I usually work through three drafts, longhand, in the course of writing a play; it takes about nine months.
INTERVIEWER
Are your plays ever revised during rehearsal? Do you know how good a line or a scene is before you hear it spoken, or is your ear so developed that there's no need to revise?
FUGARD
I've had varying experiences. Some plays have gone through rehearsal and ended up on the stage without even so much as the punctuation having changed. Others have benefited substantially from the rehearsal process. Sometimes the actors have made me aware, in the course of the rehearsal process, of moments that needed fleshing out and points that hadn't been made strongly enough.
INTERVIEWER
What, do you feel, is the relationship of a playwright to politics?
FUGARD
I think it varies. There are as many answers to that as there are playwrights. It is a facile, glib thing to say—but I think I am fortunate in that my relationship to politics is resolved very simply: I come from a country that is so highly politicized that there is no act, even the most private you can think of, which does not resonate politically. Obviously when it comes to the question of telling stories about other people's lives in a situation as political as South Africa, you get to be political. So political commitment isn't really something I've had to look for; it was an automatic by-product of my being a storyteller—one who is going to try to tell stories truthfully and through them bear witness to the South African situation. Talking with young students at Yale recently, I was asked whether I agreed with a fellow South African writer—I am going to be cowardly and not name that writer—who said that all writers in that country had an obligation to make a political stand. I got angry about this because I don't think any writer should presume to give orders to another. The place from which you take your orders is probably the most secret place you have. If you have a word like God in your vocabulary, then that is an area in which you and God deal with each other. So, no writer must ever presume to tell another writer what his or her political responsibilities are. It is a poet's right in South Africa to write a poem that seemingly has no political resonance.
INTERVIEWER
Is the duty of a playwright in South Africa to his society different than the duty of an American to his?
FUGARD
I don't think so. This is really just a way of asking about the relationship of the artist to his society. Some writers do nothing but talk about the objective moral obligations that artists must live up to. If you're Brecht, you're going to write as Brecht writes; you're going to be as committed as Brecht. There may be pale imitations, but there will only be one Brecht. Every artist does as he needs to. There is a desperate tendency to try to legislate artists, to try to lay down rules for their obligations to society. Just leave artists alone. If you are a true artist, you will have a very finely tuned moral mechanism. If you're a Georgia O'Keeffe, a Bertolt Brecht, or a Harold Pinter, you'll do it your way.
INTERVIEWER
You have chosen not to leave your country, for various reasons. Do you consider yourself, even there, in exile to any extent? How does exile fit into your art, or does it?
FUGARD
Exile is a phenomenon I have watched with morbid curiosity over the years because it is a fate that has befallen a lot of my friends. It is something I have watched but not experienced. I do not consider myself to be in exile. I could play around with words and say that I consider myself an exile from the society that I believe South Africa should be, but that's just being clever. No, I don't really know what exile means.
INTERVIEWER
You said your faith in politics has withered. How did this happen?
FUGARD
My faith in politics and politicians has withered, but as I was saying my faith in human nature grows stronger. But politicians screw up so often now—when did we last have a decent statesman? Let's not even talk about South Africa; let's look at America, England. Where's the statesmanship? The mess is global. My skepticism is something that has come with experience, a certain world-weariness as I have looked at the past decades. The world wasn't getting better. I don't think the moral tone of the Western world has significantly improved in the fifty-odd years that I've been alive. Technologically it has, but morally it damn sure hasn't.
INTERVIEWER
How do you feel the role of art in bringing about social change compares to that of politics and persuasion?
FUGARD
Art has a role. Art is at work in South Africa. But art works subterraneanly. It's never the striking, superficial cause and effect people would like to see. Art goes underground into people's dreams and surfaces months later in strange, unexpected actions. People bring a sort of instant-coffee expectation to art; they'd like the results to be immediate. It doesn't work that way. I like that image of art dropping down through the various layers of the individual's psyche, into dreams, stirring around there and then surfacing later in action.
INTERVIEWER
In a recent article you spoke about the role of alcohol in your life, and its subsequent absence. Does alcohol open up new channels of access to the muse? How was your work affected when you quit drinking?
FUGARD
Oh God, I'm only too prepared to talk about that. For a long time I thought that drinking had a great influence on my imagination. Not that I've used alcohol at any of the few desks where I've done my writing; I've always sat down at my desk very sober, but alcohol was there as a part of my life. Especially at night, after a day working, I used to enjoy my whiskeys, my wines, my beer. And then with the last carafe at night I brainstormed, putting down ideas for the next day. It was a critical aspect of my writing cycle and it led me to believe that if I decided to give up drinking I would end up not writing any longer. I won't go into the circumstances that led me to give up drinking, except that obviously one of the reasons was the recognition that I would become an alcoholic. Another was its effect on relationships that were very important to me. Anyway, one day three-and-a-half years ago I decided to stop. In the course of that time I have written The Road to Mecca and directed it in South Africa, America, and London. I also returned to the anniversary production of The Bloodknot with Zakes Mokae, which started at Yale and ended up on Broadway. The three-and-a-half years prove I can get on with a creative life even though I don't drink. I must confess that I had moments of unbelievable terror, fear and panic, with the devil inside me trying to persuade me that the reason that I hadn't done any writing that day was that I hadn't been able to get any drinking in; that the real reason the rehearsal had gone so badly and I hadn't gotten any sleep and had a headache was because I wasn't drinking; that I had made a mess of a number of critical moments in the past several years while honoring my resolve to stay sober. Fortunately, I was able to resist those low moments. Starting three-and-a-half years ago, life has become a most extraordinary adventure. I didn't ever believe I would have such a sense of rebirth, of rediscovery.
INTERVIEWER
Would you share with us what your family means to you as a writer, and how your relationship with your family either facilitates, implements, or impedes your work? I ask this knowing that your wife Sheila was in the theater before you were.
FUGARD
Yes, and now Sheila is a novelist. Theater didn't turn out to be what she wanted to do. Prose and poetry have become her life. We have lived together as two writers. The marriage has survived on the basis of one absolute rule: total privacy. It came about quite unconsciously, without any fuss; we never addressed ourselves to the issue. I think two writers living together can be dangerous. I never know what Sheila is writing, what her novel is about, until the first copy comes from the publisher. And she, by and large, knows nothing about the play that I'm working on until she sits down in a preview or a first-night audience. We exchange sighs of relief or groans of despair at the end of the day, but it's as general as that. They are noises, like two draft animals stabled together, blowing and groaning away. That makes the work possible. Obviously, there is incredible mutual respect and support. And Lisa, my daughter, is very inspirational. I think that she's a major reason for a lot of what I do.
INTERVIEWER
You have been at once both the playwright and the director. Is the relationship between these two roles an easy one?
FUGARD
It started out of economic necessity. The blunt and simple reality was that twenty-five years ago, when I wrote The Bloodknot, nobody in South Africa wanted to touch it. If I hadn't got hold of Zakes, whom I had already known from some previous work we had done in the theater, and said, "Let's do it," and then tried to sort out the traffic on the stage—in addition to taking on the role of Morris—the play wouldn't have got done. It was the same with Hello and Goodbye, People are Living There, Boesman and Lena, Sizwe Bansi is Dead, The Island, and Statements After an Arrest Under the Immorality Act. I only started enjoying the luxuries so taken for granted in the American theater when I came to Yale. I had never had designers in my life. I had never had dramaturges—I'm still trying to discover what to do with that animal; what do you do with a dramaturge? I think they are asking themselves that question as well. God knows I have no conceits as a director. Someone has to organize the traffic. That's what I do: I see that people don't bump into each other on the stage. I look after the six-foot rule.
INTERVIEWER
Forgive me, what is the six-foot rule?
FUGARD
The six-foot rule is that no two actors must come nearer to each other than six feet unless there is a crisis. Get closer than six feet and you've got a crisis in the action. So I organize the traffic. I also understand the text, because I wrote it. With those two contributions to the event, I have discharged my responsibilities as a director.
INTERVIEWER
Would you lose a certain amount of the autonomy you feel as a writer if you turned a play over to another director?
FUGARD
I've no experience with that. I make very certain that I handle the first productions of the play in South Africa, in London, and in New York. When those three events are behind me, I cut the umbilical cord, and the play looks after itself. Once or twice I've dropped in on other productions of my work and had varying experiences—some good, some bad, quite a few indifferent. I've no working relationship with other directors and I think it will probably stay that way.
INTERVIEWER
What about the experience of acting in your own plays? When you're writing do you have it in mind that certain words will be for you to speak?
FUGARD
I'm glad I'm an actor. I'm glad I've had acting experience, because I think it has sharpened my craft as a playwright. Acting has made the writer realize what actors need up there on stage to make a moment work. I feel that's the reason actors have such a good time with my plays—they often tell me they do. I often think of my plays as being written with three characters sitting at the desk: the writer himself; and then behind his left shoulder is the actor, watching as he writes and nudging his arm; and behind the other shoulder is the director who's eventually going to be responsible for the staging of it. There's a triple psychology that functions when I write a play. I don't want to become too conscious of this aspect of my writing in case it interferes with its progress, but it seems there is a three-pronged attack on the blank paper when I sit down to write a play.
INTERVIEWER
You said earlier that you gather your material before you set out to write. Could you talk a little about the plays that were worked on improvisationally?
FUGARD
My work with the actors during one stage of the rehearsals is for both rehearsing and improvising. With The Island, when I got together with John Kani and Winston Ntshona, I always came prepared with questions, ideas, provocations. This would set them up; they are both consummate personal storytellers who love acting out their lives. I fed them a constant stream of provocations relating to the central idea on which we had decided.
INTERVIEWER
How were John and Winston involved in the genesis of Sizwe Bansi is Dead?
FUGARD
Yes, very simple, easy to talk about that. I had been working with John and Winston in an amateur context, a black drama group from New Brighton, the black ghetto of Port Elizabeth. They approached me one day and said that they wanted to turn professional. I listened to them with disbelief. At that point in South Africa's theater history, twelve years ago, the notion that a black man could earn a living being an actor in South Africa was just the height of conceit. But they were insistent, and so we looked around for a play for them to do. We couldn't find anything that really excited us, anything that I wanted to direct them in. Then John said, "Couldn't we make a play?" We tried various ideas, all of which petered out, and then I remembered something: it was a photograph I'd once seen in the display window of a pokey little backstreet photographer in Port Elizabeth, an extraordinary photograph of a man wearing what was obviously a new suit, seated on a chair, smiling broadly, a hat on his head. I think there was even an umbrella across his knees. In one hand he had a pipe and in the other a cigarette. It was an extraordinary photograph, a great celebratory moment captured by that backstreet photographer. I finally put this down as a mandate; I said to these chaps, "Come on now, for that chap to be smiling like that, he's got to have a reason. Maybe that's the story we're looking for. Maybe that's where our play lies." I asked them why he was smiling. Again it was John who said, "One reason why a black man smiles as broadly as you've suggested is if his reference book, his much-hated passbook, is in order, or if he's just managed to get some problem in connection with it sorted out." That was the start of it, that stupid question. In fact, the passbook does lie at the core of Sizwe Bansi is Dead. That question, and a whole series of others—all concerning the man in the blue suit with the umbrella, smiling at the camera, with the cigarette in one hand and a pipe in the other—was the start of Sizwe Bansi. He was our seminal image, I fed John and Winston constant provocations from what I knew about them and their lives. It was my job to take home whatever had happened in the rehearsal room and start shaping it. I used my craft to structure and define and dramatically shape what they had provided by way of raw improvisation. That was my process. I am a great believer in architecture, in structuring. It's my discipline.
INTERVIEWER
Can you talk about the original production of that play in Johannesburg? Was there censorship involved?
FUGARD
We felt that the play was far too dangerous for us to go public with it; there was the problem of mixed audiences. So we launched the play by underground performances to which people had to have a specific invitation—a legal loophole in the censorship structure in South Africa, and one we continued to exploit for many years. During our underground period, we had a lot of police interference. They rolled up once or twice and threatened to close us down, arrest us—the usual bully tactics of security police anywhere in the world. We just persisted, carried on, and survived it. We eventually did go public with Sizwe Bansi, many years later, but only after it had played in London and New York. After that, we felt that the play's reputation protected us.
INTERVIEWER
What are some of the limits you perceive in the American theater? You spoke recently about the difficulties of producing an off-Broadway show.
FUGARD
Well, I could talk endlessly about the limits of Broadway theater. Broadway, oh God, what a pain! It is going through a long process of dying—it should just get on with the business and do it. Broadway's become one hell of a mess, but then Broadway isn't American theater. If Broadway wants to die, and if legitimate theater, straight theater, hasn't got a place on Broadway, well then good. Theater's flourishing out in the regions. I look around and all sorts of very exciting things are happening.
INTERVIEWER
Did you seek out a relationship with the New York theater world and the Yale Rep?
FUGARD
Not any more than any writer or playwright who tries to get his work done. When it gets done, you earn a living, you earn royalties, you can pay the rent. Fortunately American audiences and American actors go for the same sort of theater that I try to write. I don't think it's an accident that I earn eighty or ninety per cent of my living as a playwright in America. In England it's only about ten or fifteen per cent. The English don't tune in to my plays as strongly as American audiences and critics. This relationship between New York, American theater, and myself is one that I'm very happy with and hope to continue.
INTERVIEWER
How has your relationship with Zakes changed through all this? What was it like working with a very unprofessional actor twenty-five years ago as opposed to the experienced actor he is now?
FUGARD
Oh, I've got a lovely answer to that question: I was as unprofessional as Zakes then. We both thought we were as good then as we think we are now. Zakes had seen five plays twenty-five years ago; I had seen six.
INTERVIEWER
So the ego does not change.
FUGARD
The ego does not change. Now we've seen a dozen each.

Author photograph by Nancy Crampton.