Interviewed by James R. Hepworth
Issue 115, Summer 1990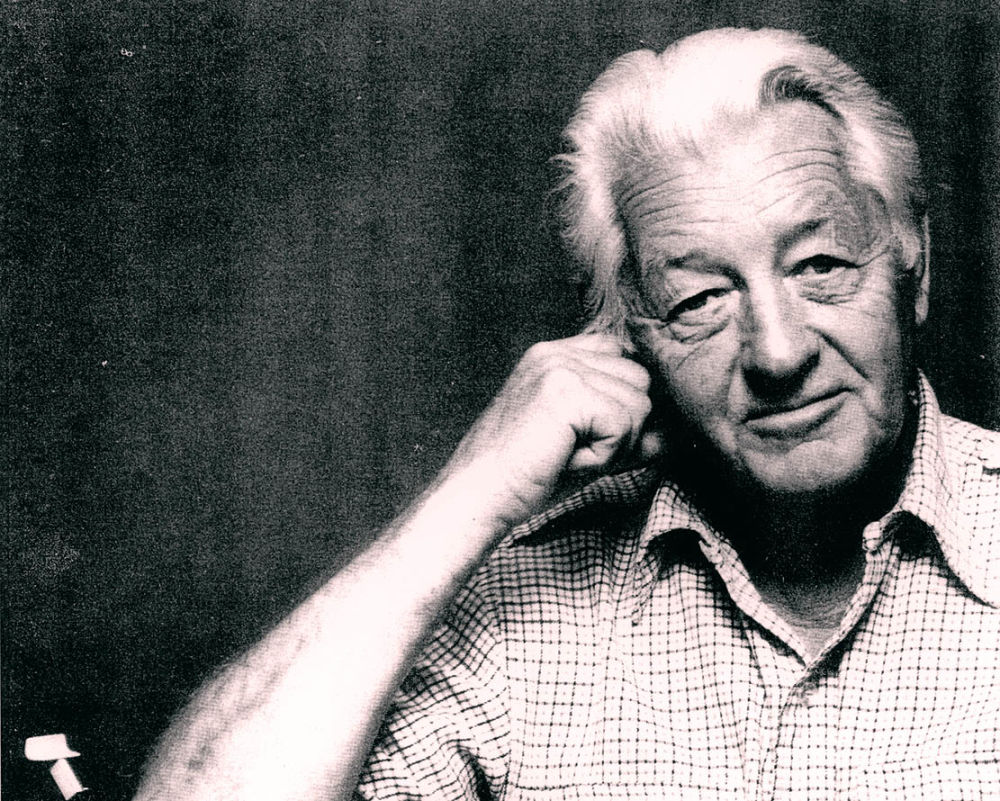 Stegner apologized that his markings are not more revealing: "My methods are prelapsarian and prewordprocessarian. It takes me many rewritings to get a first draft, and all the chapters that went into it have been thrown away successively until I get something that will read consecutively. I go through that with an editing pencil and retype it to make a relatively clear second draft."
Wallace Stegner has published thirteen novels, three short-story collections, sixteen nonfiction titles, and has edited eighteen works in the fifty-three years he has been publishing books. His first novella, Remembering Laughter, won a Little, Brown Prize in 1937, and in 1990 Random House published Stegner's collected stories.
As early as 1944, Sinclair Lewis hailed Stegner as "one of the most important novelists in America." There are those who know him only as a prize winning- historian; or only as the biographer of John Wesley Powell (Beyond the Hundredth Meridian, 1954) and Bernard DeVoto (The Uneasy Chair, 1974). There are those who know him only as a novelist for Angle of Repose (1971), a transcontinental novel that earned Stegner a Pulitzer Prize. And also, there are those who know Stegner as a "damned environmentalist." During the Kennedy Administration, Stegner became a special assistant to former Interior Secretary Stewart Udall. Later, he served on and then chaired the Advisory Board for National Parks, Historical Sites, Buildings, and Monuments.
Turn the conversation too far in this direction, however, and Stegner alternates between genuine modesty, subversive silence, and cantankerability. ("We all have ethical and moral obligations! I've done nothing laudatory or unusual.") Suggest a connection between Stegner's teaching years at Stanford (1946–1971) and the success of his students, and Stegner demurs. ("Those writers would have succeeded anyway," he insists. "Nothing could have stopped some of them.") Still, the list of those who have held fellowships bearing Stegner's name during his years at Stanford is itself impressive, and includes the following: Edward Abbey, Max Apple, Peter Beagle, Wendell Berry, Blanche Boyd, Eugene Burdick, Raymond Carver, Max Crawford, Ernest Gaines, Ken Gangemi, Merrill Joan Gerber, James Baker Hall, Jim Houston, Ed McClanahan, Tom McGuane, Larry McMurtry, N. Scott Momaday, Gurney Norman, Tillie Olson, Nancy Packer, Charlotte Painter, Judith Rascoe, Robert Stone, Robin White, and Al Young.
In person, what first impresses many people is Stegner's appearance. Even at the age of eighty-one he looks exceptionally youthful and handsome. He wears his clothes well, whether an old bathrobe or a workshirt and jeans. He rises early—sometimes too early for a houseguest from Idaho—breakfasts, then retreats before first light to the manual typewriter inside the study adjoining the Stegner home. Both the house and the study overlook the woods and meadows of the Los Altos Hills. On cool mornings, Stegner lights a low fire in the stove and then writes until lunch.
Although far from uncluttered, his study nevertheless seems orderly and neat. On its entrance wall and to the left of it, bookshelves run from floor to ceiling; opposite the entrance, honorary degrees, awards, certificates and memorabilia take the place of bookshelves. To the right sits Stegner's broad wooden desk, on top of it more books, a few cigars, an ashtray, and manuscript pages. Behind the desk are photos of friends like Bernard DeVoto and Robert Frost; below these, more bookshelves tightly packed with contemporary classics.
INTERVIEWER
When did you decide that you had to be a writer?
WALLACE STEGNER
I'm a writer by the sheerest accident. Nobody in my family had ever gone to college. I did, and there they said, You've got to major in something. So I said, Fine, economics. And I took one course in economics and that cured that. Then, my freshman English teacher thought I had some kind of gift. So he put me in an advanced class, which gave me the notion that I could put words together in some fashion. I wrote some short stories as an undergraduate, won a little prize at one of the local newspapers. But I was selling rugs and linoleum, and, as far as I knew, I would go on selling rugs and linoleum for a living. I wrote this piece of stupidity into the novel Recapitulation because it seemed to me nobody above the stage of a cretin could have been so completely unaware, so totally naive, so unsophisticated, wide-eyed, going any way he was pushed. I was silly putty.
When I finished college, a couple of my professors pushed me off to graduate school. When I had finished that, I went back to Salt Lake to teach, and after two years of recovering from the Ph.D., I sat down one afternoon and wrote a story just because I wanted to write a story. I wrote it in about two hours and sent it off to the Virginia Quarterly, I think, and they published it. Then you know you're hooked. By that time I was twenty-six or twenty-seven. I hadn't been grinding away at a literary apprenticeship, and I had given writing up as a possible career. It never occurred to me that there was a possibility of making a living at it. So it was all pure, brute accident, with some people who encouraged me along the way. That's probably the way it is. You do get encouraged when you're young and malleable by people who think they know better than you what you're good for. And they may be right. Certainly, I'd have made a terrible economist.
INTERVIEWER
Do you consciously go in search of book projects? How did your novel Crossing to Safety begin?
STEGNER
No. I don't go in search of projects. Sometimes they appear before my eyes, and sometimes they grow over a long period of time as I brood. Sometimes I know there's a book there, and I have to hunt through an awful lot of research material, as I did with Angle of Repose. I have started books without knowing where they were going to end. That's more dangerous. But in the case of Crossing to Safety the book just grew, more or less, through personal experience in Vermont, Wisconsin, and to a small extent, in Italy. In those places what was gradually developing in my mind could find a home. That's how the book came about. It took a long time. I had to do it by trial and error, and I was years in getting it finally sorted out. It's not a conscious process.
INTERVIEWER
Was there any point where you definitely knew this project was a novel?
STEGNER
I knew from the beginning it was going to be a book. You have that feeling. It's like having a fish on the line. You know when it's an old boot and when it's a fish. But I didn't know what the book was. I've got piles of manuscripts over there, eight and ten inches high, of stuff written and tossed aside in the process of finding out. At several points the novel was going in entirely different directions. It had different characters from those that now appear, more characters, episodes that never got into the finished book at all. The novel started in a different place. It proceeded toward a different end.
INTERVIEWER
In writing the new novel did you confront any technical challenges you had never faced before?
STEGNER
There were problems in this book, partly because it's a very quiet book. Not much happens in it. It contains none of the things that seem to be essential for contemporary novels. Much goes on in the mind, in memory. I was doing something that I would have advised almost any student of mine not to do: I let nearly the whole book happen in one head, during the course of one day. There's a little bit of front-stage action during the day, but most of the book curls back and picks up the past. It's difficult to do this without being slow and tedious. I don't know if I succeeded or not. I had to work on that problem constantly to keep the story line from appearing to sag and go nowhere. It had to have some forward motion. It had to have some draft. That's a technical problem: by the pure force of the writing to create a sense of involvement in real events. Also, the problem of how to get the essence of the lives of the four main characters into the space of one day is not small. I had done something like that before but never in such a concentrated way. In making fiction, one of the things a writer must do is to make absolutely certain that he knows the mind he's dealing through. In Recapitulation, I was dealing in third-person narration, but through a particular memory and a particular mind. In Crossing to Safety, I'm dealing in first-person; I have to try to become that person as far as possible. If I succeed, I get the tone of voice and the quality of mind that will persuade a reader to see and hear a real and credible human being, not a mouthpiece or a construct. As Henry James said, if fiction is going to be successful, it depends helplessly upon that sense of reality.
INTERVIEWER
You have to convince the reader that the world that he or she is entering is the real world and not the world of dream or memory only. Is that it?
STEGNER
I believe the real world exists. I haven't any philosophical doubts about that. Moreover, before you can convince the reader, you have to convince yourself that, in effect, you have invaded and become the person you're speaking through. Every morning you have to read over what you did yesterday, and if it doesn't persuade you, it has to be redone. Sometimes it takes me three hours in the morning to get over the feeling that I've been wasting my time for the past week and that everything I've written up to that point is drivel. Until I can convince myself that I am speaking in the plausible, believable voice of the person I have invented, I can't go on. So the first job is to convince yourself, the second is to convince the reader. If you do the first, the second more or less follows.
INTERVIEWER
Can we properly speak of traditional forms in fiction in the same sense that we can speak of traditional forms in poetry?
STEGNER
Sonnets and rondels? No. But it seems to me that every story has its own form, which can't be imposed upon the material but must be discovered within it. I don't believe, for instance, in such a thing as an all-inclusive form at all. I don't think there is such a thing in philosophy, either. I don't believe in method-makers, system-makers; it doesn't seem to me that life conforms to systems. Only systems conform to systems. The people who feel compelled to make systems, whether out of philosophy or out of human life, or out of words, are deluding themselves. I would rather follow the flow of life as it happens than of life as I can imagine it to be. I don't think straitjackets are the way to get at fiction. I would rather define the novel as Stendhal did, as a mirror in the roadway. Whatever happens in the road is going to happen in the mirror too. You can't systematize that.
INTERVIEWER
What is originality in fiction?
STEGNER
It's often thought to be technical innovation, experimentation of one kind or another, which never intrigued me. Whatever originality is, you can tell when it isn't there. If everything in a story can be anticipated from the start, if the writer begins with a situation and the story develops and concludes in absolutely anticipated ways, then I would say it is unoriginal. The writer is following a pattern practically imprinted on the material. Some element of the unexpected is necessary, or some element, at least, of the—what would you call it?—profound. For a writer to be original, he or she would have to see deeply enough into characters to say something that makes a reader really pause, something the reader might never have thought of at that point in the fiction. And ultimately, the writer would have to make the reader go the writer's way too.
INTERVIEWER
Both John Fowles's The French Lieutenant's Woman and your Angle of Repose employ similar narrative techniques, some we had not seen in the novel for perhaps as long as a century.
STEGNER
They are both traditional, which doesn't bother me one bit. I don't really aspire to write a novel that can be read backward as well as forward, that turns chronology on its head, has no continuity, no narrative, that, in effect, tries to create a novel by throwing all the pieces in a bag and shaking it. If a writer has to do that to be original, then I don't care about being original. In fact, I don't think the word originality, as it's usually defined, is particularly useful. It usually seizes upon some innovation that often turns out to be frivolous or essentially unimportant. An awful lot of mutations, which is what these things are, turn out to be monsters that can't live. I'm content with the species, with turning out two-legged animals with one head.
INTERVIEWER
Judging by the whole body of your fiction, you seem to me a highly self-conscious novelist. I mean that as a compliment.
STEGNER
That depends on what you mean by "self-conscious." I'm not careless, and I don't like to write things that fail to cast any shadow at all. On the other hand, I do, as I said, like to follow the flow of what I perceive to be the reality of observed life. I don't like to risk messing with that. If I'm lucky, things will come together.
INTERVIEWER
How much of your fiction is autobiographical? You are often taken for your fictional narrators, Joe Allston and Lyman Ward in particular.
STEGNER
What does Wallace Stegner have to do with it? The very fact that some of my experience goes into the book is all but inescapable, and true for almost any writer I can name. Which is real and which is invented is a, nobody's business, and b, a rather silly preoccupation, and c, impossible to answer. By the time I'm through converting my life to fiction, it's half fiction at least and maybe more. People still come to me and say, "Oh, it's too bad about your son who drowned in that surfing accident." Because some of All the Little Live Things reflects my immediate circumstances, they assume all of it does. People ought to learn to read better than that. The kind of roman à clef reading determining biographical facts in fiction is not a good way to read. Read the fiction. The life, like all kinds of other things, is just raw material for the fiction. Insofar as the life is usable, it's used; insofar as it's unusable, something else is used. When I get through a book that involves some aspects of my own experience, as this new one does, I often don't know myself what I invented and what I didn't.
INTERVIEWER
Is that because you have made the experience real?
STEGNER
It's because I have thought my way into it in fictional terms. I never want the end product to be taken as autobiography or biography. Because it isn't. No, the moment I begin to say, This fictional person is so-and-so, I am lying through my teeth. My fictional people are no more real people than Larry Morgan is me. They are constructs with some relations and roots in real life, but they are certainly not people. If I said they were people, real people would begin to say, Well, you did me wrong. And they would have every reason to say so. But as long as my characters are constructs and understood to be such, I have only borrowed, shall we say, some characteristics and experience for fictional purposes—and I hope transformed them.
INTERVIEWER
My own limited experience in creating fiction tells me I have no choice but to draw upon my own experience as well as that of my friends, parents, children, if I am going to shape characters. I sometimes feel as if I am stealing.
STEGNER
You can't steal anything that's already yours—in a literary sense. If you can surround it, understand it, comprehend it, it's yours unless you steal word for word—which is another matter. If the material is yours and it fits your concepts and the growing pattern in a novel, then it's already yours.
INTERVIEWER
How important are literary friendships? How important are friends to a writer?
STEGNER
I would hate to think that friends were simply purpose-servers, utilitarian. There's no question at all that literary conversation with people who know what they're talking about and whose books you have read, with whom you have some kind of friendly occupational relationship, is important. When you read a book you're bound to get a closer glimpse of people than a lot of the glimpses you get in real life. And so literary conversation, the companionship of people of like minds, is very pleasurable. I wouldn't want to think of it strictly as a useful business, although once in a while it happens that way. Malcolm Cowley helped me a time or two just with his wisdom.
INTERVIEWER
Did you consider him a friend?
STEGNER
Oh, yes. One of the best. I was writing Wolf Willow, and I couldn't make it come together. It was an anthology in the first place. Malcolm said, "Let me look at it," which was very friendly of him, and he looked and he said, You know, I think if you just move this "Dump Ground" chapter from the beginning to the end—or vice versa, I've fogotten which—the book will come together better. And it did, like a puzzle when you find the key piece. I had a blind spot he did not have. So there is often a great usefulness in literary friends, but that isn't what you have them for. You don't have any friend for anything. You just have him. Or her.
INTERVIEWER
What others do you think of as literary friends?
STEGNER
I don't have many because I haven't lived a literary life. Most writers either live in New York or in their own pieces of the hinterlands. Frank O'Connor was a good and close friend. So was Storm Jameson. But most of my literary friends are friendly acquaintances or ex-students—a separate category.
INTERVIEWER
Do the women in your fiction seem to you stronger than the men? Doesn't your fiction address this question frequently? By "stronger" I mean physiologically as well as psychologically. I'm thinking, too, of one of your critics—a man—who claims your novels use women but are ultimately about men.
STEGNER
I wouldn't think such a generalization would be easy. There are some women in my fiction, like the discombobulated woman in A Shooting Star, who are not strong characters. I've known a lot of women, particularly in the more distant past, back a way—attractive, well-educated, with nothing to do. Simply brought up and well-educated to a dead end. Society wives. That kind often ends up alcoholic or something else self-destructive. They can't be called strong characters.
I think Elsa in Big Rock Candy Mountain, who has a good many qualities in common with my mother, is a strong character, stronger than her husband who is a lot more active and in some ways more imaginative. In Angle of Repose I would guess that it's a standoff. Susan is more talented in many ways than Oliver. She shows off better. But while I wrote that book, thinking that I was writing about her as a heroine, I came to the end of it thinking maybe he is the hero because there is a flaw in her, a flaw of snobbery. She doesn't adequately appreciate the kind of person he is, or the kind of work he does. That's a story not about either men or women, but about a relationship, a novel about a marriage.
I have been lucky, in some ways, writing about women. My mother was a very strong woman, and I got an example of the kind of patience and endurance that even an unlucky woman can display. And I was lucky in writing Angle of Repose because the record was so complete. I couldn't have been a Victorian gentlewoman without taking a lot of material out of the letters of Mary Hallock Foote, who was, in her way, a quite remarkable character. Women sometimes ask me, How do you know so much about women? I don't know anything about women. I'm writing about people. It's not as if only women can write about women or men about men. After all, neither Madame Bovary nor Anna Karenina was written by a woman. I know novels about men written by women that are perfectly strong and true. I don't want to dismiss the sexes or dismantle them. I just don't want to choose between them.
INTERVIEWER
Is there a point where a writer's consciousness ought to take over his intuitive responses, when the character begins to cast a longer shadow on the page and assume symbolic values? I'm thinking of the evolutionary process: first by accident, then by design.
STEGNER
Oh, I suppose. Again, I would insist that those patterns are discovered and not imposed. When a writer finds them he helps them along. You would be foolish not to play any scene that is given to you to play. Benny DeVoto said, in effect, You run out your hits as far as you can. You don't stop on second. But the author's consciousness certainly ought never to be obvious. It's imposed, of course it's imposed. But the author's view of his own characters may be arrived at through a long period of inductive thinking about them. You don't put placards up for the reader saying, This is my meaning.
The whole business of writing is an attempt to arrive at truth, insofar as you can see it, as far as your capacity to unearth it permits. Truth is to be handled gingerly. That's an egg with a very thin shell. I'm not writing fables—where the moral is literally part of the form. I'm writing something from which the reader is supposed to deduce or induce any moral that's there. The moral value ought to be hiding in the material.
INTERVIEWER
The last time we spoke I pointed out to you a few of the interpretive possibilities for the first name of your narrator Lyman in Angle of Repose: Lie-Man, I exclaimed. What a wonderful name for a storyteller. You denied making any conscious association.
STEGNER
I never thought of that pun on Lyman's name until you suggested it to me, so if it was unconscious on my part, it was totally unconscious. Such things seem to me a form of gamesmanship and pedantry I really don't want to play. Lang, for instance, in the new novel is just a name. I don't know where that came from. I wanted a Scottish name. It came, I suppose, because I happened to run across Andrew Lang, a translator of certain Greek classics. Lang is just a Scotch name. It might as well have been McDermit.
INTERVIEWER
But it wasn't McDermit! It was Lang. What about the name Ward, the family name in Angle of Repose? Lyman, the narrator, and his whole family are literally orphans. Lyman considers himself both a cultural guardian and watchman, as well as a dependent. He, at least, is aware of himself as a ward.
STEGNER
Well, I suppose I'm entitled to anything you can find in me. I'll accept that. But I'm certainly not doing anything like that on purpose. If I were Vladimir Nabokov, that's the kind of game I might play. I'm a very different kind of writer.
INTERVIEWER
Will you comment on the way you choose the names of your fictional characters?
STEGNER
Sure. Which ones?
INTERVIEWER
Well, how about Lyman Ward?
STEGNER
While I hate to lose credit for ingenuity, I have to say that most of my characters' names are pure accident. I probably named him Lyman because the president of Stanford at the time was named Dick Lyman, and I borrowed his name. Ward? I don't know where I picked up Ward except for Julia Ward Howe and other people related to my historical models. I wanted an old, Eastern, established name. Even though Ward came a little close to some of the ancestors of the people I used as models, I still felt it was legitimate. It wasn't the name of either family. It was on a collateral edge of one of the families. I guess that's where that name comes from, but I also wanted to use the fellow in Leadville, the wizard of Wall Street, the man who broke Ulysses Grant and more or less disgraced him.
INTERVIEWER
Who was that?
STEGNER
W. S. Ward. He appears in the book just briefly as a foil for the relatively square, unimaginative integrity of his cousin.
INTERVIEWER
It must be outright unnerving to write a book like Angle of Repose and then watch The New York Times ignore it, even when the Pulitzer committee nods benevolently. What do you do then?
STEGNER
I was made aware of the situation by all kinds of friends of mine, including many in the East, who kept writing to the Times and saying, When are you going to review this book, because it's a book we admire very much? Eventually, months later, the Times ran a retrospective review, which was a little condescending, and kind of snobby. I don't know. The reasons they ignored it could have been personal. Wright Morris and I talk about which one of us is the more neglected. We compete for the role. Neither of us wants it.
INTERVIEWER
But then, after Angle of Repose, you published The Spectator Bird and won a National Book Award. Did the Times review it?
STEGNER
No. They didn't. But that's all water under the bridge. Let's not bring on anything with a rain dance. The Los Angeles Times didn't review The Spectator Bird, either. That, I found out later, was because Robert Kirsch, the book editor, was abroad and terminally ill, and somebody in his place just overlooked it. I wouldn't make a case for the Los Angeles Times being unfriendly, because they have been friendly. They've given me a prize. These things seldom happen through calculated neglect.
INTERVIEWER
You once claimed in an essay published in The Sound of Mountain Water that a publisher's map of the United States would look like a barbell: New York at one end, California at the other, and United Airlines in between. Does that comparison still hold?
STEGNER
The publishing world used to be a narrow world, pinched between about Thirty-third and Sixty-fifth Streets and between Third Avenue and the Avenue of the Americas. That world has widened in recent years as regional and university presses have enlarged their activities. Though the New York skyline still obscures the view to some extent, publishers certainly do know that the West Coast exists, and some have even discovered the interior West. The concentration of publishing, the reviews, and the advertising industry in New York makes New York indisputably the center, but it's less necessary than it used to be to live in New York, or to make frequent visits, if you want to be a writer. It is possible—not optimal but possible—to live a long way from the center and not get lost.
Twenty years ago I could not have said that, probably. I taught at Harvard for a half-dozen years in the 1940s, and because of the proximity to New York I felt more a part of the literary world than I have ever felt since moving back west. Personal contacts, acquaintances, visibility, all have practical usefulness. But they are not now as absolutely essential as they were then. The principal danger is that, like a character in a radio play who says nothing for a minute or two, you may disappear.
INTERVIEWER
When you say it is useful for a writer to be visible, what do you mean?
STEGNER
For practical purposes, to be visible to editors, publishers, critics, agents, and for the possibilities of personal growth and stimulation, to other writers. Not being in New York means not knowing, or at least not seeing regularly, some of the best and brightest people in the world, people who might take can openers to your mind, the kind of people who give off sparks when struck.
INTERVIEWER
Are you speaking about fruitful cultural differences?
STEGNER
Of course. I am probably going to look provincial to a born-and-bred New Yorker. He is probably going to look parochial to me. We need each other as correctives. For just one thing: cliques tend to form, coteries, fads, mind-sets, coagulations of ideas. Inevitably, we in the West are farther from Europe; the examples and stimulations that come from there are pretty attentuated after crossing the Atlantic and the North American continent. Just as surely, New York is farther from Asia than we are. Sitting on the edge of the Pacific Basin, we see aspects of the future, and we hear the sounds of alien ideas that are less apparent farther East. And we hear the interior of the continent more plainly. But the main problem is that the prestigious review journals come out of New York, and they tend to ignore what they can't hear, or to review it less seriously.
INTERVIEWER
Can we talk about the question of age and writing well? Conrad started at forty. Hardy, of course, wrote his best poetry—
STEGNER
After Jude the Obscure. I don't know anybody in this country who's writing fiction at a really advanced age and still writing well. Robert Penn Warren was very productive in poetry. Malcolm Cowley went on producing books, too, but his health and energy finally ran down. There are a few. Sophocles wrote Oedipus at Colonus when he was ninety. Goethe finished Faust when he was very old. But those were people with remarkable vigor and stamina, and most were not writing fiction. Not just anybody can do it. Some people are senile at sixty, some at twenty.
INTERVIEWER
What about you?
STEGNER
When I was in my prime, so to speak, I would generally get anywhere from three to five or six pages a day, stuff that might have to be rewritten tomorrow, but that would essentially stay. That doesn't happen now. It takes more combing to do it now.
INTERVIEWER
Perhaps you're only being a more cantankerous and harsher critic, more difficult to please. You once told me that the critic inside the writer ought to come to the work at a "different hour" than the creator and scribe.
STEGNER
Well, I still think that's true. It's important to get on with the writing, particularly when you're young and you can hardly wait to get down to work because you're boiling with something. But I'm not boiling that hard anymore. The critic is taking charge, and I'm just driving the cab. That's why it takes me so much longer now.
INTERVIEWER
Are there no advantages to age for a writer?
STEGNER
Oh, of course there are. There are even advantages to being fifty years in the business of writing books, because one hand has a tendency to wash the other. People know one book and get reminded of another. A reputation is, to some extent, a cumulative affair. I suppose that's the best kind of reputation, one you've earned over a long period of time. That's the kind I would covet, if I were coveting.
INTERVIEWER
Are there no other advantages of age? Even if you only end up keeping one page a day you can easily have a book every year or every other year.
STEGNER
Yes, one page would be pretty good. There are advantages. You should know more. You should be able to estimate people better. You should have, if not a more mellow, at least a less distorted view of the world. But a lot of the business of writing books is, as Hemingway said, selling energy. The disadvantage of age is that your energy level goes down. You have less to sell. And eventually the level goes down so far you haven't any to sell, and you quit writing books.
INTERVIEWER
I've heard this before. The last time we spoke you told me, I don't know if I'm going to have another novel.
STEGNER
Well, all right. I'll go on like a fool until I'm ninety—and then wish I hadn't written the last three. There are other things that happen when you get to be my age. Literary fashions change, leaving you stranded. Still, at my age you care less. You just plain care less. You get tired of people's problems, and you take less interest in them. You think, Oh, to hell with them. I'll go out and tend to the garden. The kinds of problems you can care about in your old age are different from the kinds of problems you care about when you're thirty. And they are probably different from the kinds of problems most of your readers care about. So you tend to move away from all the heat and calamity of living and get into a kind of serenity that is not very creative.
INTERVIEWER
That's one option. If you could literally go back and change anything, would you do it?
STEGNER
Oh, I don't know. It's a kind of fruitless speculation, isn't it?
INTERVIEWER
Maybe. Not necessarily for a novelist, I would think.
STEGNER
If I could go back? There are many, many things I would do differently if I could go back. Of course. I would go back and study different things. If we're in the self-improvement business, which we seem to be on the basis of this last book, there are many ways I could improve myself.
INTERVIEWER
You would study biology and anthropology.
STEGNER
I would study both of those. I would waste far less time.
INTERVIEWER
You've produced fifty or more books in as many years. Where did you waste a second of time and when?
STEGNER
I'm thinking up to the time I was about twenty—twenty-two, maybe—no, twenty. You waste your youth. I wasted mine working too much. I fiddled. I played a lot of cards, for one thing . . . like Solo. I spent a lot of time reaching for "spread misères." It's a laydown hand in Solo: I guess I'll make it a spread misère, said Dangerous Dan McGrew. I suppose I didn't waste a lot of time, but I was a frivolous youth. I really was.
INTERVIEWER
Isn't that what youth is for?
STEGNER
It doesn't seem so. I had plenty of reasons to be serious. If I could go back, I would waste less. And I would waste less of it at frivolous and unproductive work. I worked my way through college being a clerk in a rug and linoleum store forty hours a week. There was nothing in that work that taught me anything. I did it for a long time—and was glad to do it because it was the only way to go to school. If I were going back I'd find some other way. There were so many books I wanted to know and would know now if I hadn't worked those forty-hour weeks, four years of my life.
INTERVIEWER
Do you recall these words? "Nobody has quite made a western Yoknapatawpha County or discovered a historical continuity comparable to that which Faulkner traced from Ikkemotubbe the Chickasaw to Montgomery Ward Snopes. Maybe it isn't possible, but I wish someone would try. I might even try myself." Haven't you been trying?
STEGNER
Not systematically, no. When I wrote that statement, sometime in the fifties maybe, I was wishing that somebody could do it; I suppose I was aware that in many people's eyes, and perhaps in my own, I was becoming a Western writer; I was curious to know what that meant, curious to know if it was some kind of fence I was stuck inside of. If I was going to be stuck inside the fence, what was I going to do with the territory in there? I pretty well decided, then or later, that the territory was a little too vast and various, that you couldn't make a Yoknapatawpha County out of it. There was not enough homogeneity in the material.
I don't know how systematic Faulkner was in writing the Yoknapatawpha County books; I suspect he wasn't a systematic kind of man. But he was dealing with material that was homogeneous, that related one book to another through three generations of a family of characters. In the West, there is not that kind of continuity to deal with, even if I wanted to. If I had been tempted to try to make some kind of saga like that, I couldn't possibly have done it without confining myself to a particular part of the West, Salt Lake City, say or Saskatchewan, Montana, parts of the West I knew. Here again we run into the lack of a usable past. There wasn't enough in those places to produce that kind of saga, I thought. So, I'm scattered. Even when I'm writing about the things I know, I'm inevitably scattered. The only related things I was able to do were a trailer to The Big Rock Candy Mountain in Recapitulation, two Joe Allston books, and another little Joe Allston novella about this part of contemporary California. Those are not sagas. They are only minimal crystallizations and coagulations. All of Faulkner's people tend to revolve around the courthouse square, the Confederate monument. It's a different, much more concentrated country in the South. It's a rural tradition with a relatively homogeneous population, homogeneous problems—the problem of slavery and its consequences; it's a rural society and notably traditional.
INTERVIEWER
One of your critics writes, "Stegner reminds me of Faulkner, a mythologizer notoriously unreliable in his comments about his own work. . . . . Stegner treats myth and tradition as does Faulkner, who uses them in terms which absolutely surround them and encompass them and melt them down and make them into something else . . . [who] transcends and transforms his tradition."
STEGNER
It would be nice to think I have all those powers. I don't understand, really, what the critic is talking about. I am, so far as I know, unaware of myth in my work—notoriously unreliable as I am. Again, if these things are found in my fiction, I'm happy. I have been, as you suggest, trying to make a historical continuity between past and present, but I don't understand that as myth. I don't believe the myth matches either past or present. The mythic Western is pure hokum. It applies to very small numbers of people over very short periods of time and not at all to nine-tenths of the people who lived here—as a personification of individualism and self-reliance. I guess I like things that are closer to the actual facts of experience.
INTERVIEWER
Have you been conscious of attempting to debunk the myths, statements like "rain follows the plow," or "gold is anywhere you stick your shovel"?
STEGNER
I'd call those delusions, not myths; but sure, I grew up doubting the big-bonanza-just-over-the-next-rise notion because for years I watched my family chase it. I got pretty jaundiced on that subject. A little realism would have helped my family a good deal. Instead of expecting to make a big strike somewhere, which is a very American notion, encouraged by free land, by opportunity, by freedom of action, or nearly complete freedom of action, I would have liked to see a little more just plain stick-to-itiveness at times. The longest journey begins with a single step—I believe that more than I believe in the fortune over the next rise. My father always refused to make the first step. He always wanted the step to be a one-hundred-yard broad jump. Broad jumping is not the way you travel. It leads to a succession of falls.
INTERVIEWER
Is it possible for a writer to open up "new" territory for fiction?
STEGNER
No new ways to be new, as Frost said. I think that's a reasonably good statement. There's nothing new under the sun, sayeth the preacher. All the rivers run into the sea, yet the sea is not full. I think more circularly than linearly. I don't think there are beginnings and destinations so much as circles that end by closing and starting over again. I can't think of any fiction that introduces new elements of what used to be called "Human Nature," nothing that isn't present, say, in the Iliad and the Odyssey. The qualities of character, the machinery of suspense and climax, of mounting action and falling action: I don't think we've seen anything new in that way. There are new clothes, because civilization can change, and we get out of armor and into doublet and hose, and then Brooks Brothers pants, but we're still the same people, and doing the same things essentially. I think it's a mistake to think originality amounts to that much.
I know people, for instance, including former students of mine, who got into the sexual revolution and thought they had opened up really new material for fiction. They felt like Renaissance men and women discovering a new world with fifty-seven positions. But it's there in One Thousand and One Nights, it's there in the Satyricon of Petronius. There's nothing new about it. I doubt there's much Cain didn't know as soon as he got acquainted east of Eden. I don't think that's a way of getting anywhere to pretend that there's anything new to be said. What's important is a larger understanding of what has always been. I believe some things have been added in that respect.
INTERVIEWER
Like what?
STEGNER
Many would say depth psychology has given us both new soil and new tools. I'm not sure. I've never seen an id—and I will run in another direction if I ever do! Freud's theory of the personality doesn't always strike me as plausible. I'm half-inclined to agree with Nabokov on the subject of Freud: a great witch-doctor. I would say that I doubt psychoanalysis has produced many cures, though it has produced a good many novels.
I don't mean to say the species is absolutely incapable of change. But often what we change to may have already been there, but neglected. Aldo Leopold's American land ethic is, in some ways, for example, prefigured in Stoic philosophy. Marcus Aurelius: "What's bad for the beehive can't be good for the bee." It's certainly there in Saint Francis, in Zen, in American Indian religions—that attitude toward the earth that is respectful and reverent, that goes with the flow of the earth instead of against it. If we all adopted Leopold's land ethic tomorrow we would not be doing anything new. We might be going in a different direction from the one we're headed toward, but it wouldn't be a new direction, only a change of direction, one already inscribed in the books.
INTERVIEWER
Is it possible for a writer to protect the places he or she loves by writing about them?
STEGNER
It doesn't help to write about them in celebratory ways because all you do is stimulate the tourist industry. I have sometimes carefully avoided writing in celebratory ways about places I love on the earth. On the other hand, you can write, as Leopold did, about attitudes toward the earth and do some educating. The problem is not wickedness or evil. Lynn White calls it a development of the Judeo-Christian tradition that makes man the center of the earth and all creatures subservient to him. The problem, as stated in Genesis, is a piece of early Jewish arrogance. But many peoples have felt it. The Navaho call themselves Diné, "the people." Many, many people have called themselves the people, as if no other people existed, and have thought of themselves as the center of the universe. We have to get over that. I am profoundly of the opinion that that attitude has to go or we destroy our own habitat. So without innovating anything, I would just rather get a little more American Indian than Judeo-Christian in my attitudes toward the earth, and a little more Zen and Saint Francis–like in my attitude toward other animals.
INTERVIEWER
You've observed that the "new man" Crèvecoeur defined had become something else by the time Henry James got around to writing The American. Is there anything you can tell us that might help the species survive?
STEGNER
Crèvecoeur's notion is touched by the Rousseauian idea of the naturally good human being given new opportunity. And new opportunity—Crèvecoeur never got around to saying this—is often abused. People take advantage of it to extend beyond their normal appetites. Wendell Berry was right when he said we've gone about as far as we can go with that American notion, the new man in a new country. It's time to change direction and quit thinking of the American as simply an animated economic opportunity. That's Ronald Reagan's way of looking at America. I'm profoundly opposed to enterprise when enterprise is uncontrolled by any notion of the public good, of the polis, the way in which people relate one to another. Instead, we find individualism gone berserk. I don't know if you're familiar with a book by Robert N. Bellah called Habits of the Heart, the title of which comes from Tocqueville. It's an examination of American attitudes, of individualism without what Wendell Berry calls "membership," without association, without a notion of a polis. According to Bellah, individualism often results in a lifestyle that changes as often as the coat or tie, the absolute repudiation of commitment or obligation to anything. You're not obligated by religion, you're not obligated by a social conscience, you're not obligated by family—you change your family, you get a divorce and start over. You're not even obligated to stay with one sex. You're absolutely free. And absolutely, it seems to me, in a vacuum. I would agree with Bellah: that kind of individualism gone berserk, gone rampant, leads down to some cold ninth circle of hell. That's no way for any people to continue to live. We had better get over precisely the kind of thing Ronald Reagan urges us to get back to.
INTERVIEWER
You also wave a hand of dismissal to the whole idea that T. H. Watkins raises in a recent article—that you've been one of "the central figures in the modern conservation movement." You worked for Stewart Udall in the Kennedy administraton; before that as an active freelancer in Bernard DeVoto's camp; and you've been on the Advisory Board for National Parks, Historical Sites, Buildings, and Monuments as well as on the Governing Council of the Wilderness Society.
STEGNER
I told Tom Watkins, I am not a good soldier in the environmental armies because I don't seem to work well in bodies with other people. Here's an irony: I'm against individualism gone rampant, but I don't actually seem to be a very good team player. I become recalcitrant. Even when I agree wholeheartedly with the people who are urging me along, I don't like to be pushed. So some of the work of conservation, which is by necessity touched with zealotry, I resist. I'm not fooling when I tell Tom I'm not really a good team player. I have the complete conviction and conversion, but I seem to have to do it on my own. That means I write when I feel it and not when the tactics of the moment call for it.
I have been unable to bring much of my thought about conservation into fiction because I suspect myself when I begin to be doctrinaire. I consider the integrity of the material to be of greater value than any message I might want to get across. If the material itself dictates that message, it would be in there, but I don't seem to be able to put it in by force or will; that seems to me a dilution of the essential.
INTERVIEWER
But it does surface. Plenty of public servants turn up: John Wesley Powell, for instance, and there are plenty of examples in your DeVoto biography. Bruce Mason is a public servant. Oliver Ward has a kind of civic-mindedness.
STEGNER
Oliver's notion of how to be a public servant in the West was mistaken, but he did have the notion of public service. His notion was to build a dam that he hoped would do a lot of good. Well, I happen to be an anti-dam man, so I have to go against my own character in a way. Oliver is not a Bo Mason, but neither is he a Powell. Even Powell I would have to disagree with on certain things because he didn't live long enough to see what the development of the dry country would do to it.
INTERVIEWER
What's the most difficult thing to teach about writing? And what's the most difficult thing for students to learn?
STEGNER
Assuming that the student is at a stage where he is still teachable—there is a time when you shouldn't try to teach him, when he is technically proficient and subtle and has his own ways for going about what he wants to say—one of the hardest things to teach him is Revise! Revise! Revise! And they won't revise, often. Many of them would rather write a new book than revise the old one. Revision is what separates the men from the boys. Sooner or later, you've got to learn to revise. On the other hand, there's occasionally somebody like Bob Stone, who won the National Book Award for Dog Soldiers. Quite wacky, really. Quite mad. He got the notion in the middle of the year that he had a brain tumor. He came in and sat across from my desk and big drops of sweat formed on his forehead. I'm going blind! he said, scared to death. He had just used up his fellowship. So I quickly reinstated his fellowship so that he could get free medical care. He swore later they bored a hole into his head and blew him out with a pressure hose, but they didn't find any brain tumor. He came bald-headed to a party when Bill Styron was there talking. But Stone was someone you couldn't teach not to revise. He was so finicky that it would take him a term to produce a chapter. He would be working on it all the time, but he wouldn't really let anybody see it until it satisfied him completely. He's an exception, though, and a very good writer.
INTERVIEWER
If you were to outline a course of study for a writer at the outset of his undergraduate career, what would it include? Or is the question too broad?
STEGNER
That's pretty broad. It might be different for every individual. I would ask some questions. I suppose I would ask, Are you a reader? If you aren't a reader, you might as well forget trying to be a writer. I don't think it's necessary to take a lot of courses in English literature. I sound prejudiced against the English departments, but in a sense, if you had some kind of guidance, if you had a tutor who could suggest books for you to read, it would be better, I think, than taking regular English department courses. To know something substantive, to have some kind of skill, some body of knowledge, is terribly useful. I don't care what it is. It will be useful in writing sooner or later. If you only play tennis well, if you're a doctor—whatever you do. I know what I would do if I were doing it again. I would take courses in biology and anthropology, though that's my particular bias. Whatever your choice, there's no substitute for knowing something. As Benny DeVoto once said in a dour martini-lit moment, Literary people always tend to overbid their knowledge. At the same time, while you're learning something, I suspect that you should keep writing. Use it or lose it. Creation is a knack which is empowered by practice, and like almost any skill, it is lost if you don't practice it.
INTERVIEWER
Is the proliferation of creative-writing programs on the nation's campuses in any way dangerous?
STEGNER
Yes. It's dangerous because, if you'll pardon the expression, a lot of people in English departments should never be trusted to run a program. Their training is all in the other direction, all analytical, all critical. It's all a reader's training, not a writer's training, so they have no notion of how to approach the opportunity.
INTERVIEWER
During some of the years you taught at Stanford, you shared the corridors with Yvor Winters, a formidable critic. Former students like Ed Loomis say they were "very much aware of dominions and borders that were taken very seriously in these little intellectual baronies. There was a certain amount of distrust—or perhaps dislike would be a more accurate characterization."
STEGNER
Yvor Winters was, as you say, a formidable critic, positive and often unyielding in his opinions, and intolerant of ideas that conflicted with his. He was not a man you could debate with, because he never debated, he asserted. On the other hand, he was learned, utterly serious, and a devoted teacher to those with whom he could work, and who could work with him. We had our differences, which were never mortal, and we generally operated, as Ed Loomis suggests, by a division of territory. Yvor kept his poets close, away from contamination, with the result, which I never liked, that poets and fiction writers had too little contact. That situation has not applied since Yvor's retirement and death, and so far as I am able to observe, poets and fiction writers mix and blend and influence one another in the present-day program.
INTERVIEWER
As a nation, are we pursuing the best course by subsidizing fiction writers and poets and the publication of their work through the auspices of the National Endowment?
STEGNER
I suppose it could be said that arts that require public support don't justify themselves, and should be allowed to wither. But the arts have always needed support, because they are a product of a highly evolved society with plenty of leisure, and few of them can count on a mass audience big enough to keep them solvent and flourishing. I have no difficulty with the spectacle of the federal government playing modest Maecenas. After all, when I was breaking in, there was outright support for the arts through WPA, essentially a welfare program. The only problem is that a leaky tap will always attract lapping tongues. Any fellowship program, even such university programs as Stanford's, must keep a careful eye out for plausible fellowship lushes. Fellowships are best applied to young writers with big ambitions, to help them over the first hump. I don't know the hazards of other arts—I suspect composers have it worst—but any beginning artist needs time to develop, and fellowships, federal or otherwise, buy him time.
INTERVIEWER
What do you do when you simply want to relax—apart from reading and writing, teaching and lecturing, stumping for conservation?
STEGNER
Walking, reading, gardening. I am past tennis because of a shoulder separation, past skiing because I hate the cold, and past being a beach bum for obvious reasons.
INTERVIEWER
What role has your wife, Mary Stuart Page, played in your life and career?
STEGNER
She has had no role in my life except to keep me sane, fed, housed, amused, and protected from unwanted telephone calls, also to restrain me fairly frequently from making a horse's ass of myself in public, to force me to attend to books and ideas from which she knows I will learn something; also to mend my wounds when I am misused by the world, to implant ideas in my head and stir the soil around them, to keep me from falling into a comfortable torpor, to agitate my waking hours with problems that I would not otherwise attend to; also to remind me constantly—not by precept but by example—how fortunate I have been to live for fifty-six years with a woman that bright, alert, charming, and supportive.
INTERVIEWER
Another great American writer once wrote, "Death is the mother of beauty, mystical / Within whose burning bosom we devise / Our earthly mothers waiting, sleeplessly." Is one life ever enough?
STEGNER
I would like to think that one life is enough, and that when I see it coming to an end I can meet the darkness with resignation and perhaps acceptance. I have been lucky. I came from nowhere, and had no reason to expect as much from this one life as I have got. I owe God a death, and the earth a pound or so of chemicals. Now let's see if I can remember that when the time comes.
INTERVIEWER
In your only formal statement on your personal beliefs, you write, "I am terribly glad to be alive; and when I have wit enough to think about it, terribly proud to be a man and an American, with all the rights and privileges that those words connote; and most of all I am humble before the responsibilities that are also mine. For no right comes without a responsibility, and being born luckier than most of the world's millions, I am also born more obligated." What new obligations and responsibilities do you feel confronting you now? Or are there any?
STEGNER
No new ones—haven't we agreed with Frost that there are no new ways to be new?—but only reiterated and intensified versions of the old ones: the obligation to use oneself to the bone, to be as good as one's endowments and circumstances let one be, to project one's actions over and beyond the personal. The only things I owe to myself, I owe to my notions of justice. But I owe a great deal, in the way not only of obligation but of tenderness, to my family and my friends. Chekhov said he worked all his life to get the slave out of himself. I guess I feel my obligation is to get the selfishness and greed, which often translates as the Americanism, out of myself. I want to be a citizen of the culture, of the best the culture stands for, not of a nation or a party or an economic system.