Interviewed by George Plimpton
Issue 132, Fall 1994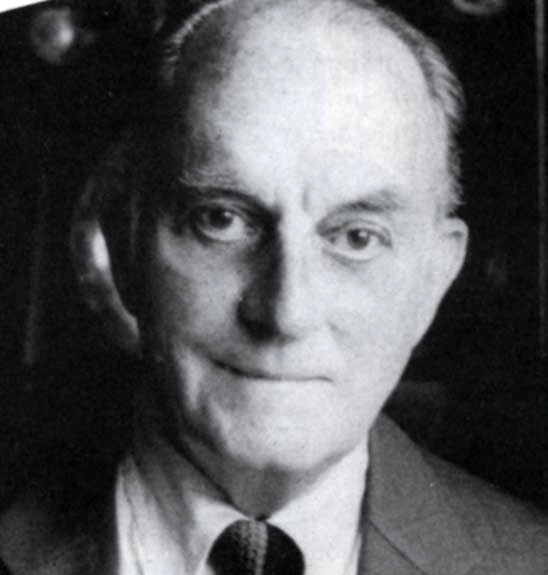 Photo by Jerry Bauer. Courtesy Houghton Mifflin.
This interview was conducted on the stage of New York's Unterberg Poetry Center of the 92nd Street YMHA on the Upper East Side before a large and respectful audience. It seemed a rather curious setting in which to find Louis Auchincloss—a personage perhaps more suited to the comforts of the well-appointed drawing room in a brownstone mansion than the bare stage of an auditorium. He sat rather stiffly in a wood-backed chair turned three-quarters to the audience, a microphone set on a stand in front of him. The replies to his interviewer—delivered in the patrician accents one might expect—seemed quite clipped at times, as if to his way of thinking the answers required little amplification. One was reminded that his background is also legal, that it was while practicing law that he worked on his books—a parlay of occupations that has become increasingly popular and fruitful in recent times (witness the success of Louis Begley, Scott Turow, and John Grisham.)
Louis Auchincloss was born on September 27, 1917 in Lawrence, Long Island, the son of a Wall Street lawyer associated with the firm Davis, Polk, and Wardwell. After graduating in 1935 from the Groton School (the venue for his most widely read novel, The Rector of Justin), he attended Yale. There he wrote a four-hundred-page novel about love, suicide and prep-school life modeled on Madame Bovary. When it was rejected by Scribners, he despaired of what he referred to in his book A Writer's Capital as "dabbling in literature" and, in a complete renunciation of a literary career, quit Yale in his third year and enrolled at the University of Virginia School of Law. To his surprise he discovered that he liked the law. Upon his graduation he joined the prestigious firm of Sullivan and Cromwell. His progress in the practice of law was interrupted by World War II; he served in the U.S. Navy in both the Atlantic (where he took part in the Normandy landings as an executive officer aboard a Landing Ship Tank) and the Pacific theaters of operations. Following the war he practiced law in New York, first at Sullivan and Cromwell, and then for many years with Hawkins, Delafield, and Wood, where he was the head of the firm's trust and estates department.
During his years as a lawyer he produced an astonishing amount of literary work—thirty-six novels and thirteen books of nonfiction. As his readers well know, Auchincloss's fictional territory is that of the aristocratic rich. He has often been referred to as the social anthropologist of the American upper class. Naturally, his work evokes comparisons with Edith Wharton and Henry James—authors he admires and about whom he has written extensively—and with the more recent writers, John P. Marquand and John O'Hara, all of whom have written in the timeworn tradition of the novel of manners. Indeed it can be said that Auchincloss rescued the novel of manners from obsolescence following the deaths of Marquand and O'Hara. Back in 1960, when Auchincloss pointed out that O'Hara's "strange, angry world" was actually the old-fashioned novel of manners in disguise, O'Hara took exception. In his best crusty style he wrote: "I can best reply by pointing out the fact that you obviously have read all my novels, and I have not read any of yours. I don't know anything about your importance as a lawyer, but in my league you are still a batboy, and forty-three is pretty old for a batboy." Auchincloss didn't let the matter drop. Every time a critic linked the two (which was often), he clipped the review or article and mailed it to O'Hara with the signature, "The Batboy."
It was during the decade of the sixties that Auchincloss was most prolific. He wrote five novels, including The Rector of Justin, The Embezzler, Portrait in Brownstone, A World of Profit, and House of Five Talents (the author's favorite). The Rector of Justin, published in 1964, was the most successful. It rose to the top of the best-seller lists where for thirty-five weeks it vied with Saul Bellow's Herzog for first place. It was nominated for both the National Book Award and the Pulitzer Prize, but lost out—very likely because of the judges' adversion to Auchincloss's fixation on WASP society—to Herzog for the National Book Award and to Shirley Ann Grau's The Keeper of the House for the Pulitzer. Auchincloss was embittered: "What a silly racket," he wrote Gore Vidal, "and how silly of me to mind. But I do."
The Auchincloss oeuvre is by no means limited to fiction. His first collection of critical essays, Reflections of a Jacobite, was published in 1961—the first of his thirteen books of nonfiction. Not surprisingly, he has written a number of essays on Proust, as well as pieces on Bourget, Corneille, Daudet, Racine, and Richelieu. A passionate Francophile, he was once described as a man who daydreams about the court at Versailles. Of the English he has written on Shakespeare and the nineteenth-century novelists, and of the Americans, Henry Adams, Willa Cather, Emily Dickinson, Carson McCullers, Katherine Anne Porter, among others, as well as, of course, John P. Marquand and John O'Hara.
In 1986, Auchincloss retired from the law. He spends his time with his wife Adele in the comfortable post-Victorian clutter of a large apartment on Park Avenue and a renovated farmhouse in Bedford, New York. There is no indication that his literary output has slackened. His newest, a collection of essays entitled The Style's the Man, is due out this fall.
INTERVIEWER
I'm sure the question most asked of you is how you can write about fifty full-length books, practice successfully as a lawyer and at the same time have something of a family life. I wonder which suffers most because of the others? One would hope not the law; your clients might be outraged.
LOUIS AUCHINCLOSS
Writing all those books never seemed to be such a trick, though I certainly don't think I could do it today with the law firms' enormous emphasis on hours and clocked time. I did have an estate practice, where the clients were usually dead, which is a help, for they couldn't always be pushing you.
INTERVIEWER
And therefore didn't mind . . .
AUCHINCLOSS
They didn't mind, but of course the heirs did, but then they weren't the clients. I found that writing took a bit of adjusting—essentially to be able to use little scratches of time to do it. Lots of writers have to have whole days or nights to get ready to write; they like to be by a fire, with absolute quiet, with their slippers on and a pipe or something, and then they're ready to go. They can't believe you can use five minutes here, ten minutes there, fifteen minutes at another time. Yet it's only a question of training to learn that trick. If they had to do it that way, they'd be able to—the real writers, that is. I can pick up in the middle of a sentence and then go on. I wrote at night; sometimes I wrote at the office and then practiced law at home. My wife and I never went away on weekends. I wouldn't recommend that anyone else try this method, but it worked for me. And it did for Trollope. I don't mean to compare myself to Trollope, but it was said that he made a habit of writing from nine to noon, and if he finished a novel at a quarter to twelve, he'd start another. Unfortunately, he put that all into his autobiography, which killed his reputation for decades because people wanted to think of writing as suffering.
INTERVIEWER
Do you think you'd write better if you did suffer?
AUCHINCLOSS
No. And I don't think most writers do, either. I think Shakespeare got drunk after he finished King Lear. That he had a ball writing it.
INTERVIEWER
Do you get drunk after you finish one of your books?
AUCHINCLOSS
No, I don't. I'm a very regular person.
INTERVIEWER
Well, how much is the law a benefit? Supposing you had taken up another practice . . .
AUCHINCLOSS
. . . being a doctor? No, I don't think so.
INTERVIEWER
Perhaps not a doctor, but an insurance man, say. Wallace Stevens comes to mind.
AUCHINCLOSS
Well, that would have been easy, because people in insurance work only from nine to five, at least the insurance men I know.
INTERVIEWER
Doesn't the law give you situations where you say, Aha! I will write about that?
AUCHINCLOSS
Well, as I look back on my literary career, short stories about the law were suggested by what I had observed or heard of personalities encountered in my practice. I really wrote more about relationships of lawyers to one another in the practice of their profession than I did about actual legal situations. Arthur Train used to write about legal problems in his books; I've sometimes done that, but more often I used just the interaction between members of a firm.
INTERVIEWER
I suppose as a lawyer it's a great help to be able to pass something down the line to a libel lawyer to make sure that things haven't gotten out of hand.
AUCHINCLOSS
The only time I was threatened with a suit was when my publishers photographed a house on Fifty-third Street for the jacket of one of my novels. The owner of the house made noises about a suit. But it was pointed out to him that the only time you could possibly sue under those circumstances was if the house was recognizable, and if I had described it as something that reflected on the owner, such as a house of prostitution.
INTERVIEWER
How do you start off a novel—The Rector of Justin, say, which is one of the more beloved of your books?
AUCHINCLOSS
That was coming for a long time. I spent six years in school at Groton in Massachusetts, and I always knew I was going to write something about the New England preparatory schools. It was universally believed that I took Endicott Peabody of Groton as my model, but I didn't. I read biographies of all the famous headmasters of his era, a considerable number of bad books. But they did have a lot in common. From them I was able to put my character together. Physically, I modeled him on Judge Learned Hand, whom I knew very well and strongly admired. I put a lot of Hand's sayings into the book. I even gave him three daughters, which he had, like King Lear; Judge Hand used to say, I can't remember which daughter told me this, Goneril or Regan. Yet the only reader who spotted him was Archibald MacLeish, who asked me, Why doesn't everybody see that you've got Judge Hand in that novel? I replied, Because he's a headmaster. If you wrote a novel about Abraham Lincoln and made him a dentist, you could have him recite the Gettysburg Address and nobody would pick it up.
INTERVIEWER
How did Groton take it?
AUCHINCLOSS
The school didn't like it. I was absolutely persona non grata for a while. But at last they came around; on the centennial of the school they asked me to make the chief address. So we all became friends again.
INTERVIEWER
How did Endicott Peabody like it?
AUCHINCLOSS
Well, he was dead.
INTERVIEWER
Oh . . . like your clients. How about the Peabody family?
AUCHINCLOSS
They minded quite a lot at the start, but they were eventually conciliated by Marietta Tree, a granddaughter of Peabody, who told me, I can't see anything of my grandfather in that book at all. It makes me realize that people didn't really know him. They think of a headmaster as just a loud noise. It's true that Dr. Peabody did once say that if a headmaster's vocabulary were reduced to a single word and that word were no, he could still get by.
INTERVIEWER
Do people in your books ever come up to you and say, I recognize myself?
AUCHINCLOSS
They certainly do, but they're usually so far off, it's ridiculous. I remember a great tax lawyer, Norris Darrell, a very literal man with a marvelous mathematical mind, who accused me of putting him in a story. The story was about a passionate diarist. Eventually, the man comes to live for his diary; his whole life is oriented around seeking items for it. It is the tail wagging the dog. I asked Norris, Why would you assume you were that character? Do you keep a diary? He said, Heavens no! I asked, Then what was it in the story that made you think you were the character? He replied, He was the senior tax partner in his firm. Well, that's usually the sort of thing a writer runs into.
INTERVIEWER
Has anybody come up to you and been accurate?
AUCHINCLOSS
Once. The very first book I wrote was under a pen name. A man called Kenneth Pendar, now long deceased, saw himself rather unfavorably described as the principal character; there was some truth in it. I resolved never to do that again because his feelings were badly hurt, and I felt like a heel.
INTERVIEWER
But is that usually the way you deal with a character; you start with somebody you recognize and then add on little bits and pieces from other people so they won't be recognized?
AUCHINCLOSS
That's right. It's very rare that a character comes to mind complete in himself. He needs additional traits that I often pick from actual people. One way you can cover your tracks is to change the sex.
INTERVIEWER
Have you actually done that?
AUCHINCLOSS
I have.
INTERVIEWER
To whom?
AUCHINCLOSS
Oh, well, I won't say.
INTERVIEWER
I would think the character would become utterly different.
AUCHINCLOSS
Well, you have to make certain necessary changes . . . vive la différence! But the salient, essential traits of a character are often the same in a man as in a woman.
INTERVIEWER
Do you keep a very tight rein on your characters? Would a man change back into a woman?
AUCHINCLOSS
In my novel The Embezzler the main character changed as I wrote it. His motivations changed. I never was quite sure I had him exactly right. He bewildered me a good deal. He was the nearest I've come to a complete and totally fictional character.
INTERVIEWER
Had you known an embezzler?
AUCHINCLOSS
No, but there was the Richard Whitney case. In a lot of my books I take great events in my own lifetime that I've been in a position to view fairly closely. When I was at Yale, the Richard Whitney case made a tremendous effect on the whole of New York, especially the downtown world; it wasn't believed that the president of the New York Stock Exchange could behave that way. He embezzled the Stock Exchange gratuity fund, his wife's trust fund and some funds belonging to the New York Yacht Club. They represented a total of three hundred thousand dollars. What he owed was twenty million dollars. J. P. Morgan & Co., of which his brother was a partner, would have bailed him out except for the three hundred thousand. When they found out about that, they had to drop him because they couldn't abet a crime, certainly not after they talked to their lawyers. Oddly enough, the crime involved only a trivial part of his deals, and yet it was the thing that upset the whole apple cart. Had he not embezzled, Morgan would have seen him through.
Today the case would hardly make the front pages. In those days it was incredible what shock waves it made. So I made no bones about using the case; I wanted to get the facts exactly right. When I put characters into the situation, however, I made them up. Even the Whitney family recognized that, though at first they were uneasy. They had objected. I knew them all. They said, You're going to stir up this whole miserable thing. I said, It's history, it's absolute history.
INTERVIEWER
When you changed his character did you change him from a Harvard man to a Yale man?
AUCHINCLOSS
No, I left him a Harvard man. I'm a Yale man myself.
INTERVIEWER
What about plot? How important is that to you?
AUCHINCLOSS
Plot is very important to the kind of novel that I write. I've sometimes overdone it. I'll never forget Elizabeth Janeway saying a lot of plot "rumbles around." Every now and then criticism really gets to you, and that really got to me, because I thought she was right. I slimmed down my plots after that.
INTERVIEWER
I'm not quite sure I understand what she meant by a lot of plot rumbling around . . .
AUCHINCLOSS
Too much of it, too noticeable. It should have been swept under the rug.
INTERVIEWER
Is it a good idea to sweep plot under the rug?
AUCHINCLOSS
Once somebody's aware of a plot, it's like a bone sticking out. If it breaks through the skin, it's very ugly.
INTERVIEWER
E. M. Forster in The Longest Journey suddenly kills off a character by having him "broken up in a football game."
AUCHINCLOSS
Yes, he does things like that with his characters.
INTERVIEWER
Shouldn't they be killed off naturally?
AUCHINCLOSS
Anything's all right if you're a person of genius. With him, it's all right.
INTERVIEWER
But you wouldn't do that.
AUCHINCLOSS
I would not dare do what Forster does with his characters. He comes into his books sometimes and talks about them; he'll say, So-and-so really was an ass. It's quite startling to hear Forster do that, but that's his particular thing. Thackeray was like that too.
INTERVIEWER
But plot's essential, don't you think?
AUCHINCLOSS
Well, I don't know. Nathalie Sarraute wouldn't think so.
INTERVIEWER
Which do you think is the more important, plot or character?
AUCHINCLOSS
It depends upon what type of novel you're writing and who's writing it. If the character's really strong enough you hardly need any help at all. Hamlet as a play has an enormous amount of plot, but it really hardly needs any when you've got a character as fascinating as the central man.
INTERVIEWER
Can we back up a little bit? When did you know that you actually wanted to be a writer?
AUCHINCLOSS
My junior year at Yale I wrote a novel and sent it to Scribners. It was turned down with a very polite letter saying they'd be interested in seeing something else of mine, but I was quite irrationally discouraged. I decided I must give up writing altogether, and I quit Yale to go to law school at the University of Virginia, which in those days would take you without a bachelor's degree. My father said, Why don't you finish Yale? I said, Because I've got to start another career right away. I'm just too shocked by this thing. He said, But you'll spend the rest of your life explaining why you don't have a Yale degree. And he was right. I still am.
I was going to be a lawyer and just a lawyer, but I did write again in the summers. I wrote another novel, which I then destroyed. I threw it in the garbage pail. Then I was terribly upset. I rushed around to find it, but of course the garbage had been taken away. The novel was gone. I have no doubt it was an appropriate part of the garbage. Then I started practicing law. During the war I wrote another novel, and that novel I published.
INTERVIEWER
Was there anything in those early unpublished novels of use later on?
AUCHINCLOSS
The first one at Yale remained with me for a long time. Oddly enough, only a few years ago in my novel The Lady of Situations I reincorporated its basic plot. It was about a woman whom I identified with the feminist movement of the time. It was very badly reviewed, I think, because some critics failed to realize that my woman in the 1930s had to be what she was. Betty Friedan recognized it, but few other people did. My point was that a woman of her day, however ambitious, had only two professions where she could hit the top—nursing and teaching. She didn't want to be either. She wanted to be a writer, but she was a bad writer. Eventually, in order to get where she wanted, she had to use sex, though she was rather a cold person. I thought it was one of my best books, but The New York Times daily critic killed it.
INTERVIEWER
What about early reading? Who were the writers you particularly admired, who made you think you wanted to become a writer? What gave you a sense that you could be a writer?
AUCHINCLOSS
I had always had the idea of being a writer. That had always been an important thing from way back.
INTERVIEWER
Were there writers in your family?
AUCHINCLOSS
None.
INTERVIEWER
Had you met a writer?
AUCHINCLOSS
I knew Mr. Arthur Train. I didn't enormously admire his work, but I liked the man very much. He was a great friend of my family's. He wrote those Ephraim Tutt stories. They're rather forgotten today.
INTERVIEWER
But he wasn't your literary forebear.
AUCHINCLOSS
I was a Henry James and Edith Wharton fan from way, way back.
INTERVIEWER
Have you seen the movie The Age of Innocence?
AUCHINCLOSS
I reviewed it. I loved it. It's a great movie. It reflects the book absolutely and entirely; it recognizes fully the vital effect of the decoration, the houses, on the characters. Scorsese has directed it so as to make you feel all the ugly pictures and the great lavish interiors; they're almost characters themselves, the way they are in the book. Edmund Wilson described Edith Wharton as the "pioneer and poet of interior decoration." Scorsese sees that. It's the best translation of a book into a film I've ever seen, except Gone with the Wind, which I think was a very great movie, but a less great book.
INTERVIEWER
What about training for writing? Do you approve of these courses that one can take?
AUCHINCLOSS
Well, I don't believe it can be taught. A person who is a writer already might benefit from such a course. I've never taken one, and I don't really know how it's done, but I don't think a person who's not a writer could possibly be turned into one by taking a course.
INTERVIEWER
What is the relationship between you and the editor?
AUCHINCLOSS
I have a very good editor, and I like him very much, but basically he prints what I send in.
INTERVIEWER
They don't call up and suggest that you leave out chapter eight.
AUCHINCLOSS
No, they don't.
INTERVIEWER
They wouldn't dare?
AUCHINCLOSS
I think they would dare, but they're too busy editing memoirs for generals and senators and other V.I.P.'s. They really have to work on those books.
INTERVIEWER
Do you consider yourself in competition with other writers?
AUCHINCLOSS
I don't think so, no.
INTERVIEWER
Do you get any sense of glee when a writer who's been overemphasized gets it in a review?
AUCHINCLOSS
I'm not like Gore Vidal, who said, "Whenever a friend succeeds, a little something in me dies." But I know what he means.
INTERVIEWER
Do you have much contact with fellow writers?
AUCHINCLOSS
Right after the war I used to go down to the White Horse Tavern where Vance Bourjaily would assemble young, up-and-coming writers. He had an incredible eye, because every single person he had there made their name sooner or later. But the meetings were interminable and the talk less than brilliant. As a hard-working lawyer I needed a more ordered lifestyle. When I married Adele, she said, Oh, we're going to see all these wonderful writers. One night Calder Willingham called just as we were about to go to bed. He asked if we'd come out and drink with him. I said, Well, I don't think Adele wants to do that. Then why don't you come? His idea was we'd sit up all night. I said, No, I don't do that. I had to get up in the morning. So for a while I didn't see writers much. But after we got older they quieted down, the survivors anyway, so I saw some of them again.
INTERVIEWER
So you would say that stability and an ordered life . . .
AUCHINCLOSS
Well, they were absolutely necessary for me because I was carrying on two things at once.
INTERVIEWER
So if you had to build a writer would discipline be a formidable part of his equipment?
AUCHINCLOSS
Particularly for an American writer. Peter Prescott was writing a book about booze and American writers, how it's perfectly extraordinary how many American writers were alcoholics. Sinclair Lewis, Dreiser, Fitzgerald—the list goes on and on.
INTERVIEWER
Why do you suppose they drink so much?
AUCHINCLOSS
Well, that I don't know.
INTERVIEWER
What did Peter Prescott say?
AUCHINCLOSS
I don't think he finished the book.
INTERVIEWER
Uh-oh! Perhaps it's because writers don't have enough to do?
AUCHINCLOSS
That may well be true. I think you may have a point about the in-between times. If they're not writing, writers often get very nervous and tense and then they're apt to feel, Oh, I'll never write again; this will never come back. And then they perhaps solace themselves with a drink.
INTERVIEWER
Do you drink more now that you've retired from the law?
AUCHINCLOSS
No, no, I drink exactly the same amount.
INTERVIEWER
How much do you write a day?
AUCHINCLOSS
Well, I don't push myself at all. If I don't want to write, I don't write. I feel I've written enough.
INTERVIEWER
When does the urge come to write? Is it an idea that pops into your mind?
AUCHINCLOSS
Well, there's no point writing if you don't have the idea. It's got to be the right idea. The only thing that I've ever read that I thought perfectly described the writer's situation is The Notebooks of Henry James. When they first came out, people were rather upset because his central ideas seemed to start from such trivial sources: somebody would sit next to him at dinner and talk about some woman who'd had an argument with her son about the dining room furniture. Then he made the idea his own and began to add to it; it began to grow. I know that feeling: suddenly, That's mine! If he told anyone what it was, they'd say, Why, that's nothing. And, of course, it is just nothing. But it's a seed.
The opposite is when people say, Oh, I've got the most wonderful story for you. My uncle . . . And so on. You can never use that because the only interesting thing about the story is that it's true. The moment you put it into a novel or a short story, it ceases to be true. How could you write a novel about a president of the United States who taped himself into an impeachment? Who would believe it? Novels must have verisimilitude, and truth has little enough of that.
INTERVIEWER
So you would hear a conversation at a dinner table, à la Henry James, and that would be the seed?
AUCHINCLOSS
It would usually be a particular relationship. Something struck me about a mother and son, or husband and wife, something that to me was novel or interesting.
INTERVIEWER
Have you ever thought of doing a stage adaptation of one of your books?
AUCHINCLOSS
I have done that, and I've written plays, too, though nothing was ever produced but a single one-act drama. It is much less common for novelists to write plays than it used to be, because dialogue is less important than what Elia Kazan has called "incandescence." Where would Galsworthy, a successful playwright, be today?
INTERVIEWER
You're very prolific. How much rewriting do you do?
AUCHINCLOSS
That varies. The Rector of Justin, for example, I rewrote the entire thing. But ordinarily I find that when I have to rewrite, there's something basically wrong. My best stuff usually comes out quite straight almost the first time.
INTERVIEWER
How can you tell that it's right?
AUCHINCLOSS
Oh, I just feel it. Once you feel it, nobody can convince you that it's not right.
INTERVIEWER
Do you start with page one and go through to the end?
AUCHINCLOSS
Oh yes, I have the whole thing outlined before.
INTERVIEWER
You do that the way one would do a legal brief?
AUCHINCLOSS
Yes, in a way. I start at the beginning and put the thing right through.
INTERVIEWER
Do you know the last line before you get there?
AUCHINCLOSS
I don't know the last line, but I know what's going to happen.
INTERVIEWER
Is style an important consideration when you write?
AUCHINCLOSS
As the Comte de Buffon said, "The style's the man."
INTERVIEWER
What does that mean?
AUCHINCLOSS
Your literary style reflects your personality.
INTERVIEWER
Do you inform what you write with a moral judgment for the reader?
AUCHINCLOSS
I don't think so, no. I didn't write The Embezzler to tell people not to embezzle.
INTERVIEWER
Have you read the recent biography of you?
AUCHINCLOSS
Oh yes!
INTERVIEWER
Did you have a good time with it?
AUCHINCLOSS
Yes, it's much too nice to me; it hasn't sold too well.
INTERVIEWER
Which of your books would you like to be remembered for?
AUCHINCLOSS
The three that have just been republished by Galahad Books in a single volume called Family Fortunes: The Rector of Justin, House of Five Talents, and Portrait in Brownstone. I was very pleased to have them reissued, because two of them were completely out of print. I was glad to have them back.
INTERVIEWER
What do you put down as your occupation on your passport?
AUCHINCLOSS
I usually say retired lawyer.
INTERVIEWER
Period.
AUCHINCLOSS
Yes.
Author photograph by Nancy Crampton.