Interviewed by Stephen Becker
Issue 135, Summer 1995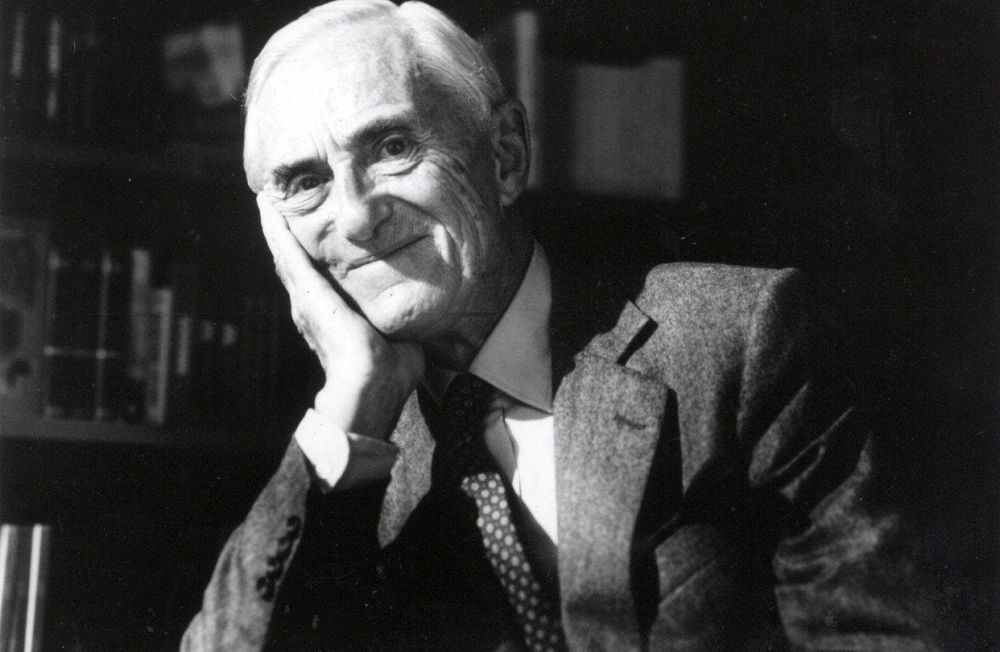 Patrick O'Brian. Photograph by Julio Nayan
The serious American publication of Patrick O'Brian's Aubrey-Maturin novels began in 1987. They were greeted with yelps and growls of satisfaction rising rapidly to a thunderous ovation as deserved as it was belated. But the earliest brilliant flicker of lightning dates back to 1952, when his first novel, Testimonies, appeared. Delmore Schwartz, in an omnibus review (which has lately become famous along with O'Brian) including novels by Hemingway, Steinbeck, Waugh, and Angus Wilson, gave O'Brian pride of place and praise.
Testimonies had been preceded by a collection of short stories, and was followed by novels, more stories, several poems, many translations from the French (including Papillon and most of Simone de Beauvoir's books), more lately biographies of Joseph Banks and Picasso, a constant flow of book reviews, and of course the Aubrey-Maturin series, beginning with Master and Commander in 1969. Fifteen years earlier O'Brian had written The Golden Ocean, a cheerful fiction based on Anson's expedition to the Pacific in 1740. ("I had been reading naval history for years and years, and I knew a fair amount about the sea: I wrote the tale in little more than a month, laughing most of the time.") The novel is a lark, and had, as its author later noted, "pleasant consequences." Among those are the now seventeen volumes of the Aubrey-Maturin series, which are in many languages, including Japanese, and are justly famed. O'Brian's eloquent admirers include not merely distinguished critics and reviewers but noted novelists (Mary Renault wrote, "Master and Commander raised almost dangerously high expectations; Post Captain triumphantly surpasses them. Mr. O'Brian does not just have the chief qualifications of a first-class historical novelist, he has them all"), actors, judges, professors, reporters—and thousands upon thousands of fervent readers who thank the gods for him, quote him, thrust him confidently upon friends, and give whole sets for Christmas.
The young O'Brian spent long periods in England, "but it was Ireland and France that educated and formed me, in so far as I was educated and formed." The reservation is too modest; he studied philosophy and the classics formally, and certainly has a way with languages. The young man met the sea, and canvas, with delight (" . . . although I never became much of a topman, after a while I could hand, reef, and steer without disgrace, which allowed more ambitious sailoring later on"). During the war he and his wife drove ambulances and served in intelligence together. Afterward they lived briefly in Wales, but presently "sun and wine came to seem essential," and they settled in a little fishing village in the Roussillon. O'Brian knew early that he was a writer, and seems never to have been tempted by other vocations. He is also a reader, of course, and the range of his knowledge is rather daunting, but the tact and skill with which he uses that knowledge are remarkable. He values privacy and dignity, loves his work and his home, resents interruptions but is unfailingly courteous. In our bizarre age of masquerade and mammon, of footlights and flashbulbs, of tabloids and television, O'Brian seems extraordinary: he is his own man, he does his work, he values history, the arts and sciences, morality. He lives on good terms with his neighbor and with Homer, with the birds in his garden and with Mozart, with his readers and with Linnaeus. He is surely "one of the best storytellers of the age," as one eminent admirer put it, and his work accomplishes nobly the three grand purposes of art: to entertain, to edify, and to awe.
This interview took place by correspondence over a period of months in 1994.
INTERVIEWER
Delmore Schwartz wrote of Testimonies, "In O'Brian, as in Yeats, the most studied cultivation and knowledge bring into being literary works, which read as if they were prior to literature and conscious literary technique." Homer and Hesiod come to mind. Are your "influences" all classical, or are there moderns as well among them?
PATRICK O'BRIAN
Before I comment on "influences" may I first take up Delmore Schwartz's "conscious literary technique"? Since I grew up, I have never deliberately used any technique at all other than the physical shaping of my tale so that it more or less resembles what has been thought of as a novel for these last two hundred years. Earlier, in the wicious pride of my youth, I sometimes threw myself into postures, imitating writers I admired and producing a certain amount of Proust and water (the recipe for the Avignon lark pâté comes to mind: one lark, one horse) to Joyce and very small beer; but none of this survived the war, and by the time I was writing Testimonies, for example, I was setting down what I had to say in the words and with the rhythm that seemed right to what might perhaps be called my inner ear, and doing so without any immediate debt to anyone.
INTERVIEWER
Which does not mean that you were unaffected by literary predecessors. Just how do these influences operate? Can they teach you morality, or elegance, or plotting? Do you feel a special kinship to Smollett?
O'BRIAN
Of course deeper formative influences were there by the hundred, barely touching the conscious level: the obvious classics, together with a fair amount of Vulgate and later Latin, and people like Chaucer, the Elizabethans, Dryden, Pope, Johnson, Fielding, Jane Austen, as well as quantities of dear, somewhat out-of-the-way writers such as Camden, Selden, Burton, Isaac Disraeli, and by means of Waley, the Chinese poets. You mention Smollett. No, I feel little or no kinship with him. For although the influences that I have mentioned did not, as far as I know, teach me morality or elegance (can either be taught?) they did perhaps make me dislike a certain variety of coarseness that Smollett shares on occasion with Sterne, a kind of sniggering that calls for a complicity that I am unwilling to give, though I find Rabelais excellent company and laugh wholeheartedly with Chaucer when he is bawdy. " 'Te-hee!' quod she, and clapt the window to" seems to me a splendid line.
INTERVIEWER
Along the same lines: your erudition, plotting, and style (to say nothing of Maturin's quotations from a hundred classical authors, some indeed "out of the way") seem not sudden ingenuities or laboriously prepared effects, but the products of habits of mind formed by long and serious reading. Which great literatures, which great writers, have taught you most? Do you reread them continually? Or is the past wholly incorporated, so to speak, so that rereading ceases to be a joy?
O'BRIAN
As for the point about prepared effects, they do not exist. Effects, in so far as there are any, either present themselves or they do not come at all. And if they do present themselves, it is because they rise from a fairly copious stirabout of reading in which countless books and pieces of books are merged, oddments coming to the surface either of their own volition or in response to some computer whose working is far beyond my reach.
Which great literature, which great writers have taught me most? An earnest and a solemn question, and it seems odiously flippant to say that all they have taught me is that writing (as Picasso said of painting) is not only but also. The eighteenth century had the notion that literature's function was to encourage virtue and to lash vice; but that is scarcely a view shared by those who read for delight (or for pity and terror) rather than instruction, and although a man like Shakespeare may teach one respect, admiration, and humility to the point of putting down one's pen, at least for a while, I do not believe he teaches anything else. Indeed, apart from the mechanical trades and the exact sciences, what of value can be taught? Taught directly? And where the heart of writing is concerned, if you have to ask, surely it ain't no good.
Yet there are many who have certainly and directly taught me admiration, and yes, I do read them again and again. I have a Horace upstairs and a Horace down; last summer I read Homer right through in the warm evenings out of doors, with a female black redstart fluttering angrily about my head because I read under the light that was her usual perch; and indoors I have a set of Jane Austen, all early editions for the added delight of immediacy, that I very often consult and rarely put down in less than an hour. In all these and in the more glorious parts of Dickens, Boswell, Gibbon, and many more I continually find new joys. The same applies to very good painting: less so, alas, to top music other than plainchant.
INTERVIEWER
The Aubrey-Maturin series is shot through with the blissful sort of humor that cannot be invented or learned but must spring from deep within. Until The Golden Ocean, your work was not at all playful. Was it the sea that brought out your sunny side?
O'BRIAN
What you say about humor that "cannot be invented or learned but must spring from deep within" really applies to the rest of writing: le style c'est l'homme même, said Buffon, taking style in the broadest possible sense. But where the rest of your question is concerned fun came into my writing on the shores of the Mediterranean, with sea, wine, sun, and a happy marriage.
INTERVIEWER
Had you any formal training as a naturalist, biologist, taxonomist, or have you learned all that for the sheer joy of it? And medicine?
O'BRIAN
Science? What little I have was mostly acquired by osmosis: one relative was a bacteriologist, another a physicist who worked on radium with Rutherford and Louis de Broglie, another a geologist. Yet I was taught a certain amount of biology; and being very sick I necessarily learned a certain amount about medicine.
INTERVIEWER
Every now and then a Frenchly phrase pops up, e.g., "entered into the line of count." Do you also read widely in French and hop from one language to the other all day?
O'BRIAN
Gallicisms: yes, they exist. My wife and I have spent most of our lives in France and we are both pretty well bilingual, my wife more purely than I, since as a little girl she went to school in French Switzerland. At one time we used them for fun, saying, for example, Foute it in the poubelle, and insensibly this has come to taint my English idiom. If I am suddenly asked my telephone number, I am sadly puzzled to say it in anything but French. Yet a slightly shaky idiom is a small price to pay for having the whole of French literature open to one; and French translations, too, for the great Russians, and how astonishingly good they are, are splendid in French, often ludicrous in English.
INTERVIEWER
The Russians: War and Peace is a "historical novel" (though Russia had not altered much in the interval), and many of its leading characters—even Platon—are aspects of Tolstoy or people he knew. Are Jack and Stephen aspects of you? Or do you think of them as friends? Or are they your creatures only?
O'BRIAN
I do not think they are. I am fond of them both, but I am in no way identified with either.
INTERVIEWER
Do you agree with Maturin that Napoleon was a tyrant, an unmitigated disaster? Buonaparte did, after all, reform French law, politics, taxes—doesn't much of his code civil endure today? He also restored French national identity after the Revolution and the Terror. Wellington and Metternich, not to mention Louis XVIII and Charles X, were unreconstructed reactionaries. Yet Maturin sees Napoleon as a kind of early Stalin.
O'BRIAN
Yes, I do agree with Maturin. I think Buonaparte did France—a country that he hated as a youth—very great harm indeed, not only because he brought about the death of vast numbers of Frenchmen, far more than even Louis XIV, but because he left the country with a curiously vulgar notion of glory, which Louis did not. I do not think he restored French national identity at all, but superimposed upon it a trashy chauvinism that is still sadly active, particularly in the army. One cannot blame him entirely for the miserable decline in music, painting, architecture, and furniture-making that coincided with his altogether regrettable existence, for zeitgeist had a great deal to answer for; but there is no doubt that he was devoid of taste (he admired Ossian) and his manners were as indifferent as his French. His utterly unscrupulous rapacity in Italy, Switzerland, Malta, and Spain, to say nothing of his treatment of the Pope, may not quite qualify him as a rival to Stalin, but it seems to me quite enough to justify Maturin's opinion.
As for the Code Napoleon, I am not scholar enough to know how much Bonaparte had to do with it, but from what I have seen of the system, or of what remains of it, I do not think it reflects much credit on the authors. It is shockingly authoritarian and misogynistic, and since according to its provisions, all the children have equal rights in their parents' property it has a disruptive influence on both family life and the cohesion of an estate. I have often seen the miserable results of this among our friends in the remote provincial corner of France where we live and where many people still depend entirely on the land. The children soon learn—it is a matter of common knowledge—that apart from the small proportion that can be left according to the wishes of the leaver, the whole of the rest is theirs as a certain, wholly dependable legacy, however badly they may behave. I will not say that the prospect of being cut off with a shilling in the traditional English way necessarily turns all born under that law into models of filial piety, but I believe it has some effect. And in passing, I may observe that parricide is back-page news in this neck of the woods.
As for the rest of the code that is associated with Bonaparte's name, it is so slow, and often so harsh to the accused, that one might almost prefer the English jungle, which does at least preserve some ancient customary law; though indeed Isaiah dismisses all human systems in a line that the Vulgate renders et quasi pannum menstruate universae justitiae nostrae and the Douay version "all our justices as the rag of a menstruous woman."
INTERVIEWER
No event in your series seems arbitrary or unmotivated, and even your most labyrinthine plotting seems not merely reasonable but inevitable: you have a Shakespearean talent for establishing and foreshadowing. Think of Admiral Byron's warning about shipwrecked seamen early in Desolation Island, or the three (at least) perfectly integrated mentions of the newfangled sternpost. The horrible old Leopard is the heroine of that book, but she is introduced briefly midway through the previous volume, The Mauritius Command. Do you habitually go back into a completed manuscript to insert delayed charges, signposts, booby traps? (Mary Renault called that "plugging" an event or theme to come.) In H.M.S. Surprise, for example, the experiment with madder is not only exhilarating but instructive, as are the fates of the rats and rattivores. But very early on, Stephen shops for madder; did you insert that afterward? You introduced Richard Canning in Post Captain, and made us like him immensely: had you already planned the dramatic sequel? Andrew Wray maneuvers through several volumes before his final contribution to medical science; how much of his tale did you know when?
There are many, many such instances—perhaps a doctoral candidate will one day have fun with them. In general, how far ahead have you been able to plot these volumes?
O'BRIAN
Let me just say that I never go back and insert booby traps into a manuscript. Yet on the other hand I rarely work out any of those detailed sequences that constitute a plot. My usual way is to fix upon one central idea—a given voyage or campaign or whatever, a vehicle—and then to envisage a mass of potentialities, often loosely related; and among them I roam about in an often opportunist fashion, either when I lie awake, which I do, often quite peacefully, for hours, or when I walk on a well-known mountain road by night, easy going and generally silent. Then dialogue runs in my head, situations, all the matter of a book, or of several books, since in these naval tales given incidents can be moved in time and space.
On reflection I find this a far from satisfactory answer, but I scarcely know how to make it much better. Where some of the particular instances you mention are concerned, I just do not remember what was in my mind at that juncture. Does it sound pretentious to say that even some quite simple books are the result of tension, of a series of tensions; and that once the book is written, once the tensions are resolved, the whole drifts into oblivion? Sometimes I look into an earlier novel or tale and I am astonished, favorably or unfavorably, that I should have written it—I do not even know what happens next. A freewheeling mind can conceive a virtually infinite number of sequences, but just how that mind picks out and stores those that may perhaps be used later to deal with a given tension, a given situation, is far beyond my understanding. Yet there is a certain analogy with conversation. When one is with friends, talking hard, maintaining a point against severe and well-informed opposition, one draws on resources scarcely to be imagined at ordinary times; and when they are exhausted—all hope gone—fresh reserves come to cheer one's heart, apt quotations forgotten these forty years and more, fine strokes of scurrility. And after all a book can be represented as a conversation with one's demon.
INTERVIEWER
A related question: how far has your plotting been altered, even superseded, by the very course of events you set in train? This is similar to the question, Do your characters take on a life of their own and force your hand from time to time? (Nabokov said his were his "galley slaves.") But plot is a more protean beast.
O'BRIAN
I do not think my plot has ever turned upon me in this way, though sometimes fresh developments suddenly appear, and if they seem to lead in the right direction I often follow them. As for characters taking on a life of their own, I have heard writers assert that for them this is the case—an assertion sometimes accompanied by a modest simper or a rueful shrug—but I have never experienced it.
INTERVIEWER
How do you name your characters? I note that a Plimpton turns up—a seaman flogged for drunkenness.
O'BRIAN
Names just float up, often with some remote suitability. Sometimes I go through the DNB, the Directory of National Biographies.
INTERVIEWER
You have remarked that it's important not to put important statements in the mouths of celebrated people, Lord Nelson, say, and that one is pretty much limited to having him say such things as, Please pass the salt.
O'BRIAN
Yes, I think that's so. I don't really think you should. It's horrible when important characters pontificate.
INTERVIEWER
Do you think Nelson really said, Kiss me, Hardy?
O'BRIAN
I don't know. I very much doubt it. It probably came out of Robert Southey, hardly to be trusted. I don't think it's the sort of thing admirals say whatever the circumstances.
INTERVIEWER
One theory is that he may have said kismet . . . fate.
O'BRIAN
Much more sense there. But, alas, the OED quotes no kismet before 1849.
INTERVIEWER
You've mentioned your need for intercalary years—there just aren't enough 1813s to hold all your stories—but sooner or later you will arrive at 1814 (will we see Lord Keith aboard the Bellerophon, I wonder?), and Waterloo in 1815. Is the grand climax, the termination of the series, already in your mind, or written in outline? There are alarming hints (as near the end of The Nutmeg of Consolation: "swirling without pause: or as you might say without an end, an organized end. And there is at least one Mozart quartet that stops without the slightest ceremony: most satisfying when you get used to it") that you may leave your readers desolated by a subtle and inconclusive stroke of high art. Can you say anything now about the story's future?
O'BRIAN
The intercalary years—yes. I do like a fairly high degree of historical accuracy—even the chronological exactness to which I adhered in The Mauritius Command—but it is historical credibility and what I might call poetic truth that matter most. Then again, as I think I have said before, it seems to me that for the English-speaking people this war against France has assumed something of the character of the Troy Tale, which, ranging in all its countless variations and embroideries from Homer to Boccaccio and well beyond, never took much notice of the calendar, and therefore the writer concerned with this more recent epic struggle is not to be strictly confined by dates.
As for the end of my tale, at present I have two themes in mind, but which I shall follow depends on how well I seem to be lasting. The other day I fell off a ladder, and although I just avoided a harpoon hanging on the wall, I nevertheless broke a vertebra (the third lumbar, to be exact) and now I feel rather more mortal than before.
INTERVIEWER
What is it like to fall into the past?
O'BRIAN
The sensation of falling into the past is not unlike that of coming home for the holidays from a new, strenuous, unpleasant school, and finding oneself back in wholly familiar surroundings with kind, gentle people and dogs—inconveniences of course, such as candlelight in one's bedroom (hard to read by), but nothing that one was not deeply used to.
INTERVIEWER
Your love of music shows often. Do you play an instrument? Good listeners are essential too; is that what you are? One thinks of the opening Corelli: Jack's shocked discovery of old Bach, and his later metaphor for the chaconne in The Ionian Mission; and the triumphant concluding quotation of Mozart in Letter of Marque.
O'BRIAN
Alas, I play no instrument at all. If I were capable of playing a cello, I feel, like Dr. Johnson, that I should do nothing else at all. By the way, I have not been able to check that quotation. My edition of Boswell, the first octavo of 1793, is a very beautiful set and it has been so much read that the pages are limp and the opened volumes will lie flat; but its index, strangely placed in the front of the book, is sadly imperfect.
INTERVIEWER
Like good listeners, good readers are essential. You credit readers with high intelligence, and vast numbers of them seem delighted, even vindicated, by your recent great public success. Have you been much aware of your audience, or have you simply written the sort of book you'd want to read yourself? (Gide once reproached Malraux because all his characters were intelligent; Malraux replied, Je n'écris pas pour m'embêter.)
O'BRIAN
I have never written for an audience. On the other hand I do not write merely to please myself. When words are flowing faster than one's pen can catch them, writing is a strong though wearing delight, but these splendid bursts are rare and they are paid for by many, many days of only a thousand words or so, and long periods of silent reflection. And for me the process works best with no interruption, no breaks in the steady application, no letters to be answered, very little social life, no holidays; it is therefore a form of happy imprisonment to which no man would submit without at least the hope of publication and its rewards, often dimly seen, often illusory.
INTERVIEWER
Do you still work with pencil (or pen) and paper, and write all morning? Do you often talk to yourself, or laugh aloud, or utter cries of satisfaction, while at work?
O'BRIAN
Yes, pen, ink, and paper (generally the back of proof sheets, for the surface) are my tools. I have occasionally beaten out an unimportant letter on a typewriter; and some people with quicker minds than I can use a word processor with great speed; but upon the whole there is much to be said for the reflective pen. Many capital books have been written with it, and then it is comparatively economical—Dr. Lodge is said to have completed his famous translation of Josephus (eight hundred and twelve folio pages) with one single goose quill.
Talking to myself? No, not at all—I will admit to an occasional laugh, particularly by night. No cries of satisfaction, alas.
INTERVIEWER
You once complained about the blocks of dialogue that come to you in the night and force you to take notes. Does it happen often?
O'BRIAN
Dialogue still comes to me, usually about three in the morning, but I no longer try to note it down. Instead I do my best to seize upon a key word that will release the rest next day. Sometimes it works.
INTERVIEWER
Do readers ever find errors?
O'BRIAN
A Cambridge don who interviewed me for the Times diffidently suggested in later conversation that I might be mistaken in having Sir Joseph Blaine attending a performance of Figaro at Covent Garden, for said he, there was no Mozart opera to be heard in London until (I think) 1832.
INTERVIEWER
There's nothing you can do about this?
O'BRIAN
Wriggle.
INTERVIEWER
How about the material about the sea. Have you ever had that wrong?
O'BRIAN
No.
INTERVIEWER
Well, that's remarkable, isn't it?
O'BRIAN
Fairly remarkable, but I have observed a great deal and read an enormous amount.
INTERVIEWER
You have total recall?
O'BRIAN
Absolutely not. I'm always forgetting where I've put keys to various padlocks.
INTERVIEWER
How important is a reference library?
O'BRIAN
Although I have encyclopedias and dictionaries on either hand and behind me, a place like the London library, which will send almost any book that you can think of, is of the very first importance.
INTERVIEWER
Would you describe where you write.
O'BRIAN
Our house is built on the side of a steep slope: the terrace and the balcony therefore jut out, providing two long, low, sheltered rooms. In one, which is lined with bookshelves, I do work that requires continual reference: in the other, which I try to keep clear, I make my attempts at purely creative writing. There is also a small stone house in the mountain vineyard to which I can retire when there is too much noise in the village. I write or sit at my desk with paper before me just after breakfast and work or ponder until lunch. Unless writing is flowing very well, the afternoon is usually free—garden, mountain vineyard, lagoon, or seeing friends. Then after tea I go on until about dinnertime.
INTERVIEWER
For each volume you must have studied intensively the geography, ethnography, zoology, etcetera, of the region; the climate, the holidays, the food, the social structure and business practices. Your Bombay, with Dil and the Parsee and the ecstatic Stephen, is startlingly vivid; so is your Greek-Albanian coast with its Mirdite Ghegs, the tournaji-bashi, etcetera; so are your Cape Town, your Malta, your Sydney. You are at home throughout the world, yet you are a private man, and you love your farm and its seasons—much more Hesiod than Odysseus. How many of your locales have you visited? Are there places other than your farm that you have loved? Or detested?
O'BRIAN
Of course, when I come to a new piece of the world I study it with close attention. But I have traveled fairly widely, both physically and even more in books. In my younger days I read vast quantities of voyages and I still possess the great eighteenth-century collections: Churchill, Harris, and the abbé Prévost in sixteen splendid quartos, most abundantly illustrated. A fair amount of the knowledge derived from this desultory but very happy and extensive reading lingers in my memory, and it is rare that the ad hoc study is not superimposed upon earlier acquaintance.
Do you know about the abbé Prévost? He was intended for the church and indeed after a spell with the Jesuits he became a Benedictine (the most amiable of orders), but for a while he either lost or mislaid his vocation and wandered about the world gathering the kind of knowledge that enabled him to write Manon Lescaut. In time however he was recalled and, becoming almoner to the Prince de Conti, he set himself to this prodigious work, a true travail de Bénédictin, assembling, arranging and often translating countless books of travel for his Histoire générale des voyages. The first volume has a charming frontispiece of the author looking as cheerful and benign as ever his best friends could wish, and it contains about three hundred and twenty-eight thousand words: all the other volumes are on the same scale or even larger, and the whole, filled with plates and maps, amounts to some five million words, ending with a capital index. Could any modern publisher contemplate such an undertaking?
INTERVIEWER
Your series is in several languages. Are any of them odd, landlocked, unlikely? Do you know any of your translators, and do you—with French, perhaps—often lend them a hand?
O'BRIAN
I doubt there are more than a dozen, if as many; none of them very odd so far. Certainly I have helped the translators who have turned to me, French, Spanish, Italian, and German; and for the Dutch and Scandinavian whose languages I do not know I rephrase the passages they find incomprehensible.
INTERVIEWER
Do you care to comment on current fiction? Do you read much of it? Current criticism?
O'BRIAN
My comments on current fiction would not be worth much, since I read so little: but I find Iris Murdoch at her best very good indeed, while A. S. Byatt's Possession seems to me an admirable tour de force, and Alan Judd's A Breed of Heroes is to my knowledge the only sound, objective account of the hideous situation in Northern Ireland. At the moment I am entranced by Jeannette Haien's The All of It in spite of some initial reserves. As for literary criticism, I see even less; though occasionally a lively and incisive piece comes my way, usually written by Linda Colley.
INTERVIEWER
Some think we have arrived at a true discontinuity in history, rendering much of it obsolete by an astonishing acceleration in the technological rate of change. Do you "view with alarm" or do you trust the race's resilience?
O'BRIAN
Most people who have been to school have heard the master declare that this is the worst fifth form in all his experience: most people who have been to the university have heard their tutor sigh and observe that in his youth undergraduates used to read hard, very hard, much harder than they do now. It seems to me that humanity has always been tottering on the edge of an abyss, perpetually looking back to happier generations, when people knew how to build, paint, and write, when children sat up at table, mute and never touching the back of their chairs. I view the present with distress, but not with despair.
INTERVIEWER
The historical novelist has at least one advantage: he has already answered the question, Did anything at all happen before World War II? That may sound like a cheap joke, but increasingly writers, critics, and readers insist that novels be timely (that is, reflect or outdo the faits divers and crimes passionels that we read of every morning) or "relevant" (that is, wring our guilty hearts about current social and political inequities). Have you had to contend with charges of irrelevance?
O'BRIAN
I do not remember having been accused of irrelevance, but it would not grieve me if I were, since I could point to the equally irrelevant Homer, Virgil, Lydgate, and a host of other eminent hands, including Madame de La Fayette.
INTERVIEWER
Is there any limit to the liberties one can take writing historical fiction? I mean can you invent a substantial naval battle?
O'BRIAN
The limits seem to me the boundaries of historical verisimilitude. I very much doubt that one could invent a fleet action—certainly I could not, in my period.
INTERVIEWER
Historians are often so scornful of historical fiction.
O'BRIAN
Perhaps because so much historical fiction is poor history and worse prose.
INTERVIEWER
Did you come away from your recent tour of the United States—a triumphant progress, really—with any sharper impression of your audience? Are they older? Mostly white-collar, or plenty of blue as well? Preponderantly male? What note do your fan letters most often strike, questions ask, complaints lodge? Do you answer them all?
O'BRIAN
Yes, I did. I had almost never spoken in public before, and most of the time my eyes were fixed upon my text; but now and then I did look up and I was charmed to see such amiable, friendly, attentive faces—faces, moreover, that laughed when laughter was called for. They were, upon the whole, younger than I had expected; men and women in about equal numbers—perhaps rather more women—but whether white-collar or blue I cannot say. It is very difficult for a European to place an American by his appearance or even by his accent. At the book-signing sessions people always said something civil, but there was no time to exchange anything more than smiles. One of the few occasions I had to see my audience in greater depth was in Washington, where I spoke at the National Archives, and the archivists very kindly entertained me to luncheon—they also loaded me with gifts: books and reproductions of documents that might give me pleasure. There was time for real contact and among the many people whose conversation I enjoyed was a tall, cheerful young lawyer, so black that it was a joy to contemplate him, who talked to me, as I remember, about the Quasi-War of 1798. And later, when I told him that I had spent the morning with Mr. Justice Kennedy of the Supreme Court and that I had watched the bench in action, he said, That is where I shall be presently, with a flash of brilliant teeth and a friendly smile. Indeed friendliness was the overriding impression that my wife and I carried away from the United States, and we look forward eagerly to our next visit.
The writers of fan letters: they fall into four main classes. One, those who say, I love your books and I wish to thank you. Two, poor lonely souls who just want to write to someone. Three, those whose ancestors went to sea and who would like information about their careers. And four, those who point out my errors, sometimes real (I am a left-handed man and when I am writing I easily confuse right and left, east and west; this does not happen aboard, however) but more often, I am glad to say, imaginary. All four classes have grown so numerous these last years that I have had to beg my publishers to sieve them, because I am a slow, indifferent letter-writer and even half a dozen eat all the cream of my morning work, the best time by far. Yet they are sometimes extraordinarily encouraging: I think primarily of sick people who have found some relief in my books, but also of that splendid admiral who, dating his letter from the North Atlantic, told me that after a strenuous day of exercising his submarines he would submerge, sinking to the calmness of deep water, and there, in the ocean's bosom unespied, he would turn to my naval tales: or of that other gentleman whose thank you took the form of a wholly gratuitous offer of his one-hundred-and-fifty-four-foot yacht with a numerous crew (including an excellent chef) and room for ourselves and six of our friends, to cruise for a fortnight in the Mediterranean or the Caribbean this coming spring or summer, himself making no appearance whatever. And if you do not call that handsome you must be very, very hard to please.
INTERVIEWER
Do you still write poetry? You have kindly allowed us to print some here; are there many more, published or unpublished? Have you translated poetry? Which modern poets have moved you most?
O'BRIAN
Yes, there are more poems, some published in Poetry Ireland and the like, but many more in obscure heaps, most of which I cannot find without sorting through great masses of paper. But yesterday I did put my hand on one folder in which most of the verse went on far too long; still, here is a piece from it which at least has the merit of brevity.
Old Men
We are old bald ugly
impotent and fat or horribly lean
unarmed disarmed often unspeakably silly
Nobody wants us least of all ourselves
Our wives are short thick and spectacled
with elaborate hair
nobody wants them
least of all ourselves
It is a crime against humanity
that old people racked with ignominies, weak
should be made to pay pay pay
and then pay
for a life that has already been lived
And yes, I have translated poetry, but without much poetic success. Modern poets: does Eliot still count? He moved me deeply. And of recent years I have been stirred by one poem of Larkin's and another by Fiona Pitt-Kethley on the nature of unrequited love.
INTERVIEWER
Your tribute to Mary Renault is moving and elegant, but too few of us these days know Greek. Will you tell us about it?
O'BRIAN
Do you mean the dedication in The Mauritius Command? It was a proverbial Greek saying that meant "owls to Athens," much as the English say "coals to Newcastle" and conceivably the Americans "cod to Boston"—a delivery of things to a place already overflowing with them. An owl (usually the little-eared scops owl, which haunts Greek temples) is usually to be seen on Athena's shoulder and on Athenian coins.
INTERVIEWER
Why do you think the series has roused so much fervent admiration? Do you step back occasionally and wonder, Who is this Patrick O'Brian they are all talking about? In brief, how do you like fame? Beatus ille, wrote the poet, but also aere perennius.
O'BRIAN
I have no idea whatsoever of the reason so many people have taken to reading my books. Years ago the books, the selfsame books, were there: the people were there. But the two sides did not come together until some quite unexplained catalyst came into play. As for "fame," I quite like what I have of it, though at the same time it makes me feel uneasy, vaguely fraudulent; and then its consequences have a way of shattering old frugal values, making them artificial. I do not think it touches me much, or affects my self-esteem. When I sit down at this desk I am still as bashful before the virgin page as I was sixty years ago—perhaps more so, for in the interval I have acquired some notion of what very good writing can be.