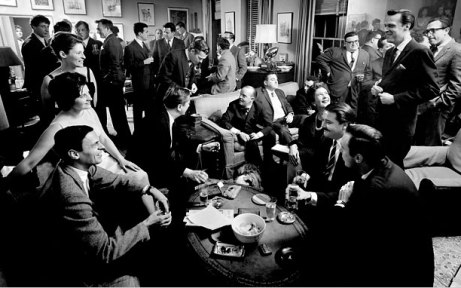 It's a busy time here at The Paris Review. Tomorrow is our annual gala, the Spring Revel, and in two weeks, we move our little office from the Tribeca loft that has been our home for the past eight years to a new space in Chelsea. Boxes are piled high; loose books and papers are strewn about; scissors and tape will not stay in the same place.
Last week, we were clearing a bookshelf of its contents and came across a batch of small, white booklets. The Paris Review: Twenty Year Index, Issues 1–56, they were titled; they appeared to be lists of everything that had been published during the magazine's first twenty-three years, and were put aside for recycling. Flipping through them later, we realized that the booklets also contained an introduction by George Plimpton, a founder of the magazine and its editor for the first fifty years of its history.
A minihistory of the Review, full of forgotten anecdotes and remembrances, the introduction is particularly poignant as we prepare for these two (for us) significant events. George recalls early offices of the magazine, angering Ernest Hemingway with brash interview questions, the many volunteers who flocked to the Review and gave a fledgling publication a boost. He writes of raucous Revels past: "The Revels were memorable affairs, with so much effort spent by staff members in entertaining the guests that very often the fund-raising aspects of the events were forgotten. The extravaganza on Welfare Island (although 750 people turned up) actually lost money—and primarily because a piano was left out in a glade and was ruined in a post-party rain squall."
Here's to a Revel that's just as fun, but minus the rain.
An Index is simply a statistical compilation which does not suggest the quality of the material listed, or the critical standards that guided its selection. It can only record the appearance, not the gist, of William Styron's introductory "letter" which set forth the magazine's principles in the first pages of the first issue—a letter addressed to John P. C. Train, the managing editor, who in questioning Styron's manifesto elicited a reply which turned out to be lively and pertinent and a considerable improvement on the original document.
An Index can list the people who have worked for the magazine, but it cannot acknowledge their individual contributions. Their number has been vast. The Paris Review has traditionally published a masthead longer by far than Fortune magazine's. Indeed, so many volunteers turned up to help in the early days that the managing editor referred to the females by the collective name of "Apotheker" (Joan Apotheker … Mary Apo …)—from the German for "druggist," which he apparently thought appropriate. Their male counterparts were referred to as "Musinskys"—named after the first of their breed who came to work for a Paris summer. Read More