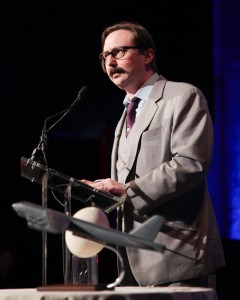 Every year, at our Spring Revel, we give three honors: the Hadada Prize, the Plimpton Prize, and the Terry Southern Prize. This year, John Hodgman of the New York Times Magazine, the Daily Show, and those Mac ads presented the Southern Prize to J. D. Daniels.
Like the other two honors, the Southern Prize is chosen by our board. Unlike those, it recognizes writing in both The Paris Review and The Paris Review Daily. Click here to see Daniels's latest piece from the magazine and here for his Web archive.
Good evening.
My name is John Hodgman. It's my pleasure tonight to hand over this B-52 model airplane, which represents the Terry Southern Prize, awarded each year along with $5,000 to honor work from The Paris Review that embodies the qualities of humor, wit, and sprezzatura, which sounds like a word Lorin Stein made up and put into the Wikipedia to describe himself—an artful nonchalant, carrying himself with a a cared-for carelessness.
I've read J. D. Daniels's letters from Majorca and Kentucky and I agree that they also seem effortless, which makes me furious, as they are often achingly well written.
They're dispatches, and they feel that way, dashed off travelogues from corners of globe and memory, full of crafty rambling and quick jumps from his current home in the fancy eastern edge of Massachusetts to his first home in Kentucky, where J. D. counts out the strip malls and storefront churches and ghosts of bars lovingly like animals climbing aboard a blighted ark, to the vomit-slicked deck of an actual boat at sea, a pilgrimage he takes to leave both homes behind to fight it out while he watches Ibiza burn up in a wildfire.
And it may seem that in all this sprezzatura that his work is a little nonchalant; you don't know what all these little flash narratives add up to, but then you'll get one moment: a memory, say, of Daniels being strangled by his own father, whom he still loves, and the running from and returning to that moment, which he's done ever since; you see a narrative flash like lightning, spreading quick blue light for a moment over the whole shadowy, tortured territory.
It doesn't sound very funny, and it's not very funny. Unless you count the part where J. D. Daniels gets strangled by his own father, which is hilarious; we know this from The Simpsons. And if you're wondering why he's getting the Terry Southern Prize for Humor it is because, like Southern, his work is sly, and wicked, and playful, and, most of all, it's true.
People ask me why is the Daily Show funny and I usually say it's because of the jokes. Because explaining humor is neither funny, fun, nor possible. But some jokes always work because they break taboos. That's why dirty jokes work, as Albert Brooks discovered opening for Richie Havens; there's one word you can say into a microphone that will always win over one thousand drunk Texan Richie Havens fans who hate you, and that word is a miracle word, and that word is shit. But when it comes to the Daily Show, and J. D. Daniels too, the greatest taboo-breaking is simply to say what is true, plainly, and without apology. That joke always works, even when it's no joke. J. D. Daniels's letters know intimately that space between the stories we tell ourselves about ourselves when we're sitting on a bar, and the queasy, daylit truth that awaits us once we are kicked outside into the afternoon sun.
In a recent posting to The Paris Review Daily he wrote, "We know what comedy is: life is increased. Think of Rodney Dangerfield addressing the crowd at the end of Caddyshack: 'Hey, everybody, we're all gonna get laid!'" [Dirty joke.] And we know what tragedy is: isolation increases. I used to think that life was about winning everything, Mike Tyson once said, but now I know that life is about losing everything."
So J. D. Daniels is a plain good writer, but not like every good writer, he is clear, he is also a very funny guy. And when he doesn't make you laugh, it's on purpose, and when he does, that's on purpose, too. What better definition of humor is there?
So it's my pleasure to offer the Terry Southern Prize to J. D. Daniels of Kentucky, Massachusetts, and the world. Congratulations, to him and to us all.
We're all going to get laid.