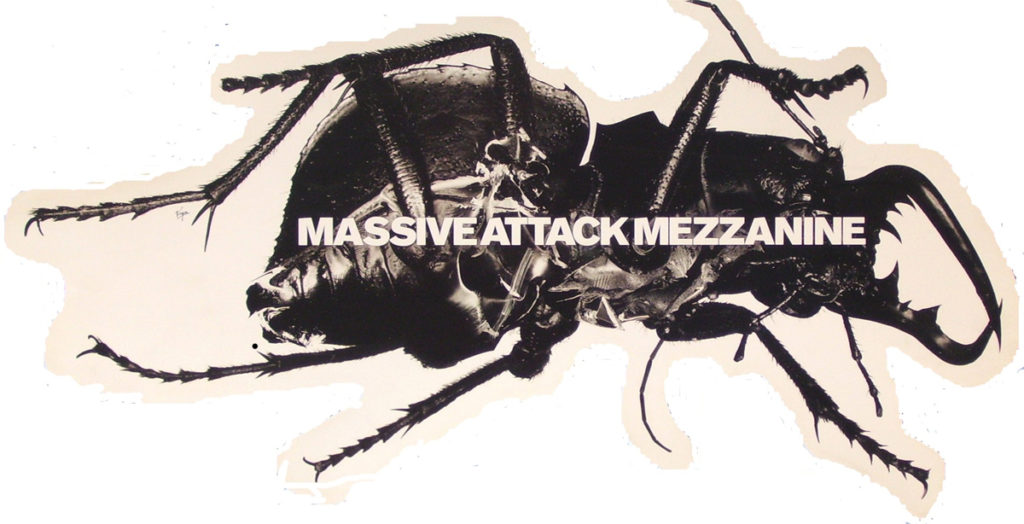 In 1998, when I was a writer for Vibe magazine (which was the leading black culture journal), I went to London to interview the trip-hop kings Massive Attack. They were preparing to release their third album, the beautifully complex and brooding Mezzanine. Although they collaborated with other singers and musicians, the core Massive trio consisted of Grant "Daddy G" Marshall, Andy "Mushroom" Vowles, and Robert "3D" Del Naja. Del Naja penned most of the Dadaistic lyrics on Mezzanine and thought of its title.
As a pop journalist, I had already covered their contemporaries Portishead and Tricky, so of course I felt it was my duty and destiny to fly to London to cover Mezannine. I had to beg the cornball editor in chief to send me, and in the end, the story was never published. But I never forgot the experience of sitting with Massive, trying to refrain from being too much of a fanboy. The year before, when I'd visited Paris, I'd taken Blue Lines along to serve as my soundtrack of the city. Me and my beautiful homegirl Wendy Washington rode out to the Palace of Versailles as Massive's remake of the soul classic "Be Thankful for What You Got" blared from the speakers.
"Mezzanine is that place in between, when you're not sure if it's yesterday or today," Del Naja told me at Olympic Studios in London. "That little space where it's quite scary and erotic." Also known as an excellent graffitist and painter (inspired by Jean-Michel Basquiat) and rumored to be the mysterious street artist Banksy (a claim he denied), Del Naja had seemingly become the leader of the group. He was its resident auteur, and his Francis Bacon view of the world was visible in the band's videos, album designs, and stage lighting.
The band first came together in their hometown of Bristol. Though Del Naja was shorter than the lanky Daddy G or the equally tall Mushroom, who were both somewhat reserved, his presence towered over the group, and it caused an earthquake break between the brotherhood. "When we got together to record, we realized the amount of creative friction between us," Mushroom would confess later. "In fact, we wound up recording in separate studios." The producer Neil Davidge later described the process as "messy," but from that angst, tension, and messiness, Massive Attack delivered a masterpiece.  Read More