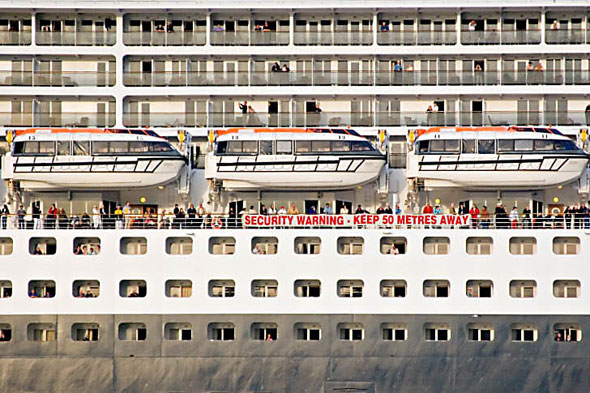 In this day and age, the decision to cross the Atlantic on a ship instead of in a plane requires explanation. I did it—in April, aboard the Queen Mary 2—because I wanted to sit for a week and stare at three-thousand nautical miles of saltwater nothingness. I'd been away from the States for a long time. I spent a month in Bali, made a quick stop home for Christmas, then did three months in Paris and one in Edinburgh. My friends wanted to know if I was Eat Pray Love–ing. I didn't quite have an answer. No job, no school, no relationship was pulling me to any one place, and if I was going to spend most of my time typing on my computer, I might as well see Bali or Paris when I looked up. "Maybe you go for a walk today," suggested my landlady's Balinese housekeeper as she watched me type. "Maybe you come back next year and bring friends."
"Probably not," I said, smiling. Smiling is de rigueur in Bali. I was relieved to get to Paris, where it is not. Mostly I was alone in Europe, unnoticed by the Parisians and Edinburghians, existing in a state of pleasant adriftness, burdened only by the sometimes exhausting freedom of deciding what to do with each and every second of day upon day. When I boarded the QM2 in Southampton, I was starting a long, slow journey back to my parents' empty house in San Diego to dog-sit while they went off on a Eurail trip like a couple of teenage backpackers. I was ready to go home, to have more of a social life and smaller phone bills, but I sensed an idyll was ending. It was only an inkling, but it was correct: I was returning to a month of anxiety dreams and catatonic TV-watching while I waited for my first novel to come out.
The QM2 was at the end of a world voyage when I boarded, and there was a small contingent of hardliners who had been at sea for a hundred days. I have a theory that some people have repurposed the ship as an expensive nursing home and so cross the Atlantic only as an indifferently endured side effect, a consequence of existing in comfortable, perpetual transit: Cape Town appearing out the buffet windows one day, Osaka another, Dubai another, separated by days and days of empty water. George H.W. and Barbara Bush were aboard, George in a motorized wheelchair and Barbara looking so spry and unchanged since 1987 that I suspect she might be immortal, preserved by a dark, Bushian enchantment. In the mornings, she and her Secret Service guy power walked laps around the deck. One day, a journalist onboard as a guest lecturer gave a talk about Air Force One, projecting slides of presidents and first ladies onto the ship's movie screen. Barbara appeared, waving from the plane's staircase thirty years ago in a tweed suit and white blouse with a floppy bow at the neck. Barbara, in the audience, regarded herself with a faint frown.