In his column, Line Readings, Ivan Brunetti begins with a close read of a single comics unit—a panel, a page, or a spread—and expands outward to encompass the history of comics, and the world as a whole.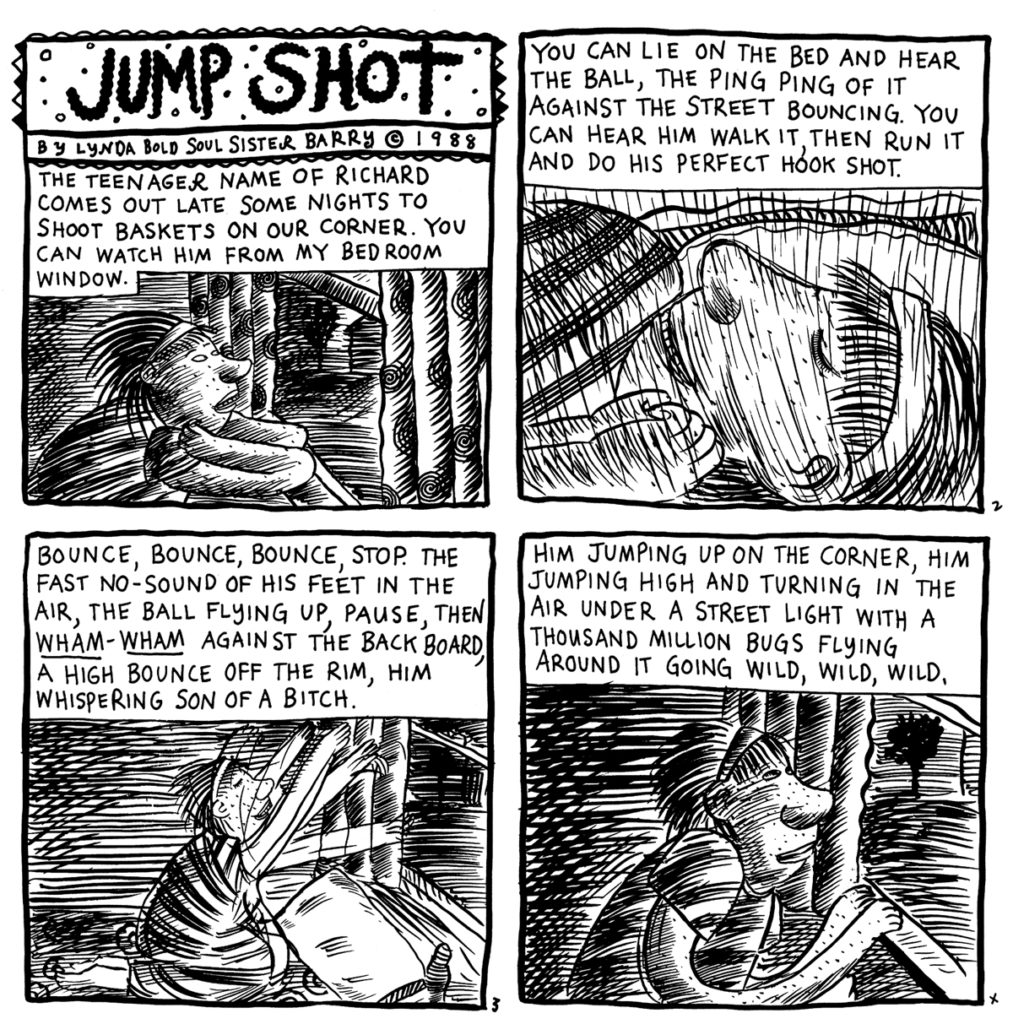 Comics are often likened to short stories and novels, or (more improbably) animated films, but in a sense they are also a kind of poetry, an incantation beckoning us to enter their world. The simplicity of their superficial concision can reveal surprising density, layers, and multivalence. In a poem, lines might form and fill a stanza, which literally means "room"; and so it is with comics, where panels could likewise be thought of as stanzas. Rows, columns, and/or stair-steps of panels, in turn, structure a page (or an entire story) of comics and give it its particular cadence. Even the simplest grid tattoos its rhythmic structure onto the page.
The one-page story "Jump Shot" by Lynda Barry (1988), an installment of her comic strip series Ernie Pook's Comeek, comprises, to put it into the simplest, crudest terms, a large square box subdivided into four smaller square boxes. Inside each box is a view into one room, containing just one character, a young girl, in successive moments. This is as elemental as comics get: one character in one space, in one continuous action, spanning just a few panels, all housed within an evenly sectioned grid. However, even an element contains vast inner spaces and subatomic particles elusively whizzing and whirring within it, and this seemingly simple strip is, in fact, quite complex and nuanced. While the name of the young girl is not mentioned here, we nonetheless are invited to see what she sees, imagine what she imagines, and feel what she feels. And amazingly, we do.
How is this accomplished in just four panels? Before we begin reading the strip, we visually absorb the entire story as a whole, and there isn't much in the way of action: two somewhat static panels, one close-up, and only one panel showing movement. At first glance, it all appears very … small. But is it?