Sabrina Orah Mark's monthly column, Happily, focuses on fairy tales and motherhood.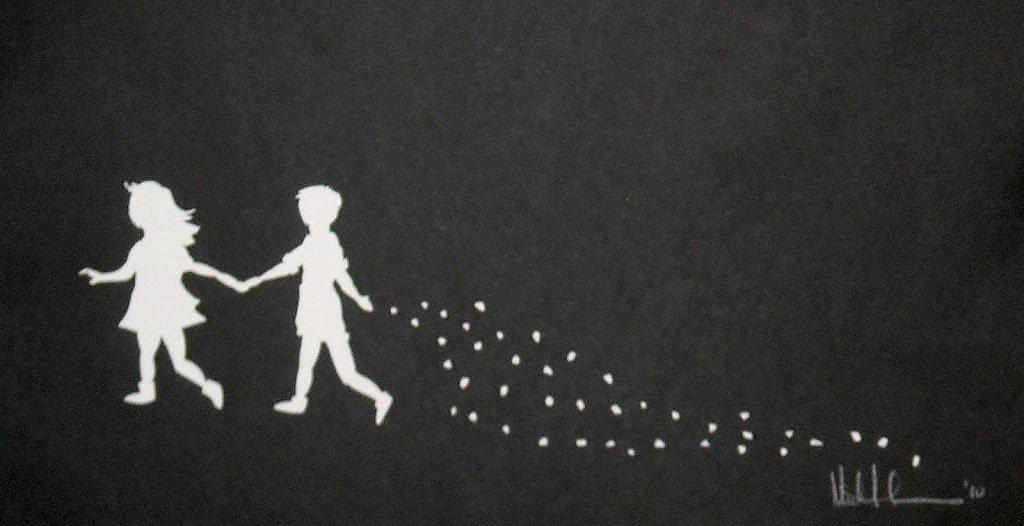 Turns out, for three months, Eli, my five year old, had a small black pebble in his ear. Don't ask me why it never bothered him or why I never noticed. I am only his mother. When the very old doctor gently removed the pebble, Eli said, "Oh, there you are. I was looking for you all over."
About a week later I read about the Makapansgat pebble, a two-million-year-old reddish-brown pebble described as "water worn" with "staring eyes." In 1925, this pebble, a pebble with a face, was found outside the vicinity of extinct hominids, implying that it was carried a good distance, as one might carry a fairy tale, because in the pebble a human recognized something and so kept it and carried it.
In Grimm's "Hansel and Gretel," it's not the breadcrumbs but the moonlit pebbles that point the children home. The breadcrumbs, eaten by birds, are the vanishing path that lead Hansel and Gretel to an edible house inhabited by a ravenous witch. At first, Hansel and Gretel gently nibble at the house, like mice. Then Hansel tears off a big piece of cake-roof. Then Gretel knocks out an entire sugar windowpane. The children are insatiable because what they are really hungry for is a mother and their mother is gone. Children with mothers don't eat houses.
While I write this essay, my mother stops speaking to me. The reasons are as old as the oldest fairy tale. As old as pebbles. For days my chest feels like it's filling up with dry leaves. My head is bricks and glass. A shattering takes up residence in my body. I am forty-three and her silence still does this to me. I want sugar. I want to sleep.