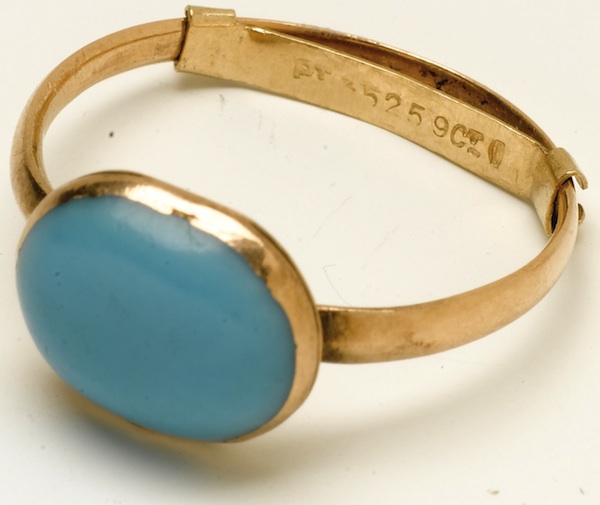 Amid the bustle of this year's Annual General Meeting of the Jane Austen Society of North America (JASNA), where many attendees sport Regency garb from dawn to dusk, one curious piece of material history is provoking sustained, triumphal glee.
Last year, Kelly Clarkson, winner of the first American Idol, in 2002, bought a turquoise-and-gold ring that Austen had bequeathed to her sister, Cassandra. Clarkson is a devotee of the novelist and, by virtue of her fortune, a serious collector who already keeps a first edition of Persuasion in her personal library. Sotheby's had placed the ring's reserve price at £30,000; Clarkson paid £152,450.
Original Austen totems are hard to come by. Slivers of her library have survived, as have a few likenesses by Cassandra, various small items of jewelry (including a topaz cross that Paula Byrne is especially fond of), and whatever portion of the novelist's letters Cassandra didn't burn. The scarcity of such items, and the national importance of the writer Rudyard Kipling once called "England's Jane," prompted furrowed brows on at least two continents over the prospect that this ring—perhaps she wore it as she wrote Persuasion!—might find an unceremonious home in southern California. Austen blogs and listservs lit up, as did the Republic of Pemberley.
The Jane Austen's House Museum, in the Hampshire village where Austen spent the last eight years of her life, marshaled this general unease into a pledge-drive campaign. Meanwhile, England's culture minister, Ed Vaizey, enforced a rare "temporary export bar" that kept the ring in the U.K. and gave the museum until the end of December 2013 to match the Clarkson bid. Vaizey's statement was simple: "Jane Austen's modest lifestyle and her early death mean that objects associated with her of any kind are extremely rare, so I hope that a UK buyer comes forward so this simple but elegant ring can be saved for the nation." Read More