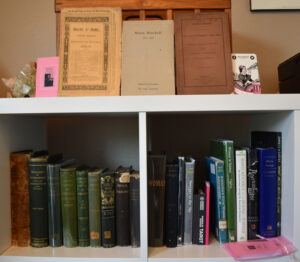 In 2017, Honey & Wax Booksellers established an annual prize for American women book collectors, aged thirty years and younger. Our goal, at the time, was to expand the popular perception of who book collectors are (and can be) by highlighting original collections built by young women, often without the knowledge or help of the rare book trade. By celebrating their achievements, we hoped to inspire potential collectors to look at their shelves differently, to identify patterns and projects, to think critically about what aspects of the historical record they might be uniquely qualified to recognize and preserve.
In this, our fifth year, it is especially gratifying to award the Honey & Wax Prize to a collector who has applied repeatedly, each time with a stronger and more focused collection. In 2017, as a graduate student at the University of Arizona, Margaret Landis submitted a general collection of books about women in science: a reading list that had inspired her in her scientific career. A well-chosen reading list is a valuable thing, but it is not a book collection: a collector pursues not just texts, but objects with material histories of their own. The 2017 submission did not place. 
In 2018, Landis reapplied with some key new books and a new angle, considering the current boom in popular histories of women in science—Hidden Figures, Rise of the Rocket Girls, The Code Girls—in the context of an earlier moment of publishing enthusiasm, when titles like Rebecca Joslin's 1929 Chasing Eclipses and the 1937 biography Madame Curie were best sellers. Landis received an honorable mention for her 2018 submission, which approached her books not only as narratives on the page, but as evidence of a larger historical narrative. 
This year, the last in which she was eligible to apply, Landis surprised us with a final submission, a deep dive into the legacy of astronomer Maria Mitchell, the first woman elected Fellow of the American Academy of Arts and Sciences: "Having the prize deadline made me sit down and think about what were the most interesting things I'd found each year, and refine my focus. . . . I was really surprised at how few books in the voices of the women scientists themselves were currently in print, and that was a strong motive to start finding copies of Maria Mitchell's own articles." 
Landis's transformation, from a reader with an interest to a collector on a quest, is one we hope to inspire more broadly. We are delighted to announce the $1,000 winner of the 2021 Honey & Wax Book Collecting Prize:
WINNER
Margaret Landis (she/her), thirty, an astrophysicist and postdoc at the Laboratory for Atmospheric and Space Physics (LASP) at the University of Colorado, Boulder, for "Maria Mitchell Through Time," a collection of works by and about the pioneering nineteenth-century American astronomer and educator.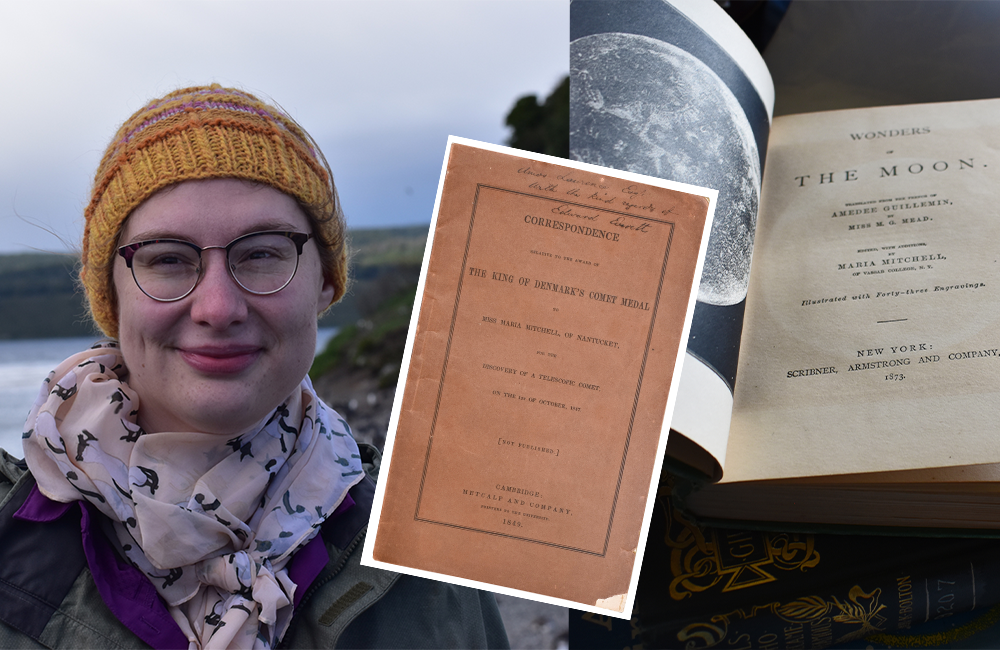 "[As] one of the first internationally renowned American astronomers, Mitchell's life has left a long trail in the print culture of the United States. My collection includes works written by and about Maria Mitchell during her lifetime (or just shortly after), work she would have had access to, and her legacy in print form up until today. . . . What I found were periods of reexploration and reevaluation of Maria Mitchell after her life in both academic and artistic ways." 
We admired Landis's multiple and creative angles of approach to an important historical figure, from an 1849 pamphlet chronicling the discovery of "Miss Mitchell's Comet" to Mitchell's 1860 Atlantic Monthly piece on fellow scientist Mary Somerville to copies of key books found in Mitchell's library: "The excitement for me in collecting these is to see Maria Mitchell starting to interact with her legacy during her own lifetime." The more modern materials in the collection, "from biographies to poetry collections to tarot decks," reflect the many ways that Mitchell's legacy, like the trail of a comet, remains visible in print and life.   
You can read Landis's winning essay and bibliography here. 
We are also awarding five honorable mentions of $250 each:
HONORABLE MENTIONS
Alanna Crow (they/them), twenty-eight, a thanatologist and bookseller in Pittsburgh, Pennsylvania, for "The Soldier's Memorial: Military Death and Grief from the American Civil War to Afghanistan and Iraq," a collection of primary sources documenting the experience of American military death and grief through memoirs, photographs, broadsides, postcards, and artifacts.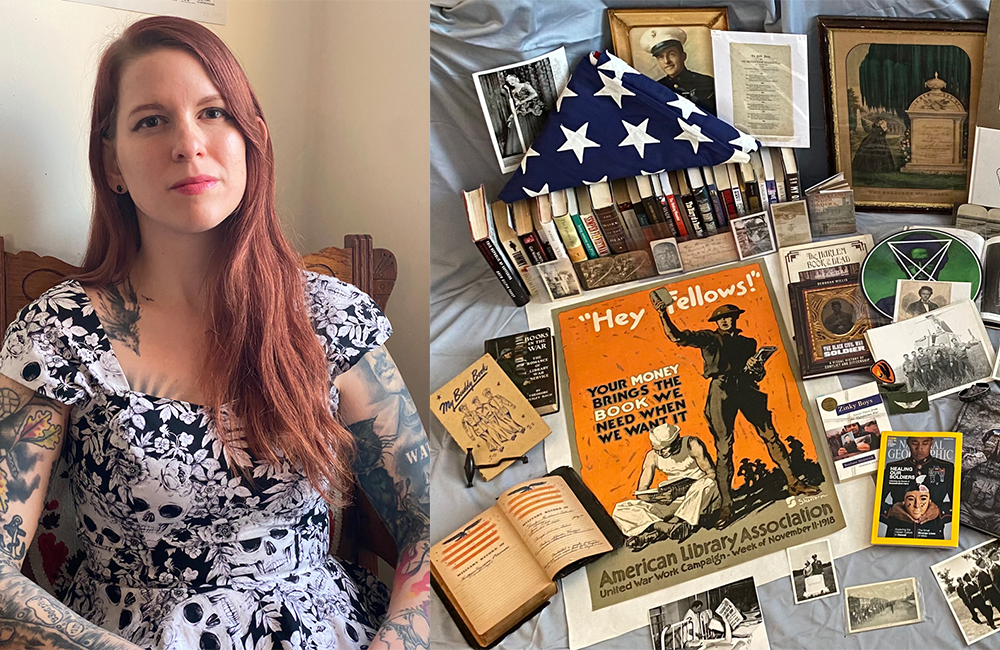 "My collection is an incomplete history of how soldiers die, prepare for death, and grieve; how they are buried, commemorated, and perceived; the uses and abuses of dead soldiers; and their importance beyond war hawking and militant nationalism. . . . War grief was evident and collective for decades, as opposed to today, when our wars and deaths in combat—or by murder, suicide, friendly fire, accident, homelessness, burn pit–related cancer, or addiction—are nearly invisible to anyone outside the small military community." 
We admired Crow's range in this collection: a crippled Civil War veteran's carte de visite, used to solicit donations; a commercial WWI-era stereoview of a soldier's body on a French battlefield; an Ohio undertaker's blank contract "for Funeral Expenses of Soldier, Sailor, or Marine" during WWII; a Marine's collection of poems named for his friends killed in Vietnam; a mourning bracelet for an American soldier killed in a friendly fire incident in Iraq. In exploring the experiences of veteran and civilian mourners alike, the collection channels their collective grief into an active memorial to those whose lives were shattered or lost in military service. 
Caitlin Gooch (she/her), twenty-eight, founder of the literacy nonprofit Saddle Up & Read in Wendell, North Carolina, for "Collecting Black Equestrian History to Prove We Exist." Despite growing up on a horse farm and attending trail rides every weekend, Gooch "never saw a book with horse girls or boys who looked like me." She collects books featuring Black equestrians to share with the children her organization serves.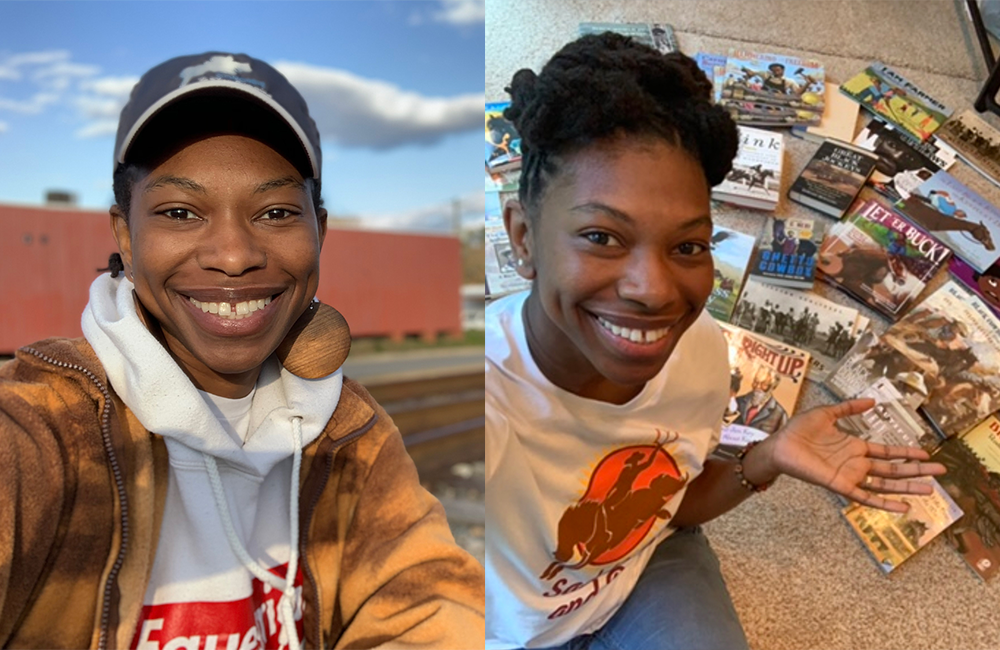 "Anytime I showed up to a classroom or youth group, there was a shock factor because they didn't expect me to be Black. Those reactions were the catalyst to me collecting books which featured Black equestrians. . . . I've felt the sting of losing history before. My own cowboy culture, growing up on trail rides, has no published documentation in a protected place. Many of the elders have passed. We have no oral recordings or written works of their stories. All we have now are memories. Finding these books, before they are tagged as 'not available' or quadruple in price, makes me feel like a warrior preserving a special part of history."
We loved Gooch's focus and purpose in this collection: both her drive to preserve representations of Black equestrians throughout history, from the Golden Legacy comic book Black Cowboys to Lillian Schlissel's Black Frontiers to Julius Lester's Black Cowboy, Wild Horses, and her commitment to share this often overlooked Black "cowboy world" with a wider audience. Many of the collections we see are being built with an eventual mission in mind, but Gooch's vision is already being realized at Saddle Up & Read, where her collection is reaching a new generation of readers and riders, and is inspiring a series of Black equestrian coloring books.
Elizabeth Kidder (she/her), thirty-one, an illustrator in Knoxville, Tennessee, for "Small-Circulation Self-Published," a collection of thematically linked zines built over the past decade, from her student days at Savannah College of Art and Design to her current work in the classroom, where her collection inspires her seventh-grade art students' final projects.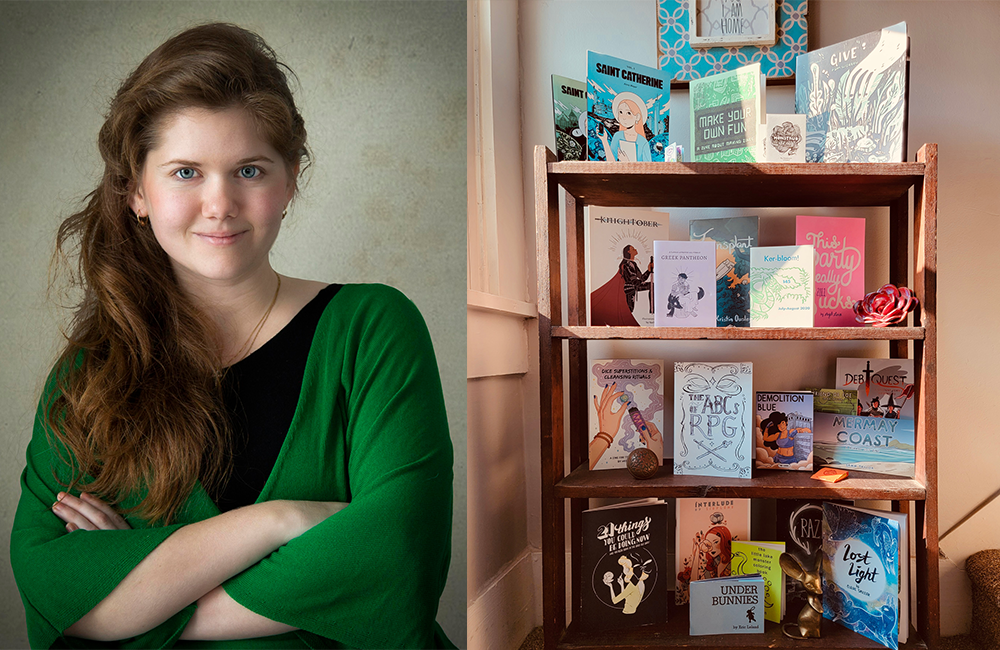 "On their own time and dime, [zine creators] produce an intentionally limited amount of content that they themselves must find a way to give to the reader. . . . When I think of the ephemeral work I'm doing—building a collection of books that have little if any published record—I know I should feel defeated. But instead, I feel elated, giddy. I know it exists. It's here, in my hands. The world may not remember, but I do. I wonder if the last worshipper of a forgotten god feels the same."
We appreciated Kidder's taxonomic approach to zine (or "small-circulation self-published") collecting, which showcased what it means to collect an intimate DIY genre characterized by scarcity and ephemerality, and how that makes us question what's considered "worthless." For Kidder, the particular limitations of the medium have become the very reasons why these books speak to her at festivals: "Amongst the scores of prints and buttons and stickers selling, [an artist's] zine would sit, and sometimes they wondered why they'd brought it—it never sells as well, and it's a little too personal for the event. That is why I buy them."
Caitlin Moriarty (she/her), thirty, an archivist at the University of Michigan in Ann Arbor, Michigan, for "Out of Date: Twentieth-Century Travel Guides for Russia, the Soviet Union, and the Eastern Bloc," a collection focused on English-language travel guides published by state publishing houses before the fall of Communism.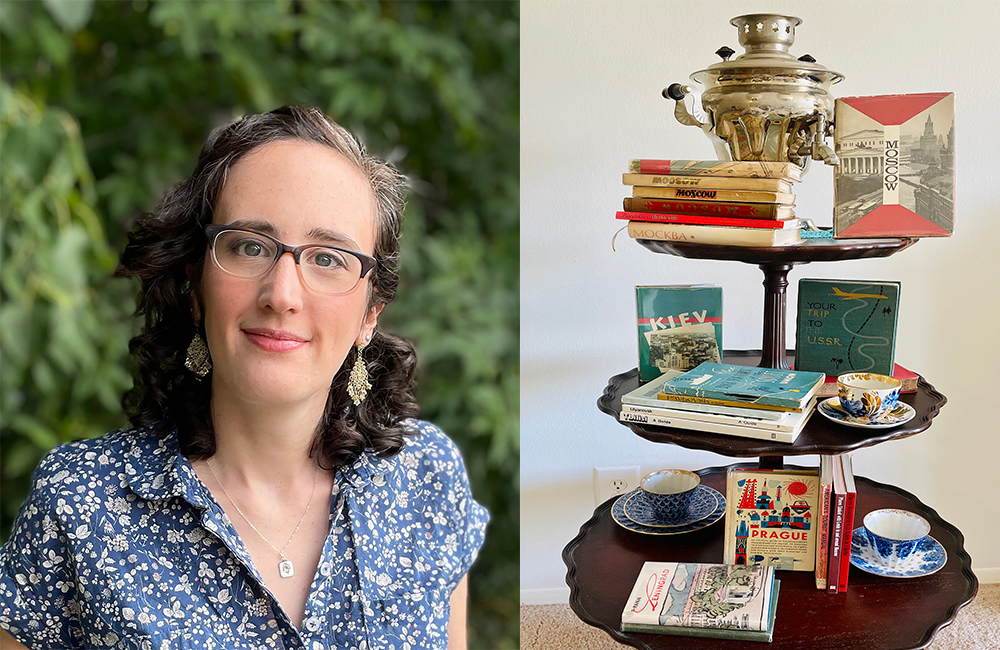 "Looking past the big international publishing companies, I noticed that starting around 1960, Soviet state publishing houses started publishing guides in English. I was especially curious about why the mid-twentieth century was when this started. Who were the people that were going on a Soviet vacation during the Cold War? . . . Particularly at the beginning, this was the version of itself that the Soviet Union wanted the world, particularly the Western world in the case of the guides in English, to see. Socialist realism imposed on the people and places of the Soviet Union itself."
We admired the coherence of Moriarty's collection, which uncovers the history written between the lines of these outdated travel guides: "Some of the major epochs of Soviet history—the Cold War, the Thaw, Stagnation, and Perestroika—can be traced in what was recommended to tourists." We were especially impressed with Moriarty's detailed bibliography, which evaluates each book from multiple perspectives: the intended audience, the intended use (practical guide or descriptive essay), and the way the graphic design and format of each guide communicates those aspirations.
Melanie Shi (she/her), twenty-three, of New York, New York, a Yenching Scholar at Peking University, for "Visions of China: Collecting Language Manuals, Sinology, and Twentieth-Century Chinese Fiction in Translation," a collection of midcentury books designed to bridge the divide between China and the West, from both directions.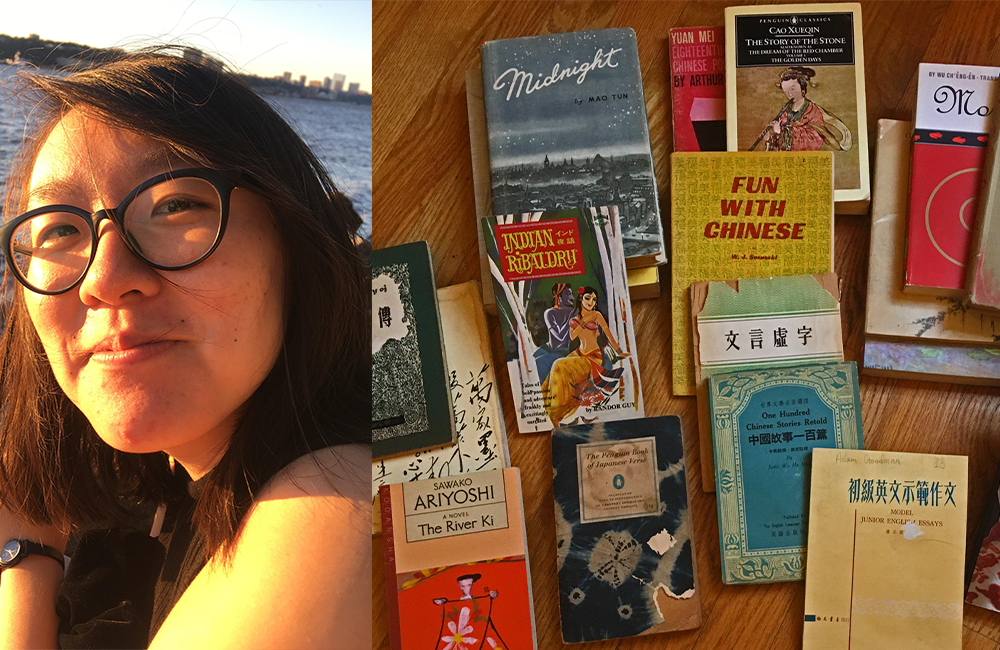 "While I was first drawn to these books for their visual language, their contents soon revealed a picture of the diversity of the Chinese diaspora, of the visions of Chineseness produced from inside and outside of China proper. . . . Whether [they are] publications designed for a readership of overseas Chinese, studies of Chinese classics conducted by Western scholars, or modern Chinese novels by émigrés translated for English-reading audiences, these texts show that what is 'authentically' Chinese is vast, global, and ripe with various interpretations."
We loved the way Shi's collection took us on a journey, starting with her interest in discarded Chinese-English crossover books, "not quite East nor West," that she found on the streets of New York City: How did they end up there, and why did this matter to her? In the process of learning about the network of publishers and Chinatown traders that circulated these volumes, Shi dug deeper into the visual and material aspects of her collection, bringing to light the richness and variation found in the books of the Chinese diaspora in New York. This collection told a story about our private lives with books on a public scale.
The cofounders of the Honey & Wax Prize, Heather O'Donnell of Honey & Wax Booksellers and Rebecca Romney of Type Punch Matrix, would like to thank our 2021 sponsors: Biblio, The Caxton Club, Swann Galleries, and Ellen A. Michelson. Thanks also to Lit Hub, The Paris Review, Antiquarian Booksellers' Association of America, and Fine Books & Collections for their ongoing support, and to the documentary The Booksellers for spreading the word about the prize during this lockdown year. Most of all, thanks to the inspiring young collectors who shared their ongoing projects with us! We look forward to seeing where they take you.