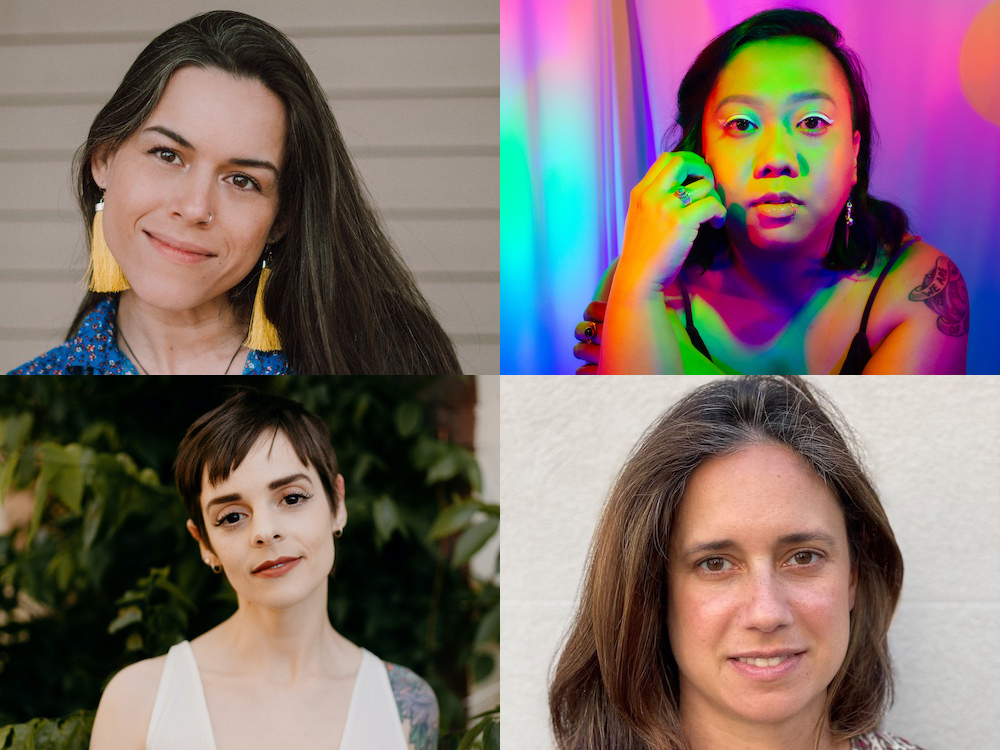 For close to seven decades, 92Y's Discovery Poetry Contest has recognized the exceptional work of poets who have not yet published a first book. Many of these writers—John Ashbery, Mark Strand, Lucille Clifton, Ellen Bryant Voigt, Brigit Pegeen Kelly, Mary Jo Bang, and Solmaz Sharif, among many others—have gone on to become leading voices in their generations.
This year's competition received close to a thousand submissions, which were read by preliminary judges Julia Guez and Timothy Donnelly. After much deliberating, final judges Rick Barot, Patricia Spears Jones, and Mónica de la Torre awarded this year's prizes to Kenzie Allen, Ina Cariño, Mag Gabbert, and Alexandra Zukerman. The runners-up were Walter Ancarrow, Hannah Loeb, Dāshaun Washington, and JinJin Xu.
The four winners receive five hundred dollars, publication on The Paris Review Daily, a stay at the Ace Hotel, and a reading at 92Y's Unterberg Poetry Center in the fall of 2021. We're pleased to present their work below.
Kenzie Allen is a poet and multimodal artist and a descendant of the Oneida Nation of Wisconsin. She holds a Ph.D. in English and creative writing from the University of Wisconsin-Milwaukee and an M.F.A. in poetry from the Helen Zell Writers' Program at the University of Michigan. Her poems can be found in Boston Review, Narrative Magazine, and The Adroit Journal. She is the recipient of fellowships from Vermont Studio Center and the Aspen Writers' Foundation. Born in West Texas, she currently lives and teaches in Toronto.
*
Quiet as Thunderbolts
And I kept it from you like a kill,
my name, my legacy, my shoulder
chip and the small hollow beneath
where I can be wounded. The Longhouse
I whittled to matchsticks, abalone
filling up with hair ties, Ute painted
coffee mugs and iron turtles a pan-flash
of identity, an almond eye watching
from between the white bookcases
and photographs of cities, orchards,
graves. A lonely ironing board
left to the street outside our old place,
candles I lit in Lisbon for all the women
I have loved. Animals who are no longer
with us. Animals who are no longer
ours. So much landscape I can't
tend to, wide as a child's face
and crumbled in drought,
rimmed in salt. I kept the Water
Lily, how Bear Clan was given
the medicines, Namegiver,
how she made me darker
with her words. The turquoise ring
and how it pleases the Spirits
to give that which has been
so admired. The sweetgrass
in my sock drawer, the exact volume
of air I can fit in my lungs and belly
as I try to swallow and breathe
its sweetness. Every bead, every
loop of every treasure necklace—
I kept porcupine quills
in my throat, I let the water drown me
every night in my river-bottom
canoe. I've been sleepwalking
since I got to this earth,
since they brought up the soil
and made an island, those who did not perish
in the dive. Since the island crawled
into a continent, I've been
shell and memory, calendar and hearth.
Ina Cariño holds an M.F.A. in creative writing from North Carolina State University. Their poetry appears in Apogee, Wildness, Waxwing, New England Review, and Tupelo Quarterly. They are a Kundiman fellow, a recipient of a fellowship from the Vermont Studio Center, and the winner of the 2021 Alice James Award for their manuscript, Feast, which is forthcoming from Alice James Books in 2023.
*
Ancestors for Sale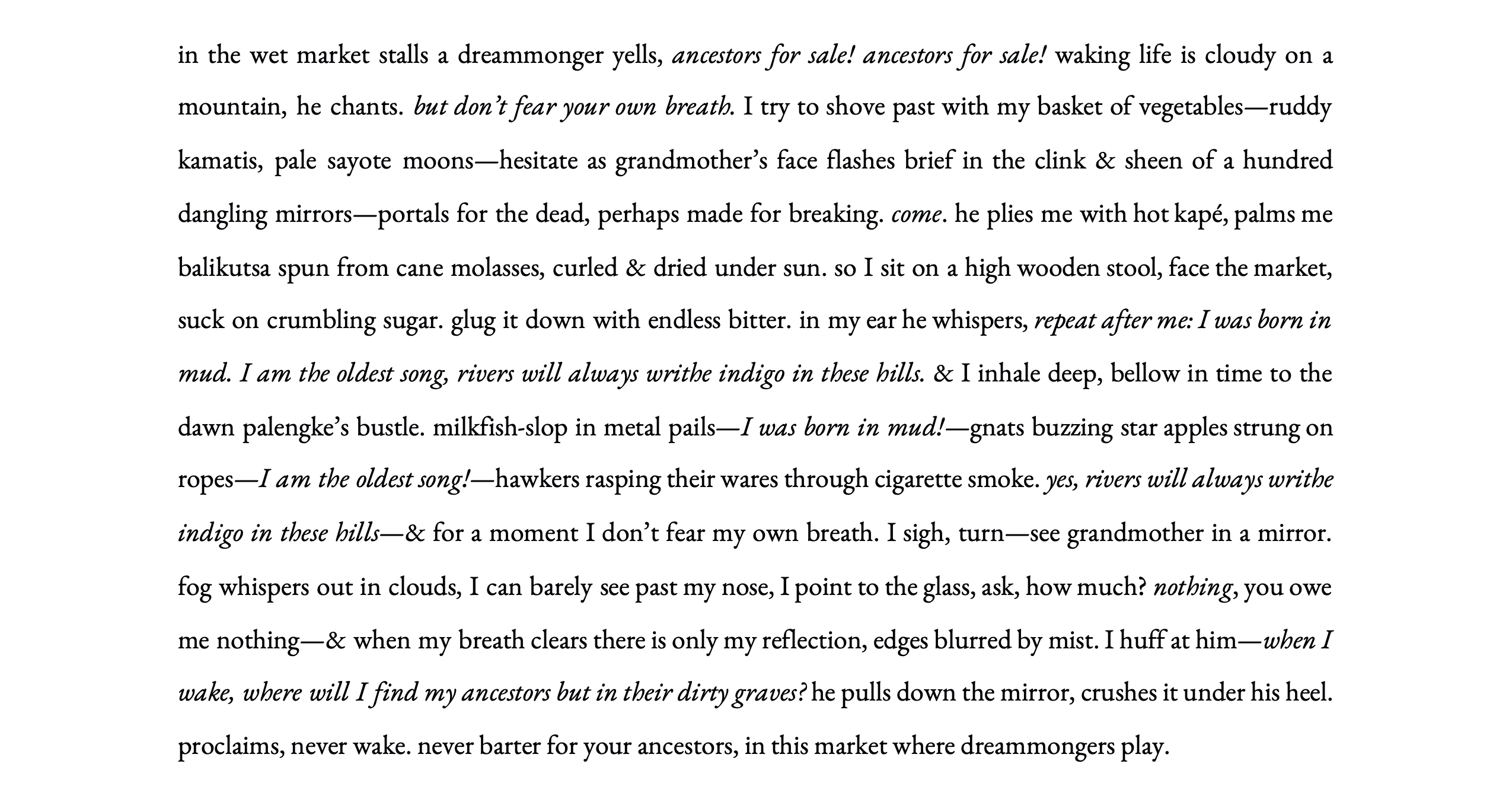 Mag Gabbert holds a Ph.D. from Texas Tech University and an M.F.A. from the University of California at Riverside. Her essays and poems can be found in 32 Poems, Pleiades, The Massachusetts Review, Waxwing, and The Pinch. She is the author of Minml Poems, a chapbook of visual poetry and nonfiction. She's received poetry fellowships from Idyllwild Arts and Poetry at Round Top. She teaches creative writing at Southern Methodist University and serves as the interviews editor for Underblong Journal.
*
Tattoo
At forty-three my uncle got one of the ocean on his foot,
which made it look like he was standing in the ocean.
But who could've imagined, once he turned forty-four,
that he'd collapse right on its shore, his chest fallen flat
as ink kept lapping against the bones attached to that
skin with its greenish-white tongues, its mouth full
of foam. And his lips lined with sand. There's a little
black compass I have inked on my hand, a mark people
often mistake for a wedding band: a name promised,
an until-death wish, my path already set. This way
I can think about permanence as I turn toward decay.
When other awful things happen, I hear an old friend
say: there will be an/other side again, and yet I can't
help but wonder if both sides are the same, just this one
flipped image above and below any still water's surface
(notice the face in surface, a lake mirroring yours in it,
how it echoes ache, ache before the eyes blue away).
Scientists claim that humans are trained to find faces
in everything—the cracked windshield, a shirt's stain,
the stopper for the drain—but they also forget to say
soil and waves will seek themselves in our skin. Grief
involve trades: Sorry I'm tide up. I'm knot okay. I still
curl over my bent legs like a seashell when I think about
my dead uncle. Or fate. Then I break down to seas/ash/
hell. The pastor says, he will always be mist. Says, now
he is hole again. But even when I imagine that pink sole
of his beneath its ocean of flesh, or his branched veins
shielding their school of silver fish, they all start to spill
out from his archway. Then ribcage. I remember how,
before he went in the grave, my uncle looked like that
ocean was being siphoned up his leg, like his whole
body was turning a shade of dolphin-sea-grey. It was
as if his calf almost became a real calf then. But now
I can't seem to erase that one last image from my head.
Alexandra Zukerman is a poet and photographer. Originally from New York, she has spent time in many places meaningful to her. She studied at Harvard and completed an M.F.A. at NYU this spring, where she also taught undergraduate courses. She is currently at work on her first manuscript of poems.
*
Quest 8
The world practices social distancing.
The virus spreads in waves.
In prison, the virus spreads in flat water.
Life goes on as normal.
Normal in prison.
Biographers always talk
about the last day. Sylvia
Plath cleaned her kitchen
and left reminders for herself.
Alan Turing bought theatre tickets
and promised to see the Webbs.
"Mrs. Dalloway said
she would buy the flowers herself."
It turns out
the learning curve in prison
is a depressed boxspring—
It is normal in prison
to have a Bunkie.
That first visit, we wondered about
our father's new word— He kept
using it
as though the word
nothing would mean the same thing to us.
His first Bunkie was fifty years younger.
From El Salvador, he came to this country.
El Salvador, then Ukraine, then Israel—
Time in prison is as thick as telling.
Prison is made of small stories.
They sit elbow to elbow
and pass the salt. That last visit,
we watched our father's mouth—
He hadn't raised his lids.
Maybe out of neglect, or
he'd found solace
on the shut
side of them.
Prisoners sink in flat water.
You don't find air
on torture worktables
or in hospital self-assessments.
It doesn't articulate
pain like fire or nails.