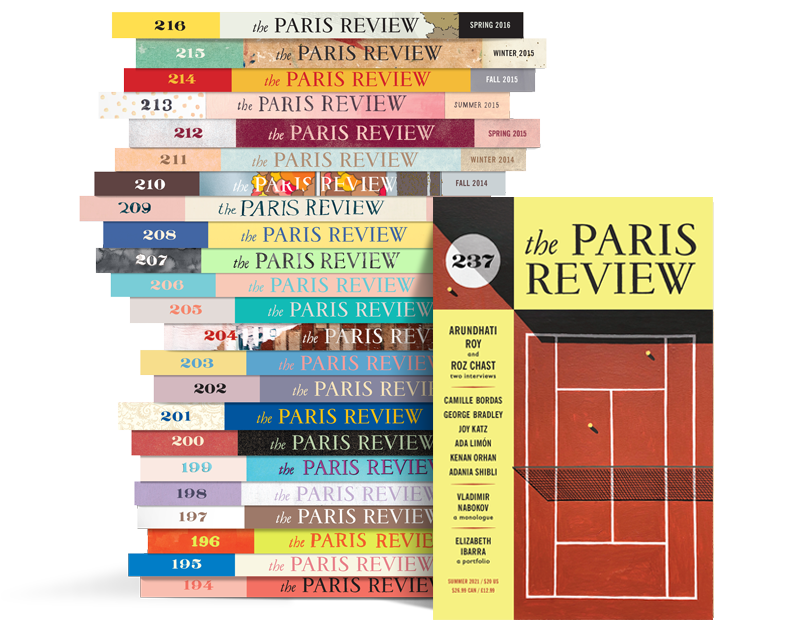 Issue no. 237 of The Paris Review is here for your summer reading! The Summer 2021 issue, online today, features interviews with Arundhati Roy and Roz Chast; fiction by Adania Shibli and five emerging writers; the first English translation of a monologue by Vladimir Nabokov; poetry by Kaveh Akbar, George Bradley, and Ada Limón; an essay on tennis by Joy Katz; and art by Elizabeth Ibarra paired with an essay by Aimee Nezhukumatathil—and, of course, much more!
"I'm grateful for the lessons one learns from great writers, but also from imperialists, sexists, friends, lovers, oppressors, revolutionaries—everybody. Everybody has something to teach a writer," Arundhati Roy tells managing editor and interviewer Hasan Altaf in the Art of Fiction No. 249. Roy, the author of numerous works of fiction and nonfiction—including the 1997 Booker-winning novel The God of Small Things, 2017's The Ministry of Utmost Happiness, and the 2019 essay collection My Seditious Heart—describes the singular pleasure of losing herself in novel writing, with detours along the way to discuss her architecture-school days in New Delhi and her time spent reporting in the forests of Bastar. "I love immersing myself in the universe of a novel for years," she says. "There is never a time when I am more alive … Being in that universe, that imperfect universe, is like being in prayer."
"I don't think a cartoon is just an illustration of a funny idea. The drawing style has to go along with the words, and be funny also," Roz Chast tells Liana Finck in the Art of Comics No. 3. Chast, a longtime contributor to The New Yorker and the author of works such as 2014's National Book Critics Circle Award–winning Can't We Talk about Something More Pleasant?, considers how words and pictures "are conjoined twins. They're interconnected in a primary way. When I was at art school, and a painter, I missed the words, and when I write, I miss drawing."
Also in this issue: fiction by Anuk Arudpragasam, Camille Bordas, Lydia Conklin, Kenan Orhan, and Christina Wood, and poetry by Jennifer Barber, Charles Baudelaire, Marianne Boruch, Daisy Fried, Ishion Hutchinson, John Kinsella, Michael Klein, Jim Moore, Jesse Nathan, Barbara Tran, and Matthew Zapruder.
Enjoy! And don't forget to subscribe for full access to both the Summer 2021 issue and our complete sixty-eight-year archive.