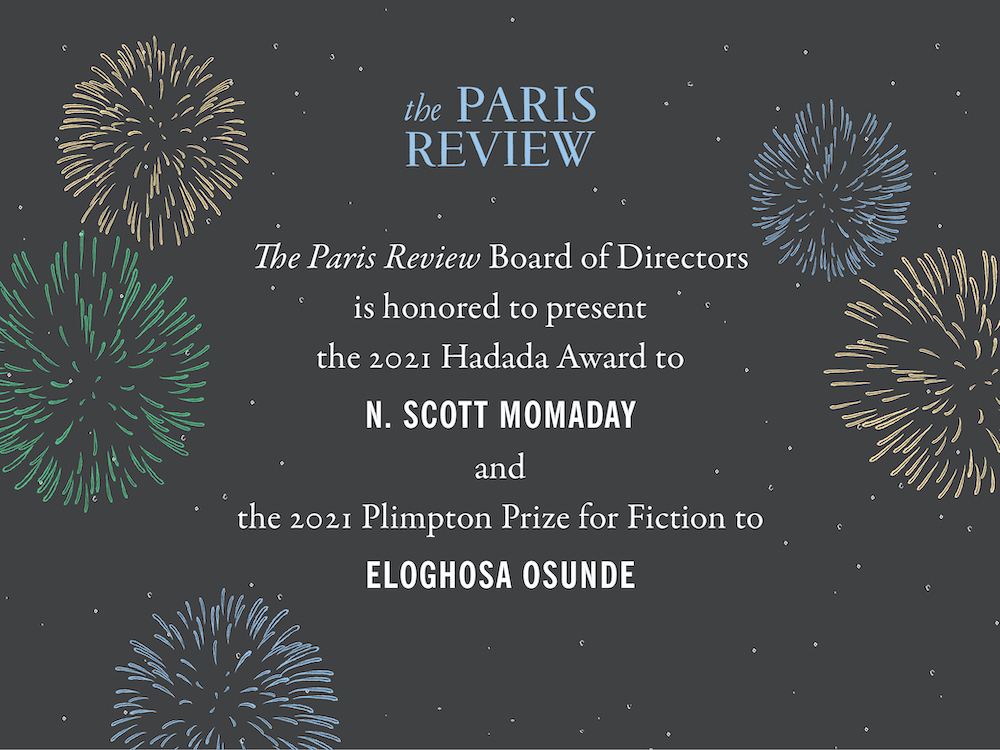 Every year, the Paris Review Board of Directors gives awards to recognize remarkable contributions to literature. This year, the directors are celebrating two extraordinary writers and taking special steps to ensure the future of exceptional writing. Read on to learn about the ways we are celebrating this year.
The Hadada Award
The Paris Review Board of Directors is pleased to announce that N. Scott Momaday is the recipient of the 2021 Hadada Award, presented each year to a "distinguished member of the writing community who has made a strong and unique contribution to literature." Previous winners include Joan Didion, Philip Roth, and Joy Williams.
Born Navarro Scott Mammedaty on February 27, 1934, Momaday is a member of the Kiowa tribe. He achieved national recognition when his debut novel, House Made of Dawn, won the 1969 Pulitzer Prize. Widely considered a watershed moment for Native American literature, the book's publication blew open the door for a new generation of writers. In the years since, he has written fiction, poetry, plays, folklore, children's books, essays, and, most recently, Earth Keeper: Reflections on the American Land (2020), a series of meditations on humanity's relationship with the natural world. He is also an accomplished visual artist and an ardent climate activist. He has been honored with a National Medal of Arts and an Academy of American Poets Prize, and became a founding trustee of the National Museum of the American Indian, part of the Smithsonian Institution.
Paris Review publisher Mona Simpson said:
The Paris Review editorial committee wishes to honor N. Scott Momaday with the 2021 Hadada Award for his long commitment to, in his words, "the remembered earth." We respect his originality in all things—he first achieved fame with his novel House Made of Dawn and in the decades since has devoted his attention to poetry, playwriting, painting, and teaching literature. With tenured appointments at Stanford and the University of Arizona, he also taught as an adjunct at the Institute for American Indian Arts. "There is no better blessing than to be believed in," he writes. Momaday was born and grew up in the American West and remains loyal to this landscape. "Ours is a damaged world," he writes. "Will I tell my grandchildren, I wonder, of animals they will never see?" At a time when the solutions to the impending climate crisis are calculated and known, and all that's necessary to save the planet is human commitment, Momaday offers inspiration. "Let me say my heart," he writes. "Give us one more day and one more."
Momaday's relationship with The Paris Review began more than three decades ago, when several of his poems appeared in the Spring 1986 issue. An excerpt from Earth Keeper was published on the Daily this past year, and Momaday's Writers at Work interview, conducted by the poet Layli Long Soldier, is in progress. When notified about his receival of the Hadada Award, Momaday said: "I am very pleased to receive the Hadada Award for two reasons in particular. First, The Paris Review is an excellent literary journal, and it is certainly a singular distinction to be recognized by it. Second, I am told that my friend Peter Matthiessen, a writer I admired and a recipient of the Hadada Award, could imitate the little-known call of the hadada ibis and did so on request. This remarkable facility, and this prestigious award, inspire me to honor Peter's memory."
To celebrate Momaday's award, a special episode of The Paris Review Podcast featuring an excerpt of his Writers at Work conversation will be released on April 23. From April 19 to April 23, readers will also be invited to stream a special free screening of PBS's American Masters N. Scott Momaday: Words from a Bear, directed by the Kiowa filmmaker Jeffrey Palmer. Register here.
The Plimpton Prize
The winner of the 2021 Plimpton Prize for Fiction is Eloghosa Osunde, for her story "Good Boy," which appeared in the Fall 2020 issue. Named for one of The Paris Review's founding editors, George Plimpton, the $10,000 award celebrates an outstanding story published by an emerging writer in the magazine in the previous calendar year. Past recipients include Ottessa Moshfegh, Yiyun Li, and Jonathan Escoffery.
Carl Phillips, a member of The Paris Review's Editorial Committee, said,
"The face of a thing is not the body of it" and "everything in this life is what? Image," says Eloghosa Osunde's speaker in her brilliant story "Good Boy." Making use of that take on morality, our hero thrives financially by helping people deceive others—from offering artfully curated (i.e., fake) Instagram accounts to selling souvenirs that people can use to "prove" they've traveled, though they never in fact left home. A queer man in Nigeria, he's learned that to lie is to survive, including lying to oneself: "necessary fictions," as another character puts it. Osunde's story speaks in part to the costs and compromises of those fictions; the other part celebrates the joy of finding the chosen families that allow us to be who we are, in the open, and ultimately to have access to the sacred, in the form of love. "At different times, we were terrified that we wouldn't find our tribe, we wouldn't find our people who would see us for us because of what we'd been told to hide … this love shit is holy." Indeed, it's holy, and powerful, and, in Osunde's hands, transformative. I love this story's vulnerability and its honest handling of joy—celebrating joy without ignoring the complicated psychology that, for so many of us, getting to joy has required.
Osunde is a Nigerian writer and multidisciplinary artist whose writing has appeared in Guernica, Catapult, and Berlin Quarterly. She is a 2019 Lambda Literary Fellow, a 2020 MacDowell Fellow, and the 2021 prose judge of Fugue Journal's annual writing contest. Her visual art has been exhibited widely and featured in Vogue, the New York Times, and Paper Magazine. Osunde also writes a column for The Paris Review Daily, Melting Clocks, in which she takes apart the surreality of time and the senses. Her first work of fiction, VAGABONDS!, is forthcoming from Riverhead in 2022.
Upon learning that she had won the Plimpton Prize, Osunde said:
As soon as I knew what the Plimpton Prize was, I wanted it. As soon as that was clear to me, I wrote it down in my journal where I make these things plain without shame, then left it alone. This story was a breakthrough for me, because it was the first to come through after VAGABONDS!—my debut work of fiction, which relocated me to a place where imagination meets courage. It means so much to me that a story I wrote from a true place, an empowered place, with a protagonist like the one who powers this story—Nigerian, queer, beautiful, troublesome, stubborn, fearless, flawed, loved, loved, loved—gets to meet many more readers. I hope this opportunity means "Good Boy" will get to continue as it has done since the beginning of its life; that it keeps moving readers to envision new ways to be and belong, whatever that might look like for them. Thank you to the judges for this honor; to Emily and Hasan, the incredible editors who worked with me to shape this story; and to the people who make up my heart, my family, my life, because my imagination is always made larger and richer by their love.
In commemoration of this year's Plimpton Prize, we will present a conversation between Osunde and the artist and writer Akwaeke Emezi, introduced by The Paris Review's managing editor, Hasan Altaf, on our YouTube Channel on April 27 at 6 P.M. Click here to register for reminders about this event.
The Southern Prize for Humor
In 2021, the Editorial Committee elected to donate the $5,000 usually awarded to the winner of the Terry Southern Prize for Humor to an organization providing financial support to the writing community during a time when funds for the arts are in particularly short supply. The directors are proud to donate the $5,000 to Teachers and Writers Collaborative in New York.
Teachers and Writers (T&W) is one of the longest-running and most respected organizations to provide arts education to children, by bringing professional writers into public school classrooms during the school day. To learn more about T&W leadership and programs, visit their website: https://twc.org/about.
Events!
April 19–April 23
For the week of April 19, readers will be invited to stream a special free screening of PBS's American Masters N. Scott Momaday: Words from a Bear, directed by the Kiowa filmmaker Jeffrey Palmer. Register here.
April 23
Tune in to a special episode of The Paris Review Podcast featuring an excerpt of Momaday's Writers at Work conversation.
April 27
Watch a conversation between Eloghosa Osunde and the artist and writer Akwaeke Emezi on our YouTube Channel on April 27 at 6 P.M. Click to register for reminders about this event.