In her column, Re-Covered, Lucy Scholes exhumes the out-of-print and forgotten books that shouldn't be.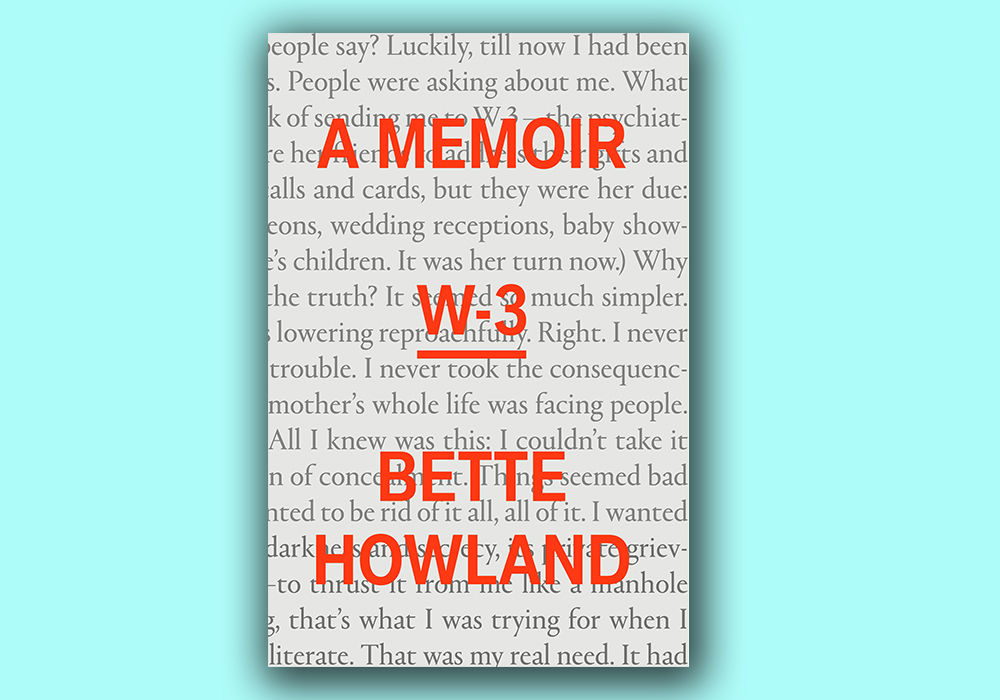 When I began writing this column two years ago, I initially restricted myself to discussing only titles that were out of print. But over the past year, as publishers continue to increase their efforts to resurrect lost classics, I've begun including pieces about previously neglected books that have been rediscovered and repackaged for a new generation. There are many success stories: the unexpected triumph of the Vintage Classics edition of John Williams's Stoner, a book that sold less than two thousand copies when it was first published in 1965 before falling swiftly out of print, but as a reprint went on to become the Waterstones Book of the Year in 2013; or Lucia Berlin's unforeseen posthumous literary stardom in 2015 after her selected short stories, A Manual for Cleaning Women (edited by Stephen Emerson for Farrar, Straus and Giroux), became a New York Times best seller. But there's no more interesting tale of neglect and rediscovery than that of Bette Howland.
Howland was a working-class Jewish writer from Chicago who in a single prolific decade published three books—a memoir, W-3 (1974), and two short-story collections Blue in Chicago (1978) and Things to Come and Go: Three Stories (1983)—and won both Guggenheim and MacArthur Fellowships, then all but disappeared from view. She resurfaced briefly, sixteen years later, in 1999, with the publication of what would be her final work, the novella-length story "Calm Sea and Prosperous Voyage" in TriQuarterly, but it garnered scant attention. If it hadn't been for an editor's fortuitous discovery in a secondhand bookshop shortly before Howland died in 2017, at the age of eighty, hardly anyone would have been familiar with her name, or her incredible work.
In 2015, only two years before Howland's death, Brigid Hughes, the editor and publisher of A Public Space, found a copy of W-3 in the $1 cart at Manhattan's Housing Works Bookstore. Swiftly realizing that she'd stumbled across a forgotten but major talent, Hughes got hold of secondhand copies of Howland's other books, and then set out to track down the woman herself. "Thirty years after Bette Howland received a MacArthur Fellowship, her books are out of print and her whereabouts unknown," Hughes wrote later that year, introducing a portfolio of Howland's writing that she'd painstakingly put together for issue no. 23 of A Public Space. "A search for her name in the public records yields little. But it does lead to a son, who holds the key to a safe-deposit box in Tulsa, Oklahoma. Inside are unpublished stories, a lost essay, and a trove of letters from a dear friend named Saul." Included in this portfolio was an excerpt from W-3; two stories, "A Visit" and "Blue in Chicago"; the aforementioned lost essay, "The American Heroine," on Edna Pontellier, the doomed heroine of Kate Chopin's The Awakening; letters from a forty-year correspondence with Howland's friend Saul (as in Saul Bellow), whom Howland first met in 1961 at a writer's conference on Staten Island; and an essay by Howland's son, Jacob, which ends with the searing image of his mother as she was then, suffering from MS and dementia:
The carpet around her easy chair is littered with unfinished manuscripts, words struck through in her shaky hand. I read aloud to her, often from her own writing. While we can no longer discuss the meaning of her stories, this activity pleases us both.
As astonishing as all this was, it was only the beginning of Hughes's commitment to restoring Howland's rightful place in the literary canon. In early 2019, A Public Space launched their publishing imprint with Calm Sea and Prosperous Voyage—a collection that brought together the work from Blue in Chicago and the eponymous novella-length story. (This past summer, the volume was published by Picador in the UK under the title Blue in Chicago.) This month they're republishing the book that both launched Howland's lauded career and first captured Hughes's attention, W-3.
*
Originally published in 1974, when Howland was thirty-seven, W-3 is one hell of a debut. It takes its title not from the IRS form, but rather from the psychiatric ward at the Chicago hospital where Howland was confined following a suicide attempt in 1968. She was a thirty-one-year-old single mother of two at the time, trying to write—"she labored at her typewriter day and night" is how Jacob remembers his mother's endeavors—while also supporting herself and her sons by working part-time as a city librarian and as an editor for the University of Chicago Press. "The neighborhood we lived in then—Hyde Park, long before gentrification—was chaotic and dangerous," Jacob continues. "I remember standing at the window one very cold winter's day, six floors up, looking west, over miles and miles of slums, and above the rooftops, as Saul Bellow puts it, 'the dragging smoke which rises with difficulty in zero weather.' The memory captures for me, and perhaps for my mother as well, the indescribable, metaphysical bleakness of life in Chicago." This bleakness was mounting in Howland's life, along with her ongoing struggle to make ends meet—she often threw the bills she received directly into the trash, Jacob recalls—and her frustration and despair about her unmet literary aspirations. So much so that one afternoon, while staying in Bellow's apartment (he was overseas at the time), she swallowed a bottle of sleeping pills.
Howland woke up in intensive care, with, as she writes in W-3, her mother whispering "You are reborn!" into her ear. A few days later Howland was transferred to a different ward, where, still deemed a potential risk to herself, private nurses kept an eye on her round the clock: "Here I sipped yellow chicken broth and peed warm yellow pee into chilly bedpans—an improvement over being fed through needles and drained through tubes." From there, she was then transferred to W-3.
Regular readers of this column might be reminded of one of the books I wrote about last month, Tove Ditlevsen's The Faces (1968). It, too, began with the narrator's hospitalization following a suicide attempt by overdose. I found myself thinking about other titles from the same period that draw on the author's experience of being institutionalized: Ann Quin's unfinished novel, The Unmapped Country (which she was working on at the time of her suicide in 1973) is set in a psychiatric institution where a woman named Sandra is being treated following a breakdown; Penelope Mortimer's daring Long Distance (1974) is a fragmentary and hallucinatory account of an unnamed female protagonist's desperate journey through an unspecified establishment that's part Yaddo (where Mortimer wrote the book), part hospital. Ditlevsen, Quin, and Mortimer all prioritize the interior experiences of their fictional alter egos. As such, one comes away from each novel with the strong sense of a protagonist imprisoned more inside her own troubled mind than within an institution.
Howland takes a different approach. She provides her readers with the necessary details of her situation, but she has little interest in using the book to excavate the trauma that led her to this point. She remains acutely aware that, regardless of the specifics, hers is not a singular story—"Histories like mine, of long debilitating illness, vague recurrent symptoms, hospitalizations, were common enough on W-3; these things go together." Or, as she writes early in the book: "[I] hated giving any account of myself. I was sick to death of the facts of my life." Instead, W-3 is a riveting portrait of a community, that of the ward and its inhabitants, and a startlingly clear-eyed one at that.
In it, as in Calm Sea and Prosperous Voyage, Howland's lodestars are place and character. She's a writer interested in real life—"the old continuous struggle, the day-to-day hand-to-mouth existence," as she describes it in "To the Country"—and real people. Whether she's describing a large family party, the whimsies of a bunch of vacationers, life in a branch of the public library, or the comings and goings of a Chicago courtroom, the best pieces in Calm Sea and Prosperous Voyage offer us evocative portraits of various urban communities. Howland was clear that she'd gone to "a hell of a lot of trouble—no one will ever know how much—to work with the facts," and thus didn't want her stories reviewed as fiction.
The lonely, the old, the ill, and the suffering; these are the people Howland writes about. Take the "cornered creature" that is a bitter, angry woman in "To the Country": "A husband dead, a son killed in the war, the children too much for her, the mother disappointed—a life of constant self-reproach. She was beside herself, leading a manless, unconsoled existence. The fear, the loneliness, managing alone. And of course pride." The description cuts exceedingly close to the bone. "Now I was a 'divorcée' with two small children. I had good reason to appreciate what that lurid word really meant," Howland confesses in W-3. "I knew that benighted condition. A dingy flat, crummy job, constant money worries. Everything you earn goes to doctors and baby-sitters. Then the baby's got a runny nose, the sitter doesn't show, you can't go to work. A life full of reproaches, self-hatred; a woman supporting a manless (unconsoled) existence, beside herself with fear, worry, managing alone."
Just as in her shorter work, in W-3 Howland hones in on the individuals around her, with a keen eye for the link between their physical bearing and the emotional turmoil beneath the surface. Take the perfect precision of her sketch of Trudy, one of the most memorable figures on the ward, who's supposed to be in isolation, but keeps appearing, like a "cuckoo," in everyone else's room: "She perambulated down the corridors lashed to her intravenous stand—bandages, pajama strings loosened and streaming—looking like a sort of injured parade float." But in the end, Howland always pulls back for the panoramic shot. Just as in "Twenty-Sixth and California," when she explains that the courtroom about which she's writing is an environment where there's "something more powerful than individual feeling," life on W-3 is all about the community as a whole.
*
One quickly comes to understand that this is the only way Howland could have written about this particular experience. It's not that she refuses to share the more intimate details of her own suffering, it's that she lives in a world—both within the hospital and outside its walls—in which pain is prevalent enough to make it unremarkable. Her account of looking out the window, watching her two small sons, standing side by side and holding hands, on the sidewalk far below—"neater and cleaner than I was used to seeing them"—is heartbreaking. They're too young to be allowed to visit her, so seeing them like this is her only choice. Howland's mother is taking them back to Florida until Howland is well enough to look after them again. Howland shouts down at them, and in response, they crane their little heads up toward the sound of her voice, but the building has too many windows. "I knew they'd never seen me," Howland writes. "They must be wondering now if they ever would. It was a terrible thing I had done to them. And I felt like a ghost." This horrifying clarity, admitted wholly without self-pity, is the captivating tone that Howland takes throughout W-3.
This is not to say that her mind is not grievously unsettled—she recalls the ward's television as a source of jarring, discordant images that must, she thinks, "have been a reflection of my own mental condition"—but any such confusion is absent in her prose. She does not dwell on what led her to this point—the suicidal thoughts that she "dragged … around like a weight," the inevitable prescription of sleeping pills—or the struggle that still lies ahead of her. We are given the occasional flash of insight, such as in her description of the uncomfortable kinship she felt with a fellow patient named Gerda, a woman with what Howland describes as a "forcefield" that both attracted and repulsed her. "I had good reason to be repelled by Gerda," she finally explains, in what's almost an addendum at the end of the chapter, "she was my depression, the bottom of it—crossing the deeps, the rolling dark, that still lay ahead of me." This, however, is not the story Howland's telling here. She's smart enough to know the difference between her own story and the story of the hospital. When it comes to life on W-3, there's nothing intimate or private about it. "We spent all the rest of our time being a 'community,' talking about the 'community,' conceding its claims," Howland explains, one-to-one therapy sessions regularly being in short supply. "When would we get a chance to talk about ourselves? To be ourselves? Whoever that might be?"
Much of the power and poignancy of W-3 lies in its contradictions. It offers us a portal to a particular time and place, yet the compassion and truthfulness that underlies the writing renders it timeless, as urgent a read now as when it was first written nearly half a century ago. It's all the more important a book because of what it meant to Howland herself. In this, it reminds me of Penelope Fitzgerald's wonderful Booker Prize–winning novel, Offshore (1979), about a bunch of bedraggled misfits living on houseboats on London's Battersea Reach in the sixties. The inspiration was Fitzgerald's own experience of living on an aging wooden barge named Grace, during one of the very lowest points in a life full of trials and tribulations, a period that drew to a close when Grace sank, leaving the already struggling Fitzgerald and her family homeless and bereft of their worldly possessions. Offshore, as Fitzgerald's biographer Hermione Lee puts it, was "salvaged from personal anguish." Fitzgerald turned an experience that would have been the breaking of most of us into one of the greatest artistic achievements of her life, and with W-3, Howland does the same. As Hughes so movingly explains: "The book itself would be [Howland's] salvation: she wrote herself out of the grave."
Read earlier installments of Re-Covered here. 
Lucy Scholes is a critic who lives in London. She writes for the NYR Daily, the Financial Times, The New York Times Book Review, and LitHub, among other publications.