Read Ayşegül Savaş's story "Layover" in our Fall issue.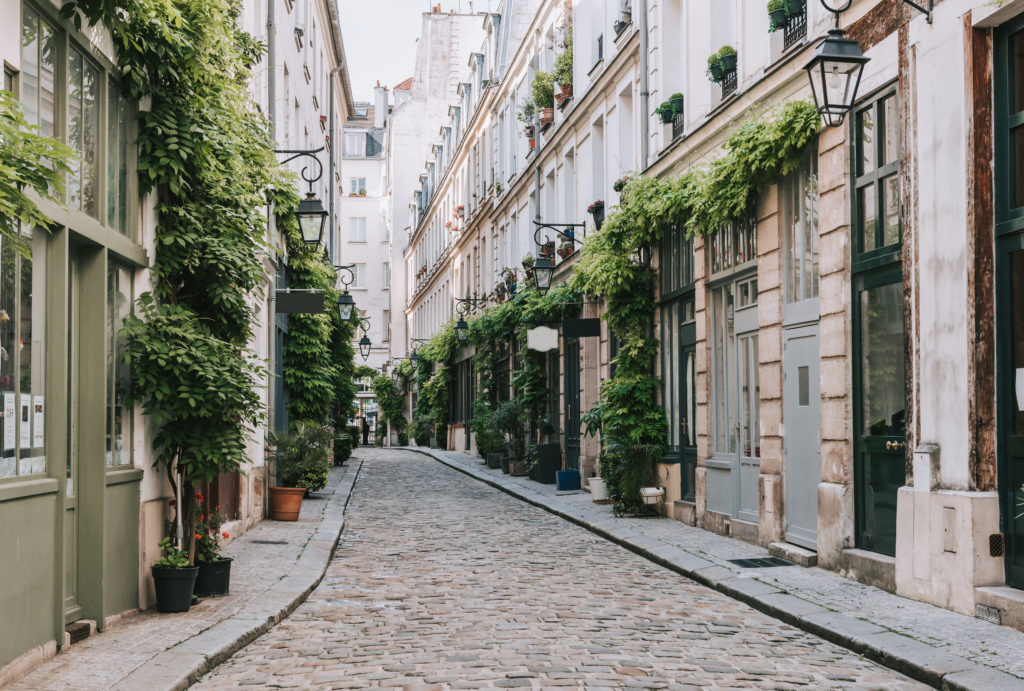 The club has six members. Maks and I bring the cake. Beth brings drinks. Talia sets out chairs in front of the bookshop. Penelope carries the metal grill and turns the shop sign to CLOSED. Follie, the black dog, goes wild. She jumps and licks and runs in circles. Then she goes in search of an empty bookshelf to curl into. We have a joke about Follie reading all the books inside while the club congregates on the shop terrace, across from the gates to the Luxembourg Gardens. It's really not that funny. But somehow at a gathering, it can become hysterical.
The club is called Cakes and Ale. That might be my favorite of Maugham's books, though it's Penelope who came up with the name. She's been a bookseller for thirty-five years, which means that she's a master punner. She is also a master judge of character. It seems too obvious that a bookshop owner named Penelope, with her long hair and wool cardigans, should also be an eccentric. I'll say, then, that she's like a favorite childhood book: with unexpected turns and wicked humor, a meandering narrative that nevertheless knows where it's headed.
Maks is best among us at keeping Penelope on track when she tells stories. Not long ago, as Penelope told us a long story about Bach, a jazz pianist, and a brunch gone awry, Beth and Maks shouted in chorus: "Penelope get to the point!" So Penelope delivered: "She died."
Ours isn't a book club. It's not even a friends' club, exactly, given how little we know about one another, far less than we do about friends with whom we have long and deep conversations, building constantly toward an unshakeable alliance: to share everything, to hold the same values, to have the same orientation in life. This one, if anything, is a humble pandemic club: we are, simply, neighbors. Before, we'd share a drink whenever we stayed past the shop's closing time. Sometimes, feeling bad about our constant lingering, we'd come with a bottle and snacks. But now we have room for routine and we make no objection to sitting outdoors in the cold, on stools. It's an old-fashioned gathering we wouldn't have maintained in the old world, with travels and appointments and engagements, all the different groups we'd like to be a part of, the constant tailoring of our social circle to our own tastes and likeness.
After Follie, our youngest member is Talia. She works at the shop four days a week and in the future she'll direct theater. At one gathering, she reads out a list of plays she's compiled— a personal curriculum. We can barely get through the list, with Penelope's punning and all our suggestions for everything else Talia should include. The cacophony is another constant member.
Beth's basket might be filled with jars of hot cider or margaritas, wine or gin tonics. Her life always seems a bit fictional to me—the practicalities mere scaffolding for the good stuff. She lives in an attic room without a bathroom but with a view of the towers of Saint-Sulpice church. Her downstairs neighbor is the novelist Patrick Modiano, whose foggy prose I've imitated for years. One night, as we're carrying an oak table up six flights of stairs to Beth's, Follie stops to pee on his doorstep. "Not a fan," Beth tells us.
She bikes all around the city collecting chairs and beds from flea markets. She stores most of them in the garage of her building then sands and varnishes and upholsters them in the courtyard. She once found a hand-painted folding piano for the bookshop, but by the time Penelope told her to get it, the seller was breaking it apart with a hammer. Beth nearly cries when she tells us the story.
These gatherings belong to the tangible world: of objects and foods, furniture and books, the bag of extra scarves Beth brings for all of us when the season turns. We all love the blue shop, its brass chandelier, the garland of newspaper dolls on the door, the round cherry table, the rotating shelf of blue-gray Persephone books. During these gatherings, we are not so much a group of bookish people as a group of bookshoppish people.
Penelope would be upset if I said that the books at the Red Wheelbarrow aren't quite the type I'm usually drawn to. But that's a good thing. How else would I ever have picked up Nell Dunn's hilarious, heartbreaking Poor Cow, about a single mother in sixties London, or Sylvia Townsend Warner's The Corner That Held Them, that strange book of slow and vast time, about a Benedictine convent during the Black Death?
If there is any purpose to the club, it's that moment when Talia gathers enough wine-crusted glasses from the back room, Penelope finds the corkscrew hiding by the cash register, Beth shouts at everyone to sit down already and we cut the cake, still warm. It's often too sweet or not enough; a bit moist or overbaked. But it's cake, after all.
I've forgotten to say that there is an argument at most gatherings. Just a few weeks ago was a particularly bad one, concerning national stereotypes. The type of argument that breaks friendships apart. We're all from different places, all a little shaky about our sense of belonging. We didn't reach any sort of agreement and the club dispersed gloomily. In the nontangible world, I would never have returned. Because, in the nontangible world, things disappear in one stroke: a flawed opinion, a single disagreement, an unfollowing. It's easier to throw things out at the slightest imperfection, rather than to mend them or live with blemishes.
I've been thinking recently about the homogeneity of ideas, the binary debates. The more the world is stripped of its diversity, I say to anyone who'll listen, the more our guts are stripped of microbes, the more our ways of thinking, too, are mono-cropped. Everyone is adamantly for or against that One Big Topic. Everyone's reading the same thing, and they either love it or hate it, and they congregate in the nontangible world to make one of those two proclamations.
But here I wanted to say something about the tangible, about not wasting it, not starting each time from scratch. About sanding and scrubbing and finding use, of sitting down together at makeshift tables.
We met up again the following week after the argument, our last gathering before France's second lockdown. We were a little shy around one another. Even Follie barked at us. Then Penelope started one of her stories and we exchanged glances, wondering where she was going. The cake was ricotta and chestnut. Beth had brought beers.
Read Ayşegül Savaş's story "Layover" in our Fall issue.
Ayşegül Savaş is the author of Walking on the Ceiling. Her second novel White on White is forthcoming from Riverhead Books. Her writing has appeared in The New Yorker, The Paris Review, Granta, the Guardian, and The Dublin Review, among others.