Contributors from our Fall issue share their favorite recent finds.
A few months ago, this essay on freedom dreaming, by Tourmaline, found me when I needed it. The whole thing is a wave of beauty. When I first read it, I thought: I see that world. I want that world. But I more than want the world it describes; I need it. Fast forward. The Nigerian government—using its police force and army—turned a peaceful protest against police brutality into the widely reported massacre we are still recovering from. Ten days after, I read this essay about abolition by Mariame Kaba. With my mind still raw from footage of live rounds ripping through the air as people screamed and then fell quiet, I was too scared and exhausted to dream that day.
But these two essays remind me of the same things: We can have more than what we have always known. We can imagine beyond everything we have ever seen. We deserve more than make-do, more than empty promises of reform. We owe the dreaming to ourselves and to each other. If the first thing about revolution is creation, as Kwame Ture stated, then our ability to create newness, to make the immaterial tangible is crucially linked to our freedom. It looks different often, but I am trying to do the daily work of ensuring that nothing—including my own rage and grief—destroys the place where my imagination is stored. —Eloghosa Osunde
At a time of so much loss, what could be more necessary than an elegy turned affirmation of identity?  If an elegy usually focuses on the dead, Seeing the Body, Rachel Eliza Griffiths's latest collection of poems written after the loss of her mother, directs the elegy back toward the living self. The opening title poem asks "How does the elegy believe me?" The pulse of the book is a series of unlabeled photographs, which make up the middle section Daughter: Lyric: Landscape. In a white dress set against majestic rocks or folded nude into furniture, the poet figures herself as both ghost and geological element. Loss strips the self but it also distills the spirit. Elegy becomes self-portrait.
In a country afflicted with such a deep and ongoing history of systemic racism and racial violence, death and grief are defining aspects of Griffiths's life and identity as a Black woman. Toward the end of the collection, "Good America, Good Acts," a poem for Chikesia Clemons, a young mother and victim of police brutality, ends with these powerful, punishing words: "Yes, / America, you've done just about enough." The book is as much a political lament as it is a personal memorial. In poems ranging formally from quick rivulets to dense meditations, there is no distinction between monumental loss and the body as monument ("Now we meet in my body… "). Griffiths draws our attention past absence to the mirror processes of dying and grieving, both embodied ("A grief makes its own blood").
Griffiths reconsiders her own birth and her mother's birth (while filling out her death certificate), and in one of the most powerful poems, she depicts her own rebirth as the labor and delivery of language: "Examine the fontanelles / of syllables, pressing / & striking / the echoes of her voice / until I scream & shriek / inside the lonely gauze / of my rebirth." The impulse of poetry is physical. Both the poems and photographs function as illuminating fragments of the poet and her mother ("We break mirrors inside of each other / to see again."). The distance of death is shattered by exquisite intimacy. Alive with pain, rage, and desire, this kind of grief has knuckles. As someone for whom grief and motherhood are inextricable, I am invigorated by Griffiths's vision in Seeing the Body. Beyond memory and ritual, we have the power to incorporate our dead. —Elizabeth Metzger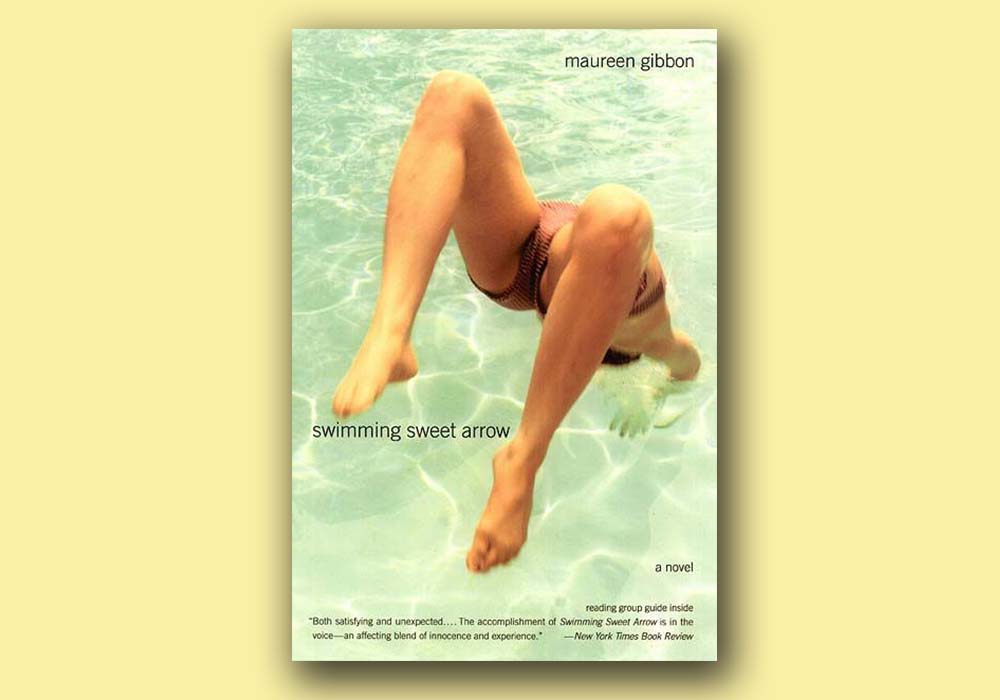 I couldn't have wished for better reading during the pandemic than a new manuscript by Maureen Gibbon. I was transported from our insane world into that of Manet during his last years. Delving into a story about the great painter's syphilis managed to distract me from the pandemic. I decided to reread Gibbon's first novel, Swimming Sweet Arrow, an all-time favorite, which I first read when it came out in 2000. The novel is sharp, deep, and direct. I'd never before read a woman's coming-of-age, both sexually and emotionally, told in such a straightforward, unpretentious manner. Gibbon, with reverence but without sentimentality, presents us with the life of a working-class girl as she learns about drugs, sex, and men. The opening of the novel is one of the best first sentences ever:
When I was eighteen, I went parking with my boyfriend Del, my best friend June, and her boyfriend Ray. What I mean is that June fucked Ray and I fucked Del in the same car, at the same time.
I think Maureen Gibbon is criminally underrated. She's able to create worlds where someone else's everyday becomes my own. —Rabih Alameddine
For the last eight weeks, I've been awash in Luca Guadagnino's sublime We Are Who We Are. The cultural reframing of American families transplanted to a military base in Italy becomes, in Guadagnino's hands, a study of a cross section of U.S. citizens suddenly forced to externalize "American values." Against this backdrop, Guadagnino trains his lens on the emotional lives of teenage children, exploring their protean desires, rage, melancholy, and their emerging and still amorphous sexual identities. Guadagnino's range and insight reels in the subtle tonal shifts of the interstitial as well as the high points of raw Dionysian energy. He displaces and upturns most of our visual expectations for the interior lives of the young. His gaze is both tender and unrelenting, picking apart complex relationships and the multiple ways they manifest across the jagged spectrum of eros. I recognize something similar in the lush tonality of American artist Jesse Mockrin's work. Mockrin re-creates key details from paintings of the Rococo and Baroque eras to depict the cycling of myth and narratives through time. Her paintings transform and invert the expected horror vacui of the images from these periods by using elision, where the subjects fall out of the frame. This in turn highlights the energeia of the minutiae—the central act and the hands that guide the act. The negative space in her paintings is compounded and given a potent psychic charge by this sense of disorientation brought about by what is left outside the frame. —Rohan Chhetri
I've long been a Sufjan Stevens fan. The second album I bought was Seven Swans. The tone and lyrics on that collection brought me fully up to speed on Stevens's unironic use of Christian allusion, story, and dogma. Wait—a highly gifted singer-songwriter who was plainly a believer, but not part of Christian rock? How can this possibly be?
As soon as it was available, I got Stevens's newest album, The Ascension. It is what I think is called electropop, and it has the catchy hooks and the highly processed synth sounds one might expect from such a category. I am not finished listening, but at this point I can say that even though I don't respond strongly to every cut on the album, the many I do respond to represent an advance. The album is a passionate reexamination of Stevens's faith, one that includes the doubt that is part of any fully aware Christian's journey. The strategy brings to mind the Songs of Solomon (as well as literature, such as Kabir and Rumi, from other traditions) in their blurring of the borders between eros and theos. There is also a kind of Old Testament exhortation to the lyrics—Stevens does not shy from complaining, vehemently, to God about His hiddenness, His apparent lack of presence, particularly in our current historical moment.
Some songs gloss Stevens's frustration at being either reviled or deified for his faith: "I don't wanna be your personal Jesus / I don't wanna live inside of that flame." And it may be that my recommendation also leans too heavily on the religious angle. I assure you, the album continues and extends Stevens's musical explorations. His sound is, as always, eccentric, melodic, and unique. But the most subversive and idiosyncratic element in The Ascension, as in all Stevens's work, is his faith. And I am most grateful for that. —Jeffrey Skinner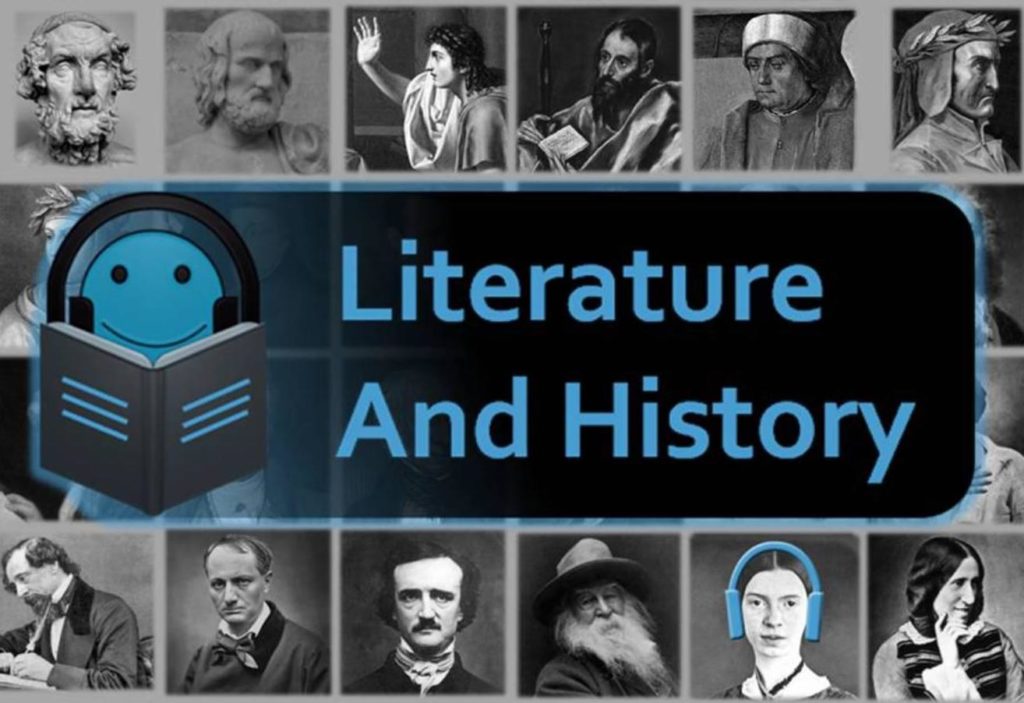 One of the most transformative literary experiences of my past few months has been a podcast called Literature and History, which is written, researched, performed, sound-engineered, and everything-elsed by one incredibly talented guy, Doug Metzger. It was first introduced to me by my partner, Steve Potter, who's also a writer; he stumbled across it after we'd been longing for a survey course that could orient us to all the literature we'd half-forgotten or that we wish we'd read. In Literature and History, Metzger led us on a comprehensive and generous march through Anglophone literature's lineage of influence—not just the white-washed Greek and Roman classics, but a very intentional widening of the canon that includes work once influential to English-language traditions but is rarely studied now, like Mesopotamia's creation epic and the lower-class folktales of Ancient Egypt. Metzger focuses on one piece or genre of literature at a time, and he offers a lyrical and moving summary before moving on to historical context, discussing everything from how the work was received at its making and how it has been received over time, to its influence on later writing, to what we find problematic with it in a modern context. Metzger is a careful and thoughtful reader and historian, and over the many, many hours I've now spent with this podcast, I've learned to really trust the deft way he incorporates gender, race, class, and time into the discussion. Besides being very informative, Literature and History is also unabashedly punny and delightful to listen to; I once spit out lukewarm mocha in the car when Metzger referred to Olympic wrestlers in Hesiod's time as "well-oiled—or maybe we should just say well Greeced." I was initially skeptical about the episodes' concluding comedy songs, but they are more often than not a pedagogical, musical, and linguistic joy. While listening, my partner and I often bet on what he'll choose as a topic. Babylon's gods sing about how much they love beer; the heroes of Greece and Troy engage in an epic rap battle; Orestes and Electra share a bluegrass hoedown. The podcast embraces silliness but is, in its research and context, incredibly serious. I can't recommend it highly enough for anyone seeking a deeper understanding of the ancient literature that influenced today's. —Emma Hine
On September 29, the Criterion Collection released the latest box set of Martin Scorsese's World Cinema Project. Founded in 2007, the World Cinema Project started as an extension of Scorsese's Film Foundation, as a means of preserving cinema from countries outside of Americentric and Eurocentric traditions. Of the six films released in the latest box set, Soleil Ô (1970), by Med Hondo, from Mauritania has made quite the indelible impression on me as an expansion of the oeuvre of postcolonial, Africa-centered films. Like other postcolonial films, such as Touki Bouki (1973), by Djibril Diop Mambéty, or Ousmane Sembène's 1966 film Black Girl, Hondo's film takes on the question of African identity, the effects of colonialism, and the inheritance of trauma. What sets Soleil Ô apart is the protagonist's voice as he chronicles his travels through Paris until his descent into madness. The audience is fully enmeshed in the psychosis of the protagonist as he attempts to make sense of his humanity, or lack thereof. The fourth wall is intentionally broken throughout the film. There are no extras, because everyone is a spectator. Spectators in the film are as much an audience as the people watching the film. Often, spectators look to the camera or gawk at the protagonist without being cued. Hondo shows us how Blackness becomes theatrical in the imagination of white people. The juxtaposition of the white gaze within the film and the film as an artistic object with an exterior audience shows how two-fold this violence is, how it happens in real time for the protagonist. I have seen this movie a couple of times now and the protagonist's descent into madness resonates with me, as I think of the camera that is always present. The protagonist has no private space. As an audience, our last act becomes to witness him, and to confirm his descent by imposing our gaze until the film's end. —Cheswayo Mphanza
Not only am I happy when I'm watching the YouTube video of the Commodores singing "Nightshift," I'm only happy when I'm watching this video. Like anything by Mozart or George Eliot or Van Gogh, it has unfathomable depths, but first it pulls you in with its surface. On its surface, it's a training film: if you're not cool, the video will teach you how to be cool, and if you're cool already, it'll teach you to be cooler. Watch the guys groom before the concert. Watch them as they sway on stage, not in a choreographed way but the way people do when the music skips past the cerebral cortex and goes directly to the hips and feet. Then the good stuff kicks in: tributes roll out to Marvin Gaye and Jackie Wilson, monumental figures who are celebrated so casually that you feel you're listening not to a bunch of associate professors of musicology taking a break at a scholarly conference, but to five guys in a parking lot who're just getting ready to start the night shift.
And what is the night shift? Here it's the bardo, the Tibetan Buddhist state between this life and the one we'll be reborn into. As in George Saunders's novel Lincoln in the Bardo, in which the president walks among the shades as he searches for his dead son, Willie, here the living musicians commune with the dead ones: "You found another home," they say, "you're not alone," and "we'll be there at your side." There's an air of happy exhaustion throughout the whole piece, starting with that Jamaican dancehall beat and ending with the band looking as though they've showered after work and are now wearing Romulan navy uniforms out of a forgotten Star Trek episode, ready to party before they have to go to work again. The YouTube video of the Commodores singing "Nightshift" is the best short film of 1985, the year the song was released, and every year thereafter, which is why I'm going to stop writing and go watch it again after making one final point, which is that if more people smiled like William King (the Commodore in the red shirt), there would be no more wars. —David Kirby