In Valerie Stivers's Eat Your Words series, she cooks up recipes drawn from the works of various writers.
The Haight-Ashbury poet and activist Steve Abbott (1943–1992) has had an unusual and charmed second act as a domestic icon, though he was not known for his cooking. Abbott was married in his midtwenties while he was a student at Emory University, and he had a daughter in 1970. After his wife was killed in a car accident in 1973, he became a single parent to two-year-old Alysia Abbott and moved to San Francisco with her in what we would now consider to be astoundingly bohemian circumstances. Among other legends is the time when Alysia was eight weeks old and Abbott "took some LSD and went into the bedroom to play with her," tripping out on the baby's rolling eyes and flailing legs. Abbott saw "a monstrous id" and explained that "I had to leave her presence because I was too psychically vulnerable." He also relays that when Alysia was small, he survived by catnapping between work and childcare, and hitting the gay bars only between midnight and three in the morning (and presumably leaving her unattended). It worked out. As Abbott's daughter grew, she became a sidekick and confidante. Photos from the time show Alysia posed in costume for the cover of one of Abbott's poetry books or curled up with him on extraordinary seventies furniture, with obvious affection beaming from every frame.
In 2013, the grown-up Alysia published Fairyland: A Memoir of My Father, which details their experiences as a family. In part because of that book's ongoing success, Steve Abbott's work is back in print as of December 2019, in the collection Beautiful Aliens: A Steve Abbott Reader, published by Nightboat Books and edited by Jamie Townsend. Alysia has been a tireless promoter of her father's legacy and explains in public appearances that she chose to tell their story the way she did because while gay parents have become more visible and accepted in America, the heritage of groundbreaking families like hers is less known. And so many gay parents of her father's generation—including her father himself—died of AIDS that it has fallen on their children to tell their stories.
Abbott's work, as represented in Beautiful Aliens, is not very much about parenting. The book includes poetry, prose poems, novel excerpts, and nonfiction. When asked in an interview titled "About the Kid" why he doesn't write about Alysia, he says, "I tend to write out of my obsessions and she doesn't fit into them very directly." His contribution to posterity was his role as one of the founders of the New Narrative movement, which included writers like Dodie Bellamy and, by some accounts, Dennis Cooper and Kathy Acker. The aims of New Narrative were to represent subjective experience honestly, to allow content to determine form, and to place the author's role within a political and activist community. Abbott's playful, loose, personal style and his exploration of relationships—mostly between himself and guys he was obsessed with—are emblematic of this approach. Townsend notes in their introduction to Beautiful Aliens that Abbott's lifestyle of organizing readings, doing his own small publishing, and connecting and promoting artist friends was also a crucial part of the art. "New Narrative not only foregrounds the relational (the use of friends' names, gossip, confession, the quotidian, the erotic)," Townsend writes, "it provides ample room for community critique though linguistic devices that dissect and open up traditional narrative writing (parataxis, metatext, metonymy, narrative intrusion). As such it seems an ideal mode for addressing ways in which writing necessitates a social body."
For me, some of the most rewarding parts of Beautiful Aliens are Abbott's essays about his friends and influences, such as the painter Odilon Redon and the Beat poet Bob Kaufman. His literary analysis of a Dennis Cooper paragraph on anilingus is a joy not to be missed, down to the meaning of the saliva-plastered hairs. My favorite work in the collection, however, is a poem about art and parenting titled "It's a Strange Day Alysia Says." The first lines go: " 'It's a strange day' Alysia says, 'a green / bug in my room & now this mushroom growing in the car.' " This poem overjoys me because I can perfectly imagine the terroir of Abbott's messy car that is able to grow a mushroom. It is similar to so many of our messy cars, especially the messy cars of parents with children, whose backseat foot wells tend to fill up with such a detritus of crumbs, toys, wrappers, and wet single socks that if only our cars, like Abbott's, let in some rain, we all might grow mushrooms, too. I adore the unexpected creation—a mushroom!—that comes of this parenting "failure." The poem's next lines: "Maybe I should get a new car or at least / clean it up, fix the window like the kids say. / But how can I do this & still talk to angels?" These lines run through my head at crazy parenting moments. They provide sustenance.
Alysia's book about her father has continued to move audiences in part because it taps into the universal well of familyhood that we all share, despite the different ways our families can look. And speaking of sustenance, one thing my very different family shared with Abbott's is tuna noodle casserole. Abbott serves his with a side of broccoli in the story "The Malcontent," which is about his fraught relationship with a flirtatious but allegedly straight dude named Jim, who has been sponging off him and sleeping in his bed. There are no specifications as to the recipe, but dollars to doughnuts it was just like the one I loved as a child, made from canned tuna, Campbell's cream of mushroom soup, frozen peas, and bread crumbs. Incidentally, I've known Alysia Abbott since the late nineties, and it was only in reading her father's book that I realized our families overlapped in Atlanta in the early seventies and that we could have both been babies on the same playgrounds or crossed in slings at the Varsity, though my earnest young Republican parents were extremely unlikely to have known hers.
To honor Abbott, his parenting, and even the errant Jim, wherever he may be, I made two tuna noodle casseroles: one traditional version—I'll admit I was a little scared of this—and one elevated version with tuna in oil, homemade white sauce, Parmesan cheese, baby kale, and, of course, mushrooms, though not ones harvested from my car. My spirits collaborator, Hank Zona, may have suffered silently at being asked to pair wine with a tuna noodle casserole, but he gamely offered a California chardonnay made by the winemaker Gary Farrell. This style of chardonnay's soft, buttery notes make it a good pairing with cream sauces, and the Farrell version's high acid content cuts through the dish's richness. California wines are expensive, though (the Gary Farrell Chardonnay costs thirty-five dollars), so Zona also suggested a "Love White," a chardonnay-like white blend from Broc Cellars. Made in a warehouse in Berkeley, this option is a natural wine that taps into New Narrative's radical and experimental roots.
Both of my dishes had some things to recommend them—the seventies canned-soup casserole sure is fast, cheap, and easy!—and I was surprised by how easily the white sauce came together (it's the first time I've made one) as well as how edible, if not highly recommended, the second casserole was. But my children wouldn't try them, and neither had much flavor for the wine to hang on to. With tuna casseroles, like with parenting, it turns out to be about getting through the day as best you can, despite the mess in your car or that you'd prefer to be talking to angels. It's only in hindsight that all those fast dinners and harassed days turn into something. What Abbott probably didn't realize at the time he was being an "alien" in the Haight—a swinging, young, gay, single parent—and lamenting his double duties as parent and poet was just how much his unorthodox family acted as its own front in the battle for gay liberation, and how his legacy would outlive him, beautifully.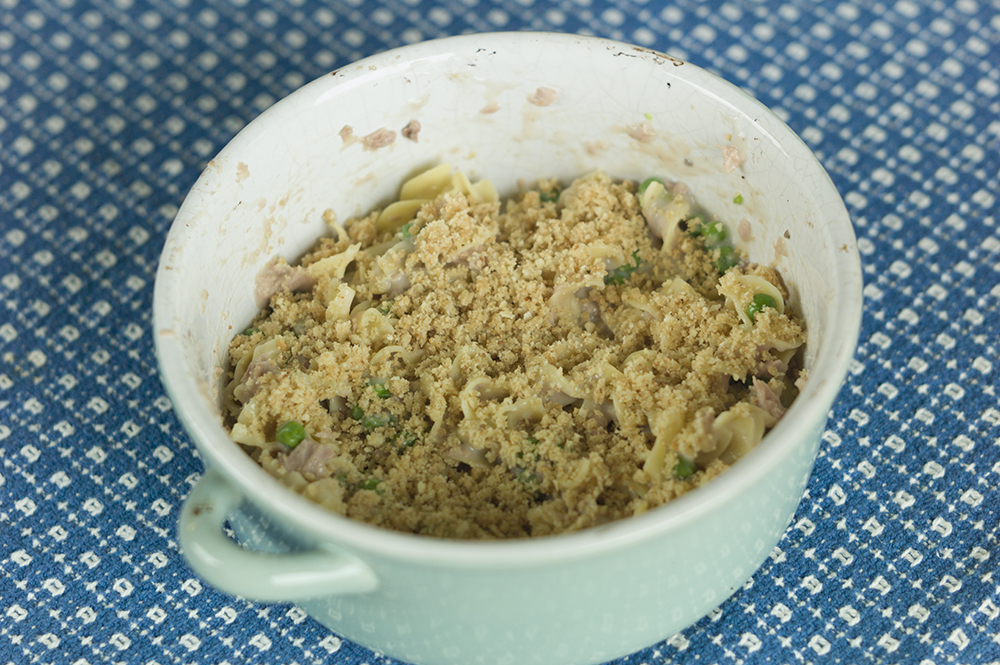 Seventies Tuna Noodle Casserole
2 cups egg noodles, cooked and drained
a 10 oz can Campbell's cream of mushroom condensed soup
two 5 oz cans tuna, drained
1/2 cup milk
1 cup frozen peas
2 tbs bread crumbs
1 tbs butter, melted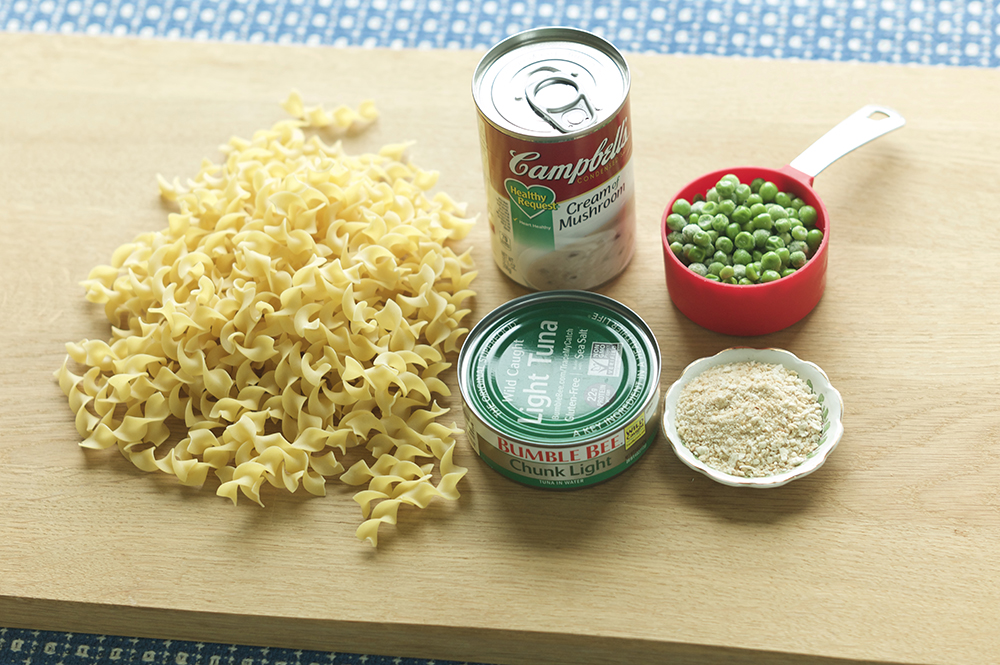 Preheat the oven to 400.
Combine cooked noodles, soup, tuna, milk, and frozen peas in a medium baking dish. Stir the melted butter into the bread crumbs, and sprinkle them on top. Bake for twenty minutes, until the mixture is hot and bubbling and the bread crumbs have browned.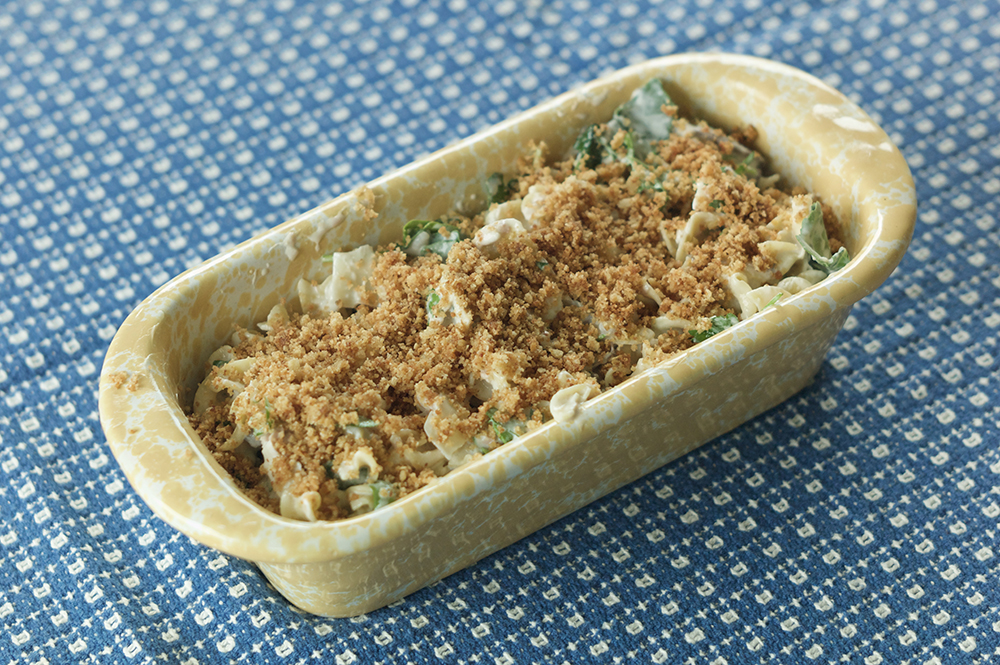 Better Tuna Noodle Casserole
half a 10 oz bag of egg noodles, cooked in salted water and drained
1 tbs olive oil
1 cup cremini mushrooms, sliced
2 cloves garlic, minced
1/4 cup white wine
4 tsp flour
1 3/4 cups whole milk
1/2 tsp salt
pepper, to taste
1/2 cup grated Parmesan cheese
a 5 oz can high-quality tuna in oil, drained
1/4 cup sour cream
1 cup baby kale
2 tbs butter
1/4 cup bread crumbs
1/4 cup parsley, minced fine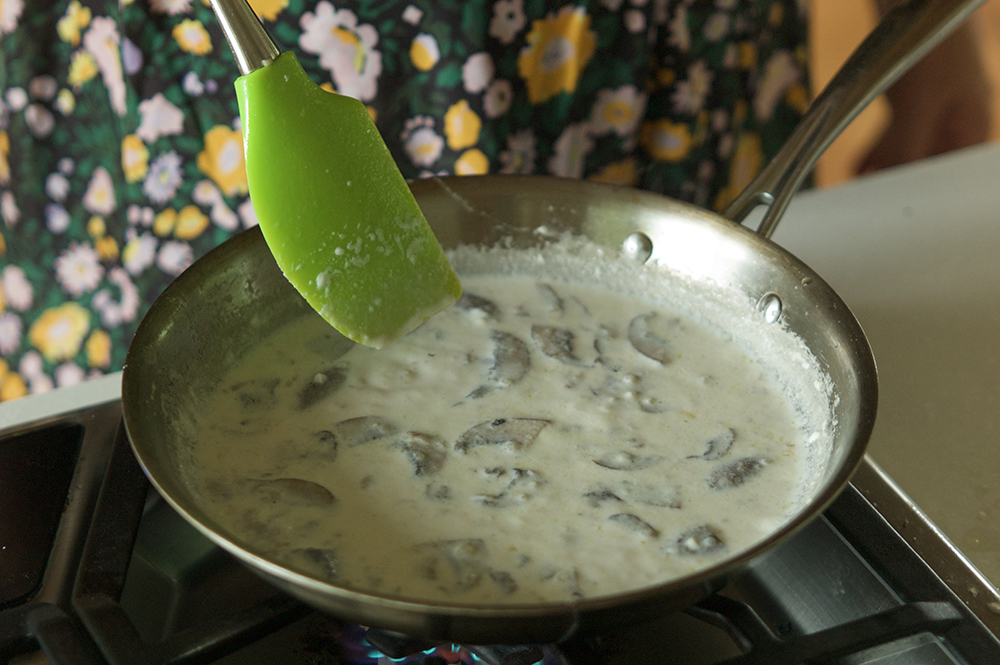 Preheat the oven to 400.
Heat the olive oil in a medium-size skillet. Add the mushrooms, turn down to medium-low, and sauté until soft. Then add the garlic, toss, and sauté an additional two minutes. Add a quarter cup of wine, turn the heat up to high, and reduce the liquid by half. Dust the flour over the mushroom mixture, and cook, stirring, for two more minutes. Add the milk in a steady stream, stirring constantly, then bring to a boil, stirring so the mixture doesn't stick. Cook until thickened, about four minutes after it boils. Add half a teaspoon of salt, and pepper, to taste.
In a medium baking dish, combine the cooked noodles, Parmesan cheese, tuna, sour cream, baby kale, and white sauce. Taste for seasoning, and adjust.
In a small saucepan, melt the butter, then add the bread crumbs, and sauté until toasted and brown. Combine with the parsley, and sprinkle the mixture on top of the casserole. Bake until the mixture is hot and bubbling, about twenty minutes.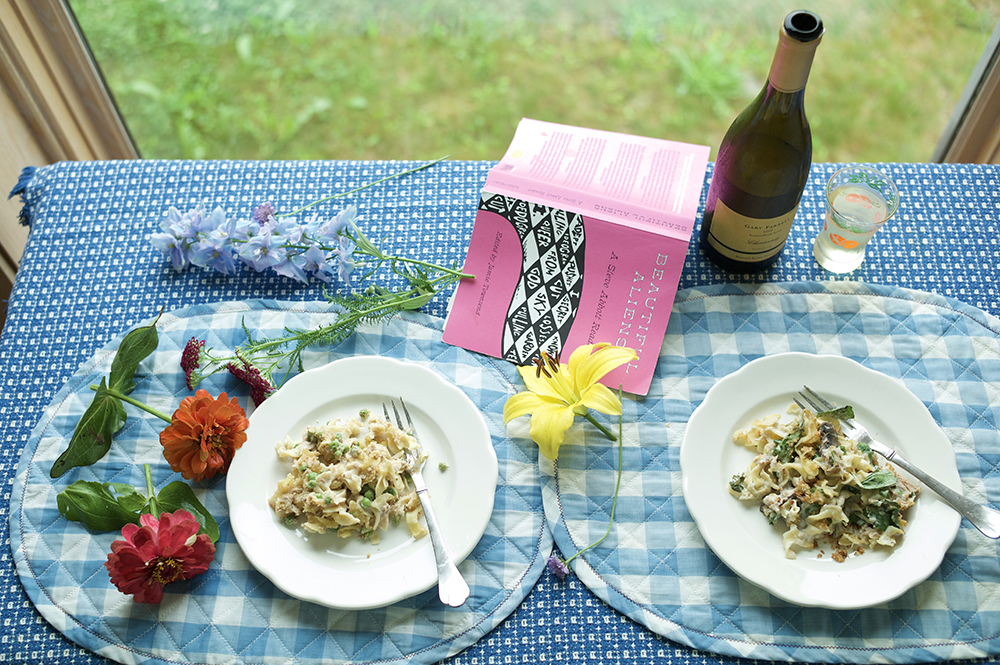 Valerie Stivers is a writer based in New York. Read earlier installments of Eat Your Words.