To celebrate the bouquet of stories in our Spring issue, which hits newsstands today, we asked each of the six featured fiction writers to share an image that evokes their story:
I don't know if "evokes" is exactly the right word for this painting, but I thought a lot about Ophelia by John Everett Millais and the mythology of dead women in art and fiction. To some extent, I felt like I was writing in the opposite direction of this painting. It loomed in my brain all the same.
—Senaa Ahmad, "Let's Play Dead"
A pure baby shining in white at the center of the frame, being held by a shirtless, barefoot boy. Something about it all is so sacred. I believe my main character in "An Unspoken," Clara Parker, would have seen this in a dream and felt happy, or could just as easily been haunted by it. And this is everything the story truly hinges on.
—Ashleigh Bryant Phillips, "An Unspoken"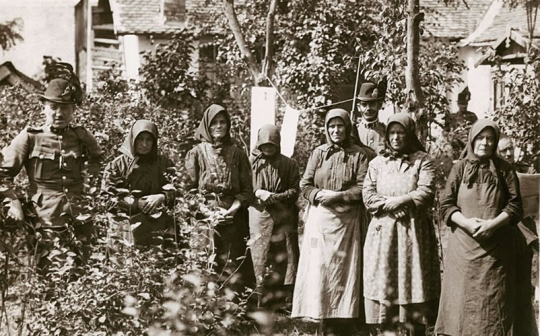 This is a photograph of the Angel Makers of Nagyrév, a group of Hungarian women who killed many men in their village. I believe this was taken after their eventual arrest. My story was very loosely inspired by theirs.
—Rebecca Makkai, "A Story for Your Daughters, a Story for Your Sons"
This painting by Vasily Vereshchagin, painted from 1878–79, depicts (according to the Brooklyn Museum where it hangs) Turkish war prisoners freezing to death while being marched to Russian war camps during the Russo-Turkish War. I can imagine the characters in my story going to see this painting while in the midst of their War and Peace reading group and drawing comparisons between Vereshchagin's project and Tolstoy's, their various attempts to bring the reality of Russian history home to their audiences. The characters might have wondered, like I do, whether Tolstoy saw this painting, and what he thought of it. Guessing he would have hated it, but maybe he wasn't in that phase of his life yet.
—Andrew Martin, "Childhood, Boyhood, Youth"
This photograph does not evoke the story for me. But there is something in it. That the man who would go on to be the origin of such immense butchery–the famous British hero Kitchener–can rest this way on his mother's lap. We go from here to there—from there to here, or do we? What is a person?
—Jesse Ball, "Diary of a Country Mouse"
This 1898 woodcut, "Melancholy II," by Edvard Munch. The landscape is a little abstract, but I think the woman is sitting beside the water. The coastline looks like a creature, doesn't it? I love, especially, that you can't quite tell where the horizon is.
—Clare Sestanovich, "By Design"