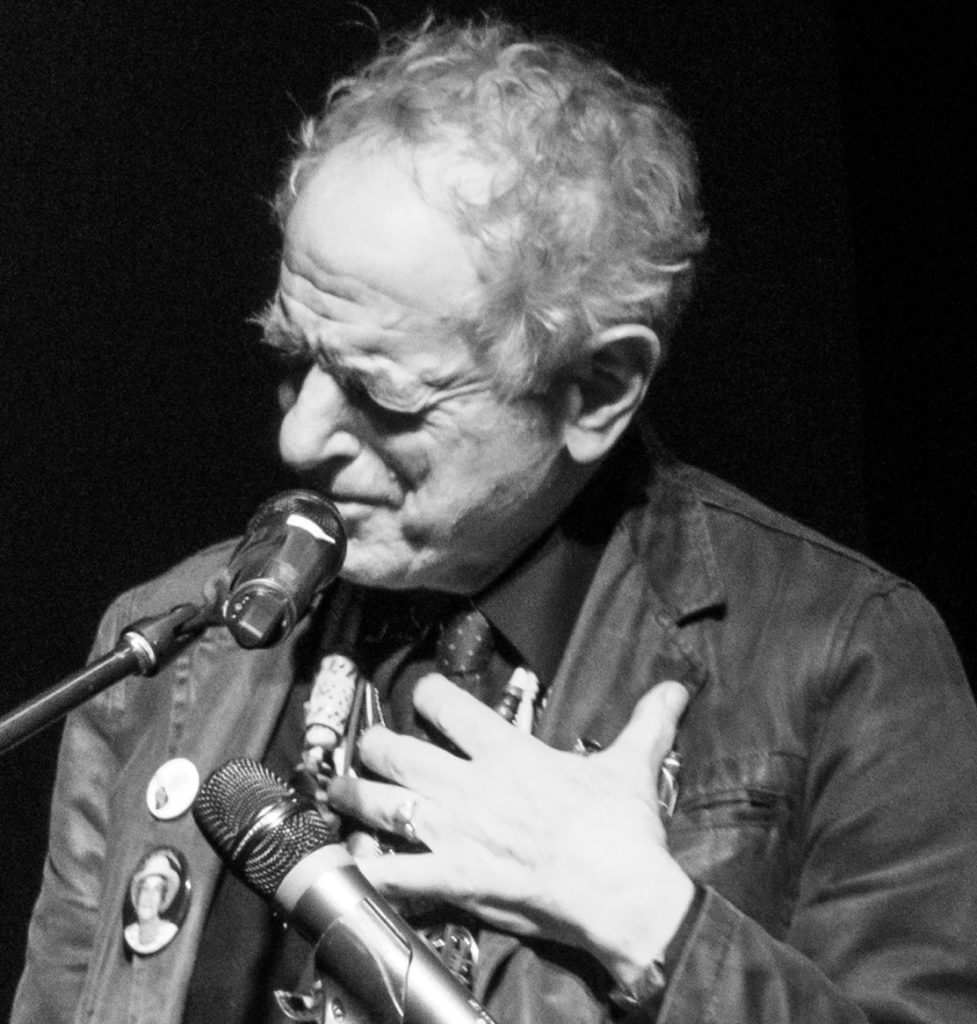 One of the highest compliments in my lexicon of praise is the term lebenskuntsler, German for "an artist of life"—and high in my pantheon of the lebenskuntslers I've known is the musician/composer/conductor David Amram. Still flourishing at age eighty-nine, Amram has an impressive resume. As the New York Philharmonic's first composer-in-residence, for which he was chosen by Leonard Bernstein, he has created funky jazz numbers as well as classical symphonies and concertos. Then there is the rich music Amram has written for Arthur Miller's plays, including After The Fall; for Joe Papp's earliest Shakespeare in the Park productions; and for legendary films such as Elia Kazan's Splendor In The Park and John Frankenheimer's Manchurian Candidate.
But Amram does far more than write scores (or "figure out which correct notes to choose and then write them down on each day's new empty page," as he puts it). He's often on the road, teaching students of all ages, leading orchestras, "sitting in" with any musician who asks him to, and performing his own public concerts. These "Amram Jams" can last up to five hours, and feature Amram scat-singing improvised songs along with a diverse array of guest artists. Amram has jammed with local musicians from all over Europe, Africa, the Middle East, and the Far East, becoming, according to the New York Times, "multicultural before multiculturalism existed."
True to the title of his seminal 1971 double album No More Walls, he has played Latin music to audiences in China, played Kenyan music in Latvia, and worked frequently with Native American artists. This last connection led, in 1977, to The Trail of Beauty, a piece for mezzo-soprano, oboe, and orchestra whose libretto featured traditional indigenous texts.
Amram frequently plays the piano, the penny whistle, the French horn and the Spanish guitar, but he can also coax melodies from the shanai and the dumbeg and other instruments that few Americans have heard of, much less heard. During his daily life he even wears some of these instruments around his neck, along with amulets and other gifts he's received.
Over the decades, Amram has preserved his artistic adventures in three memoirs: Vibrations (1968), Offbeat: Collaborations with Kerouac (2002), and Upbeat: Seven Lives of a Musical Cat (2008). He's currently working on the fourth, to be entitled "David Amram: The Next Eighty Years." Born in Philadelphia in 1930 to a Sephardic Jewish family, Amram was raised on a dairy farm in Feasterville, Pennsylvania, where, he says, his father was a major ethical influence and where he loved hearing "the old hog callers, who excelled in this special style of performing art," he writes. "Whether or not they impressed any hogs, these farmers made me see that you can find music and beauty anywhere if you pay attention. They also made me see that you can transform anything into a form of expression all your own."
After studying history at George Washington University, serving as a soldier with the Seventh Army in Europe, and working as a busboy, a soda jerk, a janitor, a gym teacher, a moving man, and an amateur boxer, Amram wound up in postwar Paris, where he spent time in cafes with George Plimpton and Peter Matthiessen as they created The Paris Review. Back in New York, he joined Charles Mingus's band. Around 1959, Amram acted alongside the writers Jack Kerouac, Allen Ginsberg, and Gregory Corso, as well as the painter Larry Rivers, in Robert Frank and Alfred Leslie's groundbreaking short film Pull My Daisy (for which Amram also composed the soundtrack). This "promising young composer," as he now waggishly describes himself, has made music with Bob Dylan, Charlie Parker, Johnny Depp, Willie Nelson, Thelonius Monk, John Prine, Frank McCourt, Dizzy Gillespie, Paddy Chayefsky, and Patti Smith.
Apart from kunst, Amram is equally impressive with the leben part of the lebenskuntsler equation. He's been an indefatigable social activist, a prodigious raconteur, and, as the critic Nat Hentoff aptly phrased it, "a ubiquitous deliverer of good cheer." Recently I visited Amram at his home in Beacon, New York, which overflows with books, CDs, framed photos, DVDs, instruments and awards. We had a long and lively conversation, presented here in condensed and edited form. —Gary Lippman
INTERVIEWER
Are you surprised to find yourself nearing the age of ninety?
AMRAM
You bet! I never thought I'd make it to thirty. We came up in the "live fast, die young" era. But contrary to the old saw, turning eighty-nine didn't happen quickly. Anyway, I don't have time for old age to catch up with me. The title of Charlie Parker's great 1945 anthem "Now's The Time" remains my mantra. People are already planning celebrations for my ninetieth birthday in different cities around the world. So I am eating extra vitamins and trying to get at least one good night of sleep a week to be ready.
INTERVIEWER
Where have you traveled recently?
AMRAM
I visited, twice, Silicon Valley's high-tech, high-rent, high-IQ, high-ranked, center-of-high-expectations marquee city of San Jose. When I first went there in the summer of 1948, San Jose was a small, sleepy agricultural town. Having just graduated high school, I used to drive my truck through those streets as a carpenter's helper and plumber's helper, never dreaming that seventy decades later, I'd be back for the West Coast premiere of my latest orchestral work. And this time, I didn't have to worry about finding a place to park my truck.
INTERVIEWER
Are there any overarching lessons you try to impart when you find yourself teaching?
AMRAM
The work ethic and high standards I learned from those master carpenters and plumbers way back in 1948, their dedication to their chosen path, and their creativity and constant problem-solving on the job. Above all, I want students to do what they feel that they were put here to do and never give up trying to do it. If they are ever told by their career counselors that they are too old for their art and should give up, perhaps they'll remember an older cat like me, someone who is grateful for being able to spend his life doing what he loves to do, and say quietly to themselves, Maybe I'll give it another two years, anyway.
INTERVIEWER
You must be a fun father.
AMRAM
I did the same thing with my three children that my parents did for me—keep stuff simple, teach them to not to judge others based on gender, pigmentation, education, or location, and leave enough space so that the kids could discover things on their own. In this way, without knowing it, I was following what a musician friend of mine, Charlie Chin, said is an Asian-American metaphor for child-rearing. It's what they call "the thousand-year-old egg." You put this egg in the ground and, through osmosis, the egg becomes nourished by all the nutrients there. So, expose a child to anything of beauty—a concert, an art museum, good friends, a good meal—and don't worry if it looks like they're not paying attention, because they're there. Like that thousand-year egg, they'll absorb all that beauty, all those nutrients.
INTERVIEWER
Does this apply to adults as well?
AMRAM
Oh, sure. Especially when you're a composer. If you're around all kinds of beautiful music, it will nitrify and enrich your DNA. Sonny Rollins, who's two months younger than I am, told me recently, "David, I can't walk around so well anymore, I can't play the saxophone, I can't do many things that I love to do, but I've never been happier, because I'm just spending all my time understanding and following the golden rule." Sonny is someone who's really arrived spiritually, and he did not get to that level by buying a course, or subscribing to an installment plan in order to be spiritual.
INTERVIEWER
Your great mentor Dimitri Mitropoulos, who was the conductor of the New York Philharmonic when you were a young man, told you to "love the music more than you love yourself." What did he mean?
AMRAM
Mitropoulos had known people who'd become celebrated but then had a downfall and forgot what we're all supposed to be doing while we're here on this earth. He always said that if you're not responsible for the artistic gift bestowed on you, or if because of pain or denial or any bad state of mind you don't use it, then that gift might be taken away from you. Mitropoulos believed that we were lucky to be able to make art, and our responsibility was to get better at it and to pass it on and encourage others to do the same.
INTERVIEWER
Mitropoulos seems to have been a very encouraging sort.
AMRAM
One time we were riding an elevator together and the elevator operator said to Mitropoulos, "Maestro, I'm a songwriter!" Instead of saying, "I'm not interested, just be quiet and take me to my floor," Mitropoulos said, "Oh, really? What kind of songs do you write? Do you like Cole Porter? Do you have any songs with you? You do? Then stop the elevator!" And the maestro looked through the guy's song sheet, saying, "This is interesting. This chord here, I think it's a C-sharp minor—you left the sharp out … and I like this harmony here… " Mitropoulos gave the elevator man a whole crash-course Juilliard Ph.D. in music theory—and in a nice way. He always went out of his way for anybody and everybody.
INTERVIEWER
So he didn't let his ego get in the way of his humanity.
AMRAM
Right. He made me see that, for artists, the only thing worse than obscurity can be too much recognition, because then you are told that now it is time to move to a "higher level"—get rid of all those in your life who love you but are not in a position to help you to "advance." You may also be advised to cease celebrating your cultural roots, whatever they may be. But follow that advice and you'll soon be feasting at the trough of swine! While it might seem tempting, the policy of "full greed ahead" won't lead to growth.
INTERVIEWER
So being a somebody can make you a nobody.
AMRAM
But actually there are no "nobodies." If someone says to me, "I'm a nobody," I refer them to my friend Hondo Crouch. When Hondo bought Luckenbach, Texas, this ghost town that was just two blocks long, he made a fun toy city out of it, declaring himself mayor, creating the Luckenbach Air Force, and putting up a sign that said, "POPULATION: 7—EVERYBODY IS SOMEBODY IN LUCHENBACH." The point is, everybody is somebody, everywhere.
INTERVIEWER
In one of your memoirs, you write, "If you get bitter, you've had it. If you get envious of others … you're already ordering your own coffin." Despite all your brio, have you ever gone on any bummer trips?
AMRAM
[Laughter] For years and years! I experienced everything—bitterness, jealousy, rage, pettiness, competitiveness, all those things. But I found older people to emulate and study, people who'd been through their own feelings of disgust, rage, and discomfort but had somehow managed to make a living in the arts while behaving with positivity. Whatever the situation was, they would turn it around to make others and themselves feel good. I found older people like Mitropoulos to emulate and study, people who'd somehow managed to make a living in the arts while remaining human. Before long, I could understand my own negativity and cancel it out. As the ancient Greeks said, Physician, heal thyself!
INTERVIEWER
So you don't allow yourself to indulge those feelings anymore?
AMRAM
When I was playing with Oscar Pettiford's big band in 1957, at the New York nightclub Birdland, I got talking with Jimmy Cleveland, a great trombone player. After rehearsal I started whining about my landlord, and my then-girlfriend leaving me and my lack of work—whine, whine, whine—and Jimmy just sat there going, Mm-hmm. Finally he said, "Let me pull your coat to something." (That's the vernacular, meaning "Let me give you some advice.") He said, "Don't put your business in the street." Bam! Jimmy made me understand that no one wants to hear David singing the blues—unless it's a psychiatrist, and they now get three hundred dollars an hour for that.
INTERVIEWER
How can you stay positive in the face of negativity, though?
AMRAM
When that friend of mine Charlie Chin was performing with me in 1976 in Toronto, hypnotizing everyone with his songs about the Chinese-American experience, a heckler with a braying voice kept shouting, "Charlie, you suck!" The audience was horrified. Finally Charlie just flicked his moustache and said, "Ladies and gentlemen, as a Buddhist and a Maoist, I'm always in conflict with myself, but I have learned that we are all basically one person. We're the same person. And sometimes, ladies and gentlemen, I can't believe I'm such a drag." The audience screamed with therapeutic laughter, the heckler slunk off—and later, when I complimented Charles on how he turned around the situation, he said, "Well, what I said was true. With that heckler, the Great Spirit was showing us how disgusting that dark part of ourselves is, so that when we know that, we can quell it from within."
INTERVIEWER
Sort of a higher-level "golden rule."
AMRAM
Which reminds me of Sonny Rollins again. I complained to him once, "Sonny, there's this musician who just keeps playing one note on his tenor saxophone, honking away like that for four minutes!" This was back in the fifties, when Sonny himself would play magnificent improvisations, thousands of notes, like a Beethoven symphony. But Sonny told me, "Don't put that one-note guy down. That's the best he can do. That's his thing, that's how he supports his family. If you don't care for it, do something else."
INTERVIEWER
The great photographer and filmmaker Robert Frank once thanked you for a compliment by saying, "I don't need your approval but I appreciate your enthusiasm." Do you similarly not crave, or even need, approval?
AMRAM
My main concern in composing or conducting or performing is to feel that I've done what I hoped to. And if the musicians involved feel moved, or rise to a certain level and discover or celebrate their own creativity, then I'm on the right path. When you're conducting, you try to make everybody listen—to pay attention!—and to feel something and dare to put themselves into that moment and to celebrate that mix of formality and spontaneity, the magic that happens … It's like a summer night when you go outside and feel that thing in the air. You don't understand it but it's present. The great unknown.
INTERVIEWER
For all your belief in tolerance and respect, did you ever just want to lash out at someone who was being a scoundrel?
AMRAM
Sure. At the funeral for my friend, the singer Dave Lambert, I was serving as a pallbearer, and some guy walks up to me—right while I'm helping to carry the coffin—and he says, "Hey, listen, I left some stuff up in Lambert's apartment, do you have a key?" I knew what he meant—he wanted to steal from my friend's home. And I was glad, being a pallbearer at the moment, that my hands were occupied, because even though I'm a pacifist, I wanted to clock that guy. Instead, I just said no and tuned him out. But that was a lesson. If you see bad behavior like that, then you learn how to act differently. He showed me how not to be.
INTERVIEWER
So you're not revenge-minded.
AMRAM
Feeling vengeful is like getting cancer. That messes you up and diminishes you and hurts you more than you could ever hurt someone else.
INTERVIEWER
Another lesson you learned in New York was when Mingus told you, "Just find one person and play for that person all night long. All you need is one person in your life to really be listening."
AMRAM
Right. If you can make even one person feel more creative or foster something good in them, then you've done a hell of a good thing in your life.
INTERVIEWER
But connecting with listeners also requires patience, of course.
AMRAM
Moses was in the desert for forty years, so if it takes awhile to get recognition for your work, you're right on schedule.
INTERVIEWER
Since you mention forty years, I love your remark that "longevity is the artist's best revenge."
AMRAM
I have an addendum to that. "Premature expiration is highly overrated."
INTERVIEWER
Do you have a sense of what happens to us when we die?
AMRAM
At one of my big school reunions, an old classmate said, "Now let's talk about how we'll deal with the afterlife." I thought, Oh, man, I didn't realize this was going to be an undertakers convention. I thought we were here to see old friends and celebrate being alive! Some people said, My guru says this, some other people said, My psychic says that, and I joked that, because I believe in reincarnation, I'm trying to be a vegetarian so that I can come back in the next life as an artichoke or an eggplant.
I think that leaving the planet is like when the front-desk clerk at a hotel calls you in your room and says, Time's up. Please make room for the next guest. Time to move out and move on. It's all a big mystery, of course. I have a vague sense that there's a spirit world beyond us, and I'm in touch with it, but I haven't developed that aspect of thought too much—or made any advance bookings! [Laughter] The singer/actor/humanitarian Theo Bikel summed it up. At his eighty-fifth birthday party at Carnegie Hall, people asked him, "Theo, are you okay?" and he said, "Not to worry. In the theater, we never die, we just go on tour." So whenever I think about everyone I've lost, which I do a lot, I just figure that they're "on tour."
INTERVIEWER
Kerouac wrote to you not long before he died at a young age, "Someday when we're old men, we'll lie in our hammocks with toothpicks and rejoice in all the work we've done, and smile like Buddha, and pray for all our friends yet to be discovered." Do you ever feel sad that he wasn't able to grow old alongside you?
AMRAM
Mmm. It's almost like I've been doing my work for Jack, too, and for all the other people I loved who didn't live long enough to see all their dreams come true. I know that Jack would feel the same way if he had been the one who got to live a full lifetime. Charlie Parker, too.
INTERVIEWER
Parker's death was another big early blow for you, but it prompted you to get more serious about your work. As you wrote about that experience, "I felt a real determination and force inside myself that had to get the music out at any cost and at any price."
AMRAM
You never believe that people like Jack and Parker, glowing examples of graciousness and appreciation, are going to die. That doesn't seem possible. At least it's terrific that with Youtube you can still see and hear an artist's work and hear the artist speak about their work.
INTERVIEWER
Do you think a lot about your own mortality, about "going on tour?"
AMRAM
I'm mainly reminded of death because people mention it to me all the time, saying, "Have you prepared for this or that?" My oldest daughter now is forty and I've thought, How can I possibly be so old as to have a daughter of forty? Then I remembered that I was already forty-eight when she was born! Pete Seeger told me on his sixtieth birthday, "David, when you turn sixty you'll be amazed by how many friends' funerals you'll have to go to." I thought, This must just be Pete in a down mood. But of course it's true.
INTERVIEWER
Are there any previous projects you look back on with special pleasure?
AMRAM
My piano sonata from 1960 is starting to be played again and I listen to that now and think, Wow, this young cat has some nice stuff here! But I try not to rest on my laurels. One of the things I always liked about New York was, you could finish the most colossal project and people would just say, What are you doing next? I understood that workaholic ethos when I was composer-in-residence with Leonard Bernstein at the Philharmonic. The morning after the glorious opening night of their 1966–67 season, Bernstein and the whole orchestra were back at work, sawing away, preparing a whole new hard program for the following week's schedule. They didn't even have the chance to take a day off. They had to get up and grind on and then go back every night to repeat their concert from the night before and make it even better. I thought, Man, they're doing this all year long! And I vowed that I would never complain about being overworked or dare to say, I'm not in the mood to work today.
INTERVIEWER
You sound as focused on making art as ever.
AMRAM
I am. I'm excited about my new compositions, my new memoir, and my upcoming concerts. And, as usual, I'm trying to do better than is expected, be grateful, be happy, and behave in an excellent way. There are no shortcuts. You just have to keep on trucking.
NOTE: This year's Amram Jam will happen at 8PM on December 19 at the Theater For A New City, while Carnegie Hall will host the New York premiere of Amram's latest chamber music composition, Bulgarian Wedding for Violin and Horn, on December 23.
Gary Lippman is a lapsed lawyer. His novel Set The Controls For The Heart Of Sharon Tate was published recently and his heart is in the Highlands.