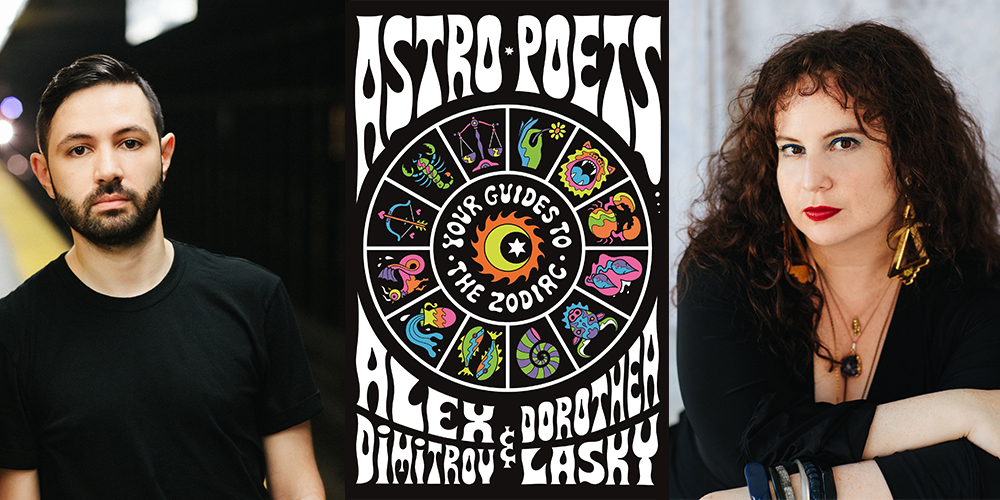 A writer I know, being a little flip, once said that you need to know only three things about James Merrill: he was gay, he was rich, and he was serious about Ouija. The subtext is that it's already hard enough to be taken seriously as an artist, a writer, a poet in this country—so hush up about the damn board, James. Yet we treasure Hilma af Klint's vibrant swathes of color and William James's somber meditations, both influenced by spiritualism and the occult, as were scores of others, from Yeats and Dickens to Kandinsky, Rilke, and T.S. Eliot. In J.D. McClatchy's interview with Merrill in this magazine, Merrill walks right up to this perplexing point with refreshing candor:
Well, don't you think there comes a time when everyone, not just a poet, wants to get beyond the Self? To reach, if you like, the "god" within you? The board, in however clumsy or absurd a way, allows for precisely that. Or if it's still yourself that you're drawing upon, then that self is much stranger and freer and more farseeing than the one you thought you knew. Of course there are disciplines with grander pedigrees and similar goals.
It is worth considering that Merrill must have been aware that whispers of "fairy" were following him, with or without the Ouija board. In nearly every age, artists, thinkers, and deviants have risked going up in flames or down into the river for doing a thing that is incalculable or unquantifiable or plain mad.
Dorothea Lasky and Alex Dimitrov, highly accomplished poets whose poems have appeared in our pages, see the value of delving into the darker arts. Together, under the Twitter handle @poetastrologers, they have created a riotously funny astrology feed about which they couldn't be more serious. They see the zodiac and poetry as two realms for which the maps have been lost, or at least damaged. They're a way of countering the rational, quantifiable data points on which our society is built. Their hope is that their account's half a million Twitter followers, or the readers of their new astrology book, will sit, at least for a few minutes a day, with the unknown and unknowable. As we talked in the hushed studio from which they record their podcast, their respect for each other was unmissable. The interview felt like a playful pas de deux between practiced partners—Dimitrov frequently referenced specific lines of Lasky's work and Lasky's contagious laugh registered in Richter's. We were interrupted once by a young audio technician readying another room for a later recording. Dimitrov referred to the person as "a libra who is doing work with me later." With this lightly offered, slightly outré marker, Dimitrov extinguished gender like a candle flame.
INTERVIEWER
Dorothea, what is your origin story with astrology? How did you come to it?
LASKY
I like to tell the story that my parents met through astrology. It was the seventies, and they were both invited to a party where they'd been told there would be other guests, but they were the only guests. They were being set up, of course. And supposedly, my father bounded up to my mother and said, "I'm a Gemini, what are your hang-ups?" And she said, "I'm a Libra and I'm shy." That produced a long love affair of over thirty years, which then produced me. So, I feel like I was born of astrology, an astrological convergence. But I didn't totally get into it until I was in my early twenties. I was really obsessed with this Gemini—June 15, Sag moon, Virgo rising. He was so hot and he had some math knowledge, and I used astrology to better understand him.
DIMITROV
She's turned on by math.
LASKY
I have interest in the hard sciences, as they say.
DIMITROV
Oh, God.
INTERVIEWER
Alex, what about you?
DIMITROV
I was an only child. I was very angsty. I didn't like people, I think I still don't. One year, my mother got me a Sagittarius pendant. I didn't know anything about astrology and to be honest, I don't think she did either, but she really liked this pendant. I think because of the symbolism of the archer. On the back of it was the Sagittarius constellation and I remember I could make the choice to wear the archer or the constellation facing forward, depending on how I felt and how much I wanted to explain myself. At school I was picked on for many reasons—being gay, being way too feminine, being goth.
INTERVIEWER
Having better skin than anyone else…
DIMITROV
That is so not true today, but don't look. When I was feeling combative or when I was feeling mysterious and elusive, I would wear the constellation. The same people who picked on me would ask, in this very bitchy way, So what does that mean? As a poet, as a queer person, as a creative person … we all get that question. Astrology and poetry are spaces where that question seems irrelevant. The art itself holds it. It holds the question. Poetry understands that just by allowing space for that question, you are doing the job of poetry. Just by holding in your mind that doubt exists, that there are no answers and we have to figure out a way to live with that. I didn't know all of those things back then, but that pendant was my introduction to the fact that there were other worlds.
INTERVIEWER
One of the things you've both spoken about is how the rules of astrology are made to be broken. I wonder if you can speak to how that relates to poetry?
LASKY
The wonderful thing about astrology is that it is more of a map than a rule. It is like the potential of what a person can be or what an event can be. Things are not set in this life, by any means. You tweeted a few months ago, Alex, something to the effect of, What are we doing on this big rock? It really resonated with how I feel about astrology. If we are being truly honest, no one has any idea what we are doing here. Any means to help us make sense of things, I feel, is a plus.
DIMITROV
For poetry there can never be rules because poetry is the acknowledgement that rules are arbitrary. In some ways, everything is arbitrary. The world will continue without us.
LASKY
Without humans?
DIMITROV
Even without the earth, everything will continue. Poetry holds that knowledge. If we would only allow ourselves space in our minds to sit with our own anxiety about the fact that we don't know anything. We are all going to die. We are all going to turn into other things. It's not even depressing, it just is.
LASKY
I think that is really true. I think the key to poetry, or astrology, or any frame of knowledge that makes sense to you or gives you comfort, is understanding that it is teaching us that. We are so, so small. We have to dissolve the self because we have to understand how tiny we are. That's the only way to have any hope at all in the possibility of a grand love for each other and for everyone.
DIMITROV
The thing about poetry is, the self isn't very important. Poetry teaches us that through persona. Because the self can change, you can be many selves. That's the thing with astrology, too. And it's really hard these days to make a space for that understanding because of social media which—
LASKY
Promotes the one, singular entity—and capitalism does, too. The brand. You are immediately a brand no matter what you do. You are immediately something that is fixed. But it's important to resist that whenever you can.
DIMITROV
Here's the thing. Social media doesn't have nuance.
INTERVIEWER
Except, I would argue, your feed is an oasis of nuance. Which I think is why I gravitate toward it.
DIMITROV
Well, poetry is nuance. Everything on social media has to function like a newspaper headline. It has to tell you immediately what to think, if something is good or bad. The difference between poetry and social media is that poetry has no good or bad. It doesn't even have gray space. It just is.
INTERVIEWER
So then why do you think that poets are especially interested in social media?
DIMITROV
I wouldn't say that poets are especially interested in social media. But I would say that poets are especially good at social media. Sort of like a Sagittarius. You are very good at parties but you don't want to go to them. That is a big difference. Poets are good at social media precisely because they understand language and nuance. Poets are very attuned to everything. A poet is constantly, even without social media, feeling all the energies. When Dottie and I started Astro Poets, we had no idea what we were going to do. This is one of the great things about being an artist—everything is an experiment. We haven't been disappointed because we've kept true to that spirit of experimentation.
LASKY
I think that's what happens, also, when you write a poem. The best poems happen when you are not really sure what's going to happen. The poem's not going to let you have a plan. Just like astrology is not going to let you have a plan either, and fate obviously is not going to let you have a plan. But I am still not completely sure how I feel about fate … it's complicated.
DIMITROV
With my students, when they sit down and read a poem, the first thing they want to talk about is, What does it mean? Does the blue cup mean a shadow? Does it mean murder? And the thing you have to tell them is, let the blue cup be a blue cup for a second. Let this be the thing. Sit with it. See how you feel. See what else comes up. Read the poem again. See how this time it is moving through you sonically and if you keep staying with it and approaching it in different ways, without looking for answers, it will reveal itself to you and it will reveal something about you. Poetry doesn't allow you to get away from yourself. Dottie has a poem where she writes, "poetry is hard for people because of sound." And that is exactly right. On social media everything has to be so apparently itself and everything is screaming at you. Poetry is doing the exact opposite, hopefully. It's asking you to be in this space of doubt.
That's why poetry is the most powerful thing in the world. It is the only thing that is aware of its own meaninglessness and of meaninglessness in general. Everything else around you is trying to tell you something about power, something about itself, something about importance. Poetry is so powerful because it knows that even power isn't real. But you can't be knocking on poetry's door and saying, What does this mean? What does the flower mean? What does the fact that someone I love died mean? None of us know.
INTERVIEWER
In his book, The Hatred of Poetry, Ben Lerner complains of how often his seatmate on a plane will say, "I was a poet" or "I wrote poetry." What is it about childhood and the mutable rules of childhood of art—poetry, make-believe, the stuff we all do when we are young—what is the filter that keeps us from doing that as adults? What is it about poetry that allows you to escape that?
DIMITROV
It's the poet's job to return us to childhood. That place where all the receptors are open. Whether it's through language, through sound, or through the poet's way of being in the world. My identity as a poet doesn't begin and end when I'm writing on the page. Being a poet is a conscious daily way of moving through the world. There is nothing else like it because there is no career advancement. There is no real money at stake. It has to do with how you value yourself and other people. We are doing this together because I know that Dottie feels the same way.
LASKY
A shared goal of this time or this book is not so much about astrology, per se, but to show poetry's purpose to people who may get hooked to it. That is our main motivation.
DIMITROV
Poetry is the only thing that I believe isn't going to hurt people. I want to make poetry available to everybody. And, I'm doing air quotes here, I think everybody can "get it." It's not closed off. You can return there any time.
Julia Berick is a writer who lives in New York. She works at The Paris Review.