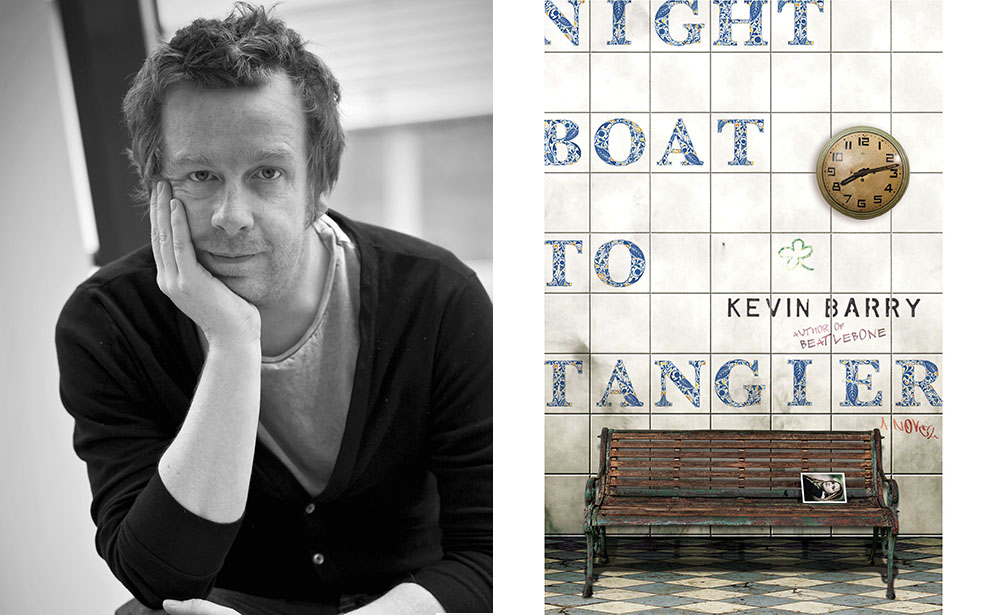 Kevin Barry is widely recognized as one of the most gifted fiction writers to emerge from the English-speaking world in the new century. Five years ago, a critic in the Montreal Gazette spoke of a growing view that in him, "an heir to the great Irish tradition has arrived." But Barry's early life was spent in multiple countries and continents—he grew up in Limerick city, spent a decade in Cork city, then lived in various places in England, Scotland, Canada, the U.S., and Spain. His first story collection, There are Little Kingdoms, won the prestigious Rooney Prize when it was published twelve years ago, and his first novel, City of Bohane, won the IMPAC Dublin Literary Award in 2011. Now, his most recent novel, Night Boat to Tangier, has been long-listed for the Booker Prize. He is known for a distinctive combination of earthy wordplay and taut narration, humor and darkness. We conducted our interview via email, over the span of a few days.
INTERVIEWER
I wanted to start by asking you about where you live in the northern part of Ireland. How did you choose it? And what is it like there, in the town where you live?
BARRY
I live beside Lough Arrow in County Sligo, an area that at one time had the highest incidence of reported UFO sightings in Europe. Then a certain old lady passed on—to another dimension—and the sightings somehow dropped off. But I watch the skies, just in case.
I've lived here with my wife for the last twelve years. It's essentially a swamp, with rain three hundred days a year, but it's a very lovely place. Kind of dreamy, kind of melancholic, but beautiful. The house was built in the 1840s as a barracks for the Royal Irish Constabulary and remained a cop shop until the late seventies. I work out the back in a shed that was once a holding cell.
Living in the countryside took getting used to—the sheer dark at night, the mystery rustlings from the ditches as animals molest each other, et cetera—but I'm totally into it now. It's kind of spacey and weird and you discover how affected you are, mood-wise, by weather and atmospheric pressure and presences in the landscape.
INTERVIEWER
Will you tell me about your wife? What's her name, and how long have you been married, and what does she do?
BARRY
Olivia Smith. We've been together twenty years and married ten. She used to be an academic, teaching law, but now runs a publishing project that we work on together, Winter Papers, a fancy annual arts anthology. She spends a lot of time helping me find my phone, keys, wallet, sense of decorum. She generally keeps the circus on the road. V.S. Pritchett's wife used to list her occupation on official forms as "driver" because she had to chauffeur him around all the time. Liv does a lot of that, too. I sit my driving test tomorrow at the age of fifty, and it's looking touch-and-go.
INTERVIEWER
What kept you from learning to drive, or from getting your license?
BARRY
I think it's genetic—my late father passed his test at something like the eighth attempt, in his midforties. I'm a slow starter generally. I learned to cycle a bike at the age of fourteen and to swim at the age of thirty-two and I published a first slim volume of stories at the age of thirty-seven. Only fools rush in. I'm now an avid cyclist and swimmer and story writer. Once I get going, I tend to have the zeal of a late convert.
INTERVIEWER
You were obviously a passionate reader during those first thirty-seven years. Were your parents bookish people?
 BARRY
I sometimes joke that I grew up in a house full of books but they were all biographies of jockeys—my father was into the racing, so I remember things like Lester Piggott: My Life lying around. I'd say my parents were both serious newspaper readers rather than especially bookish. But I certainly got the bug for books as a kid. I vividly remember the moment I graduated from Famous Five and Hardy Boys–type stuff to the more serious tackle. One of my sisters was doing Wuthering Heights at school and I picked it up when I was home sick with the flu and it just absolutely fucking transported me. I was lost in it, a kid in a suburb of Limerick city in 1980 transported to a wind-blasted Yorkshire moor in the 1800s. Even at the age of ten, or however old I was, I realized the power of this whole literature buzz. I still reread that novel, and it still works on me.
INTERVIEWER
What about poetry?
BARRY
In my teens I had a beloved English teacher, Mr. Lynch, who was a Gerard Manley Hopkins nut and through him I got hooked on the hard stuff—"The Windhover," "Felix Randall"—and the way the rhythm was just so hypnotic and powerful, the line so vibrant on the page. As a teenage goth—a ginger-haired goth, let it be said, which is a horrifying dilemma—I used to lie around graveyards in Limerick city and write poems about girls and suicide. I never got past that stage with my own poetry—Ireland is crawling with poets, throw a stick here and you hit one over the head, so I decided to cede the field. I remain a passionate reader of poetry. I read poems every night after the dinner. I try to learn them by heart, too, because I think it does something really useful for the brain.
INTERVIEWER
What are the particular challenges of being a ginger goth?
BARRY
There's just something inherently cheerful-looking about ginger hair, and it makes it difficult to pass yourself off as being "half in love with easeful death." Also, ginger hair tends to go with a freckled complexion … you're trying to make out like you're heroin-period Nick Cave when you're ruddy as a fucking farm boy? Disaster.
INTERVIEWER
What is the poetry that has meant most to you in the years since Mr. Lynch?
BARRY
Of all the stars in the sky, to pick just one? Okay, I guess the book that gets taken down from the shelves most often here is Philip Larkin's Collected. Poems like "The Whitsun Weddings" just floor me every time. Or what about "Love Again," which surely has the most poignant opening in all of poetry: "Love again: wanking at ten past three (Surely he's taken her home by now?)" People do overplay the misery aspect of Larkin. I think, in a way, the misery was part of his shtick, a bit like with Beckett. I bet he was great fun to go drinking with—Beckett was apparently a hoot to go drinking with, a laugh-a-minute man. But yes, Larkin, Larkin, Larkin—I'm forever quoting him, consciously and subconsciously, in my own work.
Other poets? I like a lot of American midcentury stuff—Bishop, Lowell, Ted Roethke. I really like Roethke, actually, he wrote such glamorous sentences. He had one of his many crack-ups on an island off the west of Ireland and was committed to the mental hospital at Ballinasloe—I wrote a story about it.
INTERVIEWER
In that story, "Roethke in the Bughouse," you write, "When you say you're going in to work, as a writer, what you mean is you're about to crawl into your fucking nerves." Has that been your own experience? Is it still?
BARRY
It is my experience. Writing fiction, you're working primarily from your subconscious. You're working with all the dreamy, oily, murky stuff back there, and you're trying to put narrative sense on it. You don't write because things are going swimmingly and you're feeling fabulous—you write because you're a fucking disaster zone made up of fear and dread and anxiety and all that edgy, angsty stuff that just means you're alive, basically, and every second of it is just a profound and beautiful shock. As a writer of fiction, you're vividly aware that life is always hovering toward a condition of shapelessness, and you're trying to put shape on it, you're trying to tell stories around it. Writing fiction is, I think, a survival mechanism. I know that I'd be screwed without it.
INTERVIEWER
A thing I want to praise in your writing is the excellence of your ear, when it comes to placing lyrical, poetical sentences in your stories. There are passages throughout your books that sound as if they could have been salvaged from a lost poem, and a good poem—which seems like it would make this even more difficult. But somehow those sentences always stop short of upending the narrative or distracting us with pretty language. They do work, in other words, story-wise, but they do it imagistically. Examples are everywhere. In the story you just referred to, "Anxiety folds away its arbitrary music." Something delicate is being successfully balanced there. I want to know how conscious you are of this effect or tension in your work, whether you've had to work at it. Or do you just hear the world this way?
BARRY
I read the work aloud, a lot, with editing pen in hand, and I find this is the most useful part of the process in terms of corralling or keeping the lyric impulse in check. Like in not letting the thing waft away too far into the realm of the poetical. The ear knows! Whereas the eye will happily glance past a piece of overkill, the eye is more easily fooled. I think earlier on, say, in my first novel, City Of Bohane, whenever I wrote a lyric passage, I would try to immediately barb it thereafter, maybe with a sharpish line of dialogue or with some subverting, piss-taking clause. In a way it was trying to have my cake and eat it, saying to the reader, Yeah it's poetical but I'm wise to it and I'm taking the piss out of it, too. Now I'm more inclined to tiptoe up toward the precipice—how far can I go with the beauty! I like very much your suggestion that these passages work imagistically and help propel the thing along. This is the ambition and I hope that it's true!
With that I'll bow out for the evening, John, as it's telly and vaporizer time here—Olivia and I are going through this weird phase where we're watching nothing but extreme climbing documentaries—check out The Dawn Wall!—and Alaskan homesteading shows. Happy to reconvene tomorrow?
INTERVIEWER
Perfect place to end for the night, though I, too, am enjoying it very much. I may begin tomorrow by asking you to find for me, if you're game, a passage in City of Bohane that does what you're talking about, and to give me a sense of how you might handle it differently now. Interviews like this are sometimes lacking in that sort of precision, so I can't resist trying to tighten the lens another click.
BARRY
Okay, so I'm back from the driving test—flunked it hard, went the wrong way down a one-way street and generally showed a lack of consideration for "other road users." Cute the way your personality peeps out in pragmatic situations like driving.
But okay, yes, a passage from City Of Bohane. "A couple of miles downstream the river rounds the last of the bluffs and there enters the murmurous ocean. The ocean is not directly seen from the city but at all times there is the ozone rumour of its proximity, a rasp on the air, like a hoarseness. It is all of it as bleak as only the west of Ireland can be."
The "murmurous," the "ozone rumour" and the "raspy hoarseness" have me wandering soulfully on the clifftops of lyric abandon. The "bleak" sentence is a sardonic little note to drag me back from the edge, and I don't know that I'd feel it's necessary now.
Strange, though, I just had to type out that passage, for the first time since I typed it eleven years ago, and it's such a weird feeling, like visiting a ghost of yourself. We change all the time as people and it's reflected so vividly in our prose styles. I mean, there's nothing mysterious about your prose style, it's a direct projection of your personality, the most direct projection possible. It's your soul talking! For this reason I'm more inclined to write novels quickly now, in a year or thereabouts … I think what happens if you spend longer on a novel is that your personality is all the while changing and inconsistencies come into the prose, the tone, the note.
INTERVIEWER
Your new novel begins with a couple of career criminals, lifelong friends, hanging out at a dock in Spain and exchanging funny philosophical banter. They're waiting for a ship that may never arrive. So, we know that Beckett is there. But I also thought about Sexy Beast.
BARRY
Yeah, Sexy Beast is great—I really like the Ben Kingsley character, the mad gleam of comic menace from him, the eyeballs on stalks. And I always love that one-last-job set-up. I love pulpy set-ups. Jonathan Glazer is a really interesting director—Under the Skin, his adaptation of the Michel Faber novel, also has such a weird power.
That sense of hysterical menace was something close to what I was trying for in the book, and in terms of playwrights, I was thinking more in terms of Pinter than Beckett, really. Especially the Pinter of the early sixties stuff—The Caretaker, The Birthday Party. But you can't have two Irishmen waiting around for something and not expect the tall gaunt shadow of Mr. Beckett to be over the work somehow.
I think for any writer of my age, film and telly and musical influences are as important as literary ones. And I think the real foundational stuff is the stuff you're into in your late teens, early twenties. For me at that age it was Twin Peaks and David Lynch films generally and Pixies records and house music and dub reggae and Saul Bellow novels and Flannery O'Connor stories and synthy North of England bands.
INTERVIEWER
Will you tell me more about Pinter and those particular plays? What did they give you?
BARRY
It's something about the way the aura of menace is vague but eerily present, the iciness of the comedy, the sense of taunt and double-meaning ripping along just beneath the surface of the talk. It kind of relates to something Norman Mailer said once—and this is a quote I over-use—but he said that whenever two men say hello to each other on the street, one of them loses. Meaning that there are always these little silent battles and power tussles going on, and this is everywhere in Pinter. Something in the air of these plays is so unsettling, but the genius is in the way he mines that atmosphere also for its comic potential. It's kind of horrifyingly funny.
INTERVIEWER
This new novel is also a love story. Its heart is broken. The two men are remembering and mourning the loss of the same woman, Cynthia. They're also obsessed with finding a young woman who seems to be the daughter of one of them. She has gone missing in an underworld. It's a story about hard men, but their own stories center on women. All of that comes together in a shattering line, "Hate is not the answer to love; death is its answer." Was all of that in the book from the start, or did you first have to get to know the men before you could see their memories?
BARRY
"Inspiration" sounds like such a joyous and fluffy thing but as often as not it's a kind of annoyance. These characters show up and won't shut up and won't fuck off again. And Maurice and Charlie had been hanging around for a while in the holding cell. They initially started to appear in short stories … whenever a story would start to flag, these two threatening, wisecracking Cork city gangsters would barge in. And they would immediately destroy the misfortunate story—they were too large, they were Ben-Kingsley-in-Sexy–Beast large. So I thought, Okay, I'd better give them their own story, see if I can get past a caricatural stage with them, and I tried it out as a play. After a short while, I felt like I was getting them in the round, and it seemed clear that the story needed to drift into the past, and its timespan was lengthening—I knew then it needed the space and air of a novel.
I tried to humanize them. They're a dark and dangerous pair, and they have done terrible things, but can we tune our sympathy to them? I think all of my work is to some extent about characters trying, and failing, to step out of the shadow of their own past. And realizing, too, that the past is in fact unstable, that it shifts and roils back there all the time.
INTERVIEWER
They are large, and immediately memorable. In certain respects, though, the women in the story, especially Cynthia and the daughter, Dilly, loom larger, and that may be the book's triumph. Is it because we first encounter Maurice and Charlie as types? Their individuality has to emerge from behind masks. Whereas the women approach us without character expectations and so they are already idiosyncratic and human.
BARRY
Cynthia and Dilly were off-stage presences from the beginning—it was when they came on stage that the book felt like it was becoming real to me. I think the tone of the novel changes quite radically in the second half when the women come into it more. They kind of tether the story to the real world. They don't self-mythologize in the way that the men do—maybe they don't need to. There's a scene I wrote very quickly, in a morning, where the women have coffee together in Cork city and Dilly asks Cynthia if she ever saw the men violent. It's just kind of a quiet, odd little scene, but it's one of those passages you write sometimes that just seem to work like a tuning fork. You hear a kind of ping, and you think, Yeah, it's becoming the real thing now.
I think the women bring this novel closer to the world my short stories tend to inhabit rather than the more fantastical reaches of my previous two novels. It's a world that still has an oddness and an eeriness at its edges, which I believe is true to the deep vein of strangeness that exists still in the western and southern extremities of the island.
INTERVIEWER
I notice that Lough Arrow is not far from Innisfree. Do you ever go there? Is Yeats's face one of the "presences on the landscape" you mentioned at the start?
BARRY
We pass by Innisfree often when we're heading north of the border on our rioja-buying missions to the town of Enniskillen—wine is much cheaper in Northern Ireland than it is in the Republic. Brexit may soon end the idyll of these lovely outings.
I love the fact that as a young man Yeats used to buy tincture of cannabis oil—which was then legal—from the pharmacy in Sligo town and roll around naked under moonlight on the strand at Rosses Point, stoned as a coot, conversing with the underworld, seeing fires in the sky, ad lib to fade. I swim at Rosses all the time and love to think of him there. The work is immortal, of course, but I especially like Yeats as a character in his own right, the way he operated, made connections. He was a kind of stoner-entrepreneur type, I think—if he were alive now he'd be organizing festivals.
When I mention those presences in the landscape, I'm kind of imagining feelings and atmospheres more than people. The moods that places emanate—these are critical for writers and artists, we make work in response to the vibrations that places pulse out.
INTERVIEWER
Are you already at work on the next thing?
BARRY
Always. I think writing is like physical fitness—the hard part is building it up. Once you've got it going, it's not so bad maintaining it. But take a break and you're fucked.
So, yeah. I'm finishing up a collection of stories, which will come out about a year from now. It'll be titled That Old Country Music. And there are drafts of plays and screenplays and ranty little monologues and half-dead stories lying around just waiting for the clamps. The holding cell is at all seasons feral with activity.
John Jeremiah Sullivan is the Southern Editor of The Paris Review.