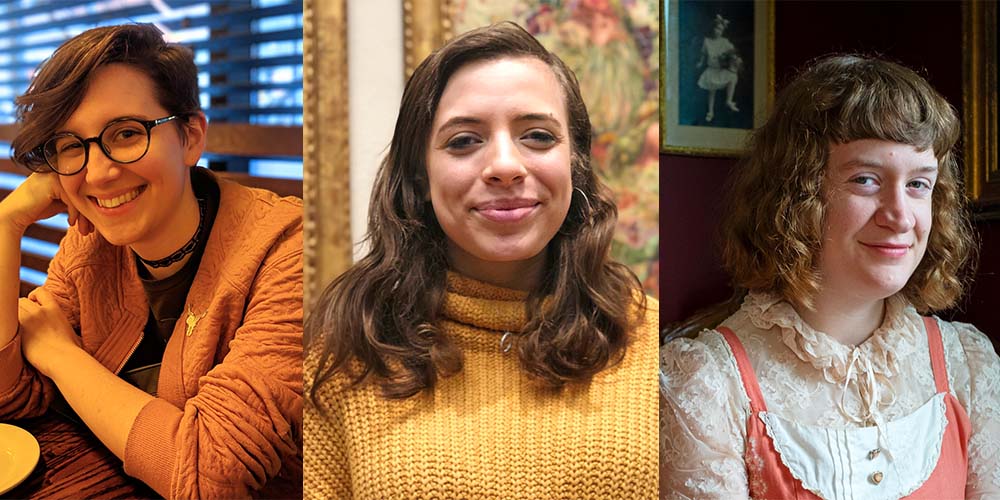 In 2017, Honey & Wax Booksellers established an annual prize for American women book collectors, aged thirty years and younger. The idea took shape when Heather O'Donnell and Rebecca Romney, the bookstore's owners, observed that "the women who regularly buy books from us are less likely to call themselves 'collectors' than the men, even when those women have spent years passionately collecting books." By providing a financial incentive to them, and a forum in which to celebrate and share their collections, O'Donnell and Romney hope to encourage a new generation of women. This year, they write, "We were impressed by the many contestants whose initial collecting interests put them in pursuit of unusual material not available for Prime delivery: vintage, underground, out-of-print, annotated, foreign, small press, or self-published finds."
We are pleased to unveil the winner of the 2019 Honey & Wax Book Collecting Prize, who will receive $1,000, as well as five honorable mentions, who will each receive $250.
WINNER
Emily Forster: Fan-Made Comics and Dōjinshi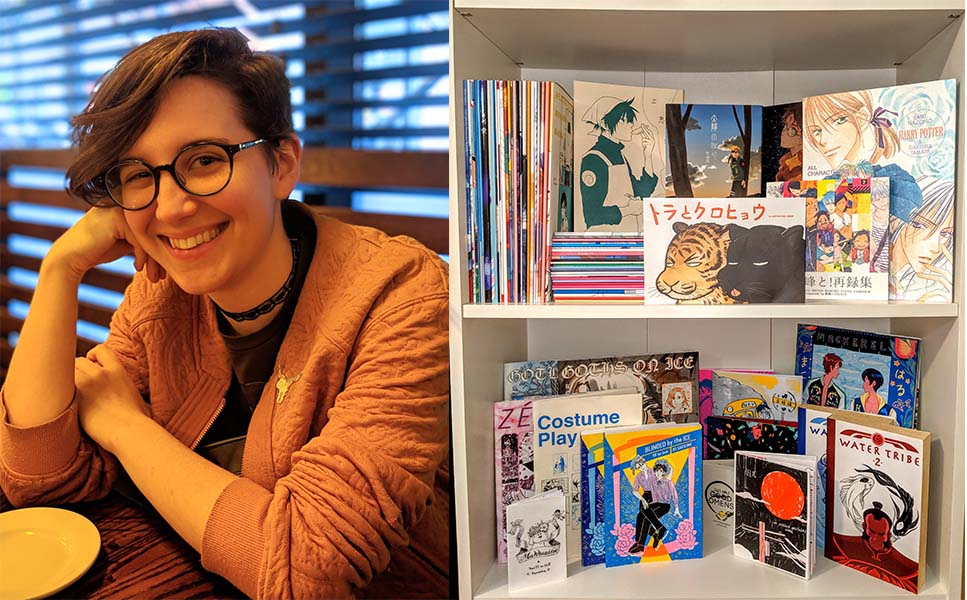 Emily Forster, twenty-eight, is a cartoonist in New York City. She has amassed a collection of almost five hundred original fan-made comics, from photocopied zines to hardcover anthologies, primarily the self-published comics known in Japan as dōjinshi.
"Most of the modern-day distinctions between official and derivative art—and the assumptions of quality attached to each—were based on concerns of property, not an evaluation of the art itself. There was something incredibly alluring to me about comics art created at a professional standard of quality without the expectation of professional reward," Forster writes in an essay about the collection.
Forster's essay offers a series of insights about the fan-made books she collects, gradually revealing the narrative conventions, circumstances of production, and readership of the material. Honey & Wax says, "We admired her observations on the power structures 'fanfic' subverts, her attraction to 'the ultra-niche within the niche,' and her insistence on 'what is beautiful about the illegitimate, the indulgent, and the disposable.' "
HONORABLE MENTIONS
Hannah Batsel: Mass-Market Colonialist Children's Books, 1870–1920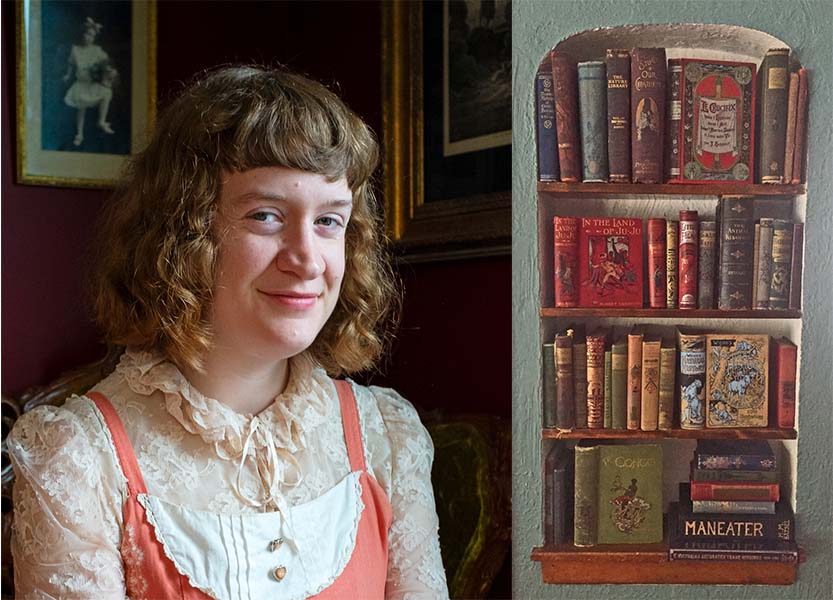 Hannah Batsel, thirty, is a book artist and illustrator in Chicago. She has created a collection of illustrated children's books, exploring "how colonialist and imperialist thought was packaged and marketed to Western youth" in the late nineteenth and early twentieth centuries.
"I hunted for books that might contribute to the Western impulse to dominate the natural world and the worlds of other peoples and cultures, not only physically through military force, but intellectually … In my own work, I appropriate the illustrative style of this era's children's books in order to draw a line between them and the modern-day results of the ideologies they contain," Batsel writes.
Honey & Wax says, "We admired the pivot in this collection, which began with one goal in mind, and took a turn. Batsel's initial attraction to beautiful publisher's trade bindings led to a reckoning with the racist pseudo-science she found in popular nineteenth-century works of natural history, and an exploration of the way that young readers were once encouraged to classify the peoples of the world."
Julia Fine: Pivotal Works in the American Vegetarian Movement, 1971–Present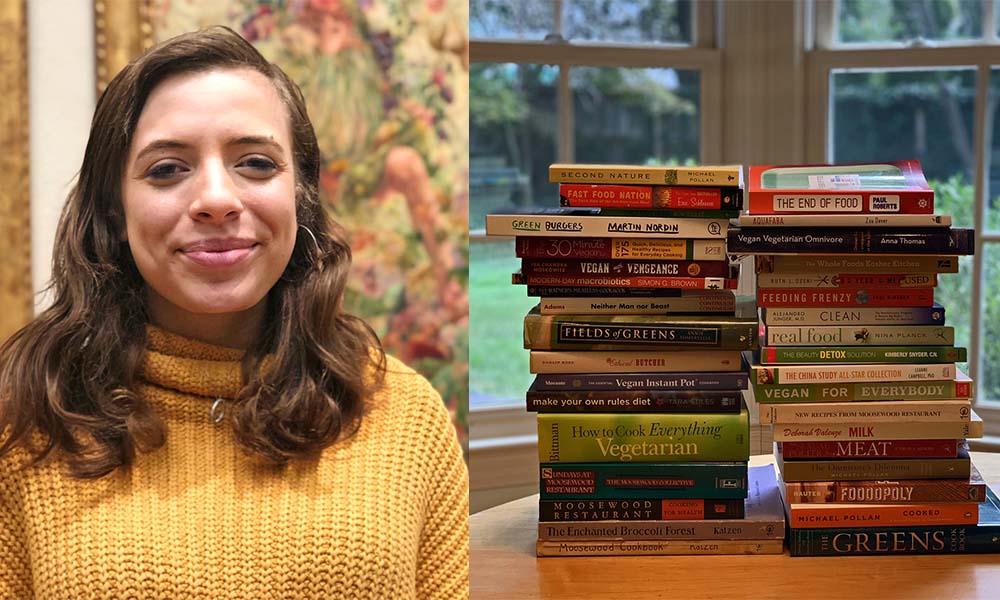 Julia Fine, twenty-three, is a humanities fellow in Chevy Chase, Maryland. She collects American vegetarian cookbooks, manifestos, environmental and eco-feminist treatises, and diet guides published in the past fifty years.
"The reason I prefer to collect secondhand rather than buying books new is because the marginalia of secondhand books—like the scribbles all over my copy of the first edition Moosewood cookbook—demonstrates the way the personal is connected to the political when it comes to vegetarianism," Fine writes.
Honey & Wax says, "We were impressed by Fine's scope, which ranges from Diet for a Small Planet to The Enchanted Broccoli Forest to The Sexual Politics of Meat to Eat Pretty, and appreciated her consideration of the books' annotations and marks of use as documentary evidence, showing how personal taste (literally) and political convictions interact."
Nathalie Levine: American Women's Press Books, 1972–94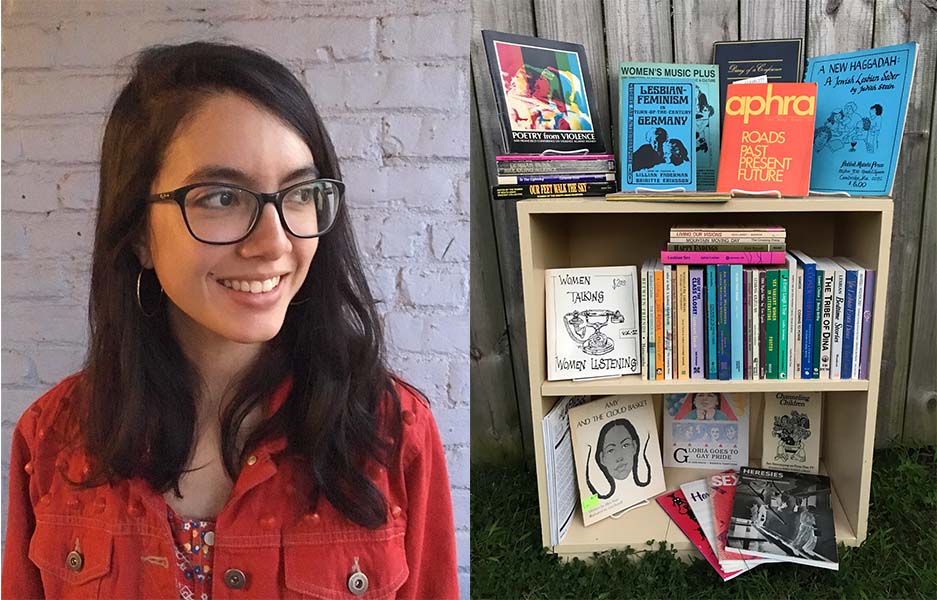 Nathalie Levine, twenty-six, is a graduate student in library and information science in Princeton, New Jersey. She has created a collection of feminist and lesbian books and periodicals issued by independent American women-run presses, organized by publisher.
"There had been a whole movement (the women-in-print movement) of women, and particularly lesbians, who created their own presses in order to publish and distribute books that no one else would publish … The presses moved around the country with the women who ran them. I was surprised at how many were based in places I had never heard of as hubs of feminist or lesbian culture—or places I'd never heard of, period," Levine writes.
Honey & Wax says, "We enjoyed the unfolding sense of discovery in this collection, which was originally motivated by Levine's desire to know more about the creators of the books she was reading, and led her to a broader awareness of how independent women's presses have kept controversial voices in circulation: 'How did [these women] live their visions through publishing?' "
Arendse Lund: Saga Editions and Transmissions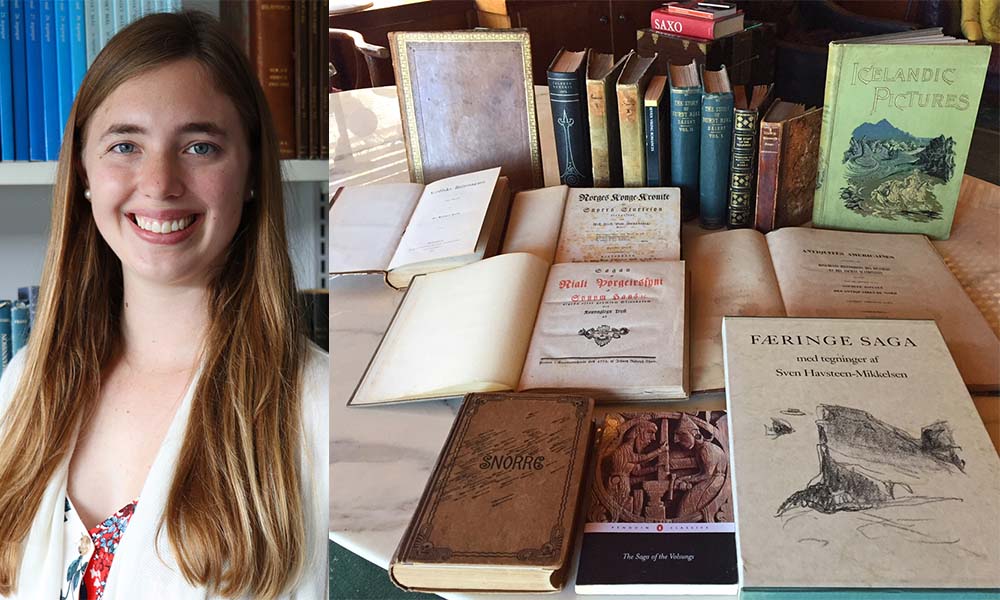 Arendse Lund, twenty-eight, is a graduate student in medieval law in Belvedere, California. Her collection is of English and Danish translations and retellings of the Icelandic sagas, from the eighteenth century to the present.
"The changing aims of the translators caused for very different works to be produced and that is what ultimately fascinates me. My focus has changed to collect editions of these 'same' sagas to show how different they are, and ultimately how national, political, or personal goals change how we approach and deal with texts," Lund writes.
Honey & Wax says, "We were impressed by Lund's attention to the changing messages that the 'same' saga communicated at different moments of publication: a polyglot edition designed to reach an international readership, a patriotic morale booster marketed to everyday Danish readers ('Menig-Mand'), William Morris's handsomely designed tribute to a romanticized, pre-industrial society."
Cara Santarsiera: Romancing the Field Guide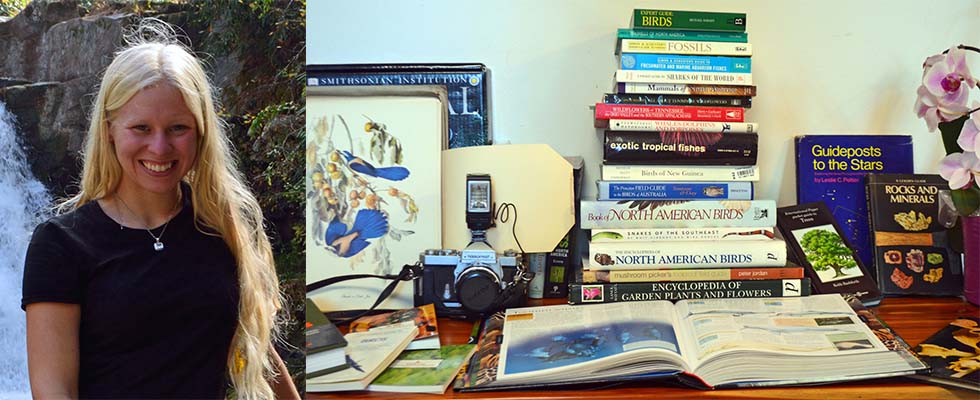 Cara Santarsiera, twenty-nine, is a writer and photographer in Clarksville, Tennessee. She collects twentieth-century illustrated field guides employing the "Peterson Identification System," an often overlooked mass-market genre, organized taxonomically.
"My goal for this collection is to continue to refine it to fit the specifications I've come to recognize as essential to the 'best' field guides: a protective cover, a compact size, detailed illustrations in text, an index of common and scientific names, among others. As I continue to explore this beautiful planet and document it in photos, additional guides will be required," Santarsiera writes.
Honey & Wax says, "We admired how Santarsiera's personal and professional use of these practical field guides awakened an instinct for the books as material artifacts, creating a knowledge base which she systematizes in a taxonomy not unlike those used for the floral and fauna in her books."
Honey & Wax would like to the thank the sponsors of the 2019 Honey & Wax Prize: Biblio, The Rosenbach, and Swann Galleries. They'd also like to thank the Antiquarian Booksellers' Association of America, Fine Books & Collections, the Florida Antiquarian Book Fair, the Brooklyn Antiquarian Book Fair, and all the independent booksellers and institutional supporters who helped spread the word about this year's prize. Now on to next year!