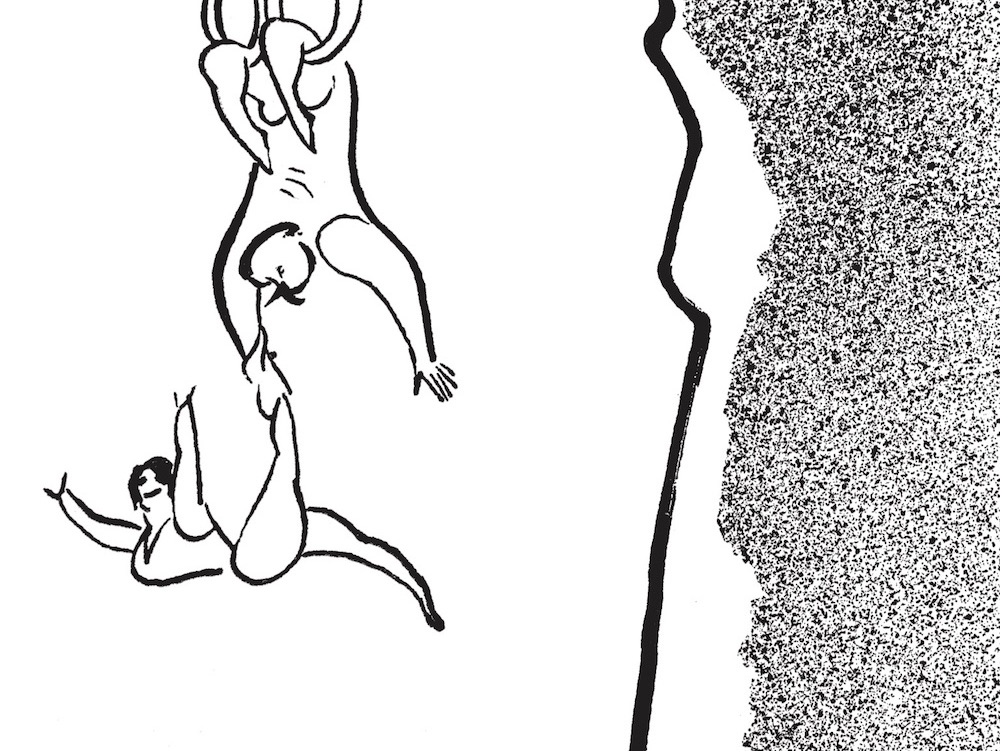 Pretend for a moment that there was a genetic testing kit for the modern graphic novel. The ancestry report would begin with the form's most distant ancestors: prehistoric cave drawings, Sumerian pictograms, Egyptian hieroglyphics, the Bayeux Tapestry, Japanese Buddhist picture scrolls, and Chinese hand scrolls. After that, closer relatives would be listed, like the work of the Swiss artist Rodolphe Töpffer (1799–1846), who is credited as the creator of the first European comics, and the pioneering woodcut novels of the Belgian graphic artist Fran Masereel (1889–1972) and the American Lynd Ward (1905–1995).
Though the maternal line of the graphic novel has yet to be adequately documented, I'd imagine several books by the eminent children's book artists Virginia Lee Burton (1909–1968) and Marie Hall Ets (1895–1984) would be noted. Burton's Calico the Wonder Horse (1942) and Ets's Oley the Sea Monster (1947) acknowledged and built upon the vocabulary of the comic books of their day but with greater sensitivity and subtlety of writing and design.
You would expect to see the work of the family patriarchs in the report—Will Eisner (1917–2015), Harvey Kurtzman (1924–1993), and Art Spiegelman (born 1948)—whose paternity has been widely acknowledged and who have sired many offspring. And these days, what's a genetic report without a few surprises? Beginning in the 1860s, Native American ledger drawings documented the history of the Plains tribes using a picture writing that bears a striking resemblance to many modern graphic novels.
Another surprise would be William Gropper's 1930 graphic novel Alay-Oop.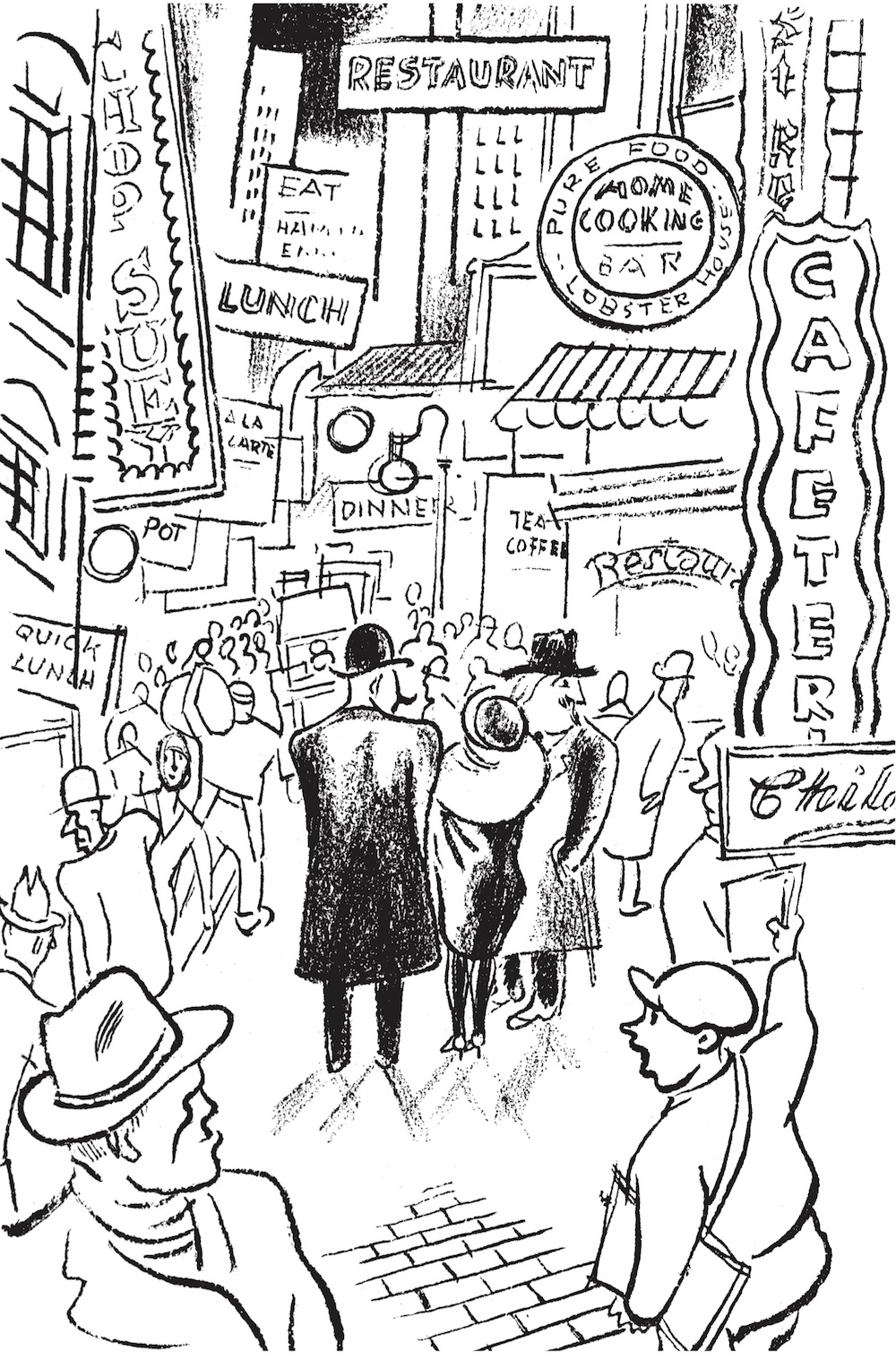 William Victor Gropper (1897–1977) was born on the Lower East Side of New York City, the first of six children. His parents were Jewish immigrants from Romania and Ukraine. His father, Harry, was an intellectual and fluent in eight languages—none of which helped him make a living in America. This responsibility fell to Gropper's mother, Jenny, who did piecemeal sewing work at home. William would schlep bundles of clothes back and forth between the factory and their tenement apartment. According to Gropper, "My mother always seemed to be at the sewing machine … The sweatshop gave us our livelihood but robbed us of our mother."
As a schoolboy, Gropper wanted more than anything to become an artist. He was obsessed with drawing. Chalk, pencils, and sketchpads always filled his pockets. He furtively drew during his math and English classes. Out of school, he sketched harried mothers in tenement houses, drunks in saloons, and pushcart peddlers on the streets. After graduating from grammar school at age twelve, Gropper worked odd jobs to help support his family. At thirteen, when more religiously minded boys were being bar mitzvahed, Gropper began his formal art training at the Ferrer School, named after Francesc Ferrer i Guàrdia, the Spanish educator and freethinker.
At the Ferrer School, Modernist art and radical politics mingled freely. It expanded Gropper's technical knowledge of his craft, while exposing him to a broader social vision. On any given day Theodore Dreiser, William Heywood, or Margaret Sanger might be on hand to lecture or lead discussions. In the art classes, there was no distinction between beginners and accomplished artists, and as a result, Gropper found himself drawing models alongside such esteemed artists as George Bellows, William Glackens, Man Ray, and Stuart Davis. In 1913, the legendary teacher Robert Henri himself brought Gropper to the Armory Show, the startling and widely influential avant-garde exhibition.
In 1917, after a stint at the School of Fine and Applied Arts (now known as Parsons), Gropper got a job as a cartoonist at the New York Tribune. He didn't last long—he was fired after two years as his politics became too radical for his conservative employer. Still only twenty years old, Gropper began freelancing and started coming into his own both artistically and politically. Over the next several years, he contributed cartoons and satirical illustrations to leftist and radical publications like The Rebel Worker, The Liberator, Revolutionary Age, The Dial, the New Masses, and many Yiddish newspapers and magazines. In 1927 Gropper went to Russia with Dreiser and Sinclair Lewis, traveling and sketching as a delegate to the celebrations for the tenth anniversary of the revolution.
After his return, Gropper turned thirty-one and became a father. He had already been married, divorced, and remarried. He was moving away from political cartooning, as painting was now demanding more of his time. To support his growing family, he illustrated more books, including Jim Tully's earthy and unsentimental Circus Parade (1927), whose cover boasts two acrobats suspended in midair. Tully was then one of America's most popular writers, and his gritty portrayal of America's underclass must have appealed to Gropper.
Though Gropper is remembered as primarily a political cartoonist, that reputation may be a bit overstated. According to Gropper's grandson, Craig Gropper, he wasn't all about politics, as one might suspect in reviewing his major works. He was very much interested in American culture, especially anything taking place on a stage or in front of an audience. He loved the circus and vaudeville, and while many of William Gropper's depictions of politicians were grotesque in one way or another, you can see some respect afforded performers in his work. I'm guessing he sized up circus performers and wrestlers as more honest and earnest than congressmen and mayors.
It was around this time that Gropper began working on his first and only graphic novel.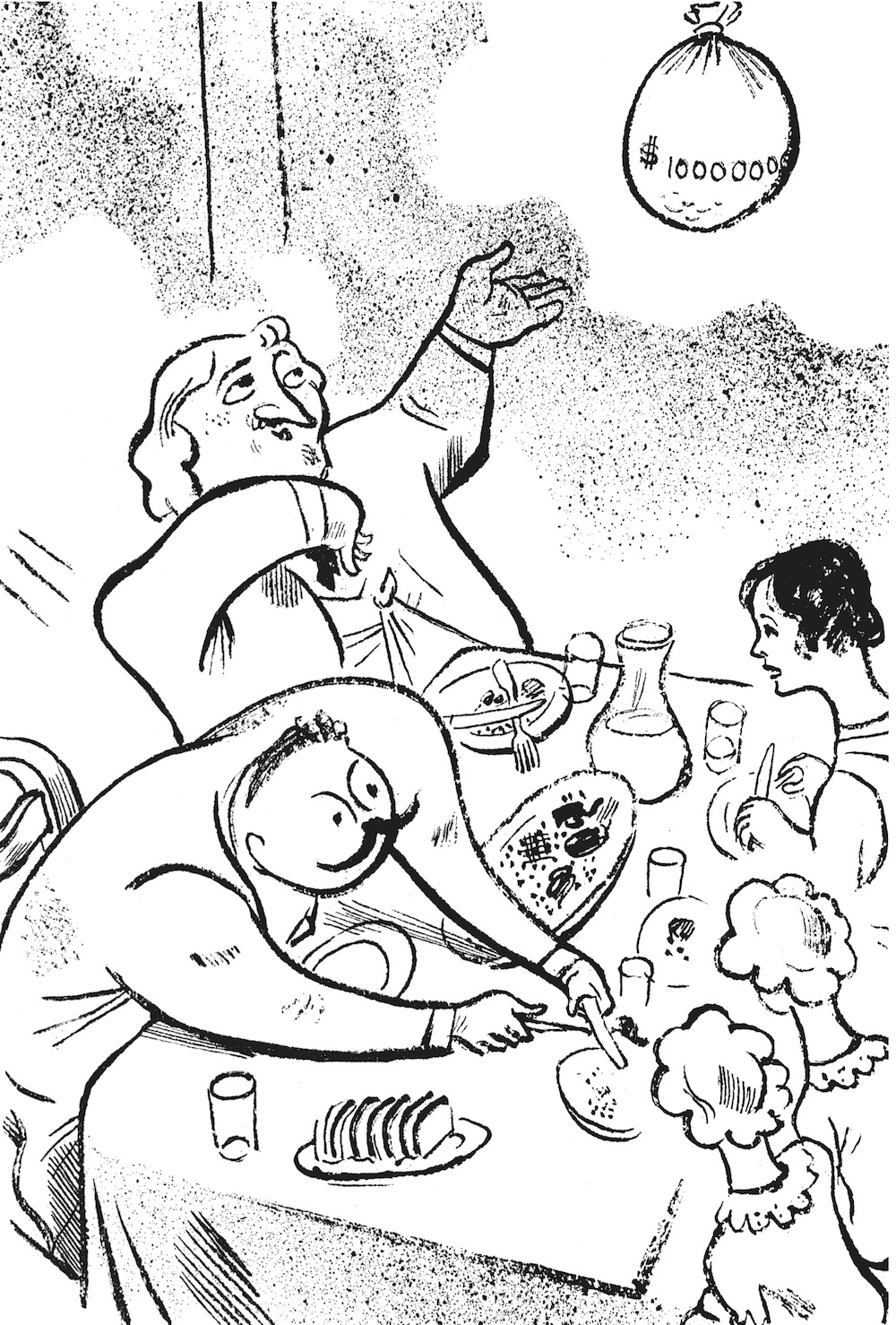 Alay-Oop's most obvious influences are the books of Masereel and Ward, whose format of one wordless image per page spread Gropper adopted. Masereel published more than fifty wordless narratives in his career, most notably Passionate Journey (1919). Ward's best-selling, wordless woodcut novel God's Man (1929) was likely a catalyst for not only Alay-Oop but also Milt Gross's He Done Her Wrong—the book that, at first glance, looks to be Alay-Oop's closest relative.
The two books were published in the same year and were both drawn with a dashed-off vigor that belies their carefully considered design and storytelling. The works of Masereel and Ward, drawn only a few years prior, look like they were made in a medieval monastery centuries ago; Gropper and Gross's books look like they were just drawn at a bustling coffeehouse, the ink still wet. But whereas He Done Her Wrong was intended as a parody of the heavy-handed woodcut novels that wore grandiose themes on their proverbial sleeves, Alay-Oop—despite having a light touch and many comic moments—is not satire.
For starters, though Alay-Oop's three main characters look like they came straight out of central casting, two of them are anything but stock characters. There is little indication of any romantic feelings between the young female lead and her handsome and brawny fellow acrobat. In the book's climatic scene, the male acrobat's proposal appears to be one of business, not marriage.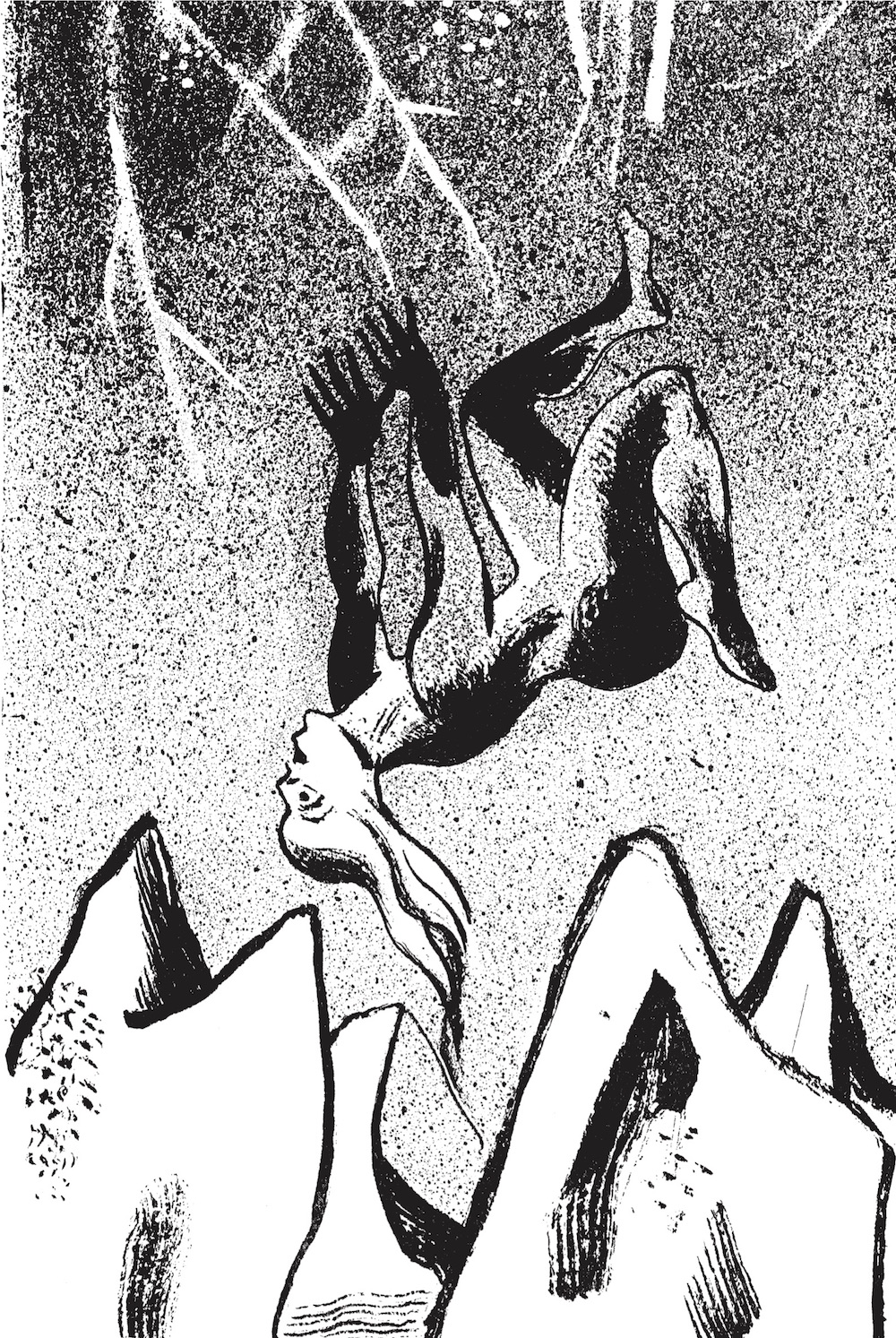 As the book's protagonist, the female acrobat is more than an object of male desire. She is the only character in whom Gropper attempts to reveal a deeper psychological state (through the surreal dream sequence), and as displayed in the ending, she possesses an agency not often found in women in the popular melodramas of the day. I wonder if Gropper's mother, the breadwinner of his childhood, served as an inspiration.
Gropper infuses Alay-Oop with a subtle graphic wit that is harder to find in his political cartoons. Several times throughout the book, when in the throes of love, the shape of a character's body becomes heart-shaped (as do lips in one panel). One of my favorite images in any graphic novel happens right after the "Great Singer" once again promises his wife a grand future—only this time his assurances are no longer credible. He seethes over the course of several pages, until he questions the paternity of his children in a thought bubble superimposing his perceived romantic rival's mustache over the faces of his children. It's such a fun and inventive use of the language of comics.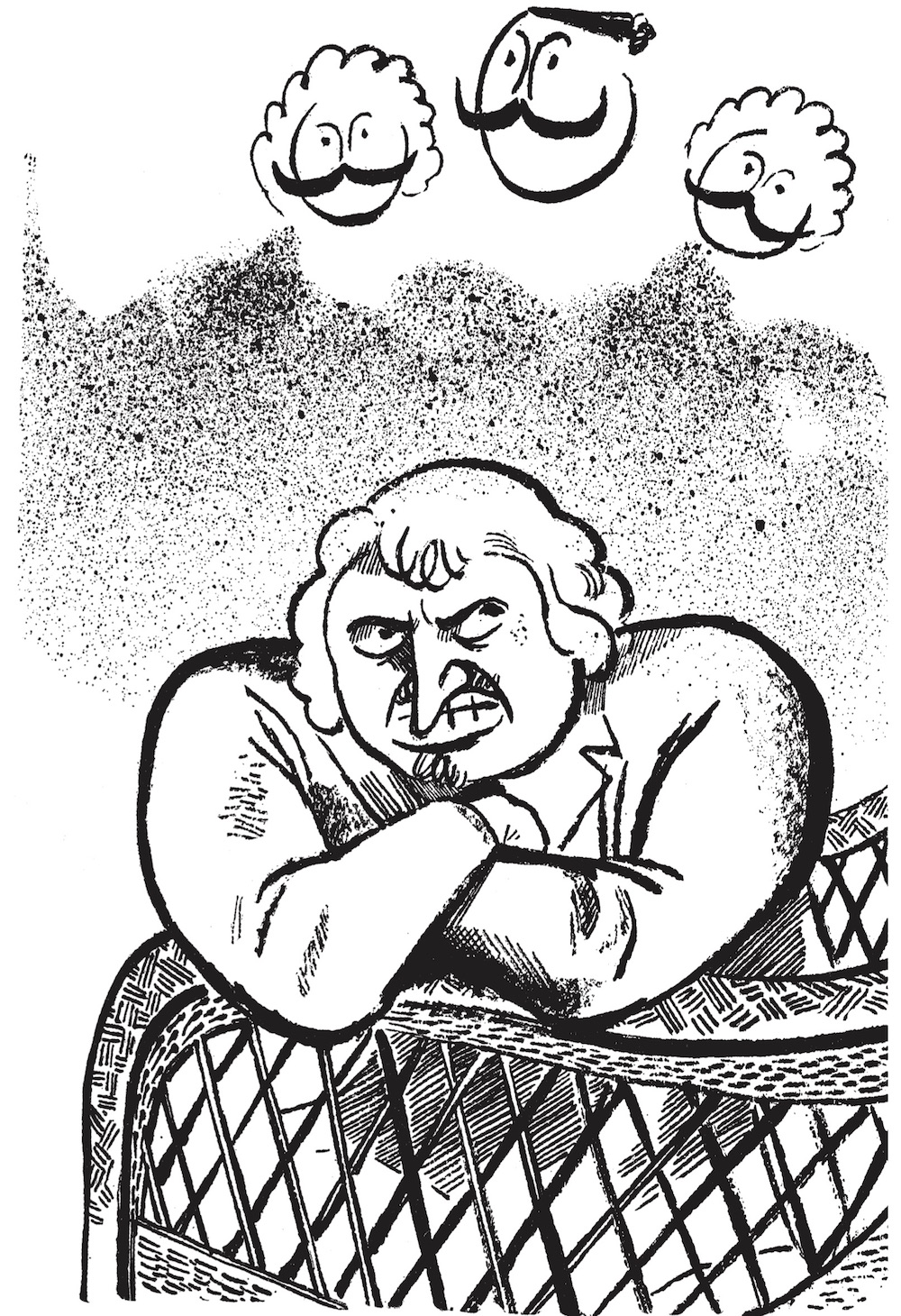 A decade and a half later, another wave of cartoonists led by William Steig and Saul Steinberg started publishing avant-garde work that explored the boundaries of the form. More proto–graphic novels began to see print as well, including Don Freeman's It Shouldn't Happen (1945), Alan Dunn's East of Fifth (1948), and the previously mentioned work of Virginia Lee Burton and Marie Hall Ets. Sadly, Gropper's timing was off. Alay-Oop was published at the beginning of the Great Depression and sold poorly, and by the mid-forties, Gropper had left behind cartooning and focused on painting, where he may have found it easier to depict his politicians, tailors, and laborers not as stereotypes but as archetypes.
As a cartoonist, I wish Gropper had kept at it. For here was an artist in total command of his craft, in the prime of his career, directing his energies toward an art form whose potential was just beginning to be tapped. When I learned of Alay-Oop's existence in 2003, I quickly bought one from a New York City bookseller for a hundred dollars. It was the most I had ever spent on a book, but I had to have it. Part of its appeal was that it was a historical novelty (a graphic novel before the term existed!), but it was far more than that; it told a very human story with style and verve. In any era, that is a rare and beautiful thing.
James Sturm is a cartoonist and the author of The Golem's Mighty Swing, Market Day, and Off Season. He is also the cofounder of the Center for Cartoon Studies and Seattle's alt newsweekly, the Stranger. His writings and illustrations have appeared in The Onion, in the New York Times, on the cover of The New Yorker, and in the pages of several children's books. He lives in Vermont.
From Alay-Oop, by William Gropper. Excerpt and images courtesy of New York Review Comics.