In Valerie Stivers's Eat Your Words series, she cooks up recipes drawn from the works of various writers.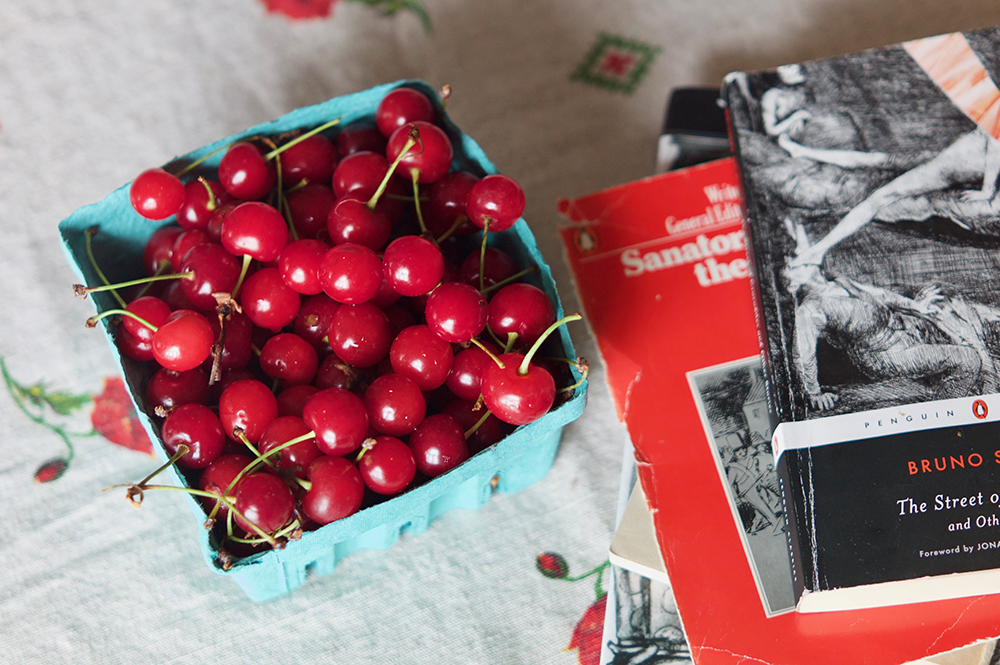 I have unusually clear memories of early childhood, including one about the bright-white lines of a tennis court when I could only just crawl and one about learning to walk. I can recall being so small that the lower confines of the kitchen assumed the grand scale of a castle, the floor textural and crumb-scattered; its landmarks included a drawer of copper jelly molds and another of potatoes with hairy black eyes. As an older child, I had seemingly endless Big Wheel range of our suburban neighborhood, and my memories are of the rooms created by the undersides of shrubbery, of my painstaking collection of wet stones (which all dried disappointingly gray), of the delicate plant "surgeries" I performed on beds of glistening aloe. It seems impossible, but I recall that my thoughts at this age were mostly metaphysical; I would hide along the foundations of our house imagining infinity or seeing how many steps of "I'm thinking about thinking about thinking … " I could grasp. Someone had told me that children forgot early childhood, so I swung in our hammock and tried to imprint the feeling of its abrasive fibers on my skin, for recollection when I got old.
Nothing has ever returned me to that childhood feeling like the work of Bruno Schulz (1892–1942), a Polish Jew born in the Austro-Hungarian Empire who lived his entire life in the provincial village of Drohobych (now part of Ukraine). Schulz was a funny little man, poor and unassuming, who taught art in a boys' school and privately made semierotic drawings of cruel ladies in high-heeled shoes. His literary output was minuscule—two books of short stories in nine years—and his life was tragically cut short by the Holocaust. A devoted biographer, the Polish poet Jerzy Ficowski, may have saved him from obscurity, and admirers such as John Updike and Philip Roth helped introduce Schulz's work to the West.
The admiration could not be more deserved. Schulz is inimitable in both his prose and his metaphysics. (A note on the prose—it's so spectacular it's almost untranslatable, and having read two translations side by side, I much prefer the older Celina Wieniewska to the newer Madeline Levine.) His stories create what Ficowski calls a "Schulzian mythologic," where the events of the writer's life, the people and houses and town around him, the surrounding countryside, the sky, the sun, the groceries from the market, a friend's stamp collection or the Emperor Franz Josef—all of it lifts off like a Chagall painting, is impregnated with new language and unmoored from time. What's revealed is not a flight of fancy but the indwelling qualities of everything.
"August," the first story in Schulz's The Street of Crocodiles (1933), starts with the narrator, his mother, and his elder brother falling "prey to the blinding white heat of the summer days." Metaphors for nature rarely remain natural in Schulz, and he continues, "Dizzy with light, we dipped into that enormous book of holidays, its pages blazing with sunshine and scented with the sweet melting pulp of golden pears." To me, the image recognition is profound; my childhood summers felt just like the sun on the pages of a book too bright to read, the meaning thrilling but just beyond my grasp. Or, as Ficowski says, the effect of this writing is "the formulation of the elusive sensual contents of my childhood" and "the intensification of the taste of existence."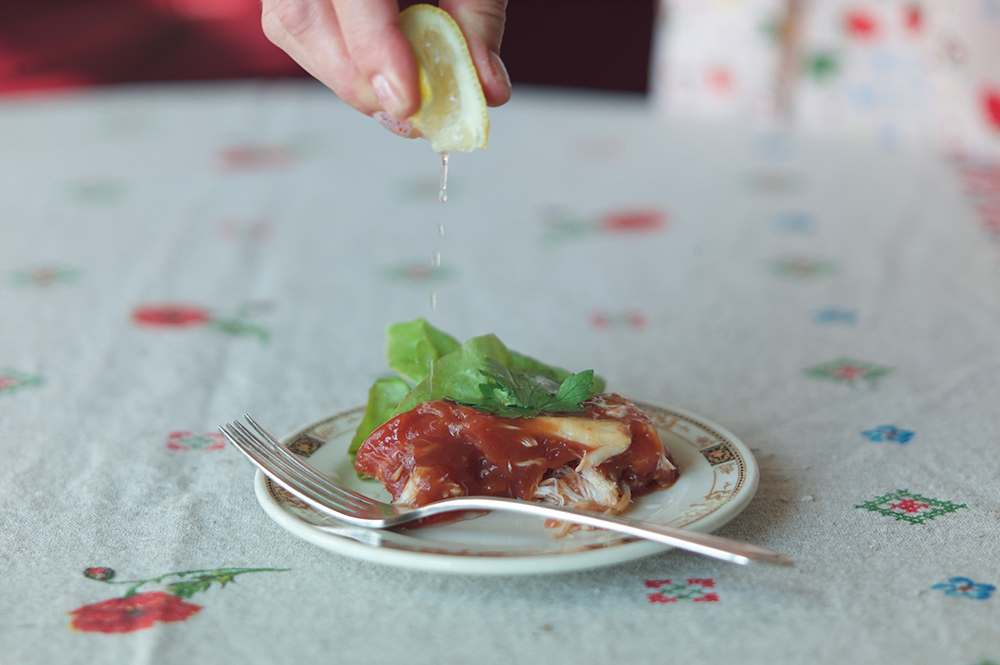 None of this makes Schulz a sensualist—rather the opposite, in fact. The currents of femininity, sexuality, and culinary appetite that run through his work are a skewed version of the electric, linguistic buzz beneath the skin of the world—but a threatening one. Most food in the stories is prepared by the alluring young maid Adela, whose domestic powers oppose the esoteric, meaning-creating structures imposed by the father. Just cleaning the house, Adela is described as "a furious maenad" who, "protected by the whirlwind of her thyrsus, danced the dance of destruction." Later in "August," the story quoted above, Schulz describes Adela as returning from the market "like Pomona emerging from the flames of day, spilling from her basket the colorful beauty of the sun—the shiny pink cherries full of juice under their transparent skins, the mysterious black morellos that smelled so much better than they tasted, apricots in whose golden pulp lay the core of long afternoons." Adela and her apricots lift off into the universal.
Another way to put it is that Schulz thought the world needed "less matter, more form," as one character says, with the implication that matter, like time, is an unreliable, "undisciplined element" that "holds itself within bounds but precariously, thanks to unceasing cultivation." These aren't ideas that lend themselves easily to a cooking project—food is as "matter" as it gets and usually at its best when it's not mythical. But I could neither cook from Bruno nor leave him be; his transmutations were too tempting, and most of the specific dishes he mentions are a type of Polish peasant food that's very close to the Russian Ukrainian cuisine I specialize in.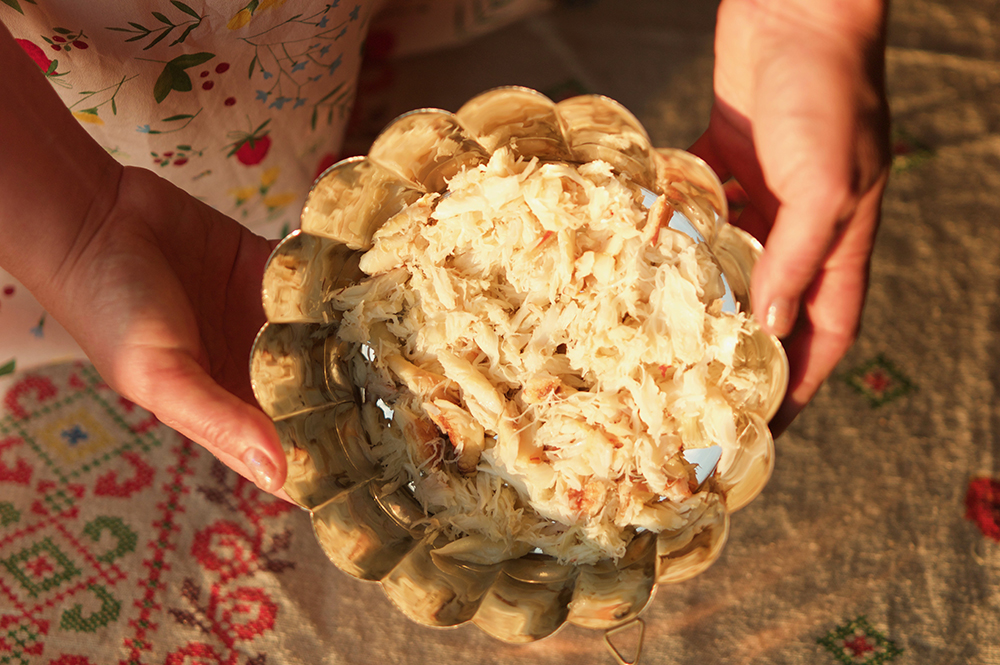 This menu was complicated, requiring tedious cherry pitting, nervous yeast proofing, fiddly rolling of jam-smeared dough triangles, frightening handling of a crab, and high-stakes overnight jelling. But I thought the level of craft befitted Schulz's extraordinary prose. I happened to have an obscure Ukrainian cookbook with a recipe for the kind of crescent rolls mentioned in one of Schulz's most disturbing stories, "The Old Age Pensioner." And I had recently made an intriguing, nonsweet yeast-dough cake from another Ukrainian cookbook that called for the kind of cherries I suspect Schulz means when he describes Adela's market shopping in "August." I wanted to try the cake again in a new form, but furthermore, baked goods seem an appropriate choice for Schulz, in whose writing they often have the ominous allure of the feminine. One narrator, eating doughnuts, says, "Surrounded by the dancing arabesques of dusk, I devoured pastries one after another, feeling darkness creep under my eyelids and stealthily fill me with its warm pulsations, its thousand delicate touches."
The most distinctive dish in Schulz is from the story "Father's Last Escape," when the father turns into "a crab or a large scorpion," one of his many significant transformations throughout Schulz's oeuvre. The crab lives with the family for some time until the mother performs the "unbelievable deed" of boiling him and serving him on a plate, "pale gray and jellified." "Had she thought that Father would be better off?" the narrator wonders. "Or did she do it out of inconceivable thoughtlessness and frivolity? Fate has a thousand wiles when it chooses to impose on us its incomprehensible whims." The family places the boiled crab in the sitting room under a velvet cloth, but after several weeks, even more mysteriously, Father "somehow rallied and seemed to be slowly recovering." One morning, the family finds "the plate empty. One leg lay on the edge of the dish, in some congealed tomato sauce and aspic that bore the traces of his escape … With his remaining strength he had dragged himself somewhere to begin a homeless wandering, and we never saw him again."
For that dish, I returned to the copper jelly molds of my childhood and made a crab-tomato aspic. I bought a whole Dungeness crab (precooked for me by Whole Foods) and cleaned and broke him apart to pick the meat myself, a process I expected to be intimidating but actually found filled me with affection for "Father" and made it even more of a pleasure to eat him. (Schulz might find my attitude typical of the destructive feminine, but so be it.)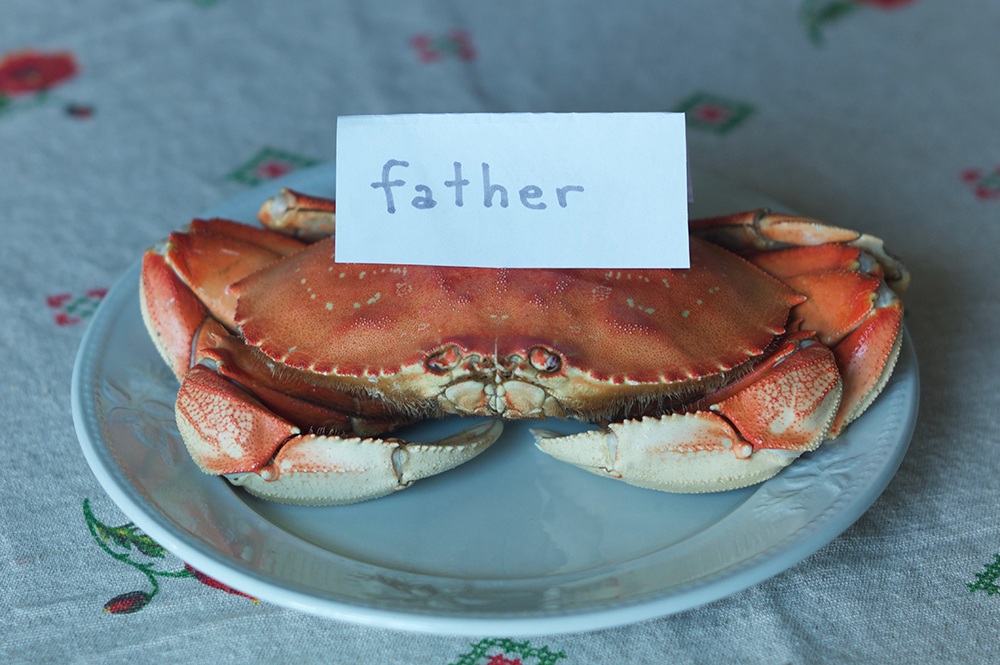 The finished dishes were good, but I'd iterate on all of them. Peasant dishes need to be done hundreds of times before they take on the shape of the maker's hand and transcend. Next time, I'd make my own jam for the crescents and use pears (sweet melting pulp) or apricots (cores of long afternoons) instead of store-bought raspberry. The cherry cake recipe called for a filling of sugared cherries to be encased between two ten-inch rounds of rolled-out yeast dough. The recipe for the dough is perfection, but the cookbook, in a questionable English translation from the Ukrainian, did not provide assembly instructions. My first experiment was oddly shaped, so for Bruno Schulz, I opted for a single ten-inch round, made into something like a free-form galette. In the end, I decided I missed the extra dough (the recipe below is for the galette; apologies). For future crab-tomato aspics, I'd buy and boil a live crab, make proper consommé instead of using tomato juice, and experiment with the quantity of gelatin. I'd also like to do some layering so at least part of the jelly is clear, the way aspics were when I first started seeing them in Russia. I'd love to perfect the dish—serving "Father" in his most beautiful "jellified" form seems like a show-stopping goal for a summer table, and certainly something that would create vivid, unforgettable memories for any children expected to eat him.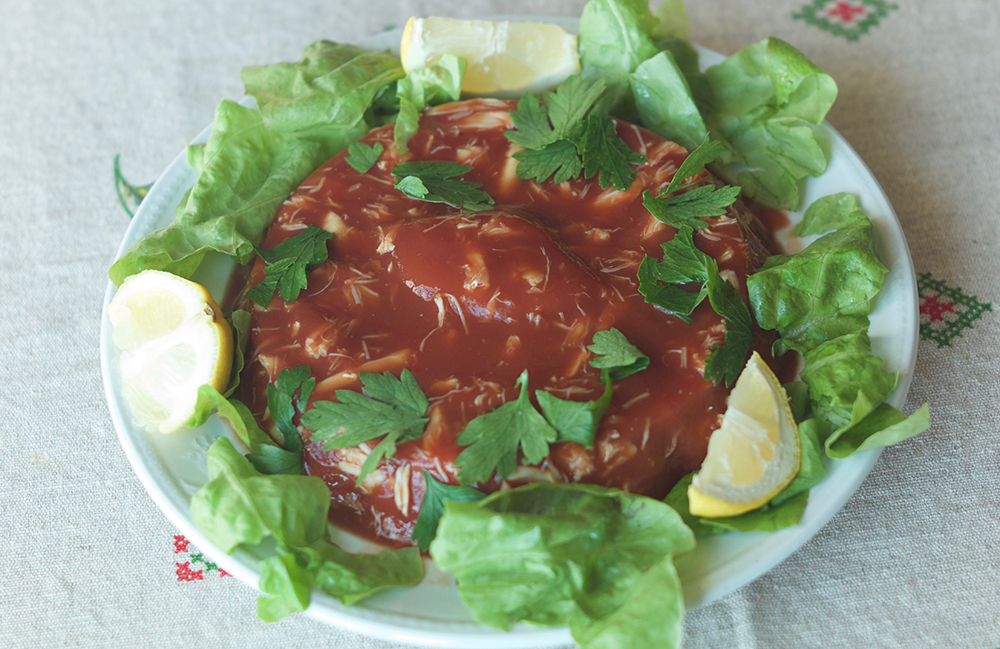 Crab-Tomato Aspic
Adapted from Serious Eats. This dish requires a crab-themed copper mold.
3 cups tomato juice
4 scallions, chopped
a stalk of celery, chopped
a small branch fresh tarragon
3 tbs lemon juice
salt
6 black peppercorns
a bay leaf
2 envelopes unflavored gelatin
1 tbs sherry
a Dungeness crab, precooked and cleaned according to these instructions
parsley (to garnish)
lemon wedges (to garnish)
lettuce (to garnish)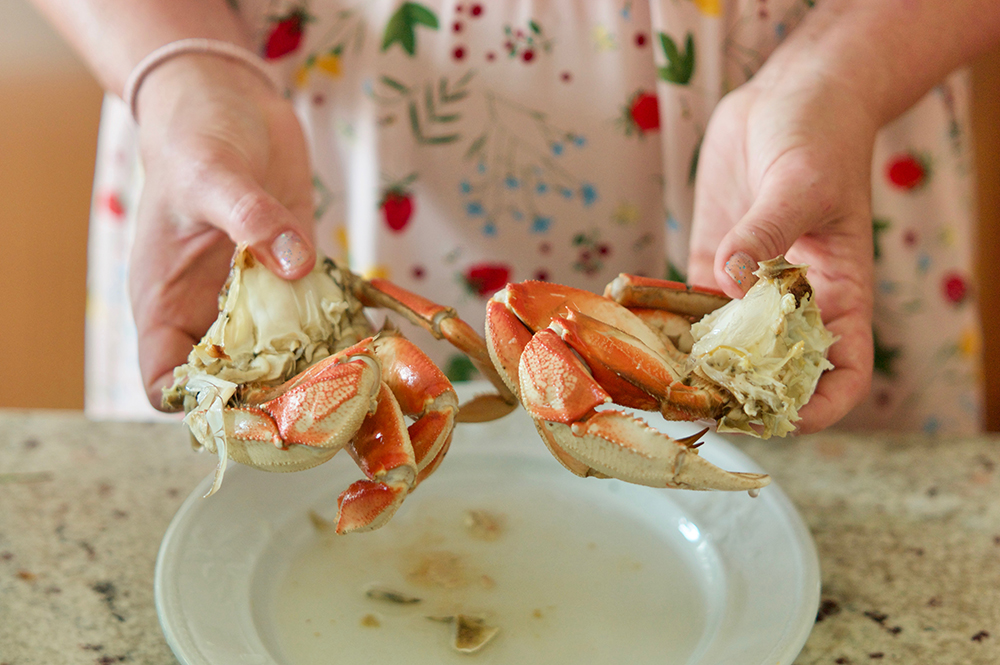 Put the tomato juice, scallions, celery, tarragon, two tablespoons of the lemon juice, one teaspoon of salt, peppercorns, and bay leaf into a saucepan, and simmer for twenty minutes, until thickened.
Put half a cup of cold water in a medium bowl, and sprinkle with the gelatin. When the gelatin has softened and swollen, about five minutes, strain the hot tomato juice into the bowl with the gelatin, and stir until the gelatin has completely dissolved.
Add the sherry, the remaining tablespoon of lemon juice, and salt (to taste). Stir well.
Line the bottom of a crab-themed copper mold with the crab meat. (One crab should yield roughly one heaping cup.) Pour the tomato mixture over it, cover with plastic wrap, and refrigerate to set, for several hours or overnight.
To unmold the dish, invert the mold onto a plate, and wrap in a hot, moistened dish towel. Serve garnished with parsley, lemon wedges, and lettuce leaves.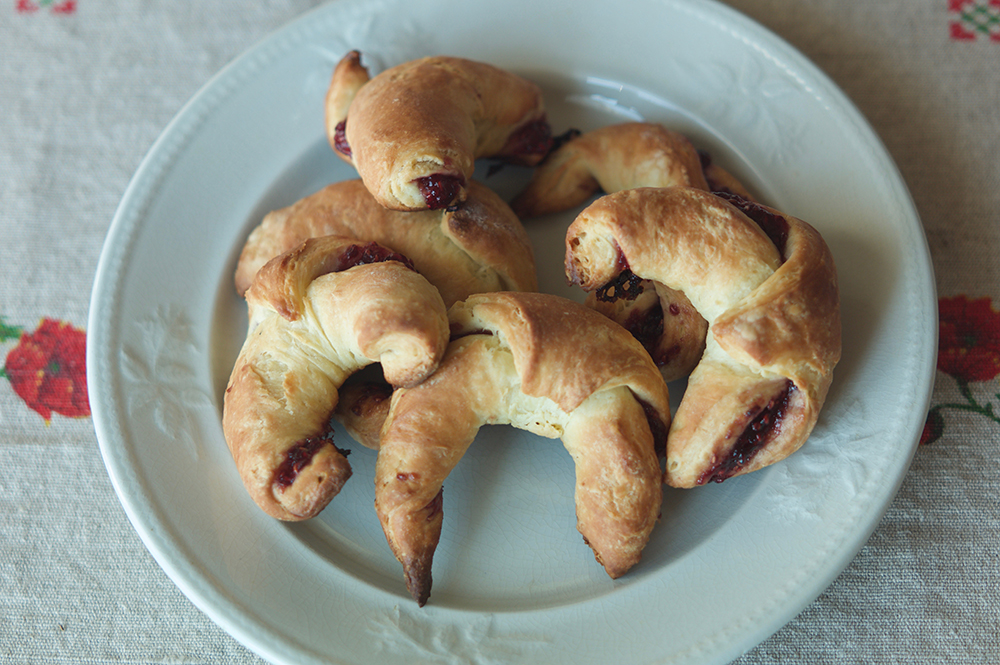 Ukrainian Crescents
Adapted from Festive Ukrainian Cooking, by Marta Pisetska Farley.
an envelope of yeast
1/4 cup lukewarm milk
2 tsp sugar
2 1/2 cups flour
1/4 cup sugar
1/2 cup butter, cold
2 large eggs
1/2 cup sour cream
2 tsp lemon juice
zest of 1/2 lemon
jam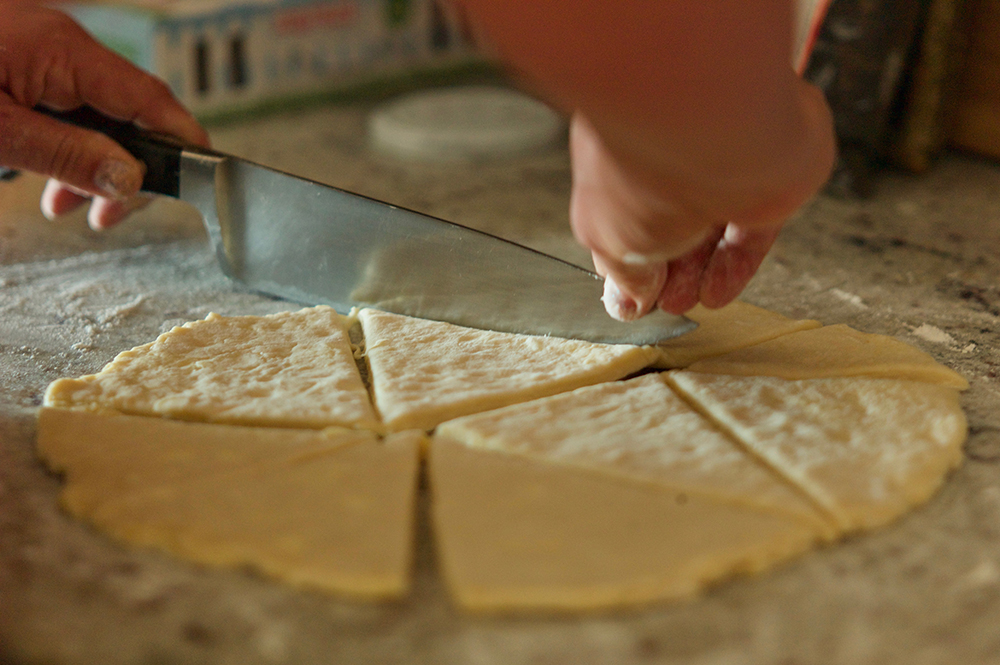 To make the dough:
In a small bowl, sprinkle yeast on milk, stir in the two teaspoons of sugar, and set aside until the yeast has foamed.
In a medium bowl, combine flour and sugar. Cut in the cold butter with a pastry cutter. Set aside in the refrigerator.
In a medium bowl, beat the eggs until frothy and combined. Add the sour cream, lemon juice, and lemon zest.
Remove the flour mixture from the refrigerator, and add the egg mixture and the yeast mixture. Stir with the handle of a wooden spoon until a soft ball of dough forms. Cover with plastic wrap, and refrigerate for an hour or two (until the dough has doubled in bulk) or overnight.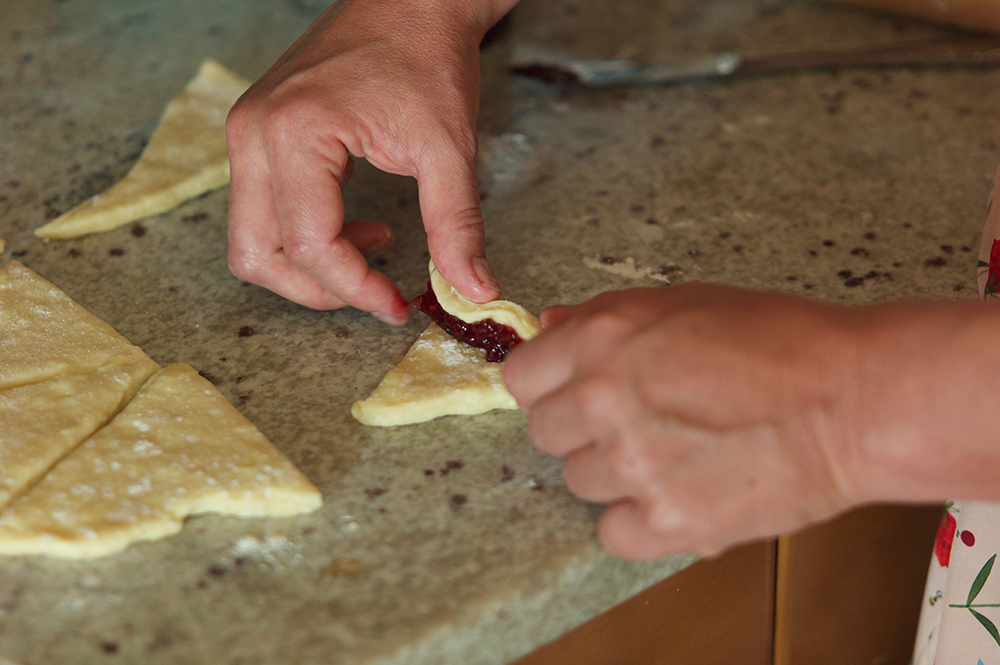 To assemble:
Preheat the oven to 350.
Divide the dough in half, and roll out to make an oblong three-eighths of an inch thick. Cut the oblong into triangles (you should have enough dough for six to eight triangles). Spread a little bit of jam onto the long side of the triangle, then roll toward the short end. Place on a greased or nonstick baking sheet, and shape into a crescent. Repeat with the other half of the dough.
Bake for twenty minutes, or until golden on top and crisp on the bottom.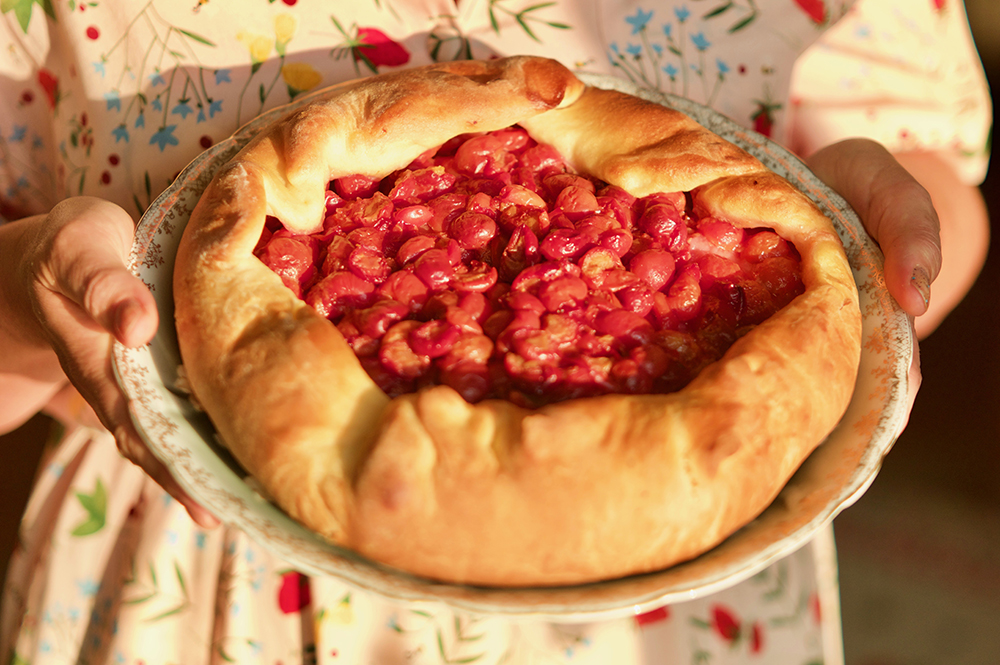 Cherry Cake
Adapted from The Best of Ukrainian Cuisine, by Bohdan Zahny.
2 tsp yeast
1/2 cup milk
2 tsp sugar
an egg
an egg yolk
2 tsp powdered sugar
1/2 tsp vanilla
1 1/2 cups flour
5 tbs salted butter, melted
2 lbs ripe sour cherries, cleaned and pitted
2 tbs cornstarch
1 cup sugar
1/4 tsp cinnamon
To make the dough:
Dissolve the yeast in half a cup of warm milk. Add two teaspoons of sugar, mix, and set aside in a warm place until frothy.
In a medium bowl, combine the egg and egg yolk with sugar and vanilla. Beat until frothy. Add the melted butter, yeast mixture, and salt.
Constantly stirring with the handle of a wooden spoon, add the flour until dough forms a shaggy, wet mass. Dust your hands and the countertop with flour, and knead, adding more flour as necessary (but as little as possible), until the dough no longer sticks to the countertop, about ten minutes. Set aside to rise until doubled in bulk, about an hour or two.
In the meantime, mix together the cherries, cornstarch, sugar, and cinnamon to make the filling.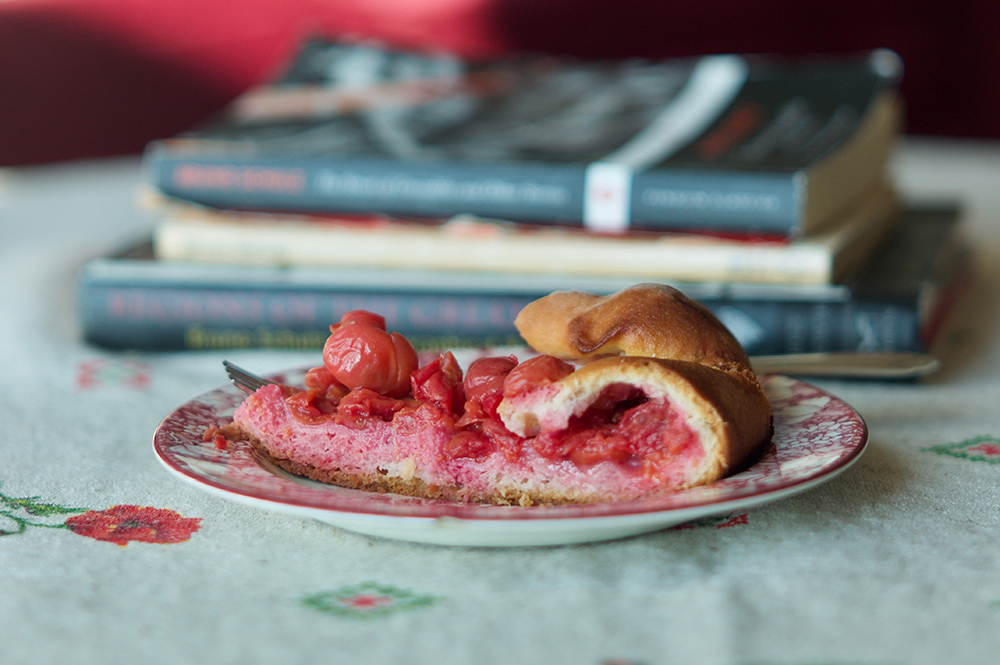 To assemble:
Preheat the oven to 375.
Roll out the dough in a circle until it's half an inch thick. Place on a greased or nonstick baking sheet. Scoop the filling into a pile in the middle of the dough, leaving as much liquid as possible in the bowl and about four inches of dough free around the edges. Fold the dough up over the filling in a rustic manner, and bake for thirty to forty minutes, until the filling is bubbling and the dough is cooked through. Cover with tinfoil after twenty minutes if necessary, so the dough does not overbrown. Serve warm.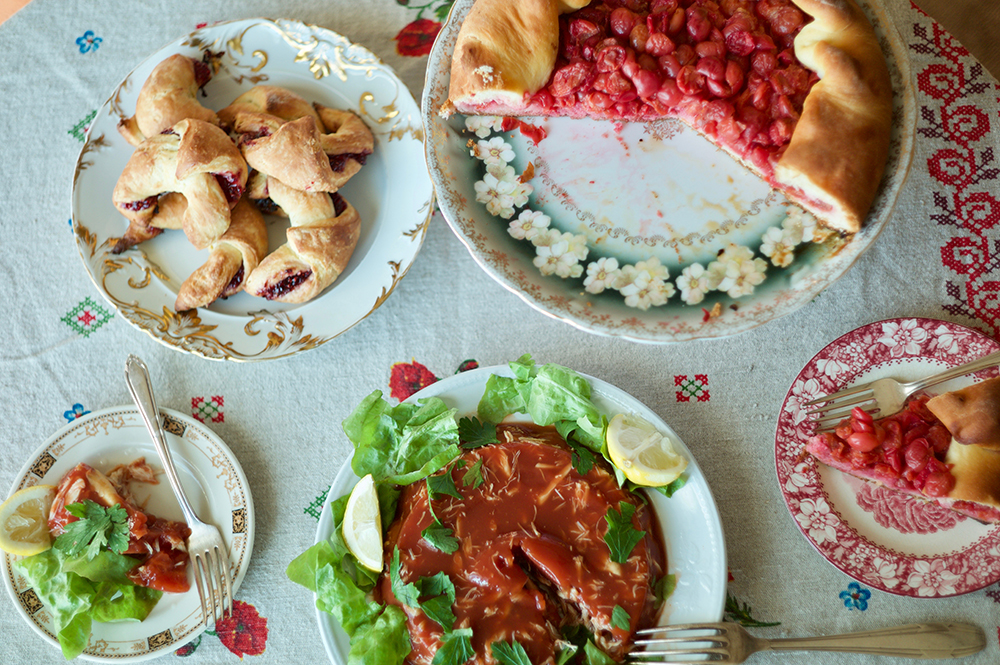 Valerie Stivers is a writer based in New York. Read earlier installments of Eat Your Words.