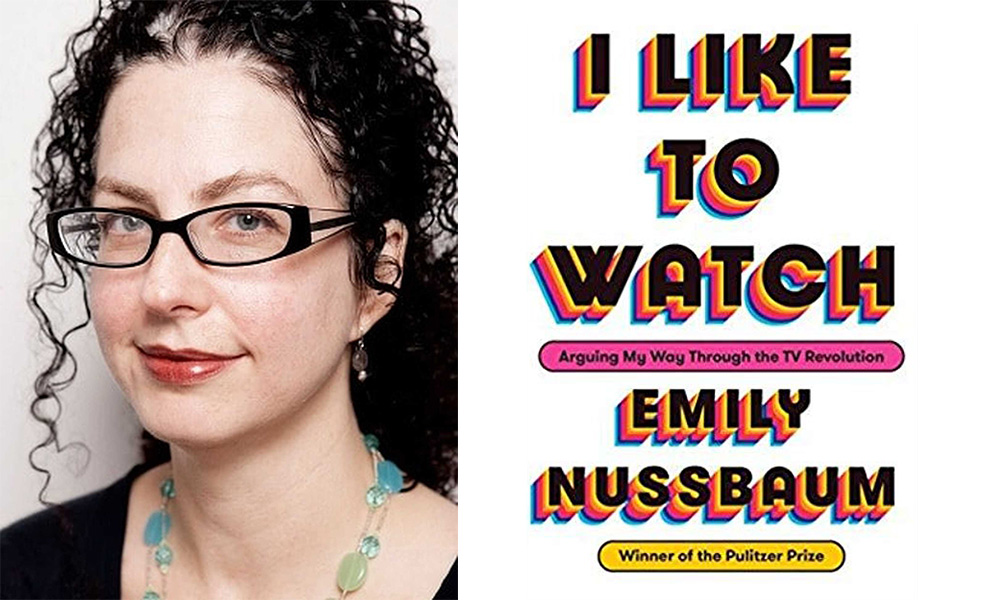 Emily Nussbaum has always been an engaging thinker, from her creation of The Approval Matrix for New York Magazine to her truly thoughtful television criticism for The New Yorker. After twenty years of writing about television, Nussbaum remains curious about the ways in which it's shifting, and how that impacts our culture. Her criticism often places each show in historical context, and considers what it is bringing to us that is new or different. At times in defiance of popular opinion, she will find new prisms through which to appreciate unpopular shows, or make trenchant critiques of beloved but pretentious ones. This ability won her the Pulitzer Prize for Criticism in 2016, and it's what makes her new book, I Like to Watch: Arguing My Way through the TV Revolution, so singular and captivating. We spoke by phone about Netflix, the legacy of The Sopranos, and how she manages to stay interested in TV.
INTERVIEWER
You were in a doctoral program, and then found your way to television criticism. Did you finish the doctorate?
NUSSBAUM
No, I did not. One of the things that I write about in the book is how when I was in graduate school, I watched Buffy and my incendiary fandom sparked a kind of intellectual change in me, and a deep interest in television as a medium. I think that a lot of TV critics have that kind of conversion story. I happened to start getting interested in television right around a moment that TV was changing. There was already an enormous and rich conversation going on about television critically online. There's really no way to separate the changes in television from changes in technology. I think this is true of a lot of artistic mediums, but it's strikingly true of TV that the explosion of the internet, and the subsequent radical changes in the way TV was created and distributed, altered what it was capable of, and changed the way people talked about it. In the late nineties and early aughts, I was writing on anonymous discussion boards, and it was a model of criticism that was more about joyful debate and conversation, not about opinions from on high. That's still very much a model for me.
INTERVIEWER
How has television criticism changed over time?
INTERVIEWER
It's changed significantly. Around the time that I watched Buffy, The Sopranos was considered the greatest show on television. I absolutely love The Sopranos, and I have a piece in the book about it that I'm very proud of. However, I was really struck by the difference in critical reception to the two shows. It's not that I didn't think The Sopranos should get praise, but there was this top-ten-list approach that was not merely about The Sopranos being a great television show, but about it not being a television show at all. Being better than television as a medium. Being more like a movie or book. I think a lot of this had to do with the status anxiety that TV had as a medium and industry. I was very passionate about Buffy, which is also a very ambitious, powerful, and interesting show. But there's nobody who would describe Buffy as being like a novel or movie. So I basically went around having arguments with people about the fact that they should really be watching it. In the process, I developed this sense of wanting to talk about TV as TV, as worth celebrating in itself. When I started writing about the subject, TV was considered a junk medium that had to prove its worth. As I've been writing about it, it's drifted closer and closer to the center of the culture.
INTERVIEWER
Do you think the way that Gen Z takes in content, and the ways in which their attention spans seem so limited, will impact the way TV is produced in the future?
NUSSBAUM
I'm conscious of generational generalizations, so I don't speculate. I can say that I'm extremely interested in what younger people find powerful in television and online, and the two are related. I feel like I keep waiting for there to be a version of TV online that takes all sorts of risks, but most of the time I find it pretty disappointing. One big one that broke through for me was High Maintenance on Vimeo. The episodes were just eight or ten minutes, and it was amazing! It did all these things that TV, historically, hadn't been capable of. One of them was the different lengths. One of them was the silence. One of them was the deep focus on montages and simple indie movie camerawork. When I got into TV, one of the things that appealed to me about it was that it was a writer's medium. Economically, it didn't support a lot of ambitious visual stuff. That's no longer true, and it hasn't been true for a long time. High Maintenance was a whole other thing because it was a beautifully poetic anthology series back when there weren't a lot of anthology series, and things like that—strange shows that change what TV is capable of—are interesting to me. One of the things this book is about is expanding the conversation around television past the handful of shows that are continually acclaimed, which are often pricey cable dramas that are gritty, solemn, masculine, and maybe violent. Part of what I'm trying to do in the book is talk about shows, like Jane the Virgin, that are beautiful, ambitious, and wonderful, but are in a category that people have been trained to condescend to.
INTERVIEWER
We were talking before about the way in which TV has shifted in general, and especially with these platforms. How has what we are willing to celebrate and take seriously shifted?
NUSSBAUM
I think there has been significant improvement in what stories and whose stories get told on TV. There have been real changes in terms of certain biases—the way people overvalue drama above comedy, and look down on anything they consider a guilty pleasure. I've written numerous times about the problem of there being just one show that represents any set of people. That was a big problem when Girls came out, because people were pretty ravenous for a show by a young woman, but when there was only one show by a young woman, that show felt tapped to represent all women. That's a burden that no art can bear. It's also true to a certain extent of Scandal. It's the one show with a black heroine in a network drama in numerous years. That puts a huge burden on that show not to be weird, not to be strange, but to be affirmative and to represent everybody. In the years since those two shows have come out, that's no longer true. There's a much wider variety of shows. I do still run into people who have that kind of status anxiety about what's actually proper, adult dinner conversation, versus what's garbage that they should feel ashamed of because they enjoy it. So, yes, things have changed, but not entirely.
INTERVIEWER
I wanted to ask you about jokes. Comedians have claimed on podcasts that Trump ran his campaign like a boomer comic, but you hone in on how he weaponized his bitterness to win voters and do damage. Culturally speaking, do we not take jokes and their power seriously enough?
NUSSBAUM
It's very difficult, because as I describe in my essay on the subject, there's the finger-trap problem, where if you react to a joke, then the joke is on you. I'm really trying to address this weird catch-22 where jokes end up being the most powerful weapon because they're incredibly engaging, but also because their glimmer lies in the truth. So, do we not take jokes seriously enough? I mean, in one sense, yes, because they're very important. In another sense, I don't know how you do it. Part of the thing that I ask in that piece is, how do you approach something that's just a joke? That's been the consistent mode of Trumpism, but especially of the alt-right. There's this scenario in which it's constantly the radical, freewheeling, often masculine joker against the pearl-clutching, uptight prude who doesn't get it and can't go with it. It's a pretty powerful tool. You know, it's weird because that essay was essentially my salvation during the period right after the election when I was like, Why am I writing arts criticism? Writing that was helpful to me, because it made me feel like I had the ability to say something thoughtful about a circumstance that is almost apocalyptically depressing. The other thing about that piece is that I don't have a solution. It's kind of mournful, because it's about my own naivete, and my sense that comedy, which I find liberating, is being used as a fascist tool.
INTERVIEWER
To speak a little more directly about Trump, we now have a president whose fame and persona were established through a reality TV show. What does that say about our relationship to television as a culture?
NUSSBAUM
Donald Trump is my worst nightmare. He watches completely different television than I do. [laughs] I don't think he's ever watched a scripted show. James Poniewozik, who's the wonderful television critic for the Times, is coming out with a great book called Audience of One, that is specifically about Donald Trump's relationship with TV. I very much agree with the central premise of it, which is that Donald Trump himself kind of represents the medium of television. He's basically the worst version of television. It's not just the shows he watches, or the fact that he became a TV star because Mark Burnett specifically built Trump's brand on The Apprentice, convincing people that anything else was just a performance and that he was a successful businessman. It's also that all of Trump's values are the old-school values of TV in its first few decades, and the reason people found it repellent. Which is to say, he believes that only ratings and money count, and that everything is about numbers, math, and being liked. I originally found this confusing and baffling about him, and then, to my horror, I was like, No. Of course he's right. This was the essential problem of TV for years, there was no distinction between popularity and the value of something. I wrote about The Apprentice, and then Patrick Radden Keefe wrote this amazing piece for The New Yorker about Mark Burnett. You know, what can I say? Trump was elected, in my mind, because of basically two things—Mark Burnett and Ivanka Trump. I feel like those are the two factors that made his brand acceptable enough for people to vote for him. I went to a panel at the Museum of Television and Radio for The Apprentice, and it's fascinating, because Burnett was totally polished and literally articulated Trump's appeal, his brand. He said, "He's going to make America great again." Meanwhile, Donald Trump on that panel was just Donald Trump. He was whining, kvetching about minor disputes and annoyances he has, and how much he just wants to win Emmys. It's crazy.
INTERVIEWER
To pivot a bit, I wanted to ask about the profiles in your book—Kenya Barris, Jenji Kohan, and Ryan Murphy. Those subjects couldn't be more different from one another, yet they are all iconoclastic showrunners. What attracts you to underdog stories?
NUSSBAUM
I do agree that they have differences, but I don't think that they couldn't be more different from one another. They're very interested in stylization, formula, mass audiences, and especially in incorporating voices that have been excluded from TV, whether that's women, people of color, or queer voices. So, personality-wise they're pretty different, but I think that they form a social chord in terms of the changes in TV over the past few years. I think this is true especially in terms of the influx of new stories, new subjects, and new ways of telling those stories. And, straight up, they're all influenced by Norman Lear. The same mode that led Lear to create Archie Bunker is the mode Jenji Kohan has about a certain kind of rudeness on TV, and bluntness about politics in comedy. Writing profiles is a long, difficult process. It's emotionally difficult to hang out, and report. There's an artificiality and complexity to becoming close to someone and observing them. I hadn't done it in a few years, and I wanted to. Lucky for me, the first profile I pitched was of Kenya Barris. The project he was doing, Black-ish, seemed fascinating to me. It was an interesting moment for ABC. It was an interesting moment for the discussion of racial diversity in TV. He hadn't received a lot of wide coverage. All of the people I wrote about are people who had a chip on their shoulder, about television and, to one extent or another, about the way their work has been received.
INTERVIEWER
I wanted to end with David Chase, who we talked a bit about up front. The first three essays in the collection are bridged by him. Do you think The Sopranos marked a turning point in the history of television, and do you think we're still trying to unpack how revelatory it was?
NUSSBAUM
I would really love to have the chance to rewatch that show. I've never met David Chase. My piece, rather inappropriately, starts out by directly addressing him. I don't think I would do that now. Nonetheless, that piece is about the highly personal relationship that people who are fans of shows have with the creators of shows. In that case, I presumptuously, but I don't think inaccurately, pinpoint one of the things that David Chase did with that show that made it different from other TV shows, which is that he reacted against viewer worship of Tony. His reaction improved the show, or at least made the show into a more challenging, original, morally complicated text that I think has enormous lasting meaning. For all my griping about how The Sopranos hogged all the TV attention and left this frustrating legacy of copycat antihero shows about towering, charismatic, middle-age guys, I do think the show itself actually earned the attention. As an actual show, it pushed back, scared, alienated, disgusted, threatened, and challenged the audience as much as it entertained them, which is something that TV historically was said to be incapable of doing. For me personally, it made me aware of how TV works in a loop with viewer response. That's been an extremely significant idea for me throughout my career. It's the thing that makes TV different from other art forms.
Eric Farwell is a freelance writer who has contributed to GQ, Vulture, Vanity Fair, The New Yorker, McSweeney's, The Believer, Esquire, Ploughshares, Tin House, and The Poetry Foundation. He teaches at Monmouth University and Ocean County College in New Jersey.