In Valerie Stivers's Eat Your Words series, she cooks up recipes drawn from the works of various writers.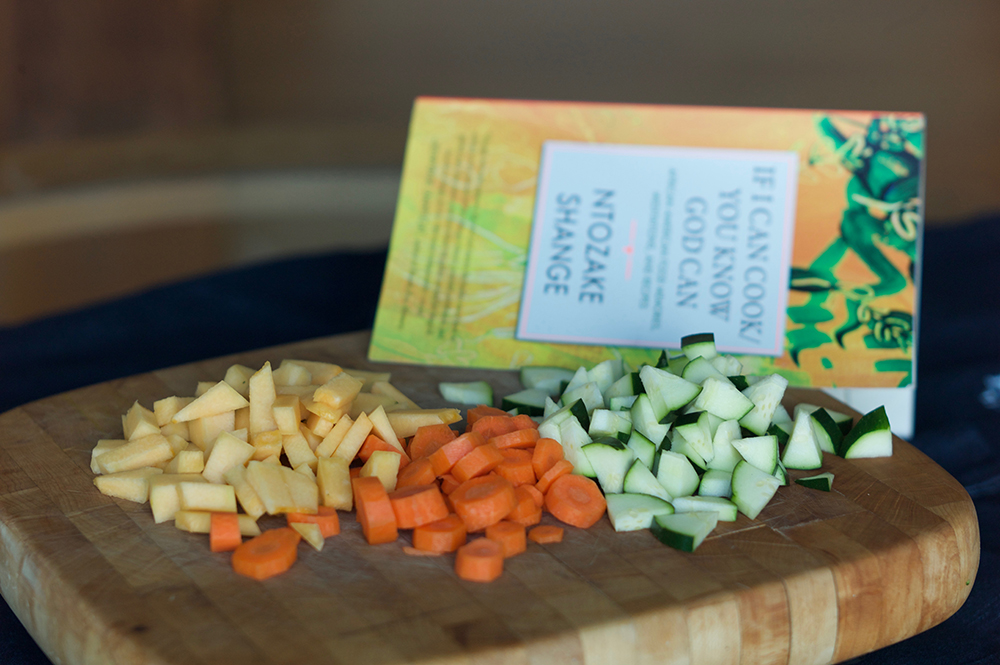 Ntozake Shange (1948–2018) is one of those writers who just don't want to stay on the page. The book that made her famous was not a book, really, but a "choreopoem": the now legendary For Colored Girls Who Have Considered Suicide / When the Rainbow Is Enuf, which was first performed at a women's bar outside Berkeley, California, in 1974, before it traveled to New York City and eventually ran at the Public Theater and on Broadway. Shange wrote poetry, most of which was refined in the presence of a band, and novels, including Sassafrass, Cypress, and Indigo, which bursts with idiosyncratic spelling and punctuation, healing rituals, recipes, and gemstone lore. In its overall effect, her work feels less like something to be read than something to be experienced.
This was a deliberate strategy of black American resistance, Shange tells us in her 2011 book of essays, Lost in Language and Sound. As a child of the seventies, Shange was, in her own words, an Afrocentrist, who adopted a Pan-African identity to the extent that she uses "we" in essays on places as disparate as Cuba, Haiti, and Brazil. "My house, my neighborhood, my soul," she writes, "was immersed as far as I can recall in the accents of Togo, Liberia, Trinidad, Costa Rica, Chicago, Lagos, New Orleans, Bombay, and Cape Town, not to minimize in any way drawls of the Mississippi, clipped consonants from Arkansas, or soprano-like chisme (gossip) of Kansas City." Due to the cross-cultural riches of the diaspora and because "most black people have some music and movement in our lives," Shange posited an "independently created afro-American aesthetic" that was essentially multidisciplinary. She refused limitations, hated plays that were just dialogue without music and dance, and rejected English as the speech of the slavers and "the language I waz taught to hate myself in." After all, For Colored Girls more than just a work of art, it was a spell or a ritual or a promise of aid to those on the brink of despair.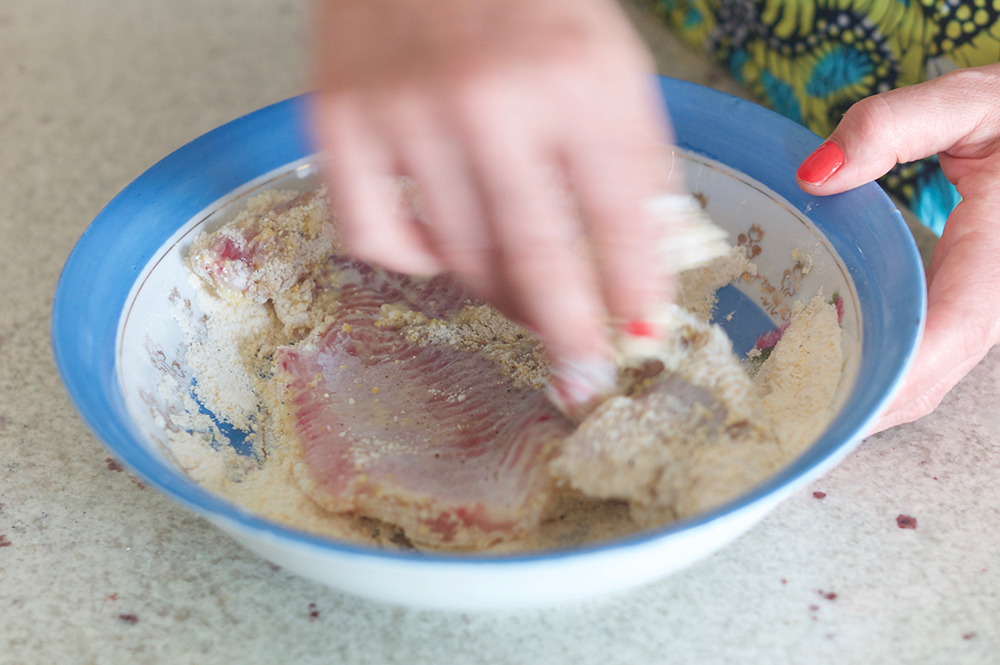 Much of Shange's approach is not of the zeitgeist today—melting pots are out, and specificity about country of origin is in—but the tapestry she weaves is thrilling and at least makes a compelling argument for appreciating black culture in the aggregate. I imagine that seeing works such as For Colored Girls or The Love Space Demands performed live is an equally thrilling experience, and that their mission of creating and celebrating individual black women's identities (Shange's, her sisters', her mother's, those of women she knew or made up) remains relevant today.
We can no longer see Shange perform, but, great treasure, we can cook with her, thanks to the recipes in Sassafrass, Cypress, and Indigo and a 1998 book of essays and recipes called If I Can Cook / You Know God Can. The latter volume is truly Shange at her best, a virtuosic Pan-African stew that asks what black food is, what meals black Americans can use to celebrate themselves, and why, and draws on sources like what "L'Ouverture, Pétion, and Dessalines share for their victory dinner" in postrevolutionary Haiti and what slaves ate after cutting cane in Cuba. Shange eats among immigrants in Brixton and explores the legacy of banzo, a Portuguese slaver term for "an African's refusal to accept nourishment" on the Middle Passage.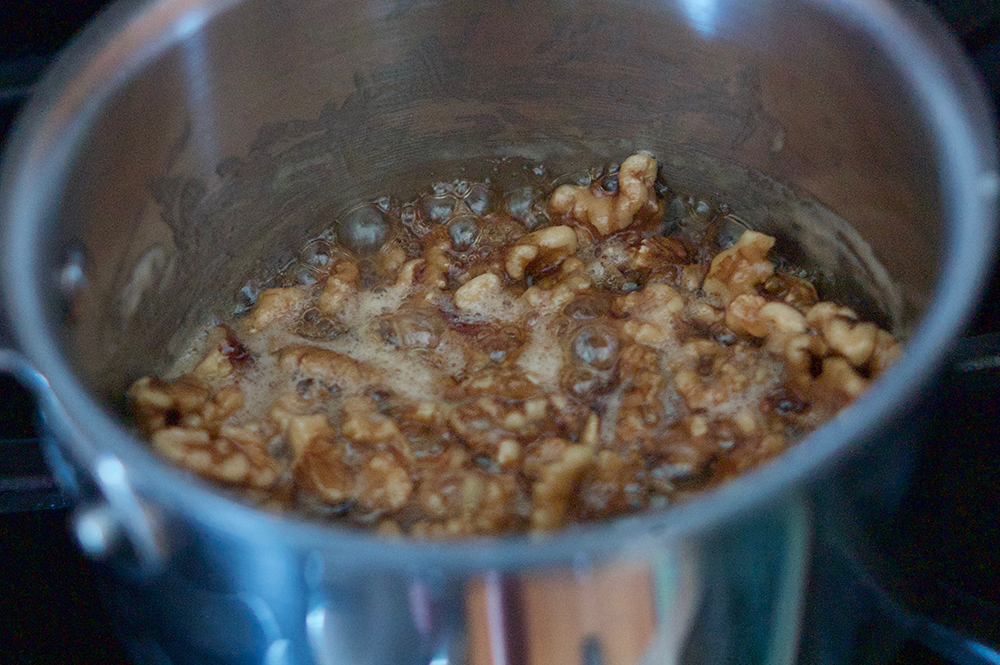 As usual, the work has a mission. In the introduction to If I Can Cook / You Know God Can, Shange writes about her response to a piece of food-related installation art by Candace Hill-Montgomery: "I thought about slavery. We came here hungry, trying to fill our souls and stomachs with anythin'll sustain us ever since … [I] knew again our task in the New World was to fill our horn with plenty, speak Ben Webster, John Coltrane, and David Murray. To make manna out the air, to survive. That takes food."
She really could cook, too. All four dishes I made came together in a snap and had great flavor, even the one I was dubious about—a vegan chocolate torte that Shange's daughter won a cooking contest with. This was easy home cooking for a woman who fed a family, and I'd make any of it again.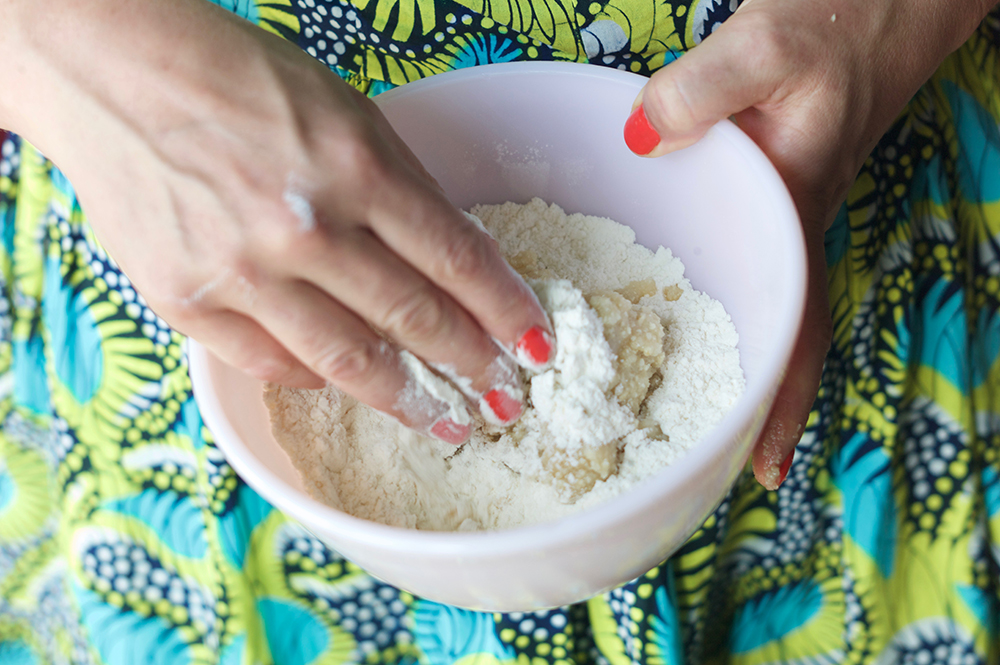 I started with fried okra, which Shange, who wasn't afraid of controversy, says all black people are required to love. ("Okra is one of our living ties to the motherland. In celebration I might make me a parade or an Okra Day / Are you Black or Not?") I love it, too, and her four-ingredient batter is perfect in its simplicity and seasoning.
The second recipe, for couscous royale, comes from a chapter celebrating "the tens of thousands of African-Americans who are committed to an 'other' way of life besides the American way." The chapter argues that food regimens such as the macrobiotic diet and those observed by black Muslims and Rastafarians are all forms of resistance, a kind of "twentieth century enlightened bonzo. We are daring to live, to eat in honor of those who decided to waste away as opposed to becoming who we are." The couscous is a synthesis of those influences and had a wonderful, unique flavor profile (cinnamon, saffron, lemon, honey).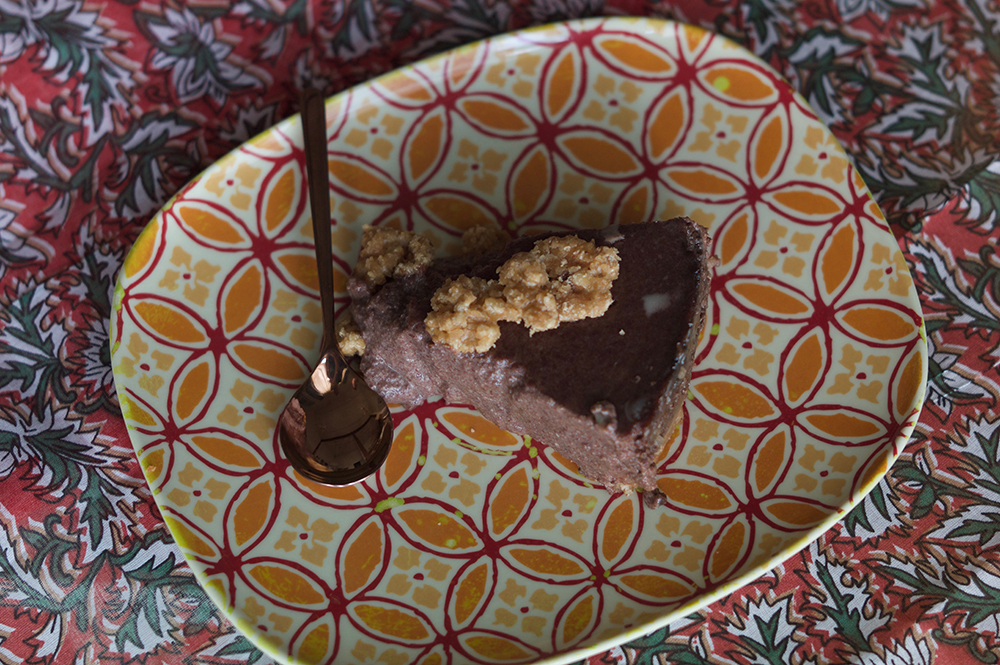 I then made a happier recipe, "Catfish / The Way Albert Liked It," from a Christmas feast cooked by the mother in Sassafrass, Cypress, and Indigo. This was another easy batter and light-handed technique that brought me into the author's kitchen and made me reflect on her talents for nourishment.
In her art, and in her food, she was, in her own words: "not trying to give you a history of my family / the struggle of black people all over the world or the fight goin on upstairs tween susie & matt / i am giving you a moment / like something that isnt coming back / a something particularly itself / like an alto solo in december in Nashville in 1937."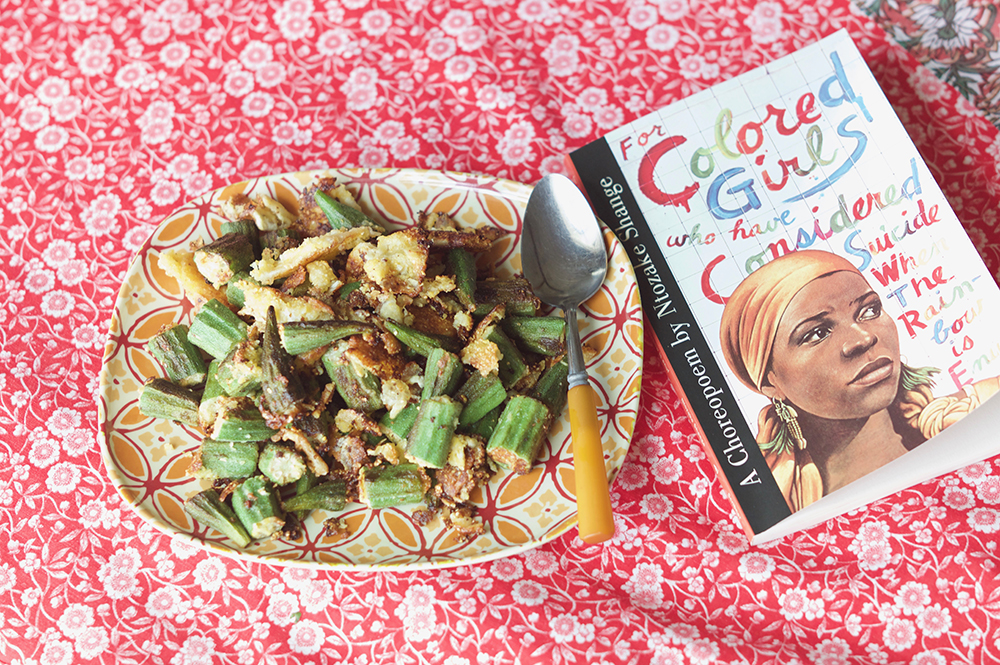 Fried Okra
Adapted from If I Can Cook / You Know God Can, by Ntozake Shange.  
1 lb okra
1 egg
1/2 cup cornmeal
2/3 cup milk
1/2 tsp salt
sunflower or safflower oil, for frying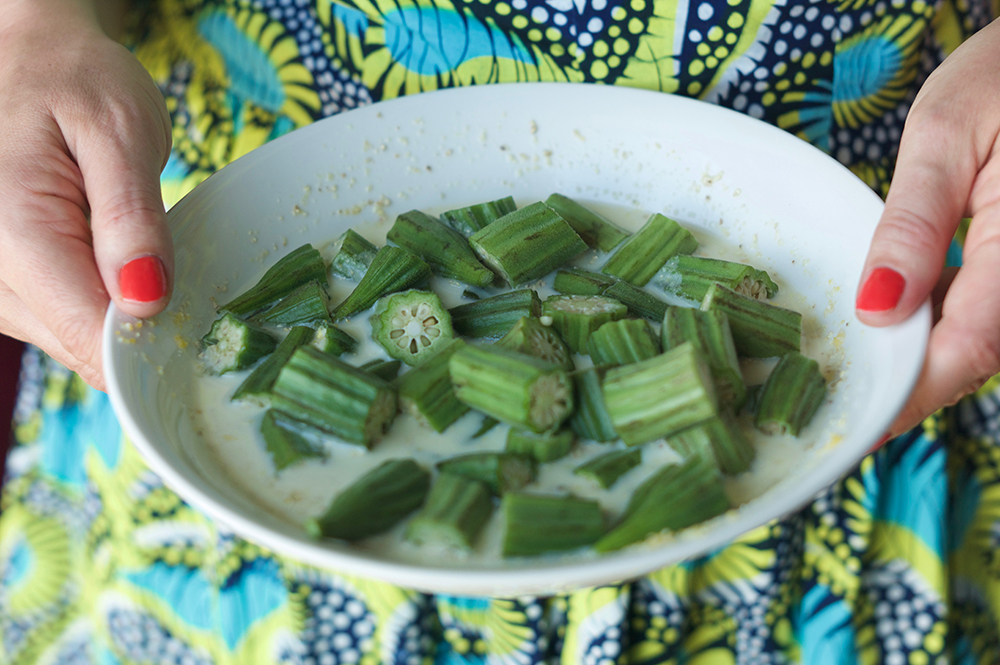 To keep the end result from getting too slimy, make sure your okra, your knife, and all your cutting surfaces are completely dry before you begin. Chop the ends off the okra, then chop in one-inch pieces—"including the cute little ends," Shange writes. Periodically dry the knife as you go along.
Beat the egg in a medium-size shallow dish, then add cornmeal, milk, and salt. Stir well to combine.
Put a "good, heavy fryin' pan" on medium-high heat, and coat the surface liberally with sunflower, safflower, or another type of neutral-tasting oil. "Before you put your okra in to fry, make sure water sizzles in the grease."
Toss the okra in the batter, then scoop out and transfer immediately to the hot oil. Fry until brown on all sides.
Drain on a wire rack lined with paper towels. Serve warm.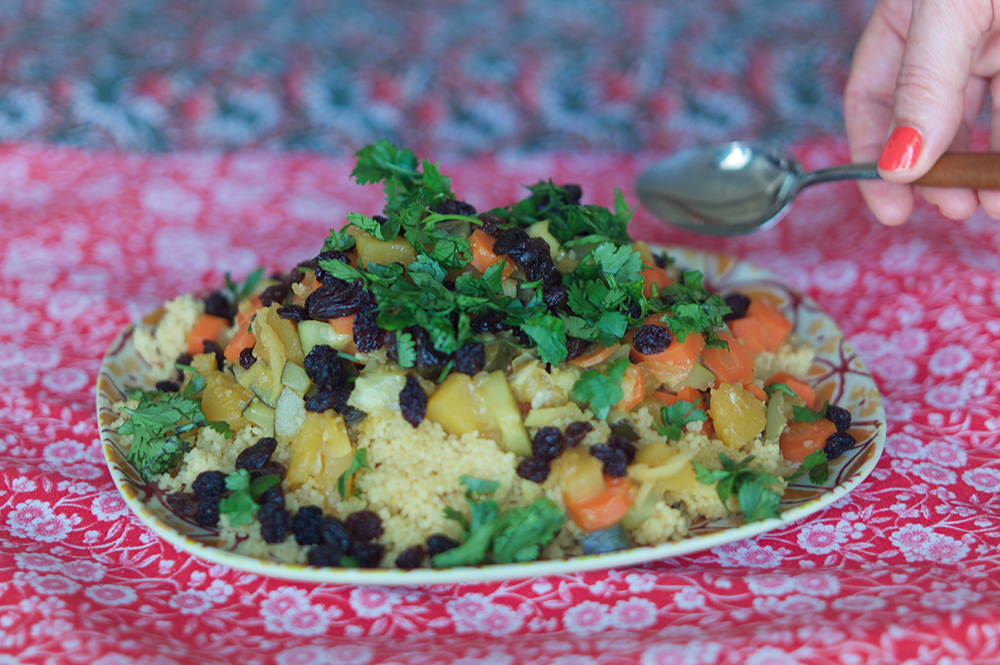 Couscous Royale
Adapted from If I Can Cook / You Know God Can, by Ntozake Shange. 
2 carrots
a small zucchini
small wedge of pumpkin or winter squash, any type
2 1/2 cups vegetable stock
a cinnamon stick, broken in half
1 tsp ground cumin
1 tsp ground coriander
pinch of saffron strands
1 tbs olive oil
1/2 lemon, juiced, rind pared in one long strip
1 tbs honey
3/4 cup couscous
2 tbs butter
1/2 cup raisins
salt and pepper, to taste
cilantro, to garnish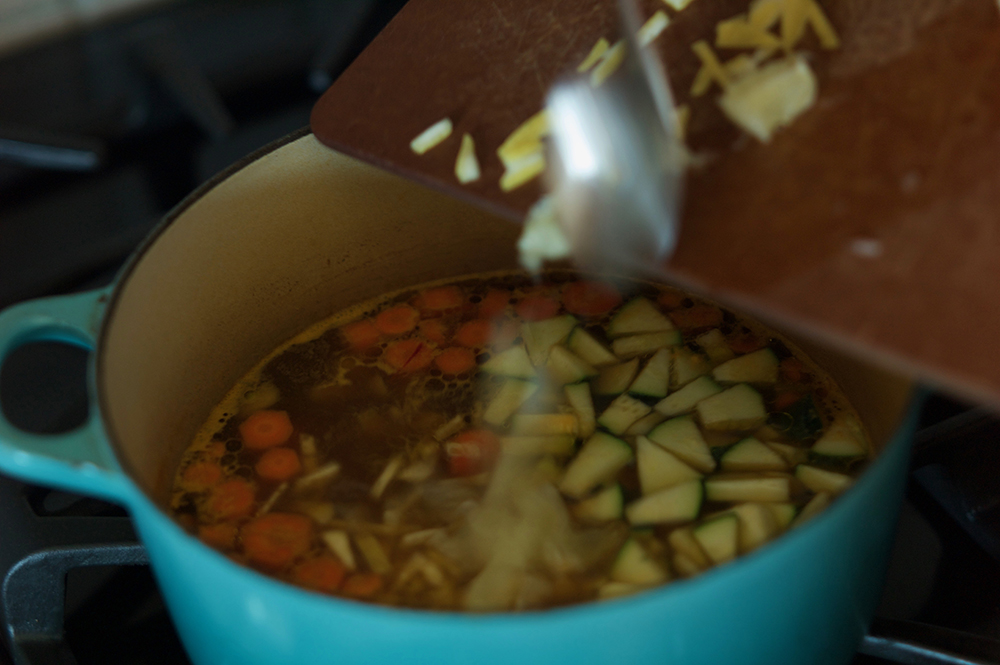 Cut the carrots and zucchini into three-inch pieces. Half the pieces lengthwise.
Trim the pumpkin or squash, and discard the seeds. Peel and cut into pieces the same size as the carrots and zucchini.
Bring the stock to a boil in a medium-size saucepan. Add carrots, squash, cinnamon stick, cumin, coriander, saffron strands, and olive oil. Simmer for five minutes, until vegetables are nearly tender, then add zucchini, honey, lemon rind, and lemon juice. Simmer for five minutes more.
Meanwhile, cook the couscous, either by soaking and steaming in a basket above the simmering broth or by boiling according to package directions. Stir in the butter.
Pile the couscous into a warm serving platter. Drain the vegetables, reserving the stock, lemon rind, and cinnamon. Arrange the vegetables on top of the couscous. Put the raisins on top, and spoon over six to eight tablespoons of reserved stock.
Return the remaining stock to the heat, and boil for five minutes to reduce slightly. Discard the lemon rind and cinnamon. Garnish with cilantro and serve with the sauce separately.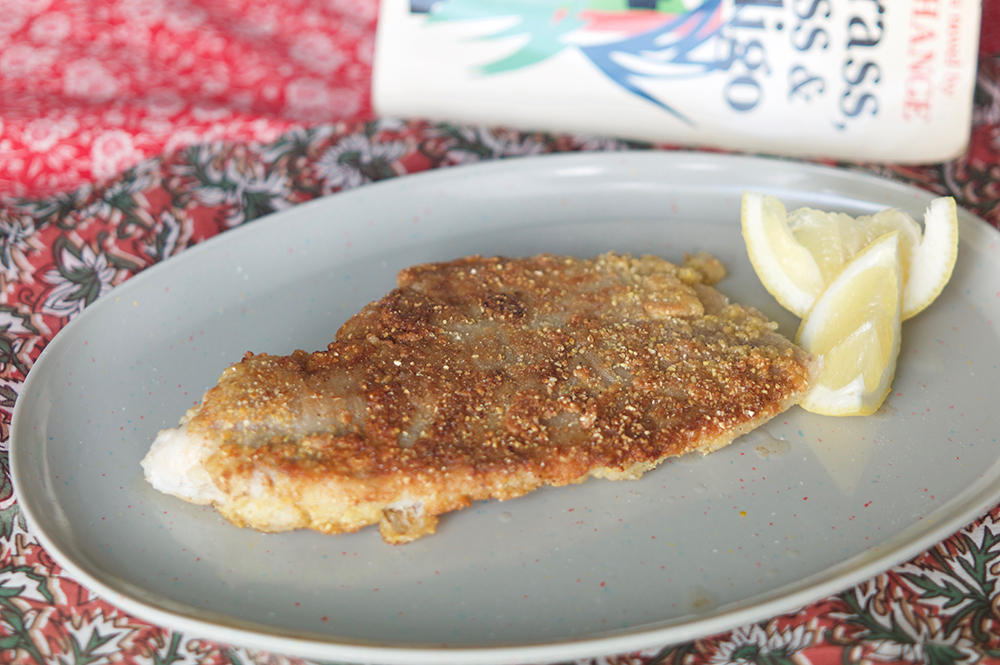 Catfish / The Way Albert Liked It
Adapted from Sassafrass, Cypress, and Indigo, by Ntozake Shange.
1/2 cup flour
1/2 cup cornmeal
salt
pepper
1/2 cup buttermilk
3 eggs
oil for cooking
4 catfish fillets
lemon wedges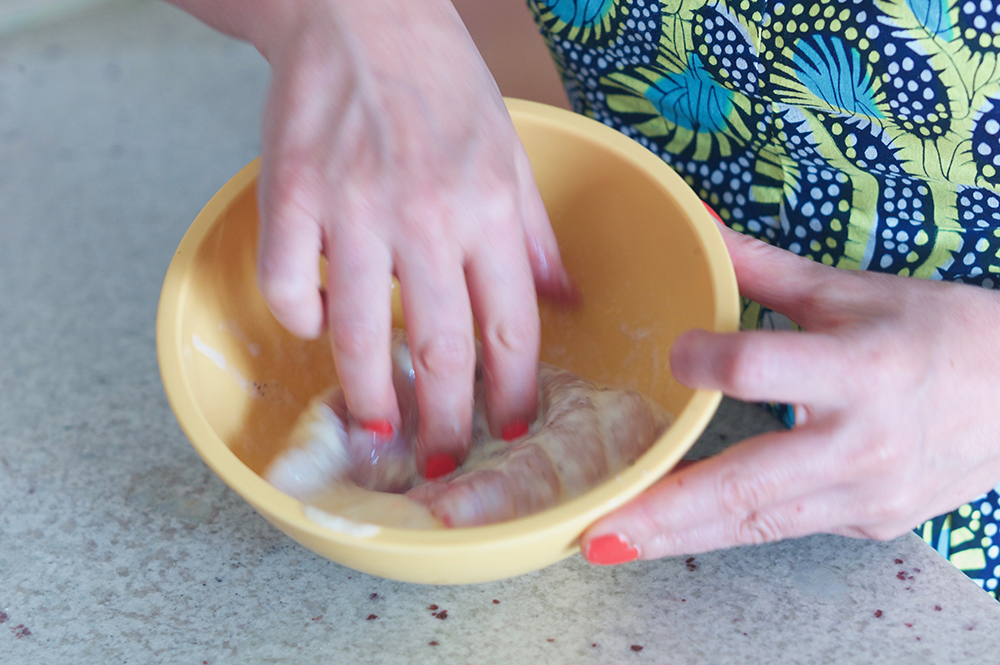 Mix together flour and cornmeal on a large plate. Season with salt and pepper. In a separate, low, shallow dish, suitable for dunking, beat the eggs, then mix in the buttermilk.
Dip the catfish fillets in the wet mixture, then the dry. Fry until golden on both sides and cooked through. "Your lemon wedges are for your table."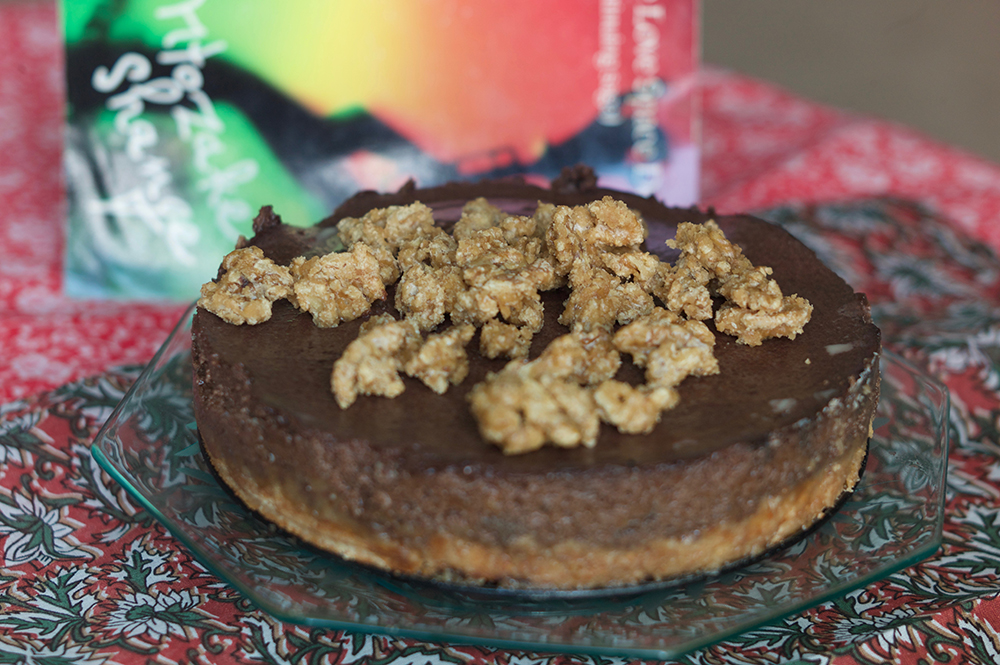 Vegan Chocolate Torte
Adapted from If I Can Cook / You Know God Can, by Ntozake Shange.
For the maple-walnut praline:
1/4 cup maple syrup
1 cup chopped walnuts
For the cashew crust:
1/3 cup raw cashews, ground to meal
1/4 cup sugar
3 tbs sunflower oil
3/4 tsp vanilla
1 cup flour
1/4 tsp salt
For the mousse filling:
12 oz package vegan semisweet chocolate chips
2 boxes extra-firm, low-fat silken tofu (Shange specifies "the kind that is not refrigerated," but I used a refrigerated kind)
3/4 cup sugar
1 tsp vanilla
pinch of salt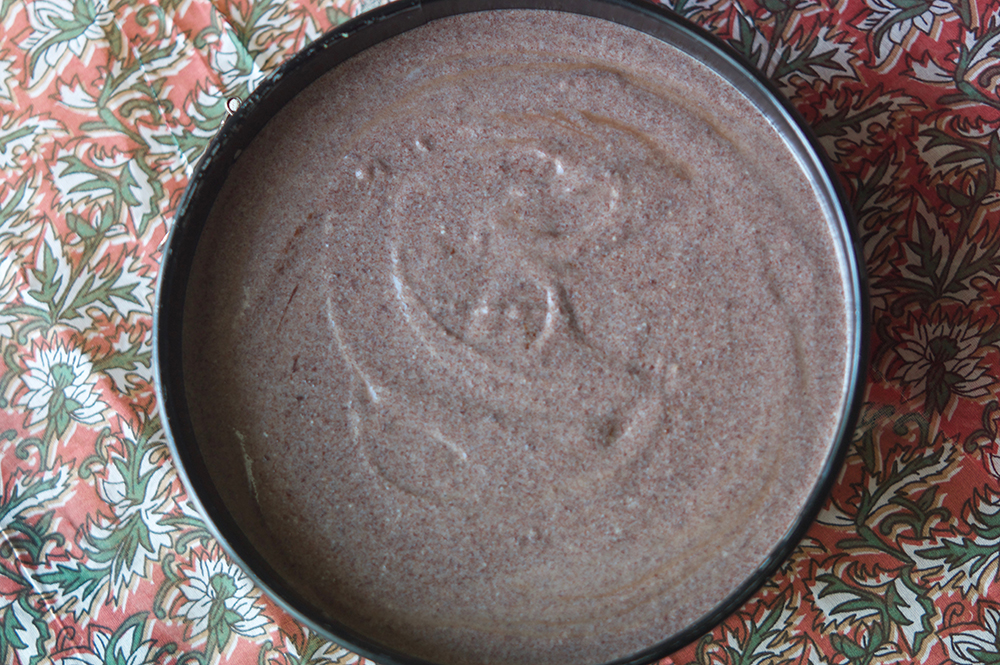 To make the praline:
In a heavy, small saucepan, bring maple syrup to a boil. Boil for a minute, then stir in walnuts. Keep stirring walnuts until the maple syrup has completely crystallized and the walnuts look dry. Reserve. 
To make the crust:
Preheat the oven to 350. Oil or butter an eight-inch springform pan.
In a medium bowl, mix together the cashew meal, sugar, oil, and vanilla, and blend until well combined. In a separate bowl, combine flour and salt. Add the nut mixture to the flour and combine. "It will be thick, so use your hands!" Press into the bottom of the pan, and bake for twenty to twenty-five minutes, until light golden brown.
To make the mousse:
Melt chocolate in the microwave, stopping every thirty to sixty seconds to stir and check consistency. Let cool, but not too much, or it will resolidify.
In a mixer fitted with the balloon-whisk attachment, combine the tofu, sugar, vanilla, and salt. Blend until smooth.
Add the chocolate and blend again, for two to three minutes, until very smooth.
To assemble:
Preheat the oven to 350.
Oil the sides of the pan above the crust, then pour in the mousse mixture. Bake thirty-five minutes, then let cool ten minutes on a rack. Run a paring knife or icing spatula around the inside edge of the pan. Let the cake completely cool at room temperature, then refrigerate for at least two hours before serving. Unmold right before cutting. Top with praline before serving.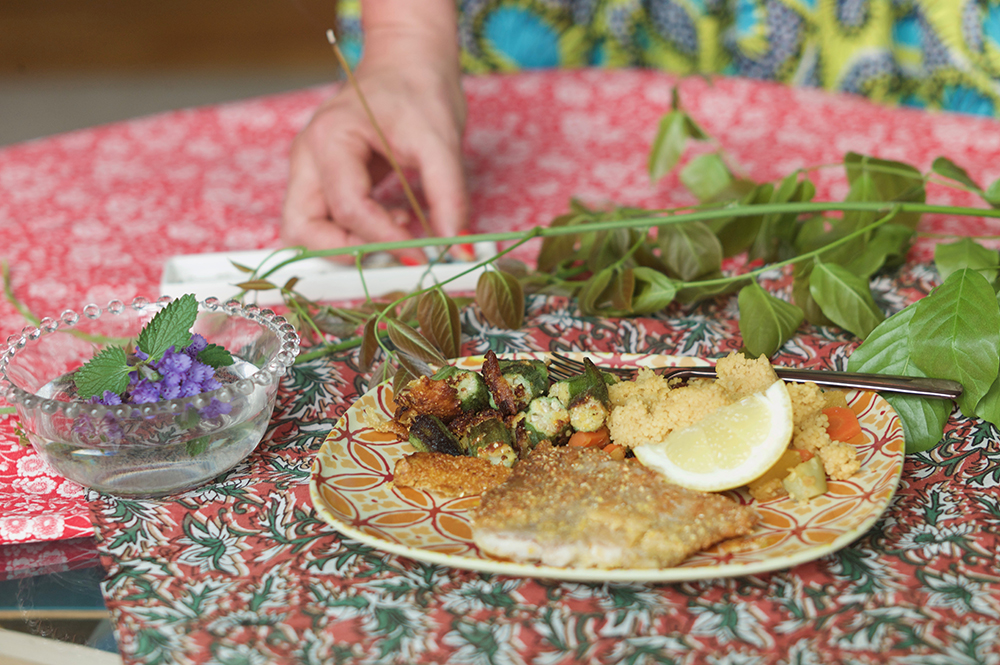 Valerie Stivers is a writer based in New York. Read earlier installments of Eat Your Words.