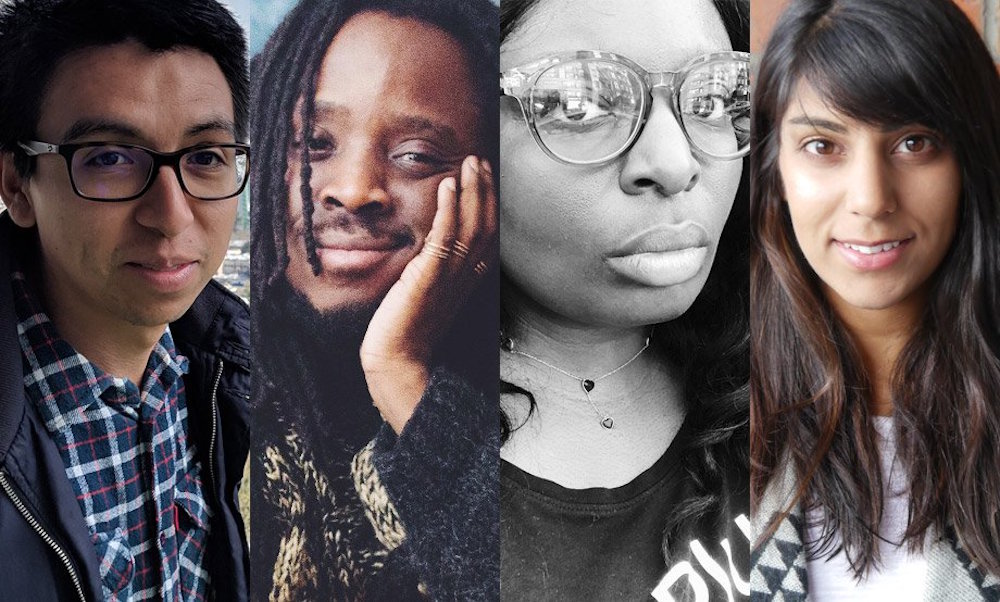 For nearly seven decades, 92Y's Discovery Poetry Contest has recognized the exceptional work of poets who have not yet published a first book. Many of these writers—John Ashbery, Mark Strand, Lucille Clifton, Ellen Bryant Voigt, Brigit Pegeen Kelly, Larry Levis, Mary Jo Bang, and Solmaz Sharif, among many others—have gone on to become leading voices in their generations.
This year's competition received close to twelve hundred submissions, which were read by preliminary judges Timothy Donnelly and Mai Der Vang. After much deliberation, final judges Daniel Borzutzky, Randall Mann, and Patricia Smith awarded this year's prizes to Alfredo Aguilar, Bernard Ferguson, Omotara James, and Alycia Pirmohamed. The runners-up were Mia Kang, Henry Mills, and Jasmine Reid.
The four winners receive five hundred dollars, publication on The Paris Review Daily, a stay at the Ace Hotel, and a reading at 92Y's Unterberg Poetry Center on May 16. Congratulations to the winners! We're pleased to present their work below.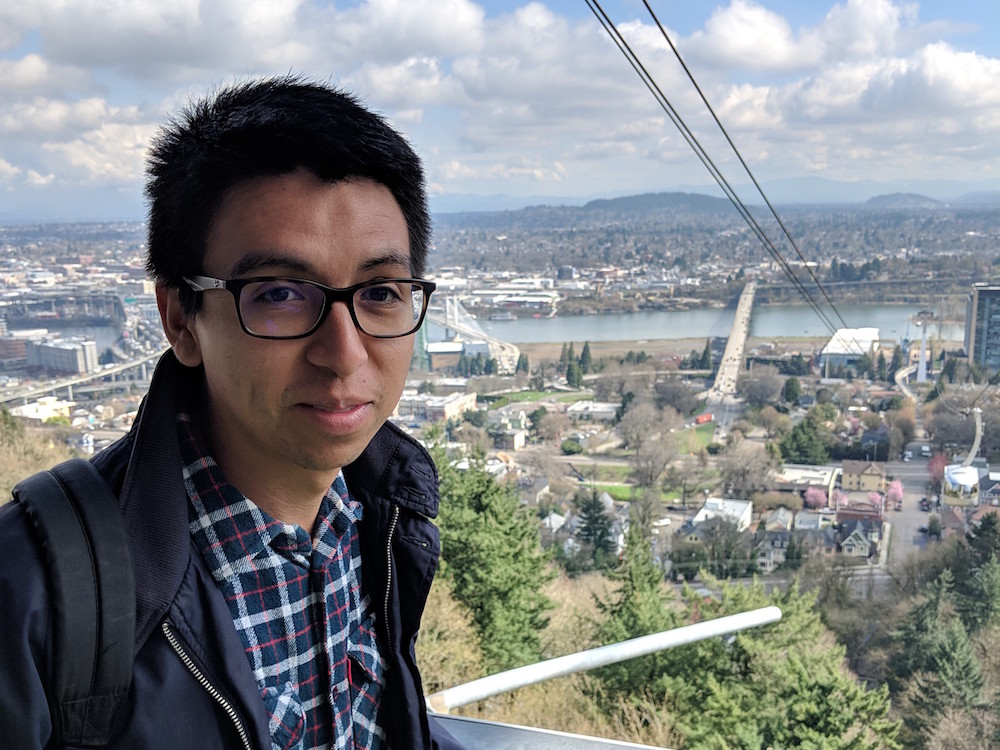 Alfredo Aguilar is the son of Mexican immigrants. He is the author of the chapbook What Happens on Earth. His work has appeared in The Iowa Review, Best New Poets 2017, The Shallow Ends, and elsewhere. Originally from North County San Diego, he now resides in Texas.
*
Listening to a Recording from Tornillo, Texas
i hunched over my device
& heard brown children
set apart into tents
cry out
for their parents
a guard said of their cries
it sounds like an orchestra—
all we need is a conductor
i paused the recording
i knew i shared this blame
& filled a piano with flames
because i didn't believe
we had a right to song
i placed silver coins into the hands that could help
& allowed myself a walk
i looked at family photos—
my & my siblings' young faces
how many young faces can fit inside a tent—
i won't write this fucking poem
what good is every poem
if it can't reunite a family
if it can't tear the tarp off a camp
if it can't bring those responsible
to the mouth of a mob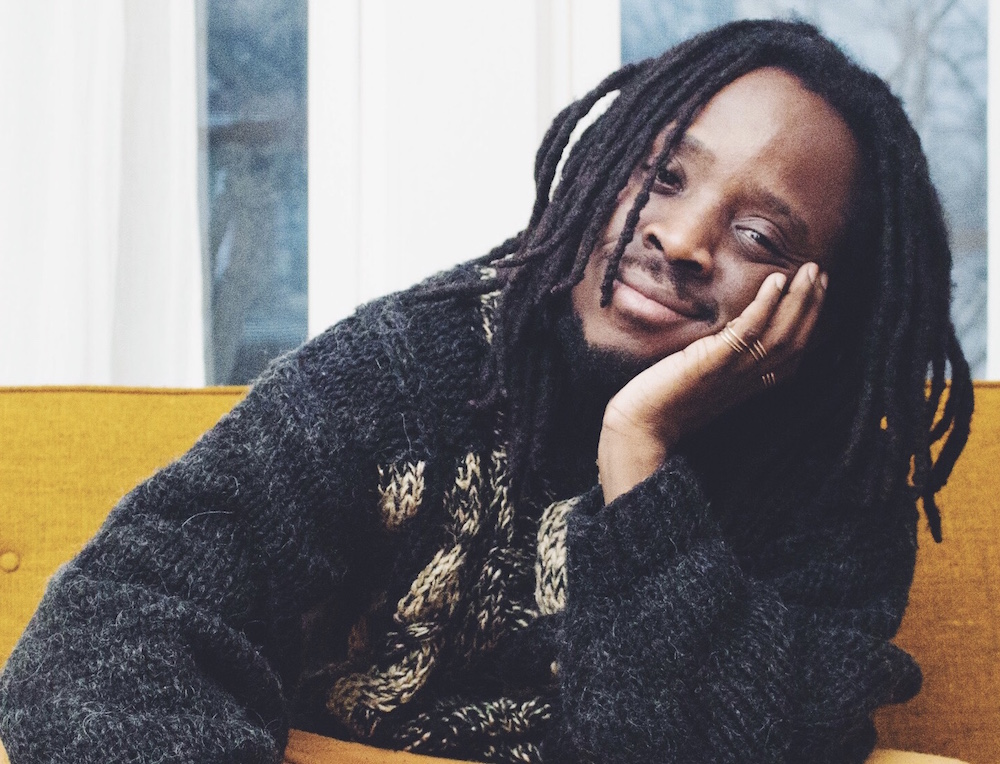 Bernard Ferguson is a Bahamian immigrant poet, an M.F.A. candidate at NYU, a Writers in the Public Schools Fellow, and an assistant editor at Washington Square Review. He's a 2019 Adroit Journal Gregory Djanikian Scholar and the winner of the 2019 Nâzım Hikmet Poetry Prize. His work is published or forthcoming in The Common, SLICE Magazine, Pinwheel, Winter Tangerine, and Best New Poets 2017.
*
up the creek of my nostril, with an uncoiling thing
with perhaps a hollow rope or a foolish vacuum, exhaling & pushing
cotton into my skull, stuffing the small tubes through
which, otherwise, the scents of my favorite sugar
& cinnamon treats would wander through, with their hints of
guava that would signal my knees to bend & run
toward a window or porch where a sister or an aunt await
with the warm gooey duff that, at my young age, made my life
worth living, or, if not confectionery, the pheromones of my lover
that would cause, at least a few parts of me, like my blood, to stir
& other parts, like my back, to stiffen & rise, causing all of me to
rise, & bloom, or to wish for blooming then, along with my lover,
whose voice is now a few more steps removed from the box i keep
behind my eyes, tiny receptacle in which i collect my sounds & evidence
of that which we call music, the box whose mouth is now covered
in mesh, which must have been placed there by a thief who does not thieve
but instead prevents thieving, the thief who must be a man, must
have, with his dirty devices, poured the fabric into my nose or else
slipped a portion of the Atlantic into one ear & clogged my thinking
& my hearing & my loving & so, little ones, you with your small & new
lungs, you with your loud, incessant breathing, if you see that man
with his thieving & cotton & wide pockets of salt, you tell that man
& only that man in particular                 we're through.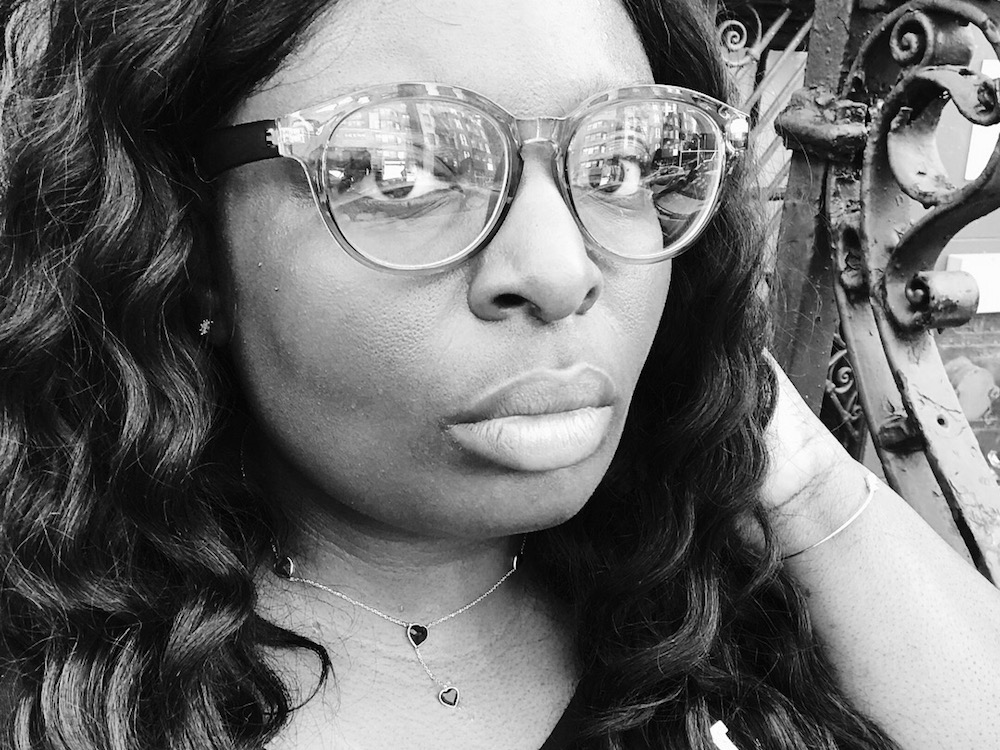 Omotara James is the author of the chapbook Daughter Tongue, selected by African Poetry Book Fund for the 2018 New Generation African Poets Box Set. Born in Britain, she is the daughter of Nigerian and Trinidadian immigrants. Her poetry has appeared in Academy of American Poets, Literary Hub, Poetry Society of America, and elsewhere. She has been awarded fellowships from Lambda Literary and the Cave Canem Foundation.
*
Promise
When they send the robot to replace me, do not be gentle
with it. Place these chords where its heart chakra should be.
Do not speak to it of a fountain— tell it, in the middle of
its life, there will be a flower: a blooming petalled trauma.
Tell it, I considered beauty, once, but there were white-
iced, gingerbread cookies, brown with molasses, in the
ceramic, black, Santa jar. My father's mangoes, green, red
and yellow, were in a wooden bowl on the kitchen counter,
unharmed, having traveled so far beyond their home. There
were the last hours before sleep, when mother borrowed
energy from the next day to make at least three nights'
worth of dinners for us. Until the night roused me with
more night and I masticated with tongue. Masticated with
teeth. Masticated in my sleeping gown. Masticated beneath
the sheets. Masticated in the bathroom stalls at school so
quiet you wouldn't hear me over the sound of a raindrop. I
am a master-cator. I will masticate. Until there's nothing.
Until I'm full. Until I'm done.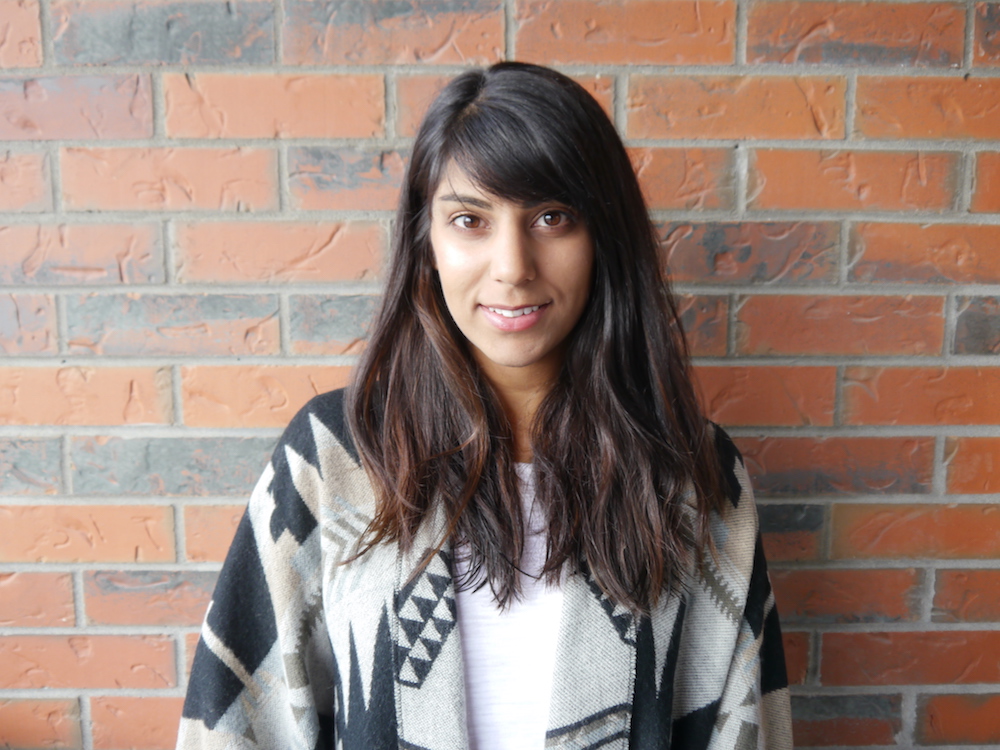 Alycia Pirmohamed is a Canadian-born poet living in Scotland, where she is completing a Ph.D. at the University of Edinburgh. She is the author of the chapbook Faces that Fled the Wind and the winner of the 2018 Ploughshares Emerging Writers' Contest in Poetry. Her poetry has recently appeared in Prairie Schooner, The Adroit Journal, The London Magazine, Room Magazine, Glass: A Journal of Poetry, and others. She received an M.F.A. from the University of Oregon.
 *
The Making of a Ghost
the rap rap
rap of ghosts at the door. there are considerations
she must take when the great greats
cross yet another spilled sari of ocean water.
this time the embarkment
is holier than the last, the locusts woven into maple
trees and the buzzards with moon faces.
she gnashes open the green cardamom,
sheds the seeds into her own grave
and never questions equilibrium. the fill of one story
into another's mouth. all of her
meat another lineage, an answering before
the wound is born.
with sweet water found in the rivers, she washes
her body three times.
this is what the ghosts pass down: one hand
over the other, a valley of long stems,
and the ritual of washing a body only an odd number
of times before the dirt.
she is laying down the past like a row of knives.
she begins here, ends here
in the language of pine forest overlain with gulls.
country, again, she is knocking
on the glass of your windows. again, she is jotting
down the script of your cattle.
country, at last, gift her a homecoming.
The winners of the Discovery Poetry Contest will read from their work on May 16 at 92Y's Unterberg Poetry Center.