In her monthly column Re-Covered, Lucy Scholes exhumes the out-of-print and forgotten books that shouldn't be.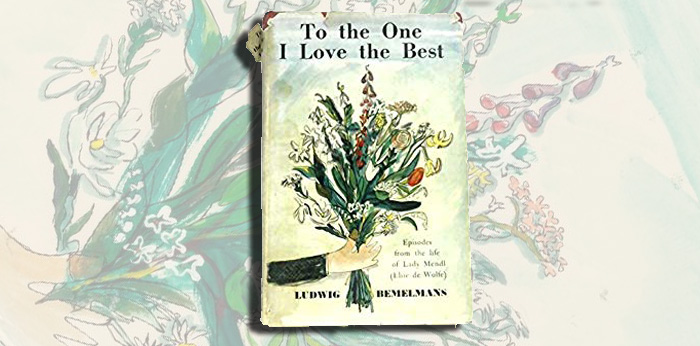 "She weighed about ninety pounds without her jewels, and when I met her she was ninety years old." So Ludwig Bemelmans's introduces Lady Mendl, Elsie de Wolfe in his 1955 memoir To the One I Love the Best. De Wolfe seems almost too eccentric to be true, a "wonderful living objet d'art," her "crepy throat" festooned with jewels and her "arthritic hands" encased in her trademark spotless white gloves. Bemelmans—a celebrated illustrator and writer—first encountered de Wolfe in Los Angeles in 1945, a city in which they're each more unmoored than most. He'd been working for MGM but the "elegant world of Hollywood" had left him feeling jaded, longing to take to the road as an "itinerant painter," while de Wolfe had been living out the war in Beverley Hills after having fled her beloved Villa Trianon in France.
Bemelmans is best known today either as an illustrator—some readers will undoubtedly be familiar with Bemelmans Bar at the Carlyle Hotel in New York City, decorated with murals he painted in the forties, or recognize his work from vintage New Yorker covers—or as the author of the Madeline books, the first of which was published in 1939 and has sold over 14 million copies to date. Less well known, however, is the fact that he was actually the author of over forty books, and although he began his writing life by penning volumes for children in the mid-'30s, he went on to also write books for adult readers, too, many of which are now out of print, including To the One I Love the Best.
De Wolfe's fascinating life story and her feted career have made her an appealing subject for biographers and historians, but the intimacy of Bemelmans's book—it's an anecdotal account of his and de Wolfe's friendship, not a cradle-to-grave story of her life—sets it apart from the rest. There's something especially poignant about the fact that it's a portrait of de Wolfe at the very end of her dazzling life—she died in 1950, only five years after they met. How rarely is any aging woman—regardless of how famous or pioneering she was during her heyday—allowed to be the subject of such sincere and heartfelt adoration?
*
Born in New York City but educated in Scotland, de Wolfe was presented at court to Queen Victoria. She then shocked polite New York society by embarking on a career on the stage. She would take Broadway by storm in the 1890s, but her first love was interior design. In 1887, she and Elisabeth "Bessie" Marbury—one of the first female theater agents and Broadway producers, and de Wolfe's partner for over thirty-five years—took a house together in Greenwich Village. The careful decoration of that home earned de Wolfe a reputation among her friends, and they encouraged her to turn her "natural gift for colour and arrangement"—as she recalls one describing it in her memoir After All (1935)—into a career. "Interior design as a profession was invented by Elsie de Wolfe," wrote Dana Goodyear in The New Yorker. "She popularized black-and-white, and created a vogue for Louis XVI chairs and leopard print." Or, as de Wolfe describes it to Bemelmans: "I rescued the American house and made it liveable." One of her earliest commissions was the Colony Club, the first women-only private social club in New York City. The opening "was something more than a mere society event," De Wolfe notes in After All: "It was the overture of one of the acts of the great drama of women's enfranchisement." After this, the work came thick and fast, and she quickly became famous for tearing down the heavy velvet drapes and antimacassars of Victorian decor. Henry Clay Frick hired her to decorate the second floor of the opulent mansion he was building on the Upper East Side, and under de Wolfe's direction, he spent, in the space of a single half hour, an estimated three million dollars on pieces from Sir Richard Wallace's eighteenth-century collection. De Wolfe's commission was ten percent, enough to make her an extremely wealthy woman. Both a canny businesswoman and a renowned society hostess—the parties she and Marbury threw, in New York and at their second home in Versailles, were legendary—de Wolfe was the first woman to tint her hair blue, and an advocate for dieting and yoga (her party trick was standing on her head). She was also awarded France's Croix de Guerre and the Legion of Honour for her hospital relief work during the First World War, and she shocked everyone, including her closet friends, by suddenly marrying Sir Charles Mendl, the press attaché at the British Embassy in Paris, when she was sixty. Diana Vreeland perhaps put it best when she described de Wolfe as "one of the independent swingers" of the twentieth century.
*
"I can't paint, I can't write, I can't sing, but I can decorate and run a house, and light it, and heat it, and have it like a living thing, and so right that it will be the envy of the world, the standard of perfect hospitality," de Wolfe declares in To the One I Love the Best.
As far as de Wolfe was concerned, the pinnacle of style was her Villa Trianon in Versailles, which she had all but finished sumptuously redecorating when war broke out. "After All," the name of her Beverley Hills home with its "baroque" interior, could only ever be second best. "Speaking of the villa," she tells Bemelmans when he first visits After All, "only yesterday a little souvenir arrived from there, a little part of its glory—a footstool that once belonged to Pompadour." She then asks her guest to move the piece into a patch of sunlight in the center of the room so they can "properly appreciate it." A few minutes later, Sir Charles—the exemplary British gentleman with his "Colonel Blimp moustache" and "jolly face that was like a ripe plum lying a little on its side"—enters the room and promptly falls over it:
"My God, he's dead," said Lady Mendl.

"Nonsense," answered Sir Charles. "I'm not dead. Having played polo all my life, I simply know how to fall. When one falls one remains absolutely still for a minute. Now don't anyone bother helping me up."

He remained quiet for what seemed a long time.

"Are you resting, dear?" asked Lady Mendl.

"Yes, I'm resting," said Sir Charles.

"Well, don't overdo it."

Sir Charles was watching the dial on his wristwatch. At the end of a minute he got up.
De Wolfe was idiosyncratic, but in Bemelmans's adroit but tender hands the entertainingly quirky Sir Charles—with his predilection for dining out with an endless stream of "ravishing creatures," a veritable who's-who of Hollywood's beautiful young talent, from Joan Fontaine to Olivia de Havilland—certainly gives his wife a run for her money. Scenes like this one also prove Bemelmans something of a comic genius. Indeed, as he reminds de Wolfe, "humour is the most serious form of writing." While de Wolfe takes Bemelmans under her wing—she insists from their first meeting on calling him "Stevie" ( "probably," Bemelmans conjectures, "because a war was going on with Germany and she didn't like the Teutonic 'Ludwig,' "), and refers to herself as "Mother." Bemelmans and Sir Charles establish a warm companionship, brothers-in-arms as victims of de Wolfe's whimsies.
As Bemelmans depicts it, the unorthodox relationship between husband and wife is equal parts amusing and touching. De Wolfe has a meter installed in Sir Charles's rooms so she can bill him for the electricity he uses, but days later, on his birthday, she presents him with a pair of cufflinks that have clearly cost her several thousand dollars. Sir Charles is often put out, but he's never anything but gracious in defeat. "She is a remarkable woman," he tells Bemelmans, "utterly selfish and at the same time irresponsibly generous. She is incapable of adjustment to the life of our day. She is perhaps the incarnation of someone—I don't know, however, of whom, for no one like her has ever lived or will come after her." This, of course, is what makes de Wolfe such an enchanting subject, and Bemelmans knows it.
*
The charm of To the One I Love the Best lies in the peerless combination of author and subject. Bemelmans and de Wolfe are kindred spirits; he the famed bon vivant—"a lover of life and a professor of happiness" as he describes himself at the very beginning of the book—and she a woman who, in Vreeland's words, "lived life to the hilt … loved life, and people, and fun and novelty." Bemelmans was an immigrant—he had arrived in New York City when he was only sixteen years old, and spent the best part of the next two decades working in the hotel industry while honing his skills as an illustrator—while de Wolfe was a woman in a man's world, but they both went on to become self-made success stories, living proof of the American dream.
They're also united in the affinity they each feel for France, she with her beloved Versailles and Bemelmans with Paris. Although born in the South Tyrol in 1898 (then still part of the Austro-Hungarian Empire), Bemelmans spent his early years in the charge of a French governess who showed him picture postcards of Paris and taught him French. His life-long love affair with the City of Light can be traced back to these early memories, through his Madeline books—the first of which was written after he, his wife, and daughter returned from a trip to Europe in 1938—and culminating in the period, during the early fifties, when he finally made the French capital his home.
To the One I Love the Best reads like a love letter to the country both author and subject adore. In the first part, "Elsie at Home," de Wolfe is all but counting down the days to her return to Versailles; then in the second, "Elsie Abroad," Bemelmans—who's on assignment for Holiday magazine, documenting the aftermath of the war—Sir Charles, and de Wolfe (complete with their entourage) sail from New York to Le Havre. As the party passes through Paris, Bemelmans's happiness at being back in his "most beautiful, beloved of all cities" is tempered by the sight of its scars: "Everywhere on walls of houses small bouquets were fastened, and next to them were notices that here so-and-so had fallen defending the street during the last days. Most of the fallen were young people." This flash of death and destruction is all the more powerful because it sits in stark contrast to the frivolity of the book's first half. Upon arriving at the Villa Trianon, de Wolfe is upset by the disarray that awaits her—it was requisitioned first by the Germans, then the Americans—but she rallies magnificently, ordering everybody around as she oversees the clean-up and restoration. Observing de Wolfe among the glitz and glamour of Hollywood is one thing—she's certainly a character, but she's hardly the only one in Beverley Hills—but seeing her among the debris of postwar Europe is something else. She descends on her beloved home and her orphans—yes, as insane as it sounds, she's also managed to house an orphanage in the villa in her absence—like a bejeweled fairy godmother, but she's also an increasingly frail old woman who wants to recreate a past that's long gone, her obsession with beautiful objects eclipsing all else.
At the end of "Elsie At Home," Bemelmans describes a trip he takes to Hearst Castle, the fabled, no-expense-spared home of publishing tycoon William Randolph Hearst, which he built on his estate overlooking the Pacific and for which he imported shiploads of priceless objet d'art. It allows Bemelmans a moment of quiet reflection among what's thus far been a series of quick-witted, immensely entertaining vignettes of de Wolfe in action—Bemelmans writes like he paints, in animated, colorful scenes. "I had met in Hearst the most lonesome man I have ever known," the author realizes on the long drive back to Los Angeles, "a man of vast intelligence, of ceaseless effort, and all he had done was to make of himself a scaffold in which a metronome ticked time away. Like Elsie, he had fled to objects. The revelation is that you cannot protect yourself, for you become desolate as the prairie. You must give yourself, you must take a chance on being hurt; you must take the chance to suffer from love, for the other is nil. In this visit Elsie was mirrored: the metronome ticked away inside a magnificent puppet. As lonely as Hearst." Bemelmans revels in de Wolfe's frivolousness, but he also sees the melancholy that lies beneath. To the One I Love the Best shows us all of de Wolfe, and the reader can't help but become enamored with her, too.
Lucy Scholes is a critic who lives in London. She writes for the NYR Daily, the Financial Times, The New York Times Book Review, and Literary Hub, among other publications.