In her monthly column, Re-Covered, Lucy Scholes exhumes the out-of-print and forgotten books that shouldn't be.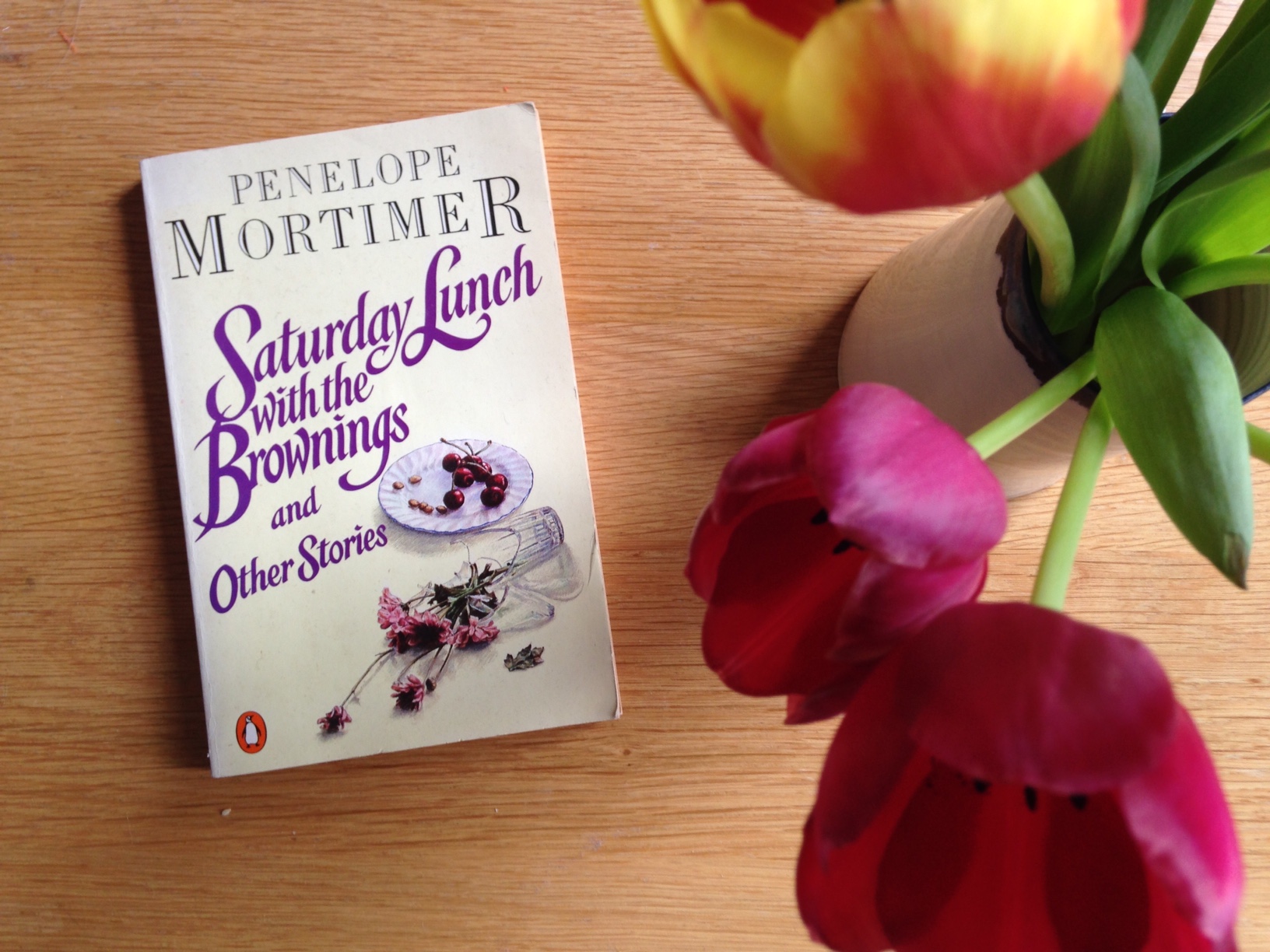 Saturday Lunch with the Brownings, the 1960 short-story collection by British writer Penelope Mortimer, carries a note of gratitude to the editor of The New Yorker, "in whose columns the majority of these stories first appeared." Three years earlier, Mortimer had signed a contract with the magazine for six stories a year, after which she provided them with what she describes as a "steady stream" of pieces drawn from her day-to-day experience. "There was no need to look for ideas," she explains in About Time Too (1993), her second volume of memoirs. "I mined my life for incidents with a beginning, a middle and an end, finding even the dreariest days contained nuggets of irony, farce, unpredictable behaviour." Mortimer—who, by the time she died, at the age of eighty-one in 1999, had published nine novels, one short-story collection, two volumes of memoir, a biography of the Queen Mother, screenplays, and an abundant body of journalism—drew more heavily on her lived experience than most, not least because it proved such a reliable source of creative stimulus. "None of the stories could accurately be described as fiction," she goes on to confess in About Time Too; "the moment I fabricated or attempted to get away from direct experience The New Yorker regretfully turned it down."
During the late fifties, when she wrote the twelve stories included in Saturday Lunch with the Brownings, Mortimer was famous for being the beautiful, lauded authoress wife of the renowned barrister-cum-writer, John Mortimer. Profiles of the writerly couple ran in magazines ranging from Good Housekeeping through Tatler, by way of Books and Bookmen. There were often photographs of them with their six picture-perfect children. Wife and mother were the identities that defined Mortimer, even as a writer. She had a regular parenting column, "Five Girls and a Boy," in the Evening Standard newspaper, and her fiction dealt predominantly with the subjects of marriage and motherhood. She wasn't writing twee, cosy tales of domestic bliss though; instead she penned sharp, shrewd portraits of marital infidelity, strained, unhappy housewives and their insensitive husbands, impotently railing against the draining demands of parenthood. Much of this material she drew from her own life: namely the cracks in her and John's marriage, and the conflicts associated with finding much of her worth and value in the role of caregiver, while feeling stifled by domesticity. Her fourth novel, for example, Daddy's Gone A-Hunting (1958), the book that precedes Saturday Lunch with the Brownings, depicts a suburban mother's attempts to procure an abortion for her student daughter (the situation Mortimer had found herself in the previous year when her eldest daughter, then at university, fell pregnant). It was a daring topic for its day, not least because of the resistance and disgust with which Mortimer's protagonist Ruth's attempts are met: "You would really advise her to do this thing? Your own daughter? Good God Ruth, I'm sorry. You make me sick," expostulates the family doctor when she turns to him for help. The reviews, however, were excellent. "A remarkable and deeply disturbing achievement," declared one. By the time Saturday Lunch with the Brownings was published, Mortimer had quite the reputation for dismantling the domestic idyll.
It's a reputation that remains today, even if now it rests almost entirely on Mortimer's fifth novel, The Pumpkin Eater (1962), the book that followed Saturday Lunch with the Brownings. The richly autobiographical tale of a middle-class London housewife's breakdown following the collapse of her marriage, it's the only one of Mortimer's works still in print in the U.S. today (and one of only two in the UK, along with Daddy's Gone A-Hunting). If I had my way, I'd see all of her work republished—not least because she's too long played second fiddle to her more famous husband. But if I could choose only one volume, it would be her short stories. More than just examples of a writer at the top of her game, they're exemplary specimens of the genre itself. Yet the collection suffered from having been published in-between Daddy's Gone A-Hunting and The Pumpkin Eater, her two strongest works; it didn't live up to the obvious audaciousness of the former, and then was swamped by the formidable success of the latter.
*
Family life is Mortimer's subject, and in Saturday Lunch with the Brownings, she picks it apart with precise, swift, sharp strokes. A mother finds herself locked out of the house she's rented for her and her family's holiday; tensions run high between members of a blended family on a Saturday spent at home; a dinner party careens out of the mousy hostess's control; a husband and wife quarrel while out with their children on a blustery day; a woman in a nursing home is the only witness to the dark drama unfolding in the bed next to her; another is bossed around by her children and husband, all in the name of "rest" on her thirty-ninth birthday; a little girl runs away from boarding school in the middle of the night and home to her beloved father, only to have her faith in him destroyed when he immediately takes her back. "No one knows better how to catalogue in easy narrative the minutiae of domestic life," wrote a critic in the Sunday Times, "or how to undermine domestic life's apparent security." Mortimer has a keen eye for the horror underneath the banality of the everyday, in particular that moment when someone familiar and benign turns monstrous.
In "Little Mrs. Perkins," for example, a seemingly sweet, rather vulnerable young mother-to-be is ensconced in the bed next to the narrator, who's in a nursing home recovering from the birth of her third child. The roommates don't speak across the curtain that separates them—"a fixed, insurmountable barrier dividing our two lives"—but the bored narrator watches and listens, first with sympathy, then with morbid fascination and shock as Mrs. Perkins—initially desperate not to lose her baby—is put on strict bed rest and told she won't be able to take the forthcoming trip to Tenerife she and her husband have scheduled:
Slowly, cautiously, she was pushing back the blankets with her feet … Then, very carefully, she raised one leg into the air; its shadow through the curtain was long, thin, wavering. She bent her knee, pushed the leg straight again. Afterwards, still very slowly and carefully, the other leg. She was testing something—but what? One leg. Then the other leg. No noise, no unusual creaking of the bedsprings. Both legs circling, faster and faster. She was trying not to make a noise. She was bicycling.
Powerless protagonists are something of Mortimer's specialty. After her divorce in 1971, when she was forced to start over, she explored the same agency in her fiction, but even then, her middle-age fictional alter egos struggled with their independence. Despite being "appalled," the ineffective narrator of "Little Mrs. Perkins" watches in silence. "I did, I said, nothing," she shamefully confesses: she and Mrs. Perkins are isolated in their own separate worlds. Each "breathed secretly," lying in her own bed, "like children in dormitories pretending to be dead."
Equally helpless are Mortimer's child protagonists. In "The White Rabbit," an eleven-year-old child is gifted a bunny by her estranged father, but is so disgusted by what it stands for—a rift in the intimacy between herself, her mother, and her stepfather—that she creeps out of bed during the night and drops the creature over the balcony of their tenth-floor London apartment onto the busy road below. Both here and in "The King of Kissingdom"—a warped fairy tale of a family romance about the neuroses of a guilt-ridden child of divorced parents—Mortimer demonstrates the keenest understanding of childhood's interior world. Find a better sketch of sibling rivalry, for example, than the narrator who, looking back on her relationship with her elder brother, describes him as "an impression of grey-flannel violence, a pair of stocky knees, a whiplash decapitating nettles." Mortimer's empathetic, expert grasp of the child's perspective has often been overlooked, the emphasis instead on her adult protagonists and the tantalizing insights they offer into her and John's very public marriage.
*
Again and again, family life is depicted as a fraught battleground. In "I Told You So," a husband and wife squabble about their youngest child's safety while out on a family walk. She urges her daughter to scale the cliffs like her older sisters, fearful that her husband's trepidation will box their children into living "narrow lives." The child does fall, breaking her leg in the tumble, and her father scoops her up into his arms with a smug satisfaction that's truly chilling. He parades his spoil of war with glee: "He did not attempt to comfort the child. He allowed her to cry, carrying her with great pride and caution, as though she were a treasure he had won, a rare and valuable hostage."
"Such a Super Evening," meanwhile, gives readers a sneak peek behind the front the Mortimers put on for their adoring public. In it, the Mathiesons—both "fantastically successful writers" and the parents of eight children—are invited to dinner by a self-effacing housewife. Over the course of the evening, the housewife is astonished to discover that the famous couple are actually bickering bores. Mortimer's fictionalization of her own life allowed for some dramatic license, but the underlying principal stands: her and John's marriage was not as perfect as it looked. Mortimer was struggling with depression—she took an overdose in 1956, and would do so again in 1962. She was worn ragged by motherhood and domesticity, writing in fits and starts between bouts of excruciating writer's block, her miserableness exacerbated by John's thoughtless infidelities. Mortimer's childbearing and rearing years were marked by a keen ambivalence. So much of her identity was caught up in maternity and motherhood, but like many intelligent women, she felt trapped in her role. Nowhere are these contradictions more powerfully explored in Saturday Lunch with the Brownings than in the superb opening story, "The Skylight".
A masterclass in tension, it sees an unnamed mother and her five-year-old son arriving alone to their rented holiday home in the middle of the French countryside only to find the house locked and unassailable by any route other than a tiny open skylight in the roof. Despite the heat—which "sank with the resonant hum of failing consciousness"—the story is steeped in dread from the start. The house is "grey" and "mean," its shutters and doors all "heavy black timber" locked shut with "iron bars," surrounded by "dead grass" through which slinks a rat the size of a cat. Unable to think of what else to do, the woman lowers her son through the open skylight into the attic, giving him strict instructions to make his way downstairs and unbolt a window, but the little boy disappears into the gloom not to reappear. At the end of the story, after she's eventually managed to break into the house with the help of some passersby, the woman's relief at finding her exhausted son curled up on the floor fast asleep is tempered by frustration and rage at the distress he's caused her: "With one hand she pushed him upright. With the other, she hit him. She struck him so hard that her palm stung." Later in her life, Mortimer came to the realization that this story was actually about a miscarriage she'd suffered shortly before writing it in 1959.
Two years later, in February 1961, Mortimer found herself pregnant again. She initially embraced the idea of a new baby. This was in large part due to the rather lukewarm reviews Saturday Lunch with the Brownings had received when it had been published the previous year. One especially hostile critic declared her unhappy couples "trivially embittered, chronically quarrelling about nothing, filled with a fatigued desperation," and suggested they should just take fifty aspirin and end it all. Mortimer thought that a new baby might bring her the contentment that the book hadn't. Instead, however, she had a termination—and a permanent sterilization—at the encouragement of both her doctor (on medical grounds—she was forty-two) and her husband (who argued that their marriage, which was struggling, should come first). Devastatingly, while she was still in the hospital recovering from the surgery, Mortimer discovered that John was having yet another affair, this time with the actor Wendy Craig, who shortly thereafter became pregnant with his child.
Anyone who's read The Pumpkin Eater will be familiar with these events; when, after months of depression, Mortimer began writing again that November, she poured every last drop of the anguished experience into the novel. The result was raw, vivid, and utterly brilliant. "Almost every woman I can think of will want to read this book," raved Edna O'Brien when the novel was published, and it was quickly adapted into a film (the screenplay was written by Harold Pinter, and Anne Bancroft was nominated for an Academy Award for Best Actress). The Pumpkin Eater's success overshadowed the meager attention given Saturday Lunch with the Brownings. And yet, the novel only becomes all the more poignant if one can read the brilliant short stories that precede it.
Lucy Scholes is a critic who lives in London. She writes for the NYR Daily, The Financial Times, the New York Times Book Review, and Literary Hub, among other publications.