On December 9, 2018, at twelve thirty in the afternoon, a group of about a hundred friends, acquaintances, and strangers began arriving at the corner of Washington and Gansevoort Streets on the far west side of Manhattan, right in front of the Whitney Museum. Many carried signs and banners painted with slogans, which they spread across the sidewalk and weighed down with socks full of spare change: I DIDN'T CROSS THE BORDER, THE BORDER CROSSED ME in green and white, NO DAPL in red block letters against a black background, and FUCK ICE written in a script made of what looked like snakes being torn apart by eagles.
"I want to thank everybody for coming out on this cold-ass day," said Shellyne Rodriguez, a member of the group Take Back the Bronx. She wore a beanie over her bundle of gray dreadlocks and rubbed her hands together. "Warren B. Kanders is on the board of this museum," she added, pointing to the shimmering glass and concrete structure behind her. Warren B. Kanders, the vice chairman of the Whitney's board, is also the CEO of the  "less lethal" arms manufacturer Safariland. Along with making body armor, billy clubs, and the NYPD's holsters, Kanders's company is among the largest manufacturers of tear gas in the world, and it was his canisters you likely saw in photographs from 2018 demonstrations at the Mexico–United States border. "We can trace the tear gas canisters launched at the caravan of asylum seekers at the border of the U.S. and Mexico to the Whitney Museum. The time is now to put a stop to that shit. Because what will they do next?"
A man dressed in a heavy parka, military-style green cap, and a keffiyeh went over the plan. His name was Amin Husain, a Palestinian artist, activist, an adjunct at NYU, and cofounder of Decolonize This Place (DTP). Husain cleared his throat and called for a mic check.
"We have posters, and we have banners, and we have signs. Put them on your body, put them in your bags," he instructed. "We need to be in that museum to hold it accountable. It is also our museum in this city." Husain paused while the crowd cheered.
"Feel empowered to carry a banner with you and another person. Your responsibility inside is to make it visible and seen. And those who have posters—the posters have a statement on the back and the demands of the caravan. It's about giving it out to people. A lot of love went into that art, but that's the people's art."
Fellow organizers held bundles of posters designed by Kyle Goen, which featured screen-print-style grids of tear gas canisters reminiscent of Andy Warhol's soup cans. The canisters were paired with pictures of Kanders, his wife, and the Whitney's director, Adam Weinberg, smiling together at a gala. On other images, the Whitney's spiky, minimalist W had been tweaked to form the path of a bouncing can of tear gas.
Journalists scrambled to keep their cameras rolling as the mass joined the line at the entrance to the museum, where staff were claiming there would be an hour-long wait. This didn't sit well with the protestors.
"You gonna learn today, Whitney," said Rodriguez, as the crowd pushed itself into the lobby, taking up their most popular call-and-response chant: "Decolonize… Decolonize … This museum! … This museum!"
Once inside, I found myself on the edge of a ring of about a hundred artists and activists assembled in the lobby. Stepping into the center was Rick Chavolla, a member of the Kumeyaay tribe and a leader of the American Indian Community House, which had, until recently, been engaged in a community partnership with the museum. As he spoke, he held a smoldering bundle of sage in his hand.
"Sage is medicine," he shouted, and the crowd repeated after him.
"Tear gas is poison" Chavolla added, echoed by the crowd. He wafted the sage while other protestors lit sage-filled braziers. The room began to smell like a new age bookstore. Curious onlookers held up their phones to record the commotion while museum staff watched from their positions around the lobby or stood at the edge of the crowd, nodding their heads.
"This man, Warren Kanders, poisons us."
Tendrils of fragrant white smoke drifted through the lobby. A woman passing by the ticket desk frowned and waved her fingers in front of her face while a young couple dressed in expensive shades of black used their shirts as improvised gas masks to cover their two children's mouths. Panicked clusters of coughing visitors ran into the museum's elevators, seeking refuge.
*
It's ironic that a person who profits from a weapon that governments around the world use to suppress free expression would also claim to defend those ideals, but the irony seems to be lost on Warren Kanders. Through his business, Kanders has become very rich (Forbes estimates his net worth at $700 million), and he has funneled much of his wealth into art collecting and art-related philanthropy. The show that had just opened at the Whitney in the weeks before the DTP protest, "Andy Warhol: From A to B and Back Again," was funded in part by the generosity of Kanders, as was the Whitney's recent retrospective on political art, "An Incomplete History of Protest: Selections from the Whitney's Collection, 1940–2017" (now on view at Kanders's alma mater, Brown University).
After a Hyperallergic article linked Kanders with the tear gas canisters deployed against asylum seekers, ninety-five members of the museum's staff (including curators Marcela Guerrero and Rujeko Hockley) wrote a leaked letter urging the board and Adam Weinberg to call for Kanders's resignation, and to develop "a clear policy around trustee participation."
One Whitney employee who had signed the letter (she asked to speak with me anonymously for fear of retaliation) explained the staff's frustration. "I get it—the administration's in a tough position," the employee said. We were sitting in the back of a bar in Brooklyn, a few hours after the DTP protest had ended, trying to guess what, if any, impact it might have. The museum's social-media accounts were locked down, and staff had been asked not to speak with press. "But it would even be great to know, what is the line? What is acceptable?" the employee continued. "Is there a point where you would say no to money or is it our position that all money is good money for the museum, and that's who we're going to be?"
This is an old question. Most of the big museums in New York City (and in the U.S., for that matter)—The Met, The Frick, Cooper Hewitt, the Guggenheim, the Whitney, and MoMA—were founded or supported by robber barons and their children. Spurred by Andrew Carnegie's The Gospel of Wealth, these museum benefactors wanted to cement their legacies as philanthropists rather than monsters. Today, we call this "art-washing." Because these cultural institutions were established as nonprofits operating "in the public interest," U.S. law allows donations to be tax-deductible. This creates museums that funnel money away from public coffers, that are "open to all" and yet are controlled by and cater to the tastes of America's wealthiest people.
Since their establishment in the first Gilded Age, museum boards have only gotten wealthier. In his survey of American nonprofits, "A History of Nonprofit Boards in the United States," Peter Dobkin Hall argues that trustees used to be chosen for their expertise—professors, government officials, and priests in the case of religiously affiliated colleges—who were appointed to uphold the missions of these institutions. Hall suggests the shift toward the superwealthy happened in waves, such as during the end of the nineteenth century when rich alumni pushed out religious leaders at schools like Harvard and Yale, and during the Reagan and Clinton eras, when Republicans enraged by provocative contemporary art shows tried to cut government funding; museums became desperate for alternate money. Since then, museums have come to rely on the very wealthy to pay for programming, and given Trump's hostility to funding the arts (this is his third budget to propose eliminating the National Endowment of the Arts), America's wealthiest individuals will be called upon to fill the gap once more. Even Jerry Saltz, a vocal critic of art-washing, told the New York Times in 2018: "…We need the money of rich people in America to fund the arts." And in Europe, where governments have traditionally had a long history of funding the arts, the iron grip of austerity has led many state museums to cut budgets and expand their development offices, even sending employees to the U.S. to learn "the American way of giving."
Though they have enormous power to shape institutions that serve the public, museum boards are less like governments elected by the people and more like private clubs, self-perpetuating and accountable only to themselves. The makeup of the board illustrates the problem: As of this writing, only one artist and one scholar sit on the Whitney's board of fifty-two trustees, Fred Wilson and Henry Louis Gates, Jr. (They are also among the four trustees of color.) In essence, the rich use art philanthropy to accrue cultural capital, maintaining inequality while claiming to soften its worst effects.
Weinberg responded to the criticism in a public letter, saying that the Whitney "cannot right all the ills of an unjust world, nor is that its role." Kanders doubled down with his own letter, outlining the benefits of his company's products for maintaining law and order. "Regardless of one's political persuasion, I hope we can all agree that uncontrolled riots pose a serious threat not only to the safety and security of law enforcement, but also to the public in general," he writes. "I am not the problem." This is a point on which he and protesters may actually agree.
In the eyes of DTP and their compatriots, Kanders is a starting point. Organizer Marz Saffore described him as "just one fuckboi on the board" at a DTP direct-action meeting in March. She wore her hair in a frizzy bun and a black T-shirt with the phrase "White Supremacy is Terrorism" printed across the front.
Some of the other board members include Susan K. Hess of the Hess gasoline fortune, and Nancy Crown, whose family is the largest private shareholder of General Dynamics—a defense contractor paid to house and process thousands of detained immigrant children. With Kanders and Hess and Crown, and many others still on the board months after the December 9 action, DTP has announced "a campaign of escalation" leading up to the 2019 Biennial. More than pressuring Kanders to resign, they hope to advance a series of demands, starting with the staff's letter, about how the museum should be governed in general.
Decolonize This Place doesn't have an official hierarchy or elected positions—but organizers Nitasha Dhillon and Amin Husain seem to run the show, with support from artists and "over thirty" other activist groups across the city, according to Dhillon.
Dhillon thinks of DTP not as a traditional organization but as toolkit of theoretical concepts and aesthetic strategies that anybody can use to reckon with the colonial legacies and ongoing practices of their "place" or situation—be it a museum, a school, or a government. "Decolonization is inherently a process that requires unsettling," she said, "but it's a conversation that opens up."
In their October essay, "From institutional Critique to Institutional Liberation? A Decolonial Perspective on the Crises of Contemporary Art," Husain and Dhillon (writing as "MTL Collective") position themselves as part of a larger contemporary "resurgence of activism around artistic institutions." Since 2010, the activist group Gulf Labor and their direct-action spin-off GULF (Global Ultra Luxury Faction) have been lobbying the Guggenheim Museum to build its Abu Dhabi branch ethically, and has collaborated with the Illuminator, another art-activist collective, to create guerrilla light projections against the museum's facade. BAN (Brooklyn Anti-Gentrification Network) has pressured the Brooklyn Museum to sever ties with real-estate developers pushing up the price of housing and studios in the borough. Liberate Tate is engaged in a campaign against British Petroleum's sponsorship of the Tate museum. And Nan Goldin's group P.A.I.N. (Prescription Addiction Intervention Now) is attempting to hold the big-pharma Sackler family (donors to MoMA, the Met, the Guggenheim, and the Harvard Museum, among others) responsible for their role in developing and marketing OxyContin—to which Goldin personally became addicted. Due to pressure from Goldin, on March 19, London's National Portrait Gallery announced its decision not to accept a one-million-pound grant from the Sackler Trust.
Since the December 9 protest at the Whitney, I've been attending meetings, conducting interviews, and decoding densely written art manifestos in an effort to understand what separates this new movement from past trends in activist art. Unlike some of their comrades, DTP somewhat paradoxically frames their political actions as a kind of art-making, and I've been struggling to understand what it means to call protest "art" rather than to frame it as a political gesture with a visual component. How do we talk about or understand the work of artists trying to affect structural change, and using the techniques and theories of art as they do so?
Like their predecessors, DTP operates with the recognition (following the Marxist cultural critic Fredric Jameson) that art under the conditions of late capitalism is not just a super-structural bauble decorating "real" money and power, but is fundamental to capitalism itself. According to Art Basel's annual report, global art sales in 2018 reached $67.4 billion, up 6% from 2017. Museums, through their curation, scholarship, and collecting activities validate and indirectly boost the value of the art they show, sometimes borrowed from the collections of their own trustees. Today, museums have become essential tools in driving income and cultural prestige to their host neighborhoods, cities, and countries—a trend that art historian Hal Foster calls the "Bilbao effect."
The role of contemporary art museums in creating wealth is one side of the coin (capital); on the other are the artists who have begun to think of themselves as laborers. This potentially radical concept has popped up every few decades since the Paris Commune, and seems most viable during times of political and economic crises. During the Depression, the American Artists Congress was founded as part of the Communist Party USA, and as Helen Langa notes in Radical Art: Printmaking and the Left in 1930s New York, even sent an ambulance corps to fight fascists in the Spanish Civil War. In the late sixties, groups such as the Black Emergency Cultural Coalition and the Art Workers' Coalition (whose work was on view in "An Incomplete History of Protest") pressured museums into a more transparent and democratic relationship with artists, and a more racially diverse curatorial program—underpinned by artists' rights to withhold their work if terms were not met. And in our post-Occupy, Trumpified moment—through collective action, groups like W.A.G.E (Working Artists and the Greater Economy) are attempting to form a kind of artists guild that certifies museums and galleries who meet their minimum payment standards. Drawing on this history, Decolonize This Place understands their protests at the Whitney as not just symbolic gestures, but actual disruptions of the colonial, capitalist art system.
However DTP differs from many of its peers and predecessors by rejecting the limits of institutional critique and old channels of art world authority. Their actions are planned and carried out without museums' cooperation, and they threaten a museum's greatest asset, its brand. By using semianonymous collectives and partnerships to self-theorize in prominent art-world journals (like October) and to launch their own (Anemones), they attempt to chart their artistic and political lineages outside the closed loop of the traditional art world. By emphasizing their role as artists, and therefore active stakeholders in the institutions they challenge, DTP also rejects the inside/outside distinction museums' communications offices wield against would-be protestors; both Husain and Dhillon are deeply invested in the museum as graduates of the Whitney's Independent Study program, with lifetime memberships. "It is also our museum in this city," Husain reminded the crowd outside the Whitney. For DTP, crisis presents an opportunity to be heard.
Most significant, however, is their dismissal of critic Holland Cotter's call to "make museums moral again," which DTP and their allies see as a reform effort that would have museums renew their stated commitments to "liberal" values by booting especially heinous board members whose actions violate the missions of their institutions—while in the most important ways (governance, inclusive curation and hiring, and pay equity) preserving the status quo. What DTP and their comrades propose is a more radical agenda at the nexus of art and politics, a practice they call institutional liberation, that goes beyond representation and questions the fundamentals of how art institutions are run—by whom and for whom.
"We're interested in liberation, not in an aesthetic sense, but actually in freedom," Husain told me. "I think what people don't realize is that one of the few spaces that we have left is in the arts."
In the case of the Whitney, this means following the staff's demands to define the circumstances under which the museum will accept or reject "toxic philanthropy." Dhillon, Husain, and art historian Yates McKee called me from a "banner-making party" to explain what seemed to me like very vague goals, aside from ousting Kanders.
Dhillon said she hopes the groups can facilitate a "a decolonization process."
"Decolonization means something more than better board members," said Husain.
"It's a thorough restructuring of the relations of power," added McKee.
But what exactly was the endgame?
"At some point they're probably going to call us in for a conversation," explained Husain. "We're going to be in the room with the stakeholders, and we're going to be doing a step-by-step process. And we're going to trying to figure out, how can we go forward? And then we'll go in another room and figure out, should this stop?"
*
DTP's first step is to create spaces for people to talk. This was the idea behind their town hall on January 26, held in a subterranean auditorium at Cooper Union. The lights dimmed as a video of Safariland training footage played to the depressingly buoyant tune of 21 Savage's "A Lot." How many lawyers you got? (A lot.) / How many times you got shot? (A lot.)
Every DTP meeting begins with an acknowledgement of indigenous claims to the land on which the meeting is taking place. The schedule for the afternoon was a "speak out," followed by "break-outs," and a "wrap-up," and it was here I would learn that while demonstrations are exciting, the rest of activism work can be quite tedious. The first audience member to talk was Jackson Polys, a native Alaskan artist with a puff of gray hair in the style of Jim Jarmusch. Polys is also in the 2019 Biennial and has been working closely with the Whitney to develop a land acknowledgement principle. He took the microphone and sat on the stage to face the rest of us.
"I may be lying. Or lying in wait," he began cryptically. "But I'll aim to keep this brief brief, and acknowledge the aim—or at least, I may appear to be pretending to take aim."
Other participants took a less poetic approach to describing injustice in the museum world. Curator Nikki Columbus emphasized the need for collective action, recounting a job offer she received at MoMA PS1 in 2018, which was rescinded when her superiors became aware that she had just given birth. Though she filed a lawsuit, no settlement has been reached. Columbus moved on to the recent New Museum unionization announcement, to roars of applause, and ended on a note of reflection: "The reason I started with my own history is just to say, that as I found out, it's easy for institutions to ignore single voices," she said, "but they can't ignore us if we act collectively."
For the second half of the afternoon, we moved on to "tactical brainstorming." On the auditorium stage, a group of artists and art historians, including Lyle Ashton Harris, David Joselit, and Yates McKee, were thinking through the conceptual underpinnings of the movement. The participants at the meeting frequently referenced the artist Hans Haacke, whose 1970 piece, "MoMA Poll," asked museum visitors: "Would the fact that Governor Rockefeller has not denounced President Nixon's Indochina policy be a reason for you not to vote for him in November?" Consisting of ballot papers, two clear boxes, and a photoelectric counting device, Haacke's poll directed participants to place their answers inside the corresponding boxes to make visible the increasingly anti–Vietnam War attitudes of the public. Viewers were prompted to recall the connections between the obviously crooked President Nixon and the supposedly benign Governor Rockefeller, who also happened to be a trustee of MoMA. Not surprisingly, Haacke was not invited to contribute work to future MoMA shows.
In his recent book, Strike Art: Contemporary Art in the Post-Occupy Condition, McKee flips the art/protest binary to show the ways groups like DTP are drawing lessons from a leftist political vanguard as much as an artistic avant-garde: from the "Free Store" of the Diggers, to ACT-UP's ashes protests, to the demonstrations of Zapatistas, to Occupy, Black Lives Matter, and Standing Rock. To really understand what DTP is about, McKee argues that you have to look at political groups whose activities largely haven't been recognized as art. "Radical movements have always involved creative direct action. Poetic forms can be embedded in the work of collective struggle, with life and death stakes," McKee told me.
What connects many of these disparate political struggles and groups is what McKee, borrowing from David Graeber, describes as the "creative resistance," a political strategy that uses the techniques of art-making to spread messages or advance critique, while also in some way "prefiguring" or bringing into being an alternative vision of how that community or institution could exist. David Graeber's ready example is the campus occupation, in which students, faculty, and staff don't merely criticize university policy, but through teach-ins, break-out groups, committees, and the activities of everyday life, are able to reimagine how the university might function in radically different and more democratic ways.
While the art historians were debating DTP's artistic and political lineage, Lise Soskolne, an organizer of W.A.G.E., led a group of a few dozen artists to the lobby outside the auditorium, where they sat in a circle on the concrete floor. W.A.G.E. had just released a call to artists chosen for the Whitney Biennial to withhold their work until the demands of the Whitney staff were met. Soskolne explained that artists were supposed to use a new online platform created by W.A.G.E., called WAGENCY, that would allow them to individually negotiate with the museum for this purpose. The assembled crowd of artists did not understand how this would work.
"Why aren't we doing a full boycott?" an older artist seated on a chair asked Soskolne. Many of the younger artists in the circle frowned at the idea.
Others recalled the challenges of protests at past Biennials, including around Dana Schutz's painting of Emmett Till, which had drawn widespread controversy within the art world and beyond. Had anything come of those protests? The meeting concluded without much progress.
With the meeting over, attendees milled about the auditorium, among them a few staff members from the Whitney who had chosen to remain incognito. I spoke with one museum employee who had helped write the staff's demands. "I've been really heartened to see some artists supporting the letter. The Whitney is the artists' museum," they said, gesturing to the crowd. There were people from across the city, of every age, gender, race. Some were dressed in the rumpled sport coats of professors, others in neon beanies and busted Dr. Martens. Almost all of them were artists. "[The staff] may not have a lot of power to make demands of the administration, but artists do in a very real way."
*
Despite the intense public pressure, disruptive protests, and negative media coverage, Kanders has not yet resigned, and as of press time, only one artist, Michael Rakowitz, has withdrawn from the Biennial. "I stand in solidarity with the workers, and all the people who are being tear-gassed," Rakowitz told me over the phone. An Iraqi American artist and professor at Northwestern University whose work often addresses the lingering devastation of the 2003 invasion, Rakowitz felt his participation in an exhibit funded by a "profiteer of state violence" would go against everything he stands for. He considered the idea of addressing the problem of Kanders in his work, but "I think the machine of the museum does a very good job of appropriating that critique and turning that into a product," he said.
Rakowitz had never intended to make public his departure from the Biennial, but rumors about his decision began to circulate in the art world, prompting the Whitney to release their roster of selected artists  on the same day that the New York Times was set to print their article on his withdrawal. "They don't let you know who else is in the show. You have to sign a nondisclosure agreement," he explained. "The Whitney did this perfectly. It's a divide-and-conquer technique."
So far, none of the other seventy-five participants have contacted Rakowitz. "Careerism runs rampant in our field. It's a very precarious field," he sighed. "We've been led to believe that these are things we can't say no to. I think there's power in unions, and when artists collectivize they're able to make change," he said. "I wish artists would realize they—the museums in general, not just the Whitney—need us more than we need them, and we need them to be better."
Since the announcement of the Biennial roster, DTP has switched from calling for an artist boycott to endorsing a "multiplicity of tactics" against the museum. Notably, this Biennial will be the most diverse ever, with many more young artists of color than in past shows. Recognizing their precariousness, DTP "is asking for people to do things from their own position," said Dhillon.
For DTP to achieve its most immediate and concrete goal, Kanders must either resign or be removed from the board by other Whitney trustees. Neither event will be made more likely by a few artists in the Biennial obliquely referencing tear gas in their work. Only one recent campaign to oust a museum trustee has been successful, and it may lay the groundwork for how organizers can approach the Whitney—the effort to remove Steven Mnuchin from MOCA in 2016. To explain his departure, Mnuchin and the museum claimed he needed to focus on his new duties as treasury secretary in the Trump administration. The timing, however, was suspicious, as many prominent artists in the collection and on the board, including Barbara Kruger and Andrea Fraser, had been lobbying for his removal and had planned to publish a signed petition calling for his ouster in the Los Angeles Times—the day before Mnuchin's retreat.
"I think the effectiveness of the situation at MOCA had to due with the presence of artists and some other progressive board members" said Fraser, calling from Los Angeles. She wondered whether organizers could try a similar technique at the Whitney, leveraging the reputations of artists in the collection, who could, for example refuse to have their work shown until the staff's demands are met. Better yet—why not pack the board with more artists, staff members, and other museum stakeholders, and change governance from the inside?
However, Fraser didn't think it made sense to call these activities "art." Though she is renowned as one of the principal practitioners and theorists of institutional critique, and is often credited with coining the term, she wondered whether it might be more effective to just turn the screws on the board the old-fashioned way. She had recently completed a phone-book of a project, 2016 in Museums, Money, and Politics that traces the political giving of almost every museum trustee in America during the last election cycle and questions the role of museums in upholding political influence. "I'm asked about my book for example, 2016, Is it art, or is it not? Is it political science research, what is it? My response to that is, Well, it could be art," Fraser mused. She continued: "Calling something art generally implies or affects a few things that we're very familiar with. It frames off that phenomenon from the flow of everyday life, and it does that—even if you're a Kaprowian and you say that art is part of everyday life—no. It abstracts that phenomenon from everyday life, it tends to render that phenomenon largely symbolic, it tends to render that phenomenon an object of reflection and contemplation, it tends to frame it within a particular history of cultural practice that is not a political history, it tends to frame it in the context of a structure, of a field that's fundamentally competitive and aims toward a certain kind of position-making or position-taking, rather than realized action in the world. It has particular effects. So from my perspective, there are certain things that I do that I don't want to call art—I don't want them to be seen as art because it actually limits the potential impact that it has."
Fraser's dogs were barking in the background. "I'm sorry, I have to go now."
*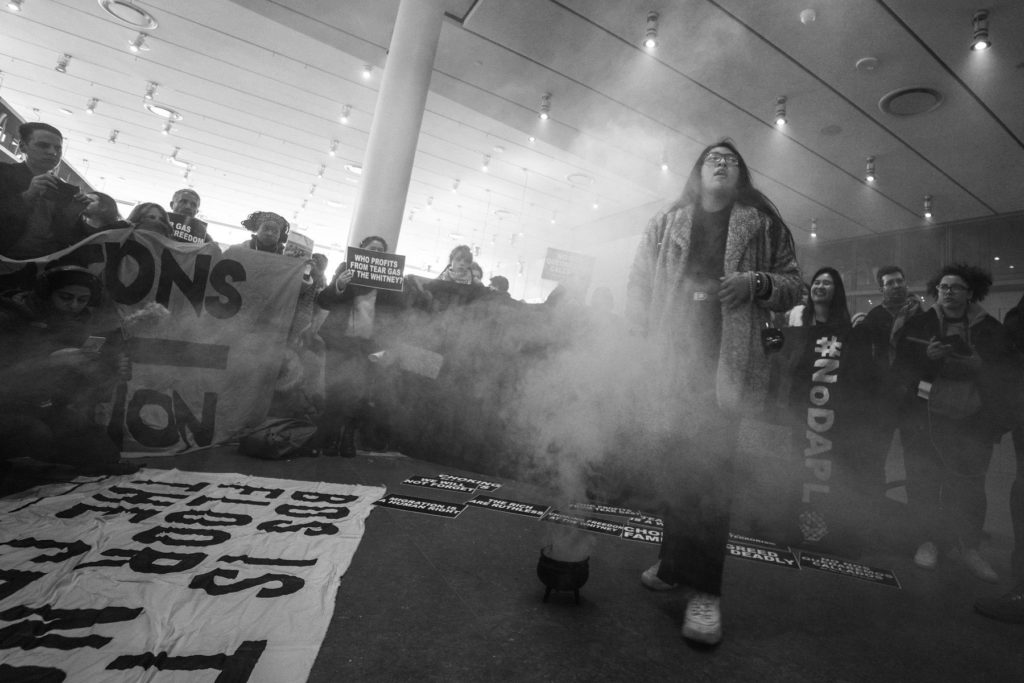 The lobby of the Whitney Museum had become hazy with sage smoke. Suddenly, an alarm was sounding from somewhere in the building; sirens howled. People screamed.
"Fire, fire to the colonizer," the crowd chanted, with two woodblocks keeping the beat.
"Amin!" Dhillon called to Husain, and pointed to a scrum of firemen who were charging into the lobby. Outside, fire trucks were lined up along the edge of Gansevoort Street with police cars behind them, and dozens of officers standing next to their vehicles.
"You can't light this in here," said a gray-haired fireman, reaching toward a smoldering brazier of sage.
"Stop, I got it! Don't touch it," a protestor snapped.
Tensions were mounting. There were about a hundred protestors in the lobby; for a mass arrest, you need three police officers per demonstrator—if they know how to resist. How many were outside?
"Mic check!" Husain called. He repeated himself twice more, echoed by the crowd. "We're taking this outside!" he declared, as much to the firefighters and police as to his fellow demonstrators.
"We're taking this outside!" the crowd returned.
"Can we please, with music?" he asked.
A samba beat burst from a portable speaker and the mood suddenly turned jubilant. Most of the words were lost on me, but I picked out "den tema de los migrantes" or "given the topic of migrants." Accompanied by drummers and somebody with cowbell, the crowd marched out the way they'd come in, dancing and shouting, "Decolonize! This museum!"
The crowd danced on the steps of the Whitney and then begin to disperse, while other protestors handed out fliers. Some museum-goers crossed their arms and refused to read anything given them; others, intrigued, asked about the protest as they waited in line. A few firefighters were standing in front of their engines, quizzically scanning the pamphlets, trying to figure out what had just occurred.
This demonstration was meant to illustrate a connection that feels elusive in everyday life; what binds together the Mexico–United States border, Ferguson, Standing Rock, Taksim Square, and the Gaza Strip? These sites of injustice are separated by geography and the particularities of history, but they were explicitly connected by those plumes of tear gas and sage smoke, which I could still smell on my jacket. The theory of decolonization is abstract, but here was a visualization.
By any measure, these are the kinds of questions most artists want to provoke in their viewers, to create an encounter that leaves people changed. That this encounter took the form of a protest rather than a painting seems beside the point. Aesthetically, it was a rich experience; politically, it shifted my perspective. With spring returning to New York, DTP will be back at the Whitney for nine weeks of more action leading up to the Biennial in May, starting Friday, March 22. Decolonize This Place wants nothing less than "institutional liberation," yet it remains to be seen whether these artists can create change at the Whitney. The answer will depend on the museum staff, the artists in their collection, the trustees, the members, and the public, which is to say, all of us.
Daniel Penny writes about art and culture at The New Yorker, Boston Review, and elsewhere. He teaches writing and visual culture at Parsons School of Design.