In Valerie Stivers's Eat Your Words series, she cooks up recipes drawn from the works of various writers.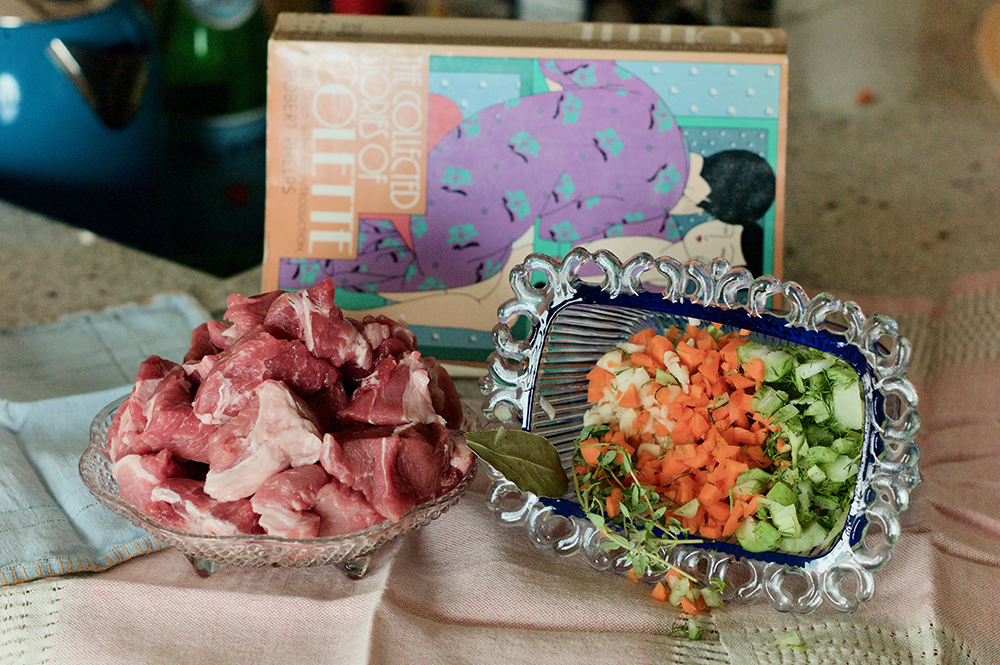 Any writer who has recently been the subject of a film starring Keira Knightley can be said to be having a moment, and this is especially true of Colette (1873–1954), a star of the belle epoque Parisian literary scene whose life lends itself well to the themes of our own time. Colette, born Sidonie-Gabrielle Colette, was a gender nonconformist more than a hundred years ago who adopted her surname as a one-word moniker. She was born to prosperous parents in the French village of Saint-Sauveur-en-Puisaye, and at twenty years old, with a "little pointed face," a "well-made body," and braids that touched her calves like "whips" or "reins," she made an improbable love marriage to "Willy" (Henry Gauthier-Villars), a wealthy thirty-four-year-old Parisian aristocrat and publishing impresario. Willy was the ultimate networker, a critic, society hound, and a provocateur who ran a workshop where impecunious young writers pumped out popular novels under his name. He brought his countrified young bride to Paris and was disowned for the ensuing scandal.
Colette quickly went to work for him, and the series of semierotic autobiographical novels she wrote as "Willy," which begins with Claudine at School, was "one of the greatest, if not the greatest" success stories in French literature, according to a contemporary. Colette's biographer Judith Thurman even credits her with having invented the teenage girl. Later Claudine books reveal the queer and genderqueer ferment in Parisian society at the time (Proust was a contemporary); Colette's affairs with women, including Mathilde de Morny, Marquise de Belbeuf, a woman who dressed as a man and went by "Missy"; and Colette and Willy's open marriage, which could be considered an early attempt at polyamory. The approach of the Keira Knightley movie is to portray Colette's struggles to leave Willy, regain the rights to her work, and begin writing under her own name as a feminist parable.
As a person allergic to orthodoxies, I never want to like the writer who is having a moment, especially when the reasons are ideological (even when the ideologies are ones I mostly share). I'd been resisting Colette until cracking a spine and discovering, like most of Paris did once before me, that she's irresistible.
She's irresistible—sorry, Hollywood—exactly because of her unorthodoxy. Colette, born in the countryside, considered herself a "child of nature." She did not try to be good, nor did she try to be particularly real or truthful. She followed her appetites and wrote about them and observed others sharply. Her characters are driven by desire: for food, for love and money, for gratifying their vanity and buying new clothes. She flouted the conventions of her time, danced on stage, dressed like a sailor boy, wrote nasty revenge stories with unflattering portraits of her ex-husband, got fat, stayed sexual into old age. If she had any credo, it was her commitment to art, which shows only through the beauty of her prose, since she wasn't one to moralize or make grand statements. (Colette's belief that art should be apolitical—that a worthy goal was "to forget reality, to promise the world miracles, to sing of victory, and to deny death"—was so strong that late in her life, during the Vichy regime in France, she deliberately published in the Nazi-controlled press, a decision for which she has been widely criticized.)
The food in Colette's books, following this child-of-nature approach, is some of the most interesting and particular I've encountered in literature. It appears frequently, craved by characters broke enough to be hungry, but it is equally important for pleasure. I suspect the author didn't separate these two functions of good food. She has a knack for finding the beauty and sensuality in everyday things and doesn't need the imprimatur of a restaurant to tell her what's good.
Julie de Carneilhan, a divorced woman who has come down in the world, sits down to savor "a cold pork cutlet, a slice of bread and butter, half a pound of red currants and a cup of excellent coffee." The Colette stand-in in the story "Green Sealing Wax" says her favorite thing to eat is "whole meal bread, cream cheese, pink onions." In an attempt to capture the writer's spirit, I invited a handful of literary friends over for a belle epoque dinner party. I served Colette's simple, earthy food: a tomato salad that barely required a recipe, a cassoulet from Gigi, and a clafouti, after the "simple cake" that, other than various forms of fresh fruit, is Colette's most oft-mentioned dessert.
The only dish that caused complications was the cassoulet, which takes two days to assemble—or more, if you're going to make your own duck-legs confit (I didn't)—and which probably requires a lifetime to perfect. Mine was good but possibly not two-days good. The meal became great with the addition of wine and spirits, which are mentioned almost any time someone eats something in Colette's work. An example that epitomizes her casually decadent approach to alcohol comes in the story "One Evening," when travelers stranded by car trouble in the countryside consume a "potluck of cold meat, washed down with champagne." Another example that captures the beauty of her writing is when a character "lunching outdoors" notices that spring has arrived because "the petals of the apple tree were drifting down into the pitcher of frothy cider."
I served a classic French cider and attempted a vintage Parisian atmosphere with a pitcher of chartreuse cocktail and another of wormwood liquor over ice. I also asked my friend Hank Zona, of the New Jersey–based wine business The Grapes Unwrapped, to recommend a red wine that would work well with cassoulet. His suggestion was a bottle from Chateau Maris, a winery known for impeccable organic and biodynamic standards, located in the heart of the Languedoc region, where cassoulet was invented. The winery makes two Syrahs specifically recommended for cassoulet: the Les Planels, which is richer and denser, and the La Touge, which is lighter and more approachable.
I thought both wines had the vigor to stand up to the cassoulet and to Colette. I also have to admit that, in the end, I really enjoyed the movie. 
Tomato Salad
Heirloom tomatoes, pretty and of a high quality
Olive oil
Salt
Pepper
Basil
Tarragon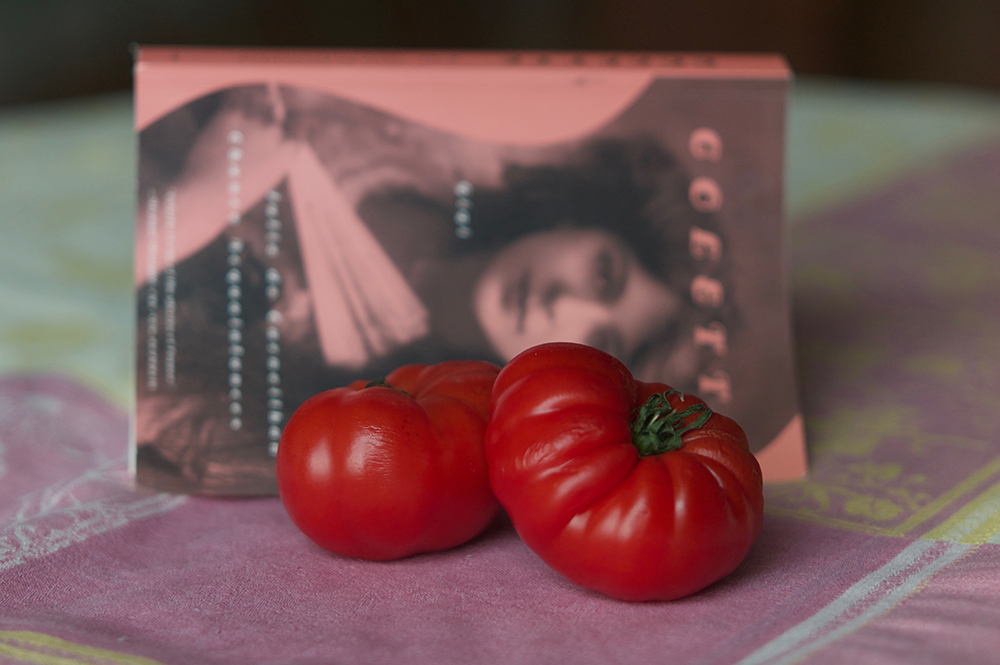 Slice the desired quantity of tomatoes on a large platter. Drizzle with olive oil, season with salt and pepper, and sprinkle with torn leaves of tarragon and basil, to taste.
Classic Cassoulet
This recipe is adapted from Bon Appétit and required an order of specialty ingredients from D'Artagnan.
For the beans:
2 cloves
1 large onion, peeled and halved
1 lb dried Tarbais, corona, or cannellini beans, soaked overnight and drained
8 oz pancetta (leave in one thick piece)
2 carrots, scrubbed and halved crosswise if large
A head of garlic, halved crosswise
4 sprigs thyme
1 bay leaf
Freshly ground black pepper
Kosher salt
For the pork ragout:
1 1/2 lb skinless, boneless pork shoulder, cut into one-inch pieces
1/2 tsp kosher salt
Freshly ground black pepper
2 tbs vegetable oil
1 large carrot, peeled and chopped
2 sticks celery, chopped
4 cloves garlic, finely chopped
4 sprigs thyme
1 bay leaf
14.5 oz can of crushed tomatoes
6 cups chicken stock or low-sodium chicken broth
For assembly:
3 duck-legs confit
Kosher salt
Freshly ground pepper
1 lb fresh pork sausage
3 cups bread crumbs, divided
Duck fat (optional)
1/4 cup parsley, finely chopped
1 clove of garlic, cut in half
1 lb precooked garlic sausage, sliced crosswise, a quarter inch thick (optional)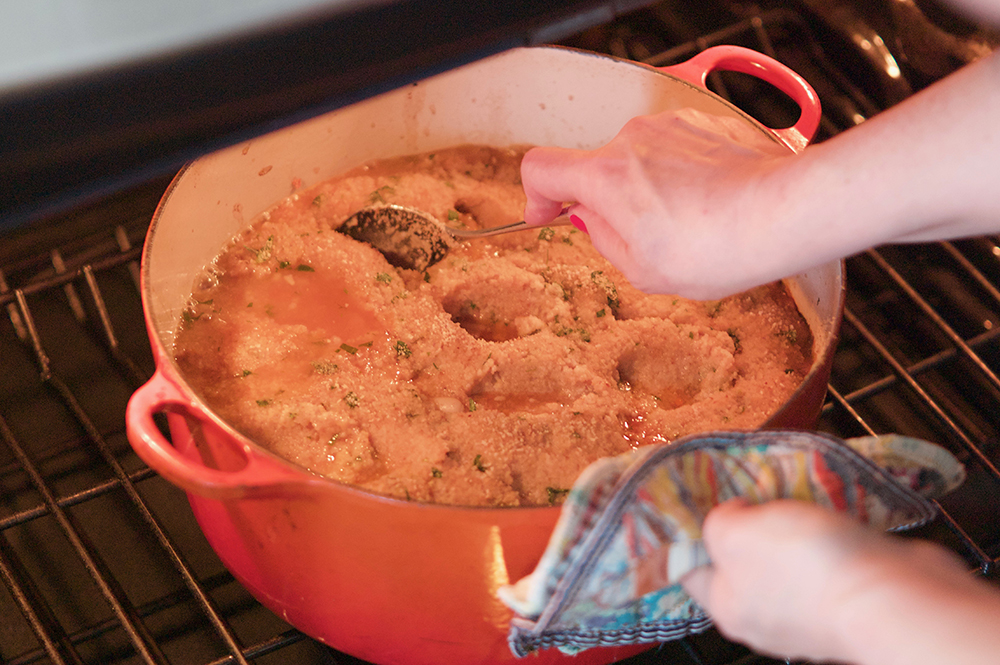 Cook the beans
Two days ahead of serving, soak the beans.
One day ahead of serving, drain the beans. Stick a clove into each onion half. Place in a large pot along with the beans, pancetta, carrots, garlic, thyme, and bay leaf. Pour in cold water to cover the beans by two inches. Season with several grinds of pepper, and bring to a gentle simmer, skimming the surface occasionally and adding more water as necessary to keep the beans submerged. Don't add salt until the cooking process is complete (and then only if necessary, to taste) because the pancetta will probably be enough and many of the dish's components are salty.
Cook until the beans are tender but not falling apart. Let the beans cool in the liquid, which you will be using in a later step. Pick out the onion, carrots, garlic, thyme, and bay leaf, and discard. Remove the pancetta, chop into quarter-inch pieces, and add back to the bean pot. Reserve the beans and the liquid.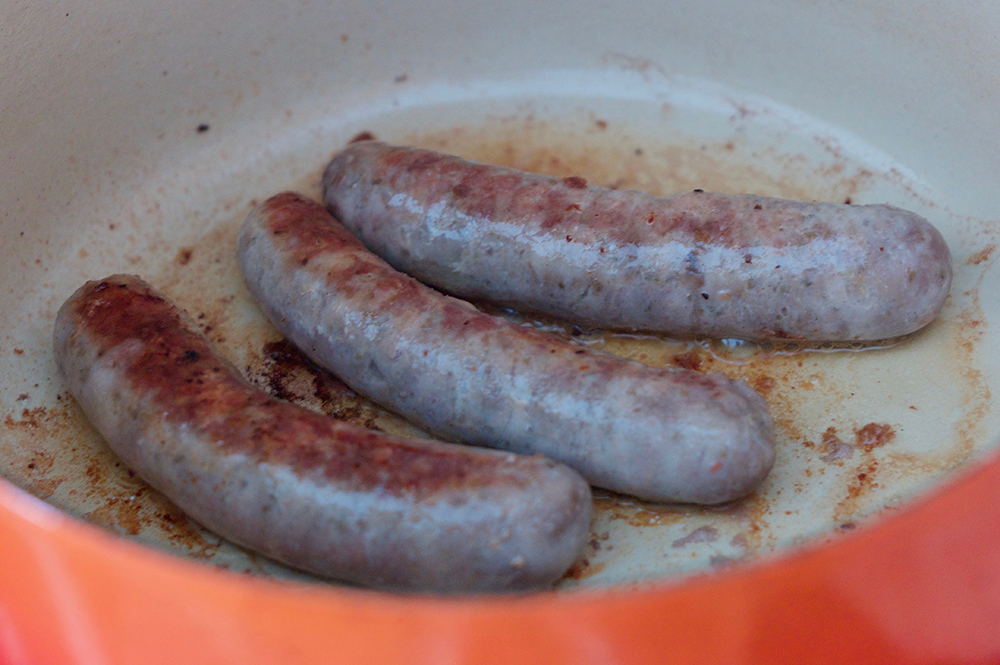 Make the ragout
One day ahead of serving, sprinkle the pork shoulder with a half teaspoon of kosher salt and several grinds of pepper. Heat the oil in a large Dutch oven or other heavy pot over medium-high heat. Working in batches, cook the pork, turning until browned all over. Transfer the meat to a plate as you go.
Reduce heat to medium, and place garlic, carrot, and celery in the pot. Season with salt and pepper. Cook, stirring occasionally, until softened and lightly browned, about eight to ten minutes. Return the pork to the pot, and add thyme, bay leaf, tomatoes, and stock. Bring to a boil. Reduce heat to a simmer, partially cover the pot, and cook, skimming fat occasionally, until the meat is fork-tender, around two hours. Pluck out the bay leaf and thyme. Let cool.
Using a slotted spoon, transfer the bean mixture to the pot with the ragout, continuing to reserve the bean liquid. Add enough liquid from the beans to just cover the bean-ragout mixture. Reserve the rest of the liquid. Chill the bean-ragout mixture for at least twelve hours before assembly.
Putting it all together
On the day of serving, remove the ragout mixture from the refrigerator, and skim the fat from the surface. Discard the fat. Cover the pot, and bring the ragout to a gentle simmer. Taste and season conservatively with salt and pepper. (The duck and sausages will add considerable saltiness when mixed in.)
Remove the skin from the duck legs, keeping it as intact as possible. Shred the remaining meat from the bones, and set aside. Place the skin in a single layer in an eight-quart Dutch oven or other large heavy pot (the same one you'll use to make the finished cassoulet). Cook on medium-low heat, about twenty minutes, until the skin is completely dried out and crispy and breaks apart easily in your fingers. Remove and set aside.
Prick the pork sausages all over with a fork, and fry in fat in the same pot, until browned and cooked through. Transfer to a plate, and let cool slightly. Cut into two-inch pieces.
Add the bread crumbs to the pot and cook, stirring frequently and watching carefully, until uniformly toasted a golden brown. If the bread crumbs seem dry or are sticking to the pot, add some duck fat (or other fat, optional). Transfer the bread crumbs to a medium bowl, and let cool slightly. Add parsley, and toss to combine. Wipe out the pot, and let cool.
When ready to assemble, preheat the oven to 375. Rub the inside of the cooled pot with a cut clove of garlic. Ladle in one third of the ragout mixture. Top with half of the pork sausage, garlic sausage, and duck meat, then another third of the ragout mixture. Top with the remaining duck meat and sausages, then the remaining ragout. The liquid should come to the top of the beans. Add some of the reserved liquid if necessary, and keep the rest for the cooking process. Top with two-thirds of the bread-crumb mixture. (The assembled cassoulet can also be fixed ahead and stored; just don't add the bread crumbs until you're ready to bake.)
Bake, uncovered, until a golden crust forms, about twenty-five to thirty minutes. Remove from the oven, and use a spoon to break up the crust, pressing gently so the crust absorbs a little liquid. Smooth the surface. Bake until another crust forms, about twenty-five to thirty minutes, and repeat. Repeat two more times (for a total of four times). If the mixture starts to look dry, moisten with the reserved liquid. Top the cassoulet with the remaining bread crumbs, and bake until golden, about fifteen minutes. Let rest at least twenty-five minutes, and then sprinkle crumbled duck skin over the top before serving.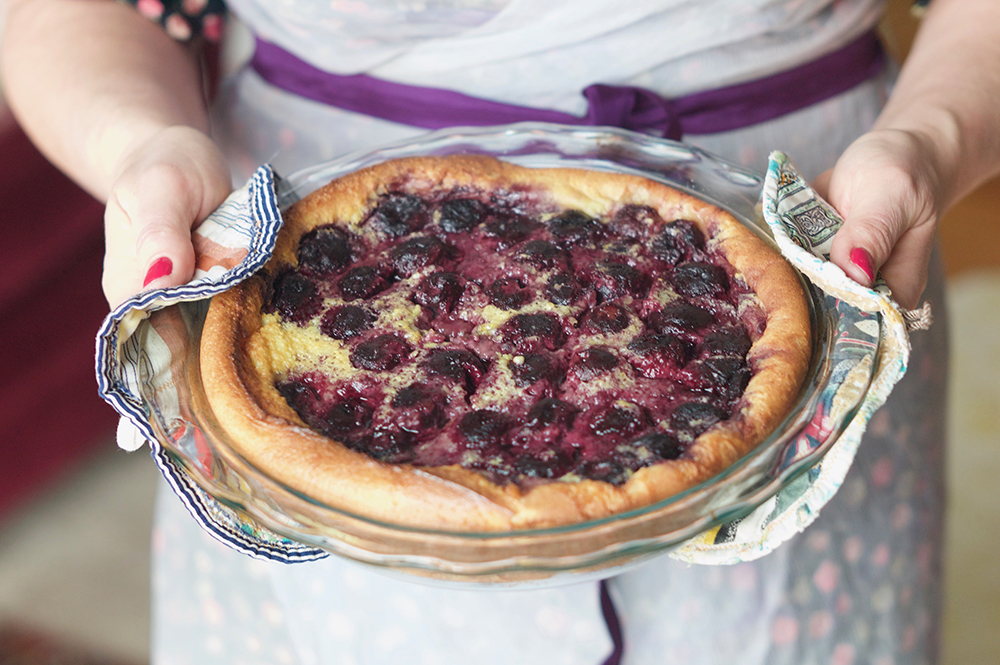 Cherry Clafouti
Recipe from The Bonne Femme Cookbook, by Wini Moranville.
12 oz pitted fresh or frozen cherries
3 large eggs
1/2 cup sugar
1/2 tsp vanilla extract
1 tbs kirsch (cherry brandy)
Pinch of salt
1/2 cup flour
1 cup milk
1/4 cup heavy cream
1/4 cup confectioners' sugar (for dusting)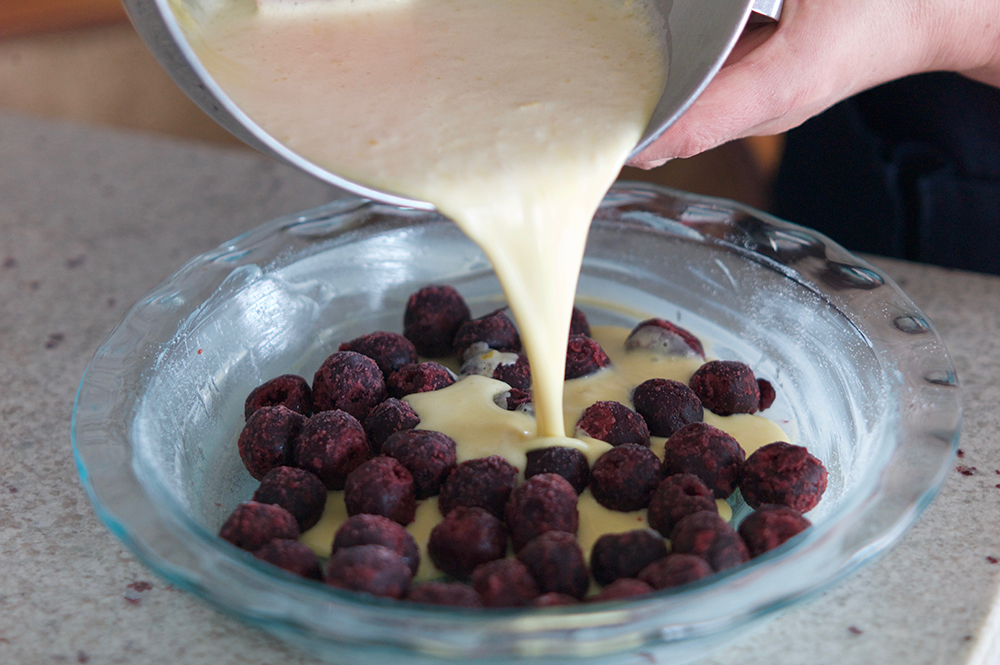 Preheat the oven to 375. Butter and sugar a nine-inch round nonmetal baking dish with two-inch sides.
Spread the cherries in the baking dish. In the bowl of an electric mixer, beat the eggs, sugar, vanilla, kirsch, and salt on medium speed until well combined. Pour the batter over the cherries.
Bake until a thin knife inserted near the center of the clafouti comes out clean and the top is a deep golden color, about forty minutes. If the top is brown before the custard is done, loosely cover with a sheet of foil. Place on a wire rack to cool, but serve warm. Just before serving, dust the top of the clafouti with confectioners' sugar, and serve in either scoops or wedges.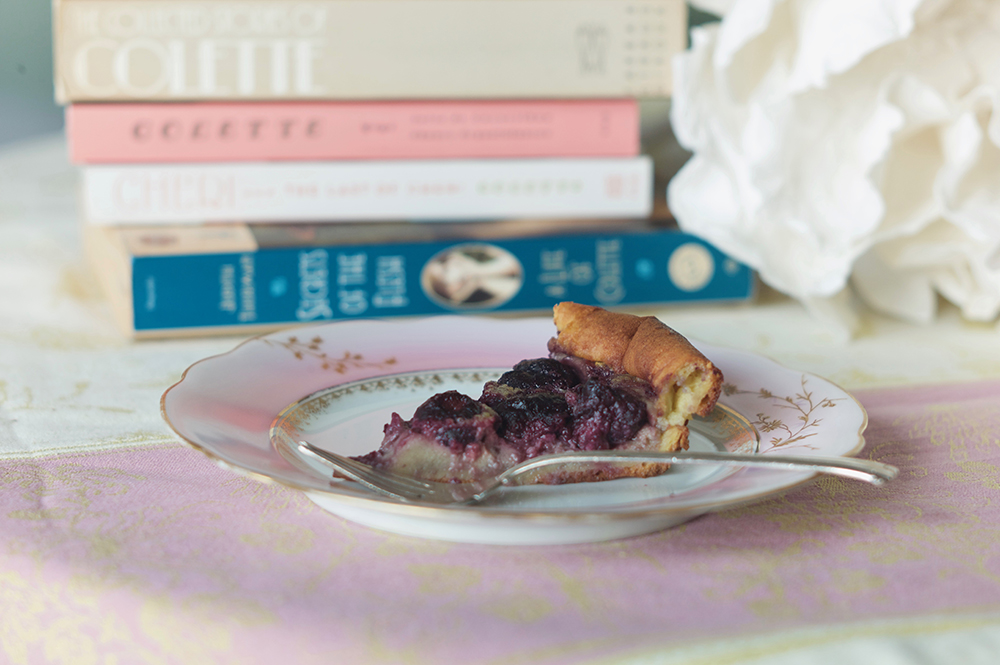 Valerie Stivers is a writer based in New York. Read earlier installments of Eat Your Words.