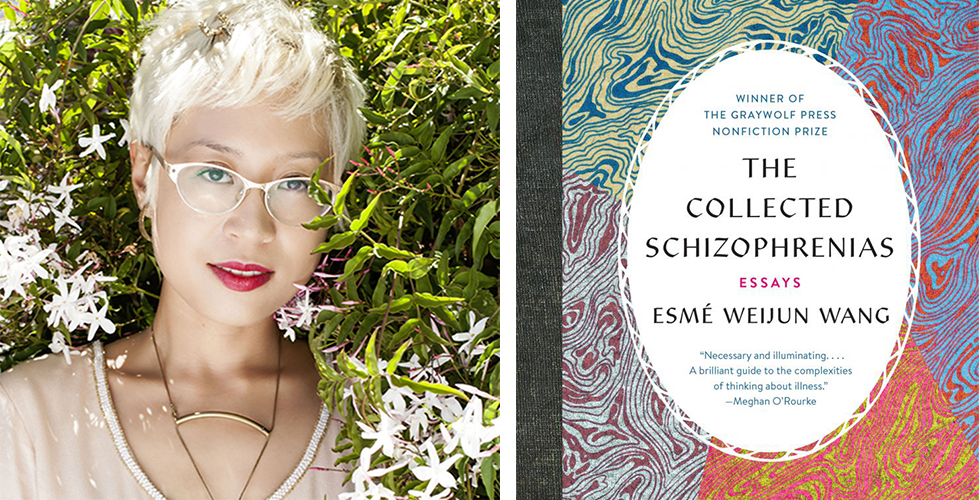 Esmé Weijun Wang's first book was a novel, The Border of Paradise. It was a multifaceted epic about family, migration, language, and mental illness, for which she was named one of Granta's Best of Young American Novelists in 2017. Her second book, out this week, is a collection of essays. The Collected Schizophrenias (read an excerpt here) examines schizophrenia from historical, medical, social, and emotional perspectives, and looks at the myriad ways it is misunderstood, including by the psychiatric community and schizophrenics themselves.
This nonfiction project has been acclaimed since long before publication: in 2016 the manuscript-in-progress won the Graywolf Press Nonfiction Prize, and in 2018 Wang was awarded a Whiting Award for nonfiction, the committee noting that she "sends out revelatory dispatches from an under-mapped land, shot like arrows in all directions from a taut bow of a mind." Her prose is precise and lyrical at the same time. She is equally comfortable in the realms of science and spirituality. She provides personal documentation of experiences that, almost by definition, seem to erase the possibility of doing so.
Wang was diagnosed with schizoaffective disorder eight years after experiencing her first hallucinations. She recounts those intervening eight years of confusion in the first essay in the book, laying out the changes in the DSM. ("Changes in the bible of psychiatry continue to affect people's lives," she writes.) But an accurate diagnosis is just a small shard of clarity in a universe of pain.
In the essay "On the Ward," Wang offers a harrowing account of involuntary psychiatric hospitalization; in "Yale Will Not Save You," she tells of how the university essentially forced her to leave after two hospitalizations that did little to help her. For an overachieving child, Wang writes, " 'I went to Yale' [was] shorthand for I have schizoaffective disorder, but I'm not worthless." She went on to complete her undergraduate degree at Stanford and, later, received an M.F.A. at the University of Michigan.
Other essays discuss the intersection of PTSD and psychosis, the performative power of fashion and self-presentation, and schizophrenias in pop culture and the collective consciousness (for example, The Exorcist, or the true story of the twelve-year-old girls who stabbed their friend nineteen times after becoming absorbed by an internet meme, depicted in the HBO documentary Beware the Slenderman).
When we spoke on the phone, it was morning in San Francisco. It was raining very hard there, and she was lying on the bed she has in her office. Wang has created that configuration out of necessity—she suffers from late-stage Lyme disease, a debilitating chronic illness that means that she often has to write by tapping one finger on her phone or small tablet. She has written entire essays that way. "It gets done; slowly, but it gets done," she told me.  
INTERVIEWER
In your novel, The Border of Paradise, you set out to write about mental illness and certain psychological and psychiatric experiences—for example hallucinations—in ways that were new, moving away from the Beautiful Mind narrative. For example, there's a scene in which the protagonist, who is a Polish American man in rural California in the fifties, sees a deer in the woods. What does nonfiction, and the essay form in particular, give you that's different from what fiction gives when it comes to writing about those experiences?
WANG
I came to writing as a fiction writer. I had no particular interest in writing nonfiction. I studied fiction in my M.F.A. program, and I wrote The Border of Paradise with the intent of writing about psychosis, hallucinations, et cetera, in a very visceral way that I hadn't seen before. The first essay I wrote about psychosis and schizoaffective disorder was "Perdition Days" (originally published on The Toast in different form), and it gave me the opportunity to write in a very different way. [The essay chronicles her experience of Cotard's delusion, a strain of psychosis in which the patient believes that they are dead.] Interestingly enough, I felt that by telling a more in some ways straightforward story about things that had happened to me, I had more room to talk about the straight facts, and less space to talk about the kind of visceral experience of psychosis. I actually had to remind myself, while working on The Collected Schizophrenias, Remember that you can include the visceral details.
For me, in a lot of ways, there's a lot more emotional truth to writing fiction—as opposed to other kinds of truths. I think those were some of the challenges of this book—to not only include the cut-and-dried but to capture some of the more nuanced emotions and sensations as well.
INTERVIEWER
In the essay "L'Appel du Vide" (originally published on Hazlitt in different form), you write about Francesca Woodman and how her friend said that she was always "single-mindedly thinking about photography," and that every moment of her life "was in preparation for a photograph," and then you ask yourself, "Why not, as a writer, create essays in which I myself appear?" The reader gets the sense that Woodman used herself as a subject almost as a way to economize, to have a subject who was always accessible. Was this something that you were thinking about when writing this book? It could be argued that a collection of essays is more vulnerable than fiction—and you write about the stigma of mental illness, and the carefully curated self-image you presented through clothes, or makeup.
WANG
Completely, and much of that came from having actually started almost primarily as a visual artist. The idea of being someone who took self-portraits was a big part of my life, and influences like Francesca Woodman or Cindy Sherman were big to me when I was a teenager or in my early twenties. I had a lot of friends who were also visual artists, and also used themselves as subject matter, because you are always there as a model. When I transitioned to being a writer, for a long time, I wanted to rebel against that. When The Border of Paradise came out, it really bothered me when people would ask me, How much of this book is about you? To me, that kind of implied that there wasn't that much craft involved in the book, which I now think is not necessarily a great way of thinking about it. But I remember I read a piece that talked about The Border of Paradise and referred to me as someone who wrote autofiction, and I was offended, because why would they think that? It's a book about a Polish American man in the middle of the twentieth century and an immigrant who raises her children in this semi-incestuous way.
And then of course, I came all the way back around to writing this series of very personal essays. It's interesting to be able to explore all these different ways of looking at the world, whether that's looking at myself and my own experience, or things that I imagined, or my observations of other people's experiences of the world.
INTERVIEWER
You've written through the experience of believing you were dead, and you've photographed psychotic episodes. You write about the photographs as being a sort of "bridge" or "tools for my well self to re-experience the loss." You're using nonfiction to make sense of states that make you lose your sense of reality, and sometimes your very notion of self.
WANG
I think part of what I was trying to get across is the parallel between writing through your story using words, and getting through the story using photography. So the essay starts with "I write this while experiencing … Cotard's delusion, in which the patient believes that they are dead. What the writer's confused state means is not beside the point, because it is the point. I am in here, somewhere: cogito ergo sum." But it is also, I have been taking these photographs as I am dead, and then I look back at these photographs to re-experience what it was like, as someone who experienced themselves as a dead person. And they're the same. It's very much the same experience, just one is visual and one is more verbal. Both are ways to get through a very difficult experience, and they're also ways to remember it.
INTERVIEWER
The essays read as lucid and specific descriptions of states that are often misunderstood. You're writing against powerful cultural and social narratives. And, maybe inevitably, the book has a didactic component. Did you think about whom you were writing for? Is there a difference audience for this book than there was for The Border of Paradise?
WANG
That's really interesting. It varies depending on what I'm trying to get across with each essay. The first essay in this book, "Diagnosis," is very much an essay that's conscious of who the audience might be. So that was actually an essay that came fairly late in the writing of the book. I came to this point where I was like, yeah—I'm going to need to write something that helps a reader who has no idea what schizophrenia is or what the schizophrenias are. The first line is "Schizophrenia terrifies," which is boom, here we go. But then there are pieces that are more for people who might be in my position. Hopefully all the essays can be understood by people at all levels of experience.
INTERVIEWER
You're gearing up to go on tour, and you'll probably get a lot of people coming up to you telling you about their experiences or even asking you for advice. How do you view your relationship to the schizophrenias now that you are likely to become a kind of ambassador for them?
WANG
I feel like I've thought much less about being an "ambassador" than one might think I have, you know? This is the kind of thing that I'm still talking to my therapist about a lot as the tour is coming closer! I am aware that there aren't that many books written from this perspective. And so people might be looking for a certain kind of thing from me. But I also really want people to know that I'm not an expert, and while I wouldn't be surprised if, say, something happens in the news and then some network reaches out to me and wants me to give a sound bite. It's not something that I'm necessarily prepared for. I haven't been, like, media training—I'm just a person who's trying to share as much as I know at this point in my life.
INTERVIEWER
There's an undercurrent throughout the book of disappointment with institutions, from psychiatric ones to Yale University. And this coalesces toward the end of the book in your discovery of the "sacred arts"—you write, for example, "I found that Tarot and oracle cards offered a decent framework from which to hang a fractured experience." These practices give you solace not through beliefs but through the actions they recommend. How do they inform your practice now?
WANG
A big theme that runs throughout the book is the notion that when we're young, if we are lucky enough to have grown up with a sense of relative safety, there's a sense of certainty about our lives, almost the sense of, we know what the world is. And something that I try to come back to over and over in the book is that we know so much less about the world than we think we do. Particularly when we are shaken free from a sense of safety, we end up looking for other things. I often say that medicine seems great if you have a broken arm, but if you end up with some more mysterious ailment, or a confusing autoimmune disorder, then you will become obsessed with the color of the coconut water you drink. The more lost I became in terms of my own health, my own mental illness and chronic illness, whether that was named late-stage Lyme disease or dysautonomia, or whether that was named "the mysterious autoimmune disorder that nobody could figure out," the more I was searching.
So, you were asking what I do now. I still practice a lot of the things that I learned to practice in the last essay in the book. I still do divination, I use tarot cards, I practice candle magic, I have a special arts mentor, I do a lot of readings.
If not for having felt so lost and afraid, I might not have ever started seeking out so much in my spiritual life. That is something that I am still doing.
INTERVIEWER
Did you really throw out a full novel draft after reading The Sound and the Fury?
 WANG
Yes. I'd spent a number of years writing my first novel, and I was basically done with it, or almost, and then I read The Sound and the Fury—in one day. And it blew my mind. I just had never read anything like it before. I had been a fairly idiosyncratic reader. I had never really read any of the classics, I would just walk into my local bookstore and pick up books that had interesting covers. I didn't really have a good sense of what to read, I just read all kinds of things. The Sound and the Fury opened my mind to the idea that I had never imagined what literature could be like. As soon as I finished reading it, I threw out the whole book.
INTERVIEWER
Was there any of it that ended up shape-shifting into The Border of Paradise, or nothing at all?
 WANG
No, none of it lasted. And I didn't end up saving any of it. I didn't even save a paragraph.
Marta Bausells is a writer living in London. Her work has appeared in TheNew York Times Magazine, the Guardian, Electric Literature, and The Millions, among others. She is the literary editor at Elle UK and European editor-at-large at Literary Hub. She received a 2018 London Writers Award for narrative nonfiction.