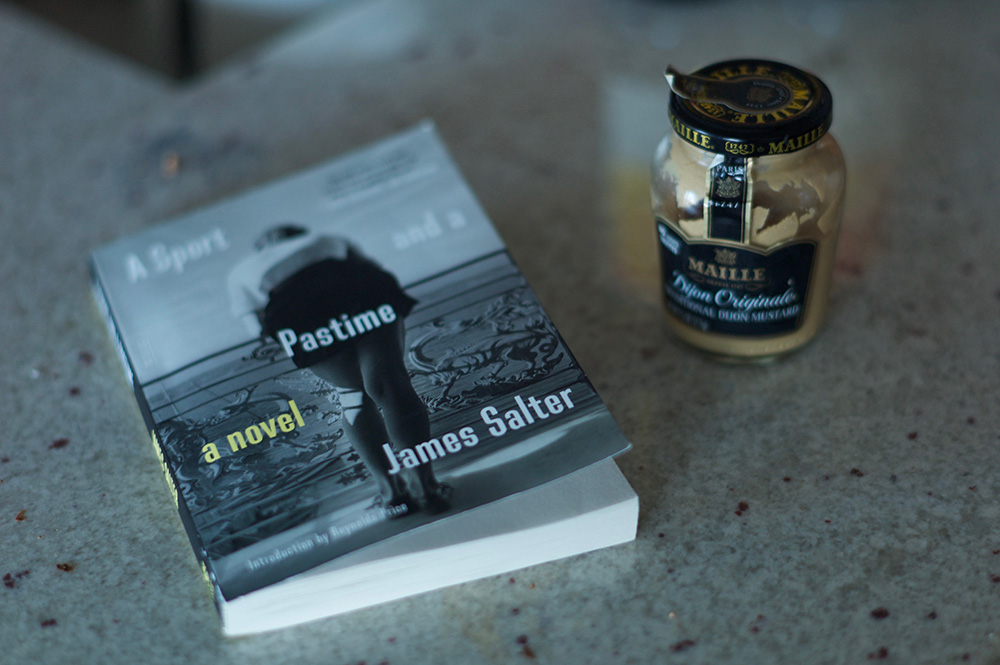 James Salter (1925–2015) wrote about food and about sex—and sometimes about the combination of the two—in short, elegant sentences. In Salter's hands, the topics weren't just transient pleasures but the stuff of life. "Life is weather. Life is meals," he writes in the book Light Years, and he later took the phrase as the title of a nonfiction book about food. It was his life's work to evoke his characters' fleeting moments, the picnic lunches and afternoons in bed, to assign meaning to them as they flooded by, and also to mourn the gaps between what can be lived and what can be recorded, contemplated, captured. All of this is another way of saying that James Salter was an intense guy who liked a good dinner party.
More on that intensity: Salter was a fighter pilot in the Korean War, an experience that became the foundation of his first novel, The Hunters. He gave up a bright future in the military in order to become a writer, eventually scaling the heights of literary New York. On the side, he became a successful Hollywood screenwriter. He had four children from a first marriage and, in later years, living with a second wife in Long Island, New York, scooped up many prizes, including a PEN/Faulkner Award, a PEN/Malamud Award and The Paris Review's 2011 Hadada Award for lifetime achievement. 
As a host, he was also impressive. Dinners in Life Is Meals tend to be breezily served to friends such as John Irving or the legendary New York Times restaurant critic Craig Claiborne. For an impossible-to-top Christmas party, the Salters once went "cross-country skiing at dusk … Halfway along the trail we had a table with small baked potatoes, sour cream and caviar. Vivaldi was playing on a portable CD player. There was ice, vodka and candles."  The writer's favorite wine was Château d'Yquem, a Sauternes dessert wine that can cost more than four hundred dollars a bottle. And his books are full of feasts and feasting. In Light Years, a 1975 novel about the dissolution of a marriage, Salter writes of "lunches that sheltered them like a tent" on the summer beach, where "beneath a wide umbrella" the mother of the family spreads "chicken, eggs, endive, tomatoes, pate, cheese, bread, cucumbers, butter and wine." By contrast, when I go to the beach, I'm lucky if I bring my kids a granola bar. For Salter, such distinctions matter. A good picnic is an emblem of success and "an illustration of life for the children." Even a casual moment in the kitchen can be an example of man at his best. Of one character, an ideal family man, he writes: "He moved about confidently; fresh scallops and cold, white Graves. He knew how to make things—a drink, a fire, dinner, what kind of stove to have."
In order to cook from Salter, I felt that I needed—in the spirit of ambitious social demonstration and life being lived—to have a dinner party. It was a tall order. Many of the foods fashionable when Salter was writing would today be considered fiddly; they also represent a kind of haute French cuisine that now feels dated. In Light Years, for example, the lover of the adulterous wife instructs her to read, out loud, a recipe for rillettes d'oie, probably from Larousse gastronomique, while they're having sex. I didn't want to cook that dish or serve it to guests. In cuisine terms, I went with the spirit but not the letter and chose an eclectic, not-very-French mix of recipes from Life Is Meals that sounded to me like they'd make a good dinner, plus added some favorites of my own.
From Salter, I made buckwheat blini stuffed with smoked salmon, though I altered his recipe to make it work better for me (more liquid and a nonstick pan). Following that, I served a green salad, dressed with his "house dressing," which he claimed is "the one" for "nine out of ten salads." It relies on red-wine vinegar and Dijon mustard, and I found it a bit generic. My main course was Marcella Hazan's polpettone alla Toscana, aka meat loaf with mushroom sauce, a dish Salter said made "an incredible impression" at his parties. Meat loaf isn't quite chic in this day and age, but it seems an appropriate nod to his heyday as a novelist in the sixties and seventies. I served mine with a side of broccoli rabe, made with ingredients probably not available to him, like Aleppo pepper and preserved lemon. For the dessert course, I prepared an abundant cheese board, following a chart from Life Is Meals that matched cheeses to fruits. I deliberately included some pairings (such as bananas with goat cheese) that sounded weird—and, my guests confirmed, were indeed weird—but we all had fun trying them. To finish the meal, there were fanciful striped zebra cookies from a favorite recipe of mine.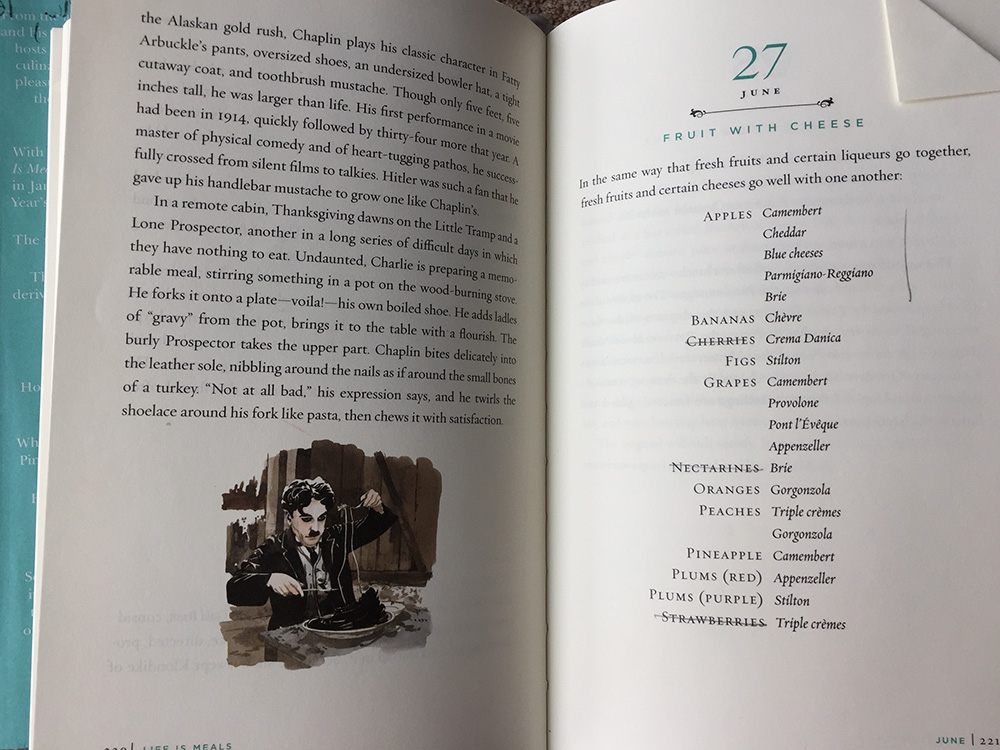 No such meal would be complete without wine, and Salter was a connoisseur. In his books, he often pairs food with drinks, including specific vintages of wine, even serving temperatures (like the scallops and "cold, white Graves" above). One of my favorite passages in Life Is Meals, entitled "Rules for Dining," is taken from Brillat-Savarin and states that for a successful evening, one must have "passable food" but "good wine." To find which good wines to serve, I asked Hank Zona, a New Jersey–based wine expert with a popular wine-in-pop-culture Instagram feed, to suggest pairings for my menu, with modern equivalents of wines Salter mentioned or would have liked.
Somehow, against my better judgment—and against Salter's injunctions that hostessing should be casual, graceful, and seemingly off the cuff—this became a plated five-course meal for fourteen people, plus food for children, who had to be served on picnic blankets on the floor. By the time the prep was over, I was grateful for the suggestion that the food could be only "passable" as long as the wine was "good." I was also grateful for the slipstream of consciousness, something Salter writes about so well, which dictates that my guests would eat, drink, and have a good time, yet would forget most of it, retaining only "fragments, like the half of a paper napkin … on which they had both written words," as Salter wrote of the lovers' story in A Sport and a Pastime. The rest will drift off "into the distances of life … all that was lost in them."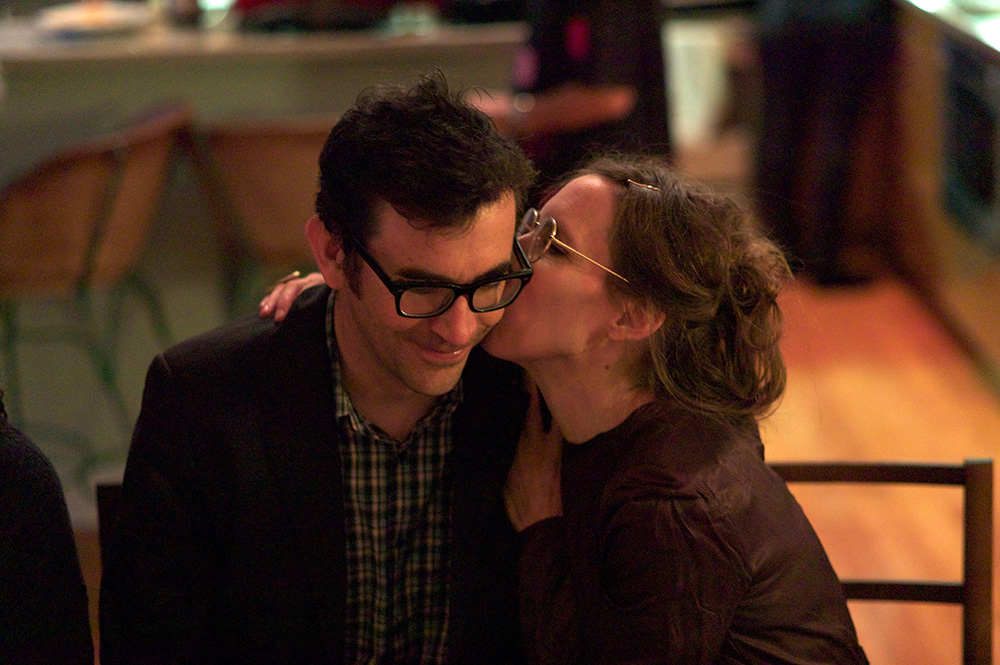 Course 1: Salmon and blini, paired with Raventós i Blanc, Cava Rosé "de Nit," 2016 ($21.99)
Champagne is a classic pairing for Russian blini, and Salter named Veuve Clicquot as a champagne he liked, but he also strove to be an insider and was up on the trends of his time. A man who name-dropped Veuve in 1975 might choose something different today. For my own dinner party, Zona suggested a sparkling rosé from the ancient Spanish winemaking family Raventós, who appeal to modern sensibilities by using biodynamic farming practices. This wine is made in the Champagne method but is much more affordable and "looks pretty on a set table."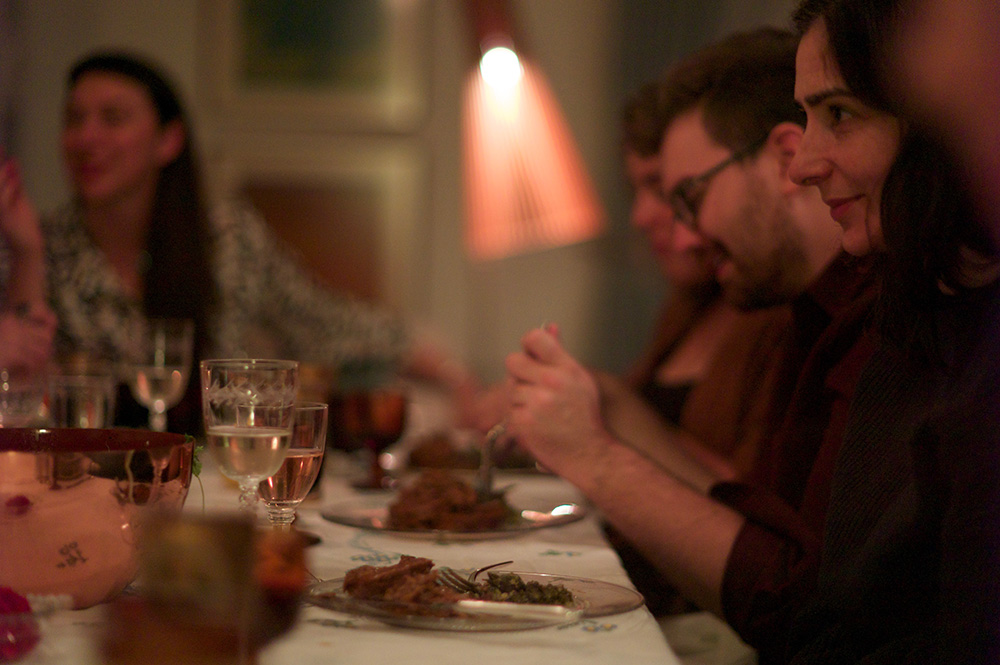 Course 2: Green salad with "Salter house dressing," paired with Channing Daughters, "Scuttlehole" Chardonnay, 2016 ($12.99)
Salter's 1967 masterpiece, A Sport and a Pastime, is about a love affair between an American expatriate and a young French woman, set in provincial French towns like Autun and Dijon, which happen to be in the Burgundy wine region, birthplace of Chardonnay. Salter liked Burgundies, and my salad dressing was Dijon mustard based, so Zona chose a Chardonnay wine made from a Dijon-specific version of the grape that would have been "appealing to his Francophilia." For a twist, this one was made by a vineyard in Bridgehampton, New York, near Salter's home.
Course 3: Polpettone alla Toscana, paired with Bibi Graetz, "Soffocone di Vincigliata" Toscana, 2016. ($49.99)
"A recipe called polpettone alla Toscana deserves a vin Toscana," Zona said. He suggested this one made from Sangiovese, a grape known as "the noble grape of Tuscany." The winemaker, Bibi Graetz, is the kind of glamorous character Salter would have been hanging out with in his expatriate days: Graetz's paintings adorn his wine's labels, and his father is the Swiss Israeli sculptor Gideon Graetz. This bottle's name, "Soffocone di Vincigliata," contains a sex joke in its title—soffocone, in local slang, is a practice the lovers in A Sport and a Pastime explore for the first time (see the label art below).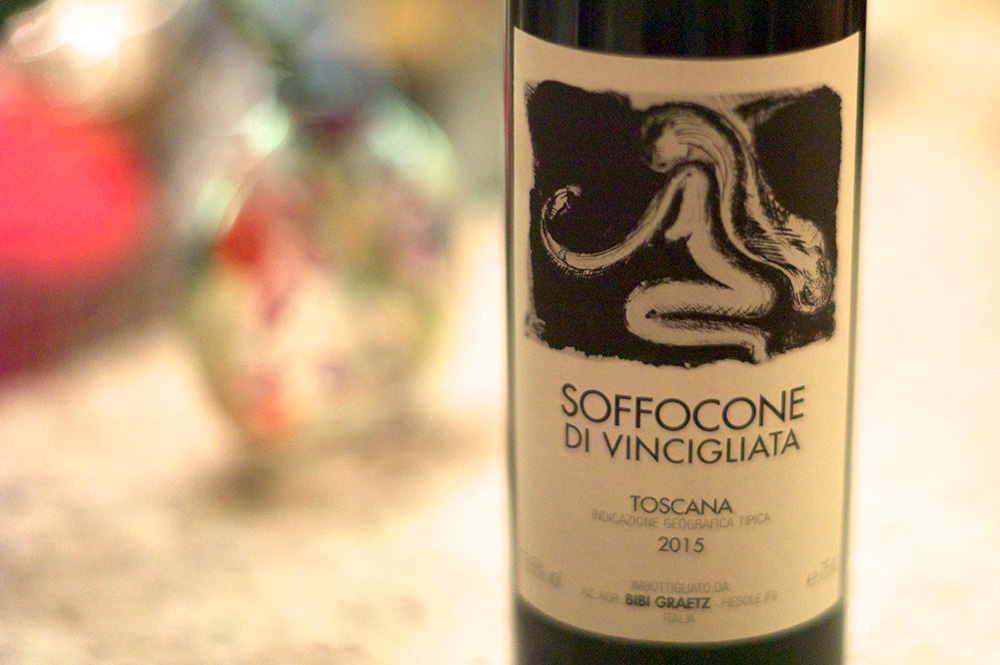 Course 4: The Salter fruit-and-cheese chart, paired with Chateau Rieussec, "Carmes de Rieussec" Sauternes, 2009 ($54)
Château d'Yquem, the "highest expression" of a French dessert wine called Sauternes, shows up often in Salter and gets its own section in Life Is Meals. Sauternes are expensive because they're made from a rare kind of moldy grape that appears only in certain years (being half dried-out concentrates the grape's flavor). Salter says, "Perhaps the finest tribute to a meal is, at the end of it, to drink one of the world's great wines, Château d'Yquem, brilliant and immortal." This was unaffordable for me, so Zona suggested taking a different cue from Life Is Meals and serving a "second wine." Seconds are wines made from a vintage's slightly less perfect grapes, but Salter says some of them are "of very good quality and can closely resemble the grands vins they are related to." "Carmes de Rieussec" is a Sauternes second from Chateau Rieussec and was my guests' favorite—proving (as if further proof was needed) that Salter had excellent taste.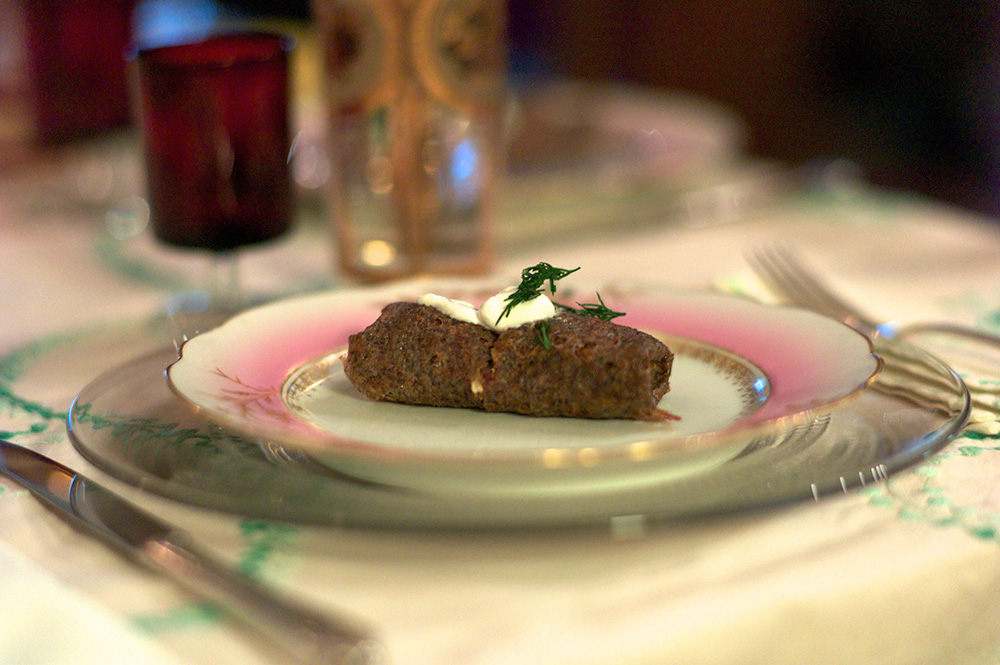 Blini with Salmon Filling
(Adapted from Life Is Meals, by James Salter and Kay Salter. Makes about a dozen blini.)
For the blini:
1 cup warm water
1 (1/4 oz) package active dry yeast
pinch of sugar
1/2 cup all-purpose flour
1/2 cup buckwheat flour
1 tsp salt
1 cup whole milk, heated to warm
1 stick unsalted butter, melted and cooled
2 large eggs, lightly beaten
sour cream to taste
1 tbs dill, for garnish
For the salmon filling:
2 tbs unsalted butter
1/2 lb smoked salmon, cut into irregular pieces
1/4 cup white wine
1 hardboiled egg, chopped fine
2 tbs dill, chopped fine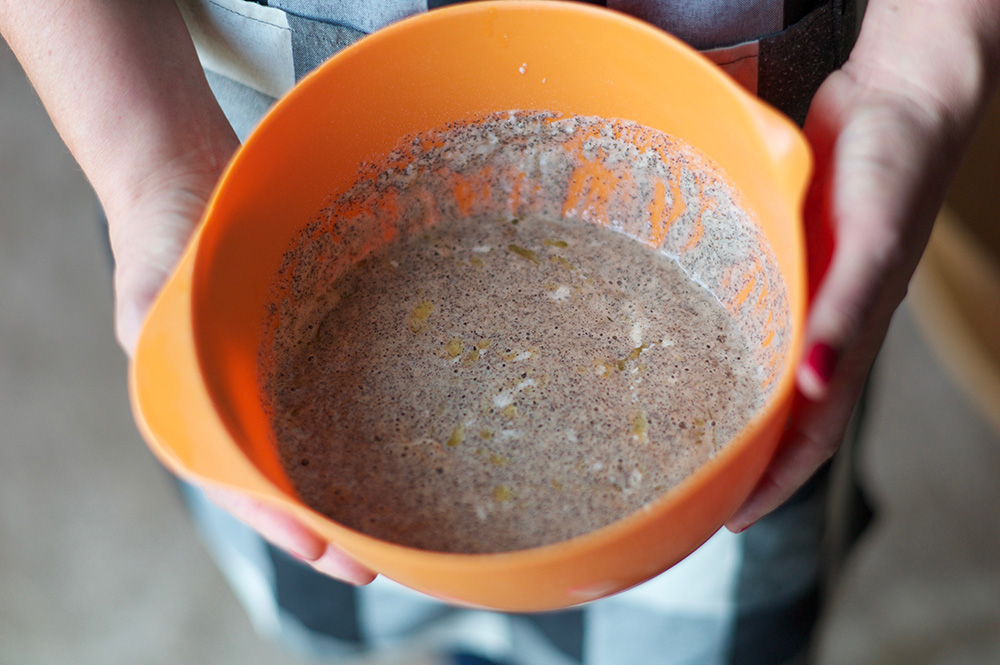 To make the blini:
For best results, you'll need a nonstick crepe pan. I have no luck making blini in any other type of pan.
Stir together warm water, yeast, and sugar in a bowl. Let stand for about five minutes until foamy. If it doesn't foam, start over with fresh yeast.
Add salt and the all-purpose and buckwheat flours, then stir in the milk, three tablespoons of the butter, and the eggs. Cover, and let sit in a warm place for forty-five minutes to an hour, until it increases in volume, has bubbles breaking the surface, and is stringy when scooped.
Preheat the oven to 250 degrees. Heat a crepe pan over moderately high heat, and brush with some of the remaining melted butter. Don't let the butter brown. Stir the batter. Pour a quarter cup of batter into the pan, and swirl until the pan is covered and the batter looks lacy. Cook, flipping once, until both sides are golden brown, about a minute per side. Brush with melted butter, and keep warm in the oven until all the batter is made.
To make the salmon filling:
Melt the butter in the saucepan. Add the salmon and the wine, and simmer lightly until the wine has reduced and the filling is fairly dry, about thirty minutes. Let cool, and add the chopped hardboiled egg and the dill.
To assemble:
Place two tablespoons of filling on one side of a blini, making a vertical line. Fold in the two sides perpendicular to the filling, making the beginning of a packet, then fold over the parallel side nearest the filling. Roll parallel to the filling, keeping the perpendicular sides tucked in. Serve with the seam on the bottom, garnished with dill and a dollop of sour cream.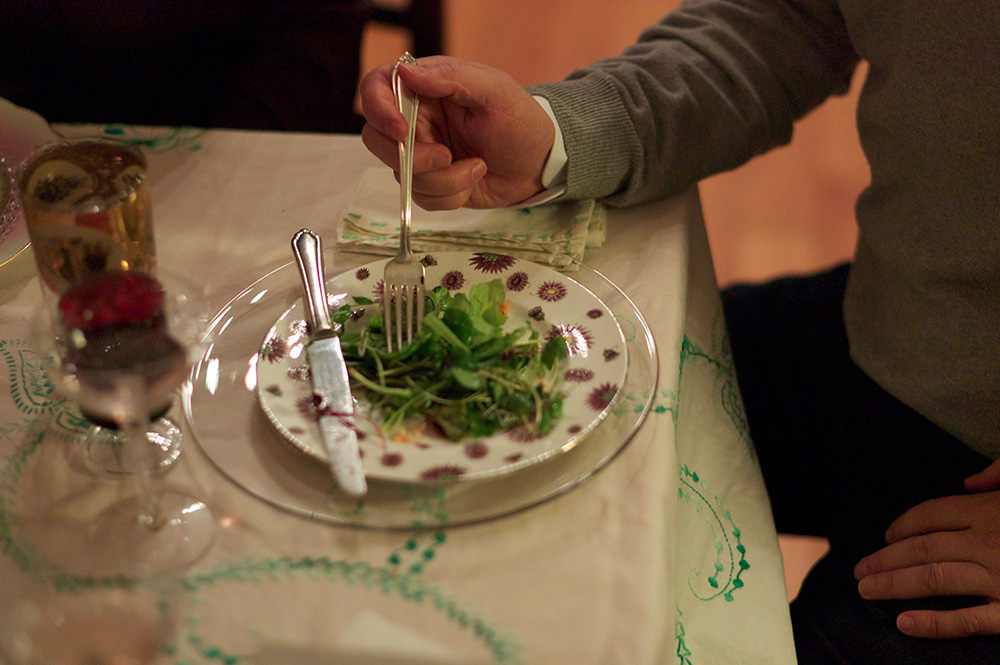 Salad with Salter House Dressing
(From Life Is Meals, by James Salter and Kay Salter.)
For the salad:
Greens of any kind, in the quantity desired
For the dressing:
3 tbs olive oil
1 tbs red-wine vinegar
salt and pepper to taste
1 crushed garlic clove (optional)
Dijon mustard, the amount that can be held on half an inch at the end of a dinner knife, or more for a sharper taste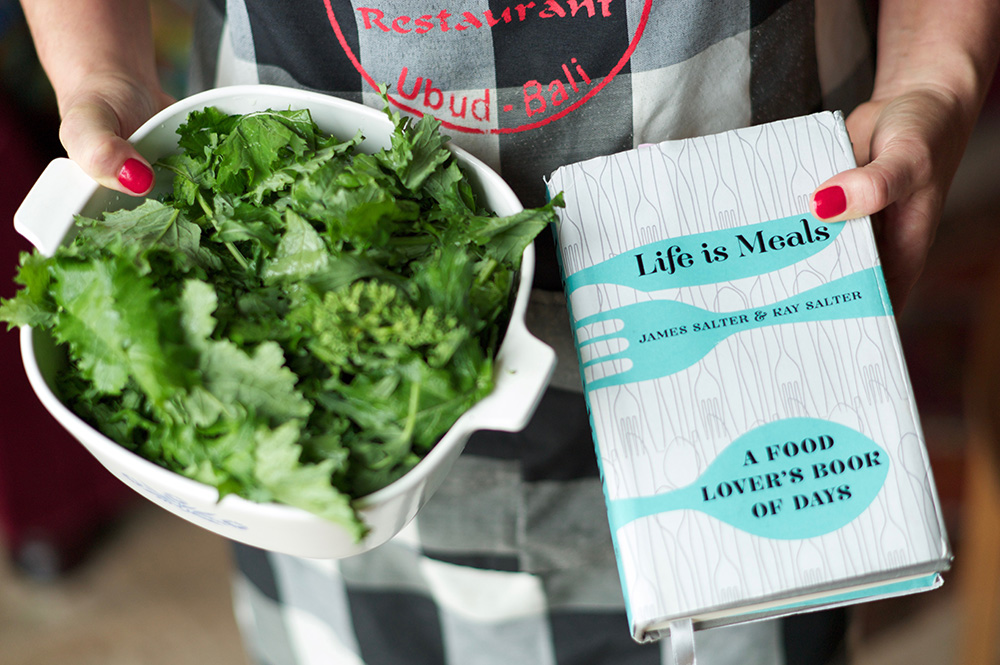 Place all ingredients in a small container with a tight lid, and shake until well blended. Pour over greens, and toss. The dressing should lightly coat but not drench the greens, which must be thoroughly dry for the dressing to adhere. If the salad is serving more than eight people, double the dressing recipe.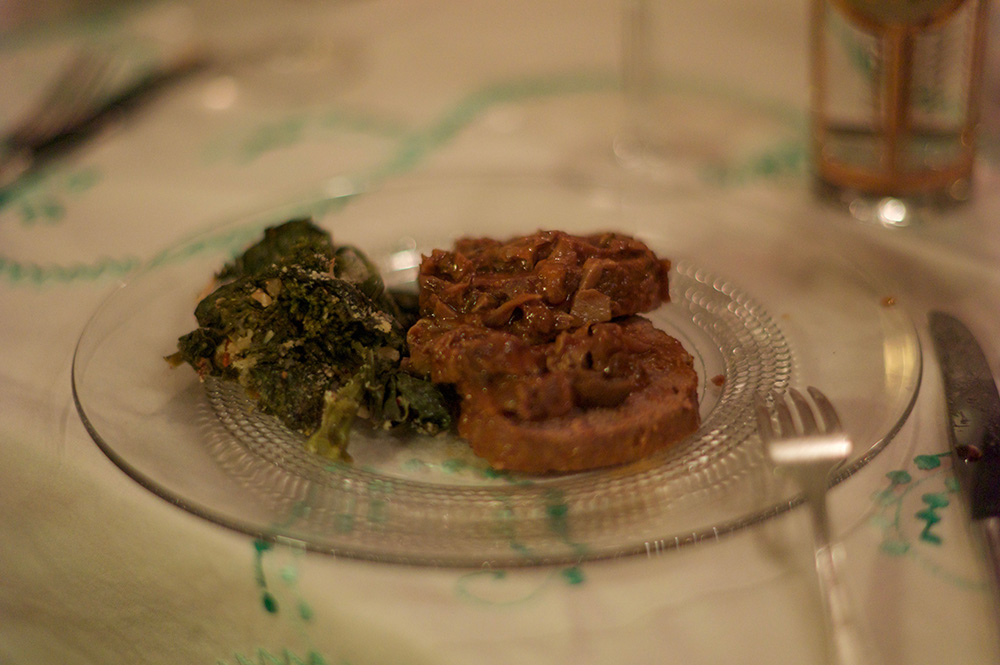 Polpettone alla Toscana
(This recipe was adapted by the Salters from Marcella Hazan's The Classic Italian Cookbook. Serves four.)
2 oz imported dried wild mushrooms
1 lb ground beef
1 tbs milk
2-inch square of white bread, without the crust
2 tsp salt
freshly ground pepper
2 tbs chopped prosciutto
1/3 cup freshly grated Parmesan
1/4 tsp finely chopped garlic
1 lightly beaten egg yolk
1/2 cup unflavored bread crumbs
2 tbs vegetable oil
1 tbs butter
1/3 cup dry white wine
4 tbs tomato paste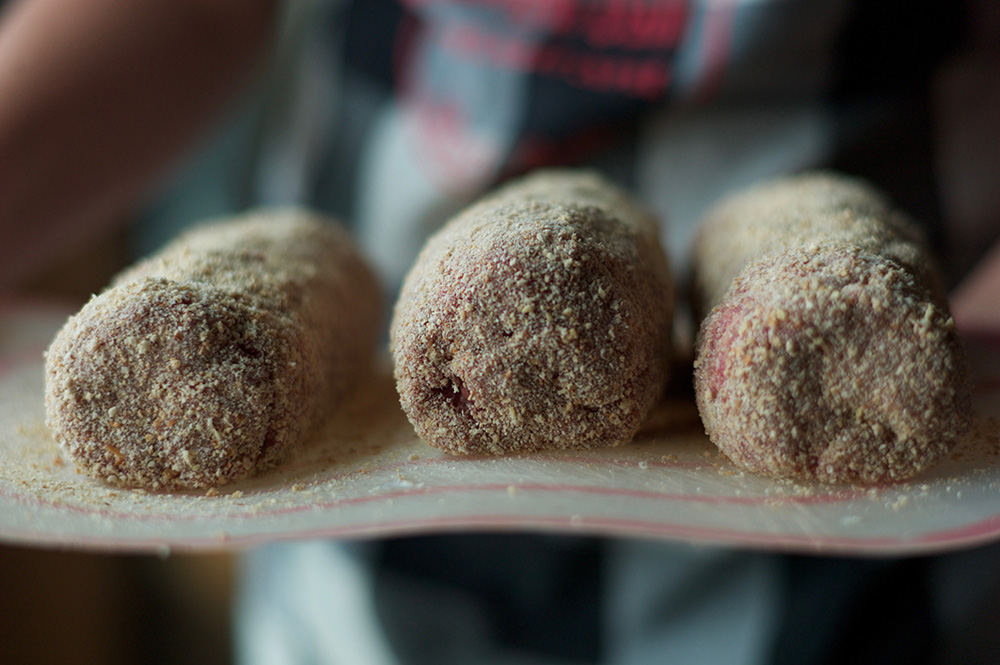 Soak the mushrooms in two cups of lukewarm water for half an hour or more. In a bowl, loosen the beef with a fork. Heat the milk, mashing the bread into it until creamy, and add it to the meat, along with the salt, pepper, prosciutto, cheese, and garlic. Mix thoroughly by hand.
Shape meat into a firm, round ball, then roll into a salami-like loaf about two and a half inches in diameter. Roll the loaf in the bread crumbs until evenly coated.
Drain the mushrooms (save the water they soaked in), and rinse them several times in cold water. Chop them roughly, and set aside. Strain the soaking water through a sieve lined with paper towels, and set aside.
Heat the butter and vegetable oil in a heavy casserole dish just big enough for the meat. Brown the meat in the casserole dish on all sides over medium heat after the butter foam subsides, handling carefully. Add the wine. Increase heat to medium-high. Boil wine briskly until reduced to a half, turning meat carefully once or twice.
Turn heat to medium-low, and add chopped mushrooms. Stir the tomato paste into the strained and warmed mushroom water. When smooth, add to the meat and mushrooms. Cover, and cook at a simmer for thirty minutes, turning the meat once or twice.
Remove meat to a cutting board. Allow it to cool slightly and settle. Cut into slanted slices about three-eighths of an inch thick. If the sauce seems thin, concentrate it by boiling rapidly for a few minutes. Pour a little sauce on a warm serving platter. Arrange the meat slices, then cover with the remainder of the sauce.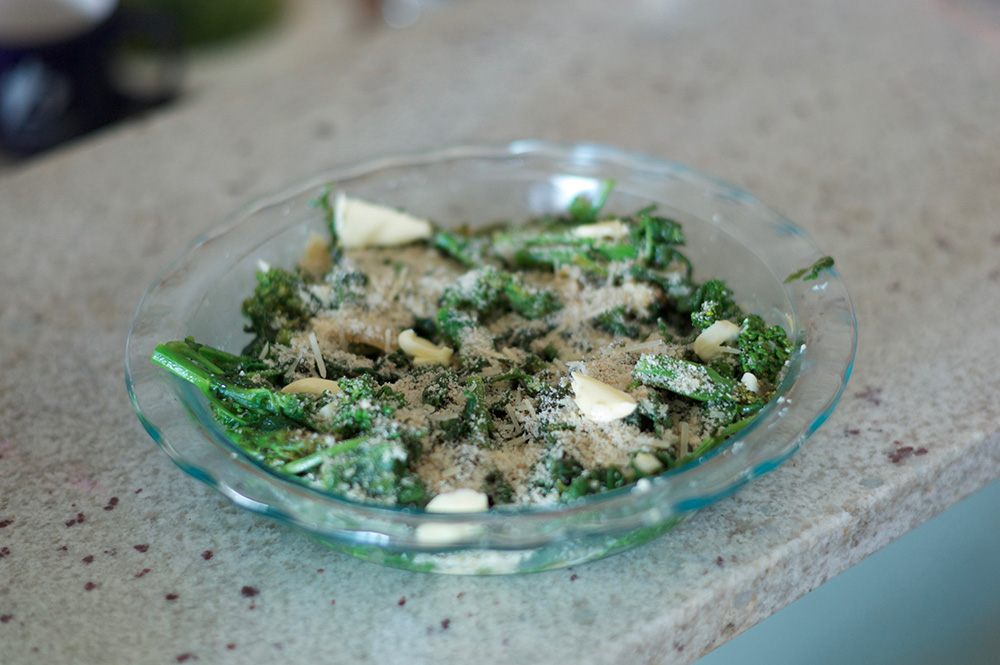 Broccoli Rabe Gratin
 3 tbs olive oil
1/2 tsp Aleppo pepper flakes
4 garlic cloves, thinly sliced
1 bunch broccoli rabe, chopped in large pieces
1/4 tsp salt
4 tbs preserved lemon, chopped
2 tbsp Parmesan
4 tbs bread crumbs
2 tbs butter, to dot the top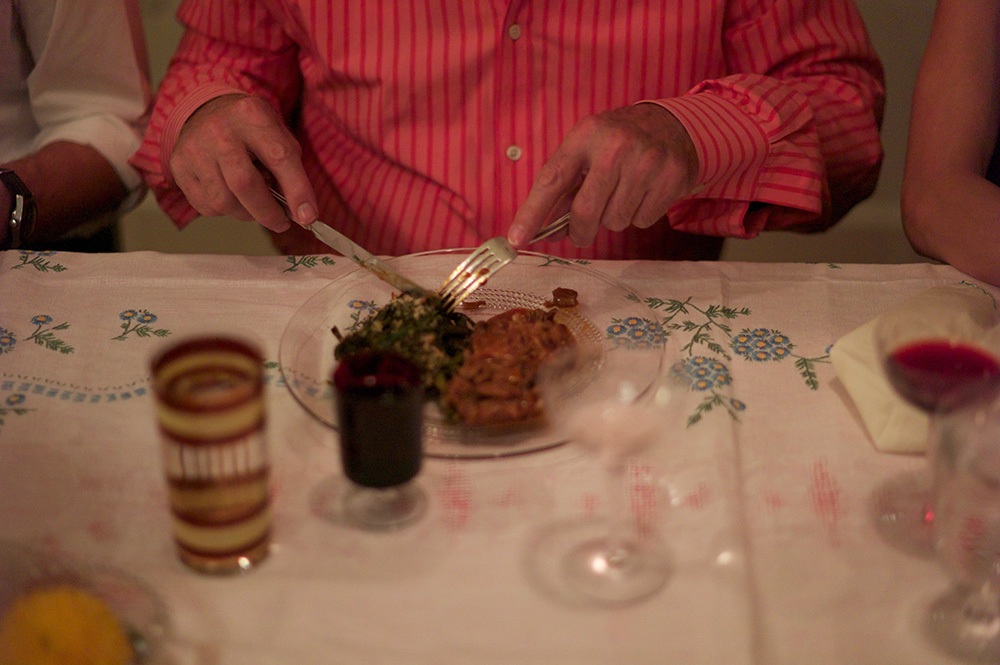 Set the oven to broil. Butter a medium-size baking dish.
Heat the oil in a large frying pan, then add the pepper flakes, salt, and garlic, and sauté until the garlic is beginning to turn golden. Add the chopped broccoli rabe, and toss to combine. Cook, tossing occasionally, until greens are just beginning to be tender, around five minutes.
Turn off the heat, and add the preserved lemon and Parmesan. Transfer to the prepared dish, top with bread crumbs, dot with butter, and place in the hot oven until the bread crumbs turn golden. Do not overcook or you'll lose the color of the greens.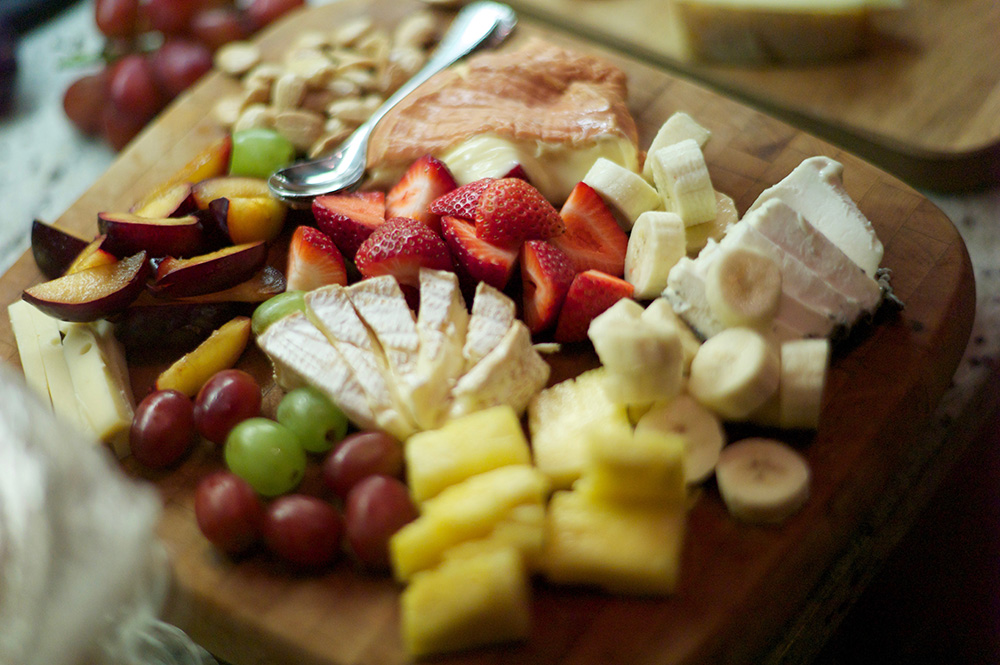 Fruit with Cheese
The above photo reproduces the Salters' recommendations of which fruits to serve with which cheeses. I served apples with Roquefort, bananas with chèvre, grapes and pineapple with Camembert, plums with Appenzeller, and strawberries with a stinky, melty Èpoisses—a cheese from Burgundy, a Salter locale—though that wasn't sanctioned by the chart in Life Is Meals. None of it really seemed to work, but it was an interesting experiment.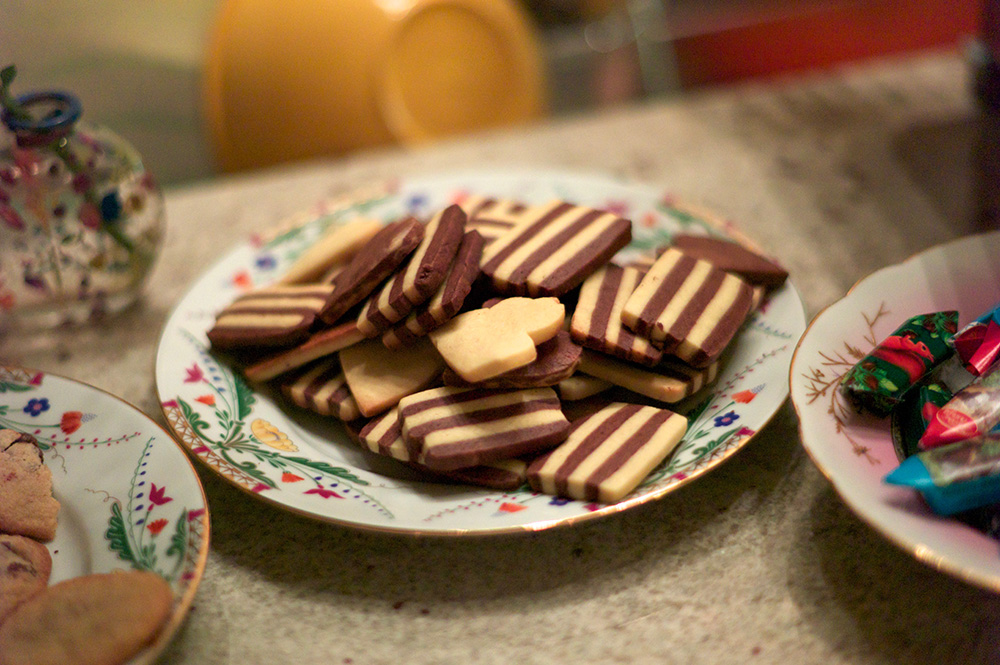 Two-Chocolate Zebra Cookies
(Adapted from The Great British Bake Off: How to Bake.)
45 g dark chocolate, 70-percent cocoa solids or above, chopped fine
45 g white chocolate, chopped
1 stick plus 1 tbs unsalted butter, at room temperature
1/2 cup caster sugar
1 large egg, room temperature
1/2 tsp vanilla extract
2 cups flour
pinch of salt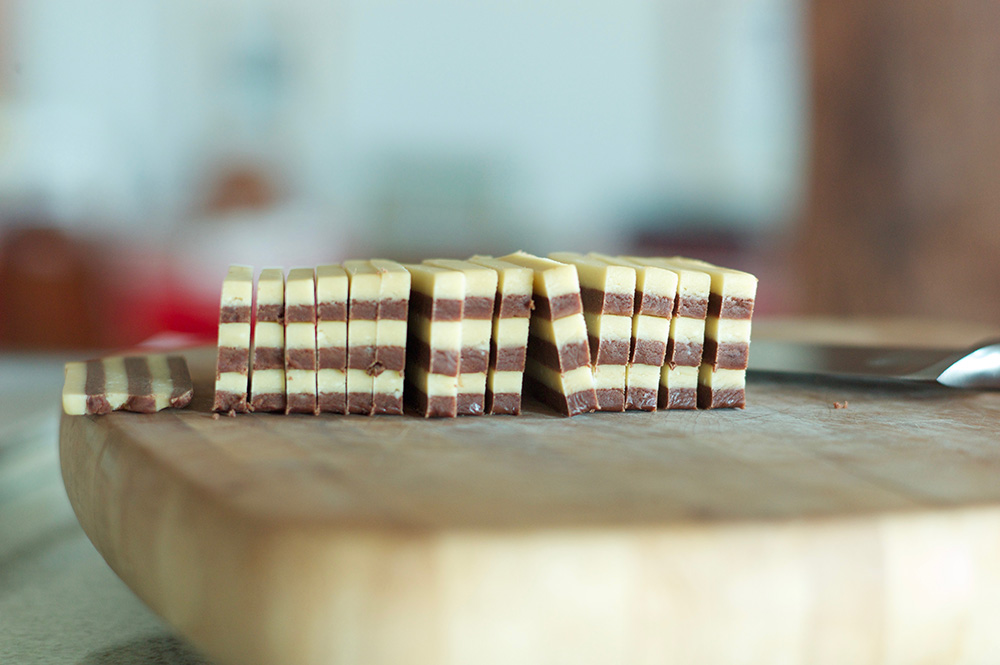 Line two baking sheets with parchment paper. Preheat the oven to 350 degrees.
Put the chopped dark chocolate in a small heatproof bowl, and hold it above a pot of steaming (but not boiling) water. Don't let the bottom of the bowl touch the water. Hold and stir until the chocolate melts. Remove the bowl from the heat, and set aside to cool until needed. Melt the white chocolate in the same way.
Put the butter in a mixing bowl, and beat until creamy. Add sugar, and continue beating until the mixture is pale and fluffy. Beat the egg with the vanilla until just combined, then gradually beat into the butter mixture. Sift the flour, baking powder, and salt into the bowl, and work in with a wooden spoon until thoroughly combined.
Divide the dough in half. Put one half in another bowl. Work the melted dark chocolate into one portion of the dough and the white chocolate into the other.
Form the white-chocolate dough into a brick-like shape, and set between two sheets of plastic wrap. Roll out to a twenty-by-fifteen-centimeter rectangle. Slide onto a tray, and chill for thirty minutes. Repeat with the dark-chocolate dough.
To assemble the cookies, set the white-chocolate rectangle on the worktop or cutting board. Peel off the top sheet of plastic wrap from the dark-chocolate rectangle, and invert it on top of the white-chocolate dough. Gently press the two doughs together. Peel off the uppermost sheet of plastic wrap. Using a large sharp knife, neaten up the rectangle so it is exactly twenty by fifteen centimeters, then cut lengthwise into three strips, each twenty by fifteen centimeters. Stack up the strips to make a thin brick-like shape. Wrap and chill for twenty minutes.
Cut the dough brick across into five-millimeter slices, and set these slightly apart on the prepared baking sheets. Bake for eight to ten minutes, until lightly golden around the edges. Remove from the oven and leave to cool and firm up for a couple minutes, then transfer to a wire rack, and leave to cool. Store in an airtight container, and eat within five days.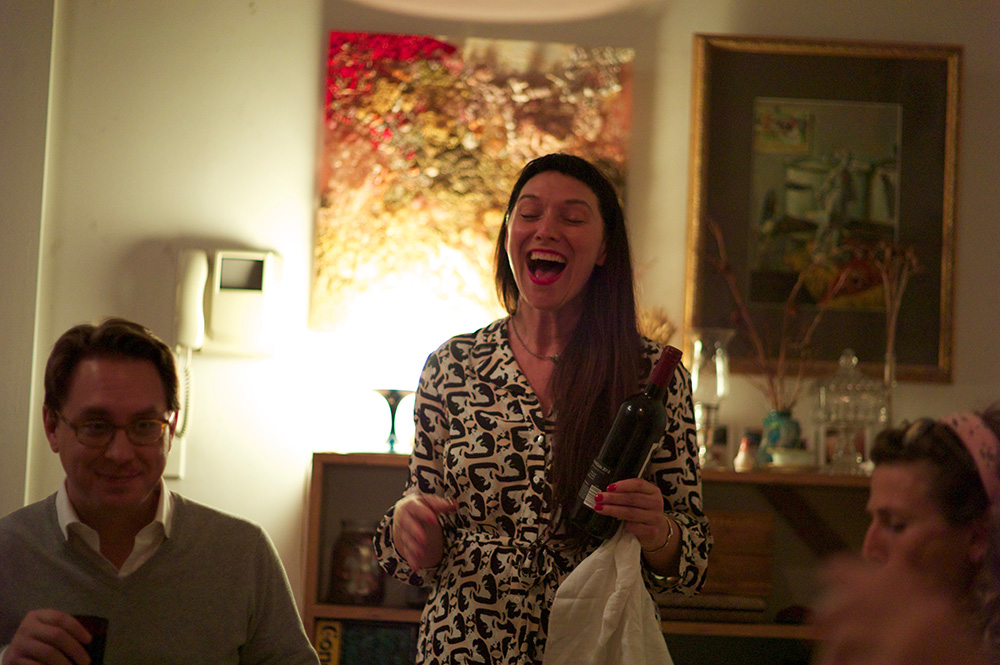 Valerie Stivers is a writer based in New York. Read earlier installments of Eat Your Words.