In 2017, Honey & Wax Booksellers established an annual prize for American women book collectors, aged 30 years and younger. The idea took shape when Heather O'Donnell and Rebecca Romney, the bookstore's owners, observed that "the women who regularly buy books from us are less likely to call themselves "collectors" than the men, even when those women have spent years passionately collecting books." By providing a financial incentive, and a forum in which to celebrate and share their collections, O'Donnell and Romney hope to encourage a new generation of women. As they say, "The act of collecting books is often a private and obsessive pursuit, and that's part of its appeal, but collecting is also a way to connect with others: to inform those who share your interests, and to inspire those who don't share them yet. And by rescuing and recontextualizing pieces of the historical record, collectors contribute to a larger conversation across generations." This year, one contestant wrote to them, ""I already feel more like a real collector just by applying for this prize."
We are pleased to unveil the winner of the 2018 Honey & Wax Book Collecting Prize, who will receive a thousand dollars, as well as four honorable mentions, who will each receive two hundred and fifty dollars.
WINNER
Jessica Jordan: The work of American illustrators Leo and Diane Dillon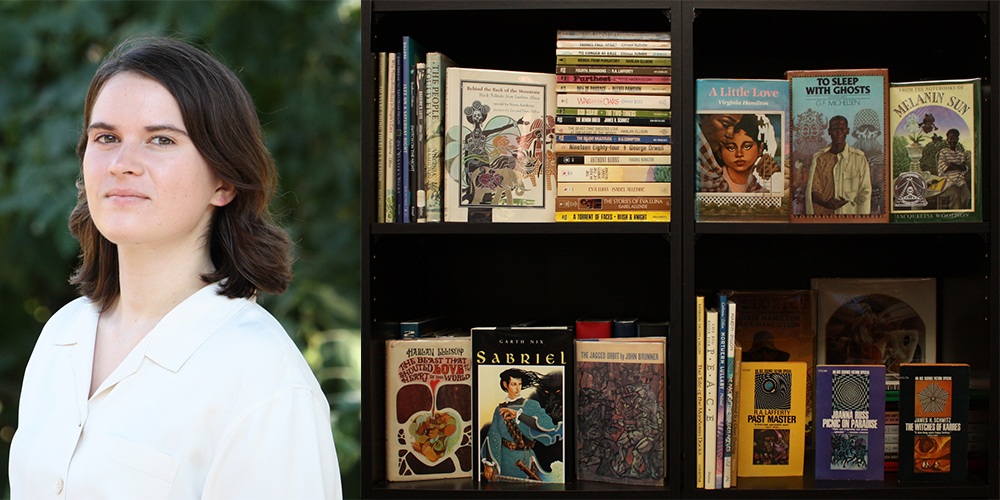 Jessica Jordan, 27, is a former bookseller and current graduate student in English at Stanford. She has collected books designed by prolific American illustrators Leo and Diane Dillon. The Dillons' experience as interracial partners (in life and work) informed their approach to graphic design over five decades. "We decided early in our career that we wanted to represent all races and show people that were rarely seen," they wrote. Famously versatile and productive, the Dillons collaborated on an untold number of commercial book projects, from pulp science fiction (winning the Hugo Award for Best Artist) to children's stories (winning the Caldecott Medal, twice) to iconic paperback editions of James Baldwin, Madeleine L'Engle, Chinua Achebe, and Isabel Allende. Jordan notes that "the Dillons' work is unsigned on many of their early book covers – meaning that the burden of identification is left solely to my own abilities . . . as I have grown my collection, I have also been training my eye to see what others don't, and nothing else puts a spring in a book collector's step quite like that feeling."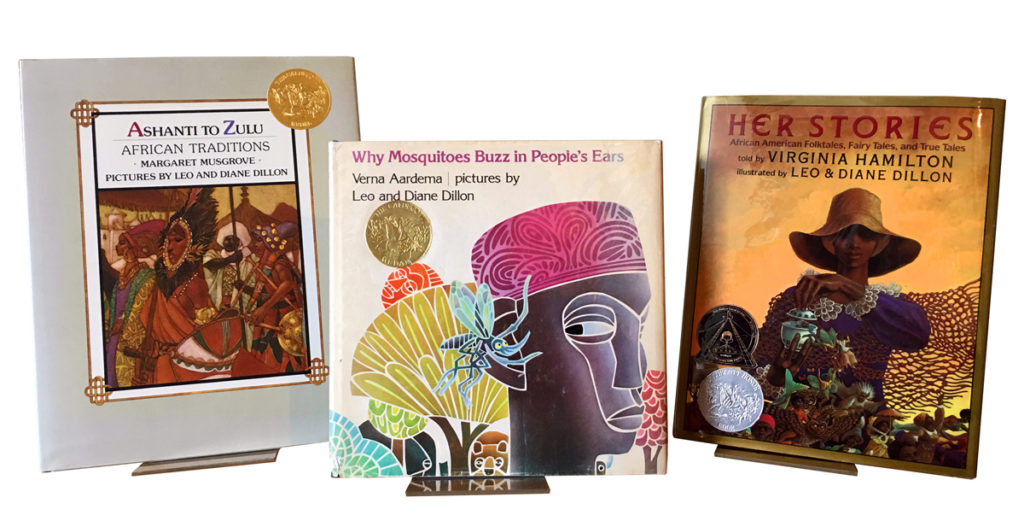 Honey & Wax says, "We admired the depth of Jordan's collection, and the sense of discovery that animates it, especially as it relates to previously uncredited Dillon titles, and to the afterlife of the Dillons' imagery in the Black Power movement."
HONORABLE MENTIONS
Margaret Landis: Women in STEM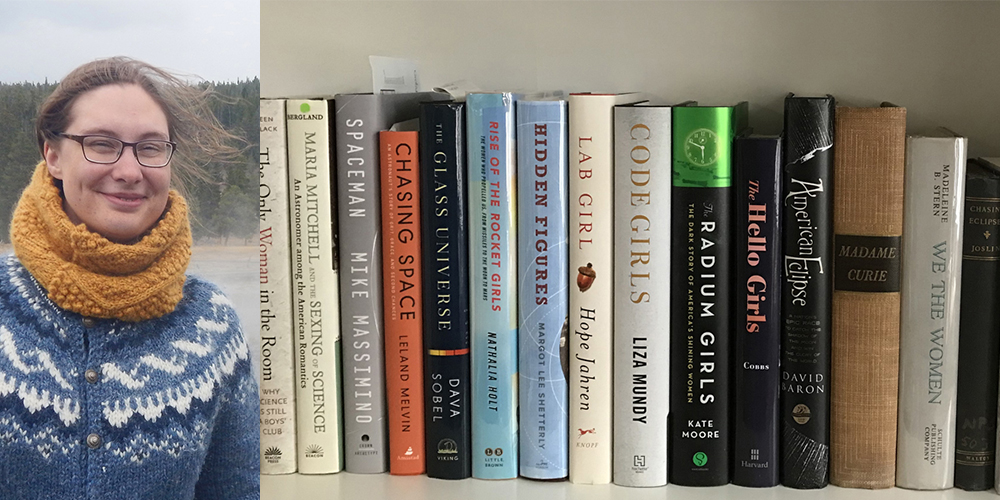 Margaret Landis, 27, is a research scientist with the Planetary Science Institute, stationed in Albuquerque, NM. She has collected books by and about pioneering women in science, technology, engineering, and math. While the history of women in STEM is a newly popular genre in the wake of the 2016 film Hidden Figures, Landis "started looking back in publishing history to see if similar eras of popularity of women-in-science biographies had occurred." That search drew her back to the early twentieth century, when Eve Curie's 1937 biography of Marie Curie won the National Book Award, and Rebecca Joslin's 1929 Chasing Eclipses showcased an amateur astronomer's travels.
Honey & Wax says, "We admired Landis's creation of a working library for students historically underrepresented in STEM fields, revealing that "people like them have been contributing since the beginning." We were also impressed by the way that Landis refined her focus in the year since her first submission to the Honey & Wax Prize in 2017."
Miranda Marraccini: Barbara Pym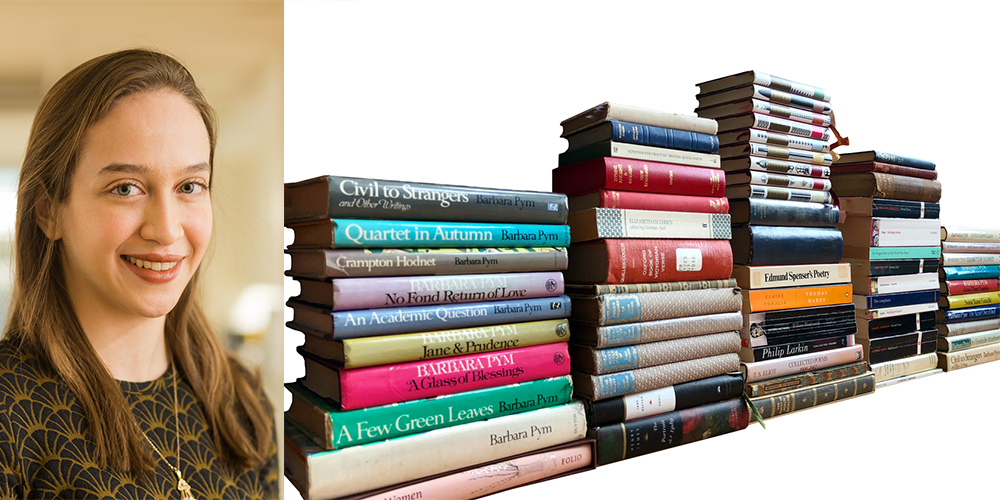 Miranda Marraccini, 28, is a graduate student in English at Princeton. Her collection is devoted to English comic novelist Barbara Pym (1913-1980), including not only copies of Pym's own books, but the works of dozens of writers that Pym quotes in her fiction, ideally in the midcentury British editions Pym herself would have read: "For Pym, books offer a kind of shorthand for character: often, she lists the titles on a character's bedside table, or has a protagonist repeat the same quotation at different points in the novel . . . in her novels, we are what we read."
Honey & Wax says, "We appreciated the originality of Marraccini's intertextual approach to a single author, reflected in her bibliography annotated with Pym's allusions, a lively portrait of the literary tradition that shaped a particular kind of English wit."
Michelle Porter: The Golden Age of the American musical
Michelle Porter, 30, is a library technician in Rapid City, SD. She collects first edition libretti from the Golden Age of the American musical, 1930-1970. Porter's focus is on the cultural history captured at the moment of performance: "Broadway, at that time, could be more risqué than Hollywood because the entertainment was limited to a fixed geographic location rather than being simultaneously screened nationwide. Whether subversive scripts indirectly mocked the status quo or waged outright war, reading them today gives a true impression of the mores of those times better than any sociology intensive."
Honey & Wax says, "We admired Porter's attention to these libretti as historical documents, and her account of how her project spurred her to develop the scouting and negotiating skills of a seasoned book collector."
Marielle Stockton: The writings of Ella Rhoads Higginson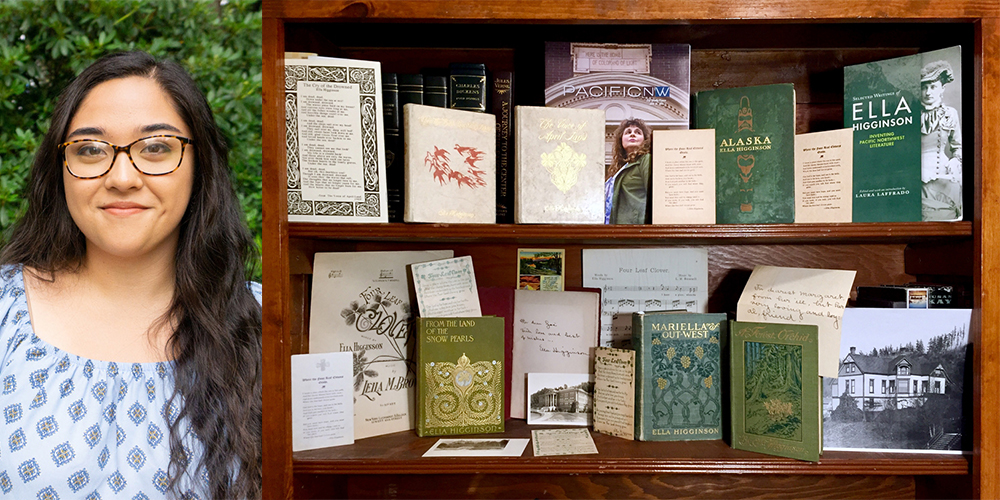 Marielle Stockton, 20, a college student in Everett, WA, for her collection of the writings of Ella Rhoads Higginson (1862-1940), a bestselling early chronicler of the Pacific Northwest. Focusing on "Higginson's unusual position as a prolific female author in a sparsely-populated corner of the country," Stockton collects Higginson's now out-of-print books, as well as postcards and sheet music featuring her work, and books by her contemporaries and influences. "The collection currently paints a picture of the Pacific Northwest that Higginson lived in and wrote about, as well as the literary culture she was writing to and within."
Honey & Wax says, "We enjoyed following Stockton's energetic online pursuit of overlooked Higginson ephemera and signed material, inspired by an ongoing recovery project at Western Washington University."
Honey & Wax would like to thank the sponsors of the 2018 Honey & Wax Prize, AbeBooks and The Rosenbach. They'd also like to thank the Antiquarian Booksellers' Association of America, Fine Books & Collections, the Florida Antiquarian Book Fair, the Brooklyn Antiquarian Book Fair, and all the others who helped spread the word about this year's prize. Now on to next year.