In Valerie Stivers's Eat Your Words series, she cooks up recipes drawn from the works of various writers.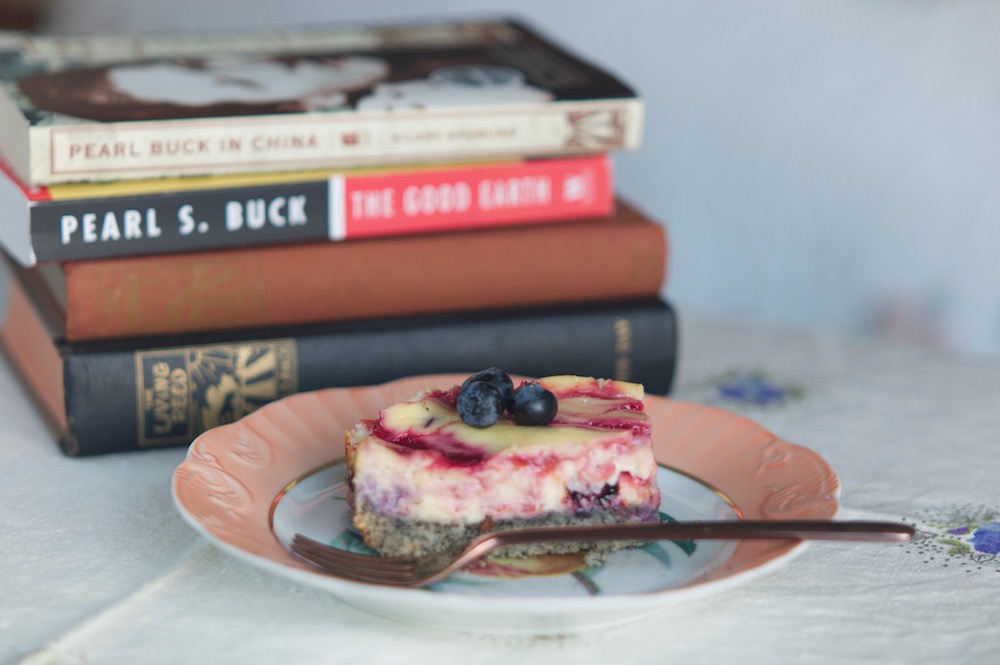 I'm in Vermont for the summer, living in the town of Winhall, where Pearl S. Buck (1892–1973), an American famous for novels about China, lived during one of the strange closing chapters of her long, strange life. Every day, I pass Pearl Buck Drive and the road to Buck's summer home. Nearby is the old Liftline lodge on Stratton, where she and the 38-years-younger 'dancing instructor' who was her companion in her final years liked to have dinner. After Winhall, Buck, the dancing instructor, and his young, male entourage moved a few mountains over, to Danby, Vermont, where she ended her years, "seated at the window in Chinese silk robes, drawing five or six thousand people each summer as the town's sole tourist attraction," according to the excellent and riveting Hilary Spurling biography, Pearl Buck in China.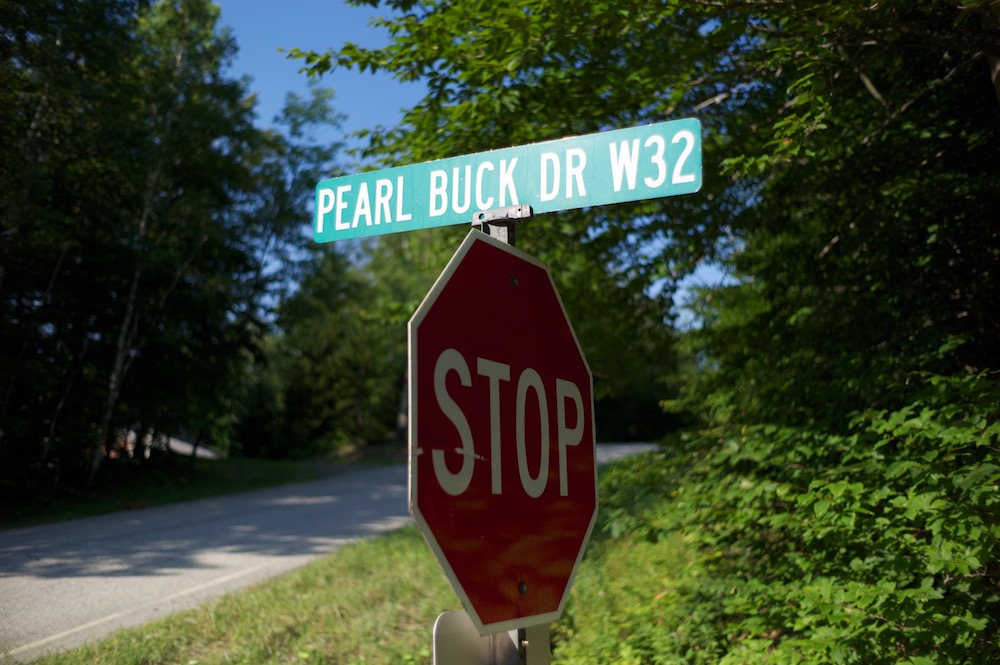 Houses were meaningful in Buck's life. She had many, but none of them were ever quite home. She was born in China, a bright, bitterly poor missionary child with a skeptical, wide-ranging mind, and she grew up on the streets of its rural towns, playing with the local children and speaking fluent Chinese. Her early education was performed by a Confucian scholar, and by the time anyone tried to make an American young lady of her, it was too late. "By birth and ancestry I am American … but by sympathy and feeling, I am Chinese," Buck told a reporter near the end of her life.
Her most famous book, The Good Earth, was an attempt to bridge her two worlds, and explain the life and values of rural China to an American audience. Buck won the Nobel Prize for Literature in 1938 (the first time the prize was awarded to a female American author) and The Good Earth is taught in schools to this day. I was concerned when I started investigating her that I'd find out she had a condescending attitude toward the Chinese or that her work would be stereotyped about China in a way that would make her a poor candidate for this column, but despite ongoing academic debate on the matter, I found it to be fascinatingly the opposite. After Buck's return to America she became an outspoken critic of religious missions as disrespectful, and she was officially sanctioned by the Presbyterian Mission. Spurling's biography makes the argument that Buck was the first person in the history of Chinese letters to write realistically about the lives of the rural poor. It wasn't considered the appropriate topic for literature, and the Chinese literary elite weren't exposed to life in the countryside the way Buck had been. Her books are romanticized in terms of the plot, but the inner lives of her rural farmer protagonists are convincingly and empathically depicted.
Ultimately, however, the writer did not succeed in bridging between her two selves. She left China in 1934 expecting to return, but was never able to. Her later life in America was marred by political, financial and personal scandals, and in her final years, she became isolated from family and friends. I wondered if it was possible to meld Buck's two worlds by riffing on some of the dishes mentioned in The Good Earth and on the things Buck liked to cook according to the biography. Could such a weird-sounding mash-up taste good?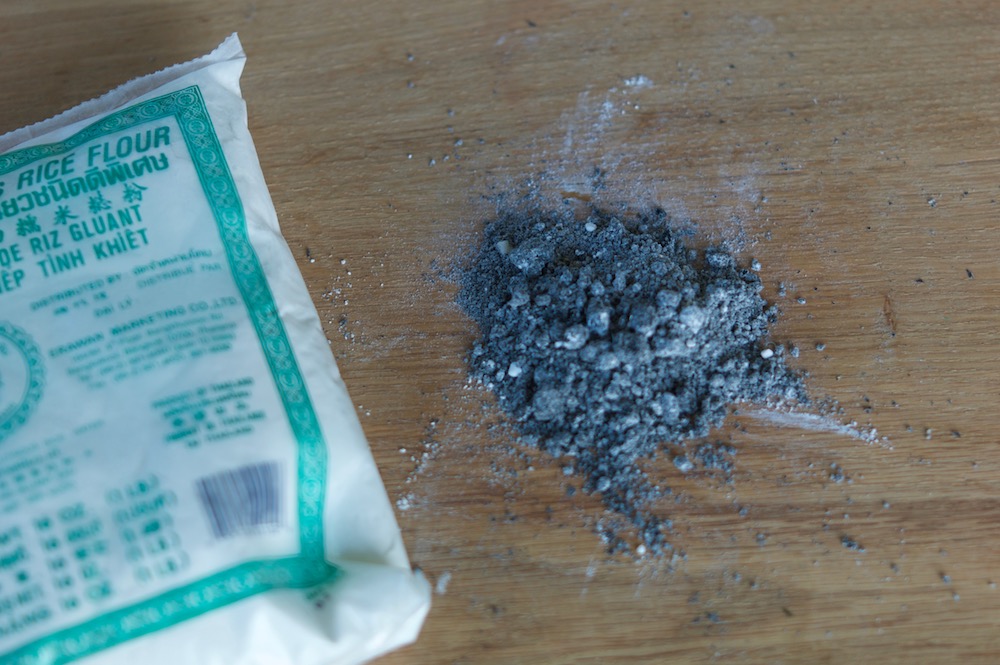 The most significant dish Good Earth was a "moon cake," made by O-Lan, a formerly enslaved woman, in order to show up her former owners. The desert was composed of sugar and lard and with "strips of little red haws and spots of dried green plums." Their construction was a triumph for O-Lan, and for me as well, since in the modern era, moon cakes are a festival cuisine of the type made by bakeries, not home cooks, and require several specialty ingredients, a mold, and a kitchen scale. I couldn't find haws (hawthorn berries) or dried green plums, and don't like lard in baked goods, so my version used a modern recipe asking for butter and black-sesame paste. I had to order all the specialty ingredients from Amazon, as we do in these parts, but I thought the cakes were delicious.
Also from The Good Earth, and much more familiar to me, technique-wise, were "little delicately spiced balls of pork wrapped in dough and steamed." I chose to interpret that as pork dumplings, and used fresh-ground pork sourced from The Vermont Butcher, my local, organic option.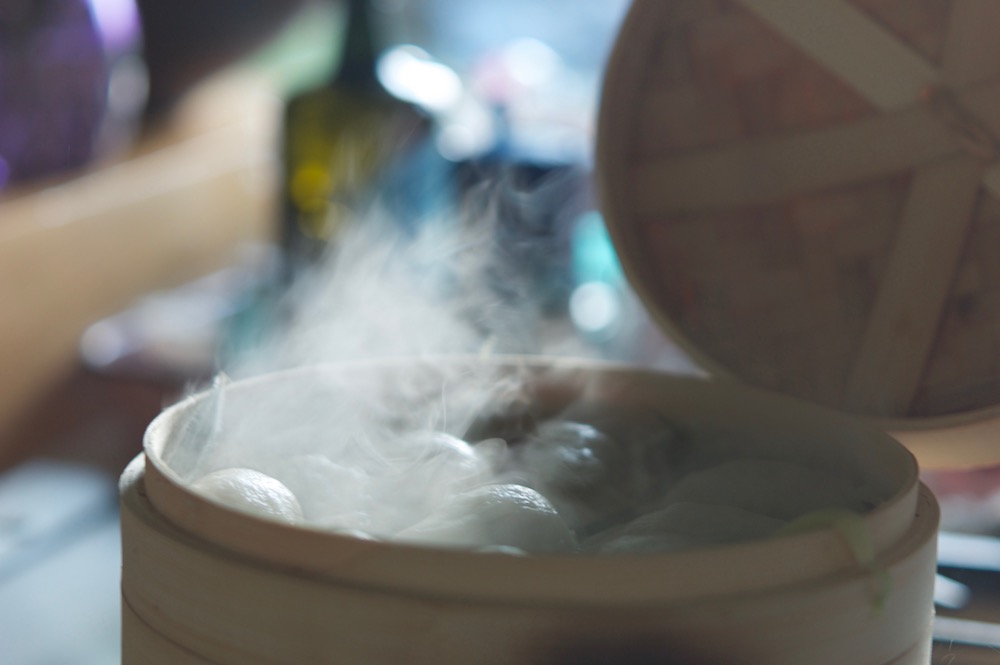 Most interestingly, the book's main character, Wang Lung, in his decadent old age, "tasted winter bamboo and shrimps' roe and southern fish and shellfish from the Northern seas and pigeons' eggs and all those things which rich men use to force their lagging appetites." This was after he had taken two concubines into his house and adopted the other vices of the rich men he used to fear. I found some shellfish—in this case, clams, about as rare in Vermont as they are in rural China—and gave them a sweet-and-sour treatment, sautéing them with maple sausage and seasonal local vegetables like sweet corn and green tomatoes. I reflected that Buck's life trajectory oddly mirrored that of The Good Earth's protagonist, a character she dreamed up in her 30s. She also became extremely rich, decadent, and exiled from her roots. Her life with the young dancing master and his hangers-on, while odd for an American woman in the 1960s, was normal for the Chinese men she portrayed in her books.
My last dish was from the biography, inspired by a description of Buck keeping a goat and growing figs and plums as a young married woman in the Chinese interior. I made a goat-cheese cheesecake with a plum swirl and "Chinese" black sesame crust. I also added blueberries I picked myself, since it was peak season. Unfortunately, I thought the final product was too complicated, and the recipe as written below is for goat-cheese cheesecake with plum swirl, minus the black sesame and the blueberries. "Simple and plain but strikingly different from other people's," was how one contemporary described Buck's domestic skills, and those are words to live by.
As a meal, the dishes worked together, but a little strangely, just like Buck's life. Only after I had planned, cooked, and photographed the multi-course meal, did I discover that Buck had already written a cookbook herself, which provides a tantalizing excuse for future culinary research.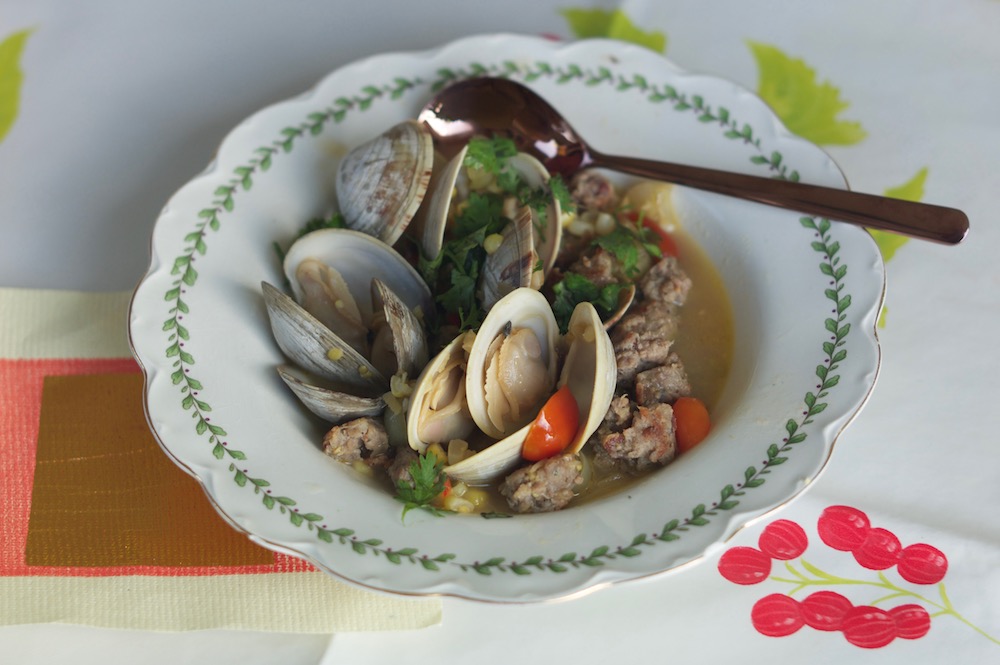 Sweet and Sour Clams
3 dozen littleneck or other small clams, washed
2 small maple-flavored pork sausages, removed from their casings
1 tbsp sesame oil
2 tbsp olive oil
1/4 cup fennel, diced small
1 cup green cherry tomatoes, halved
1 tbsp grated ginger
1 tbsp fresh hot red pepper, minced
1/2 cup Shaoxing wine
kernels from 1 ear of fresh sweet corn
juice of 1/2 lemon
1 cup of cilantro leaves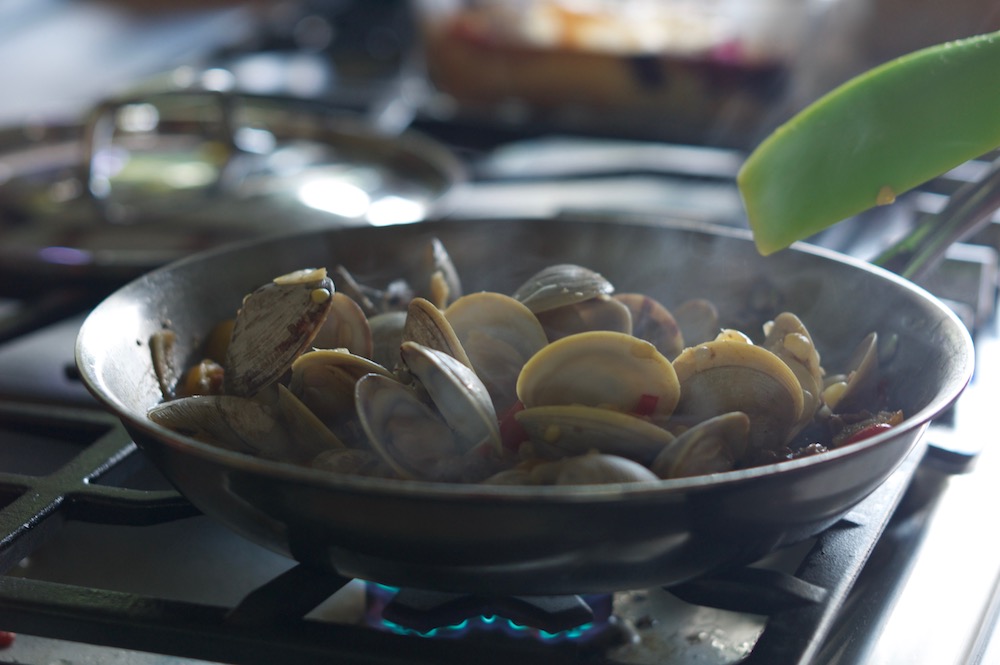 -Heat the sesame oil on medium-high heat in a medium-sized, heavy skillet, then add the sausage meat and fry until brown and cooked through. Remove the meat from the pan and reserve.
-Turn the heat down to medium-low, and add the fennel, green cherry tomatoes, grated ginger, minced red pepper and Chinese cooking wine, and sautée, stirring and scraping until the fennel has wilted slightly and the brown bits are up from the bottom of the pan.
-Add the corn and the clams and cover, cooking for 5-8 minutes until the clams have opened and the vegetables are done. Top with the cilantro and lemon juice, and toss to combine. Serve immediately.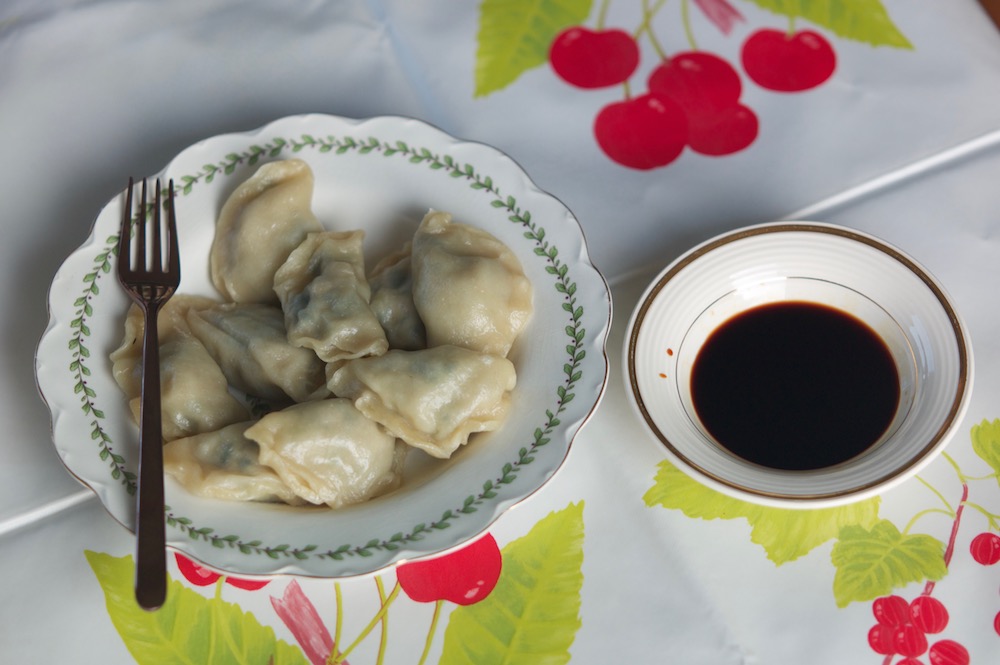 Pork Dumplings
This recipe is adapted from The Omnivore's Cookbook. Note that it requires a Chinese steamer basket, widely available online or in Chinese groceries.
For the filling:
3/4 lbs ground pork
2 tsp grated ginger
1 tbsp soy sauce
1 tbsp Shaoxing wine
1/2 tsp salt
1/4 tsp white pepper
5 cups Chinese vegetable (bok choi or Napa cabbage is good), finely chopped; with 10-12 large leaves reserved to line the steamer basket
1 tbsp sesame oil
dark soy sauce, to serve
For the wrappers:
3 cups flour
1 cup boiling water
1/4 cup room temperature water
1 tsp vegetable oil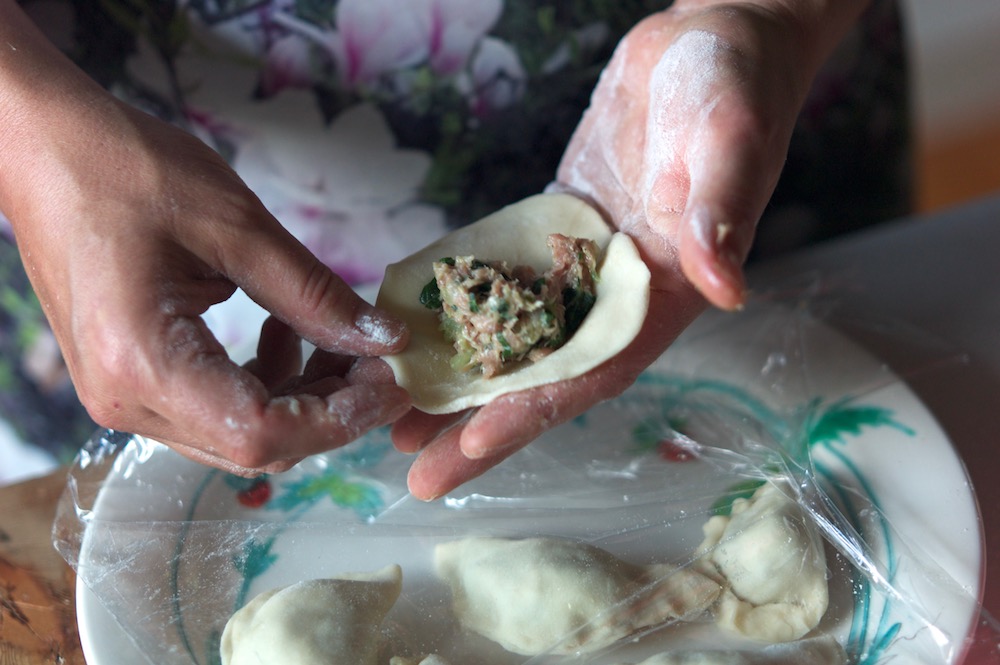 -Make the filling. Combine the ground pork, grated ginger, soy sauce, Shaoxing wine, salt and white pepper and knead with your hands until the mixture is sticky and combined. Put in the refrigerator to marinade until you're ready to assemble the dumplings.
-Place the chopped Chinese vegetable in a colander, salt it, and toss. Let sit for at least 10 minutes to draw some of the water out. Reserve until just before you are ready to assemble the dumplings.
-Make the dough. Add the flour to a large mixing bowl. Make a well in the center of the flour and pour in the 1 cup of boiling water. Mix in a swirling motion until most of the flour and water is combined, but some dry flour remains around the edge of the bowl. Add the room temperature water around the edge in a swirling motion. Keep mixing until all the water is absorbed. Knead with your hands (dusting them and the working surface with flour, as necessary) for 10 to 15 minutes, until the dough is smooth and elastic.
-Brush a thin layer of oil in a bowl and place the dough inside. Cover with plastic wrap and let rest for 30 minutes to 1 hour.
-When you're ready to assemble the dumplings, squeeze out the Chinese vegetable to remove excess water, then add it and the 1 tbsp sesame oil to the pork mixture. Mix thoroughly with your hands to combine.
-Prepare two plates, dusted with flour, and cut saran wrap to cover them. The assembled dumplings should be exposed to air as briefly as possible. Divide the dough into four parts. Working with one part at a time, and keeping the others covered, roll the dough out into a stick about 1 inch thick. Cut the dough stick into pieces about 1 inch wide. (You should get roughly 12 per roll, and the finished wrapper, when rolled out thinly, should be about 4 inches in diameter.) Roll out each dough piece, a couple at a time, stuff with 1 tbsp of filling, and seal, using a wet finger to create adhesion. Pinch or pleat the edges together firmly.
-When all the dumplings are made, fill a large skillet with water and bring to a boil.  Line a Chinese steamer basket with reserved leaves of Chinese vegetable, add the dumplings, and place the basket in the boiling water (making sure the water is not so deep that it submerges the bottom layer of dumplings). Cook for 12 minutes. Repeat until all the dumplings are steamed.
-Serve with dark soy sauce, for dipping.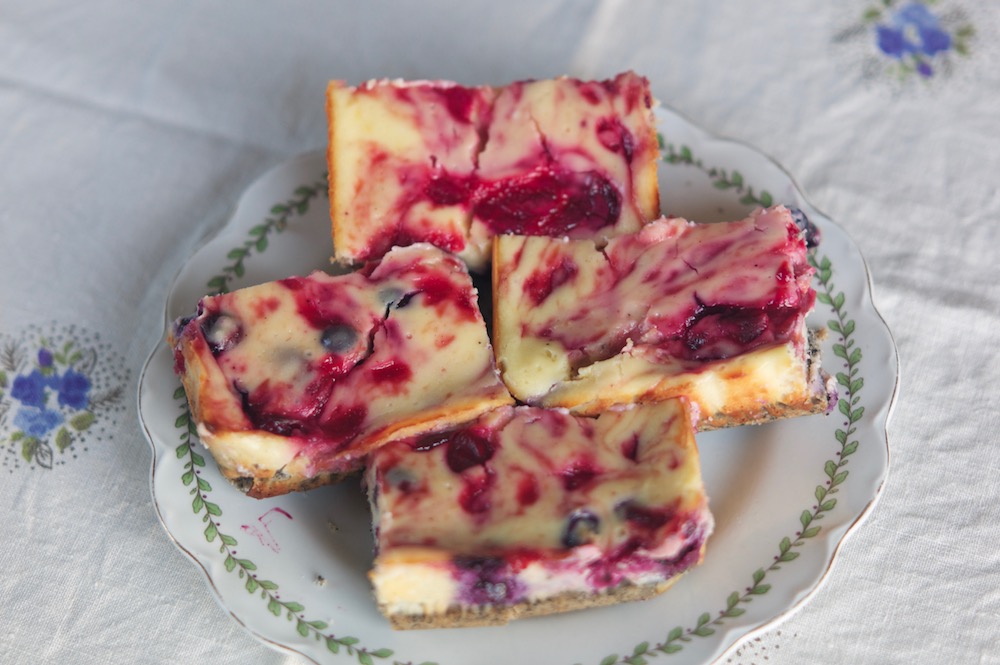 Goat Cheese Cheesecake with Red Plum Swirl  
For the plum swirl:
1 1/2 lbs red plums, pitted and cut into chunks
1/3 cup sugar
1/2 tsp cardamom
pinch of salt
For the crust:
1 1/2 cups flour
1/2 cup almonds, ground
1/3 cup sugar
1 stick of unsalted butter, at room temperature
For the filling:
8 oz cream cheese, at room temperature
8 oz goat cheese, at room temperature
3/4 cup sugar
zest of 1 lemon
pinch of salt
1 tsp vanilla extract
2 tbsp flour
3 eggs, beaten, at room temperature
1/4 cup heavy cream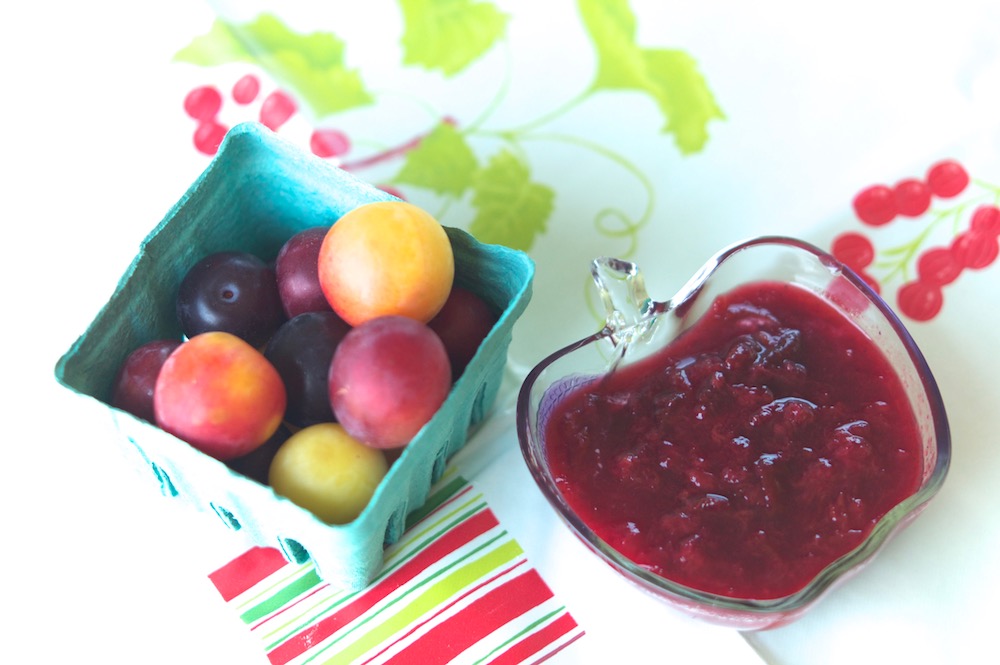 -Make the plum swirl. Combine plums, sugar, cardamom and salt in a small saucepan and bring to a boil. Turn down to a simmer and cook uncovered for 20-30 minutes, mashing and stirring occasionally, until reduced to a thick sauce.
-Make the crust. Preheat the oven to 350. Line a 9'' x 9'' pan with parchment paper, with enough paper hanging over the sides that you'll be able to use it to lift out the cake. Combine the flour, almonds and sugar in a large bowl, and stir until well mixed. Add the butter, rubbing it in with your fingers until the mixture looks sandy and forms large clumps. Press firmly into the bottom of the pan. Bake for 30 minutes, until crisp. Cool.
-Make the filling. Combine the cream cheese, goat cheese, sugar, lemon zest, salt and vanilla in a large bowl. Blend actively with a fork until well combined and lump-free. Add the 2 tbsp flour and blend again. Add the eggs and blend again. Add the heavy cream and stir until combined. (All ingredients should be room temperature to prevent lumps.)
-Assemble and bake. Preheat oven to 350. Pour the cheese mixture on top of the crust. Use a spatula to fold in the plum sauce, leaving streaks and swirls. Bake for 30 to 40 minutes until the sides are firm and the center is set (the cheesecake should wiggle like jello when you shake it). Cool. Chill for at least 4 hours before slicing and serving.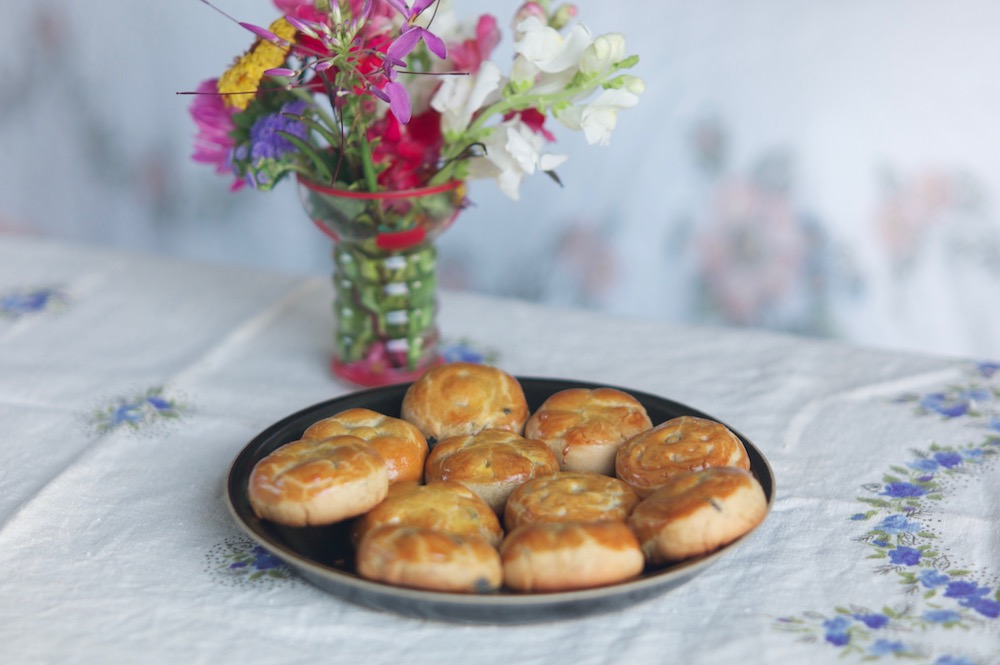 Moon Cakes
This recipe is adapted from The Omnivore's Cookbook, which has an excellent essay on mooncake history and technique, highly recommended for anyone attempting to cook them. It requires several specialty ingredients, a kitchen scale that's accurate to the .01 gram, and a mooncake mold, which can be ordered online. 
For the filling:
1 cup raw black sesame seeds
1/3 cup confectioners sugar
1/4 cup unsalted butter, at room temperature
1/4 cup glutinous rice flour
For the dough:
56 grams golden syrup
1/2 teaspoon homemade kansui
20 grams peanut oil
1/8 teaspoon salt, and a pinch for the egg wash
100 grams cake flour, and extra to dust the mooncake dough
1 large egg yolk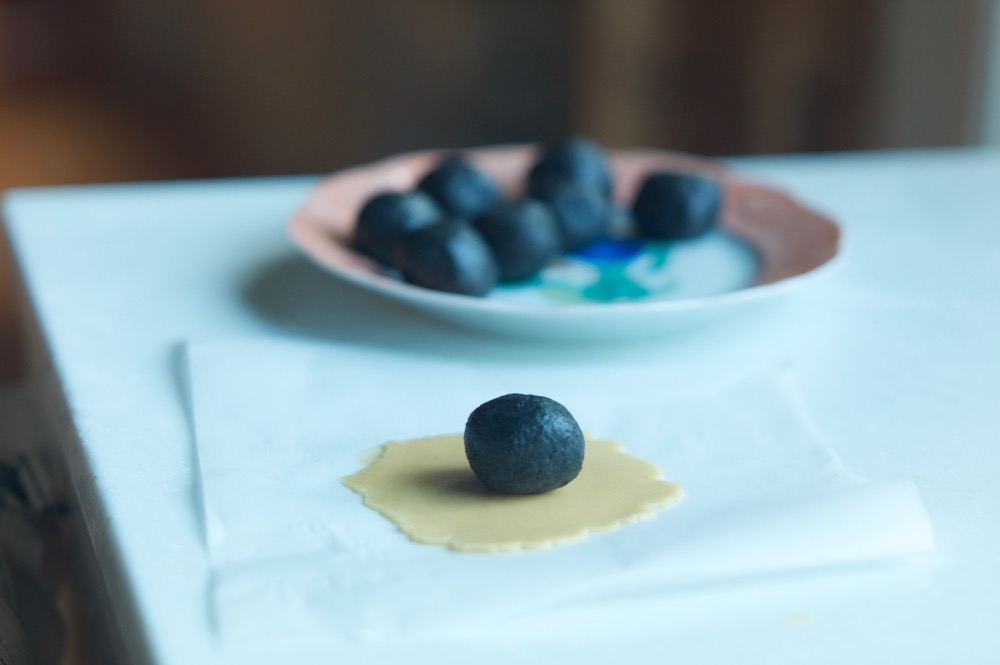 -To make the filling, toast the sesame seeds in a dry saucepan on medium-low heat until fragrant, 3-4 minutes. Since the seeds are black, you won't be able to tell when they're toasted/burning, so taste frequently. Remove from the heat and cool. Once cooled, transfer the seeds to a food processor or large mortar and pestle and blend or pound until they form a homogenous paste. Transfer to a bowl. Add the confectioners sugar and butter and stir until combined. Fold in the glutinous rice flour with a rubber spatula, until combined and the mixture forms a dough.
-To shape the filling, measure out amounts of 20 to 30 grams each using a scale. You should get around 10 to 12 portions. Roll each portion into a ball. Place in the refridgerator to chill.
-To make the dough, combine the golden syrup and kansui in a large bowl. Mix with a spatula until emulsified. Add peanut oil and mix again until evenly blended. Sift cake flour into the bowl, then gently fold in. When the flour is fully combined, shape the dough into a ball, seal with plastic wrap, and let rest for 30 minutes.
-To assemble the cakes, scoop out 2 tsp of dough, roll into a ball, then roll out between two sheets of parchment paper, until very thin. Place a ball of black sesame filling in the center and wrap the dough around it, trying to wrap as evenly as possible. Dust your hands with flour and roll the assembled ball until it is evenly round. Repeat with remaining mooncakes.
-Place the mooncake balls one at a time in the mold. See steps five through seven on The Omnivore's Cookbook recipe to visualize how to operate the mold, or follow package instructions.
-Preheat oven to 350. Place the mooncakes on a cookie sheet and spray them with water just before they go in, to prevent cracking. Bake for 8 minutes. In the meantime, beat the egg yolk with a pinch of salt. This step is essential for achieving the right color. When 8 minutes are up, remove the mooncakes from the oven, brush thoroughly with the egg mixture. Use a small paintbrush to remove excess egg from the pattern. Return to the oven and continue baking till golden brown, about 8 more minutes. Remove and cool.
-Store the mooncakes in an airtight container on the countertop and don't serve for 24 hours. They need time to soften, and reach optimum appearance and consistency after several days.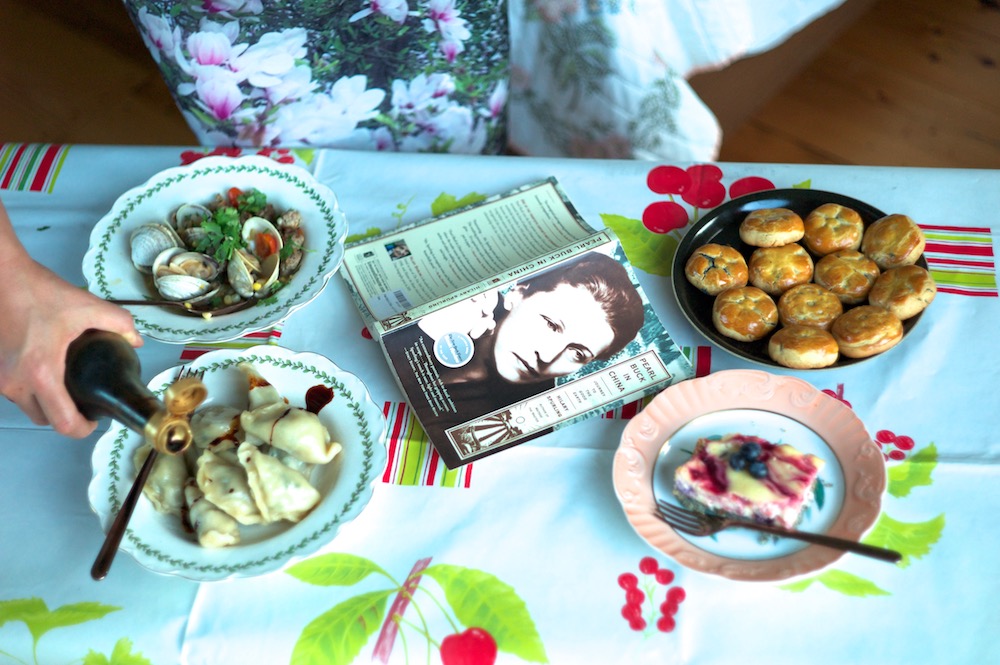 Valerie Stivers is a writer based in New York.
Read earlier installments of Eat Your Words here.